27 Awesome Winery Wedding Ideas
Looking for some ways to take your vineyard vows to the next level? Here are a few of our favourite winery wedding ideas for decor, desserts, drinks and everything in-between.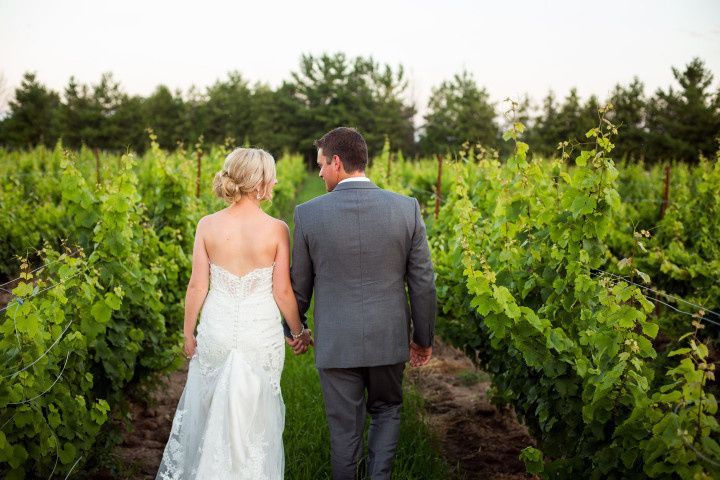 Thinking of tying the knot with an outdoor wedding at a vineyard? Well, we've got a few winery wedding ideas for you. This list includes stationery inspo, attire tips, food for thought and everything in-between, so you should be able to find some cute, festive ideas for your celebration. P.S. you can always check out our Real Weddings section for even more help.
Here are a few awesome winery wedding ideas.
Vineyard wedding venue
Naturally, you're going to need to find a vineyard venue for your winery wedding. Lucky for you, Canada has plenty of picturesque estates to choose from. Pro tip: if you can't make it out to the countryside for your big day, you can always host your wedding in a restaurant with a killer wine list.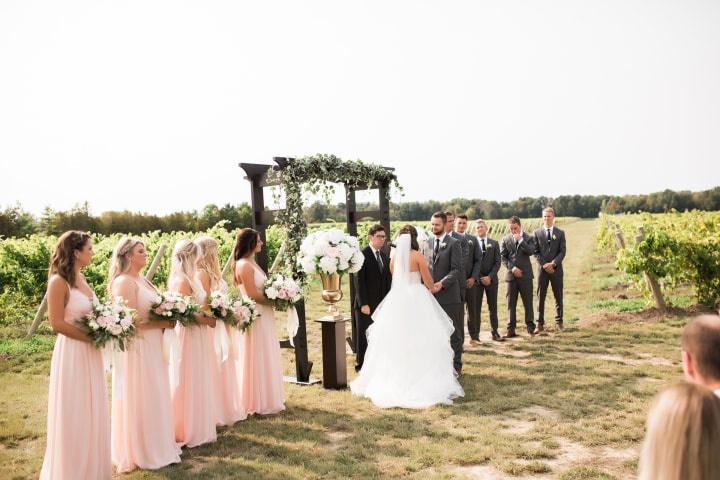 Winery-inspired stationery
Foreshadow what's to come on your wedding day by using save-the-date cards, wedding invitations and enclosure cards with winery graphics on them.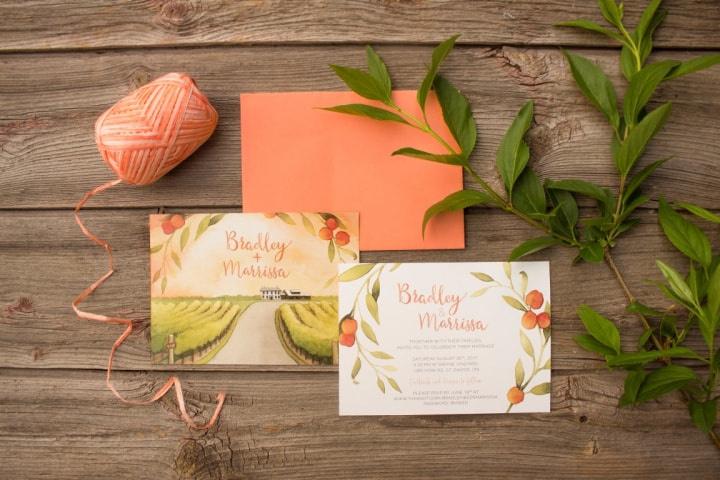 Winery engagement shoot
Build the anticipation further with an engagement photoshoot set in a winery. Pack a picnic and stroll through the vineyard for some cute shots to post to your wedding website.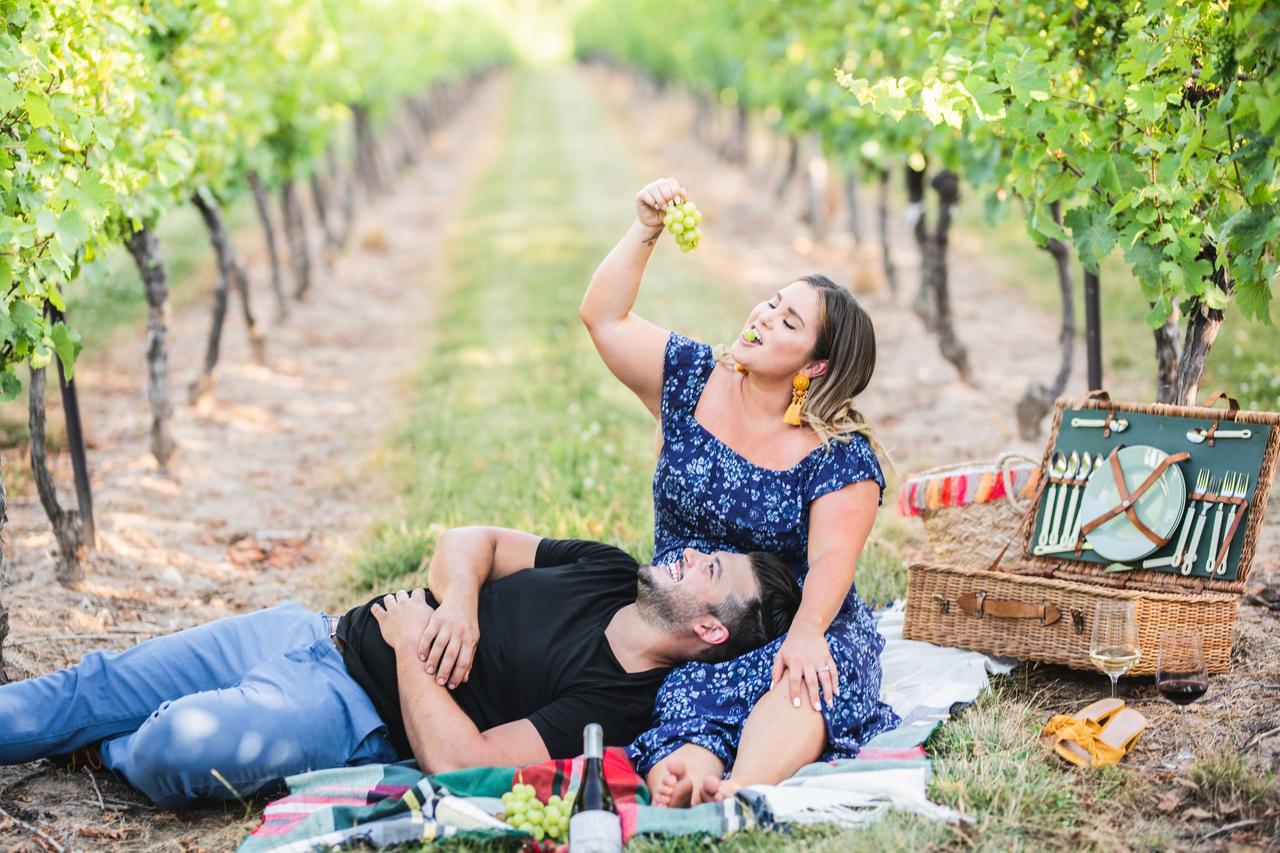 Cork ring holder
Forget about a regular ring box, display your brand new bands in cut open corks, instead! This winery wedding idea will keep your baubles in place before your 'I dos' and look awesome in your wedding photos. You can even write your initials or a short message on them to make them a touch more personal.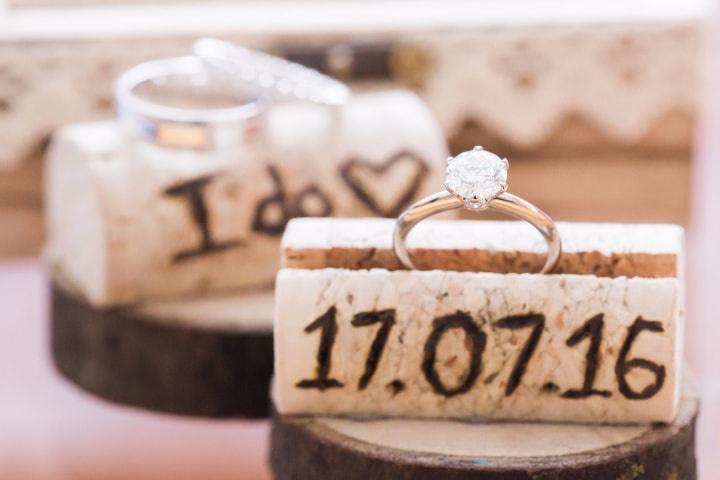 Boots
You probably don't want to navigate your way around a grassy estate in stilettos (that's just asking for trouble), so get yourself a pair of boots to wear. You can go ultra rustic and rock cowboy boots or opt for something a little fancier.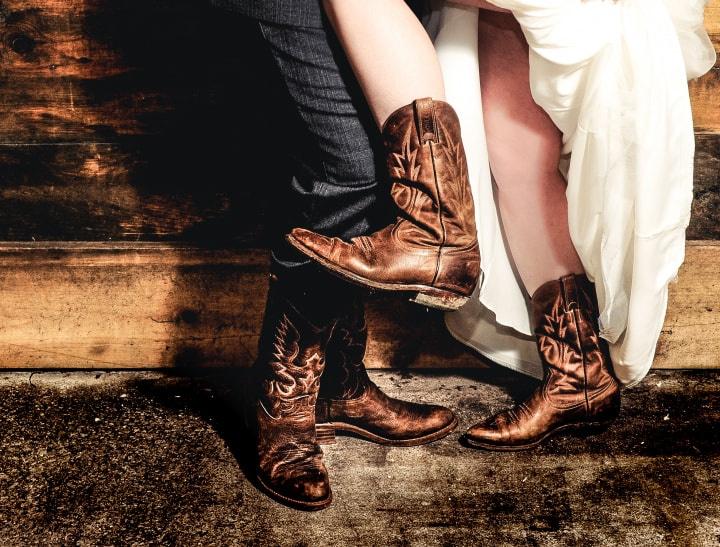 Outdoor ceremony
Most wineries offer stunning views, so we suggest making use of the great outdoors for your wedding ceremony. A spot that shows off the rows of vines and sprawling countryside is the ultimate backdrop for your big moment. Remember, you can always head inside a tent if the weather starts acting up.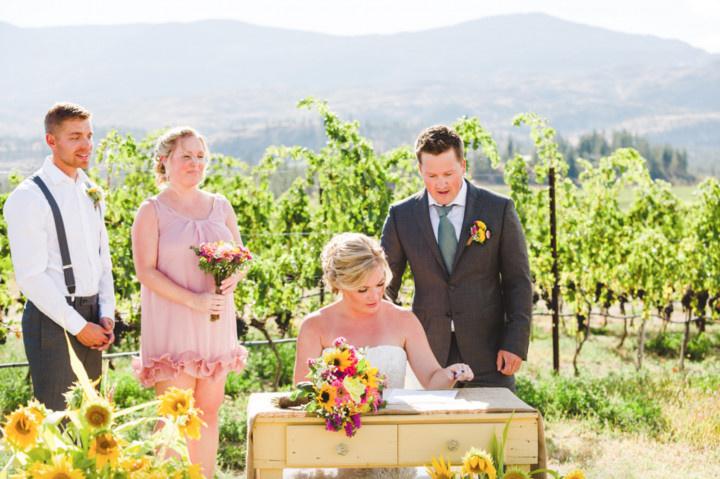 Tented reception
Speaking of tents, instead of taking your wedding indoors after you've sealed the deal with a kiss, stay outside and enjoy the weather with a tented reception. Add some rustic-chic decor and a few fairy lights and you'll have an absolutely dreamy place to drink, dance, mix and mingle the night away.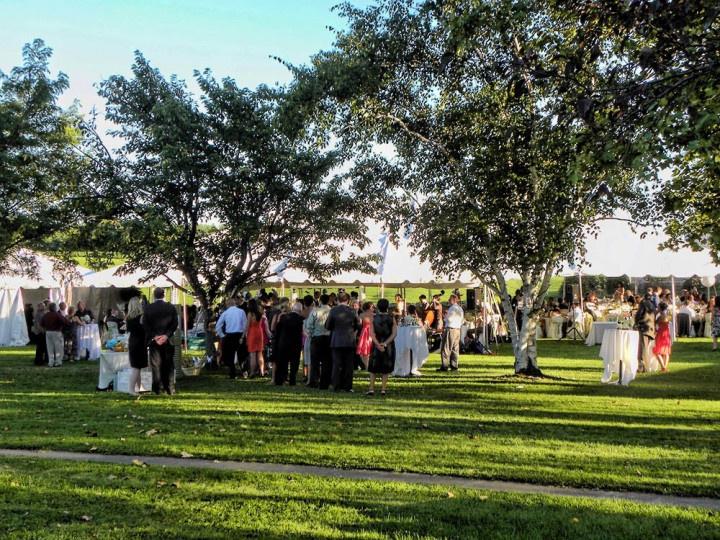 Wine box ceremony
One of our favourite winery wedding ideas is to add a wine box ceremony to your itinerary for an extra dose of sweetness and sentimentality. If you have no idea how it works, head on over to this article for the complete lowdown.

Chalkboard signage
Skip whipping up your signage on MS word and write out all of your important details on wedding chalkboards, instead! It's a fun, shabby-chic way to shake things up.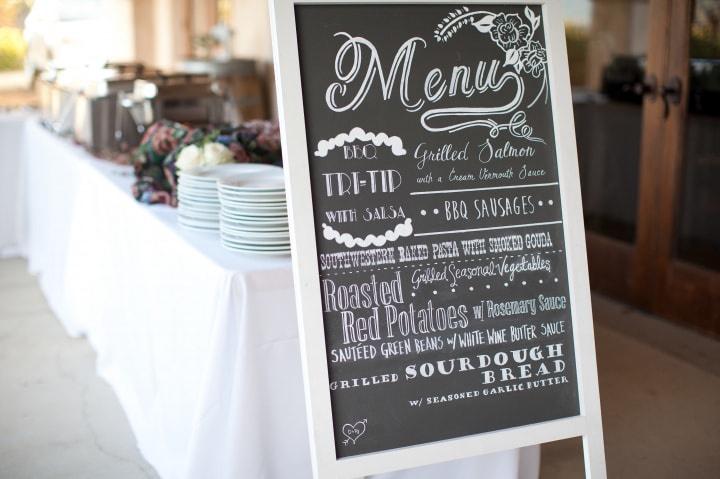 Voluminous bouquet
When it comes to bridal bouquets for this style of wedding, bigger really is better. If you can't afford to stuff yours full of blooms, add some extra volume with sprigs of greenery.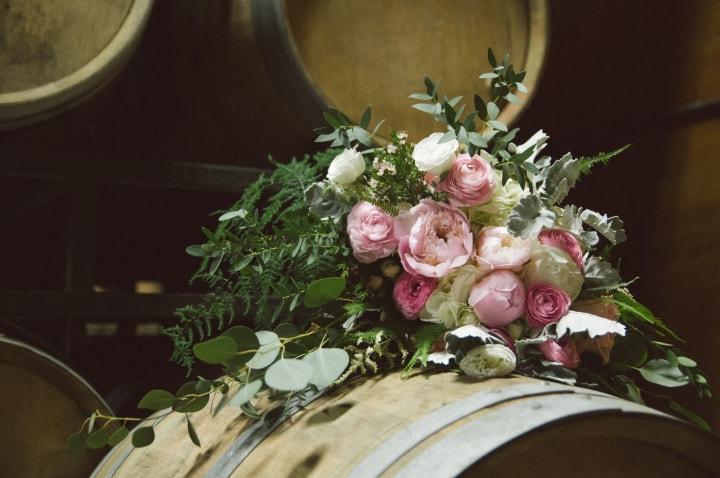 Cheese plates
Question: is there any better combination than wine and cheese? Answer: No! You could even serve a tiered wedding cake made of wheels of cheese.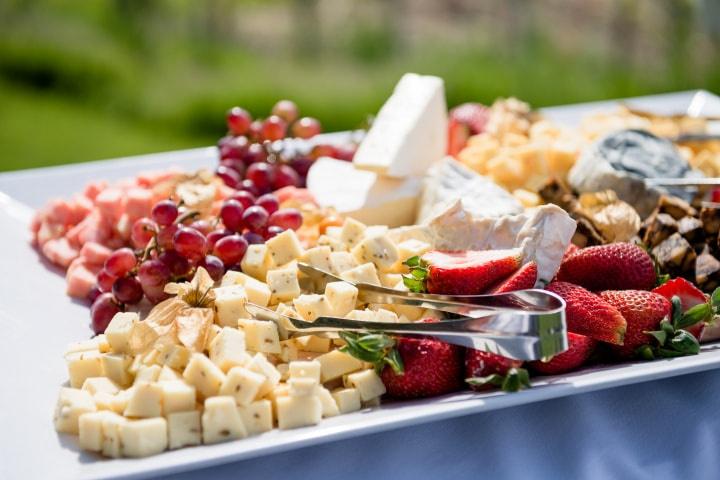 Cabernet-coloured bridesmaid dresses
Dress your girl squad up in red bridesmaid dresses inspired by the colour of your favourite drink (wine, duh).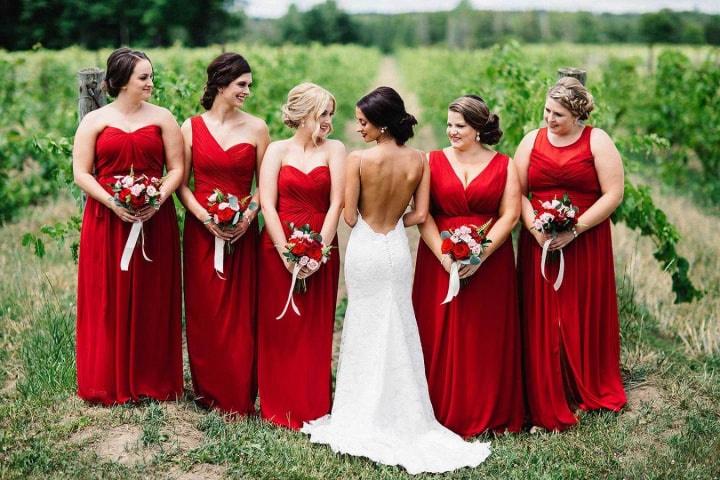 Wine bottle seating chart
Use an empty wine bottle for each table and add a label with a list of guests' names for a fun on-theme seating chart. You can even dress it up with some flora and fauna.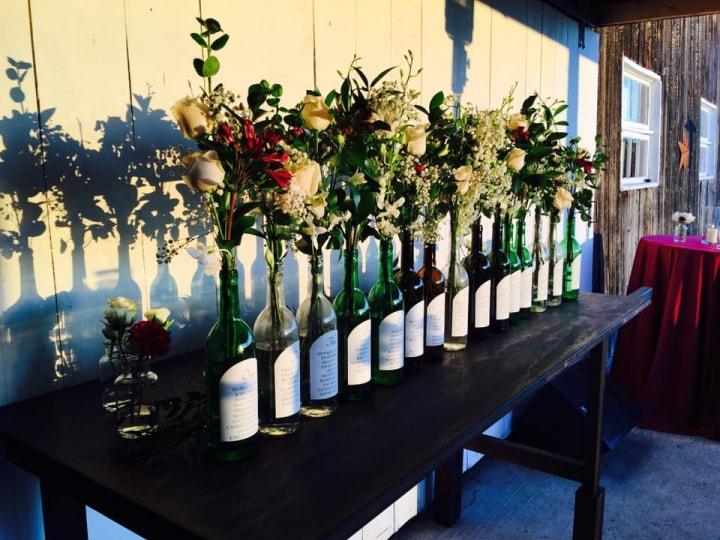 Wine bottle table number
Take the wine bottle seating plan one step further and add a custom label for each wedding table number or name. This can be a full bottle of red wine for your guests too crack open or play double duty as your centerpiece vessel.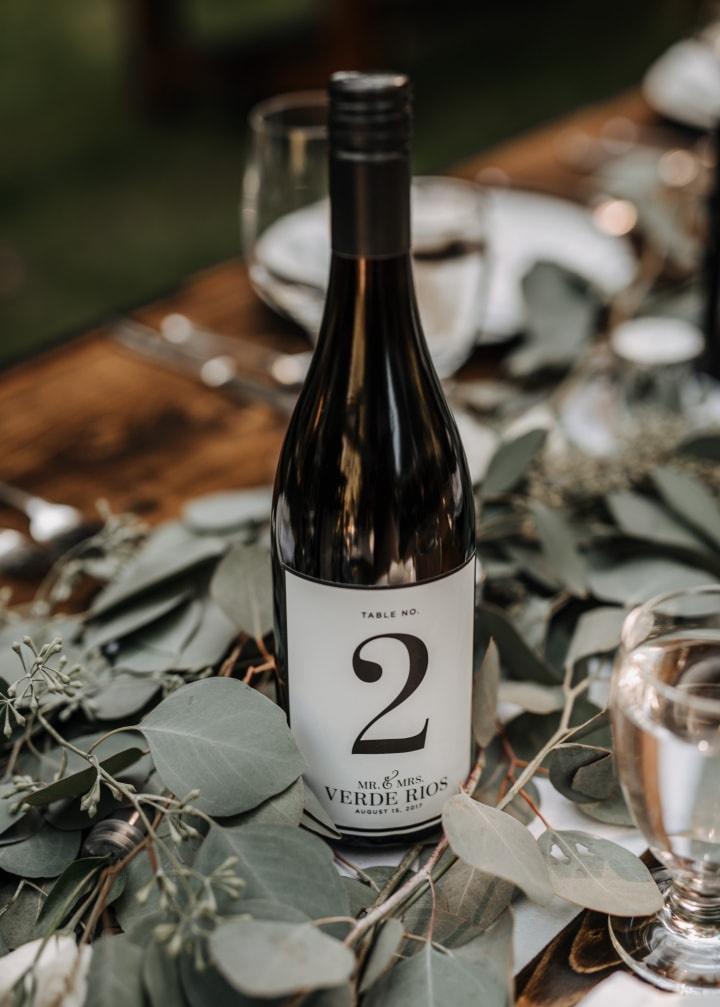 Wine pairing menu
Design your wedding menu to include wine pairings to put a focus on enjoying the vineyard's offering.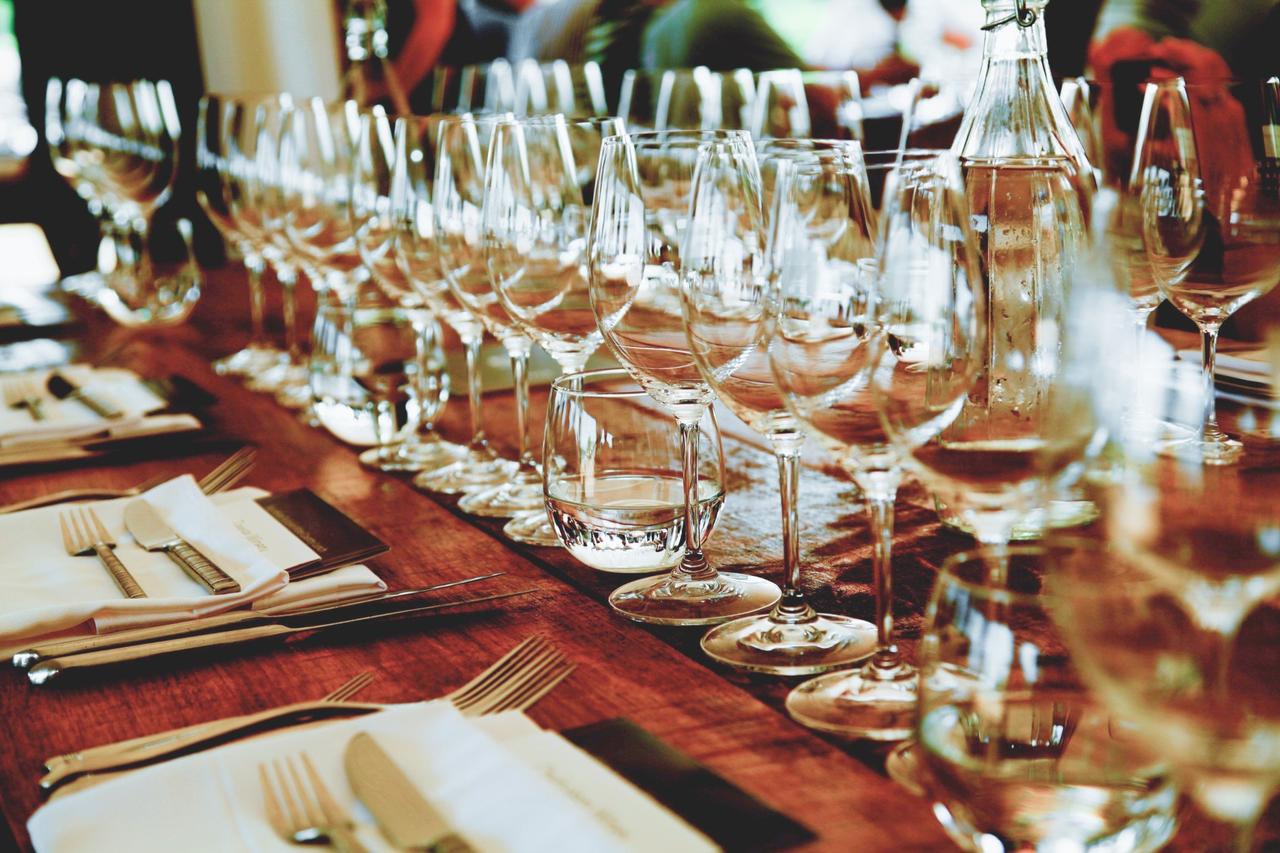 Personalized wine bottle labels
Kick things up a notch by creating your own personalized labels for your wine bottles. You can add a quote from your vows, a line from your first dance song and/or your wedding monogram to make them even more sentimental.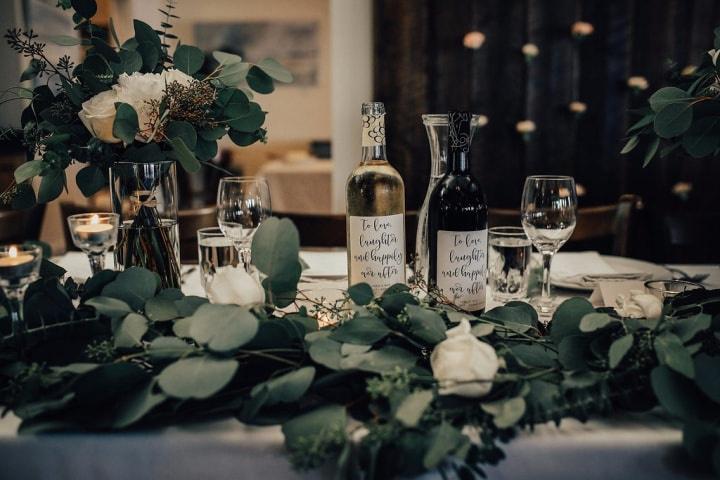 Lawn games
Setting up wedding lawn games like croquet, cornhole and giant Jenga is a surefire winery wedding idea to get your guests mixing and mingling.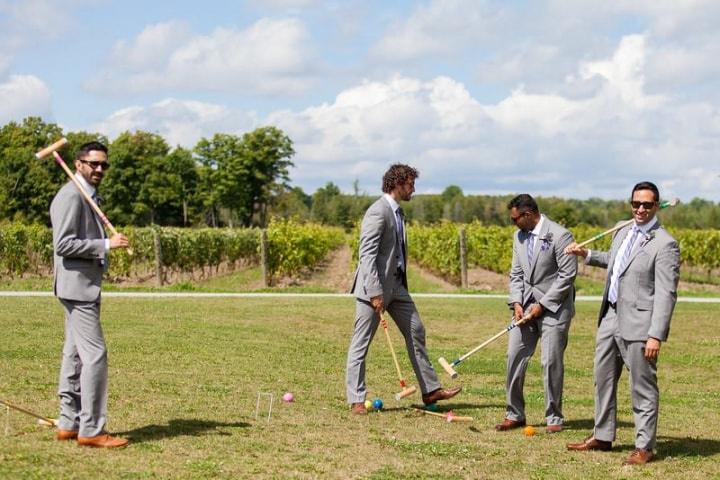 Barrel bar
Every wedding reception needs a bar! Create yours out of barrels and reclaimed wood for an awesome rustic look.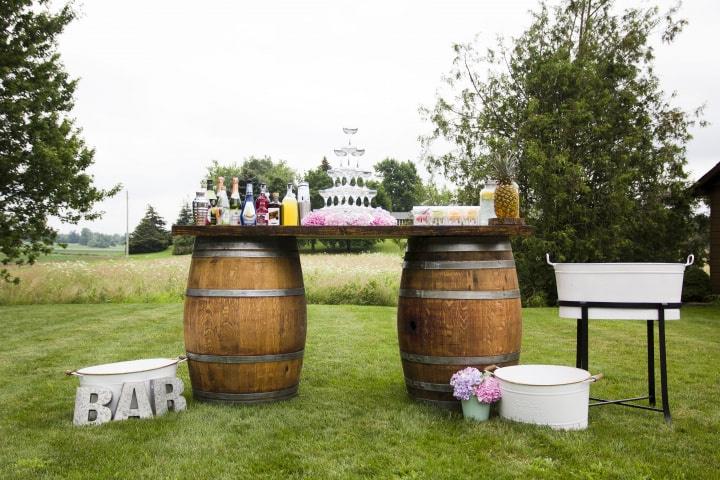 Barrel dessert display
...speaking of barrels, they can also be used to showcase your wedding's sweet treats.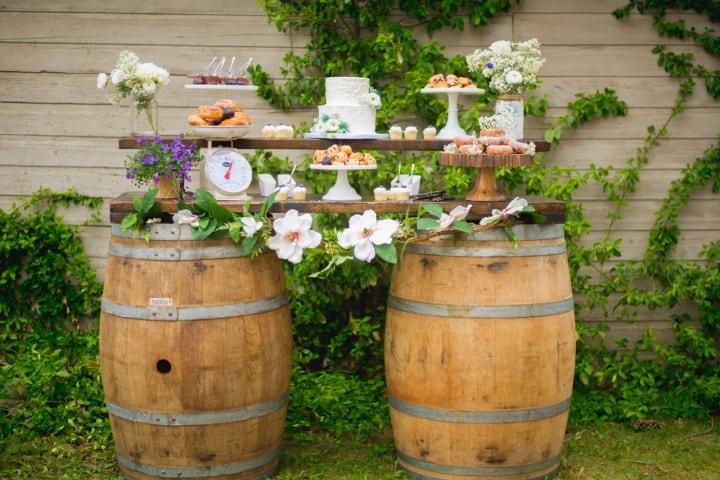 Grape cake toppers
Give a nod to your surroundings by skipping the figurines and flowers and going with grapes as your wedding cake toppers.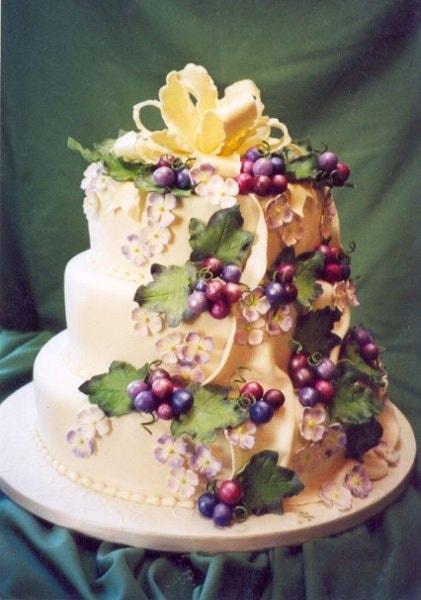 Sabering presentation
Show off your skills (and bring good luck to your journey ahead) by opening a bottle of champagne with a sword. The pros at a winery should be able to teach you how to do it beforehand and your guests are sure to be super impressed.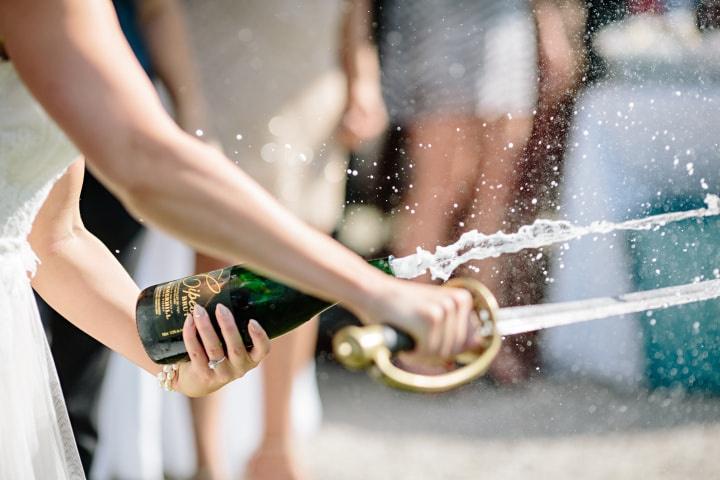 Champagne gummies
Champagne flavoured gummies are a must for every winery wedding. You can use them to fill your dessert table or give them away as wedding favours at the end of the night.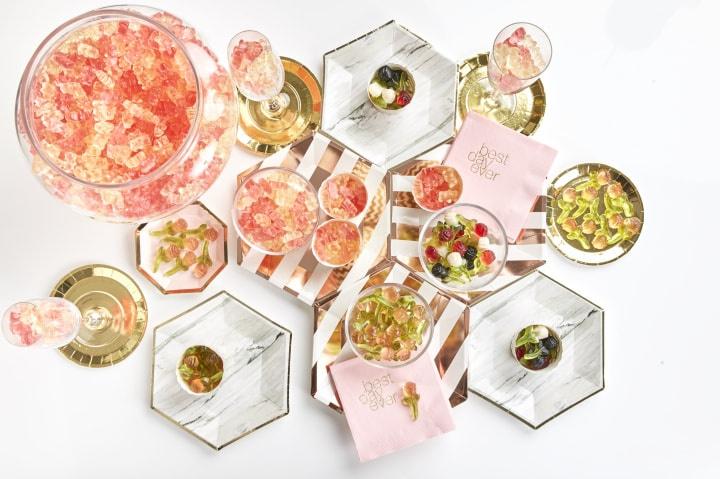 Wine bottle vases and candleholders
Here's an easy DIY winery wedding idea: save all of the empty wine bottles from your pre-wedding events, paint them to match your wedding colour scheme and - voila! - you've got some stunning vessels.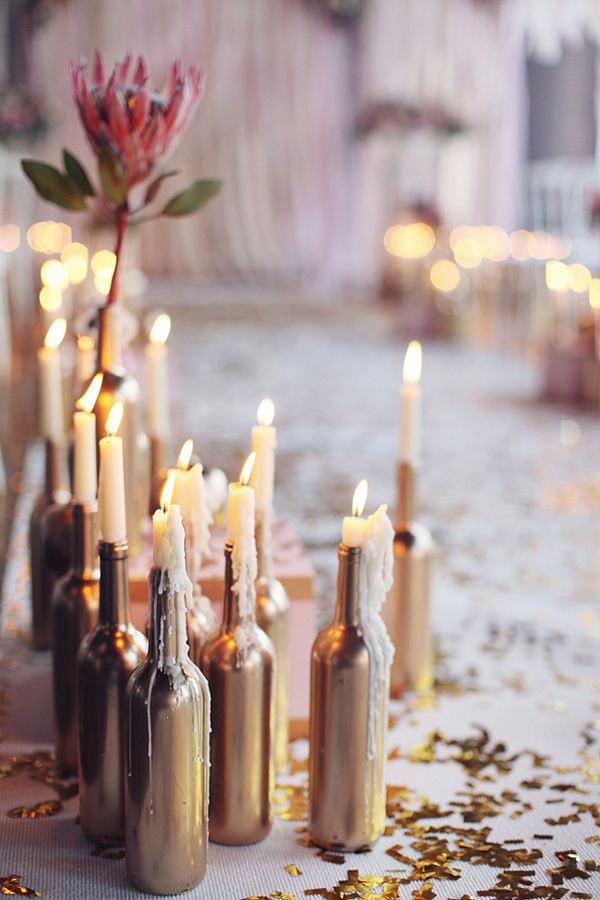 Cork sign
Decorate your ceremony and reception venues with some fun cork signs, like this one.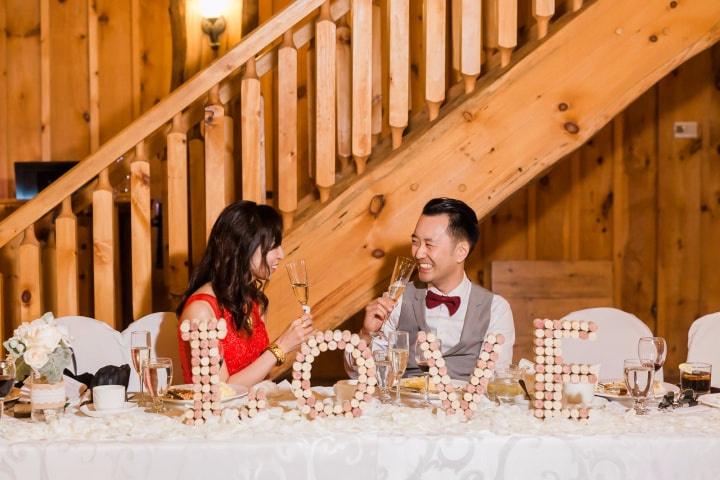 Advice bottles
Ask your friends and family to leave you a bit of marital advice on their way out!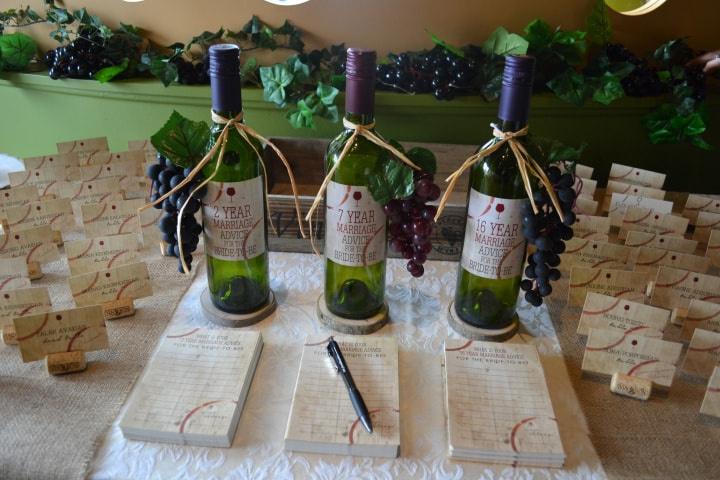 Wine wedding favours
Send your friends and family off with some wine of their own. Trust us, boozy wedding favours are always a hit.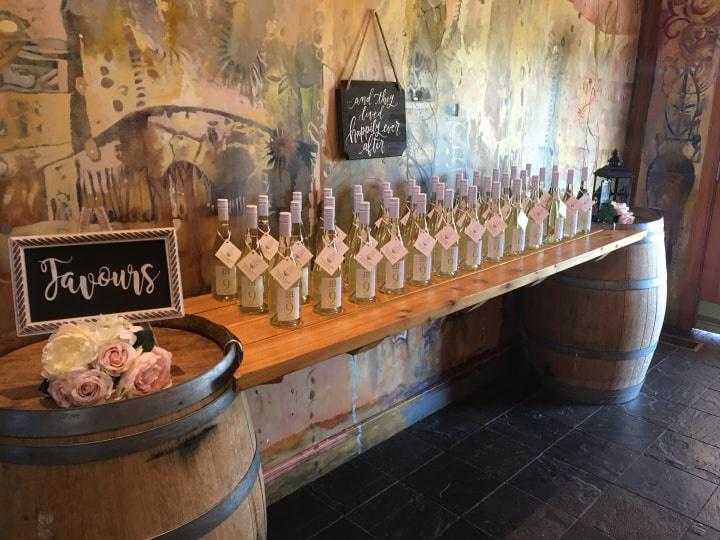 Champagne shower
Not fussed about getting your wedding attire a little messy? End the night with this winery wedding idea – an epic champagne shower.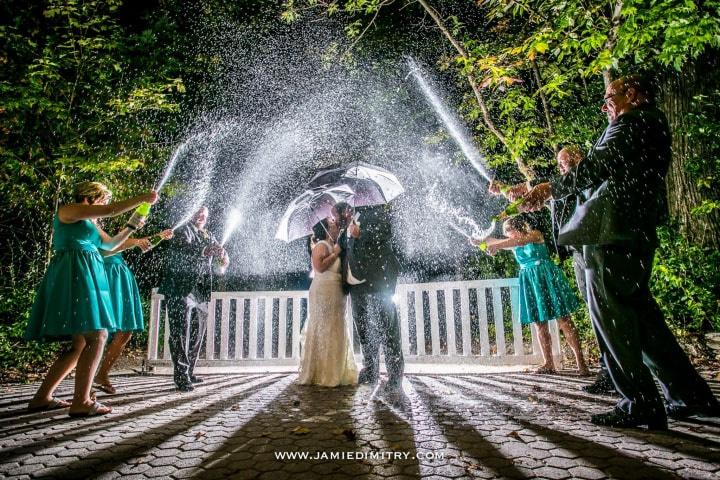 Find more winery wedding ideas and inspiration in our Real Wedding galleries »