What is a Wine Box Ceremony?
Want to add some extra sentimentality to your service and get an amazing keepsake in the process? Consider adding a wine box ceremony to your wedding itinerary.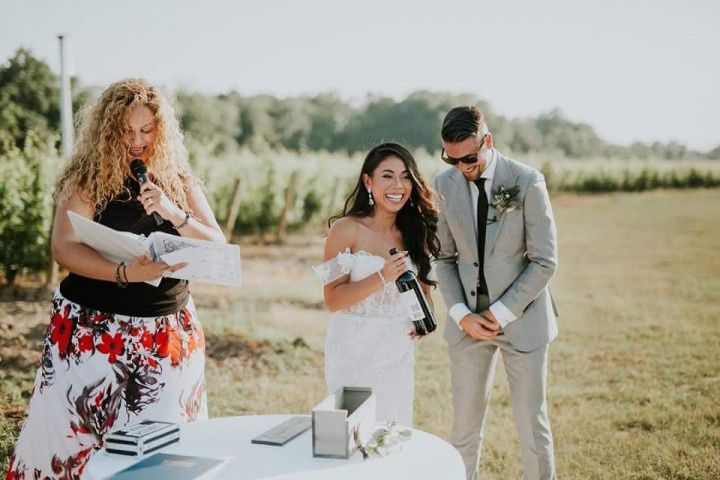 If you've been to a wedding or two, you know how things usually go down, but you don't have to follow the plain 'ol wedding ceremony structure when it comes to your own. Want to shake things up a bit and add an extra layer of sentimentality? Think about including a wine box ceremony. This quick and easy ritual can be worked into both religious and non-religious services so every couple can enjoy it. We especially love it for a winery wedding.
So, what is a wine box ceremony?
While its name may make it sound like a drinking contest, you and your S.O. won't actually be indulging in any boozy bevvies for this one (save that for your reception!). Put simply, a wine box ceremony is a wedding ritual that uses a bottle of wine and love letters to create a sort of time capsule for you and your S.O to open after a few years together.
Here's how it all goes down: at some point in your service, the man or woman responsible for marrying you (AKA your celebrant, commissioner, justice of the peace or officiant) will announce and explain the ceremony, then you and your partner will each place handwritten love letters into a box, followed by a bottle of wine. After all is said and done the box will be shut and locked.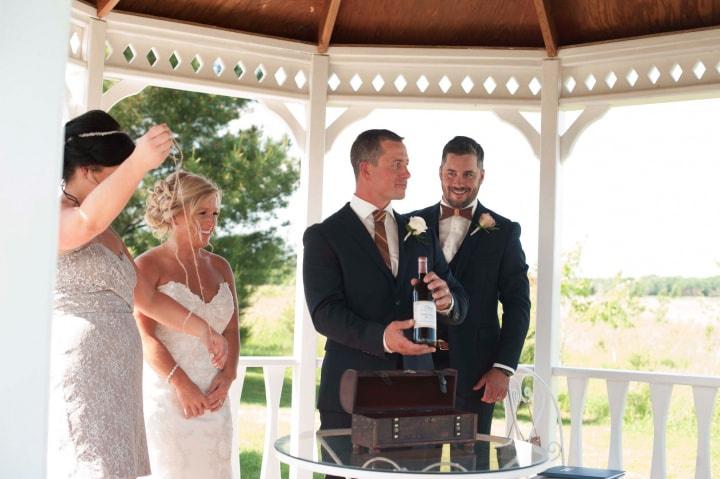 Now, you're probably wondering, "when do I get to open it?" - well, that's really up to you. Couples usually choose a milestone anniversary - most commonly the fifth - to crack open the box and celebrate. However, if you and your partner hit a rough patch, you can always open your capsule sooner and remind yourself of why you started this journey together.
You're going to need a few things to make your wine box ceremony happen. First on the list? Some wine, obvi. Make sure the type you choose can be stored in any climate and will age well. Next, you'll need to do a bit of writing. You and your partner will pen love letters to one another and seal them into the box with the wine. If you're having trouble coming up with something original, just use your wedding vows as inspo (it's not cheating, I promise). Remember, these are top secret, so don't let your partner peek before putting yours into an envelope. You might also want to include an engagement photo. Lastly, you'll need a decorative wine box to keep everything in. As you can tell, this one takes a little more preparation than a sand ceremony or unity candle ceremony, but it's totally worth the extra work.
Once you've sealed it all up, you'll want to hand off your wine box to a trustworthy family or wedding party member (you definitely don't want to lose track of it at your reception), then you can get to mixing, mingling and enjoying your reception.
Find your wedding officiant on WeddingWire »