What is a Sand Ceremony?
Want to make your wedding ceremony even more sentimental? Consider adding this tried and true tradition to your itinerary.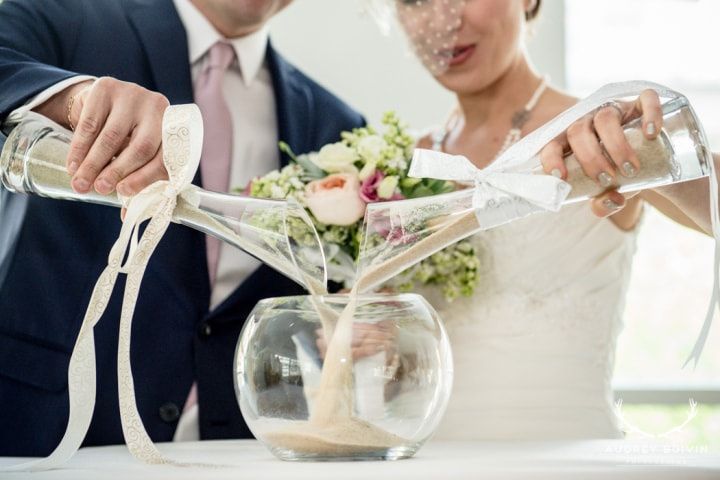 Looking to give your wedding ceremony that extra somethin' somethin'? Go beyond wedding vows, rings, readings and adorable first kisses and add in a sand ceremony. This is the perfect way to show your union and it can be worked into both religious and secular ceremonies.
So, what exactly is a wedding sand ceremony?
If you haven't seen a sand ceremony, you're probably thinking "this sounds a little weird" - but fear not, happy couple, sand ceremonies are actually beautiful and can add a healthy dose of sentimentality to your wedding. Don't worry, if you partake you won't be building a sandcastle in the image of your marital home or writing each others names on the beach - this tradition is much more romantic than that.
How does it work? During the wedding ceremony (the timing is pretty flexible) the officiant, celebrant or marriage commissioner will announce and explain the tradition of the sand ceremony (more on that to come), then each partner will take a glass or vial filled with sand (usually different colours) and pour their contents into a third, usually more decorative, vessel where it will be kept from that day forward.
The meaning of this ceremony is simple: it represents the union of two parties, bonding them forever. Each colour of sand symbolizes a partner and as they mix, they become one. Pretty cute, eh?
Keep in mind that a sand ceremony can involve more than just the guests of honour. Some people choose to include their officiant or celebrant as they're the one who is marrying them. Others choose to bring in their children or parents to show the bonding of the two families. There are no real rules as to who should be involved in the ceremony, so you can really tailor it to suit your wedding.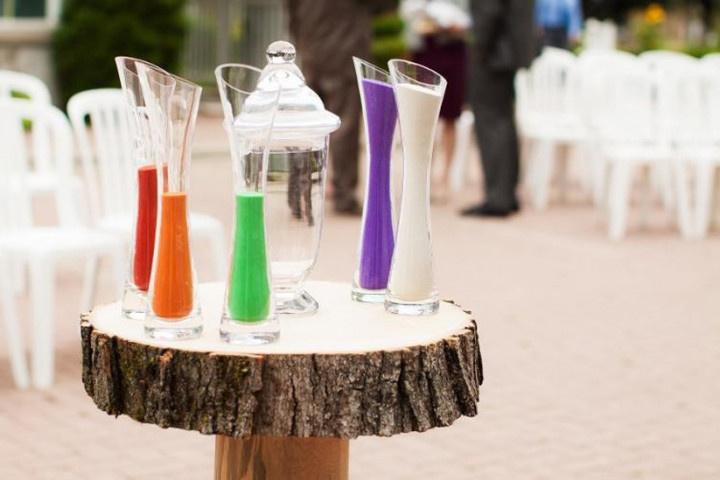 As you can probably tell, you don't need a ton of props to make it happen. Here's your shopping list: two (or more) different colours of sand and a few containers (a few for pouring and one for the sand to flow into). All of these can be found at your local craft or dollar store, so you should have no trouble hunting them down and working them into your budget.
When the ceremony has finished, you'll want to wrap up your sand-filled vessel (if you're working with glass, seriously consider bubble wrap!) and put it away for safekeeping. If you're headed out on your honeymoon right after your wedding, give it to a trusted member of your wedding party or one of your parents so that it doesn't go MIA, then move on to celebrating!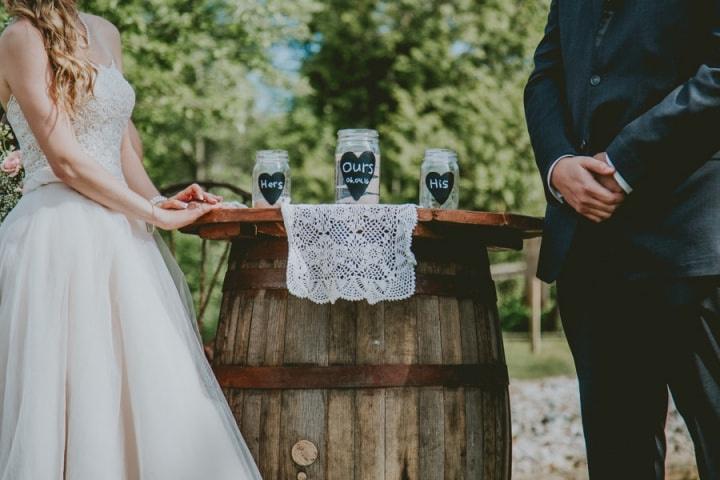 Find your wedding officiant on WeddingWire »