Wedding Vows 101 – What You Need to Know About Your Vows
From hunting for inspiration on TV to consulting the pros in real life, we've got all the tips and tricks you need to know before penning your wedding vows.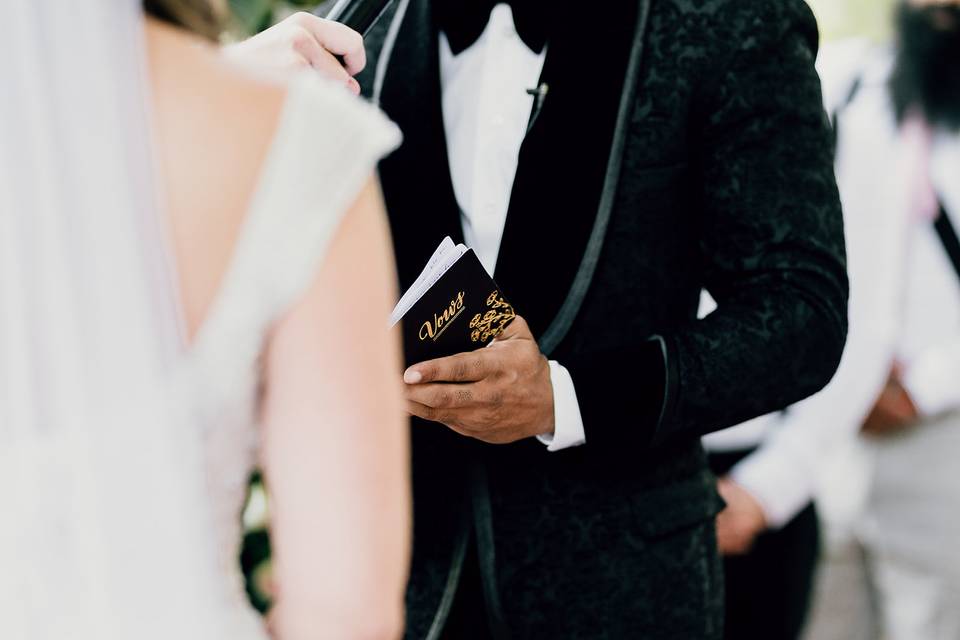 Writing your wedding vows is no easy feat. Sending out wedding invitations? No problem. Choosing your wedding rings? A cinch. Finding the perfect officiant? A cake walk. Crafting an eloquent proclamation of your deep and unwavering love for your partner? Oh, God. While most of us like to think we could sit down with a nice glass of merlot and hash out our feelings on paper, it's not all that simple. I mean, sure you could try that, but you'll probably end up with a mess of words that sound like they belong in a teenager's diary entry or Hallmark card—not your wedding vows. If you're feeling stuck when it comes to your vows, here are a few tips to get you through the writing process.
Here's what you need to know about wedding vows.
Give yourself room for error
The first step in your foray into writing your wedding vows should be a little bit of drafting. Freewriting may not leave you with the most beautiful speech, but it'll definitely help get the ball rolling. Answer these questions, make a list, create a vision board, do some simple word association. Whatever you can muster up, write it down.
Hunt for some inspiration
While I don't suggest plagiarising your wedding vows — come on, you're better than that — getting a little inspiration from love song lyrics, movies and/or TV never hurt anyone. Were you particularly touched by the wedding scene in the last RomCom you saw? Maybe it's time to rewatch that one. Got a night to yourself? Watch The Bachelor or some wedding-based reality TV to spur on your creativity.
Make things personal
This is the most obvious and most necessary wedding vow-writing tip: use your own relationship as ammo. If there were to be a highlight reel of your relationship, what would be featured? What were the game-changers? Those are the things that got you to this point, so why not let your husband or wife-to-be know.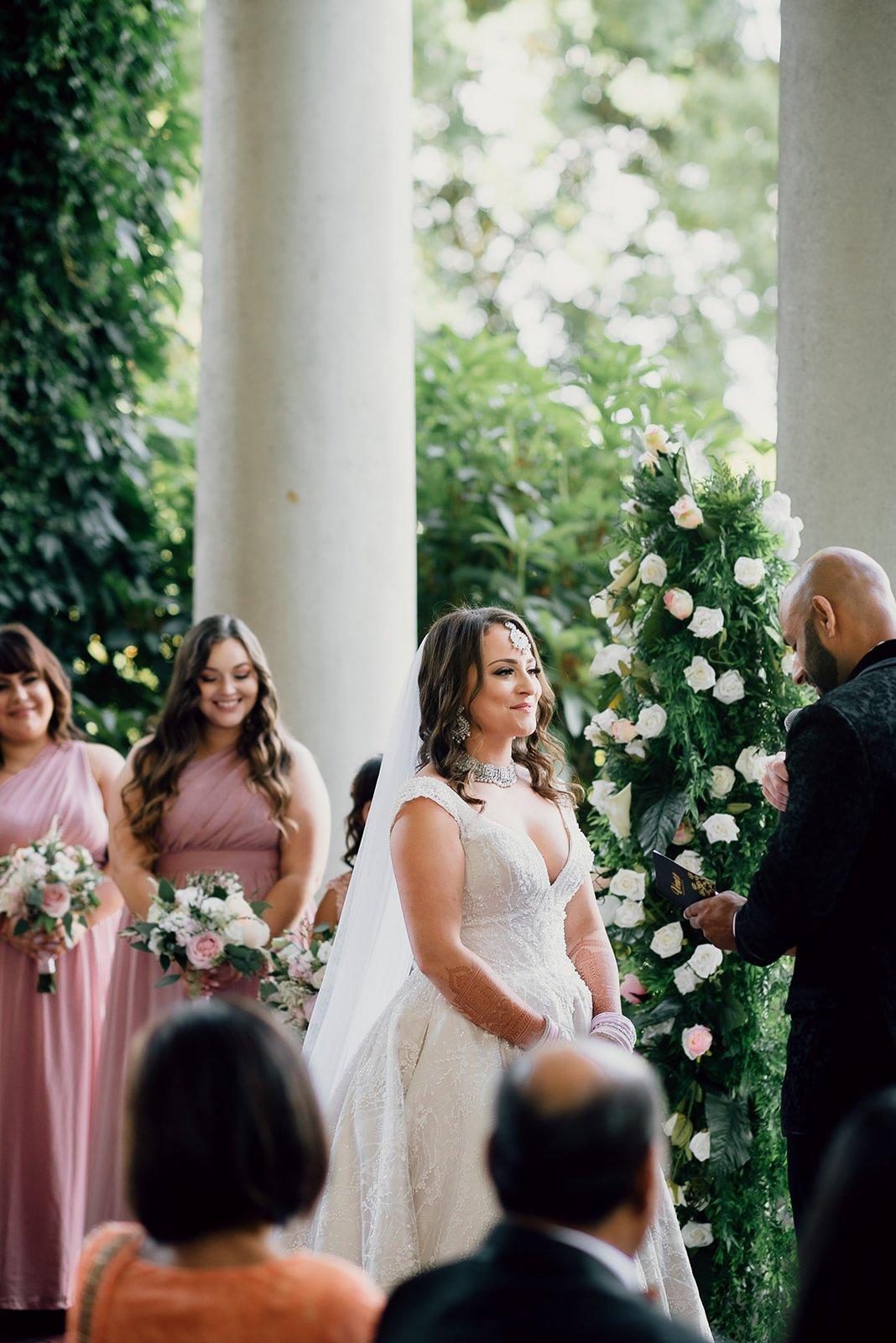 Spotlight your favourite features about your partner
Your wedding vows give you the opportunity to shamelessly highlight all the things you love about your partner, so I suggest really going for it. Give your significant other all the compliments they deserve. Let them know you love their sarcastic sense of humour. Give their button nose a shout out. Talk about how their sandwich-making technique changed your life for the better. Now's the time to put it out there.
Your wedding vows should fit your relationship
Though many couples wax nostalgic about their big day, stating that "there wasn't a dry eye in the room" when wedding vows were being read, that's not the case for everyone. If you and your significant other are total goofballs, play it up. Don't try to force the tears, just give your guests (and partner) a good laugh instead. It's all about authenticity. Bonus: this tip should help you avoid turning to cliches.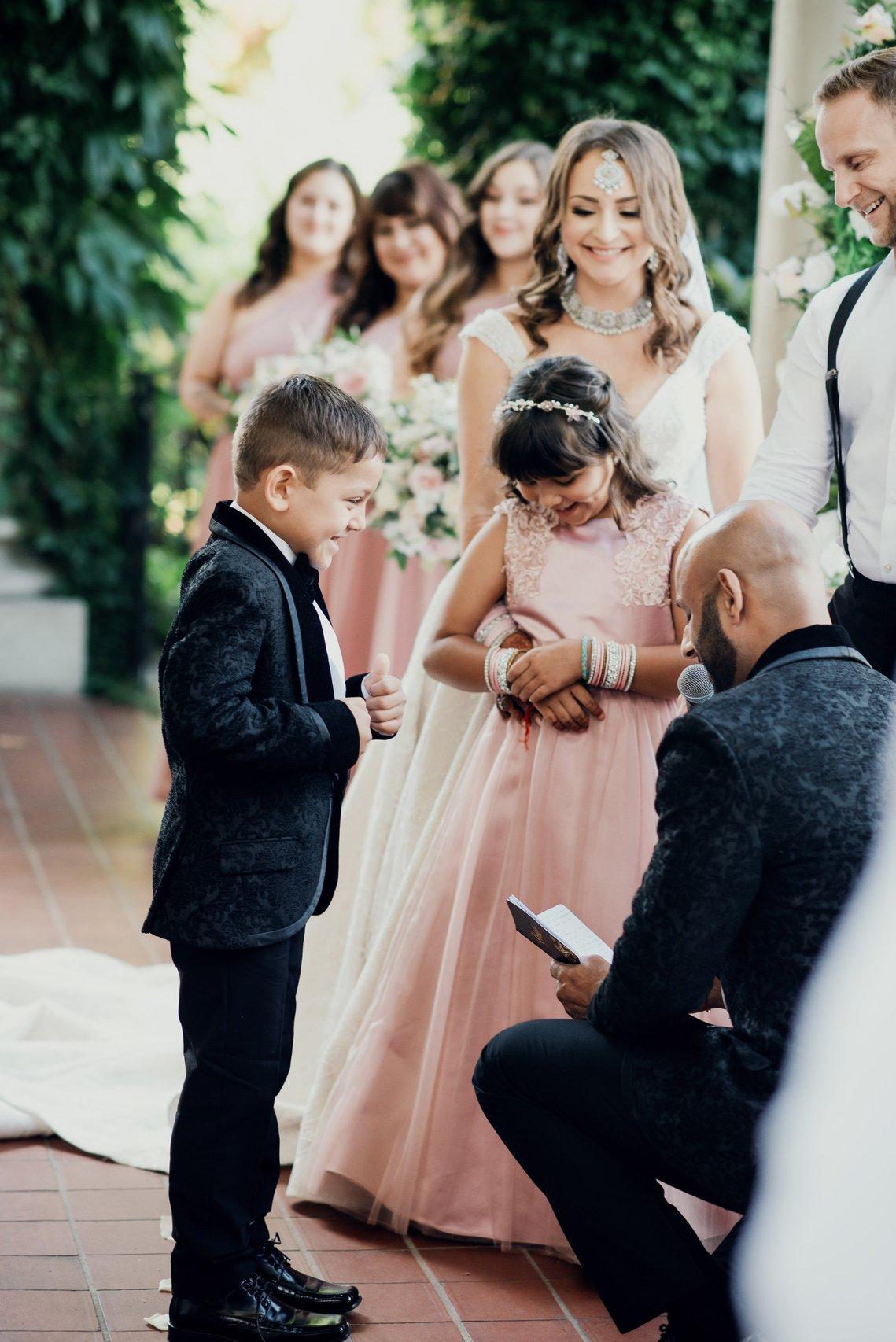 Make some actual wedding vows
Now that you've painted a picture of your love and all its glory, you should probably make some real vows (you know, promises). If you're not down to make some grand life-changing claims, don't. Keep things simple and doable. Always hog the blankets? Maybe vow to share the duvet a little more. Can't stop pestering your loved one about minor things? Try a vow of understanding. Whatever you're up for, make it known.
Consult the pros
You've tried everything. Literally everything. You're ready to throw in the towel and thinking: "I never told my fiancee that I was a writer, so what's the big deal?". If this sounds like you, turning to the experts may be your best bet. So who are these so-called "experts"? Your best option is your officiant (providing he or she is not your BFF who just got ordained online) or wedding celebrant. This is their profession, so they know pretty much every tip and trick in the book and can relieve some of that vow-writing pressure. Most couples rely on their officiants for guidance, so don't be shy about asking for their advice. If you don't think a sit down with officiant is for you, you can always hit the books. More than a few wedding gurus have penned books on the subject, so a quick trip to your local library couldn't hurt.
You can always go with pre-written vows
If personalized wedding vows are not your number one priority and the words just aren't coming to you, you can always use the old and faithfuls. Most religions have traditional vows that have been around for ages. And you know what they say: if it ain't broke, don't fix it. Hint: you can always add your own flavour to these wedding vow examples if you feel like they don't fit the bill at face value. The key to all of this is to be authentic and not overload on stress. You've got enough to deal with in the wedding planning process and this should be the fun part.
Find your wedding officiant on WeddingWire »