25 Adorable Love Song Lyrics to Inspire Your Wedding Vows
Looking for a creativity booster to help you pen the perfect vows, love letter or wedding toast? Why not take inspiration from love song lyrics by a few of your favourite musicians.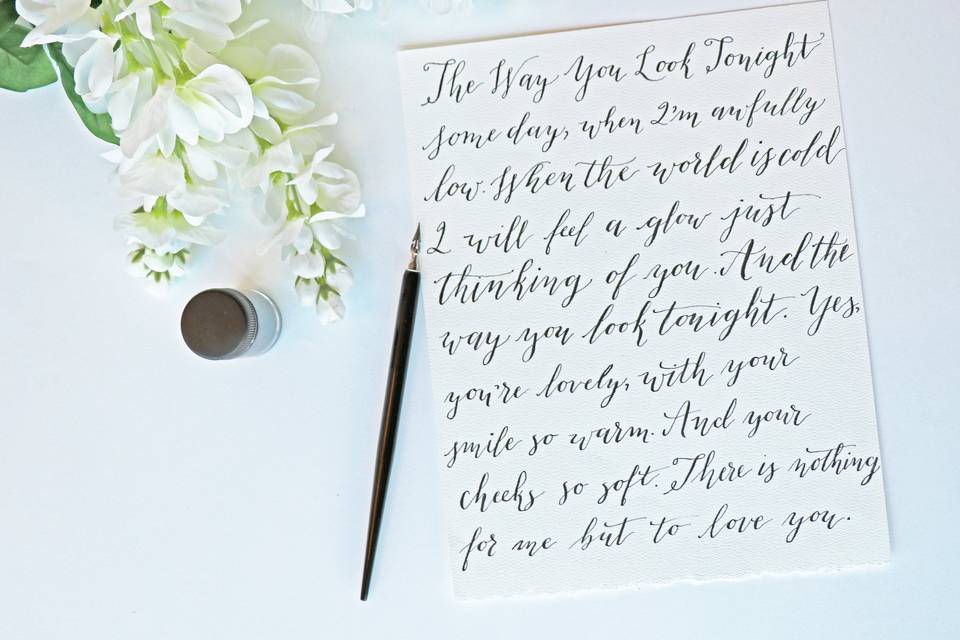 Hunting for some inspiration for your wedding vows, a love letter or a wedding speech? Look no further than love song lyrics by your favourite singers and songwriters. While it may be tempting to plagiarize their work word for word, do yourself - and your soon-to-be spouse - a solid and put your own spin on their love song lyrics. Sure, Ed Sheeran may be an amazing wordsmith, but you know your S.O. so much better.
Here are 25 adorable love song lyrics to inspire your wedding vows that'll make you swoon.
"I am thinking it's a sign / That the freckles in our eyes / Are mirror images / And when we kiss they're perfectly aligned" - "Such Great Heights" by The Postal Service
"'How I know your face / All the ways you move / You come in / I can read you / You're my favourite book" - "My Favourite Book" by Stars
"If you'll be my star / I'll be your sky / You can hide underneath me and come out at night / When I turn jet black / And you show off your light / I live to let you shine" - "Boats and Birds" by Gregory and the Hawk
"So when our eyes have seen their better days / And our hearing starts to fade / Put your arms 'round my neck, and your heart on my chest / "I love you" will still sound the same" - "I Love You Will Still Sound the Same" by Oh Honey
"Just like a star across my sky / Just like an angel off the page / You have appeared to my life / Feel like I'll never be the same" - "Just Like a Star" by Corinne Bailey Rae
"I won't give up on us / Even if the skies get rough / I'm giving you all my love / I'm still looking up" - "I Won't Give Up" by Jason Mraz
"'Cause I love you more than I could ever promise / And you take me the way I am" - "The Way I am" by Ingrid Michaelson
"And it's you and me and all of the people / And I don't know why / I can't keep my eyes off of you" - "You and Me" by Lifehouse
"Something in the way she moves / Attracts me like no other lover / Something in the way she woos me / I don't want to leave her now / You know I believe and how" - "Something" by The Beatles
"I hope you don't mind that I put down in words / How wonderful life is while you're in the world" - "Your Song" by Elton John
"Take my hand / Take my whole life, too / For I can't help falling in love with you" - "Can't Help Falling in Love" by Elvis Presley
"You smiled, you smiled oh and then the spell was cast / And here we are in heaven / for you are mine at last" - "At Last" by Etta James
"Your touch is sunlight through the trees / Your kisses are the ocean breeze / Everything's alright when you're with me" - "Better Place" by Rachel Platten
"Well, me - I fall in love with you every single day / And I just wanna tell you I am" - "Thinking Out Loud" - Ed Sheeran
"You've never loved your stomach or your thighs / The dimples in your back at the bottom of your spine / But I'll love them endlessly" - "Little Things" by One Direction
"'Cause all of me / Loves all of you / Love your curves and all your edges / All your perfect imperfections" - "All of Me" by John Legend
"Everywhere I'm looking now / I'm surrounded by your embrace / Baby, I can see your halo / You know you're my saving grace" - "Halo" by Beyoncé
"You made a rebel of a careless man's careful daughter / You are the best thing that's ever been mine" - "Mine" by Taylor Swift
"I have died everyday waiting for you / Darling, don't be afraid / I have loved you for a thousand years / I'll love you for a thousand more" - "A Thousand Years" by Christina Perri
"I could spend my life in this sweet surrender / And just stay here lost in this moment forever / Well, every moment spent with you is a moment I treasure" - "I Don't Want to Miss a Thing" by Aerosmith
"If I never get to see the Northern Lights / or if I never get to see the Eiffel Tower at night / Oh, if all I got is your hand in my hand / Baby, I could die a happy man" - "Die A Happy Man" by Thomas Rhett
"Until our song is over / 'Til the stars all fade to black / I'm gonna love you / To the ends of the earth / To the moon and back" - "To the Moon and Back" by Luke Bryan
"'Cause I'm not easy to understand / But you know me like the back of your hand / I'm your girl and you're my man / And we're makin' plans" - "Makin' Plans" by Miranda Lambert
"Baby, if I had to choose / My best day ever / My finest hour, my wildest dream come true / Mine would be you" - "Mine Would Be You" by Blake Shelton
"As good as you make me feel / I wanna make you feel better / Better than your fairy tales / Better than your best dreams / You're more than everything I need" - "Wanted" by Hunter Hayes
Looking for more love song lyrics? Follow WeddingWire Canada on Spotify for all our favourite wedding love songs.