Where to Look for Wedding Vow Inspiration
Every writer needs a bit of inspiration to get 'em going, here's where to get yours while penning your wedding vows.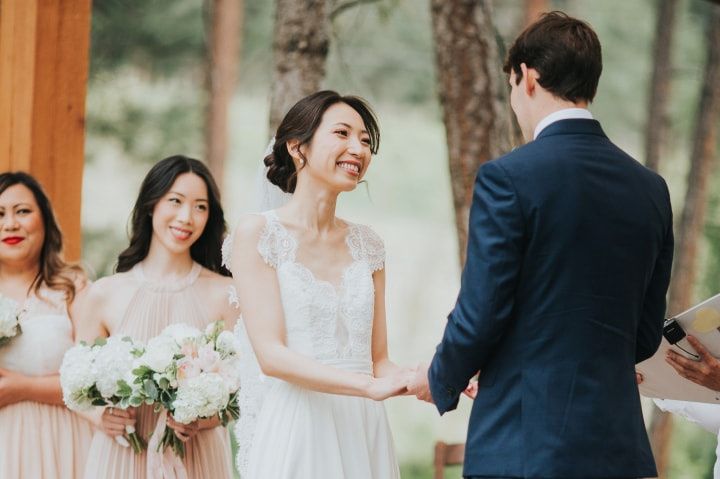 Are you looking for some wedding vow inspiration? While some particularly gifted wordsmiths can write their wedding vows in one fell swoop, not all of us are so lucky. This is one of the most important speeches you'll give in your life, so (understandably) you want to get it right. If you've been sitting at your laptop staring at a blank doc for hours, it may be time to do a little research. From asking to see your parents' vows to flipping through your favourite novels, there are a few ways to fix that pesky writer's block.
Here's where to get your wedding vow inspiration.
Your parents
Your parents may have written their vows a while ago, but their sentiments probably still ring true to this day and could be a great source for wedding vow inspiration. Ask them to dive into their archives and find the promises they made to one another back in the day (maybe you can steal them for your "something old" and "something borrowed"?). Just remember, even if you think they're perfect from start to finish, you should make a few tweaks to make the speech your own.
Your officiant
Part of your wedding officiant's job is to help you out with writing your wedding vows, so if you're facing a bit of writer's block, turn to them for guidance. This probably isn't their first rodeo, so they should be able to fill you in on some helpful tips and tricks. Note: if you've hired an alternative, like a celebrant, they'll most likely be able to fulfill this role, but be aware that some types of officiants won't let you personalize vows at all.
Love poems
This is one of the most tried and true wedding vow inspiration options. After reading a few passionate sonnets and soliloquies you should be raring to go. Whether you want to turn to the OG bard (Shakespeare) or go with something more contemporary is your call.
Romantic songs
You've probably already spent hours listening to love songs while working on your wedding playlists, so there's a good chance you've already heard a line that you like. While you probably don't want to burst into song during your wedding vows, using love song lyrics to inspire them is a great idea. Sift through the verses of your favourite (or your partner's favourite) songs to find a few lines that really make your heart sing. From Ed Sheeran to The Beatles, you've got plenty of options.
Your favourite books
If your bookshelf is stacked with Stephen King novels, this may not be the best option for you, but you'd be surprised what you can find in your favourite books. Scan their pages for wedding vow inspiration - or take the easy route and do a quick Google search - to find a few quotes to use in or inspire your vows. Even Lord of the Rings and Game of Thrones have handfuls of swoon-worthy quotes tucked away in their pages.
Find your wedding officiant on WeddingWire »