5 Tips for Overcoming Wedding Vows Writer's Block
Having a tough time coming up with the perfect way to say "I love you" with your vows? Here are few tips for tackling writer's block.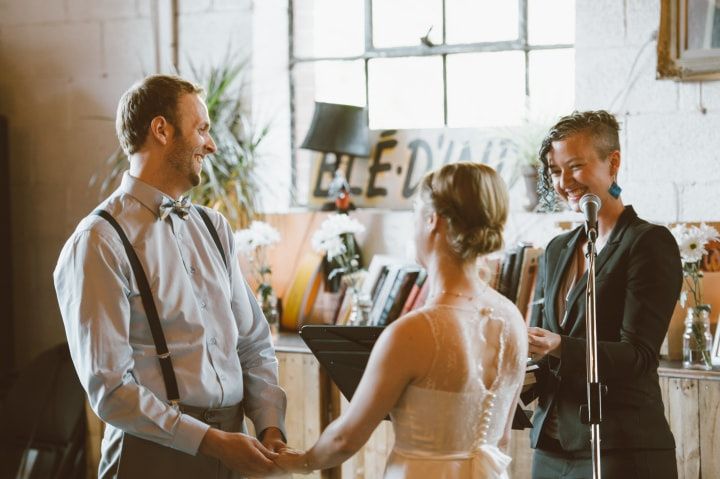 So, you've read every article on how to write your own vows, sampled about a million templates and still feel like you just aren't getting yours right? That's totally normal. If you're not a natural wordsmith, writing your wedding vows may be the hardest part of prepping for your big day. If you need to return to the drawing board but don't know where to start, we've got a few tricks that'll help get you through.
Here are a few tips for overcoming wedding vows writer's block.
Ask yourself the important questions
If you've sat down to write your own vows twenty times and come up with nothing, try answering these important questions. Write down everything that comes to mind - feel free to use bullet points, nobody's reviewing your work - and then turn those into your vows. It may take a few attempts to transform your shorthand responses into an eloquent speech, but push through and you'll probably come up with something really magical.
Get to Googling
There's no shame in doing a bit of good old fashioned research, so sit down with your laptop and type "wedding vows" into that Google search bar. Yes, you'll probably find a number of useless articles and apps, but you may also stumble upon a hidden gem or two. At the very least you'll get a handful of examples of real vows, and those may be just what you need to get your gears turning.
Use your resources
Google isn't the only tool out there. In fact, there are plenty of places to look for vow inspo, including your favourite books, songs, and poems. You can even ask your officiant for tips if you feel like you're really up a creek without a paddle.
Tackle them as a team
Remember, you aren't on this journey alone! Your partner is working on their wedding vows, too, so why not ask them for a helping hand? Instead of putting pressure on yourselves, simply have a conversation about all the things you love about each other and all the times you've shared together - this should inspire you to put pen to paper. You may even want to record your convos so that you can listen back to them when you're working on your first draft.
Let it simmer
Surrounded by failed attempts in the form of scrunched up balls of paper? It's probably time to put down your pen and step away from your desk. Get out of the house, hit the gym, run some errands - basically do anything but think about your wedding vows. When you come back to your notebook with a clear head you may find writing just a little bit easier.
Find your wedding officiant on WeddingWire »