Your Go-To Wedding Speech Template
So you're not the best with words? We've crafted a template to get you through the wedding speech writing process stress-free.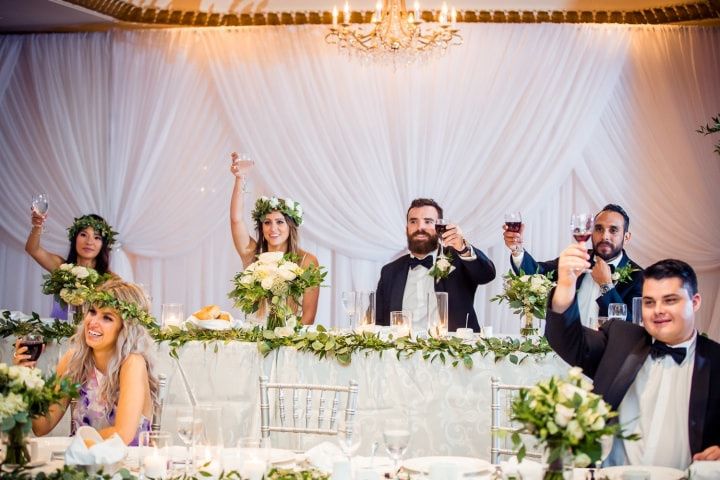 Regardless of your relationship with public speaking, having a wedding speech prepared for a friend or family member's celebration is a must - especially if you're seated at that head table. Whether you're writing a maid-of-honour speech, best man speech or father-of-the-bride toast, this wedding speech template will guide you through the writing process to leave you with something you'll be excited to stand up and say.
Here's a wedding speech template to pen the perfect toast.
Introduce yourself
There's a good chance that not everyone who made the guest list knows who you are, so the first part of our wedding speech template is to offer up an introduction to keep them from guessing. Somewhere in your brief introduction, you may want to explain how you know the happy couple. That's all it takes to get the ball rolling, you're already a few lines down!
Talk about how the newlyweds met
Now onto the subjects of your wedding speech, the couple. You may not have been there when they first locked eyes, but that doesn't mean you didn't hear about it. Take a trip down memory lane to channel this era of their romance. Maybe you introduced them? Perhaps she called you right after they had a disastrous blind date? Maybe he showed you their first few text conversations? Whatever it was, make your description short and sweet - no one needs to hear everything. Tip: if the couple met in a way that they might not want to be publicized to their friends and family (i.e. Tinder), you should probably consult them before giving your toast.
Get anecdotal
The stories that you share don't have to be about the newlyweds' relationship, but should always lead back to them as a couple. For example, if the groom has been a competitive athlete his entire life you could lead up with a tale of his biggest victories, then mention how this marriage was his biggest win of all. This is an area of our wedding speech template where you can get creative.
Don't slack on sentimentality
This is the point in your wedding speech where the couple might start shedding a tear or two. Talk about how your relationship with them has changed your life for the better. Maybe she's always been there for you in times of need or he never failed to make you laugh? Well, now's the time to give them the kudos they deserve. Remember, you don't have to focus on the two of them in this section. If you're BFFs with the bride but don't know the groom too well, focus on her. To tie it all together, end your speech with a line like "because of all this, I know x is the best partner for x".
Talk about how they're suited for each other
Before you end your wedding speech you'll want to break down why you think the couple is a perfect match. Oftentimes people change when they get into a serious relationship, and you, as their best friend or family member, have probably noticed. Maybe they're more forgiving, more empathetic or are generally happier since meeting their partner. Detail all the great things you've noticed and then you can move on to wrapping it up.
Polish it off
Congratulations! You're almost done. All that's left on our wedding speech template is to offer up some well wishes, raise your glass and cheers to the lifetime of happiness that's ahead of them.