The Do's and Don'ts of a Best Man Speech
Penning the perfect best man speech is tough. Here's everything you should include (and exclude) from yours.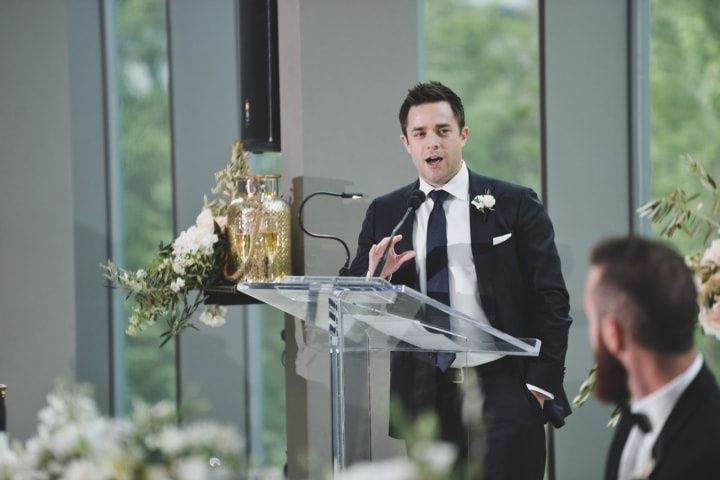 Your best man duties on the big day go beyond moral support and sporting a tux, you've also got to pen an awesome best man speech for the reception. Whether you want to keep things lighthearted and funny or go the sentimental route there are a few things you'll want to keep in mind when you start writing yours. From including a few anecdotes to skipping the embarrassing stories, these are the pillars and pitfalls of best man speeches.
Here are the do's and don'ts of a best man speech.
DO…
Say what makes them perfect for each other
Kick off your best man speech by explaining exactly why the happy couple are a match made in heaven. Whether it's simply their mutual, undying love for the Toronto Raptors or something a bit deeper, now's the time to make it known.
Tell the groom why he's your best bud
Now's the time when you can get a little bit sappy and sentimental. Let your buddy know why he's a great friend and how he's changed your life for the better. Sure, it's a little cheesy but the groom is sure to appreciate it, and, who knows, maybe you can even get him to shed a few tears. This will also let the other guests know why you stood by his side at the altar, after all, not every person in the room is familiar with your relationship.
Include a funny anecdote
Who doesn't love a good story? When penning your speech before the wedding take a quick trip down memory lane to dig up a very funny tale or two about your close friend. Bonus points if your story involves both the bride and groom!
Keep it concise
When it comes to toasts, short and sweet is the way to go. Yes, you may have a lot to say, but try your best to keep it under the five minute mark. You're probably not the only one giving a wedding speech - it's tradition for the maid of honour and father of the bride to have their moment with the mic, too - so, cut out the extra fluff and get to the good stuff ASAP.
Say congratulations
The reason you're doing this speech is to say congratulations to your newly hitched pals, so make sure you actually say it. Close your wedding toast by raising your glass to the ceiling and cheersing to their happy and healthy future together.
DON'T…
Get too tipsy when public speaking
It's fine to indulge in a little bit of liquid courage before your best man speech, but don't hit the bar too hard. Cap it off at two drinks, and remember, you can always party harder once your toast has wrapped. You want to speak eloquently, not slur your way through the speech.
Make it about yourself
Yes, the mic is in your hand, but remember that this moment in the spotlight isn't actually about you. Sharing a few stories about you and your best friend is all fine and well, but don't overshadow their life partner by regaling the audience with your bromantic tales. The key to a great best man speech is to make both members of the couple feel loved, not just one.
Include super embarrassing stories
Feel free to throw in a few playful jabs at your buddy, but try not to dive too deeply into embarrassing stories and inside jokes. Remember, your audience includes parents, grandparents and people who the happy couple respect and admire (aka guests who probably shouldn't be privy to information about your wild college party antics). Save the stuff that calls for a rating higher than PG for the bachelor party when you have the bros cheering you on.
Say something about his ex
Don't let past loves sneak their way into your best man speech. Sure, they may be the butt of a hilarious joke or they may have played a role in getting the guests of honour together, but now's not the time to shine the spotlight on them.
Go off topic
While you may think an anecdote about yourself is particularly hilarious or sentimental, try not to stray from the topic at hand when making your toast. Stick to praising the newlyweds and save the other stuff for later. Seriously, you'll have plenty of time to tell funny stories when mingling at the reception and after party.
Looking for more tips? Check out our speech template and join the "wedding speech" discussions in our community »