How to Save Money on Your Wedding Tux
If you don't want to shell out tons of cash for your wedding look, here are a few ways to cut costs.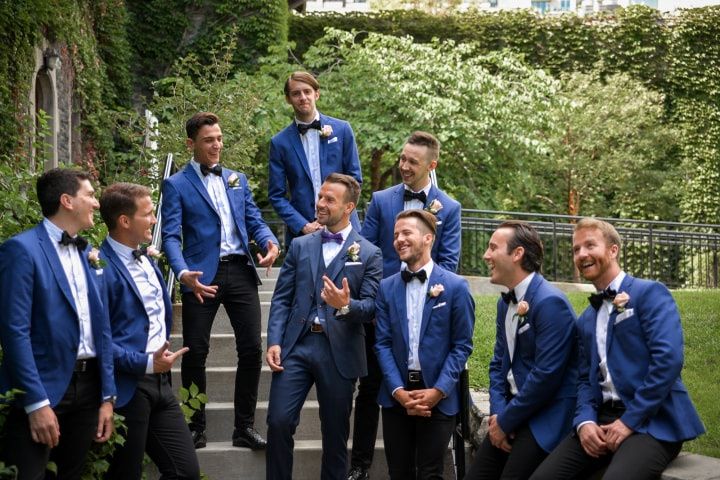 Ready to start putting together your wedding look? Good news! You don't need to shell out the big bucks to look as good as Tom Hardy on your big day. If you're not dead set on a costly tuxedo from a luxury designer, there are a few easy ways to cut down your spending to stay within your wedding budget.
Here are a few tips on how to save money on your wedding tux.
Opt for a suit
Suits are almost always cheaper than tuxedos, so go with the former if you're looking to save a few bucks. They come in all different fit and colours and can look just as elegant.
Think about renting
If you're not willing to put a lot of money into your wedding look, renting is always an option. It'll save you both cash and space in your wardrobe. This is an especially good call if you don't see yourself wearing the outfit more than once.
Suit your look to your venue
Sure, if you're hosting a black tie affair at a five star hotel or mansion you'll probably want to don a tux or suit. However, if you've chosen a beach or barn, you have more room to get creative with your look. You may not even need a pricey jacket!
Comparison shopping is key
Don't throw down your Visa after trying on one or two suits. There's a good chance that if you scout out a few stores you'll be able to find something that suits both you and your budget. The process may eat up a bit more of your time but it can be a real money-saver.
Be flexible
Being flexible doesn't mean compromising your entire vision. Once you've picked the type of outfit you want to wear on your big day, move on to dealing with fabrics and brands. Be open to trying different materials and skip hitting up high end retailers. Brands like Topman have some perfectly suitable, budget-friendly options.
Buy something you can wear again
Unlike bridal gowns, wedding suits and tuxes don't have to be an "only wear once" sort of deal. In fact, you can normally get a few wears out of the look you sport on your big day. Remember to think beyond the clothing. Look for cufflinks, socks and shoes that you can break out on several occasions. This will make spending the money even more worthwhile.
Look for bargains
Now's the time to channel your inner extreme couponer. Scour the web for discounts, codes and sales to knock a few dollars off your big purchase. Sometimes stores will offer price cuts to those buying more than one outfit, so look into getting your groomsmen their suits at the same place. If you've tasked them with paying for their own suits they'll thank you for your budget-savvy ways!