What's the Difference Between a Tuxedo and a Suit?
Have you been faking your suit and tuxedo knowledge when browsing for your wedding ensemble? Here's how to spot their differences.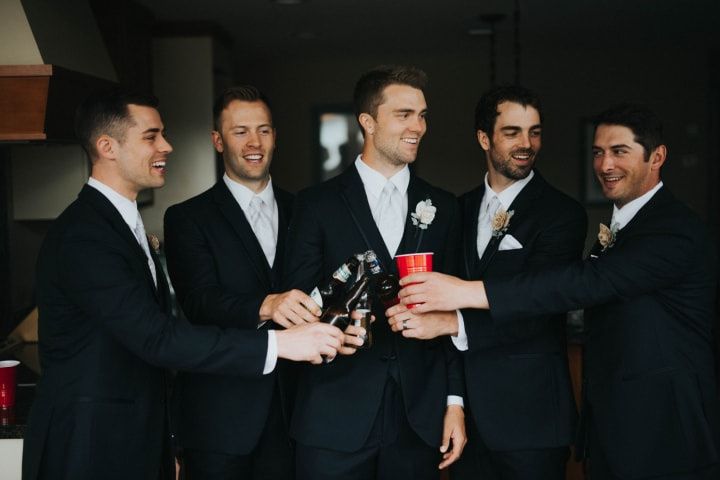 So, you're ready to start shopping for your perfect wedding ensemble. Yes, you may have a picture of what you want firmly planted in your mind, but do you know what to call it? If the answer is no, don't worry, your secret is safe with us. We've compiled a list on all their differences so that you can waltz into those fancy bespoke shops with confidence.
Here are the differences between a tuxedo and a suit.
The material
Does the ensemble you're trying on feature satin on the lapel facing, buttons, pocket trim and/or down the side of the trouser legs? Well, my friend, that's no ordinary suit you're sporting - that's a tuxedo. Suits don't boast any satin details, the whole look will be crafted from the same material, sometimes even down to the buttons. Another thing to note, suits can come in a variety of colours and patterns, but tuxedos are always solid black or midnight blue.
The occasion
You're probably well aware of this, but tuxedos are intended for more formal occasions than suits. Most people would get shot some serious side-eye from their coworkers if they showed up to their 9 to 5 in a full blown tux, whereas suits are seen as perfectly acceptable business attire. It's also a no-no to wear a tux during the daytime, so if you're wedding is taking place before sunset, you may want to think about wearing a suit instead. Bottom line: if you're hosting a swanky evening affair in a grand ballroom or hotel, a tux is probably the way to go. If you're hosting a brunch wedding or barn affair, maybe opt for a suit.
The jacket
Not all jackets are created equal. In fact, suit jackets and tuxedo jackets are actually pretty different (maybe brothers, but definitely not twins). Unlike a suit, a tuxedo will boast satin trimmings, and maybe include a shawl collar and/or a peaked or notched lapel. Suits are much simpler, so don't expect to see any of these fancy flourishes. Another interesting little tidbit: tux jackets always have satin trimmed pockets to keep things looking streamlined, but suits can feature pockets with flaps or no flaps.
The details
If you're sporting a tux you may also find yourself wearing a bow tie and cumberbund or waistcoat. Yes, you could opt for a long tie and a vest instead, but you'd be rebelling against the status quo. Suit wearers have a lot more freedom, so they can rock any style of tie and go waistcoat-free if they so choose. No fashion faux pas here.
The pocket square
Have you opted for a tuxedo? Well, a crisp white pocket square is the only way to go. If you've gone with its more casual sibling, you've got options. From paisley to geometric, the world is your oyster.
The shoes
This may surprise you, but different ensembles call for different footwear. If you're going with a tux, your options are pretty limited - only patent leather shoes will do. With a suit you have a lot more wiggle room. Cowboy boots, Doc Martens, oxfords, Chuck Taylor All-Stars and just about every other shoe (okay, maybe not Crocs) will fit the bill.
The cost
Now, I'm not saying that you can't get a cheap tuxedo or an expensive suit, but typically, tuxedos are more expensive than suits. If you're looking for a quality tux, it's going to cost you, so remember to factor it into your budget.