12 Things We Love About Barn Wedding Venues
Farms are the rustic venues that dreams are made of. Here are a few reasons to love barn wedding venues even more than you already do.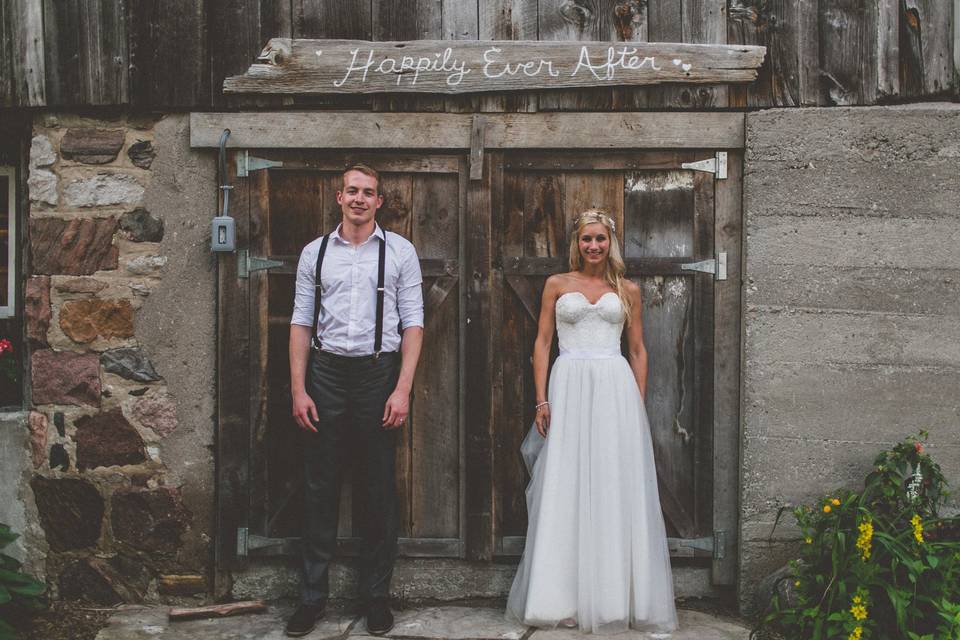 If your wedding dreams are filled with wildflowers, wagon rides and rustic decor, then head to the country and start exploring barn wedding venues. These rustic locales can be easily transformed into a fairytale oasis with the help of a skilled planner and some crafty decorations. If you're still on the fence about whether to host your big day on the farm, here are a few reasons to fall in love with barn wedding venues.
These are some of the things we love about barn wedding venues.
Rustic-chic style
Barn wedding venues continue to be popular, enticing Goop readers, Anthropologie shoppers and everyone in between. So, it should come as no surprise that celebs have hopped on the farm wedding bandwagon, too, with barns dressed in stunning rustic-chic decor. A-list couples like Blake Lively and Ryan Reynolds, Kate Bosworth and Michael Polish, and, Troian Bellisario and Patrick J. Adams, all ditched metropolis' in favour of more rustic venues for their "I dos". Pictured here: The Bridal Suite at Century Barn.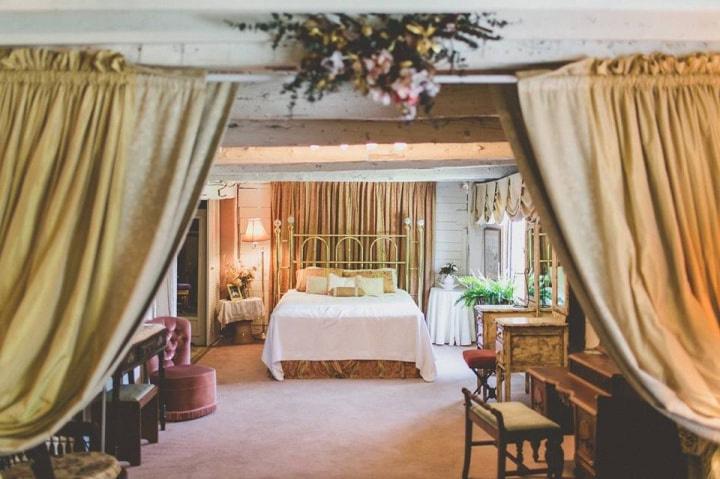 Stationery Design
You can start stealing inspiration from your wedding venue long before your big day - which is amazing because it'll give you some creative direction for all the extra bits and bobs like stationery. Instead of going with a sleek, ultra-modern design for your invites, escort cards and menus, think about doing something that suits the country vibes of your barn venue. Consistency is key and incorporating elements like twine, barnboard and flowers will help visually tie everything together.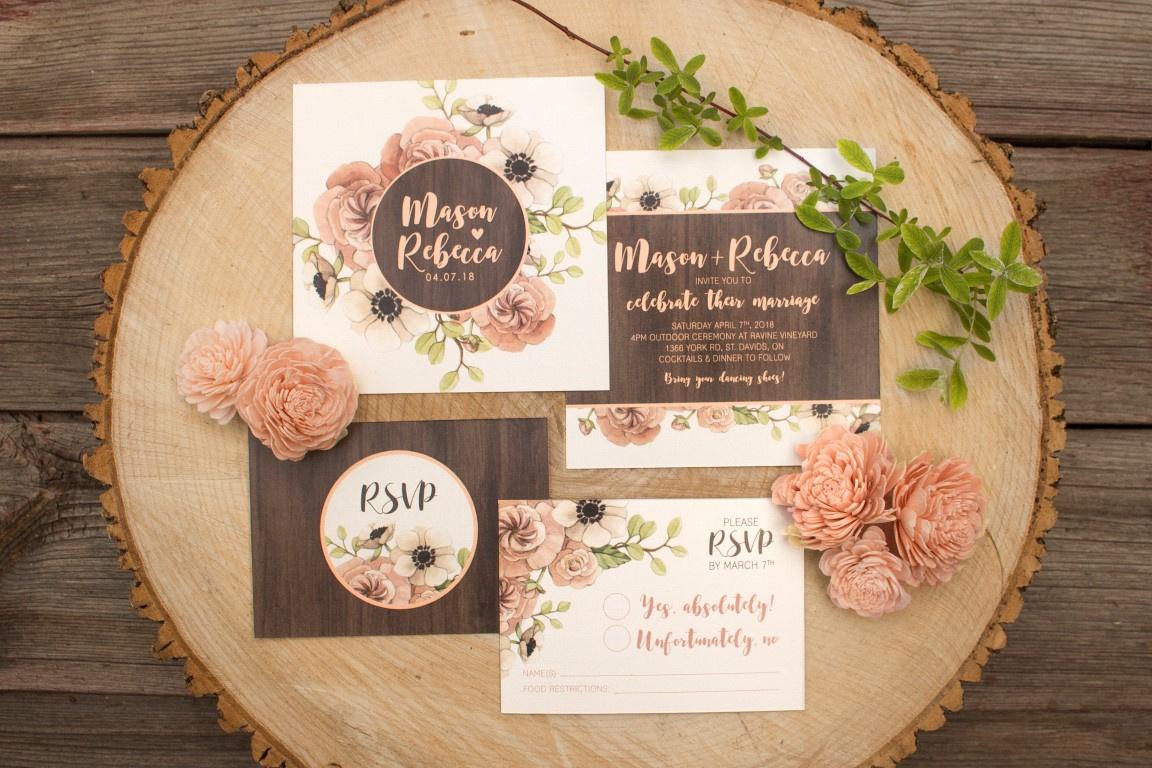 Enclosures
Knowing your venue also helps you figure out what type of enclosures you'll need to order along with your invites. For example, if your event was hosted in a big city, you could probably forego adding in a map card. However, since it's likely that your barn wedding venue is in the middle of nowhere, it's super helpful to include one. Sure, your guests could look it up on a GPS but some guidance may be necessary especially if they're not used to navigating around backroads.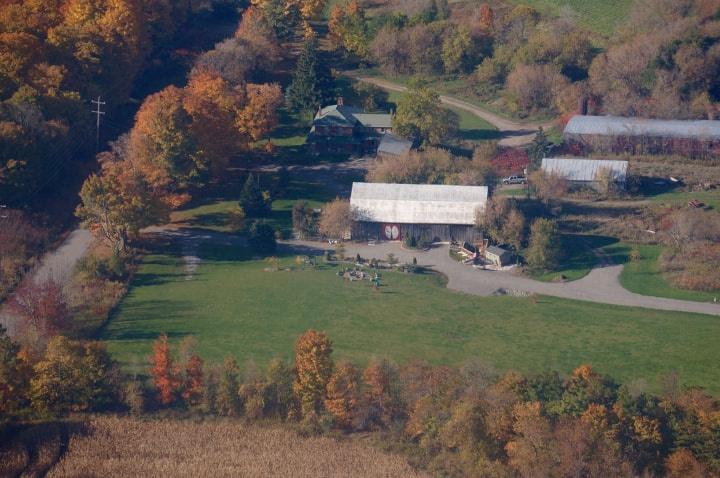 Stellar Views
When it comes to views, barn wedding venues definitely have some of the best. There's no doubt that you'll be nailing your wedding photos because you'll be dealing with an amazing set of backdrops out there in the country. Not only will you get the rustic beauty of the barn itself, but you can also take advantage of the rolling hills outside. Add in some country-approved decor and you've got yourself a cinema-worthy set of shots for the taking.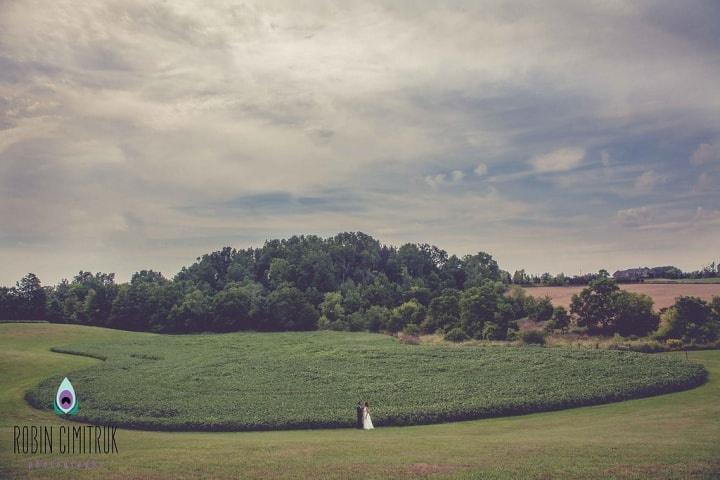 Space
Barn wedding venues come in all shapes and sizes, and Canada is literally filled with them, so it's easy to find one that'll fit all your guests perfectly. You can also make use of the great outdoors for your reception or ceremony, giving you two venues for the price of one. Yes, you may have to invest in a tent or two, but it'll be well worth it. Note: your guests will also have plenty of parking space - so no need to worry about your best man dashing out to deal with a parking ticket mid-way through your vows!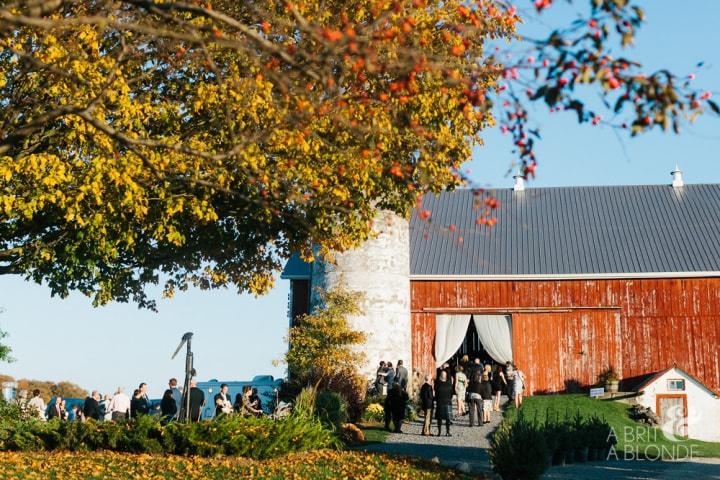 Chameleon Abilities
A barn is essentially a blank slate, you can set it up however you want to. That means you can personalize everything from what type of chairs you use to where the lighting fixtures will hang. If you've got a passion for design, this venue style will not let you down. It's time to get your creative juices a flowin'.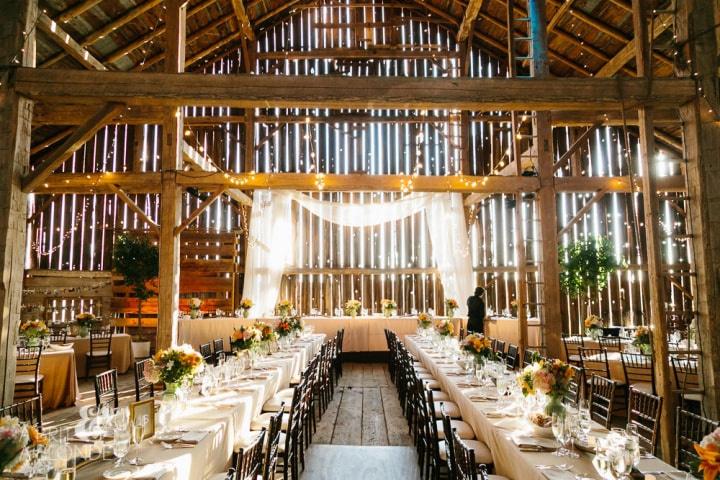 Dress Code
Many couples are into barn wedding venues because they offer a relaxed vibe that can be mirrored with their guests - and their own - wardrobe choices. Sure, you could request that your friends and family sport suits and cocktail dresses, but more laid-back ensembles look right at home in these venues. Note: this doesn't mean you should allow everyone to show up in baggy t-shirts and sweats, but a Canadian tuxedo or plaid outfit should not be frowned upon.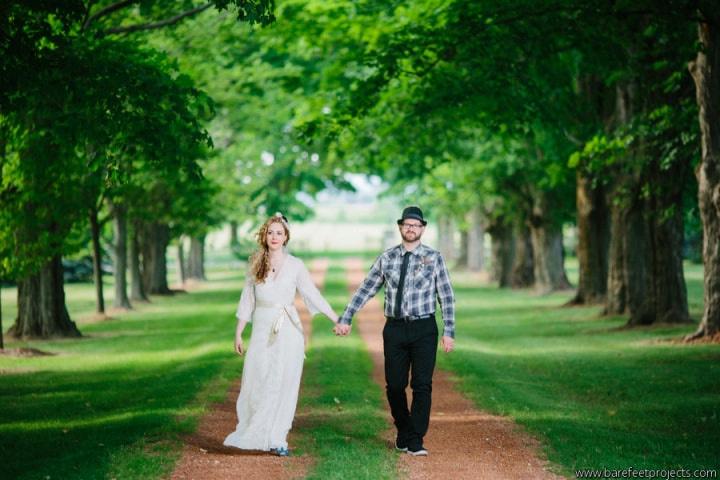 Flowers
If you're not well-versed in flora and fauna, choosing bouquets, boutonnieres and centerpieces can be a bit of a challenge. But good news - if you've gone with a barn wedding venue, you can use the country theme to your floral advantage. Think about incorporating wildflowers and a healthy dose of greenery into all of your arrangements. Go with looser, more free flowing styles for your bouquets and wrap them up with a piece of ribbon or twine.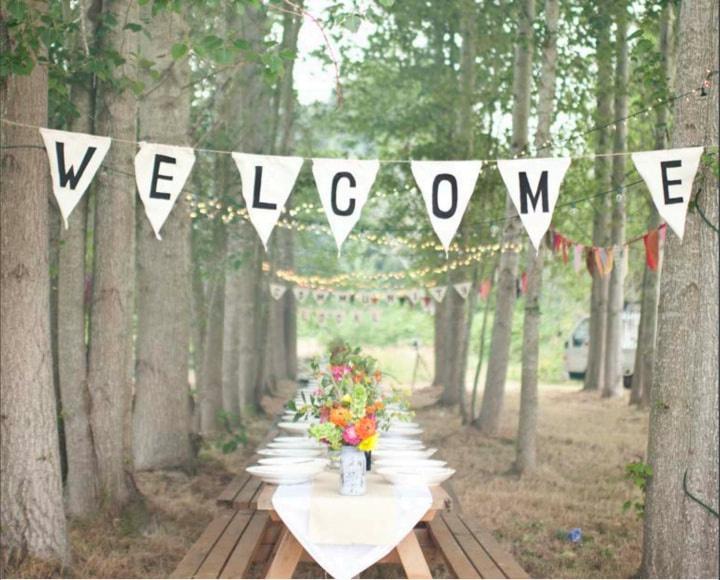 Barn Wedding Decor
If you're a Pinterest fan, now is the time to embrace your love of crafts. Rustic weddings suit DIY decorations perfectly. So gather up your wedding party and spend a few days turning mason jars into lamps, fashioning bunting out of felt and making chalkboard signs to place around your venue. Bonus: this will also save you a good chunk of cash.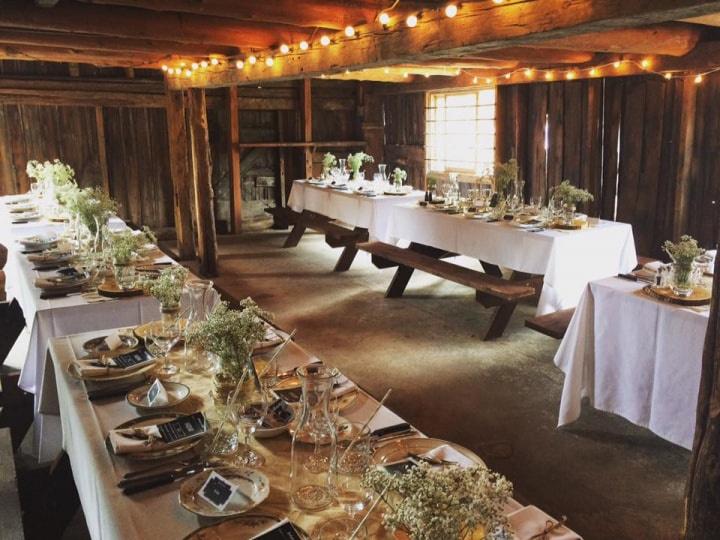 Barn Wedding Menu
This is the perfect opportunity to embrace your love of comfort food. Trendy eats like mac n' cheese and chicken and waffles suit barn weddings perfectly and are best served buffet or family-style. You should also be able to pick up some awesome locally grown produce and craft beer - you'll be in farm country after all!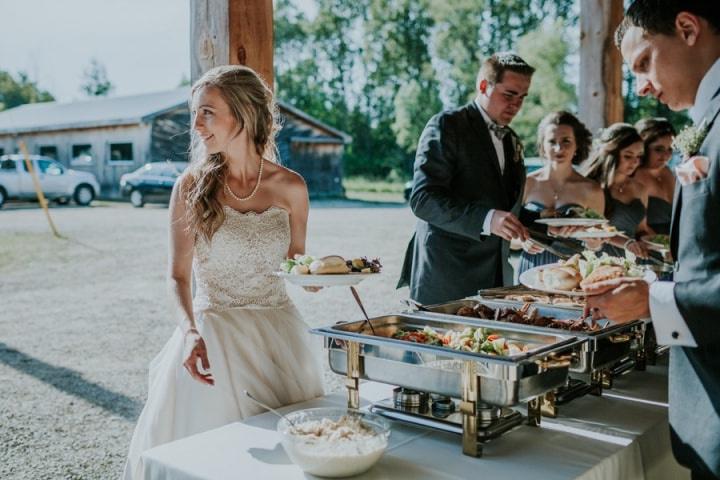 Wedding Favours
When it comes to choosing wedding favours, the options are bountiful. You can thank your guests with an artisan-style gift like homemade preserves, honey, a beeswax candle or soap. You could also give a tree seedling or seed packet with a cute message like "let love grow".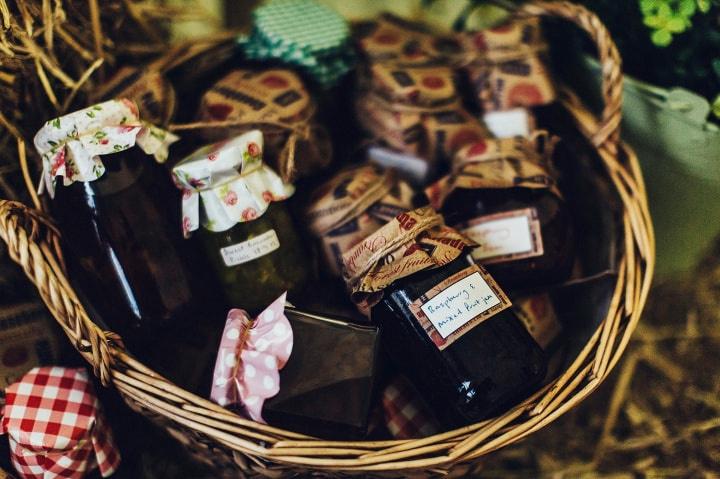 Barn Wedding Music
If you're having trouble crafting your wedding soundtrack, use your venue as your compass. Country music obviously matches rural locales flawlessly, so if that's your genre of choice feel free to stack your country playlist with Tim McGraw, Faith Hill and Brad Paisley. Not so into twangy guitars and banjo solos? Indie music is another fan favourite. Mumford and Sons, The Lumineers and Fleet Foxes are all fine choices.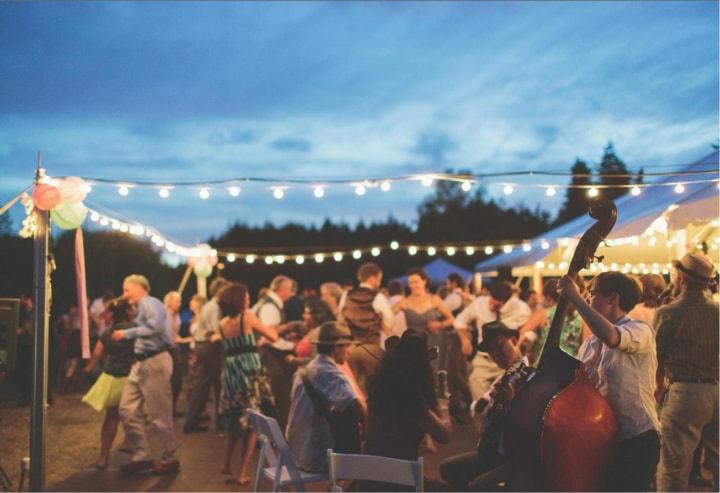 Browse rustic real wedding galleries for inspo and search barn wedding venues on WeddingWire »