Your Complete Wedding Stationery Checklist
To save you from forgetting any envelopes or inserts we've created a wedding stationery checklist for all of your must-buy items. Happy shopping!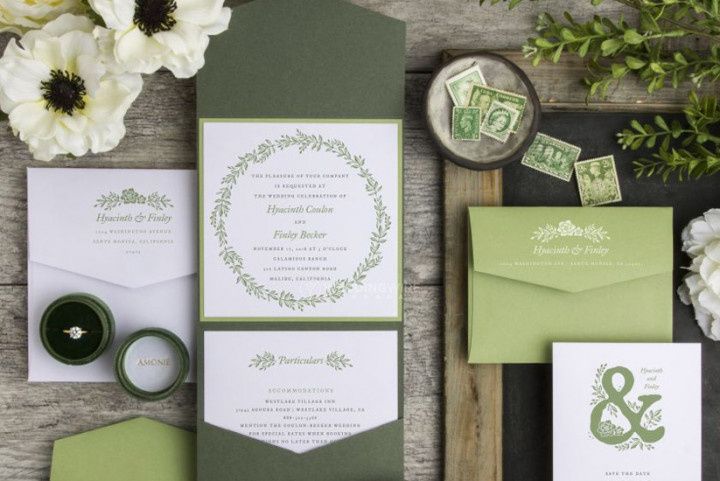 Ready to start rounding up your wedding stationery? Not so fast. Before you start picking out save the date cards, think about all the things you'll need. Some shops offer deals when you buy in bulk, so you may want to consider using only one provider to cut costs (and to get a cohesive look). To aid you in your shopping endeavours we've created this wedding stationery checklist so you know exactly what to fill your cart with.
Note: Depending on the type of wedding ceremony and reception you're throwing, you may not need all of these pieces. Feel free to skip some of them if they seem unnecessary or if you need to cut costs.
Here's your complete wedding stationery checklist.
Pre-wedding invitation stationery
Before you start assembling your invitations there are a few pieces of pre-wedding stationery to take care of. If are you hosting a destination wedding you'll have a few more things to order, like welcome dinner invitations and welcome basket tags.
Engagement party invitations (if you're throwing your own)
Bridesmaid invitations
Save the date cards
Envelopes
Welcome dinner invitations (typically for destination weddings only)
Welcome bag or basket tags (typically for destination weddings only)
Wedding invitation stationery
When you think about a wedding stationery checklist the first thing that probably comes to mind is the wedding invitation. It's more than just a simple piece of postage. The entire package normally involves several enclosures and a few envelopes. If you want the lowdown on what each insert is used for and how to properly package the whole shebang, check here.
Invitations
Reception cards
Response cards
Response envelopes
Direction cards
Accommodations cards
Wedding website cards
Inner envelopes
Outer envelopes
Wedding day stationery
Your big day needs make up the bulk of your wedding stationery checklist. Don't skimp on these pieces as they're what keep your guests informed and your wedding day organized.
Order of service/ceremony programs
Reserved seating cards
Seating plan
Place cards
Escort cards
Table numbers
Menu cards
Buffet station cards
Favour cards
Any additional signage
Post-wedding stationery
Once you've said your "I do's", thank your guests for coming with a simple and thoughtful wedding thank-you card. If you end up eloping or having a small destination wedding, you may want to consider mailing out a wedding announcement to let friends and family know that you got hitched.
Thank you cards
Wedding announcements
Envelopes
Set up your FREE wedding website and search for your wedding invitations on WeddingWire »