5 Ways to Cut Wedding Invitation Costs
Wedding invitations can be pretty costly. Here's how to save a few dollars when purchasing your own.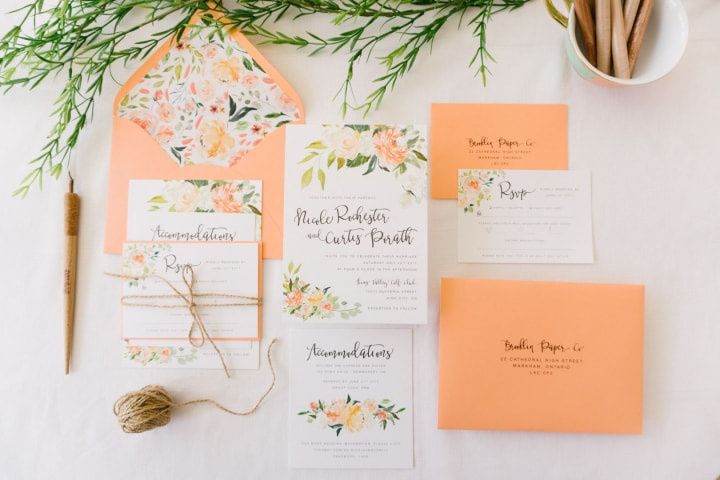 Ready to start working on your wedding invitations? Once you send out these bad boys, your big day is going to feel closer than ever, so you're probably raring to go! Before you give your wedding stationer free reign to do whatever they want, there are a few things you should know. These tips and tricks will help you save a few bucks, so they're definitely worth putting to use.
Here are a few ways to cut wedding invitation costs.
Go with a rectangular card
One of the first things you'll need to do is choose the paper that your wedding invitations will be printed on. Though you may be tempted to go with a modern square design, we suggest sticking to the basic rectangle. Why? Square parcels must be manually processed by the post office, so it'll be more expensive to ship them out.
Choose a lighter paper weight
Another detail you'll have to hash out is what paper weight to go with. This may seem like NBD, but it can really affect your bottom line, so pay attention when making your selection (it can be anywhere from three ply to nine ply). Typically, the heavier the paper, the more it'll cost you, both to produce and to send.
Skip the custom design
Customizing your wedding stationery down to the printing method will definitely leave you with a hefty bill. Your stationer will have to put in the extra hours to design every aspect of your wedding invitation, and the more they work, the more you'll pay. Instead, we suggest going with one of their ready-made templates. If you spend a little extra time scrolling through their portfolio, you're bound to stumble upon something you that suits your wedding style.
Don't go overboard with inserts
Overfilling your wedding invitation with details about directions and dress codes is a huge no-no, but you shouldn't make up for lost space by adding a dozen extra insert cards to your packages. Yes, you'll probably need one or two (most likely an RSVP card and wedding website card) but you shouldn't pile them on - after all, more enclosures means more money. You can always include additional info on your wedding website, so you actually don't have to worry about being too thorough on your invitations. Focus on the key details and you'll be good to go.
Purchase your invitations with the rest of your stationery
Some stationers will cut you a deal if you buy your paper goods in bulk. So, instead of purchasing your save the date cards, invitations and menu cards separately, order them all together. This will also ensure that every piece of your wedding stationery matches (score!). Pro tip: also check out the exclusive discount offers in our wedding invitations directory.
Set up your FREE wedding website and find your wedding invitations on WeddingWire »