Which Wedding Invitation Inserts Do You Need?
Wedding invitations are a little more complex than the average letter. Here's the lowdown on all the extra enclosures you may want to throw in with yours.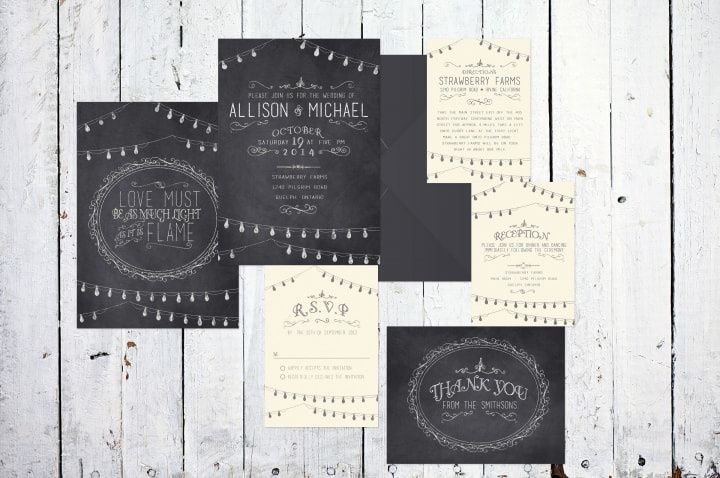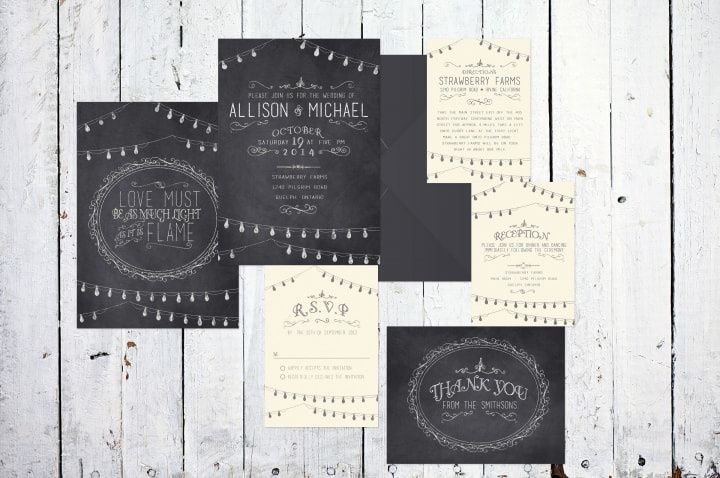 Constructing your wedding invitations is a skill that you'll need cultivate early on in the game. It's a little more involved than throwing an invite and RSVP card into an envelope and sending it off with Canada Post. From reception cards to attire enclosures, there are a lot of extra bits to consider. If you're struggling, these are a few pro tips to help you before calling up your stationer with a massive order.
Here are all the wedding invitation inserts you'll need.
The ones you'll probably need:
RSVP Card & Envelope
You'll want to know who'll be filling those seats at your wedding, so including RSVP cards are pretty much a must. Include a deadline on yours so that you get the guest count before you start working with your caterer on meals and figuring out your seating plan. Remember to have all the envelopes pre-addressed and stamps, these are cards you really don't want getting lost in the mail. Note: you can skip this step and have people RSVP online, but this method is tried and true.
Wedding Website Card
Your wedding website will be the digital hub that contains all of your wedding info. If invitations go missing or if a guest wants to send a link to their plus one, it'll come in handy. Bonus: creating one early on will save you from stacking up those unnecessary inserts that add extra costs to your mail.

The one's you might need:
Reception Card
Wedding and reception in the same place? Skip this section and move along to the next. For those who are hosting their events in two different places, you'll want to throw in a second invitation that states the address, time and any other additional info your guests may need about your post-wedding bash. If you're thinking, "I could just add this to my invite", you're not wrong, but it may come out looking awfully cluttered.
Directions Card
Maps are certainly never a bad idea, but most of your friends are probably equipped with smartphones that'll help them get from point A to point B without a hitch. Some traditionalists like to throw a map in their invites, but definitely not mandatory. If you're worried about any potential travel issues, throw a Google map on your website to help them out.
Accommodations Card
So you've booked a block of rooms for your guests to stay while they're in town? You may want to give them the lowdown on where they'll be staying. An accommodation card that includes essential info about the place is a nice touch. If you want to save a few extra bucks, skip this insert and make a page for it on your site.
Pre- or Post- Wedding Events Card
If you're inviting all of your guests to a post-wedding brunch or pre-wedding party, you can throw an invitation enclosure for those events in with the rest of your inserts. Word to the wise, if you plan on only inviting a select few guests, you should probably forgo the cards. Any mix ups could lead to missed faces and/or unwanted company. Just shoot them a digital invite or separate invitation in the mail to avoid any complications.

The one you can probably skip:
Attire Card
This won't be most of your guests' first rodeo, so formally asking them to dress in suits and cocktail attire may be a bit unnecessary. If you do want your guests to dress for the theme of your big day, include the info at the bottom of your invitation (i.e. "casual" or "black tie") or throw it in a tab on your wedding website. The only time this card is mandatory is when a couple is requesting that guests wear certain cultural attire which may need a bit of an explanation (especially for those who don't share your culture).

The one you can definitely skip:
Registry Card
Sure, you may want one of your extra kind family members or friends to buy you that new espresso machine, but you don't want it to look like you're demanding gifts a la Veruca Salt (you know, that spoiled girl who met her demise via tube in Charlie and the Chocolate Factory). That's why the registry card is generally frowned upon, because it looks a bit like a plea for presents. Instead, include the gift registry info on your wedding website - they'll know how to find it thanks to the other insert you included.
Set up your FREE wedding website and search for your wedding invitations on WeddingWire »