4 Things Your Wedding Ceremony Program Must Include
Wedding ceremony programs are the like the road maps of weddings and you don't want to leave your guests without directions. Here's everything you MUST include in your own.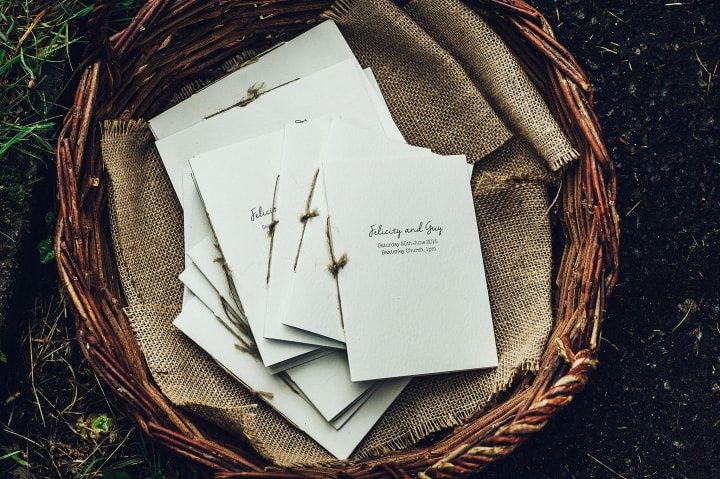 Ready to start working on the final touches of your ceremony? Let's talk wedding ceremony programs. While they may seem like an unnecessary expense, they're actually a huge help – especially if you're hosting a more complex ceremony. The job of these pamphlets is to let your wedding guests know who will be walking down the aisle, what's coming next and offer explanations for any religious proceedings. Yes, they will cost a few extra bucks, but you'll definitely want to consider adding them to your stationery order.
Here's what to include in your wedding ceremony program.
Introduction
You may be tempted to skip introductions, after all, at this point everyone knows what they're in for. But, please, resist that urge. The intro is the cover page of your wedding ceremony program, so it should not be forgotten. It should state you and your spouse's names and the date of your big day. If you want to go the extra mile, include the city and venue, too. If you're having trouble with format, use your save the date cards as a guide. P.S. This will also make it a lovely wedding keepsake.
Order of Ceremony
This is what everyone will be looking for. It lets your guests know the timeline of events that will go down so that they can follow along. It'll include everything from the ushering in of important guests to the recessional. If you're hosting a religious ceremony you may want to throw in explanations of the proceedings – after all, not everyone will be familiar. Also, if you have any readings or music that the crowd may want to join in or follow along on with, you can include those, as well.
Members of the Wedding Party
Next, you should list of everyone who will be walking down that aisle (not just you and your beloved). Typically, the officiant will be listed first, then the parents and members of the wedding party (basically, it should follow the order of the processional). If there's room feel free to add a little blurb about how you know the person.
Thank Yous
Don't forget to thank your friends and family for being a part of your big day. On the last page or back of your wedding ceremony program include a little note with your well wishes. You may want to shine the spotlight on those who were particularly helpful in the planning process, like your mom, dad and in-laws. If you have loved ones who could not be a part of your big day, you may also want to honour them in this section.
Find a stationer to design your wedding ceremony programs on WeddingWire »