What to Include in a Wedding Invitation
Having trouble figuring out what to include in a wedding invitation? We've compiled a list of all the enclosures you may want to insert to help you out.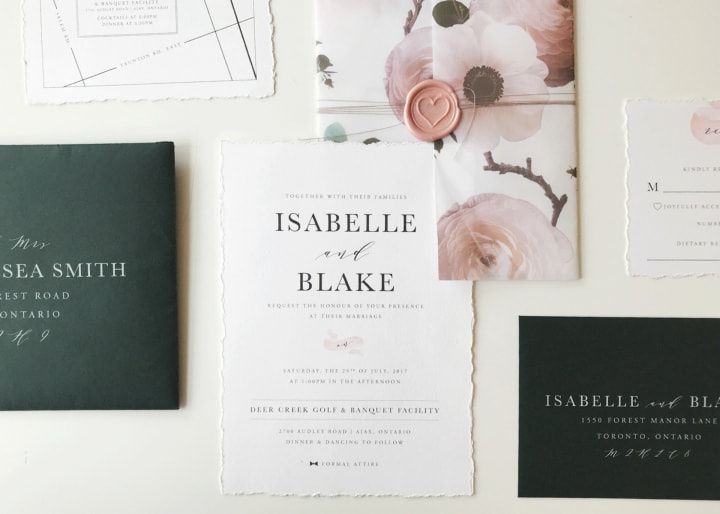 While postage may seem like the simplest part of the wedding planning process, you'll want to get acquainted with what to include in a wedding invitation before you begin ordering your wedding stationery and sending off your invites with Canada Post. A lot actually goes into your wedding invitations - literally. Aside from the obvious star of the show (the invitation) there's a bevy of other wedding invitation inserts that may make their way into your envelopes.
Here's a list of what to include in a wedding invitation.
The Invitation
The wedding invitation is the most important enclosure for obvious reasons. It includes all the imperative information that guests need to know about your wedding day (who/what/where/when). It should include your names, the date and time of your nuptials, the venue, the full address and dress code. Tip: for more details, check out what to include in wedding invitation wording.
The Reception Card
Many couples choose to host their ceremony and reception at different wedding venues (no shame in that, variety is the spice of life). To make your invitation less cluttered, a separate reception card that contains all the important details of your post-ceremony soiree is what to include in a wedding invitation package. This can be less detailed than the invitation - the only necessary bits of info you'll need on this enclosure are the time and location of the reception.
If your ceremony and reception are held at the same venue, you can completely skip this step. Just include a little blurb about the post-wedding party at the bottom of the invite (something to the tune of "dinner and dancing to follow").
The Response Card (and envelope)
The response card is used by your guests to answer your invite. It normally involves checkboxes or a section where your guests can fill out their attendance details and dinner menu selections (if you are opting for a plated meal) and has enough room for them to include a personal message. You should also throw on a due date so that you know who is attending before you start ordering extra hors d'oeuvres. Along with this you'll want to include an addressed and stamped envelope (or make it a postcard to save some cash).
The Direction Card
If your wedding venue is particularly hard to find, a direction card will point your guests in the right direction and keep them from being tardy. The venue you're using for your wedding can normally provide you with clear directions that you can relay to your guests on this enclosure. You also may want to throw on a map for good measure. Remember, if you've got two separate venues you'll have to include two sets of info.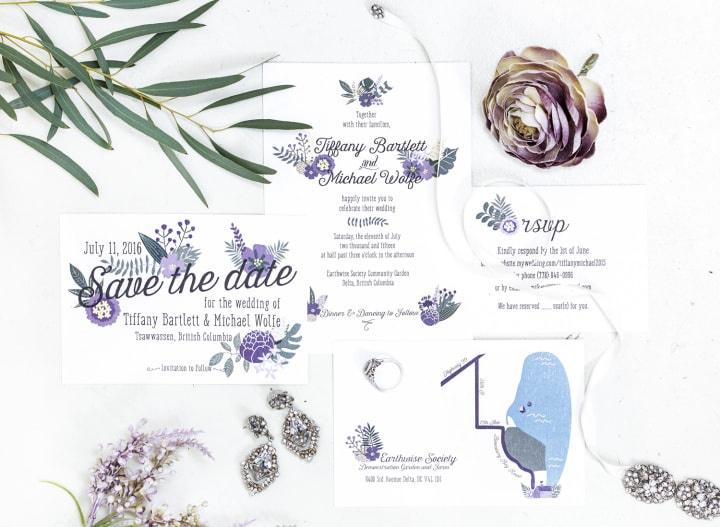 The Accommodations Card
So you're hosting a few out-of-towners? Throw in a wedding guest accommodations card with their invites. This should list hotels in the area, making it easy for them to find a place to stay. This is especially important if you're hosting a destination wedding as most - if not all - of your wedding guests will be coming from afar.
The Wedding Website Card
Wondering what to include in a wedding invitation if you want to skip adding extra cards and save money? Just include the invitation itself and a wedding website card. The wedding website card will direct your guests to a site where they can find info on everything from wedding accommodations and your wedding registries to FAQs and RSVPing. If you want to conserve even more stationery you can simply include a link to your website on the invitation itself (providing it's not too crowded already).
The Inner Envelope
If you're planning a formal affair, an inner envelope is a nice touch. It will protect all your separate enclosures, keeping everything crisp and crumple-free. It should be addressed to all individual members of a family and/or additional guests. This is different from the outer envelope which may just reference a single family member or family name.
The Outer Envelope
The outer envelope is - for obvious reasons - a must have. On it you'll need to include all the standard info: your guest's name(s), address, postal code and a return address. You'll want to check out this envelope addressing etiquette article before you get started. To give your envelope some personality use hand calligraphy or an interesting typeface. Tip: before sending these off you'll want to weigh one to see how many stamps you'll need - you don't want them all sent back to you because of poor planning!
Don't Forget!
When ordering your wedding invitations and enclosures you can kill a few other birds with the same stone. Paper items like save the date cards, wedding ceremony programs, wedding menu cards, table numbers, escort cards, place cards and thank you notes can be ordered in bulk at the same time from the same company. This will add consistency to all the paper goods used before, after and during your big day.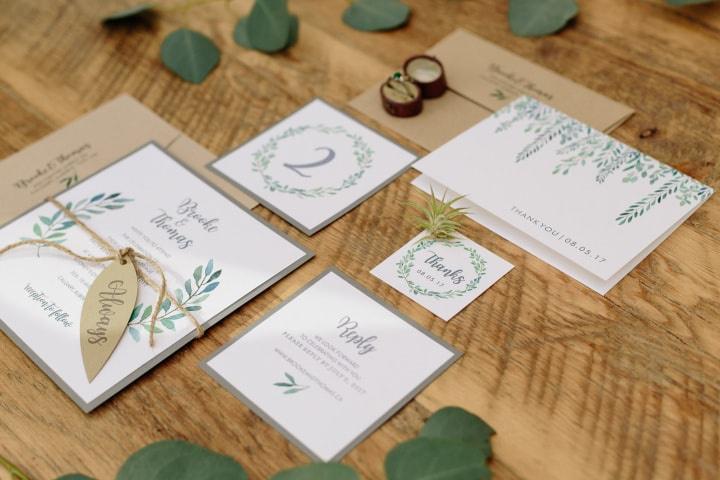 Set up your FREE wedding website on WeddingWire. Upgrade to Premium Design Plus for a custom domain name and to download your website as a keepsake. »