20 Questions to Answer on Your Wedding Website's FAQ Page
Most of your guests will have questions about your big day, here are all the important ones to include on your wedding website's FAQ page.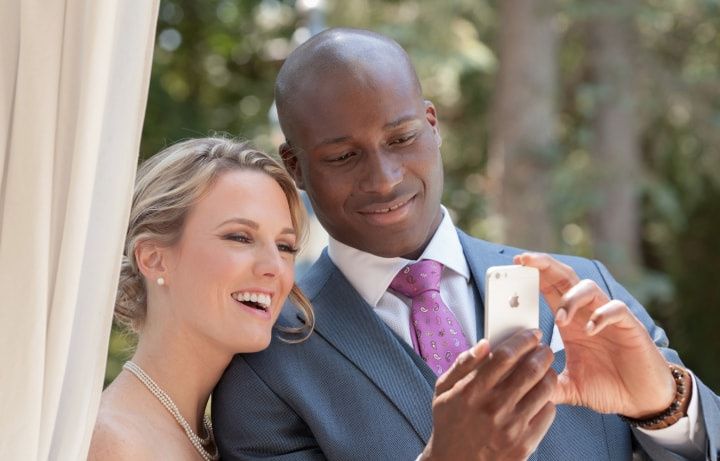 Including an FAQ page on your wedding website is an absolute must. There's a good chance more than a handful of your wedding guests will have questions about your big day and you definitely don't want to spend the weeks leading up to your wedding repeating the same things over and over again (you've got more important things to do!). Maybe they lost their wedding invitation and don't remember the date, perhaps they're struggling to pick an outfit and don't know the details of your dress code or maybe they couldn't find a babysitter and need to know if kids are welcome - a wedding FAQ page is where to give 'em the As to their burning Qs.
Here are a few questions you need to answer on your wedding FAQ page.
Where is the ceremony?
Where is the reception?
What time should I arrive?
Do I have to mail back my RSVP or can I RSVP online?
When should I RSVP by?
What is the dress code for your wedding?
Are there any colours you would prefer me not to wear?
Will there be a shuttle to and/or from the hotel?
Have you reserved hotel room blocks?
Are there any local places you'd recommend I visit while I'm in town?
Is there parking available near the ceremony and reception venues?
Can I bring a plus one?
Can I bring my children?
Will the ceremony be taking place indoors or outdoors?
What type of food will be served?
Will there be vegan/vegetarian/gluten-free food options?
Where are you registered?
Can I take pictures and/or post photos of your wedding on social media?
What time is the reception scheduled to end?
Is there someone I can contact if I have any other questions about the wedding?
Pro tip: Use the blog page template to add a wedding FAQ page to your FREE wedding website on WeddingWire »
COVID-19 announcement (article updated March 30, 2020)
If your wedding is affected by the COVID-19 coronavirus, place a notice on your wedding website about the current status of your event that answers these questions:
Is it still on?
Are you cancelling or rescheduling?
What are you considering at this time?
When will you let guests know?
A note to our couples: we've opened up a dedicated hotline to answer any and all wedding planning questions that you may have – (833) 998-2865 or help@weddingwire.com