What to Do When the Invitation Has No Dress Code
Are you a plus one trying to crack the (dress) code for an upcoming wedding? We're here to help you.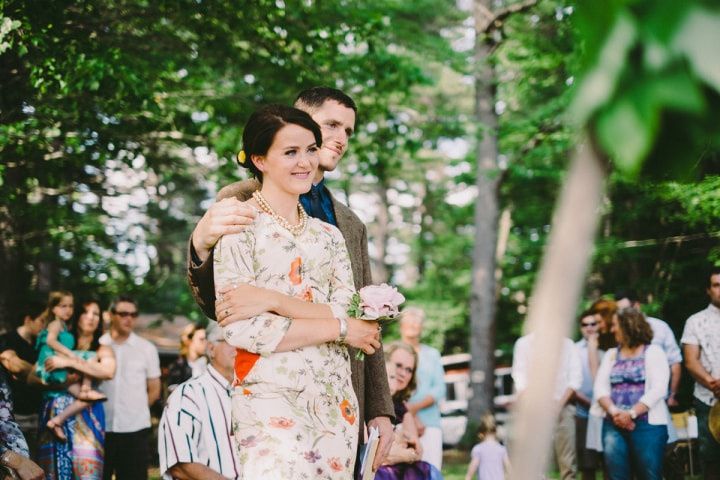 Not knowing the dress code can send plus ones into a state of panic. You're not close enough to the happy couple to reach out on your own and, if your partner in crime refuses to make the call him or herself, you're kind of up a creek without a paddle. So, do you get suited and booted in your finest black tie attire? Do you err on the casual side and hope for the best in your new sundress? Use these context clues and you should be just fine!
Here's what to do when the invitation has no dress code.
Check the website
Step one: head to the wedding website to see if you can dig up any information. This is where all the extra fluff that wouldn't fit on the invite cards ends up, making it the natural first stop in your search. The happy couple probably provided their url on their invitations or on an enclosure card, so you should have no trouble hunting it down. Scroll through all the pages and spend a little extra time combing through the FAQs - it may be hidden near the bottom.
Take cues from the invitation style
So, the wedding website held no pearls of wisdom? Well, it's time to start to analyzing other clues, starting with the invitation card. This piece of artfully decorated paper holds more than just basic information like the date and time. If the couple has opted for chic embossed cards with formal language and fancy design flourishes, you better be dressed to the nines. Did they skip hiring a calligrapher and go with something DIY or rustic, instead? If you answered yes, you can probably skip emptying your wallet at a ritzy boutique this time around.
Think about the venue
The venue often inspires the dress code, so pay attention to where the event is being held (oftentimes ballrooms and barns don't warrant the same looks). If the wedding is being hosted at a house of worship remember to dress respectfully and conservatively. No cleavage or sneakers, please. Alternatively, if the wedding is taking place in their own backyard, it's probably safe to say that the happy couple is okay with more casual duds.
Play off of the season
In Canada we get a taste of all the seasons, and while they may not all be enjoyable - *cough* winter *cough* - they can help nudge you in the right direction when deciding on an outfit. If you're considering heading to a December wedding in a strapless dress or a July wedding in a long-sleeved maxi, it's probably safe to say you'll be committing a fashion faux pas.
Consider the time of day
The time of day may not tell you much about what style to go with, but it can help you choose a colour palette. If the wedding is taking place before the sun goes down, bolder, brighter colours are more acceptable (and probably expected). If the event isn't starting until the evening, go with something in a darker hue. And, remember, unless you're looking to start a riot, don't wear white.
Go with a tried and true wedding outfit
There are standard wedding looks for ladies and gents that hold up at pretty much any and all ceremonies. So, if all else fails, follow these guidelines. For the gals: go with a knee-length cocktail frock with a higher neckline (erring on the conservative side is always better). Feel free to spice it up with a little jewellery and a fun pair of shoes. For the guys: go with a dark suit and a tie. Now's not the time to be adventurous with colours and patterns, so stick with the basics.