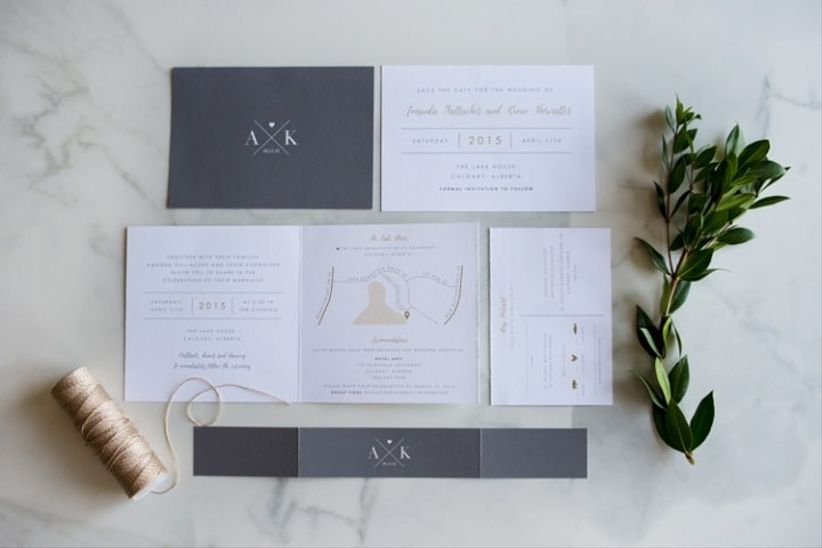 Your wedding invitations give your guests a glimpse at the style and mood of the event to come. Your invitations should be mailed between six and eight weeks in advance of your wedding date, and since proofing and printing can take up to four months, it's best to get the ball rolling about six months ahead of the event. Before delving deep into the specifics of your invitation, there are some basic decisions to be made. Here's a brief overview of your stationery options:
Paper Weight
Paper thickness starts at onion-thin three ply and goes all the way up to hefty nine ply.
Format
Traditional invitation formats include a standard card, a fold-over card, a gatefold card, or a boxed invitation.
Printing
Popular printing methods include flat, offset, thermography, engraving, and letterpress.
Etiquette
Make sure you take the time to research proper wedding invitation etiquette, as there are some very specific rules and guidelines. Pay extra attention to what to include (and what to leave out) when you're wording the invitation card itself and how to properly address guests of various marital statuses and professional titles.
Enclosures
A traditional wedding invitation is made up of several components, including RSVP cards, reception cards, accommodation cards, wedding website cards, and maps. While you certainly do not have to include all of these, it can't hurt to review your options.
Decorative Details
Now that you've covered the basics, it's time to get creative! Think about different typefaces, motifs, borders, or personal touches like monograms.