6 Things You MUST Do Before You Send Out Wedding Invitations
From proofreading to postal stamps, here's everything you'll need to do before you send out your wedding invitations.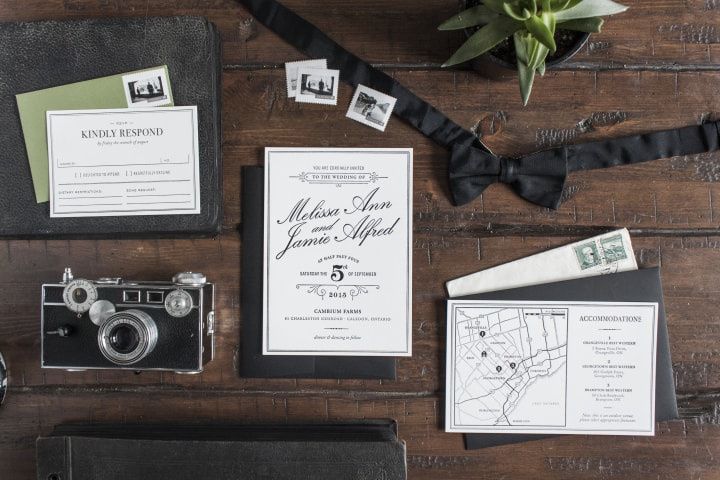 Once you've planned out your wedding invitation wording and figured out all the enclosures that go inside, you're good to send them off in the mail, right? Wrong. You'll want to do a quality check to make sure everything is perfect before you send out your wedding invitations. Everything from proofreading to the number of stamps you use matters, so make sure you give these areas a once-over before signing, sealing and delivering them to Canada Post.
Here's what you need to do before you send out wedding invitations.
Proofread
Incorrect spelling can easily ruin the beauty of an invitation. Request a sample of your invitation and all its extra enclosures to make sure that all the information is right and everything is spelled correctly. Try and get at least two or three pairs of eyes on them before giving the go-ahead.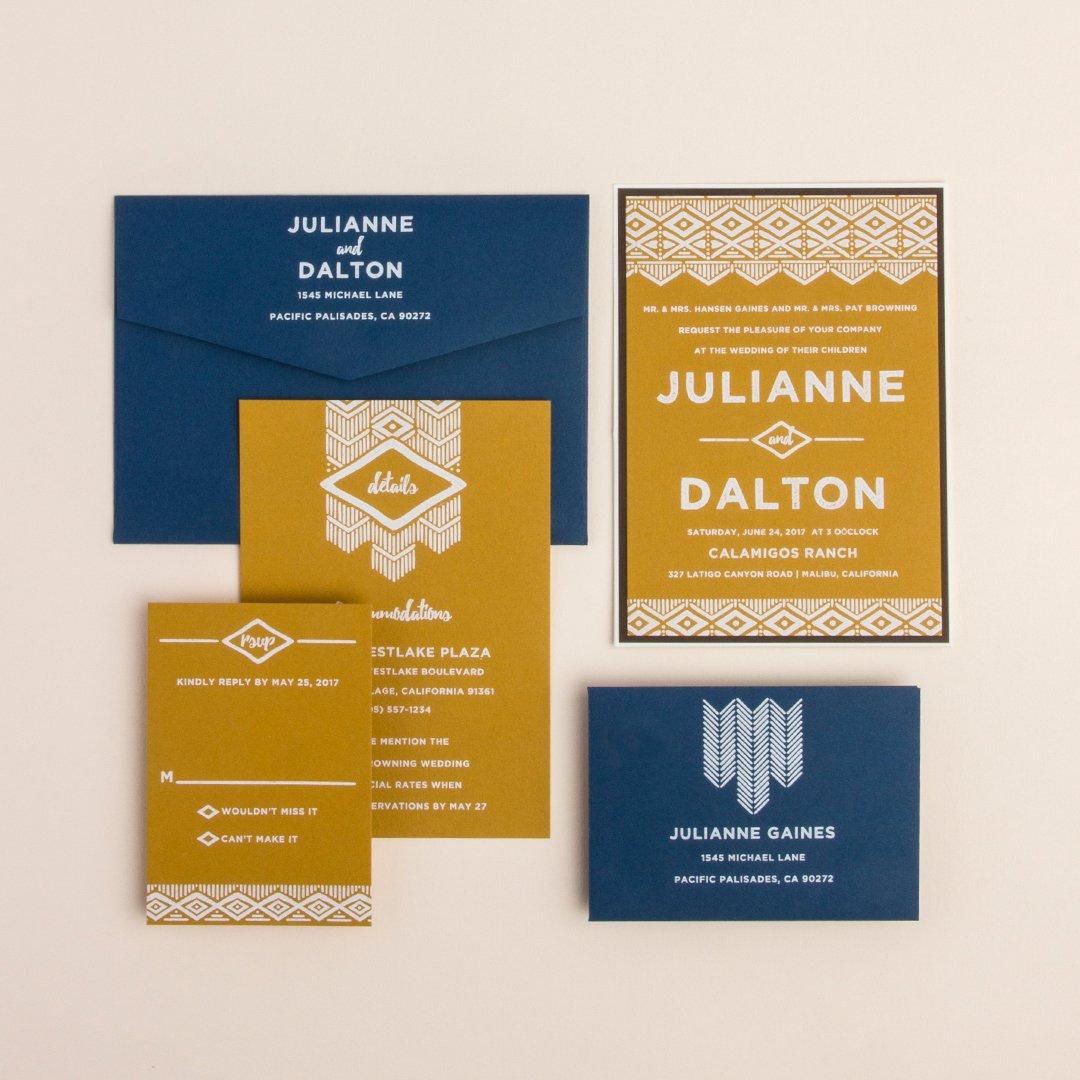 Proper Postage
Not all invitations are created equal. They come in all shapes and sizes, meaning that yours may or may not warrant extra costs. Before you send out your wedding invitations, weigh one of your completed envelopes at the post office before forging on with your stamping to avoid having them returned. Also, remember that square parcels are costlier to mail than rectangular ones, so be mindful when choosing your invitations.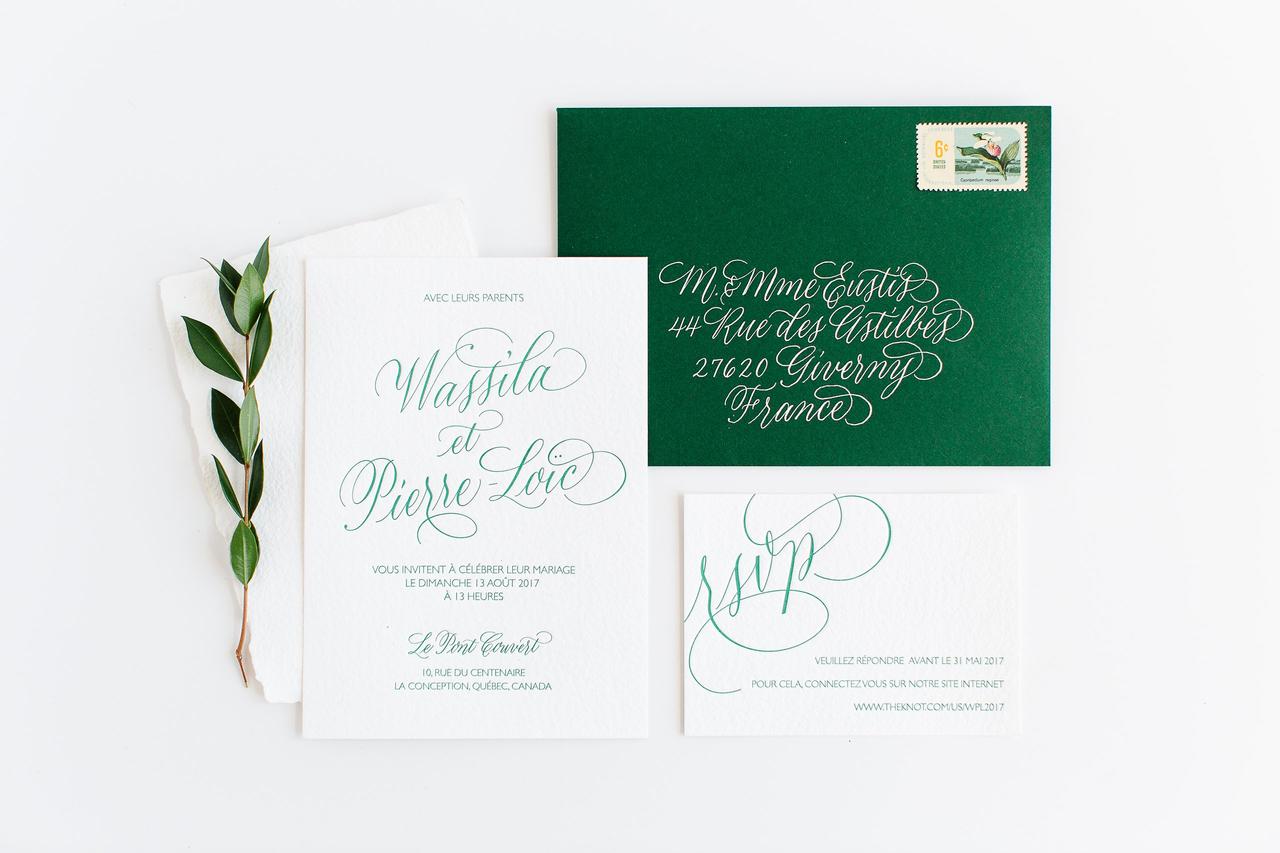 Address
While addressing invites yourself is all fine and well, hiring a calligrapher or stationer will help give your envelopes an elegant touch (and save you from carpal tunnel). This option is definitely on the pricier side, so if you'd rather allocate your budget to decor, catering or your ensemble, it's totally understandable. Whichever route you choose, brush up on your envelope addressing etiquette and avoid slapping on address labels. Also, remember to make sure that you have all guests' names, addresses and postal codes right to avoid any postage mishaps!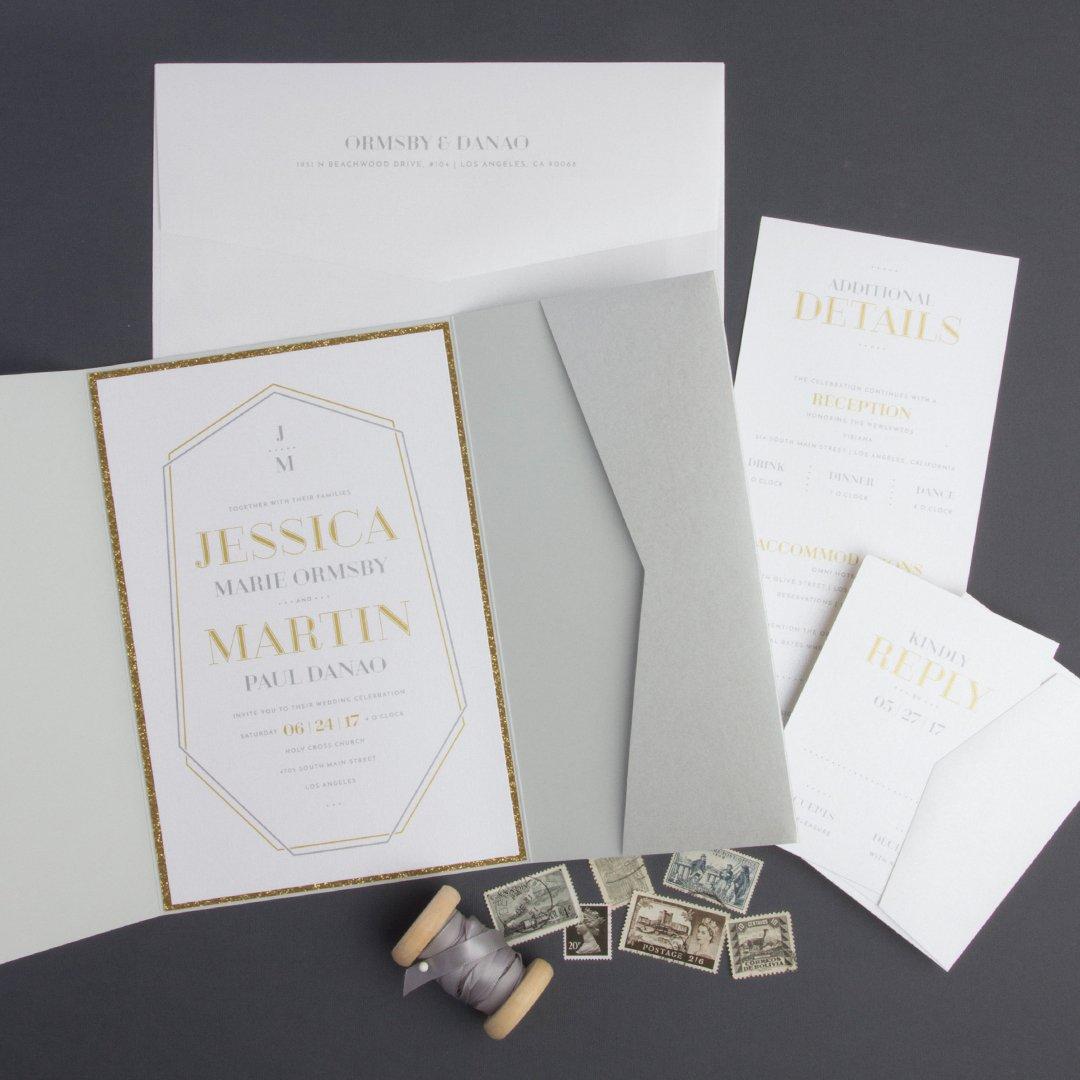 Assemble
If you're only including an invitation, you're sailing. Pop them into envelopes and send them off in the mail, done and dusted. However, that's not the case for many couples. Most people include at least one or two enclosures along with their invites.
Make a game plan for filling your envelopes before you start packing to avoid haphazard looking invitations. Facing your inserts in size order is a go-to strategy. Have your invitation be the first card in the pile and then add your various enclosures on top. The final card you add should be your RSVP card (tucked into the flap of the RSVP envelope). Do a once-over to ensure that all pieces of the puzzle have the text facing in the same direction to keep things looking uniform. After that, all you've got to do is slide them into an envelope (or envelopes if you're using an outer and inner one) and kiss them goodbye. Tip: if you need a hand your stationer can probably give you some useful tips for packaging.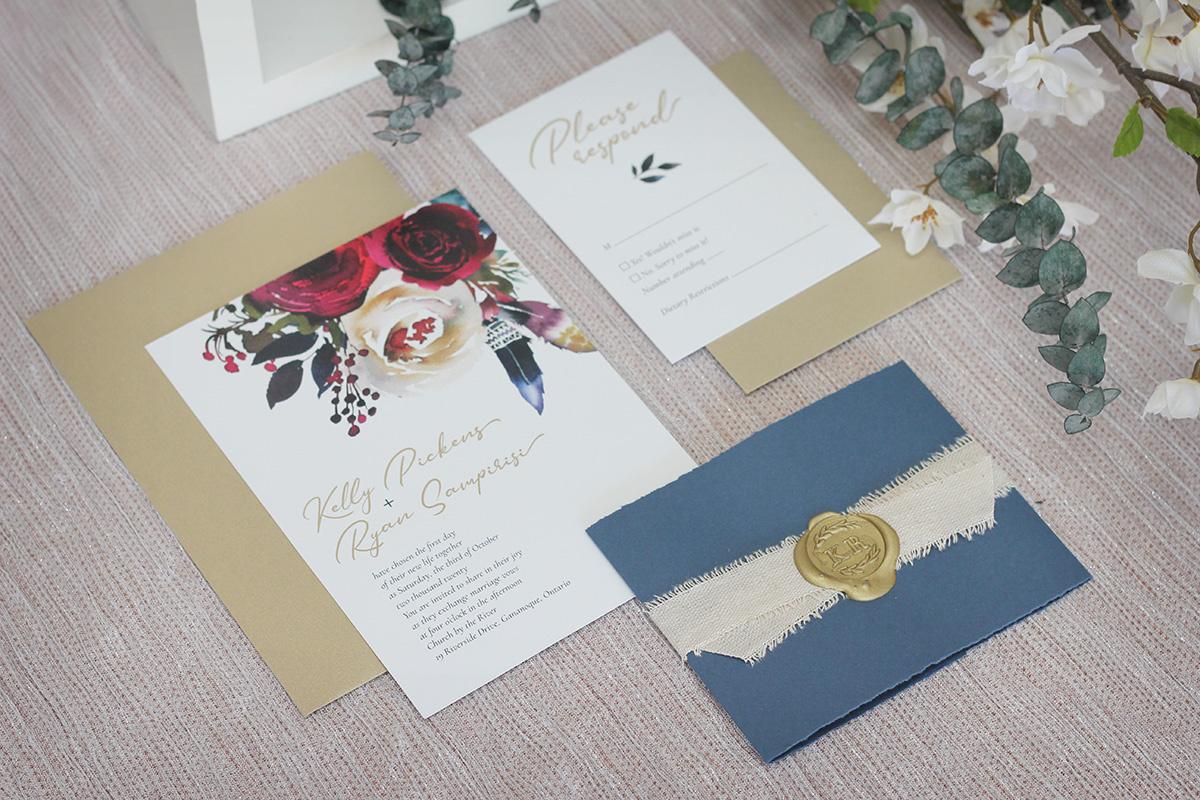 Handle RSVPs
If you aren't requesting that your guests RSVP using your wedding website, you'll have to include RSVP cards and envelopes inside your invitations. To review, the envelopes should already be stamped and addressed to you to avoid any hassle later down the line. Before you send out your wedding invitations, give them a once over to check that everything from the postal code to the stamp is A-OK.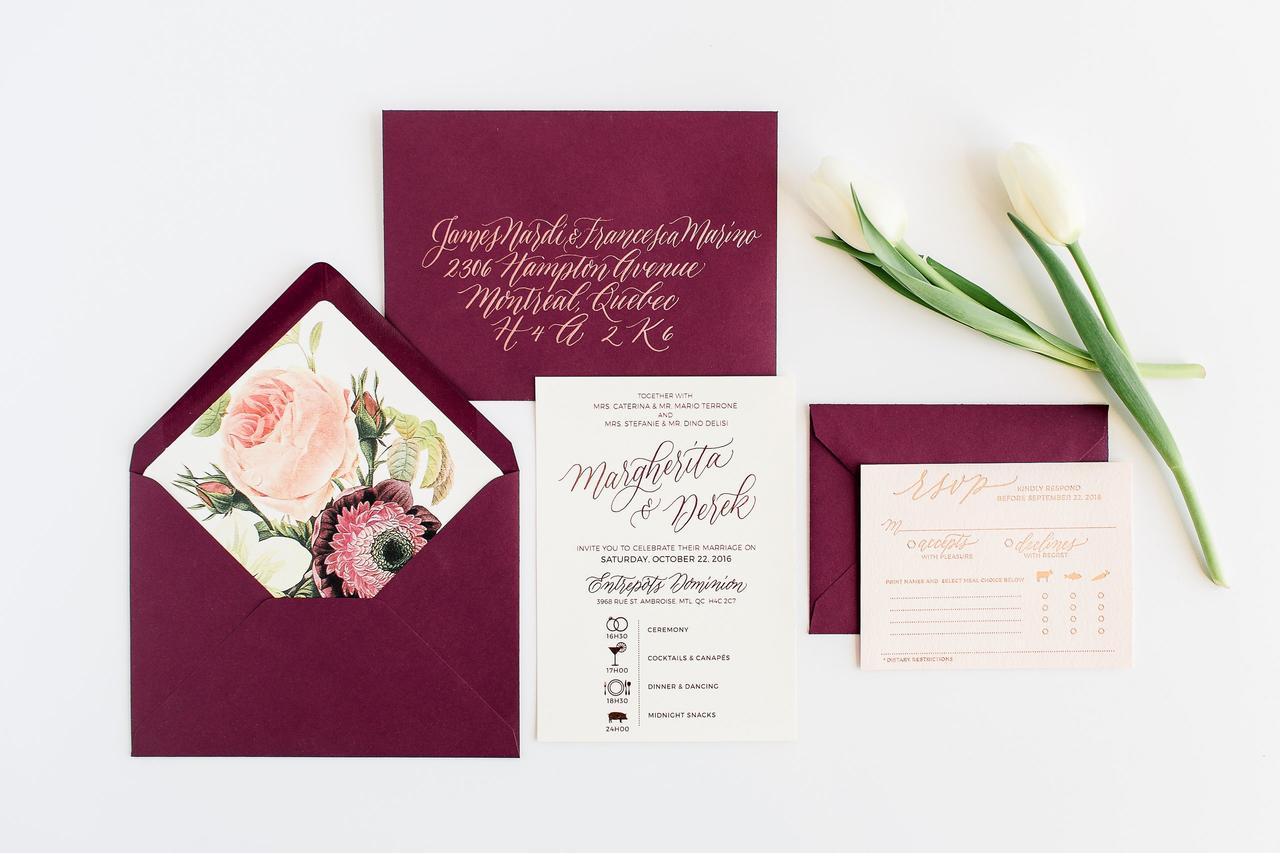 Hand Cancel
Cancellation is an essential step in the postage process that ensures that a postage stamp will not be reused - so Canada Post will not skip it. It involves adding a cancellation mark with the date, time and location to your stamp, usually by machine. If you want to avoid any potential damage to your beloved invitations, having them hand cancelled is a good idea. The process is exactly what it sounds like. A postal worker will literally stamp your envelopes by hand instead of using a machine. This will ensure that no dye seeps onto your enclosures, keeping them in pristine condition before they reach your guests.
Find your wedding stationer and invitations on WeddingWire »