11 Wedding Invitation Ideas for Every Style of Celebration
Are you in need of wedding invitation ideas and inspiration? We've rounded up designs for every wedding theme to help you out.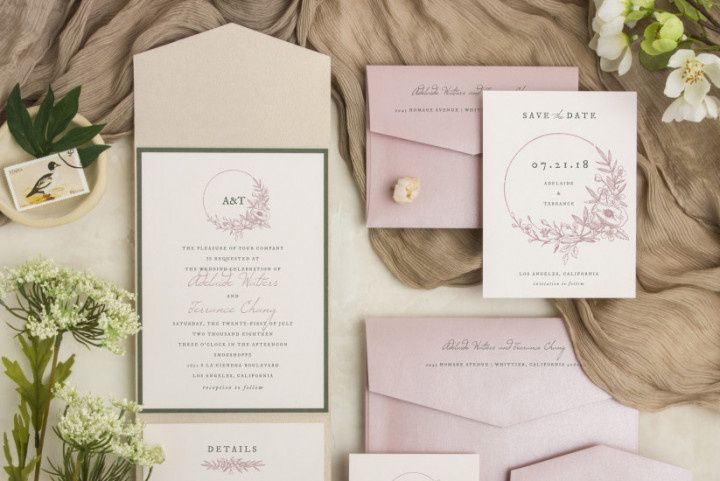 One of the first wedding-related tasks you'll need to take care of is choosing your wedding invitations. Now, selecting paper goods may seem like a walk in the park, but there's actually a lot that goes into them (we're talking paper styles, designs, fonts, colours and more). We've rounded up our fave wedding invitation ideas for every theme to help you come up with the perfect design for your big day.
Here are wedding invitation ideas for every style of celebration.
Simple wedding invitation
Keep your wedding invitations clean and simple by opting for a minimalist design. This style of stationery typically skips the bells and whistles (AKA pictures, patterns and borders) and lets the font take centre stage. You can definitely play around with different types of text and colours for this one, just make sure you don't overfill them with information - you want them looking crisp and uncluttered.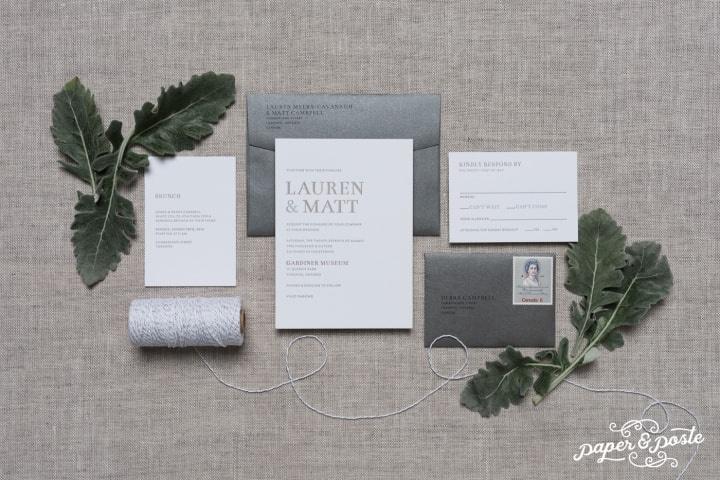 Elegant wedding invitation
If the vision board for your big day is filled with buzzwords like glitz, glamour and luxury - you're going to want some elegant wedding invitations and stationery. We suggest using a flowery font and surrounding your written details with metallic filigree-style graphics. You may even want to go the extra mile and close up your envelope with a monogrammed wax seal.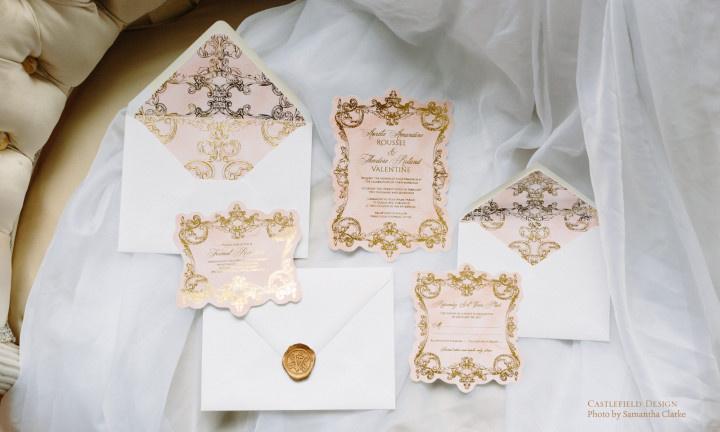 Rustic wedding invitation
Obsessed with rustic-chic everything? Give your wedding invitations a natural look by printing them on brown card stock. We recommend going with earthy tones for graphics and text, like browns, creams and greens, and adding pics of flora and fauna to really give off those woodsy, country vibes.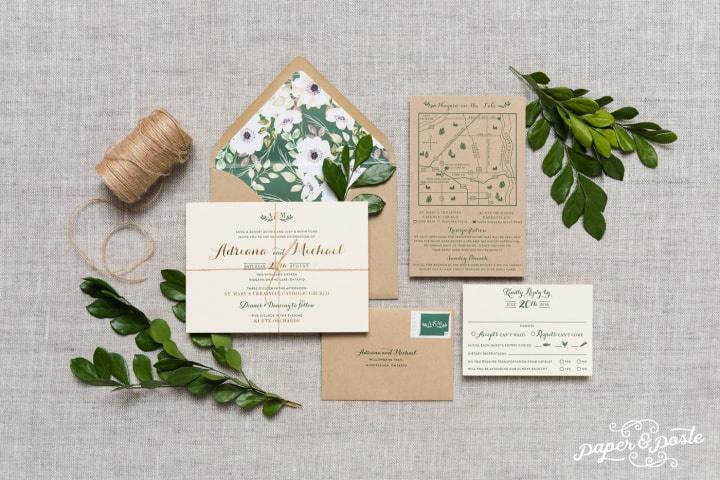 Vintage wedding invitation
Harken back to simpler times by choosing wedding invitations with a vintage vibe. We love the idea of going with a more worn-in paper style (like this wrinkled look) and a classic cursive font. Floral and lace graphics and wax seals will also help your theme hit home, so go ahead and try them out, too.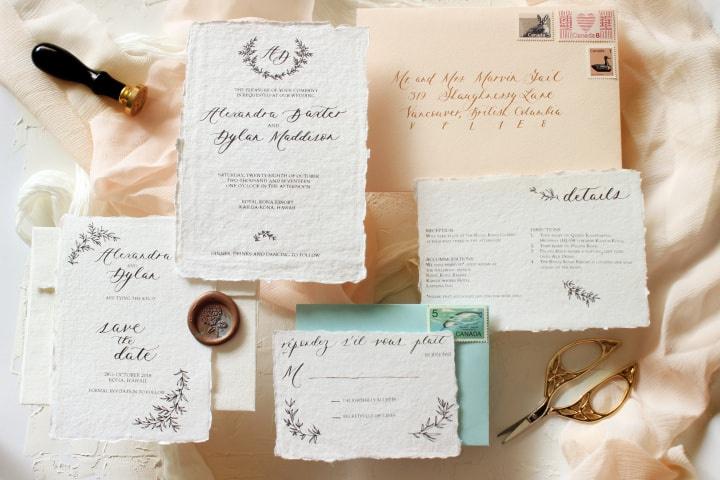 Whimsical wedding invitation
If your wedding theme is on the whimsical side, forget the standard stationery and go for something a little more fun, like fair-style tickets or festival lanyards for your big day. Remember, you're still going to need to include all the essential info, so if you're including lots of graphics (like this) you may need to make them double sided or direct your guests to your wedding website for all the important details.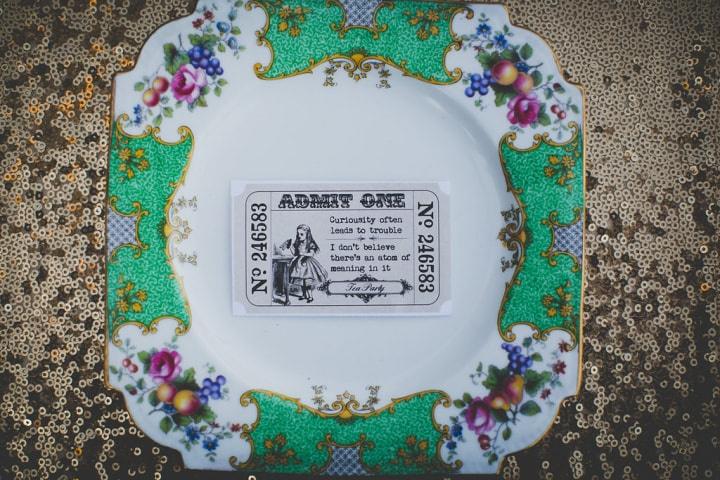 Boho wedding invitation
Looking to give your wedding invitations a dose of modern boho style? Look for stationery inspired by (or featuring) flowers and gems. This gold and pink watercolour design mimics the look of geodes, making it the perfect fit for this theme.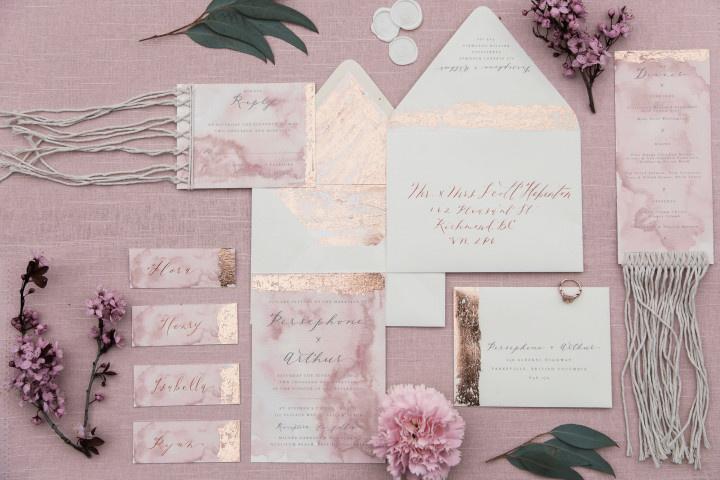 Floral wedding invitation
If you're hosting your wedding in a garden or greenhouse, you'll want to give your invitations a bit of flower power, too. We love the idea of using pressed flowers and/or graphics of bold and beautiful blooms to take your stationery to the next level. Pro tip: if you don't want to clutter your invites with pictures you can opt for printed envelopes, instead.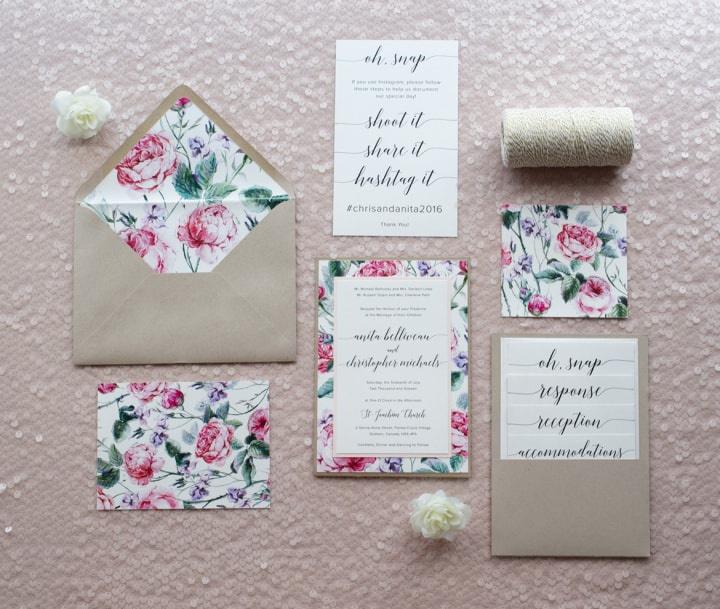 Tropical wedding invitation
Planning a destination wedding or going with a tropical wedding theme? Adorn your wedding invitations with exotic flora, fauna and cacti. You can go with a lush green photographic background, illustrations, or a watercolour design (as shown here) to create your desired effect.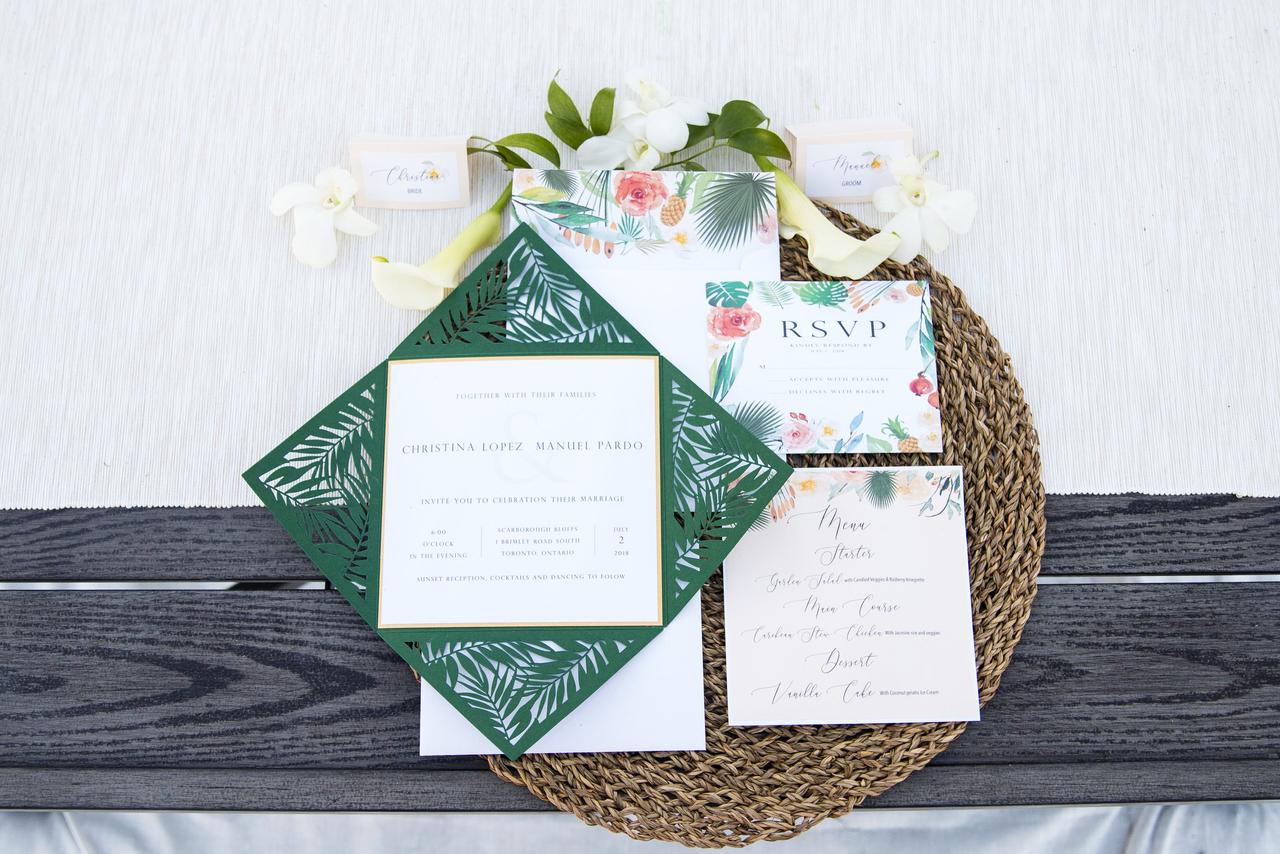 Modern wedding invitation
If you're having your wedding in a modern gallery, museum or industrial space, you can ask your designer to use interesting typography, geometric shapes and even unusual paper folds to give your stationery a graphic look an feel.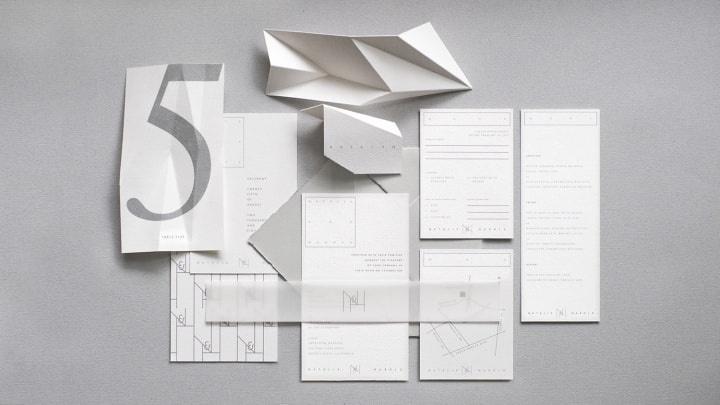 Beach wedding invitation
Whether your say your "I do's" on a beach in the Caribbean or in Canada, get your wedding guests in the mood with some on-theme stationery. Illustrations of sea life or coastal scenes can really capture the vibe of your location.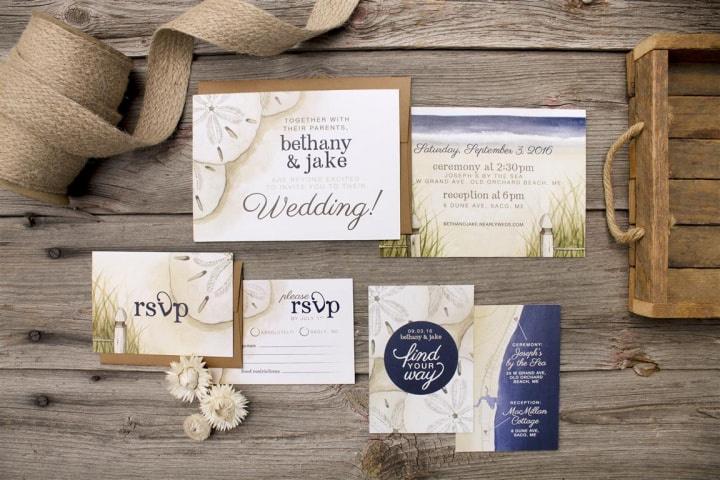 Travel-theme wedding invitation
Get your friends and family pumped up for a wedding celebration and vacation in one. If you're opting for a destination wedding or a travel theme, send your guests an invitation designed to look like a boarding pass, passport or postcard to tempt them into joining you on your great adventure.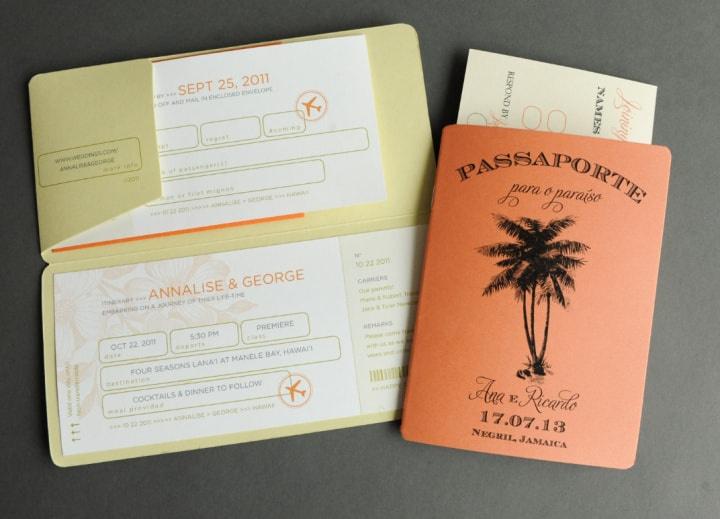 Find more wedding invitation ideas and stationers on WeddingWire »