Ready to start planning your perfect shabby chic wedding? I'm sure you've saved about a thousand rustic wedding ideas on Pinterest, but we've got a few more to add to your vision board. From killer venues to menu suggestions, we're here to help you create the event you've been dreaming of.
Here are 25 of our favourite rustic wedding ideas.
Campground Venue
Barns are tried and true rustic venues, but if you're looking for something a little different, follow this couple's lead and host your big day on a campground.
Bucket Aisle Markers
Aisle markers are an amazing way to pretty up your ceremony runway. Instead of using candles, lanterns or decorative props, fill a few buckets with baby's breath or greenery.
Boho Flower Girl Outfits
Everyone in your processional should be dressed to the nines on your wedding day. Make your flower girls' ensembles extra adorable with some hippie dippy dresses and halos made of daisies.
Ring Bearer Wagon
Is your ring bearer to young to make his way down the aisle on his own? Have another processional member carry him along in an a shiny red wagon.
Acoustic Performances
Have an acoustic artist play you down the aisle and sing you through your first dance. If you've got a skilled musician in your wedding party, this is the perfect time to give them the spotlight.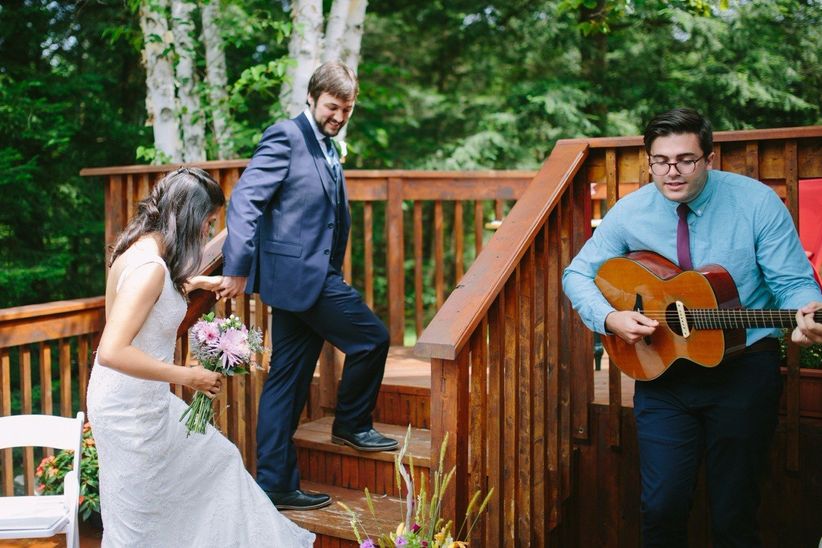 Mason Jar Lights
Mason jars are almost a mandatory rustic wedding idea. Instead of using chandeliers or fancy floor lamps, use a few mason jar lights to illuminate your space.
His & Hers Muskoka Chairs
You don't need to go all out and purchase Game of Thrones worthy seating for you and your new spouse - muskoka chairs are perfect for more laid back weddings.
Outdoor Games
Take your reception to the next level by adding in some fun and games. Ring toss, giant jenga, croquet and cornhole are all crowd-pleasers.
Burlap Bows
Skip decorating your venue with ribbons and lace - use burlap, instead. This'll give everything a shabby chic feel.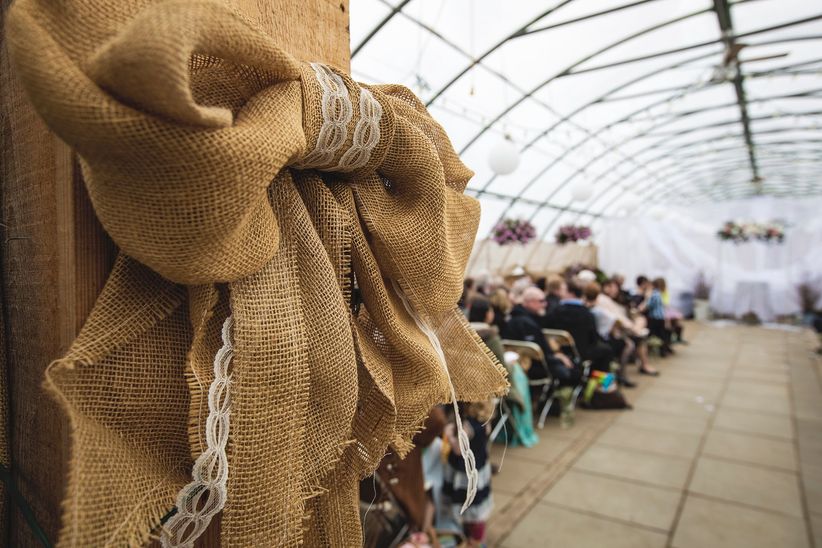 Hay Bale Seats
Forget about thrones, chiavari chairs and stools - ask your guests to take a seat on a bale of hay at your ceremony. Note: you'll probably want to find something a touch more comfortable for your dinner tables.
Ethereal Wedding Gown
While you're free to choose any wedding dress silhouette that you love, we think effortless flowing gowns pair perfectly with these other rustic wedding ideas.
Baby's Breath Bouquets
This budget-friendly bloom is the perfect flower for your bridal bouquet. If you want to shake things up, consider adding a few wildflowers into the mix.
Cheese & Charcuterie
Impress your guests with a spread filled with artisan cheeses and meats at your cocktail hour. Don't forget to order extra.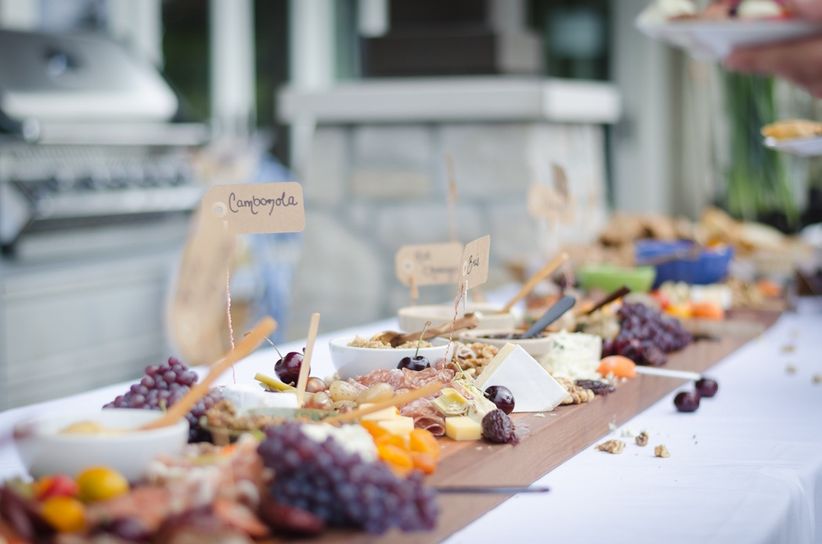 Wooden Signage
Every wedding needs signage to help direct guests. Make yours fit with your shabby chic decor by using pieces of reclaimed wood as your canvases.
Barn Lounge
Opposites attract! Add some elegant furniture to your rustic venue for a stunning mix and match lounge space.
Bench Guest Book
While paper and polaroid guestbooks are cute, you could land yourself a sentimental piece of furniture by turning an old bench into your GB.
Bunting
Bunting has the homemade charm that every rustic affair needs. If you want to save a few bucks - and who doesn't?! - try DIYing your own instead of ordering off Etsy.
Antler Decor
You've probably already purchased bunting, burlap and twine bits and bobs, but if you want to amp up your rustic decor even more add a few antlers (don't worry, animal lovers, they don't have to be real).
Cork Place Card Holders
Looking for DIY rustic wedding ideas? Then here's an easy one. Save the corks from the wine at your pre-wedding parties for some creative (and free) place card holders.
BBQ Food
Comfort food is the way to go for rustic weddings. Stack your guests' plates with BBQ staples like ribs, brisket, mac 'n' cheese and potatoes. This'll give them the fuel they need to party all night long.
Faux Wood Wedding Cake
Give your wedding cake a woodsy twist by asking your baker to create a faux wood design on its tiers. Top it off with some sugary flora and fauna and you'll have a real edible masterpiece on your hands.
Plenty of Pie
Get your guests drooling by filling your dessert table with an array of pies. Don't forget to check which fruits are in season before placing your order.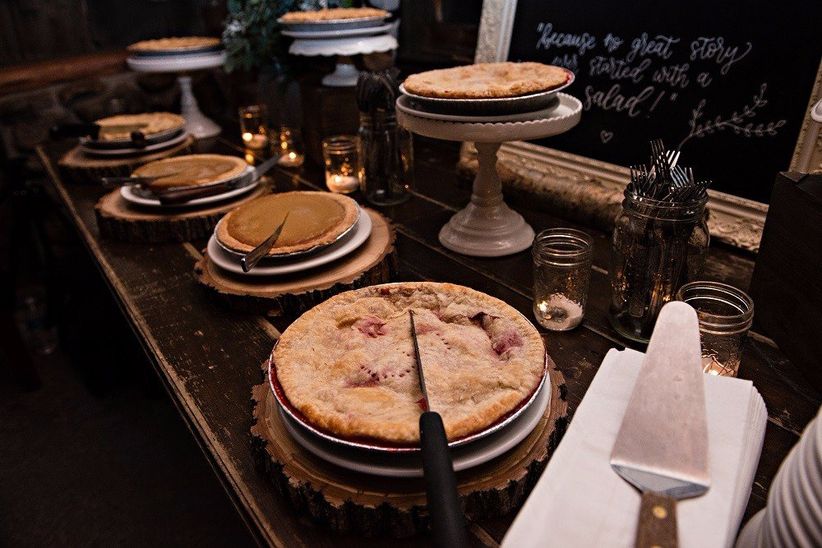 Eco-Friendly Favours
Give your guests gifts that'll keep on giving! Potted plants, seeds and flower bulbs are great eco-friendly favour options.
Getaway Truck
Limos and Lincoln town cars aren't exactly rustic, so think about looking into other transportation options. A vintage truck will add some old school charm and match your theme perfectly.
Field Photoshoot
Want to nail your wedding portraits? If you're hosting your wedding far away from the city, take advantage of your rural surroundings and stage a photoshoot in a field.
Find more rustic wedding ideas and inspiration in our Real Wedding galleries »