38 Awesome Christmas Wedding Ideas
Want to make your wedding a festive affair for the holidays? Here are a few holly jolly Christmas wedding ideas worth considering.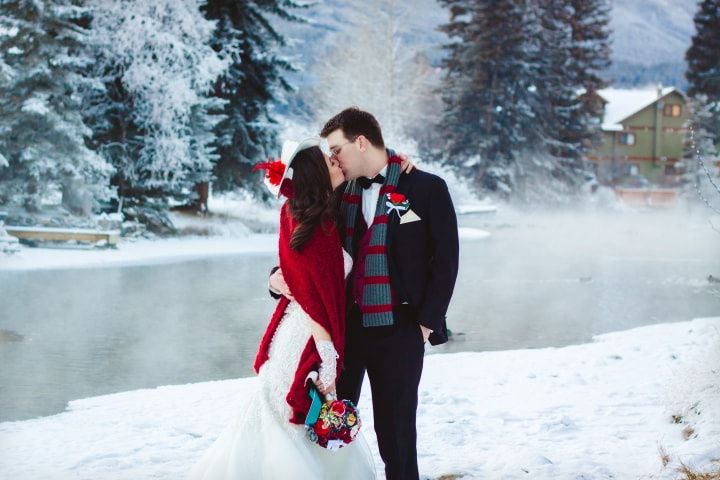 Waiting till December to host your wedding in Canada? Well, you may want to consider making it a Christmas wedding. Deck your winter wedding venue with wreaths, Christmas trees and ornaments, think about donning a red dress and/or give your sweet table some homemade charm with masterfully decorated sugar cookies. You can go all out or add just a tiny dose of Christmas flavour to your winter wedding, and there are plenty of ways to get the job done. Here are a few awesome Christmas wedding ideas to make your celebration a little more festive. Here are a few of our favourite Christmas wedding ideas.
Wintery Wedding Venue
Some wedding venue types—historic homes, mountain resorts and hotels— are just so darn pretty in winter. They are also likely dressed up for the season with holiday decor and lighting meaning you won't have to start from scratch on the decorating front. Seek out one for your Christmas nuptials that adds that touch of magic. Pro tip: We've gathered up these tips on what to look for in a winter wedding venue to help you out.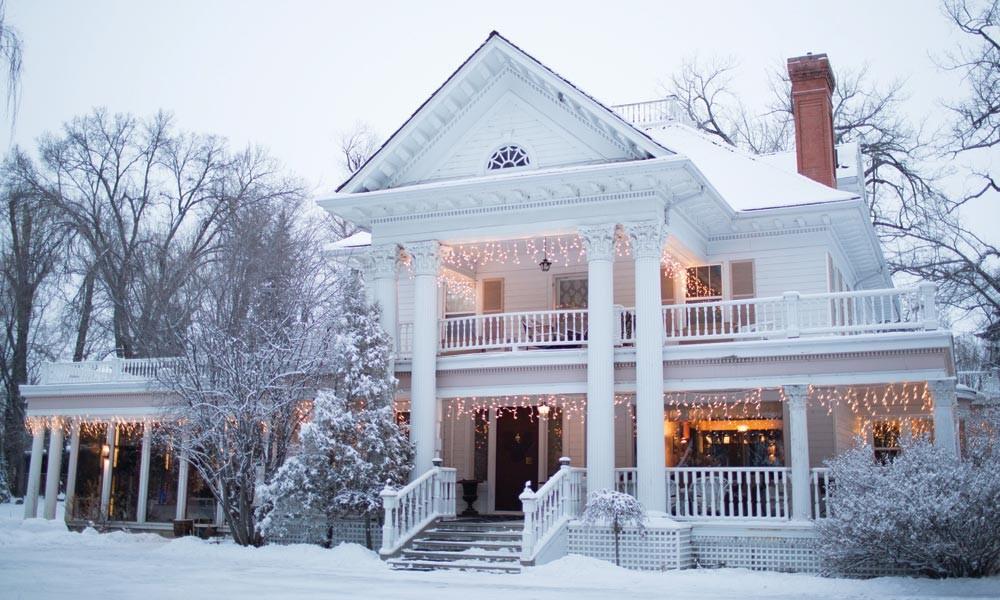 Christmas Engagement Shoot
Help build anticipation for your festive celebration with a Christmas-themed engagement session. Some of our favourite ideas include a visit to a Christmas tree farm, a Hallmark Christmas-worthy location like a gazebo trimmed in lights and some festive shots taken in dressy engagement outfits, like this one. Bonus: Check out these 41 Stunning Winter Engagement Photo Ideas for more inspiration.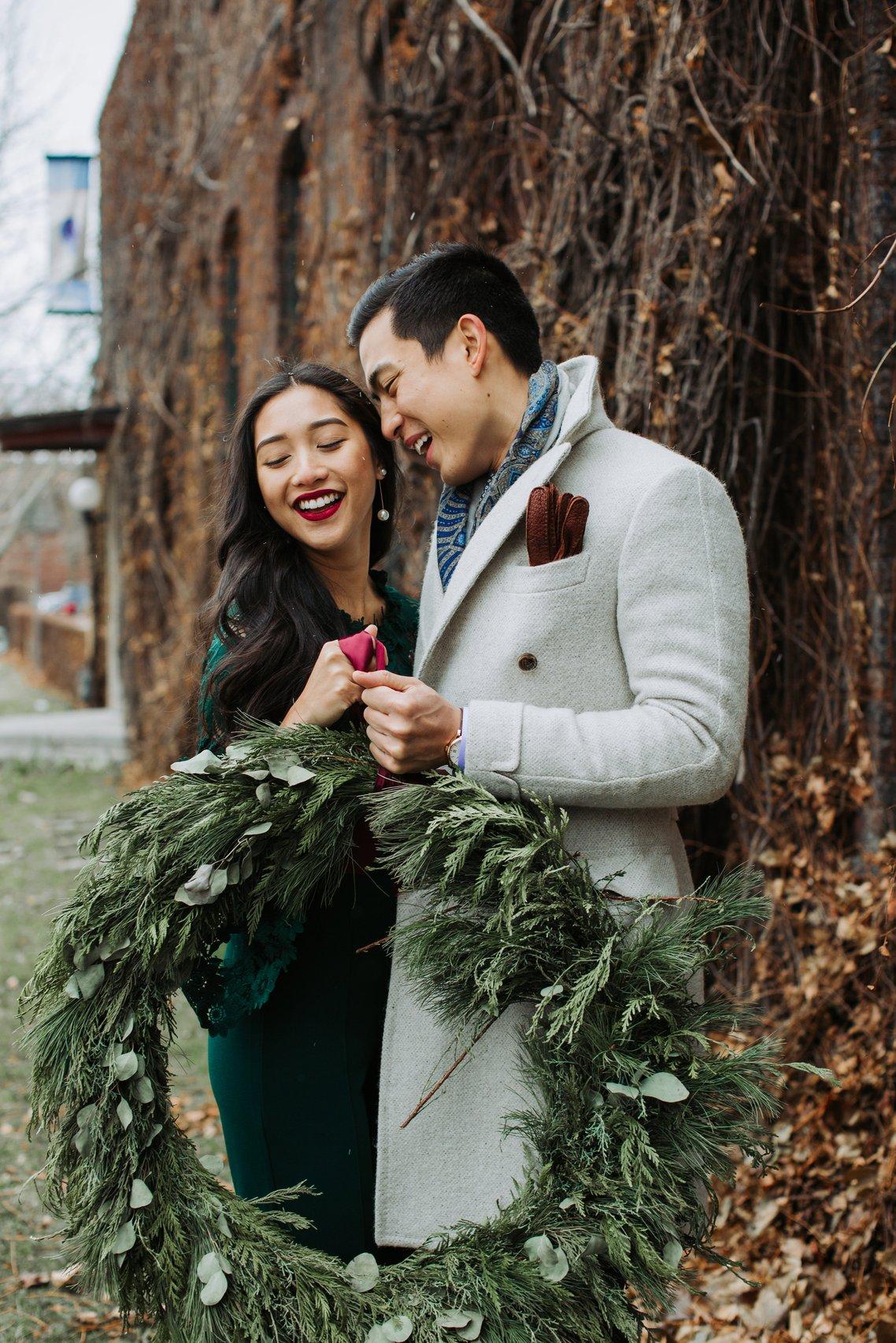 Red, Green and White Bouquet
'Tis the season for poinsettias, not peonies! Take this opportunity to go with a red, white and green-hued bouquet filled with wintery blooms and greenery.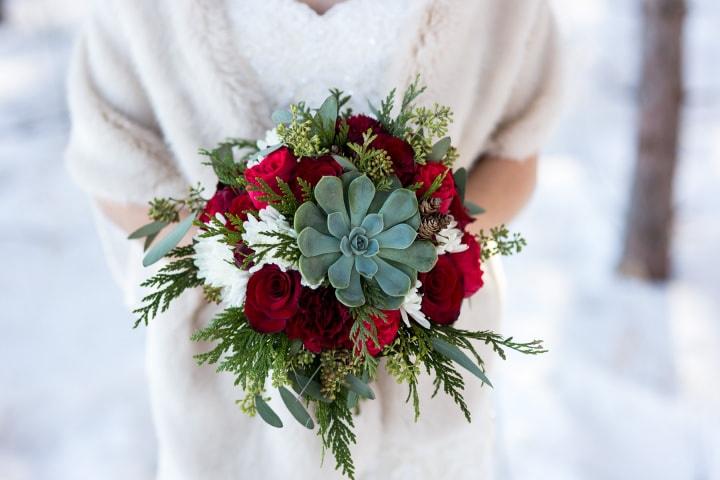 Festive Stationery
Give your Christmas wedding stationery the winter treatment by going for deep crimson paper with gold text and graphics. If you really want to go the extra mile, you could add some fun, wintery images like snowflakes or pinecones.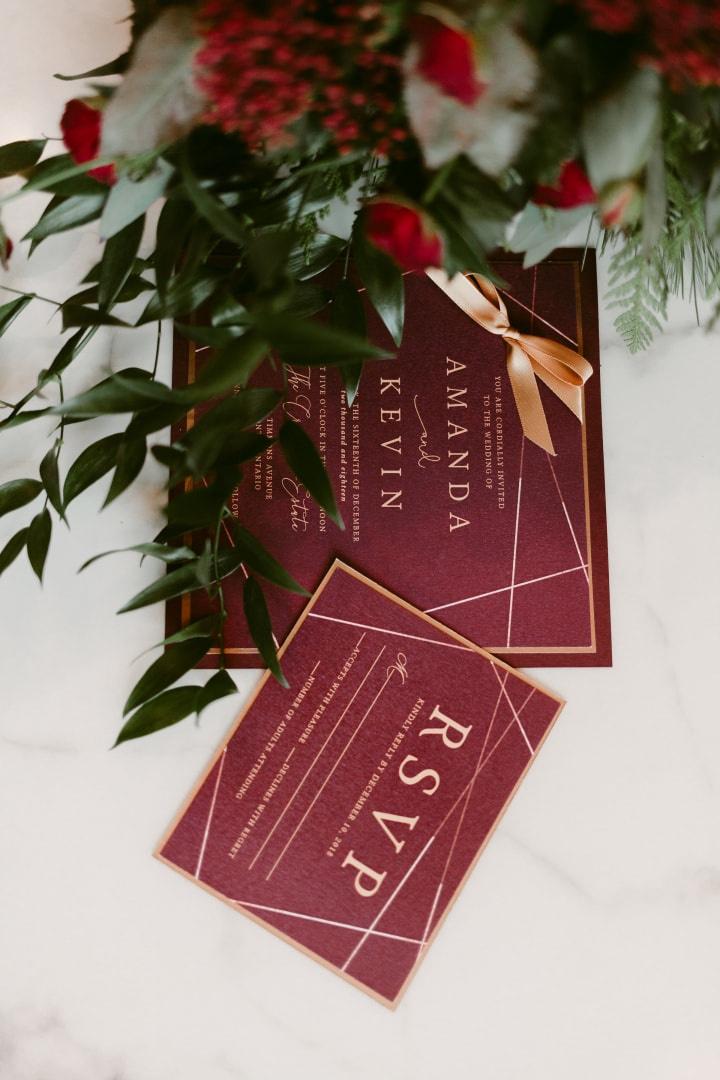 Flannel PJs
Keep your wedding party warm before the main event by giving them flannel PJs to wear while getting ready. Nobody wants to wear a skimpy silk robe in the dead of winter!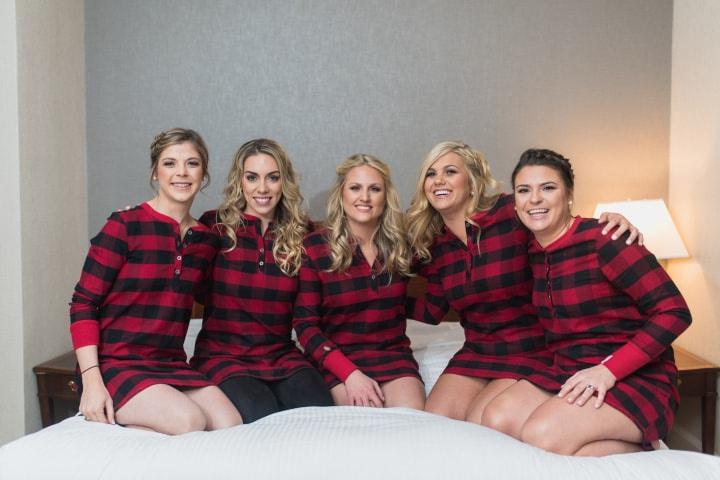 Red Wedding Dress
Steal Mrs. Claus' style on your wedding day and rock a red dress. This is a bold option that'll keep everyone's eyes on you.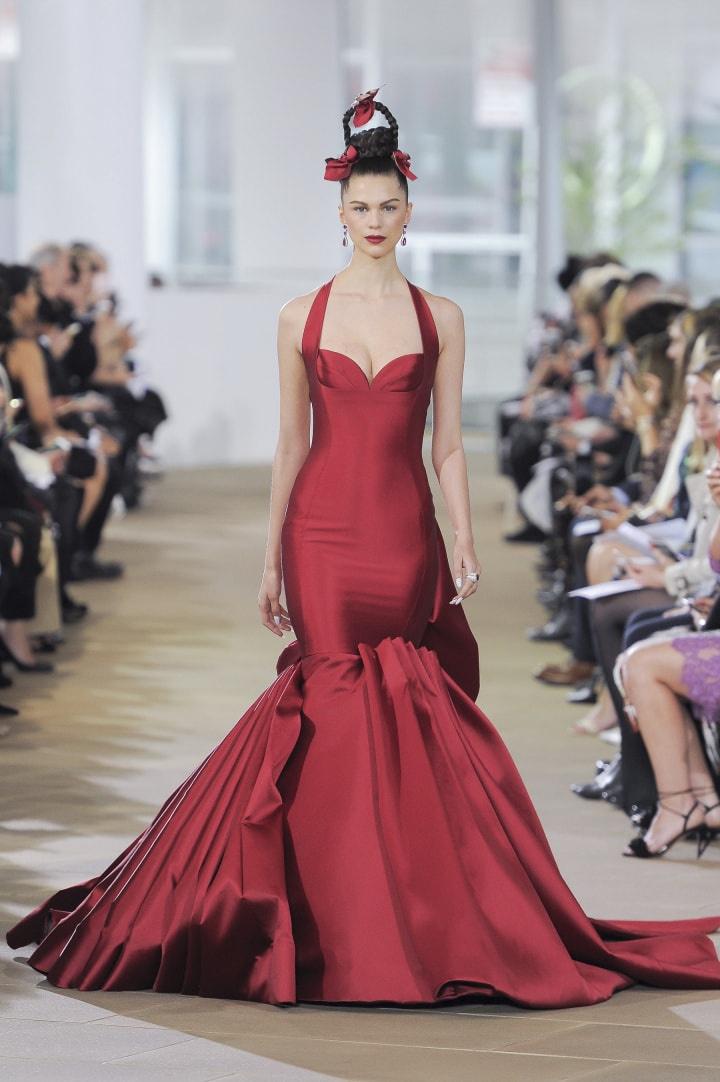 Sparkly Accessories
Make your bridal ensemble a bit more glam by adding sparkly accessories like dramatic diamond (or faux diamond) jewellery and/or bedazzled shoes.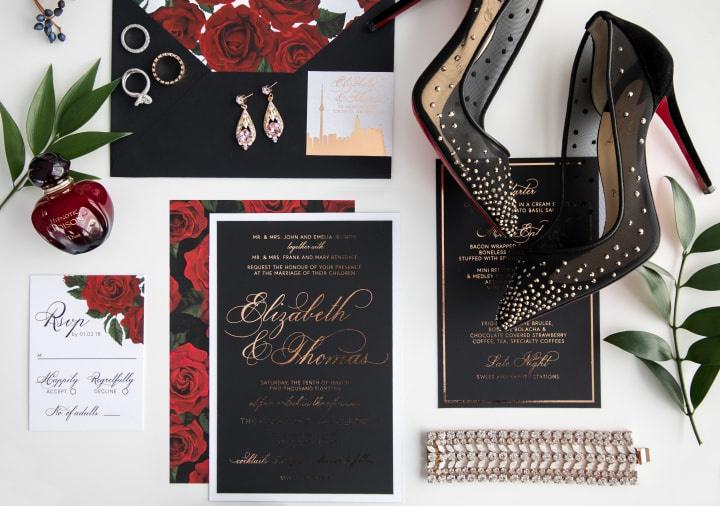 Christmas-Themed Flower Crown
Typically we think of flower crowns as the ideal bridal accessory for a boho wedding or a garden wedding. However, wreaths are a Christmas staple, so why not ask your florist to make one for you or your bridesmaids to wear.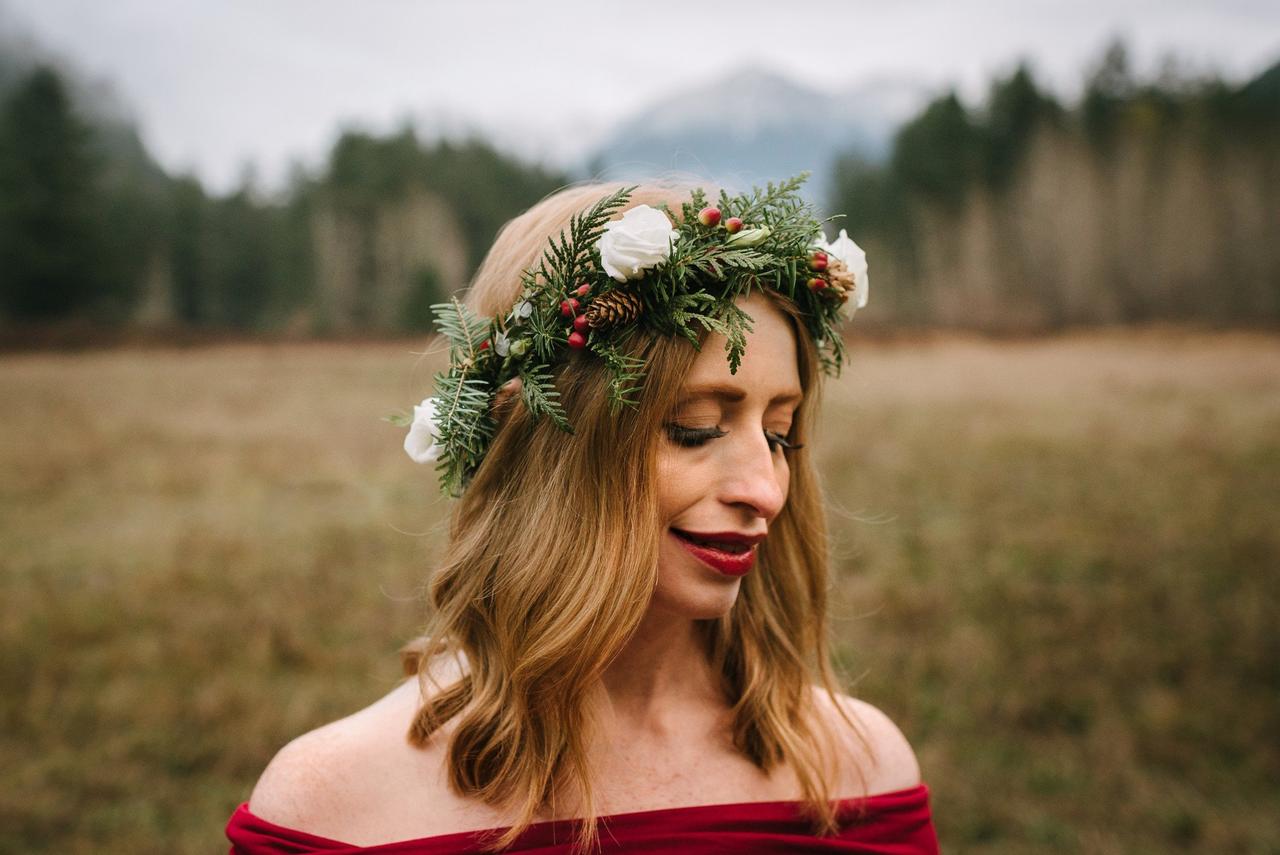 Faux Fur Stoles
Obviously, you and your leading ladies want to stay warm while taking those outdoor winter wedding portraits! Purchase a few faux fur stoles so that you stay cozy and look awesome in your pics.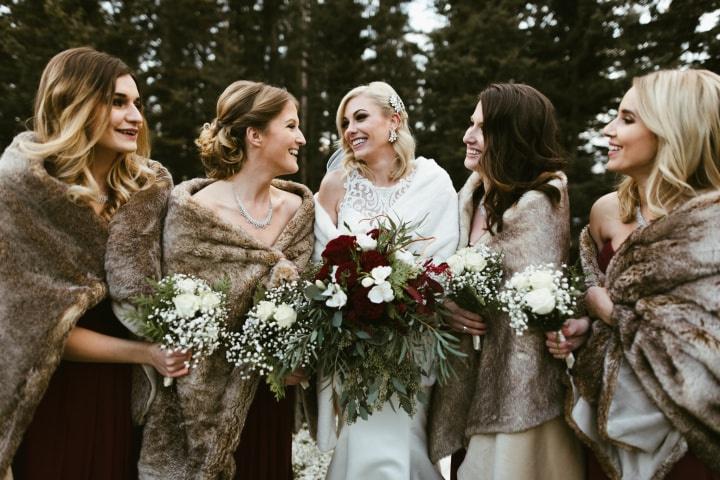 Carriage Ride
Use Santa's sleigh as your Christmas wedding transportation inspo! You probably won't be able to round up a herd of reindeer to usher you in, but a pair of horses will work just as well (you can always nickname them Dasher and Dancer).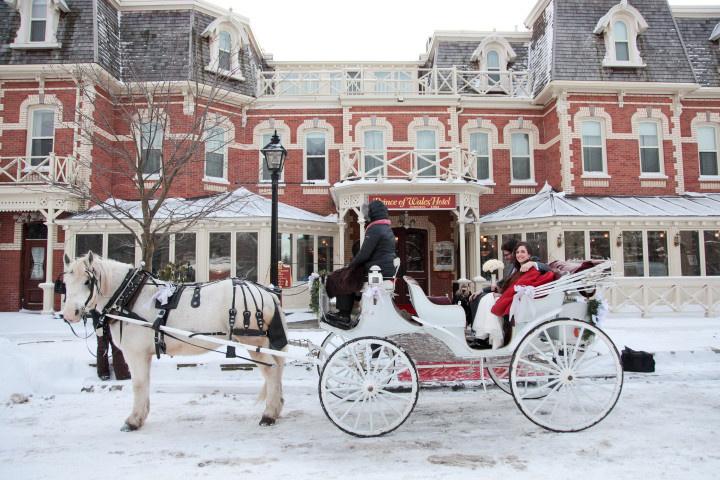 Burgundy Colour Scheme
While red is a classic colour for a Christmas wedding, choosing a deeper burgundy colour is also stunning especially when paired with pinks and gold. From formalwear to flowers, there are lots of options available in this chic shade.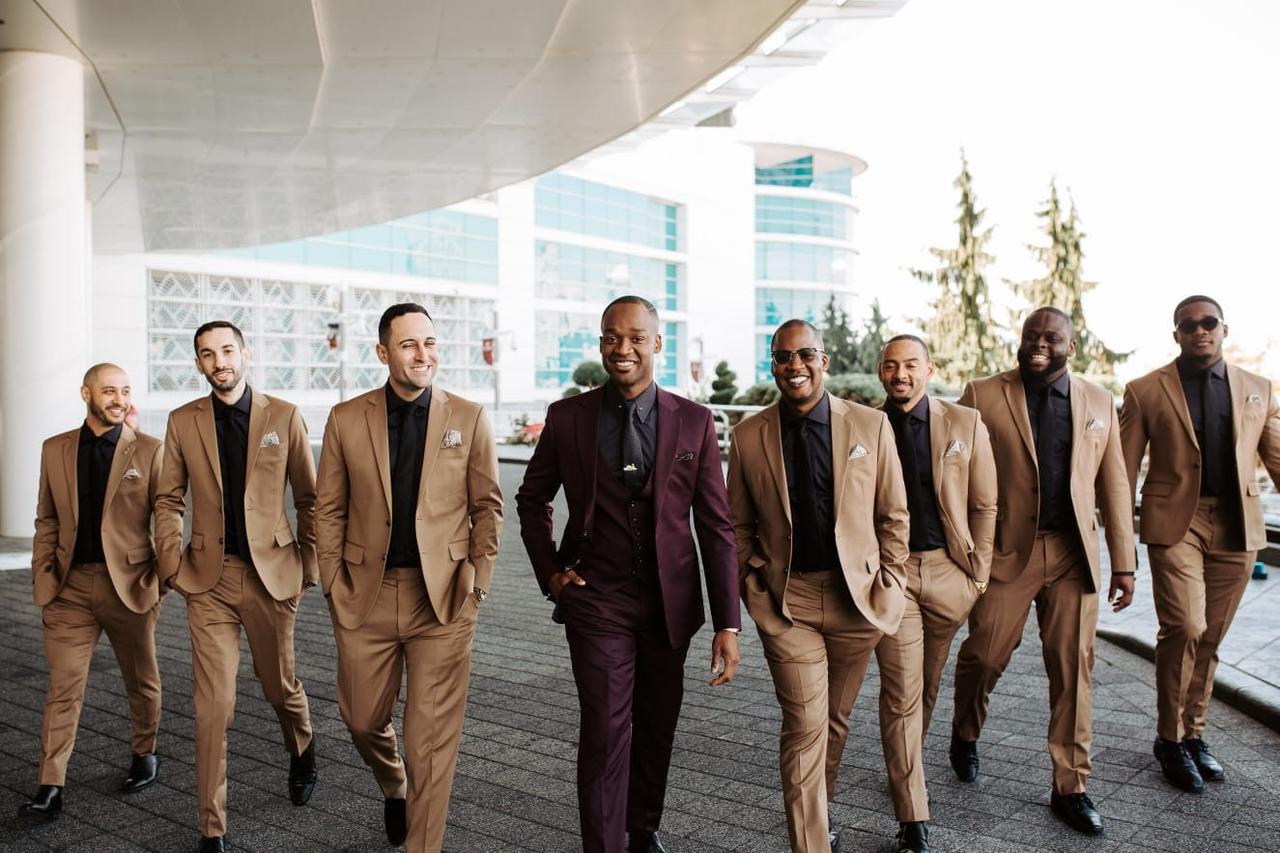 Christmas Tree
if you're embracing a Christmas wedding theme, you're going to need a tree. We suggest going the extra mile and decorating it with ornaments that match your colour scheme (and maybe some monogrammed ones, too).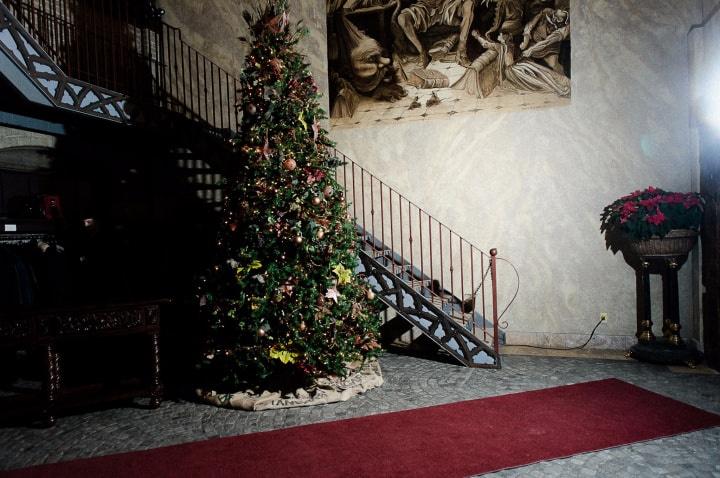 Christmas Carollers
A performance by Christmas carollers is a beautiful way to entertain your guests prior to your ceremony or at your cocktail hour. You might even want to distribute lyric sheets to encourage guests to join in.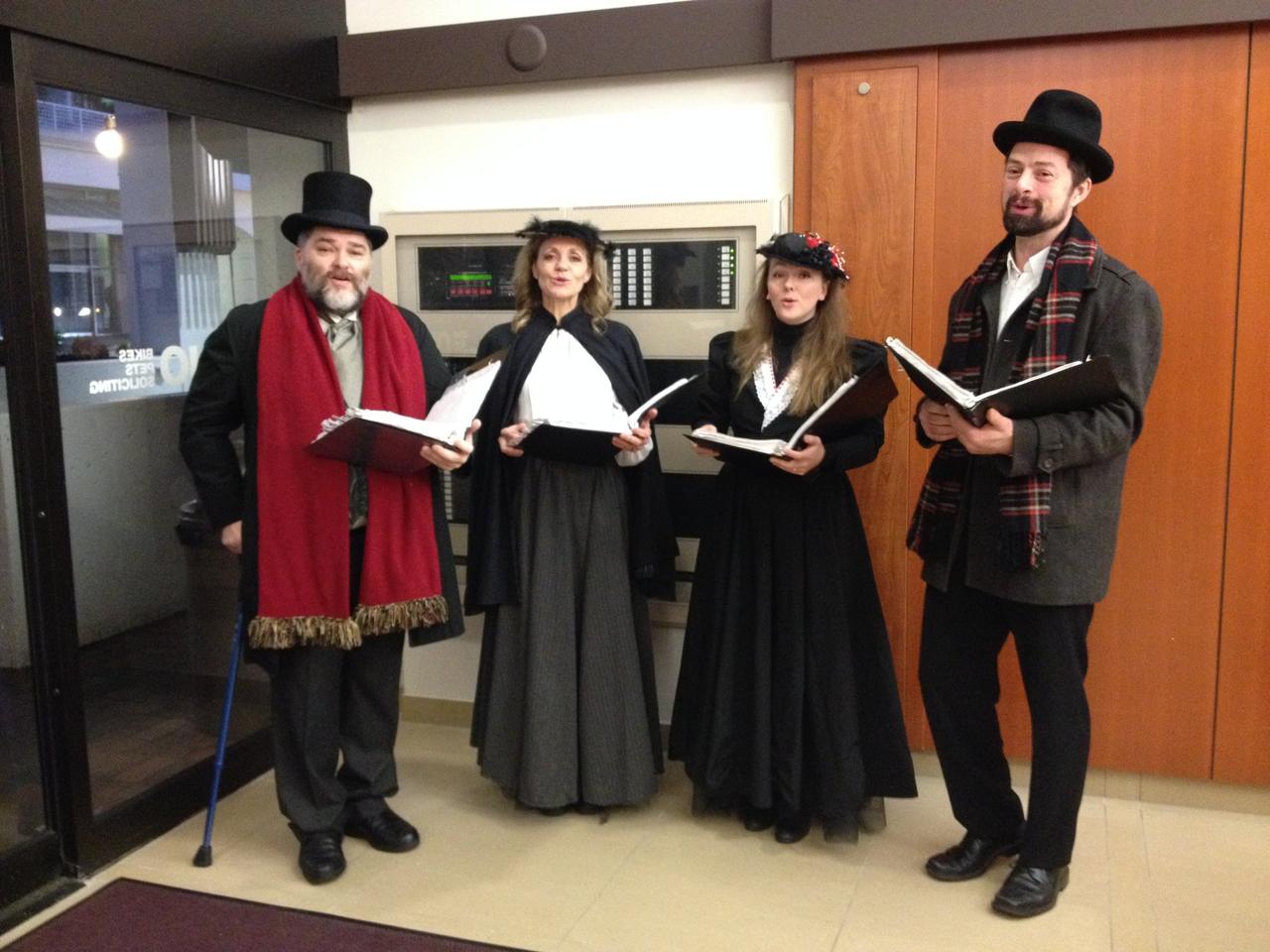 Fireplace Altar
Stay warm and cozy on your big day by saying your "I dos" in front of a crackling fireplace. Don't forget to decorate the mantel with ornaments. Pro tip: check out these 15 Fireplace Wedding Decor Ideas We're Absolutely Obsessed With.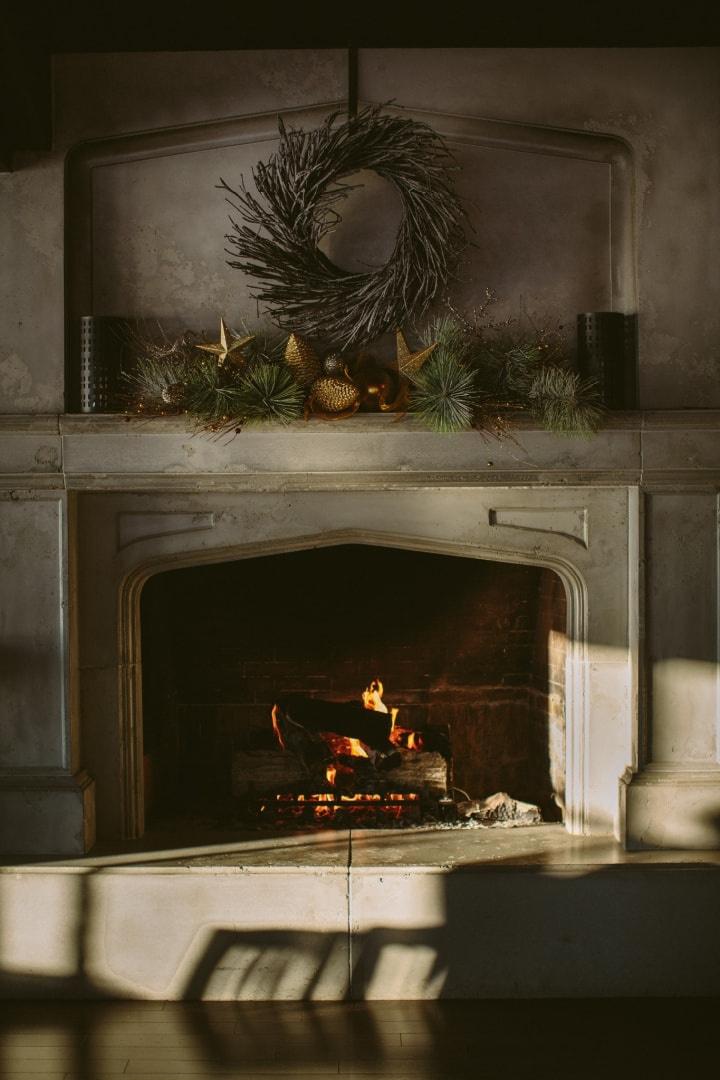 Spruce Aisle Markers
Looking for a budget-friendly way to beautify your wedding aisle? Follow this couples' lead and line it with some sprigs of spruce.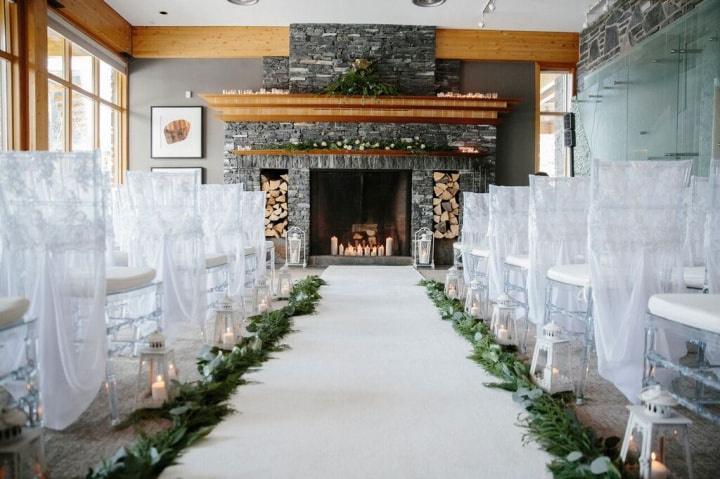 Christmas Wedding Vow Booklets
Dressing up your vow booklets with a festive ribbon and holly illustrations will make your vow exchange even more magical. They make a lovely keepsake too that you can pull out along with your Christmas decorations each year to reflect back on your "I dos".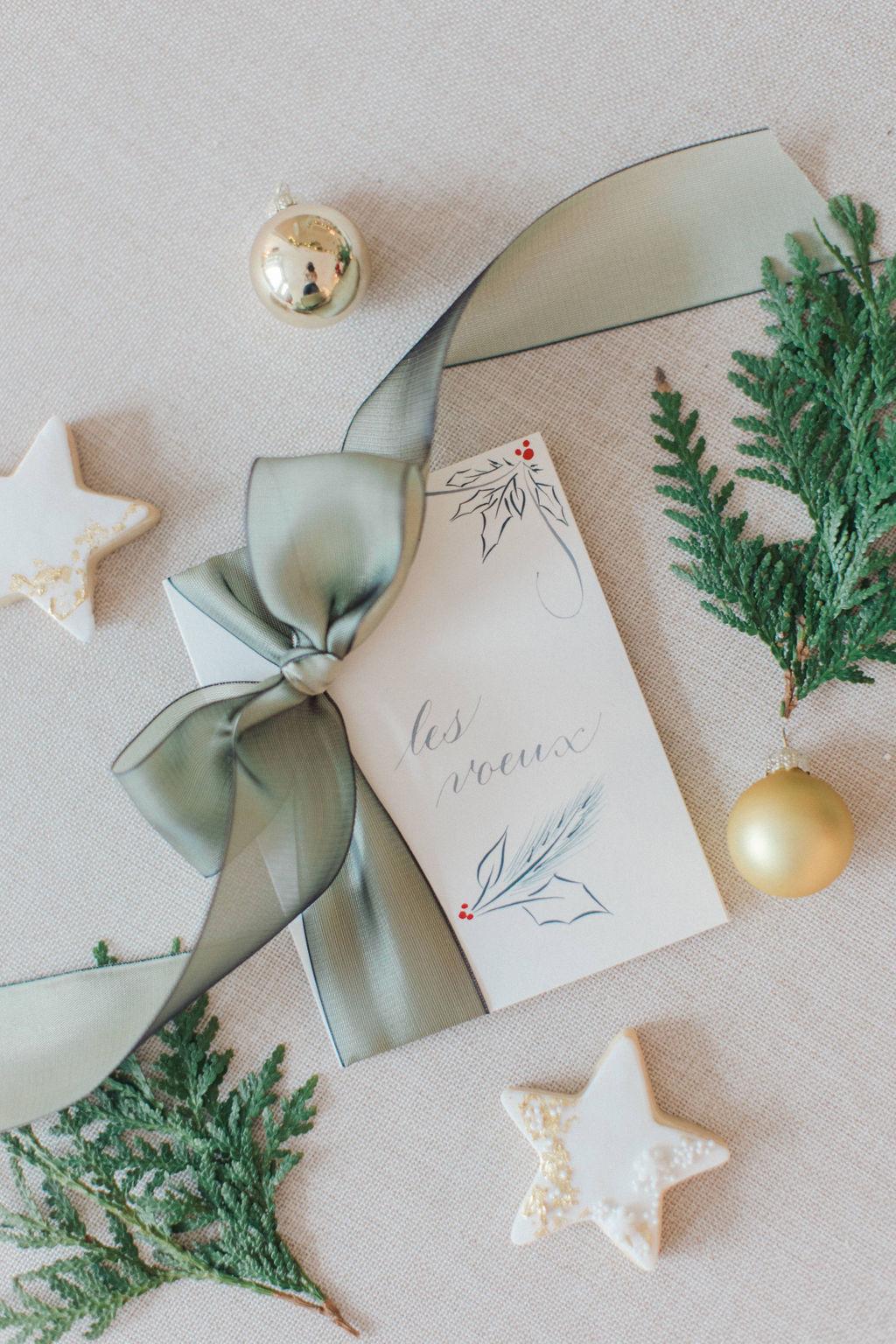 Harp Music
Fill the room with the sweet sound of harp music. The perfect wedding ceremony and cocktail hour music, the classic instrument creates a celebratory and festive vibe to your event. Bonus: Here are The 10 Best Harp Songs for Your Wedding Ceremony.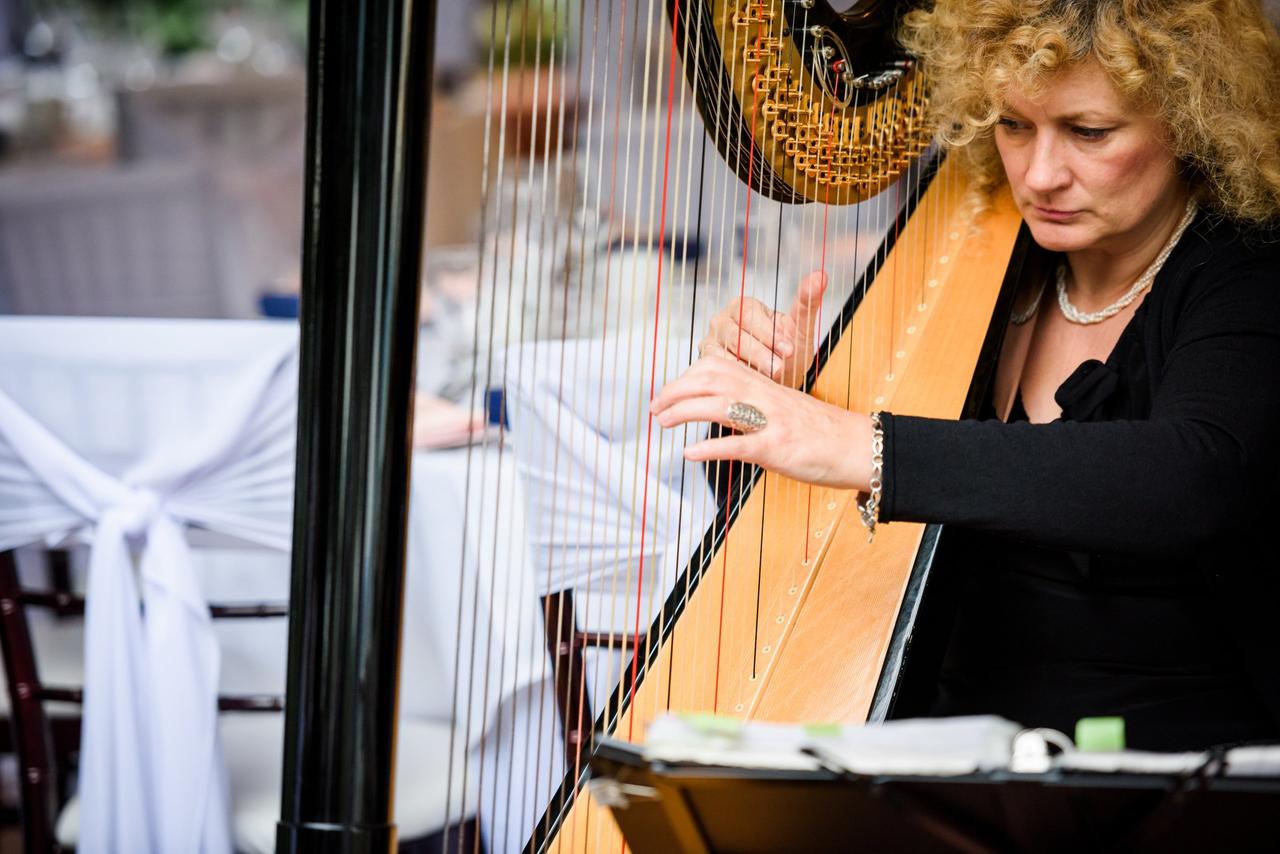 Christmas Table Decorations
If you're looking for Christmas wedding reception decorating ideas, take inspiration from this dreamy rustic chic look.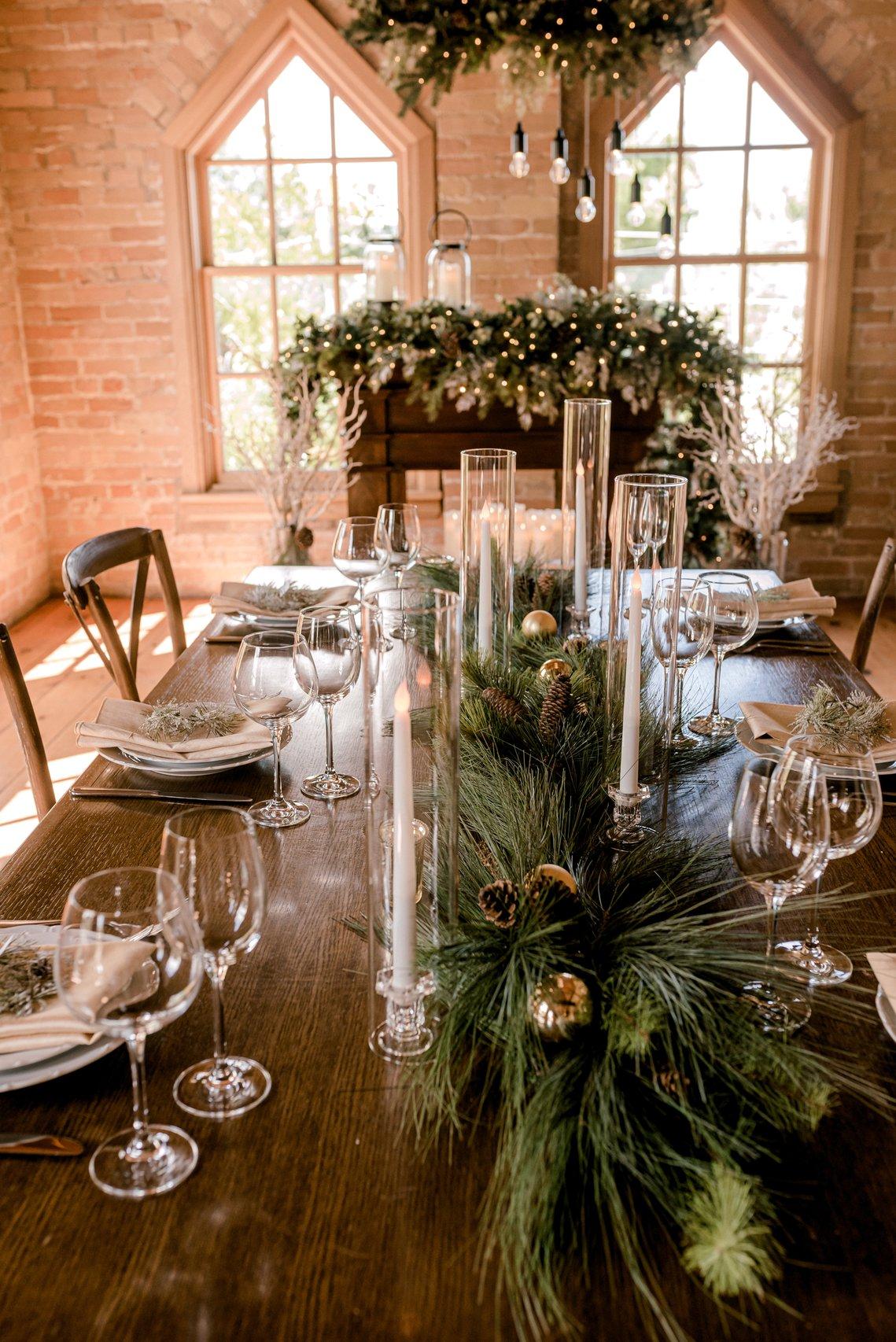 Pink Holiday Wedding Decorations
For a bridal twist on Christmas wedding decorations, use hues of pink flowers, linens and tableware accents alongside evergreens and gold accessories. This will ensure your wedding decor doesn't look like any other holiday party on the calendar.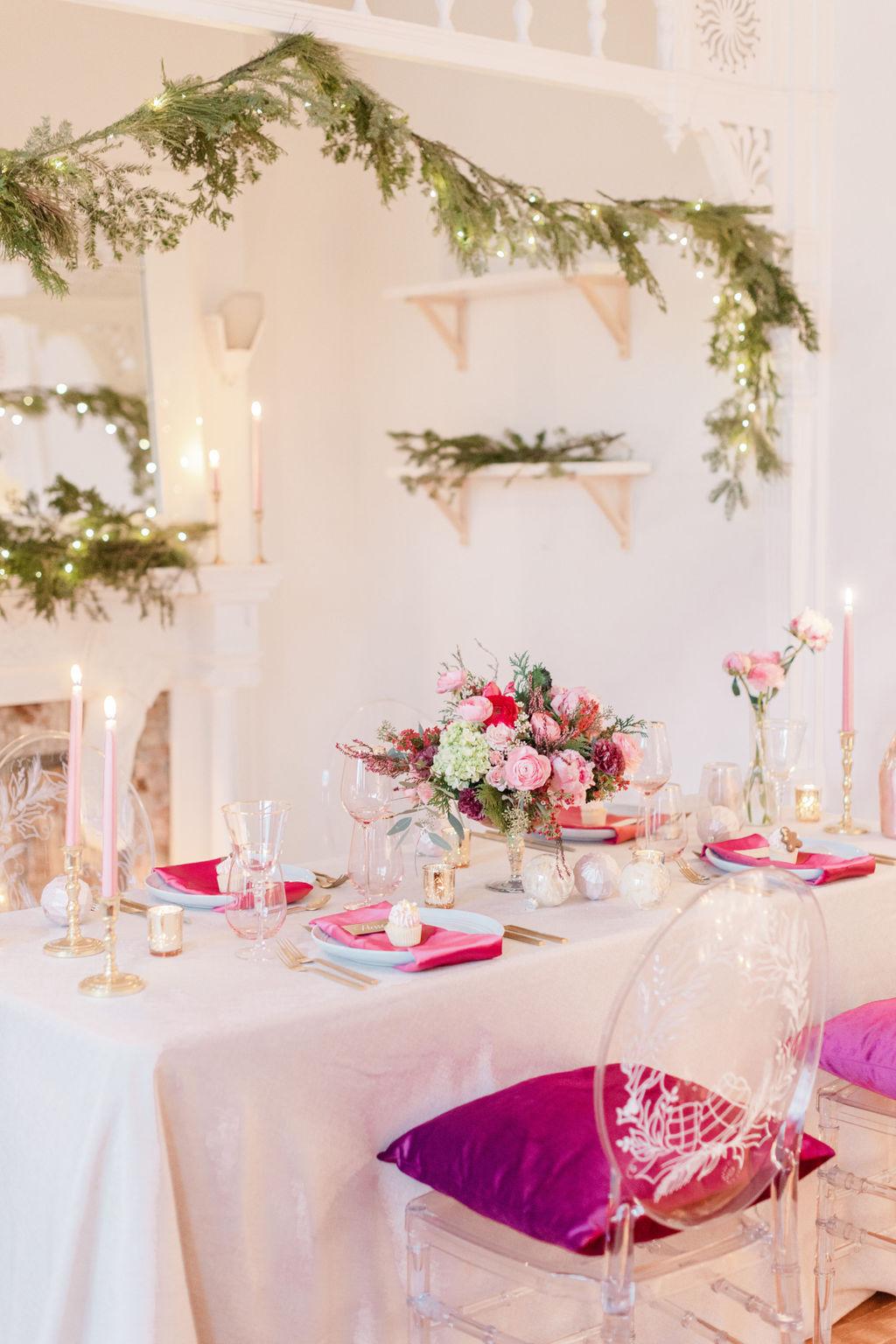 Outdoor Photo Session
Take your wedding or engagement portrait session outdoors to capture some Christmas vibes. A stroll through a Christmas market, tree farm or on dressed-up streets will give you plenty of festive backdrops.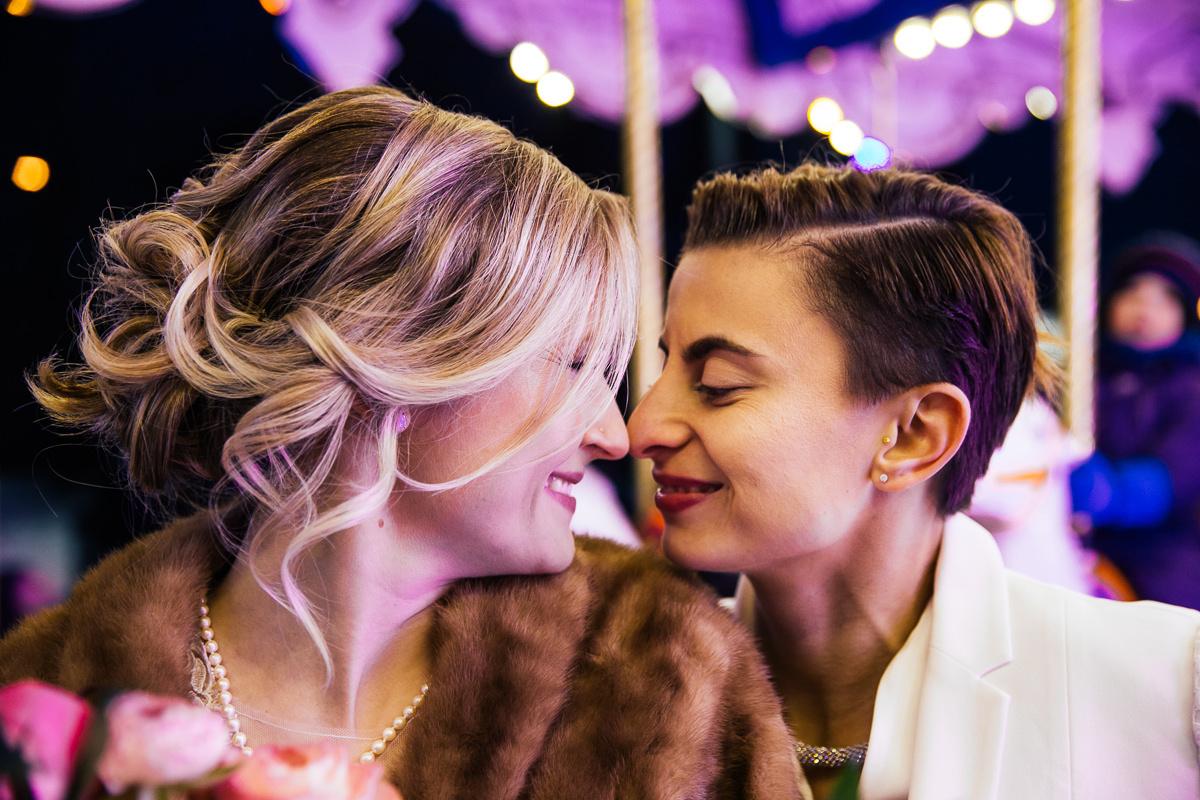 Candles Galore
Make your venue extra cozy by decking it out with glowing candles. Add cranberries, birch branches and sprigs of greenery to your wedding centerpieces to make them even more festive.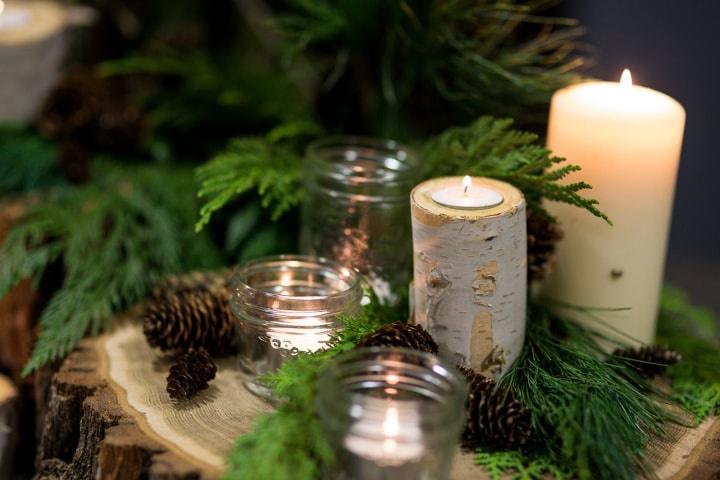 Wreaths
Time to deck your halls! You don't need boughs of holly, but we do recommend adding a wreath or two to your wedding venue.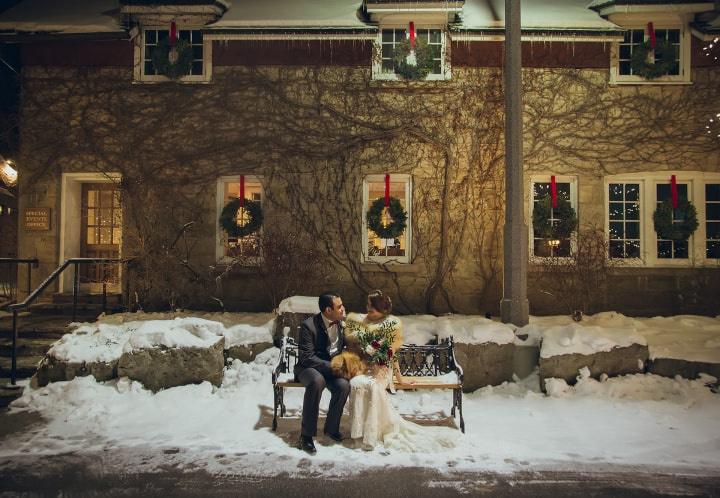 Strings of Christmas Lights
Fairy lights are super popular wedding decor staples, but for a Christmas wedding celebration, strands of snowflake or traditional Christmas tree lights are the way to go.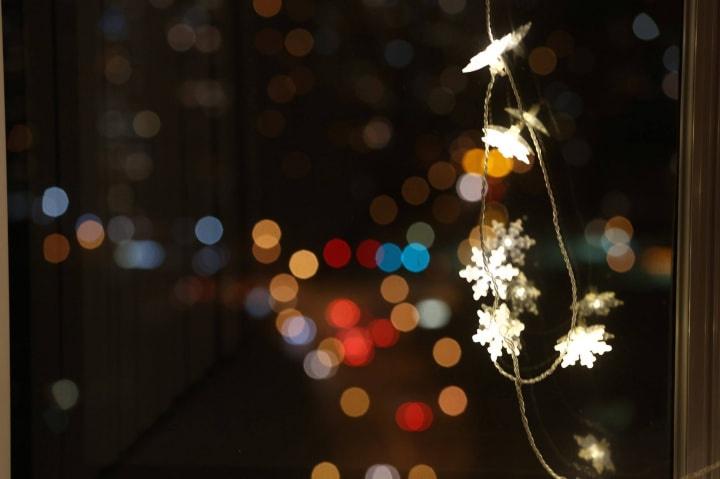 Cranberry Cocktails
Cranberry is the pumpkin spice of winter. Embrace the trend and serve some cranberry flavoured drinks at your cocktail hour.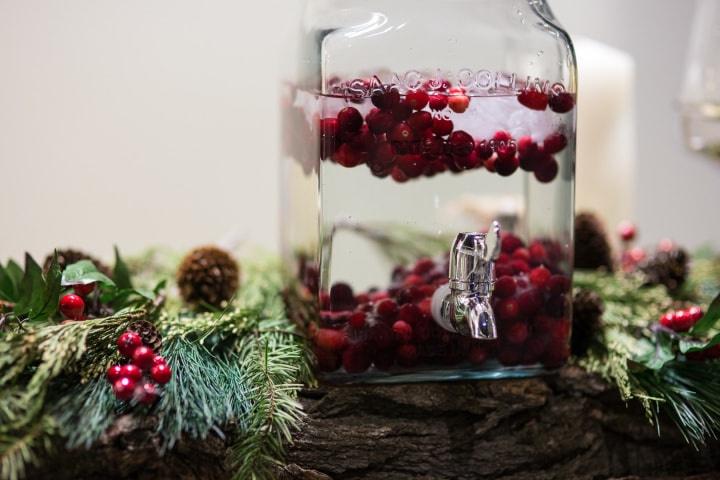 Ornament Placeholders
Use Christmas tree ornaments to hold your escort cards or place cards. These can serve double duty and act as your wedding favours, too!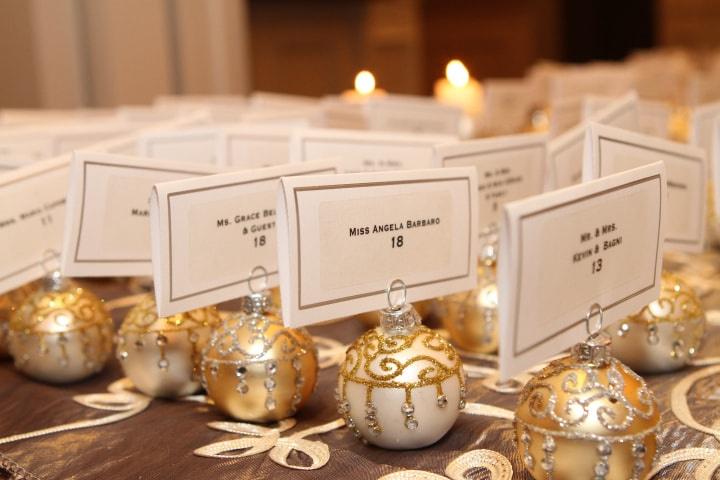 Wintery Place Settings
Reindeer napkins, greenery, ornaments and more will make your reception tables look holiday ready.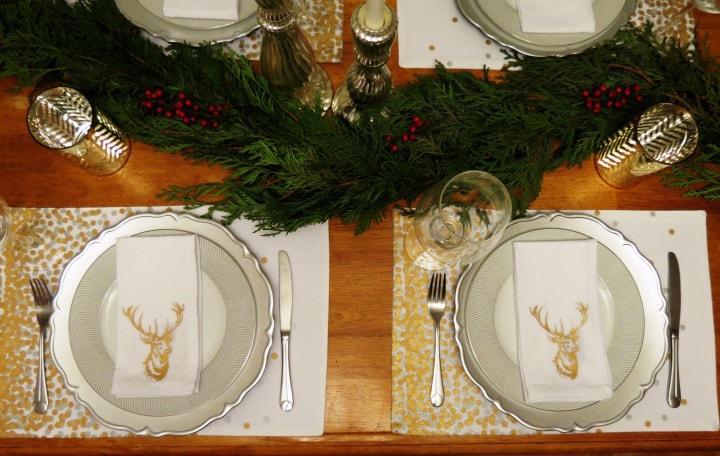 Christmas Sweetheart Table
If you love the idea of a sweetheart table, take inspiration from this super romantic table design, Its elements include an exquisite bouquet of red and pink blooms, luxurious red napkins, gold candles, a greenery runner and garlands trimmed with fairy lights.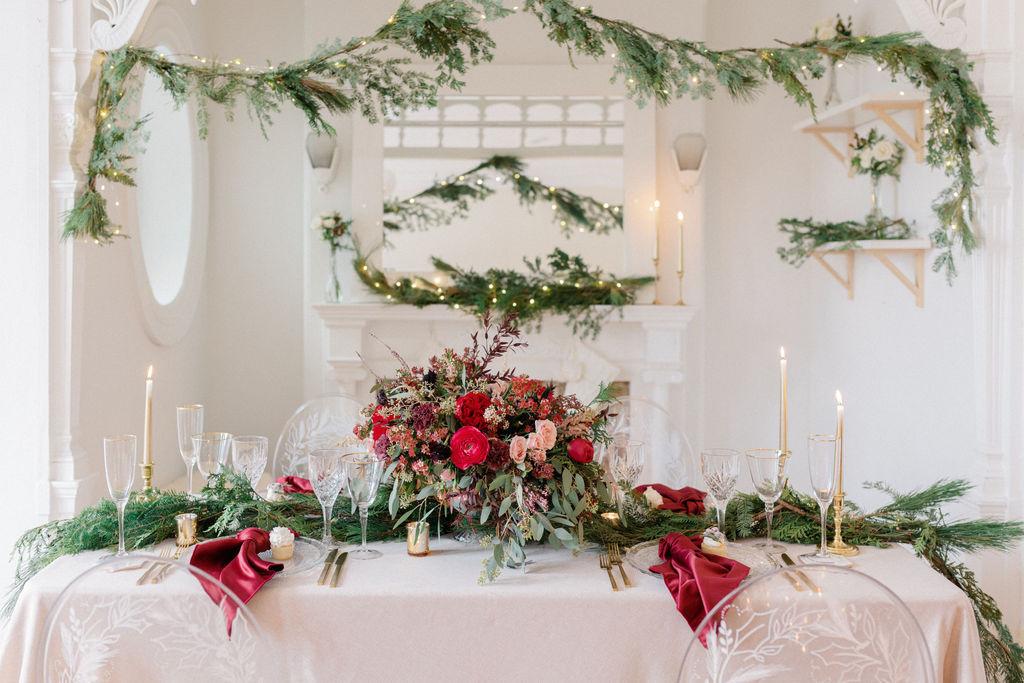 Holiday Dinner
What's better than having one Christmas dinner? Having two, obviously. Fill your buffet with drool-worthy holiday eats like turkey, stuffing and cranberry sauce. Make sure to order extra, your guests are bound to go back for seconds.
Crackers
Amp up your place settings by adding a festive cracker to the top of each of your guests' plates. Instead of buying the plain 'ol ones from the grocery store, consider customizing them for your big day.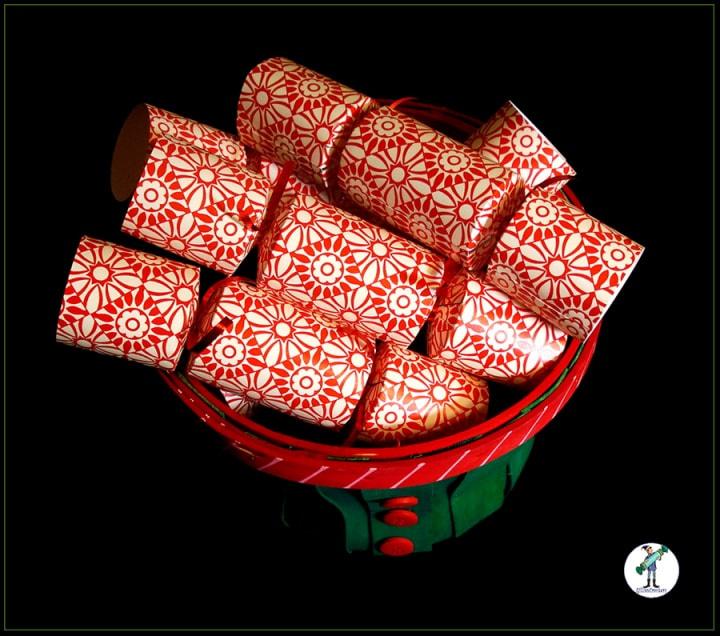 Gingerbread House
Think your dessert table could be a bit more Christmassy? Add a cute gingerbread house (or two) to your display.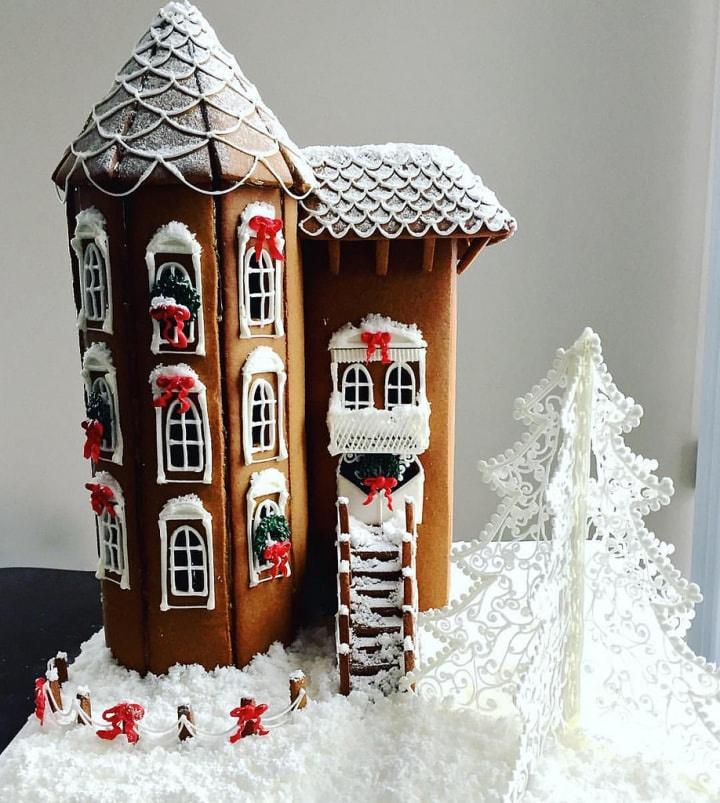 Frosty Cake
Turn your wedding cake into a mini winter wonderland by covering it with white icing and adding festive details like pinecones, berries and sprigs of spruce.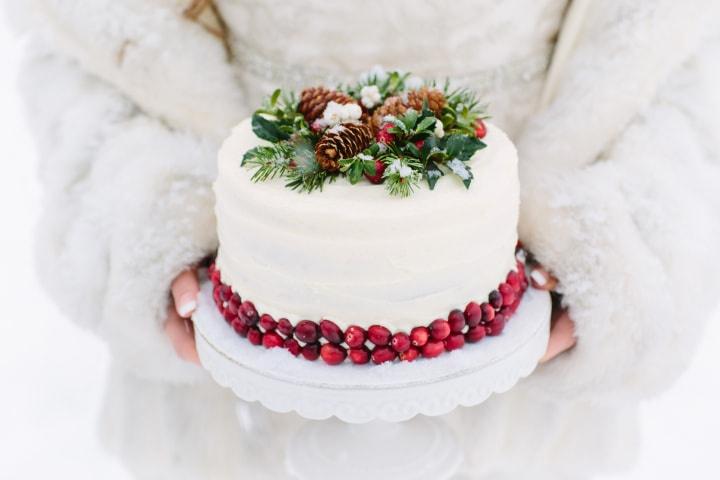 Sugar Cookies
Take your dessert table to the next level by adding some traditional Christmas cookies to the mix. Pro tip: if you want to save a few bucks and have some extra time on your hands, make 'em yourselves. You could even invite your 'maids and 'men over and have a cookie decorating party (great for pre-wedding bonding).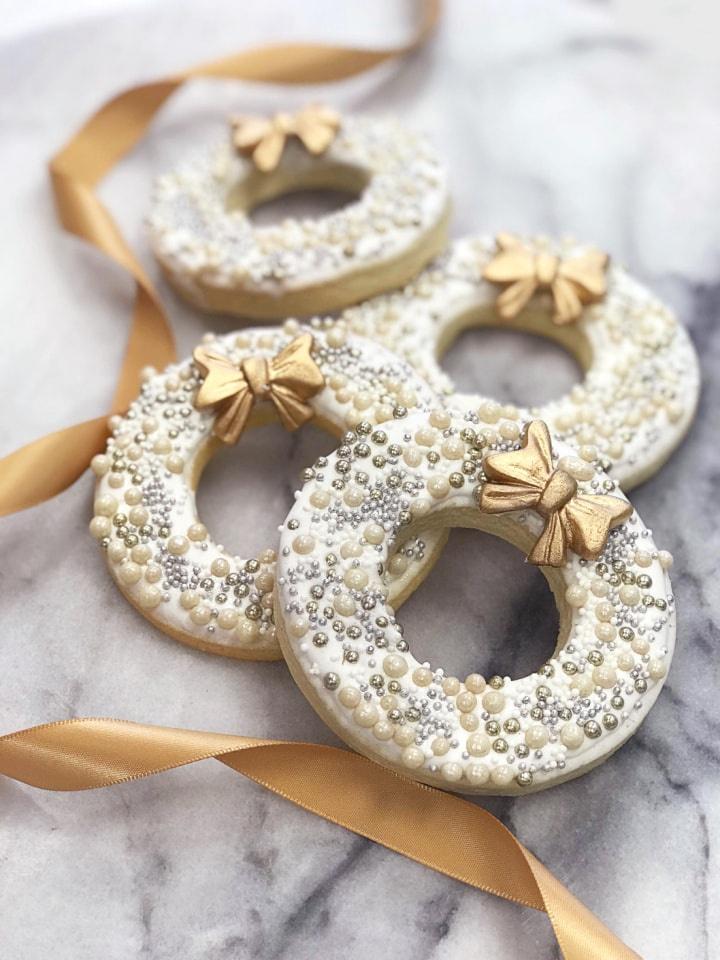 Sleigh rides
Who needs a party bus when you and your wedding guests could go dashing through the snow Santa-style in your own sleigh.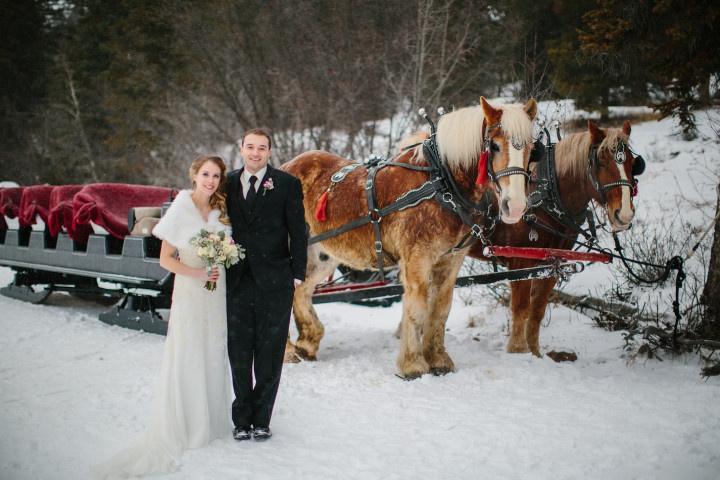 Christmas Music
Whether you choose a live band or DJ, you'll want to add some Christmas music to your wedding playlist. Bonus: We've put together this list of 25 Festive Christmas Wedding Songs to help you out.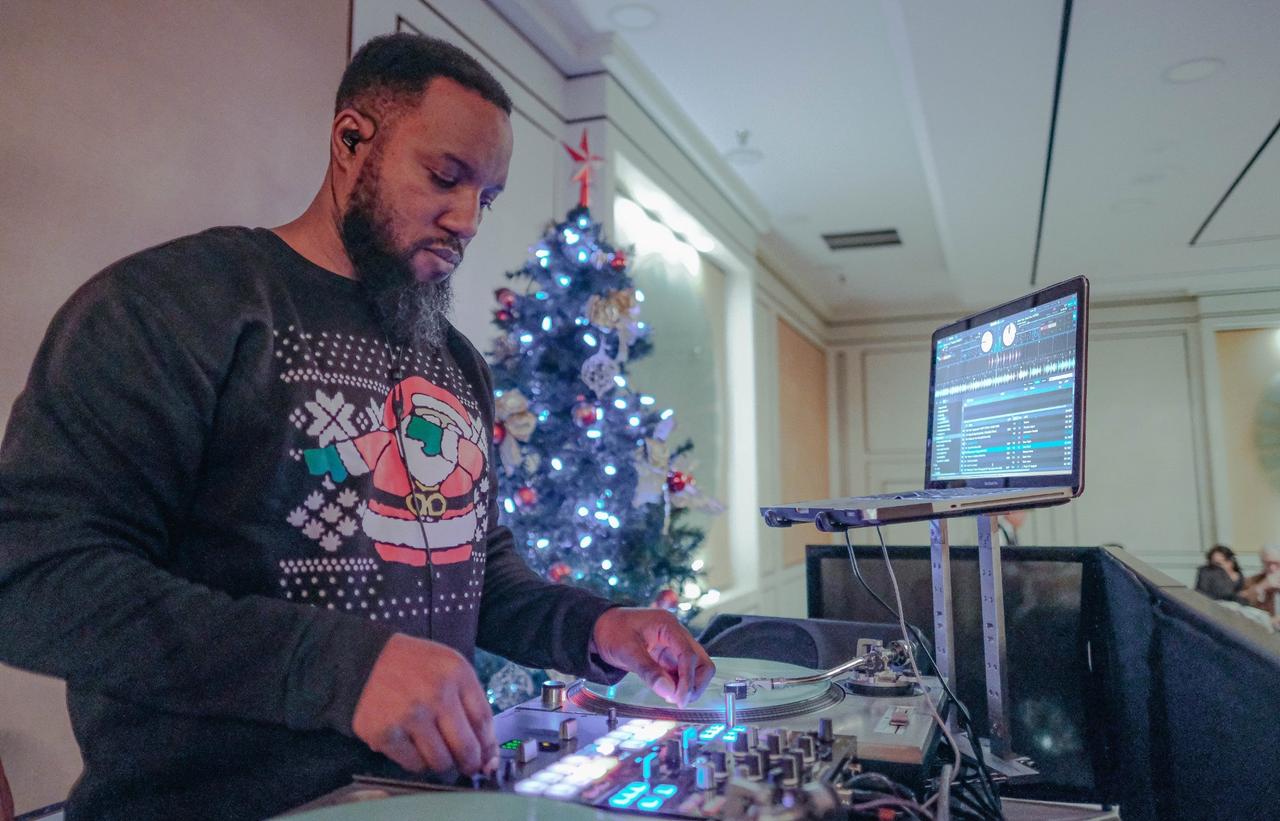 Festive Photobooth Props
Inject your wedding photobooth with a bit of holiday spirit by adding some festive goodies to your prop box. Reindeer horns, red noses, Santa hats and snowflakes are all welcome additions.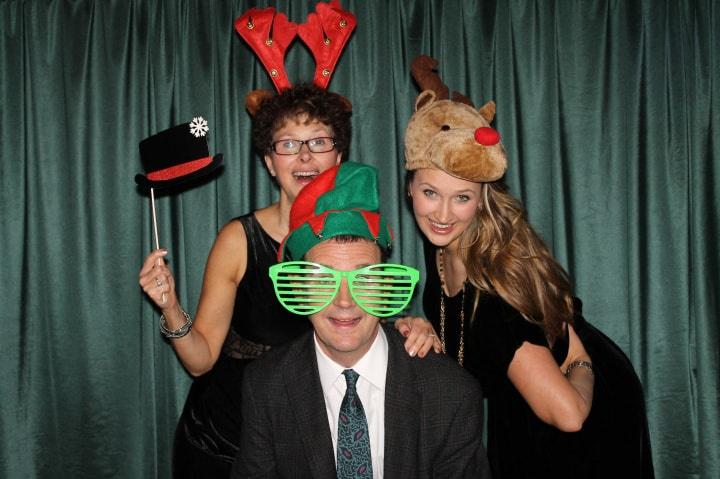 Coffee Favours
Warm your guests up with some comforting coffee wedding favours. If you're not fans of super caffeinated bevvies, you can always go for herbal tea or hot chocolate, instead.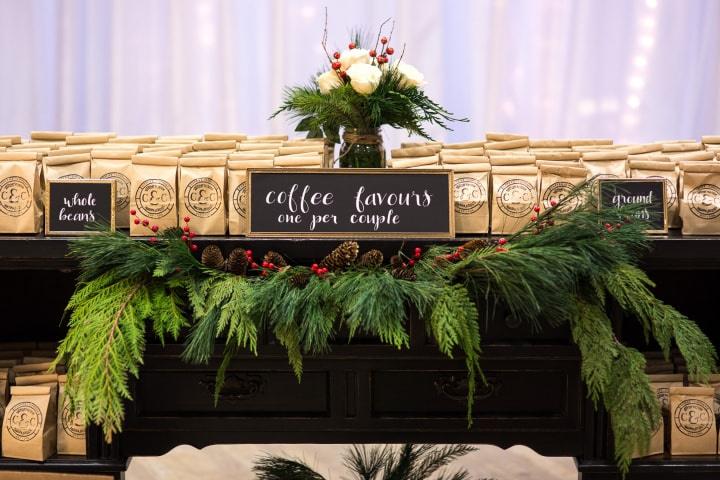 Christmas Ornament Wedding Favour
Or, give them a keepsake with a longer shelf life—a bauble to hang on their Christmas tree every year to bring back memories of your wedding celebration. They can do double-duty as festive wedding table decorations, too!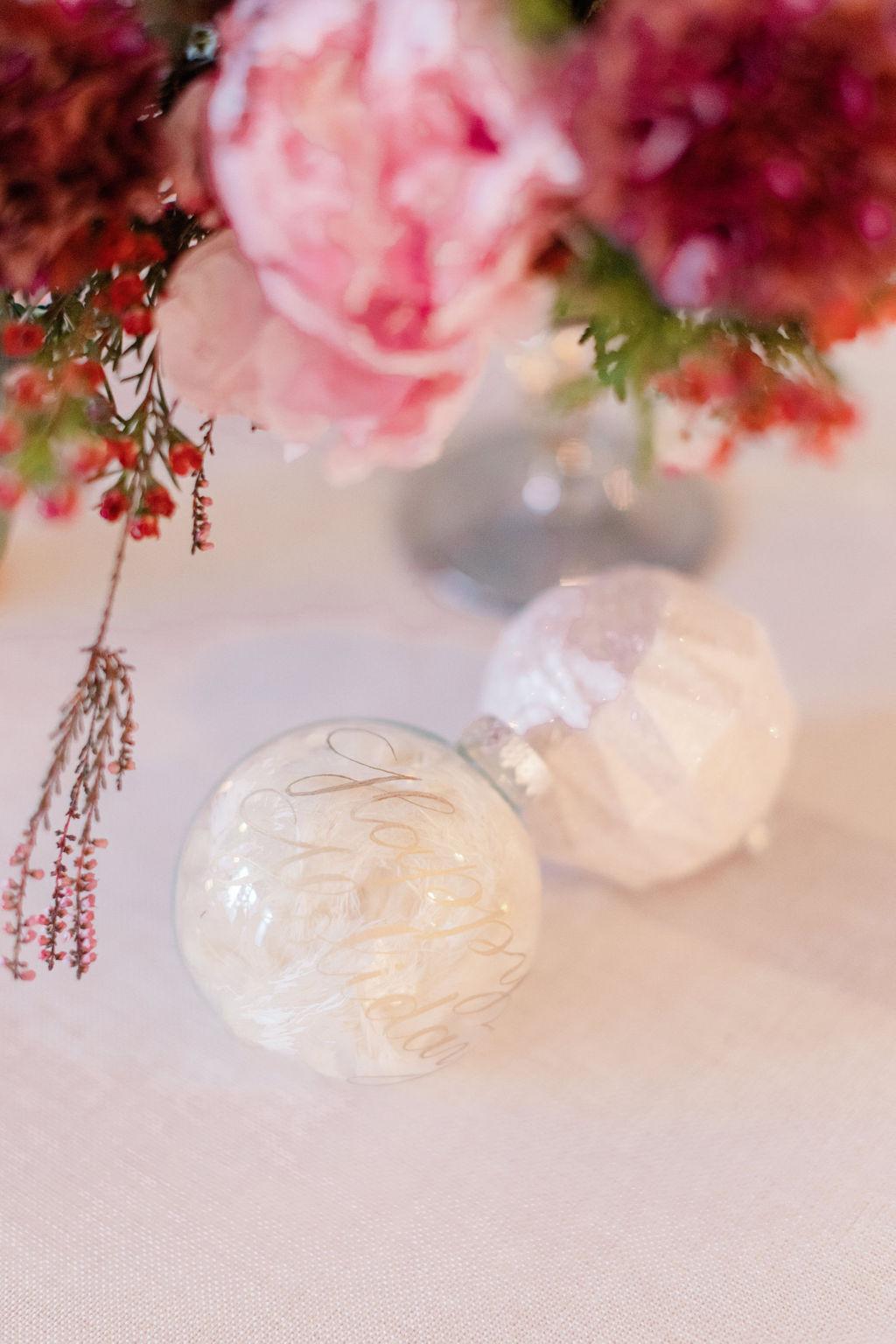 Sparkling Exit
Arms your guests with sparklers for a festive farewell.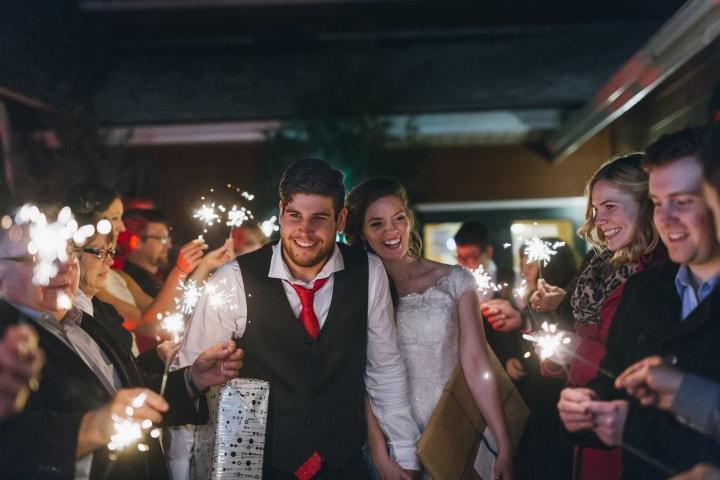 Find more winter wedding inspiration in our Real Wedding galleries »