6 Productive Bridesmaid Bonding Activities
Turn mundane wedding planning chores into parties and bring your bridesmaid squad along for the ride.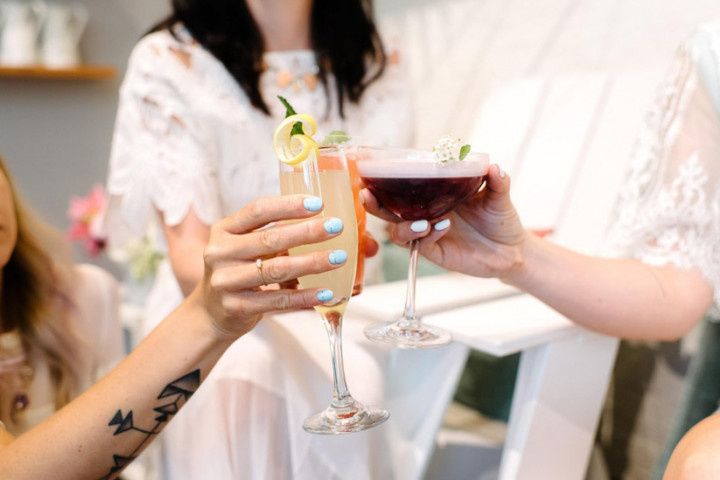 Want to turn your bridesmaids from acquaintances into besties? Forget about awkward icebreakers and plan some stellar wedding-themed bonding activities, instead. From dining at potential rehearsal dinner spots to crafting Pinterest-worthy decorations, plenty of wedding chores can be turned into little parties of their own.
Here are a few productive bridesmaid bonding activities.
Host an invitation stuffing evening at your place
Putting together invitations is definitely one of the less exciting wedding tasks, but you can make it much more enjoyable by inviting your bridesmaids to help out. So, rally your squad and have them over for a night of food, fun and envelope stuffing. Make sure you give them the lowdown on how to assemble everything before you pour the wine and power up Netflix.
Have a cocktail tasting (or making) soirée
Thinking of serving a signature cocktail or two at your wedding reception? Well, you're going to need to do some sampling before making any decisions. Invite your girls over to your place and try crafting your own boozy concoctions (this could easily be the pregame for an evening out). If you're not confident in your skills with a martini shaker you can always hire a mixologist or visit a local watering hole - just be sure to order something more adventurous than a vodka soda.
Take a bouquet crafting workshop
Yes, sitting down with your florist for a Q&A will do wonders, but why not go that extra mile? Ask a few of your 'maids to join you for a bouquet crafting workshop so that you can get a hands-on lesson on blooms and greenery. This will help you learn the ins and outs and leave you with a pretty new bouquet for your dining room table.
Go on a restaurant scouting adventure
You're going to need to hunt down the perfect rehearsal dinner spot, so we suggest trying out a few eateries near your wedding venue before making the decision. Not only is restaurant scouting a great excuse to do some fine dining with your friends, but it'll get you acquainted with the food and atmosphere of each place (so you can make an educated decision). Note: going out for dinner is pricey, so consider doing this once a week or so instead of every night - you've got to be mindful of your money while planning your wedding.
Throw a DIY decor party
Good news, you don't have to rent or buy all of your wedding's accouterments - some can be made with your own two hands. If you don't want to spend your days crafting bunting, garlands and aisle markers all by your lonesome, call in the troops. You can even go on a group shopping trip to Michael's together to find the supplies.
Work on creating the perfect playlist
You've probably covered the essentials, like your first dance and cake cutting songs, but you may need some help fleshing out the rest of your playlist. Round up your BFFs and ask them to bring their iPods over for a night of music planning. Request their favourite slow dance tracks, pump up jams and easy listening tunes to help put together the soundtracks for your cocktail hour, reception and after party. This is the perfect time to test out your dance moves, so remember move the furniture out of the way before your guests arrive.
Stay organized with WeddingWire's FREE wedding planning tools »