7 Wedding Day Activities for the Groom and his Groomsmen
Does your wedding start later in the day? Squeeze in a bit of extra fun with your groomsmen before heading to the altar with some wedding day activities.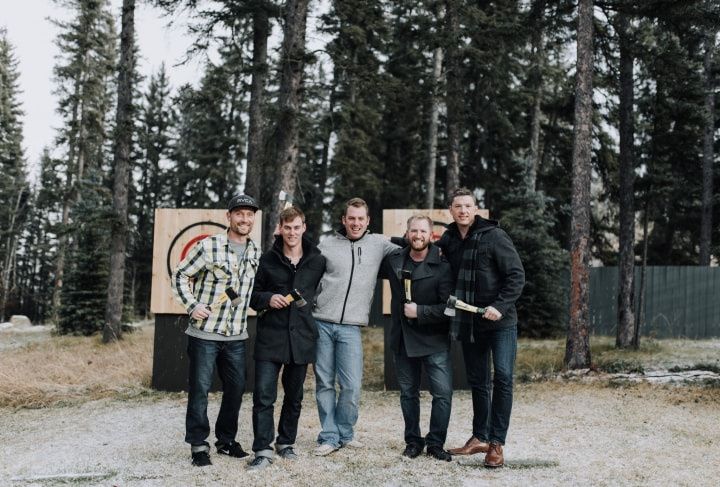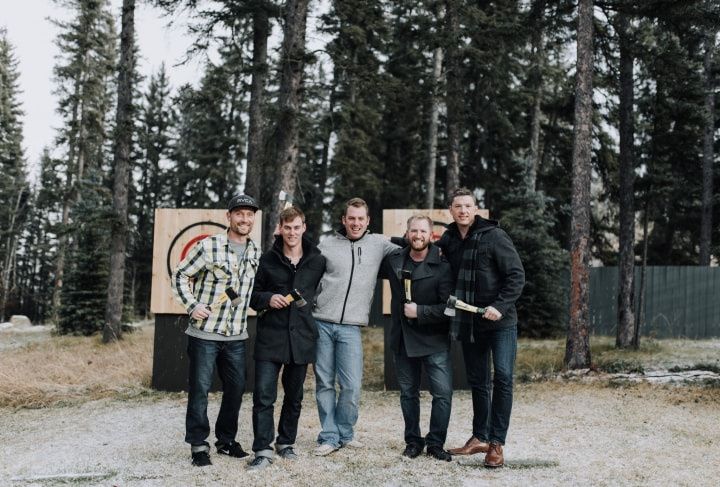 Providing your wedding doesn't kick off at the crack of dawn, you'll probably have a fair bit of time to kill while your S.O. gets primped and prepped for the big day ahead. Think about planning wedding day activities for you and your boys so that you can squeeze in a bit of extra fun before heading to the altar. Not only will you enjoy it, but it'll keep you from getting stressed at the last second. Pro tip: don't forget to give yourself enough time to check all these important duties off your list, too.
Here are a few wedding day activities for the groom and his groomsmen.
Work it out
If you and your groomsmen are sports-inclined, why not spend your final hours as a single man playing a round of golf or pumping iron in the gym. This is sure to relieve any stress you've felt leading up to your ceremony and will probably give you that extra jolt of confidence. Make sure you have enough time to hit the showers when you're finished, you should be smelling like a bed of roses at your wedding, not sweat.
Get outside
Unless you're hosting your ceremony in the great outdoors, you probably won't be seeing a ton of trees, streams or wildlife on your wedding day. Spend your morning hiking through a local green space, fishing by the lake or going for a quick canoe ride. Having a quick commune with Mother Nature is sure to get you feeling zen.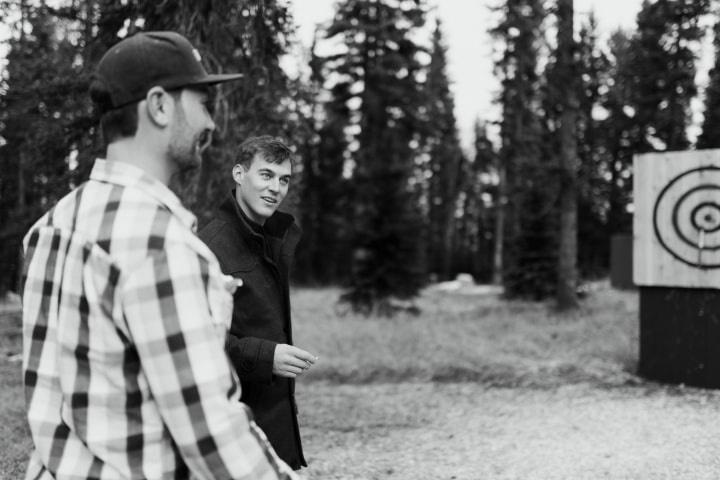 Find your inner child
No need to be totally serious on your big day! If you want really fun wedding day activities, why not act like a kid again and speed around a go-kart track or fly to new heights at a trampoline gym? Make sure you keep your eye on the clock, you don't want to get so wrapped up in your shenanigans that you miss your ride to the ceremony venue.
Hit the barbershop
If you really want to look your best, choose wedding day activities that let the pros take care of you. Gather your squad and take a group trip to the barbershop to get your locks, beards and 'staches groomed to perfection. Not only will this save you from messing around with pomade, beard oil and hairspray, it'll also ensure that you all look like a million bucks in your wedding photos.
Go for drinks
There's nothing like a bit of liquid courage to ease your nerves and get you through your wedding day. Bring the boys to a local pub or brewery to sip on some pre-wedding beers or cocktails. Remember to limit yourself to one or two, you don't want to be stumbling to your place at the altar (plus, you'll have plenty of time at your reception to indulge).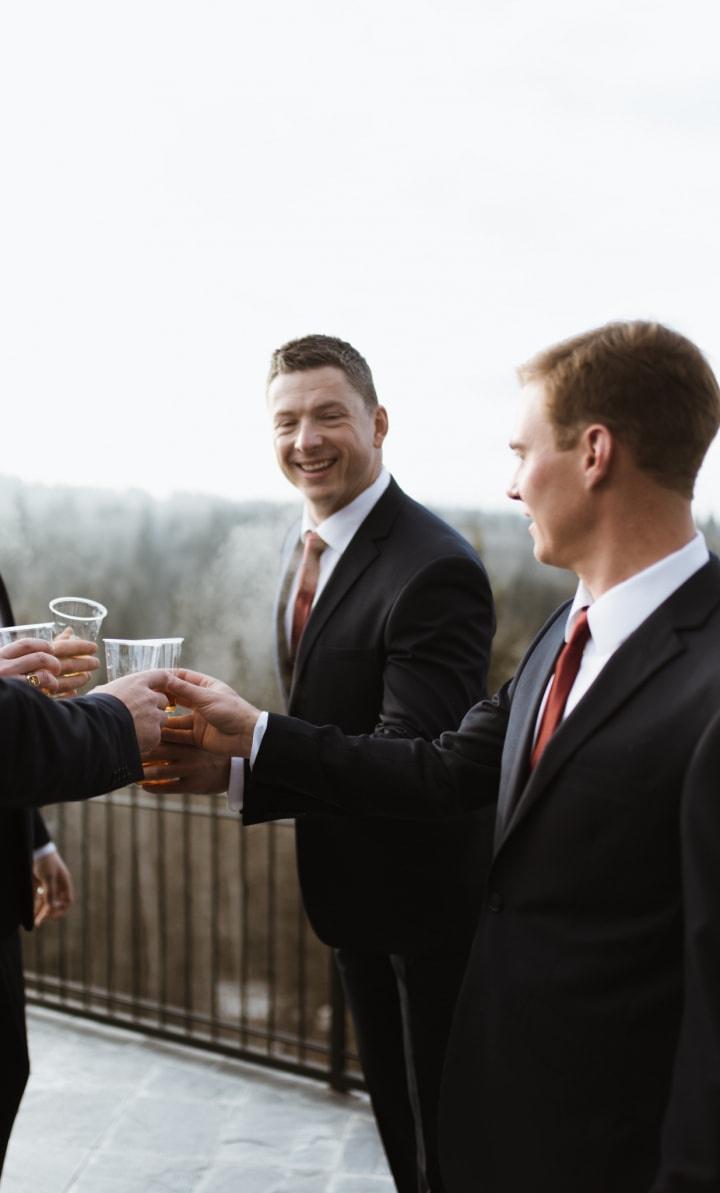 Grab a meal
You don't want your stomach rumbles to interrupt you while you read your heartfelt vows, so you're going to want to eat before you get ready. Either go to your favourite restaurant or order in some pizza or Thai (today's the day to treat yo' self, so get whatever your heart desires). Tip: do this before getting dressed, the last thing you want is ketchup on your tuxedo.
Kick back and relax
If the hustle and bustle of wedding planning is starting to get to you, the best thing to do is get some pre-ceremony R&R. Throw on some sweats and invite your groomsmen to your house or hotel room to play cards, watch Netflix or play video games.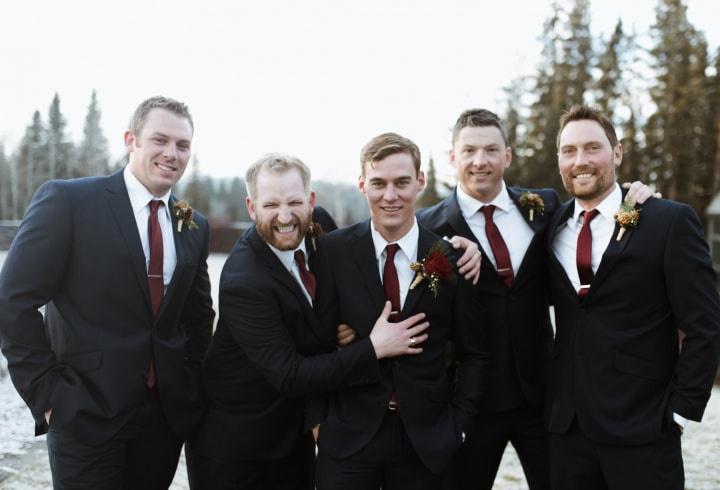 Browse our Real Wedding galleries for more wedding day activities. »