The leaves are changing and so are wedding trends! Autumn has a lot to offer, and we've got a few fall wedding ideas that'll make your big day one for the books. From outfit suggestions to decor recommendations, we've taken a few of our favourite ideas from real Canadian weddings to give you a bit of design inspo for your ceremony and reception.
Here are 25 of our favourite fall wedding ideas.
Maple Leaves
Sprinkle them down your aisle, use them as photo shoot props or use them to fall-ify your food displays - you really can't go wrong with this Canadian staple, so get creative.
Cozy Throws
Those hot summer days are long gone, so your guests may need help staying warm. Offer up some cozy throws if you're hosting an outdoor ceremony or reception.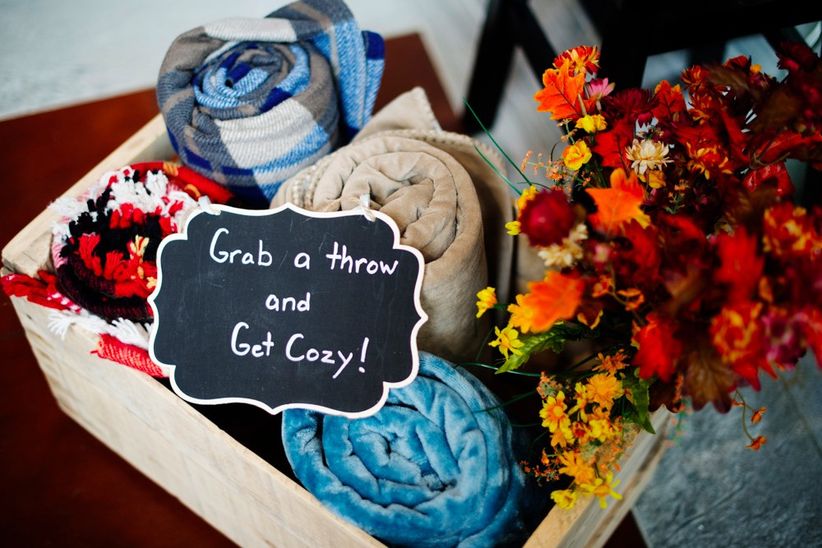 Halloween Candy
You may be too old to trick or treat, but you're never too old for halloween candy. Stock your dessert table with fun sized bars of your favourite chocolate, they'll be easy to find during this season.
Pumpkins
'Tis the season for pumpkin everything. From serving up PSLs or using them in your centerpieces, you've got plenty of options.
Preserve Favours
Jams, jellies and marmalades are the perfect rustic wedding favours to give out at your fall wedding. Bonus: if you've got the time, they're pretty easy to DIY.
Barrel Bars
This is one of our favourite fall wedding ideas. Finish off your reception space with an adorable shabby chic bar. A couple of vintage wooden barrels, some reclaimed wood and a fall floral arrangement or two look super stylish together.
Tree slice coasters
Here's a fun fall wedding idea! Create custom coasters from tree slices printed with your wedding monogram. Use them at your bar or package up as a set and gift them as wedding favours.
Rustic Desserts
Give your guests some cozy rustic eats to finish off their meals. Crumbles, pies and homemade tarts are all crowd-pleasers.
Fairy Lights
Fairy lights can be used in every season, but their warm glow really works wonders with an autumnal colour scheme.
Autumnal Cakes
Adding a bit of faux wood, some sugary leaves and a few rich, autumnal colours will make your wedding cake look like a work of art.
Bonfires
You need to embrace the final days of bonfire-worthy weather. Maybe even have s'more supplies at the ready for some late night treats.
Plaid Flannels
Winter nights may call for faux fur jackets and stoles, but fall is all about the plaid flannel. P.S. grooms and their groomsmen can totally embrace the lumberjack vibe and sport plaid shirts instead of plain old white ones, too.
Wheat
Looking to give your wedding arrangements a little something extra? Add some wheat to give them a dose of fall flavour.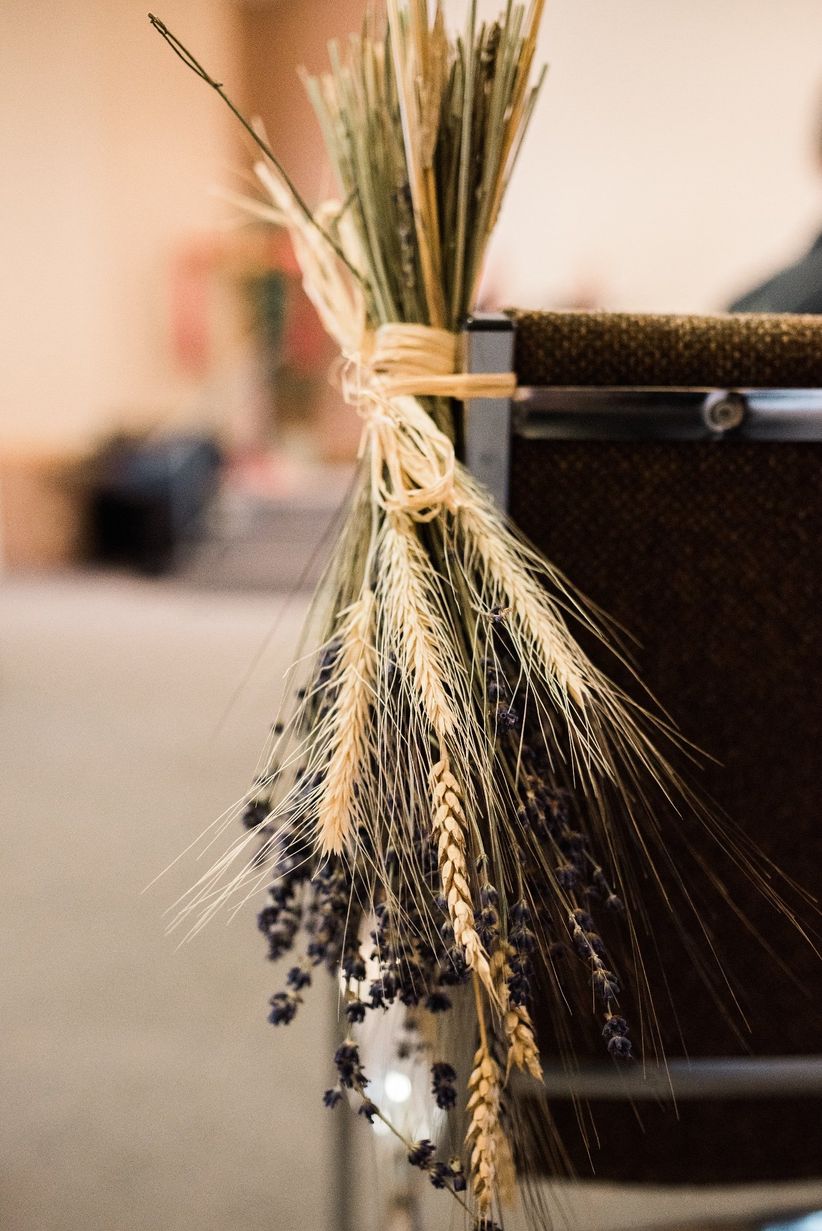 Rustic Ring Bowl
Here's an easy fall wedding idea. Rather than a ring pillow, hold your wedding bands in a burlap wrapped basket stuffed with hay or even a bird's nest.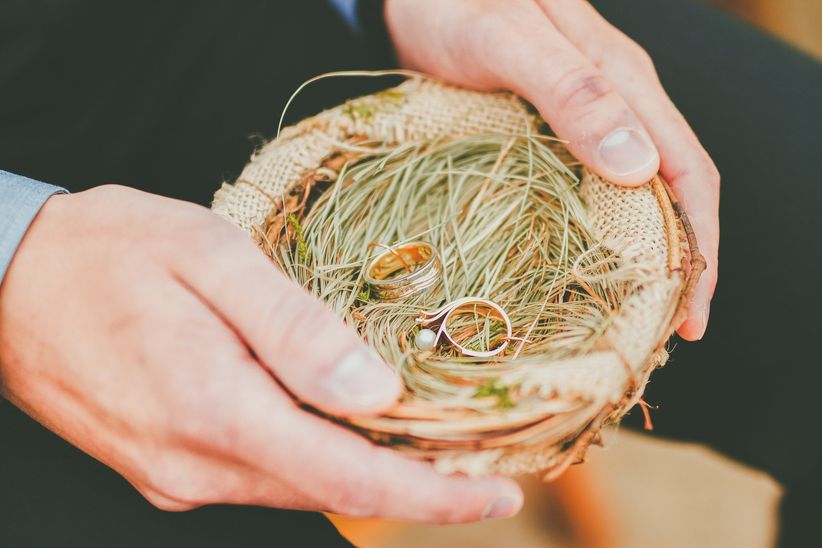 Flower Crowns
Festival season may have come and gone, but flower crowns are still in. We suggest ditching the daisies and add some jewel toned blooms and leaves to fall-ify them a bit.
Wood Burned Decor
From table numbers to sweetheart table signage, just about anything can be wood burned.
Pinecones
Pinecones may be considered winter decor, but just remember that the solstice isn't until mid-December, so they're a perfectly appropriate fall wedding idea. Plus, you can repurpose them when you're decorating your house for Christmas.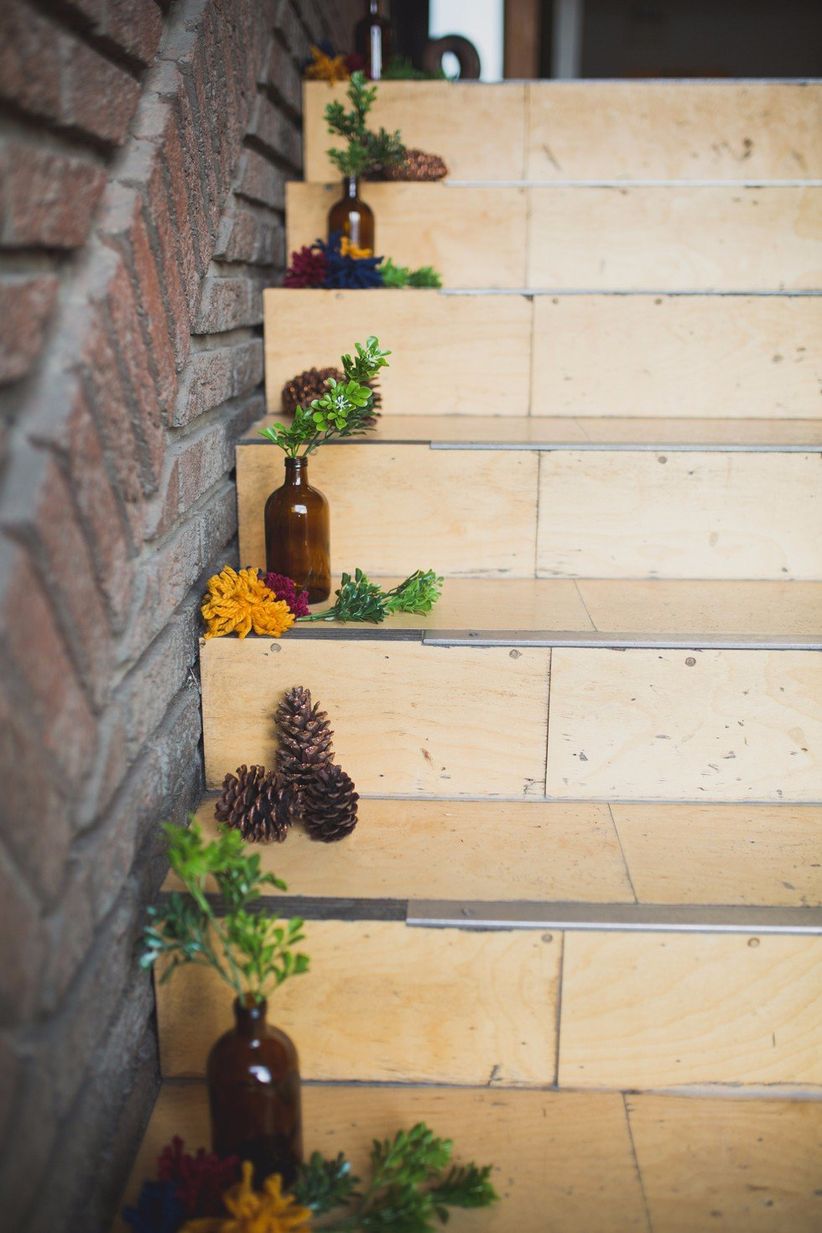 Warm Beverages
Have a healthy supply of hot drinks like tea, coffee and hot ciders at the ready for your guests. You may even want to make your signature bevy a hot toddy or spiked hot chocolate.
Outdoor Photo Shoot
Take advantage of those beautiful fall colours by taking your wedding portraits outside! You're sure to get some amazing shots, even if you are a bit chilly.
Jewel Toned Bridesmaid Dresses
Want to really embrace those autumn vibes? Ask your girl squad to wear ruby, topaz, emerald or sapphire coloured attire.
Boots
Strappy sandals aren't exactly what you'd call practical fall footwear, so go with something a bit more seasonally appropriate, like boots. These'll give your outfit some added flair and are way more comfy than sky high heels.
Gold Place Settings
Gilded tableware is almost a necessity for this season. Accent it with some rustic details like a tree-slice place card.
Candles
Want to save a little money and still land some chic aisle markers or centerpieces? Go with candles! These will brighten up even the rainiest fall wedding day.
Umbrellas
When the season changes from summer to fall, you can expect to see some rain in the forecast. Plan ahead like this couple and get some cute matching umbrellas for your photoshoots (they'll also come in handy when going to and from your venue).
Red, Yellow and Orange Bouquets
Are there any colours more suited for fall than red, yellow and orange? Nope!
Hay Rides
Forget about town cars and limousines! Make your grand entrance in the most autumnal way possible: a hay ride.
Find more fall wedding ideas in our Real Wedding galleries »