19 Rustic Wedding Cake Designs We're Totally Obsessed With
On the hunt for a gorgeous rustic wedding cake design? Here are a few of our favourite ideas at the moment.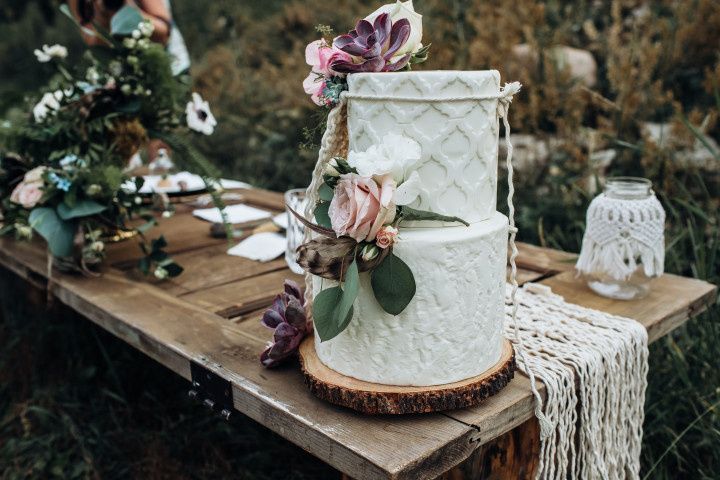 Deciding on a rustic wedding cake design is no easy feat. With so many options available it can be super hard to pick just one. If you're stuck, we suggest using your wedding theme, season and/or venue to inspire your design. These casual and elegant rustic wedding cake ideas from bakers across Canada are perfect whether you're having a forest wedding in the great outdoors or just want a dessert with some real rustic-chic flair that's a bit more unique than a traditional buttercream-frosted cake. From miniature single-tier and two-tier rustic wedding cakes to sky-high confections and artistic designs, you'll find lots of ideas.
Here are a few rustic wedding cake designs we're totally obsessed with.
Semi-naked rustic wedding cake
Let's kick things off with a classic. The semi-naked wedding cake style is an old and faithful that will never go out of style for a rustic or woodland wedding. It looks awesome without any bells and whistles and piled high with berries, greenery and more, so go with whatever suits your style.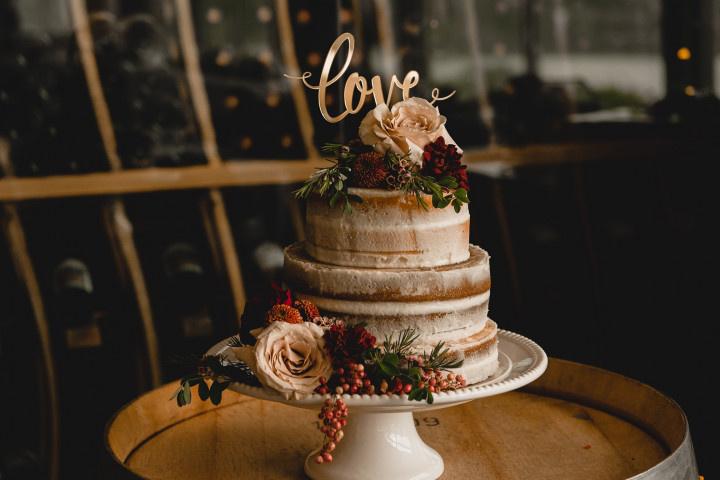 Elegant rustic wedding cake
You can't go wrong with a simply elegant rustic wedding cake like this multi-tiered white buttercream design decorated with clusters of fresh roses for a romantic touch.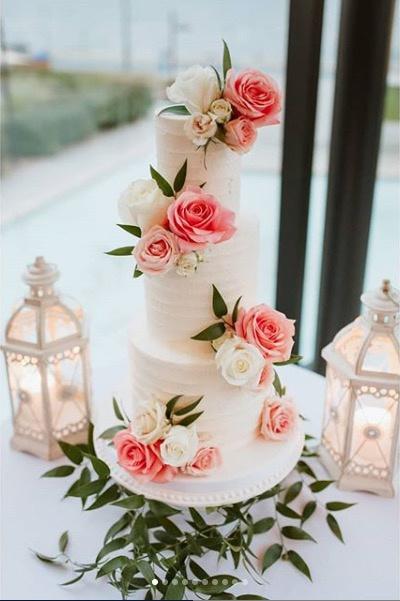 Rustic lavender wedding cake
If you love lavender, feature it on the inside and out. This single-tier rustic wedding cake is made with a lavender-flavoured sponge decorated with a lavender and white icing design and purple-hued flowers.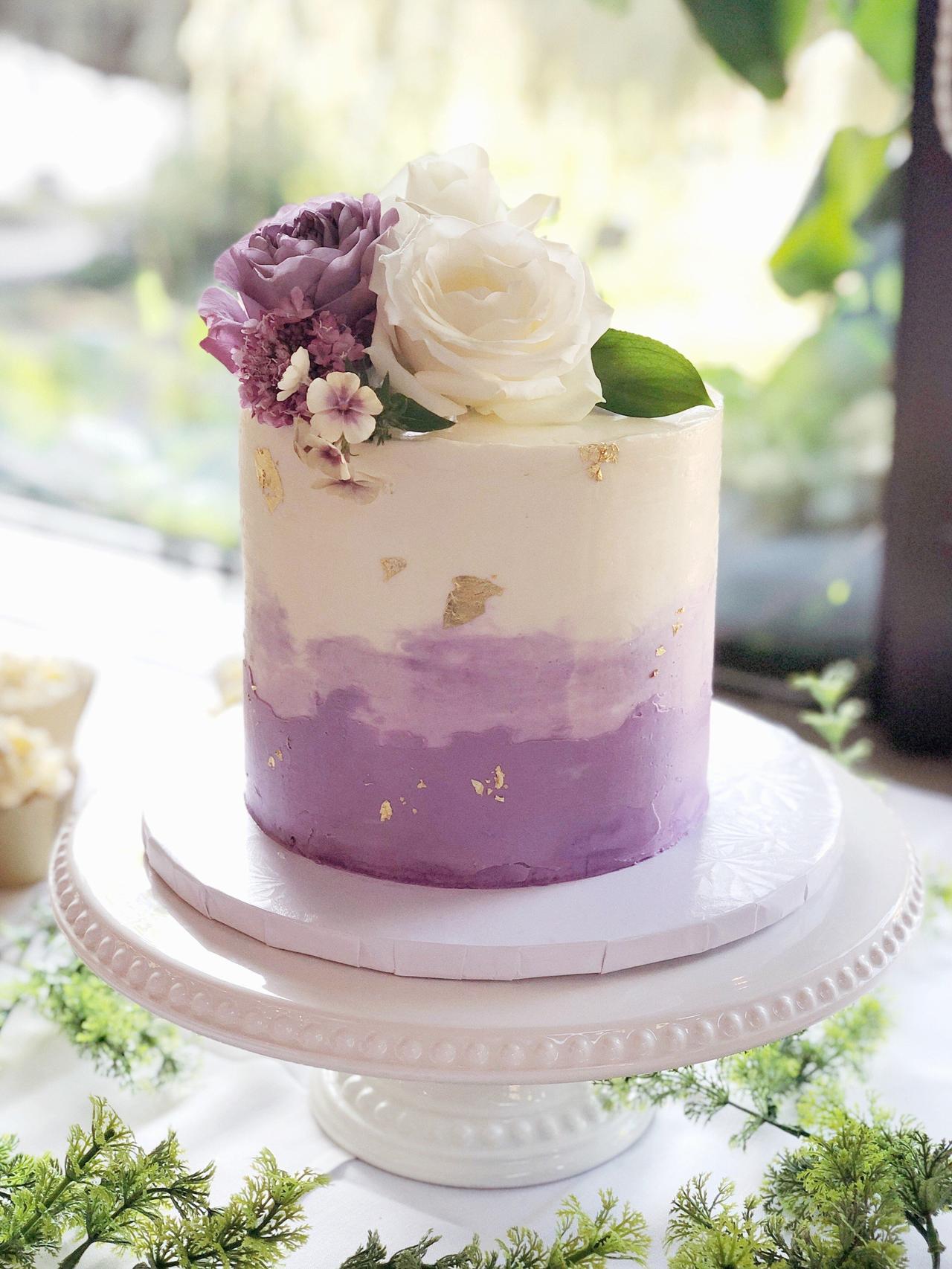 Pampas grass
Sugar flowers paired with a few plumes of pampas grass make the perfect pairing for a rustic chic wedding cake. Bonus: here are 18 Creative Ways to Use Pampas Grass in Your Wedding Decor.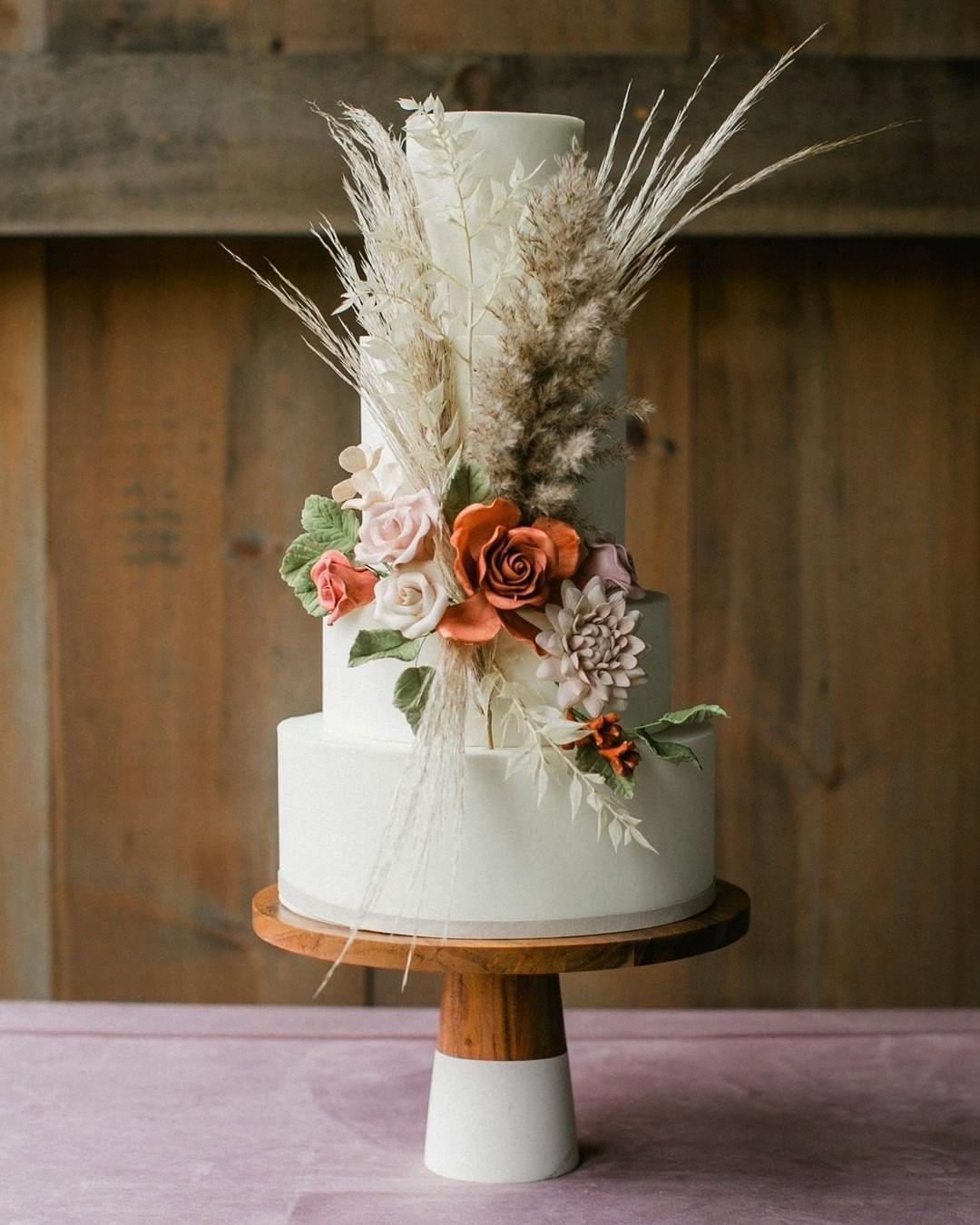 Ultra-rustic
If you're head-over-heels for all things rustic, go for a folksy, homestyle naked wedding cake that looks like it came from your grandma's kitchen. Really pinching those pennies? You could even ask your grandma (or another gifted baker in your family) to craft it for you in lieu of a wedding gift.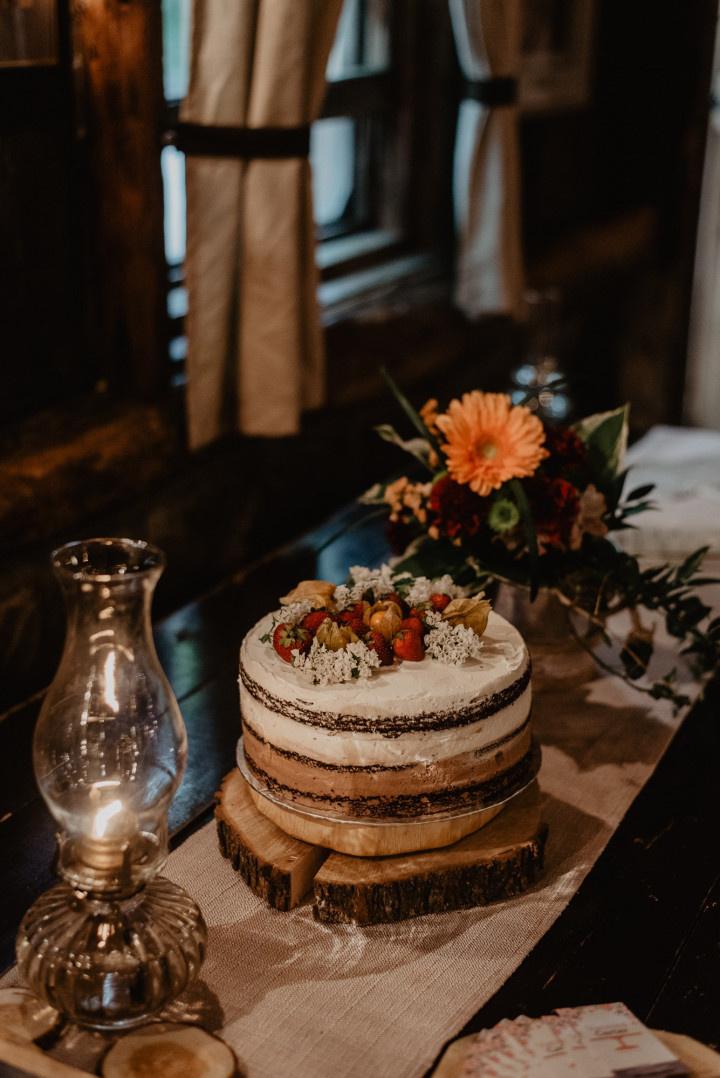 Classic faux bois
Faux bois cakes are modelled after tree trunks (hence their name), so they're perfect for a forest wedding cake. If you want to amp yours up a bit, ask your wedding cake baker to carve your and your partner's initials into the fondant like love birds would into the bark of a real tree.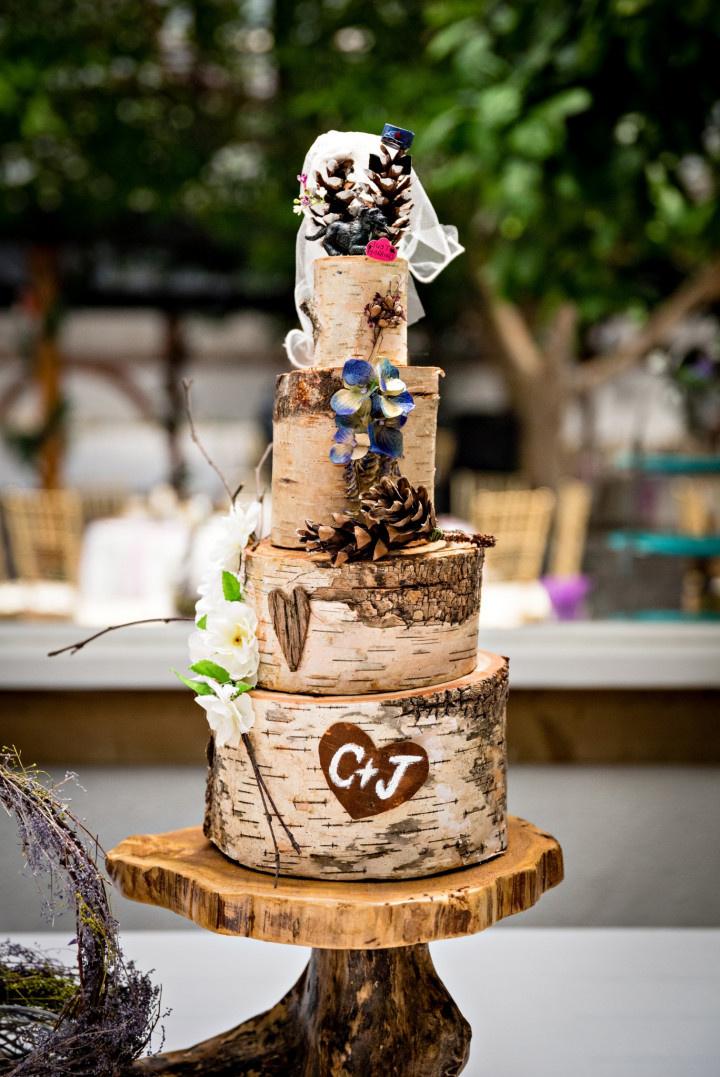 Faux bois meets metallic
Give your faux bois wedding cake a modern update by adding in a metallic tier. This is perfect for those who love the classic, woodsy design but want to make it a touch trendier.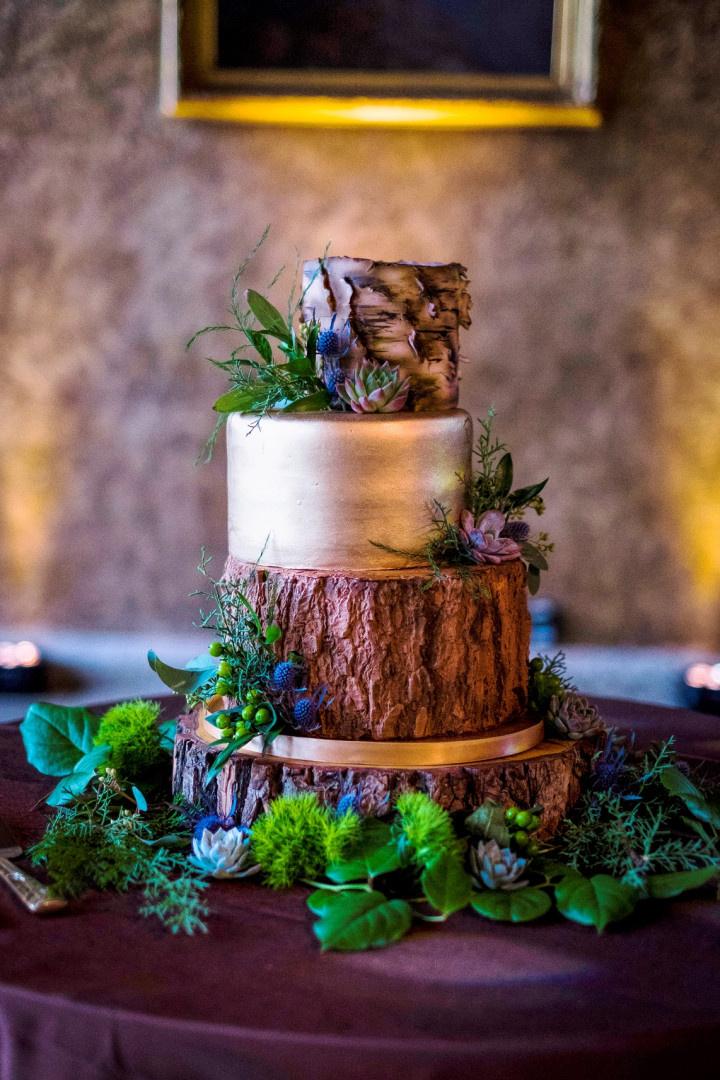 Faux bois fence effect
Here's another take on the classic faux bois. Instead of looking like slices of tree trunk, this rustic wedding cake design features slabs of wood made of fondant placed vertically around the tiers creating a rustic fence effect.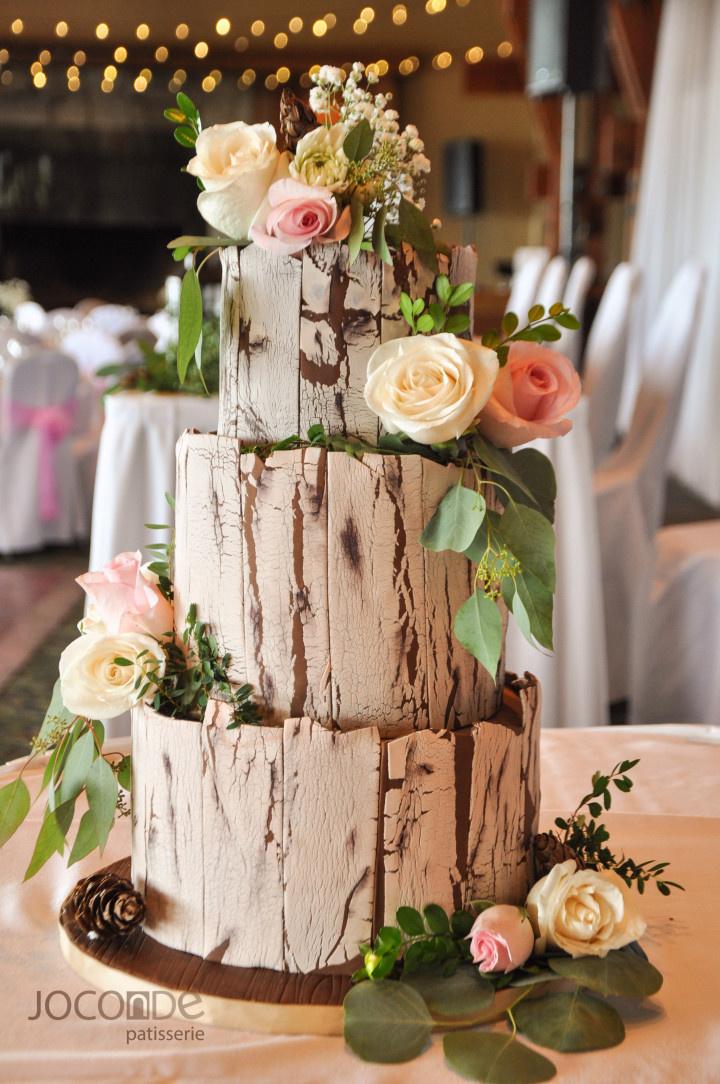 Painted scene
Want to give your rustic winter wedding cake a bit of Bob Ross flair? Ask your baker to paint a woodland scene right onto the fondant. Top it off with a bit of greenery and some cute flowers and it'll be good to go.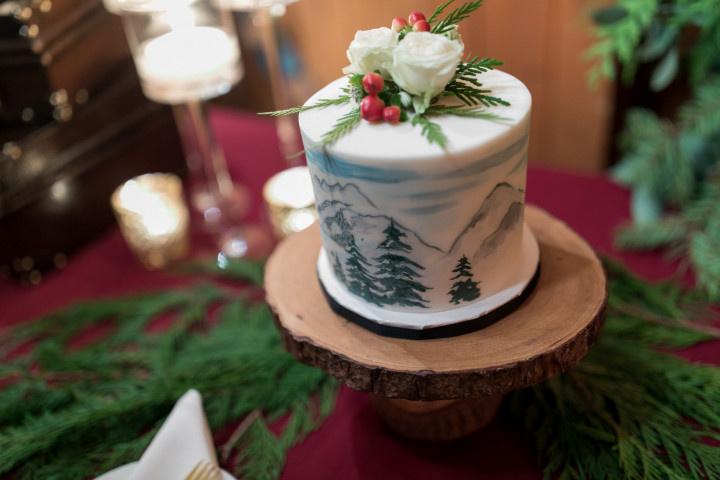 Woodland rustic cake toppers
Make your wedding cake topper the star of the show! Instead of mini figurines of yourselves, use woodland critters like bunnies, deer or birds.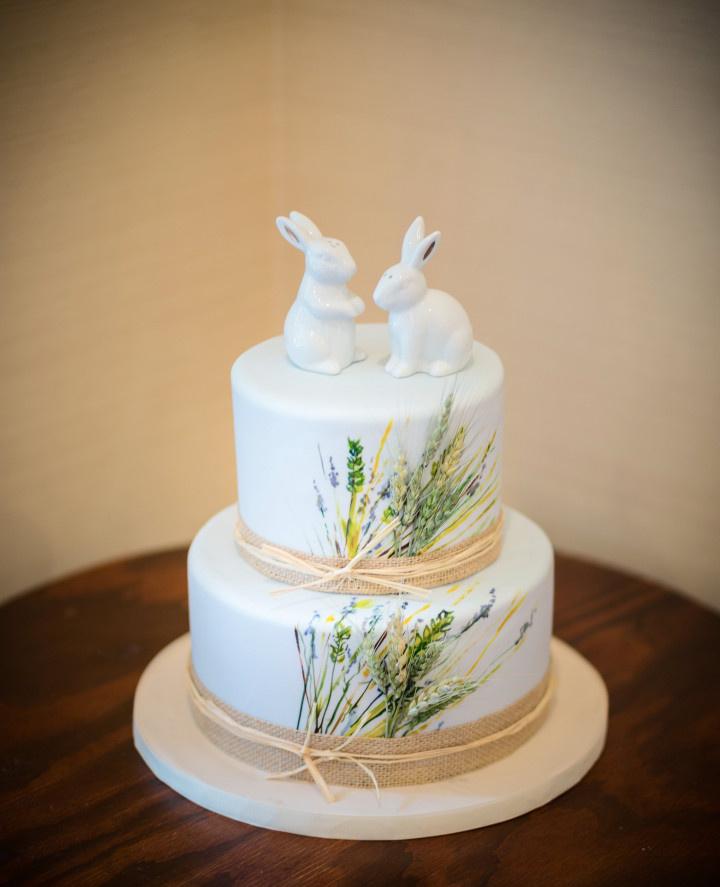 Pressed wildflowers
If you're looking for a unique way to incorporate wildflowers into a rustic style wedding cake, forget about toppers and etched designs - ask your baker to use pressed (edible) flowers to decorate your dessert from top to bottom.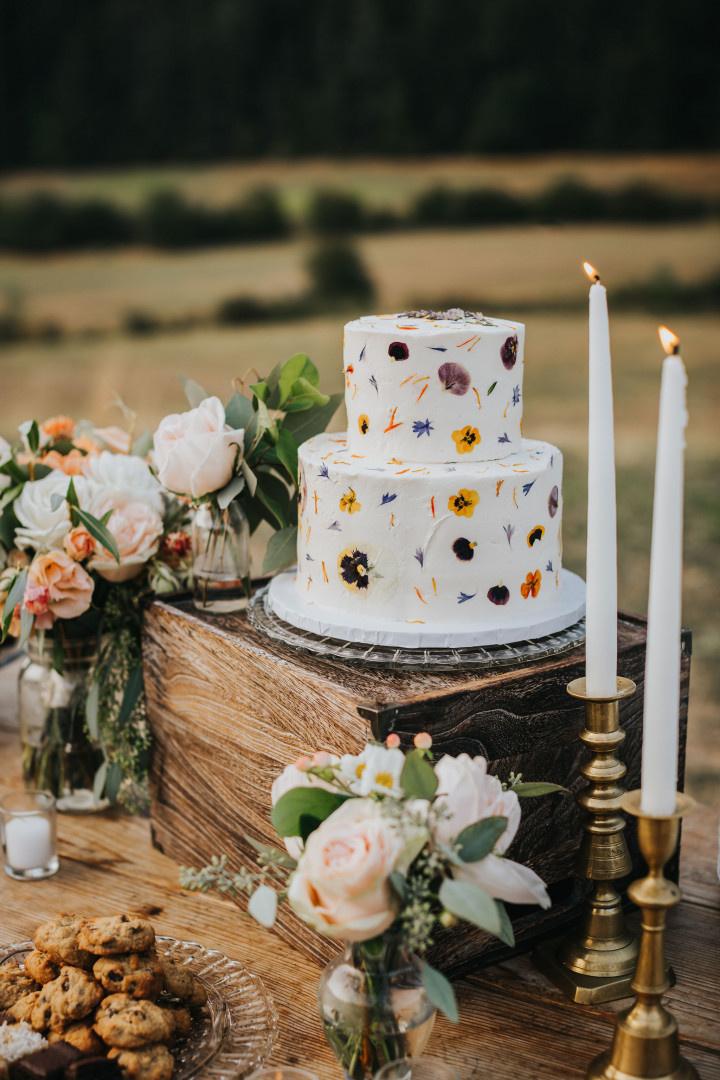 Macrame
A macrame-inspired rustic wedding cake design is a perfect pick for a boho couple tying the knot under the trees. You totally get bonus points if you work knotted textiles into your altar, centerpieces and other decor.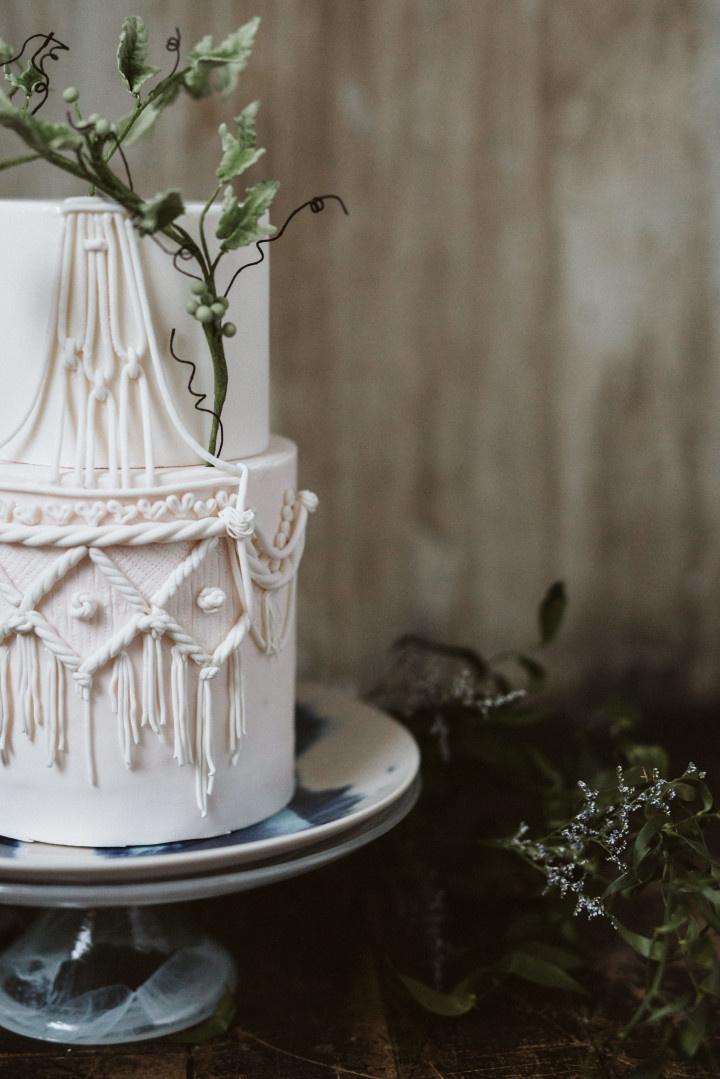 Sprigs and berries
Make your buttercream rustic wedding cake design look like a mini woodland wonderland by topping it with fresh or faux sprigs and berries.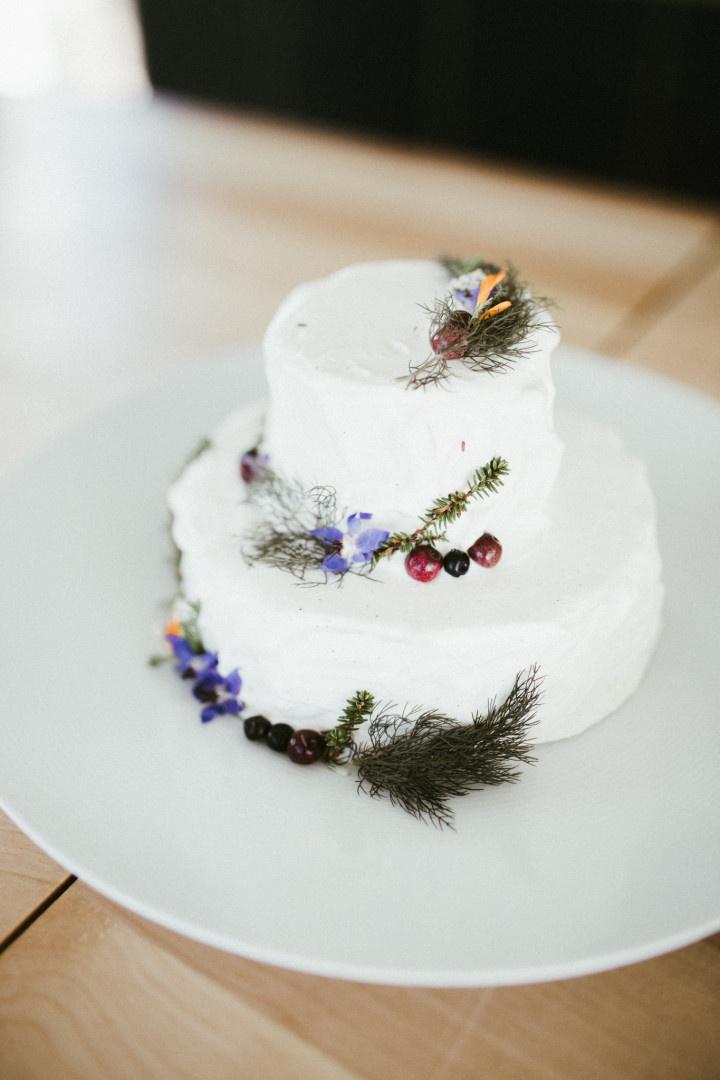 Foraged goods
Fruit is a topper that never goes out of style. Pile seasonal goodies, like berries, peaches and more onto your wedding cake. If your favourites are out of season, you can always ask your baker to craft them out of marzipan, fondant or sugar.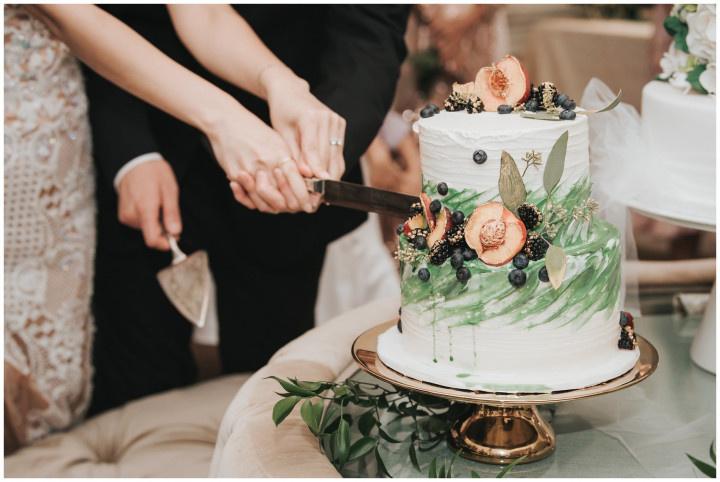 Sweet and simple
Sometimes simple is best! A rustic-chic wedding cake topped with bits of greenery not only looks amazing but tends to be on the less expensive side, too (a win-win). Heck, you may even be able to DIY it, if you've got the time.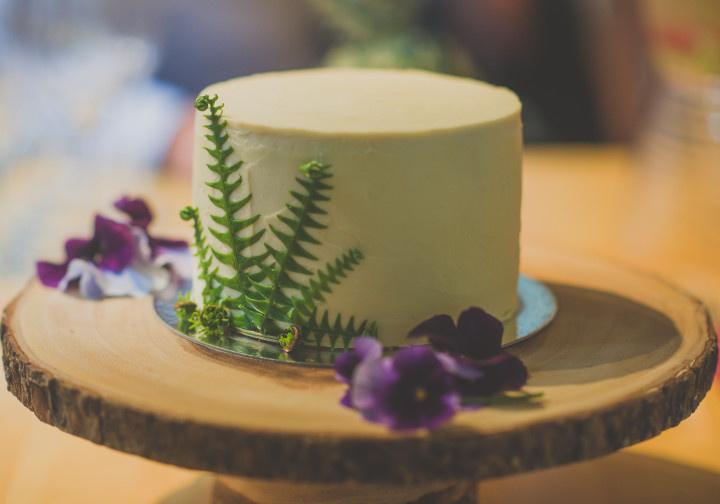 Fresh flowers
Take inspiration from your wedding flowers and decorate a simple white wedding cake with a stunning assortment of flora and fauna.
Two-toned icing on a two-tier rustic wedding cake
We love the rustic look of this two-toned buttercream icing slathered onto vertical tiers and accented with gold leaf. A few roses in the same dreamy tones make for the perfect decorative accent.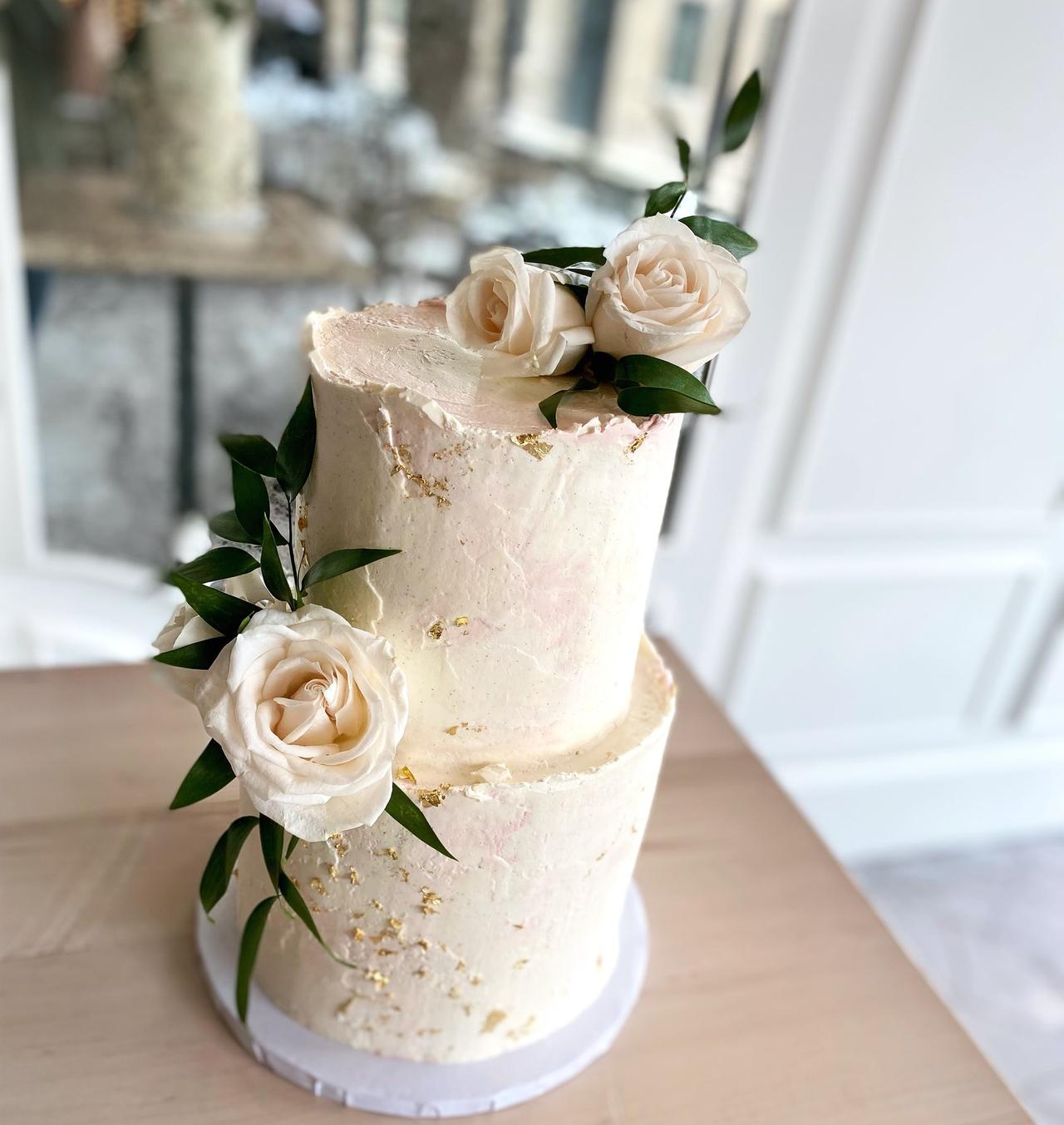 Cascading greenery
This wedding cake with cement-style icing and just a couple sprigs of greenery reminds us of a garden wall with cascading vines.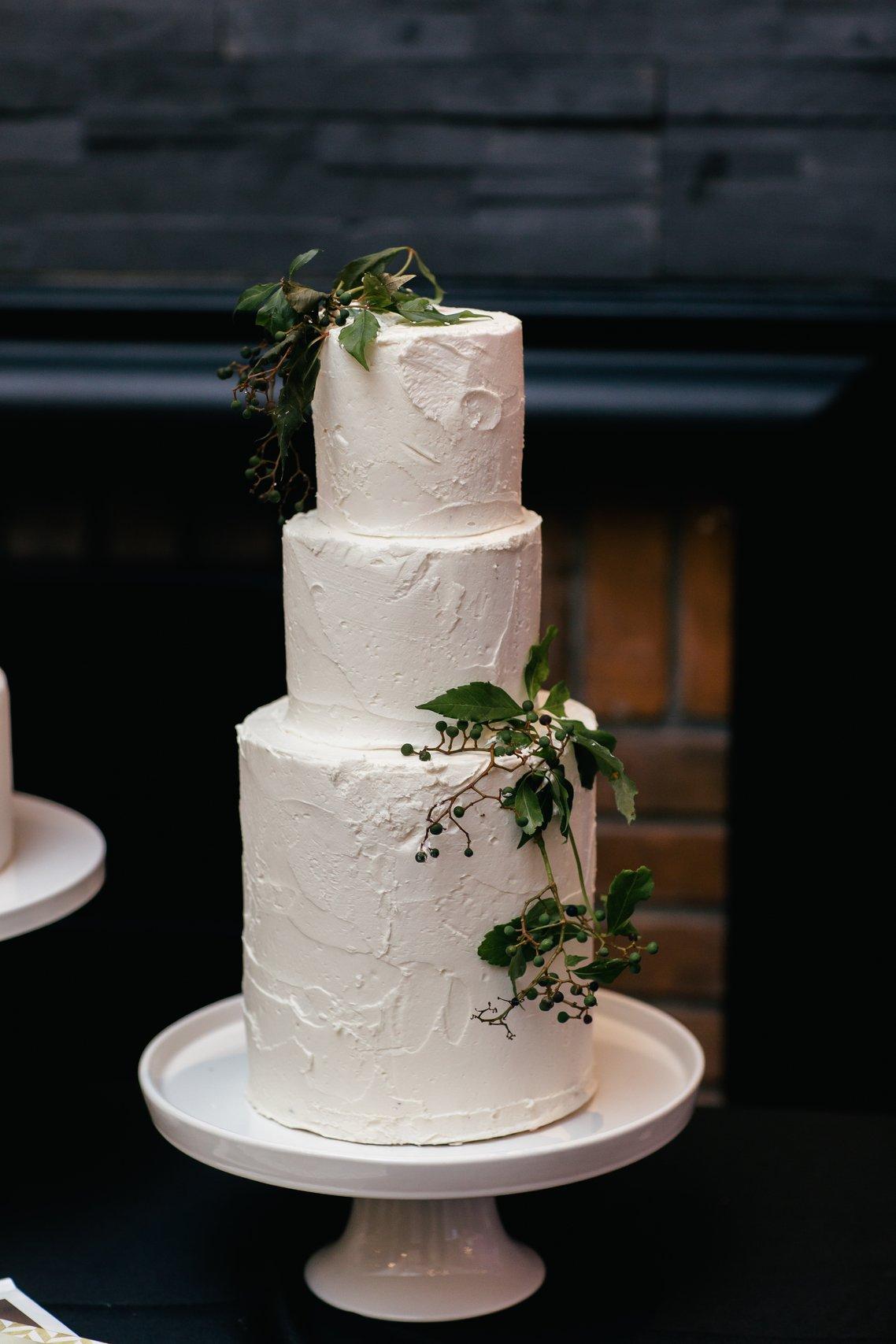 Rustic miniature cakes
Prefer to have your baker make single servings. These miniature confections with greenery and wildflowers are perfect for a rustic chic wedding theme.
Bonus: Check out these 16 Small Wedding Cake Ideas: One-Tier and Two-Tier Designs You'll Love.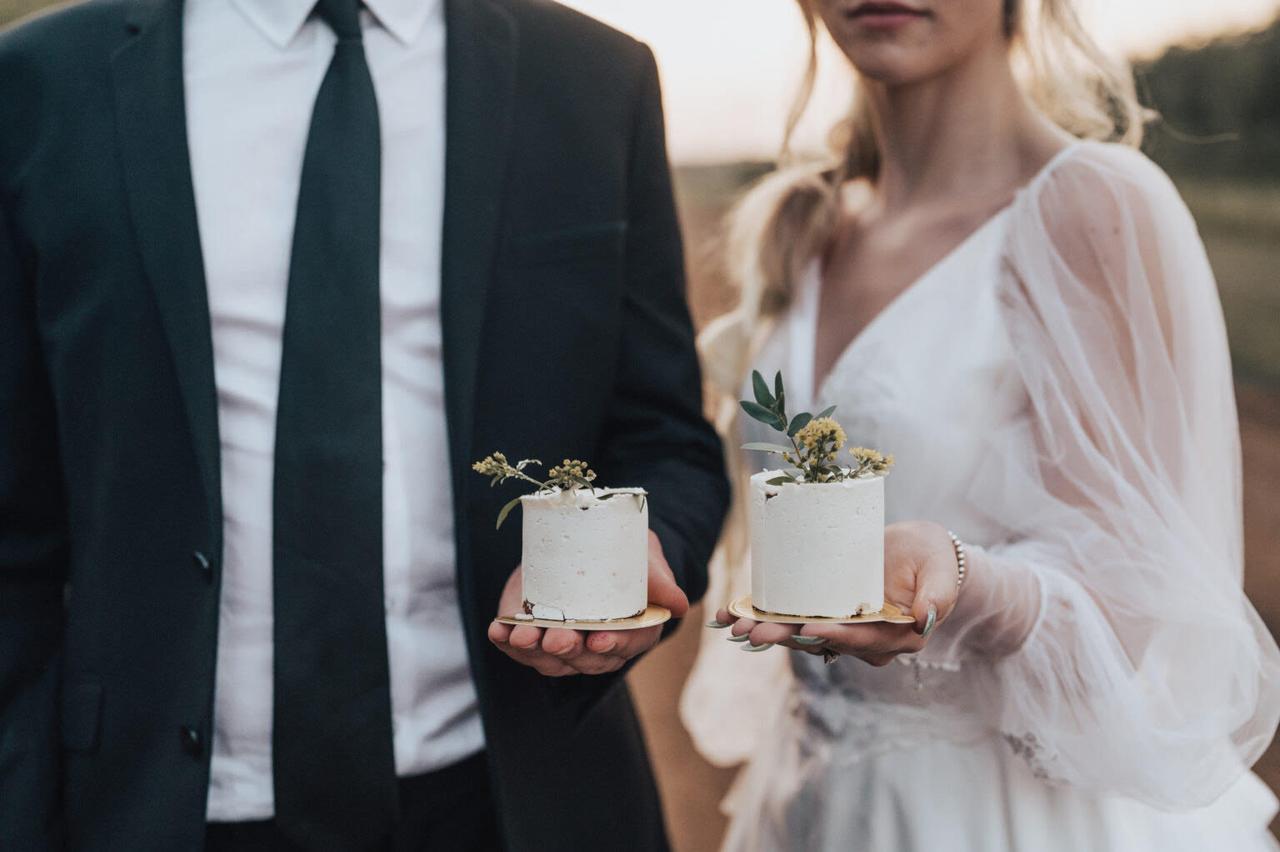 Colourful confection
Borrow some bold colours from mother nature for a colourful wedding cake that will really stand out at your reception, especially at an outdoor wedding venue.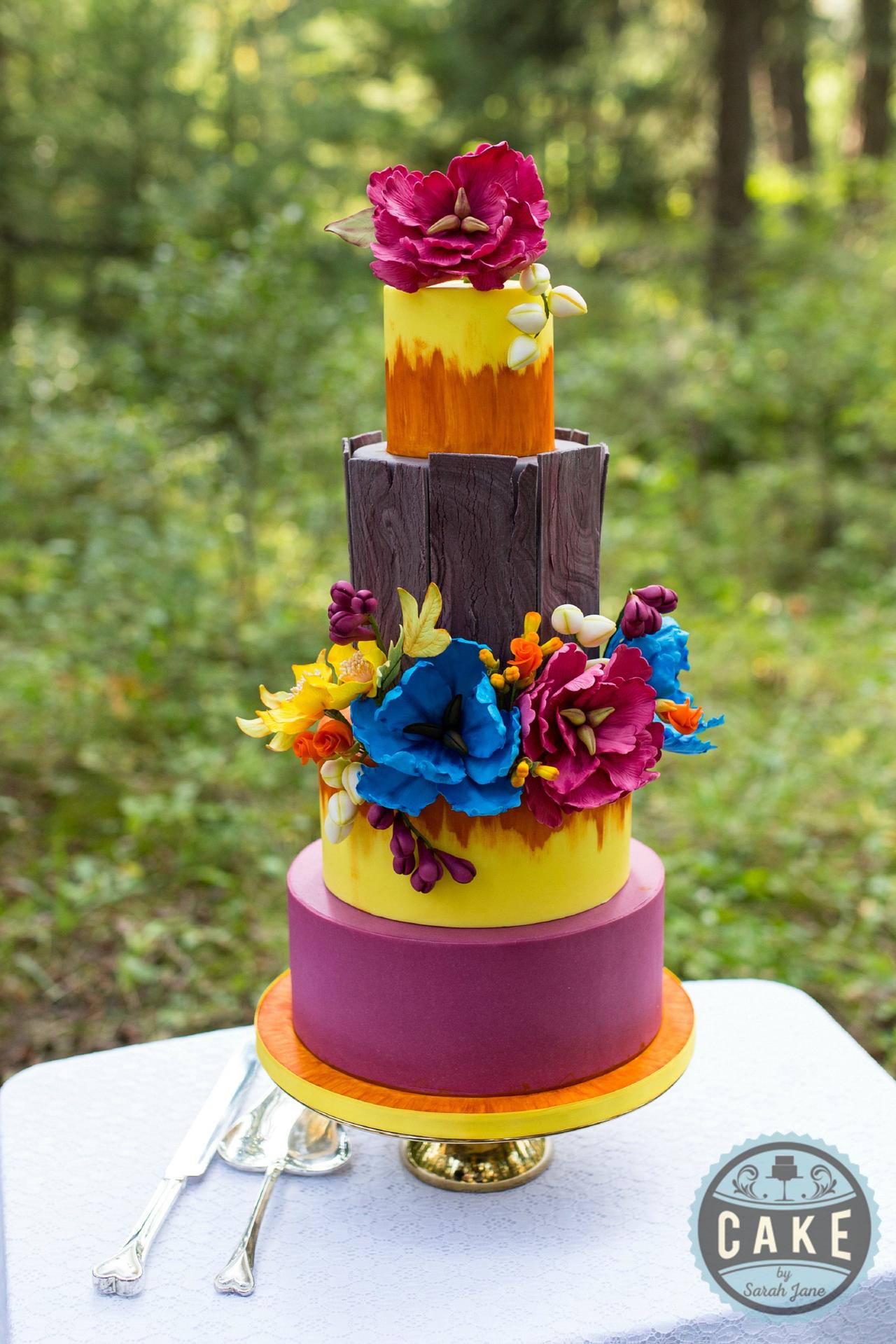 Find wedding cake bakers on WeddingWire »