13 Winter Wedding Cakes We're Absolutely Obsessed With
Tying the knot in one of the colder months? If you want a dessert that matches the season, check out these winter wedding cakes for inspiration.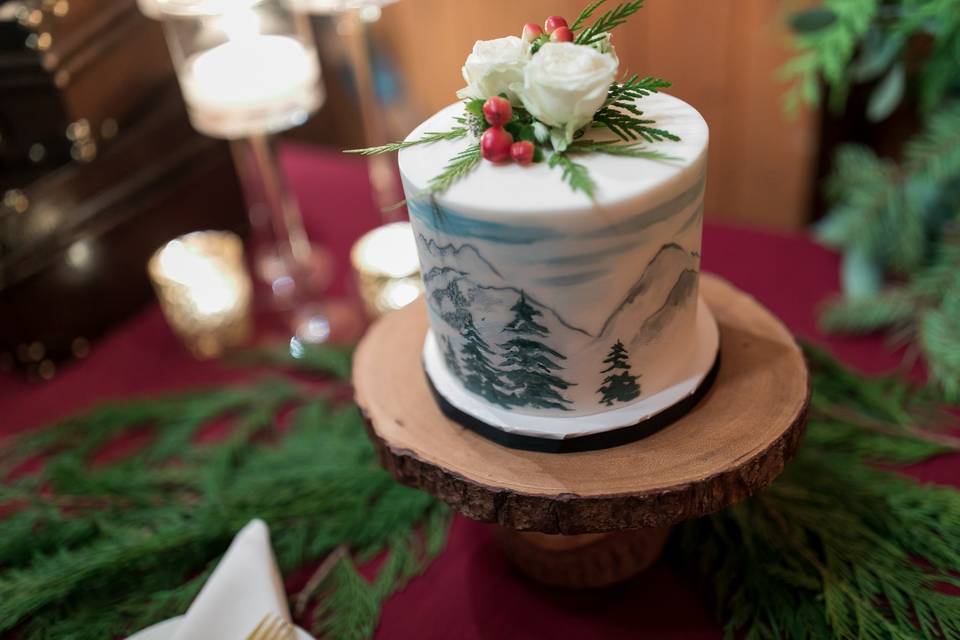 Let's talk winter wedding cakes! They're the sweetest part of every wedding and, naturally, you want yours to taste as good as it looks. If you're getting hitched in one of the snowier months, we're here to help you design the perfect confection for your big day. We've rounded up our favourite winter wedding cakes made by Canadian wedding cake bakers to give you all the inspiration you need. From simple winter wedding cakes with minimal bells and whistles to over the top designs with spruce springs, flowers, and more, this list has it all.
Here are 13 winter wedding cakes we're absolutely obsessed with.
Winter florals
If you're on the hunt for a gorgeous simple winter wedding cake design, this style will be right up your alley. It's a single tier cake with imperfect horizontal rows of buttercream icing topped with a delicate bouquet of wintery berries, leaves, and flowers. If you want to save a bit of money, ask your baker to forego the fresh flowers and use faux blooms instead.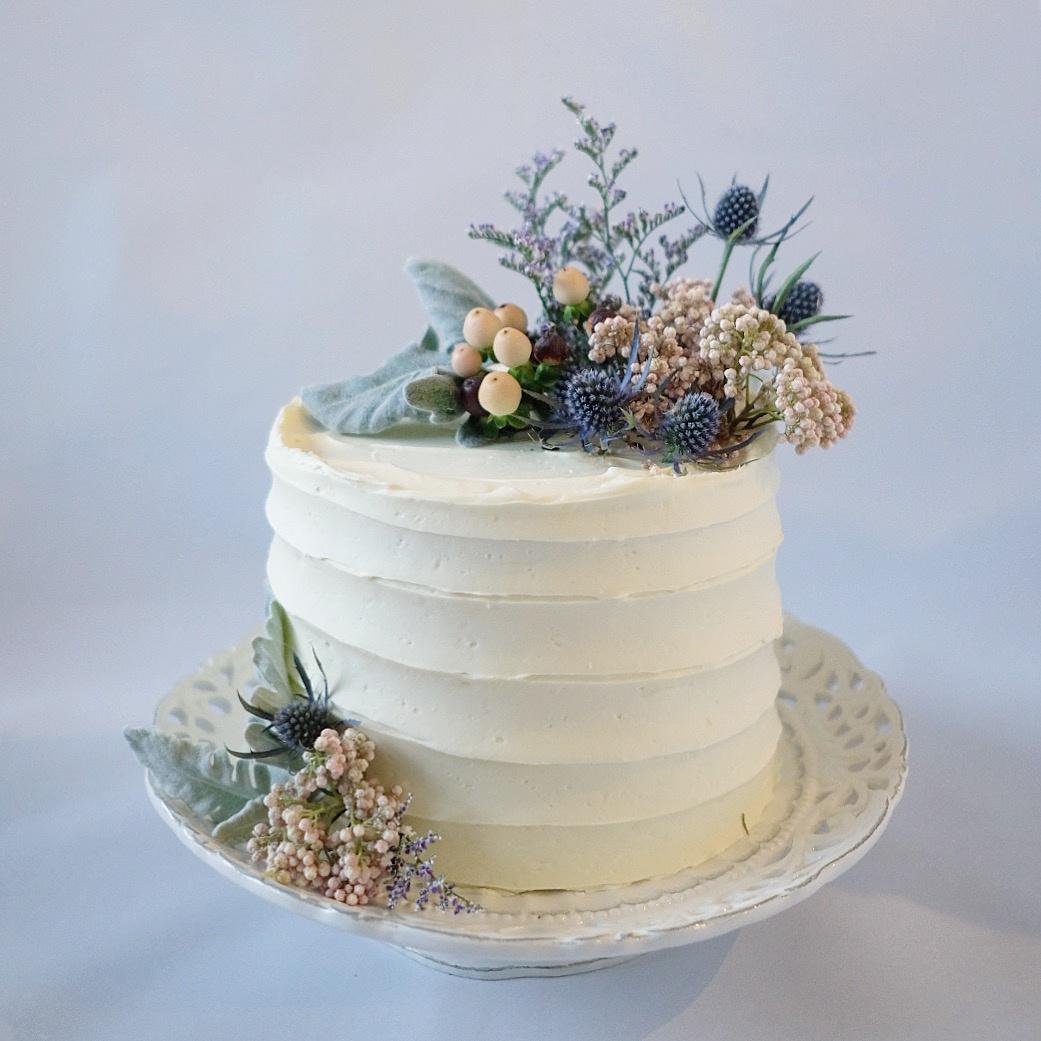 Blue ruffles
Many couples love white wedding cakes, but if you're looking for something a bit different, a blue wedding cake is equally suited to the winter season. While you can add a dash of cerulean to any design, we're obsessed with how this baker kept the top tier pretty basic to let its base tier of blue ruffles steal the spotlight. P.S. This can totally count as your "something blue."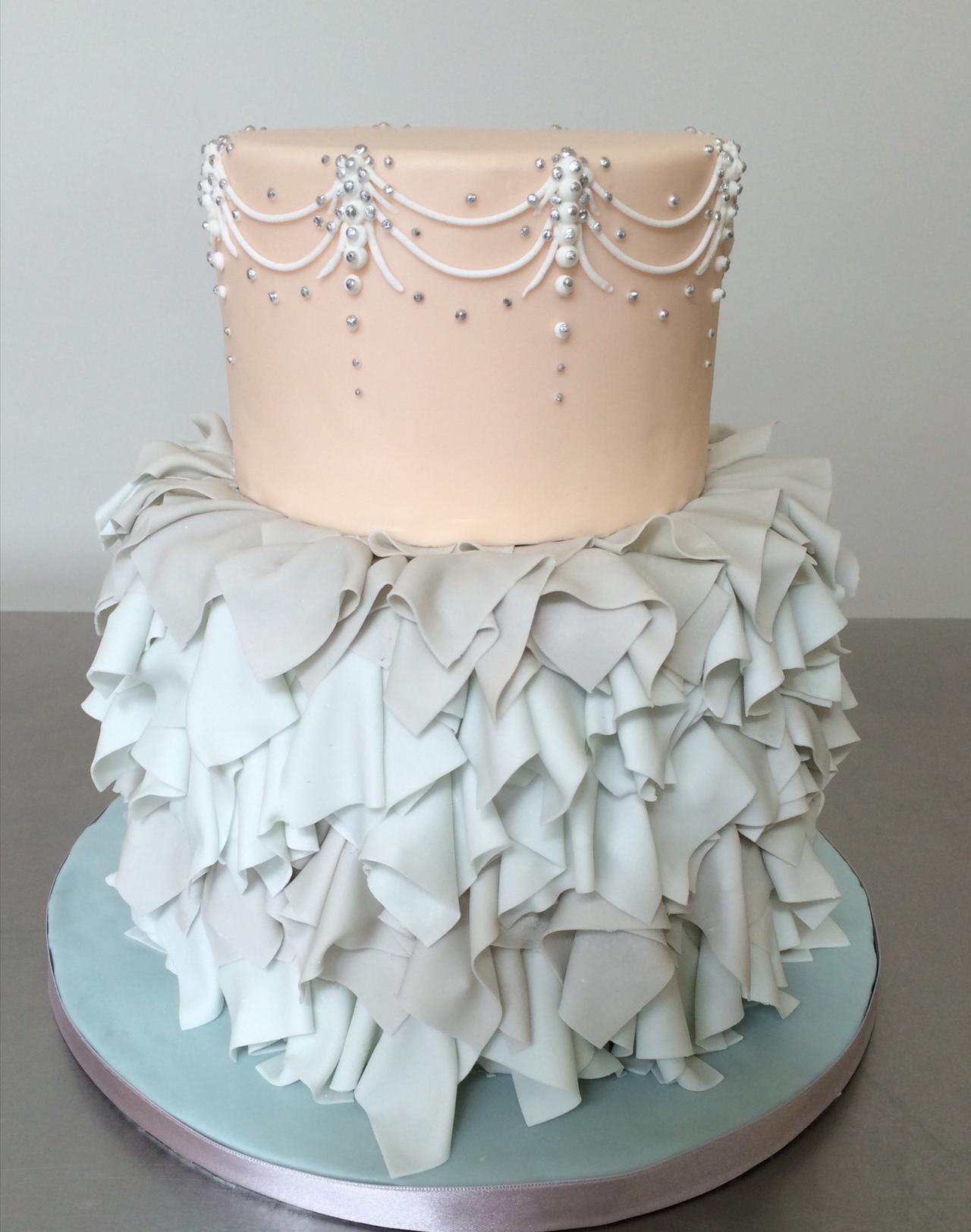 Semi-naked rustic beauty
The beauty of semi-naked cakes is that they're great for any time of year. However, they work especially well for winter weddings because they look like that first beautiful layer of snow that hits the ground (you know when you can still see what's underneath). If you're on the hunt for a rustic winter wedding cake, this is the style for you.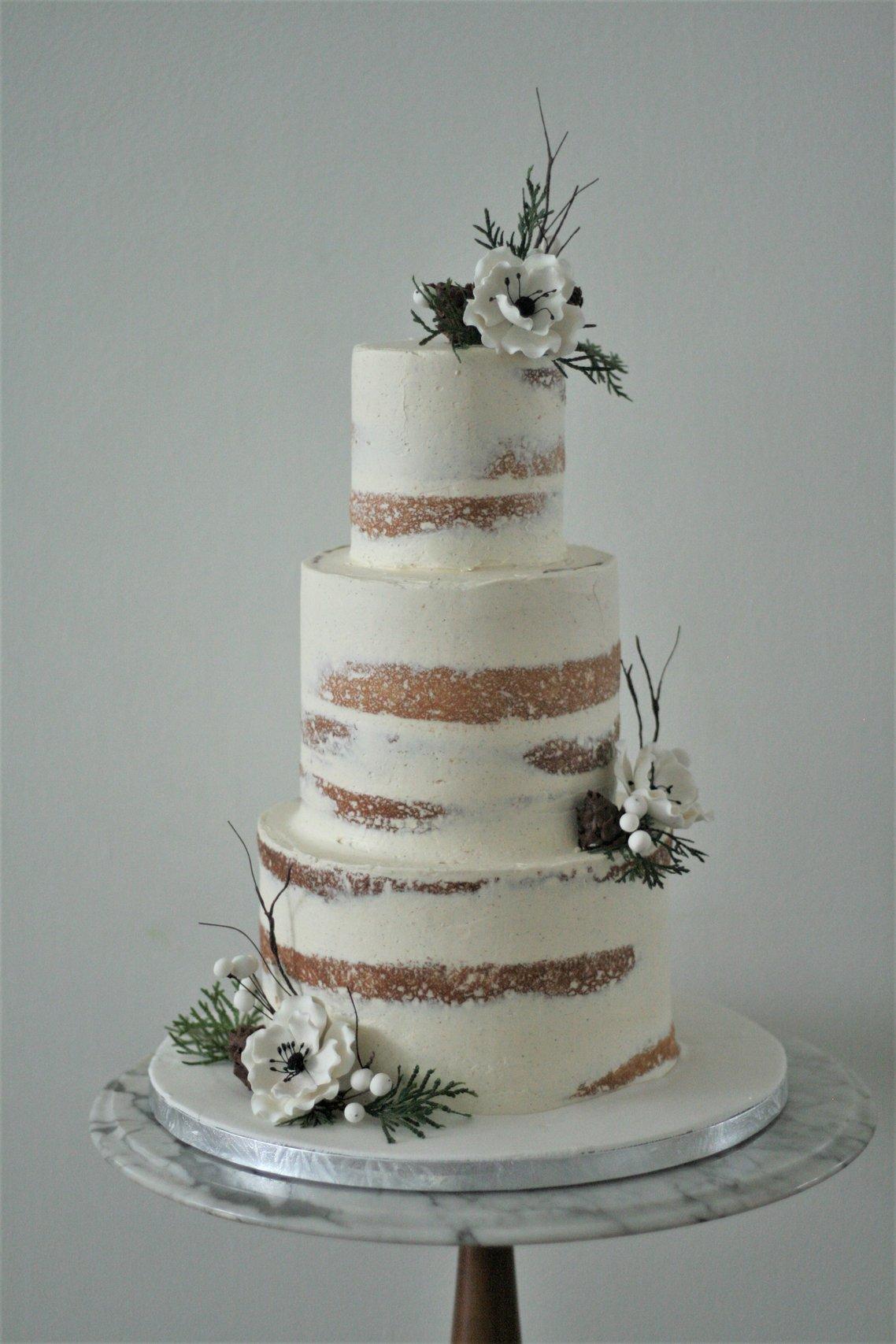 Christmas vibes
If your wedding date is December 25 (or somewhere close to that), you may want to go with a Christmas wedding cake that has holiday staples worked into its design. We love how this baker used pinecones, berries, tartan, and tree ornaments to make the theme really hit home.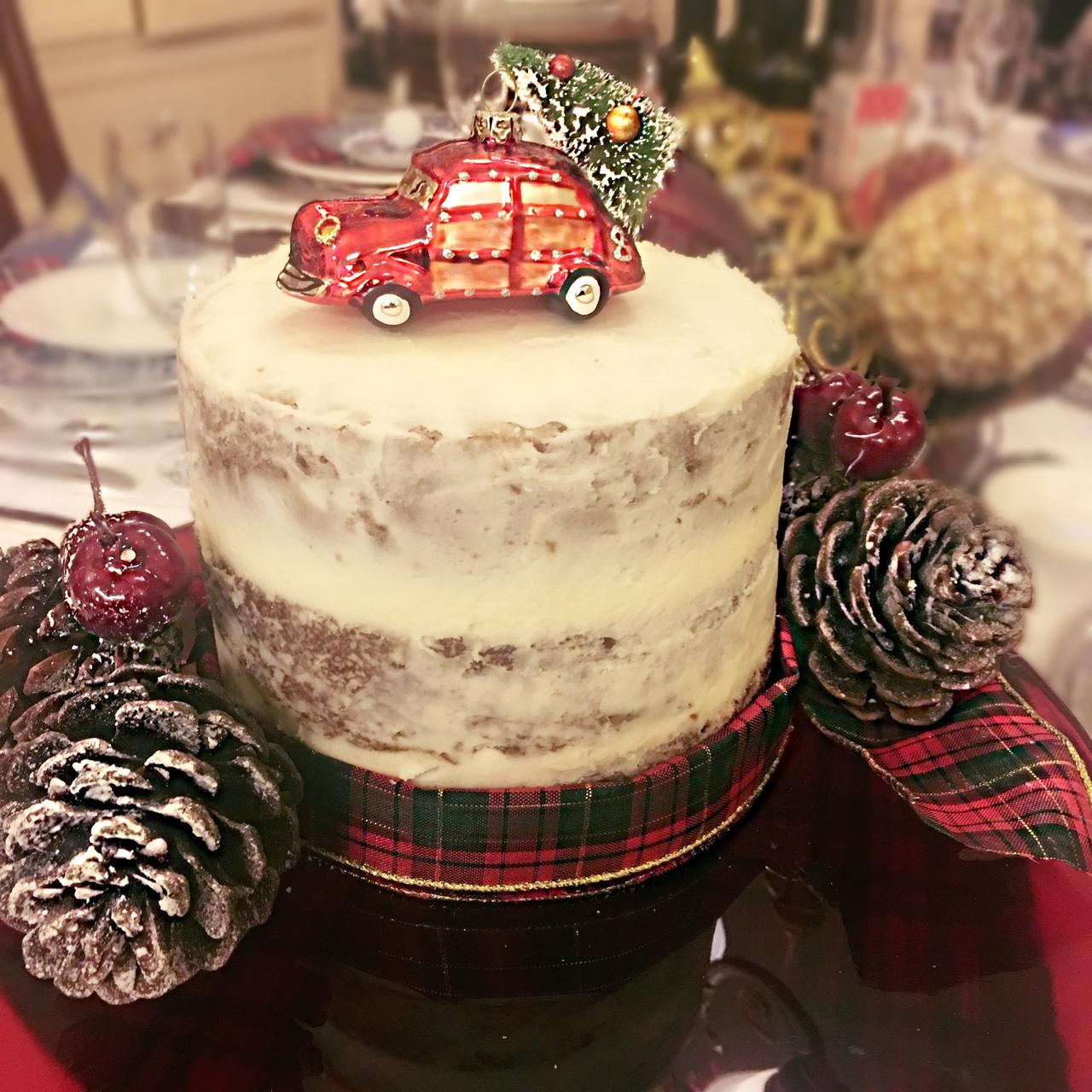 Festive reindeer
Want a more playful Christmas wedding cake design? We've got you covered. This baker created a dessert that actually looks like a cartoon Rudolph, which is absolutely adorable. No, it's not traditional, but it is super fun and whimsical.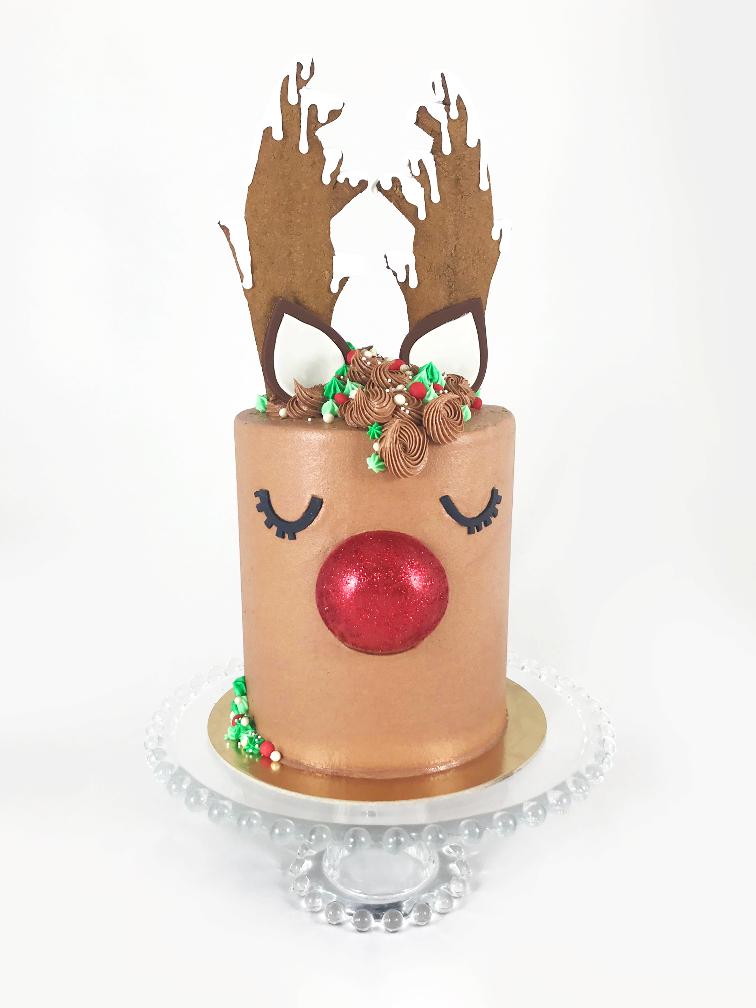 Snowy wonderland
If you really want to embrace those winter vibes, a snow wedding cake will be right up your alley. Start with a white base and then add on piped snowflakes, candy snowflakes, or sprinkle snowflakes to make it look like a multi-tiered winter wonderland. You should probably also add a snowflake topper for good measure.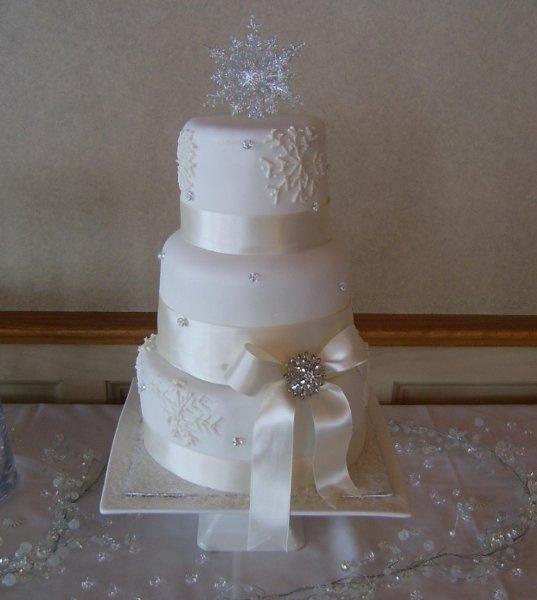 Spruced up
This sweet and simple wedding cake design includes a semi-naked top tier and a base tier decked out with rope designs to add a little extra interest. It's displayed on a tree trunk base to make it a little woodsier and adorned with spruce sprigs and rich red roses for a pop of colour. The end result is a super wintery cake that's not too over-the-top.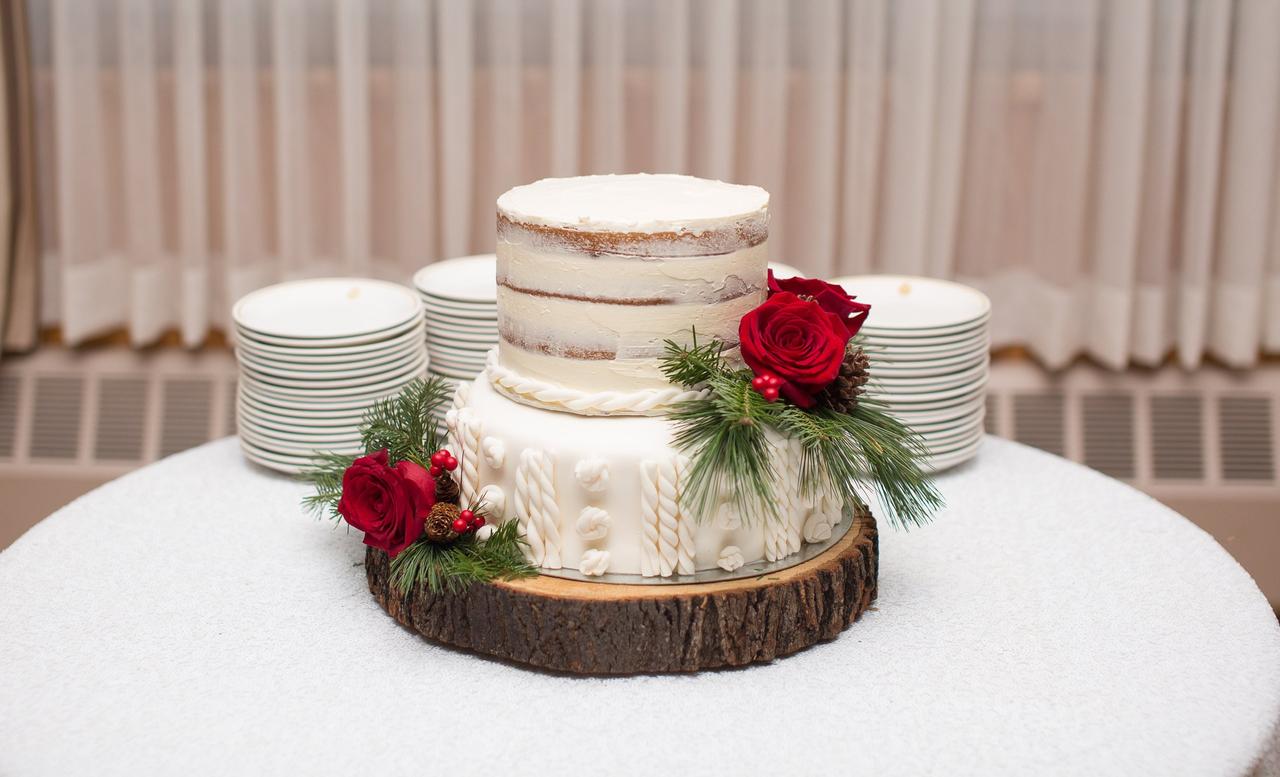 Cascading florals
If you want to give your winter wedding cake a bit of extra flower power, we say go for it. No, you can't grow your garden outside, but you can sure as heck have one on your cake. Instead of pastels and wildflowers, we recommend topping your design with jewel-toned flowers and plenty of dark greenery, like this baker did.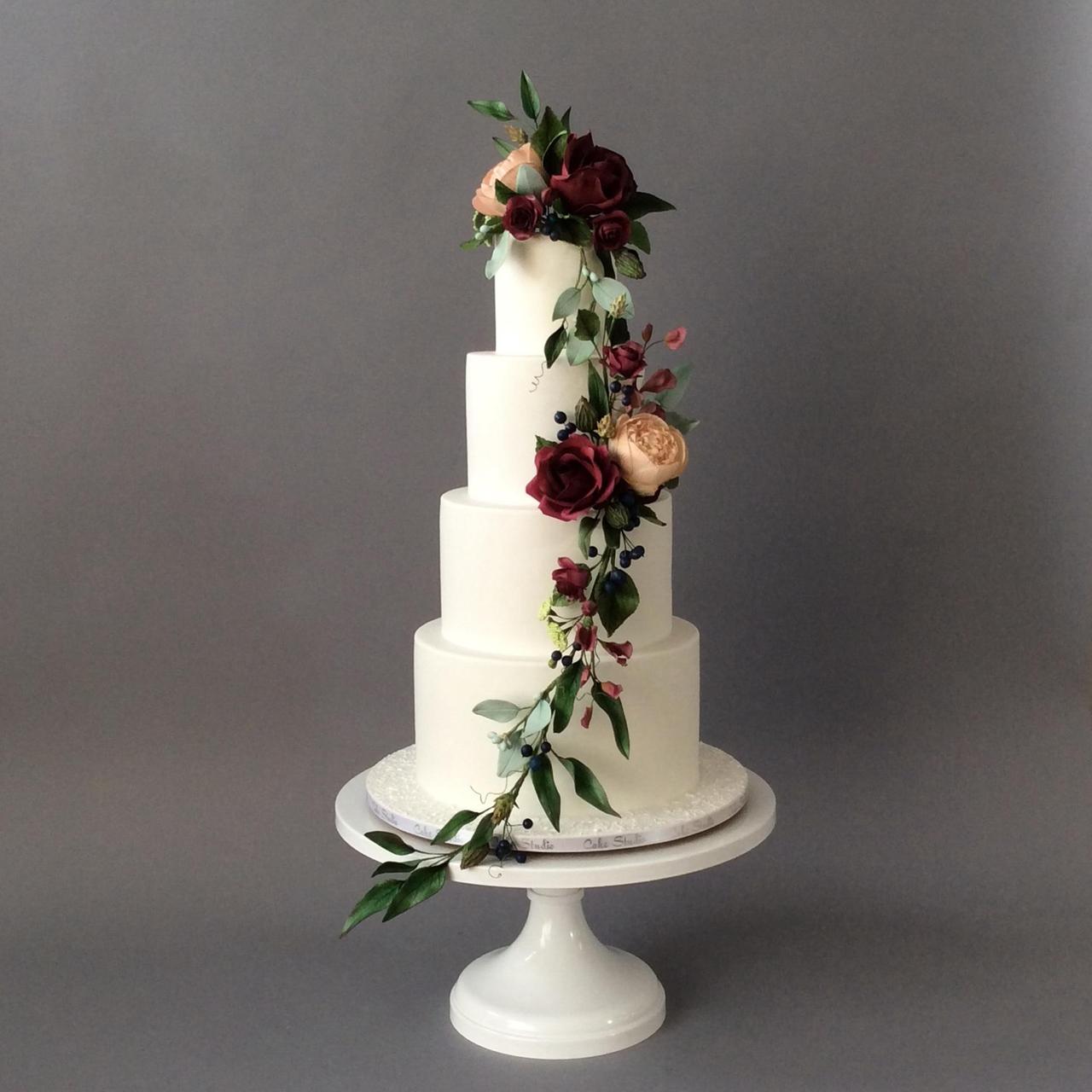 Pure elegance
Silver and white just scream winter and make for the ultimate elegant colour palette. We love how this wedding cake puts both to use and has a ton of different textures from top to bottom. If you're getting married in a vintage manor or grand ballroom, this dessert design would fit the bill perfectly.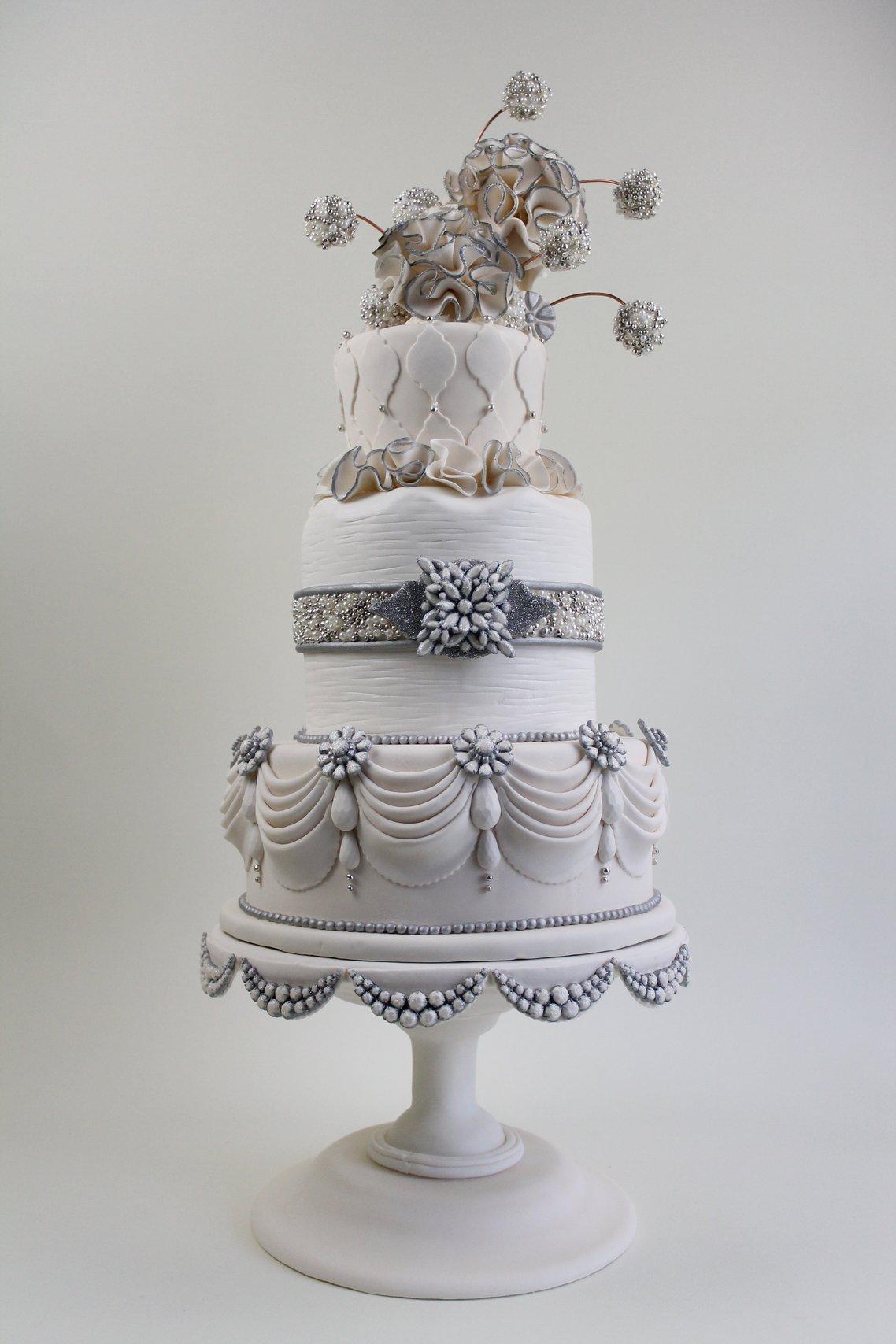 Cinnamon and berries
Ask your baker to start with a semi-naked wedding cake base and then add a dusting of icing sugar to make it look like snow has just fallen on your dessert. For decoration, use berries, cinnamon sticks and sprigs of rosemary. These little accessories aren't as expensive as flowers or complex icing designs, so you may be able to save some money, too!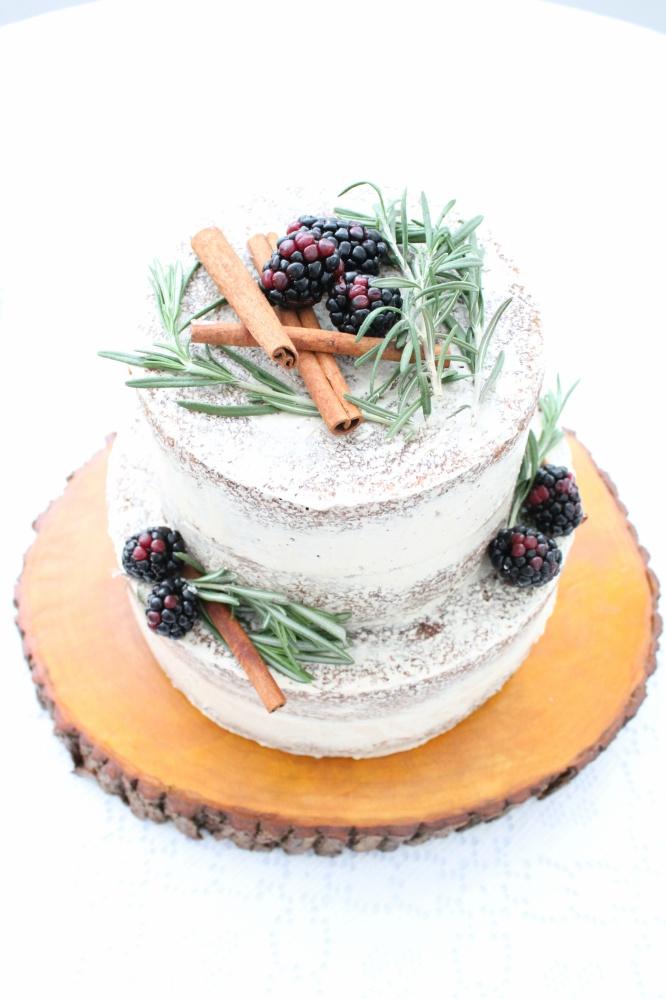 Rustic-meets-elegant
Can't choose between an elegant design and a rustic winter wedding cake? Well, I'm here to tell you that you can have your cake and eat it, too - in more ways than one! This cake combines classic rustic wedding cake elements (like branch decor and a faux bois base) with more regal additions (like filigree icing designs and gold accents). Truly the best of both worlds!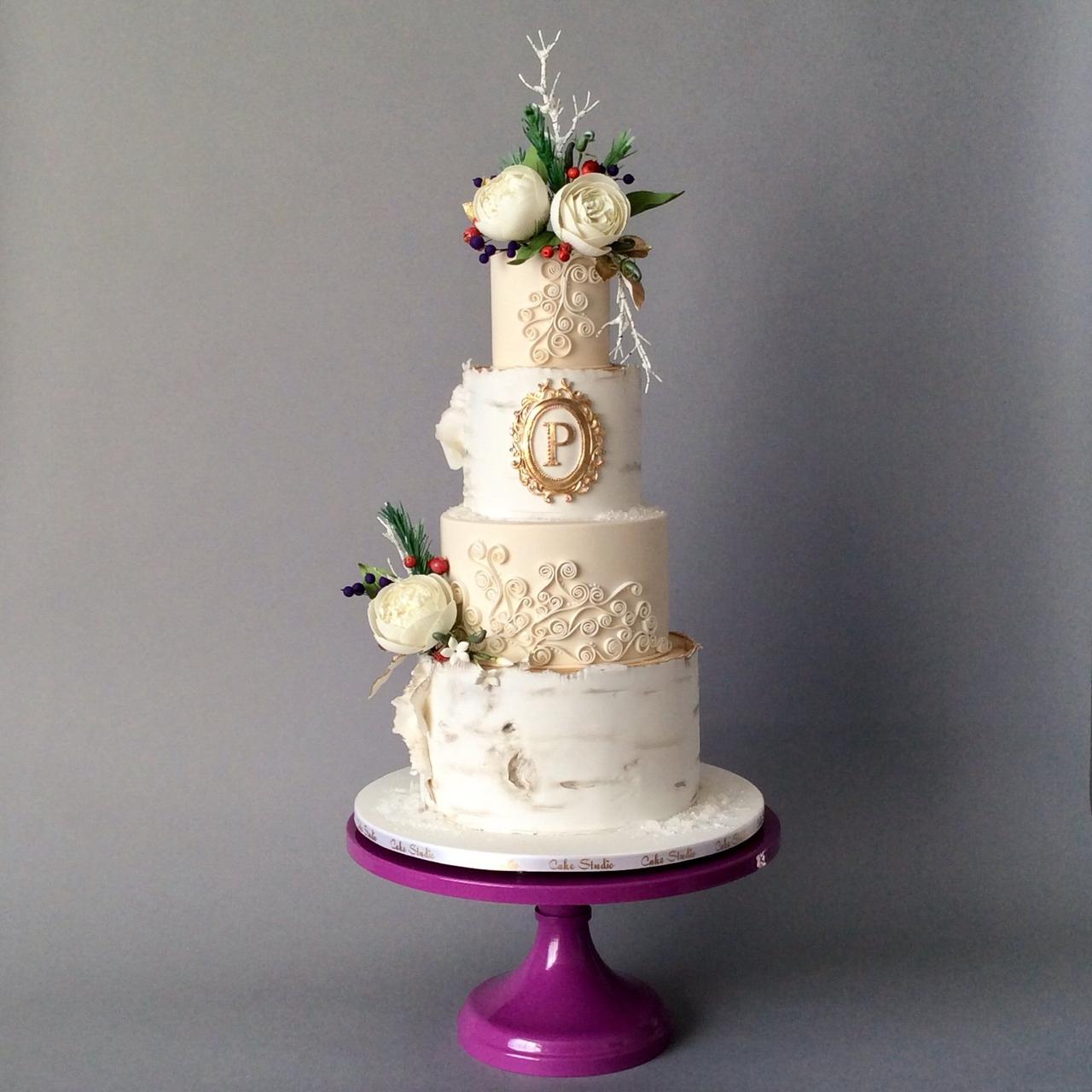 Modern minimalism
If you love that modern minimalist look but want to amp up your design with some wintery accents, follow this baker's lead. They chose an all-white, fondant-covered base and then topped it with two marbled tiers that have the look of cracked stone. To finish things off they added dried flowers on the cake itself and a few springs of pine around its base for a pop of colour.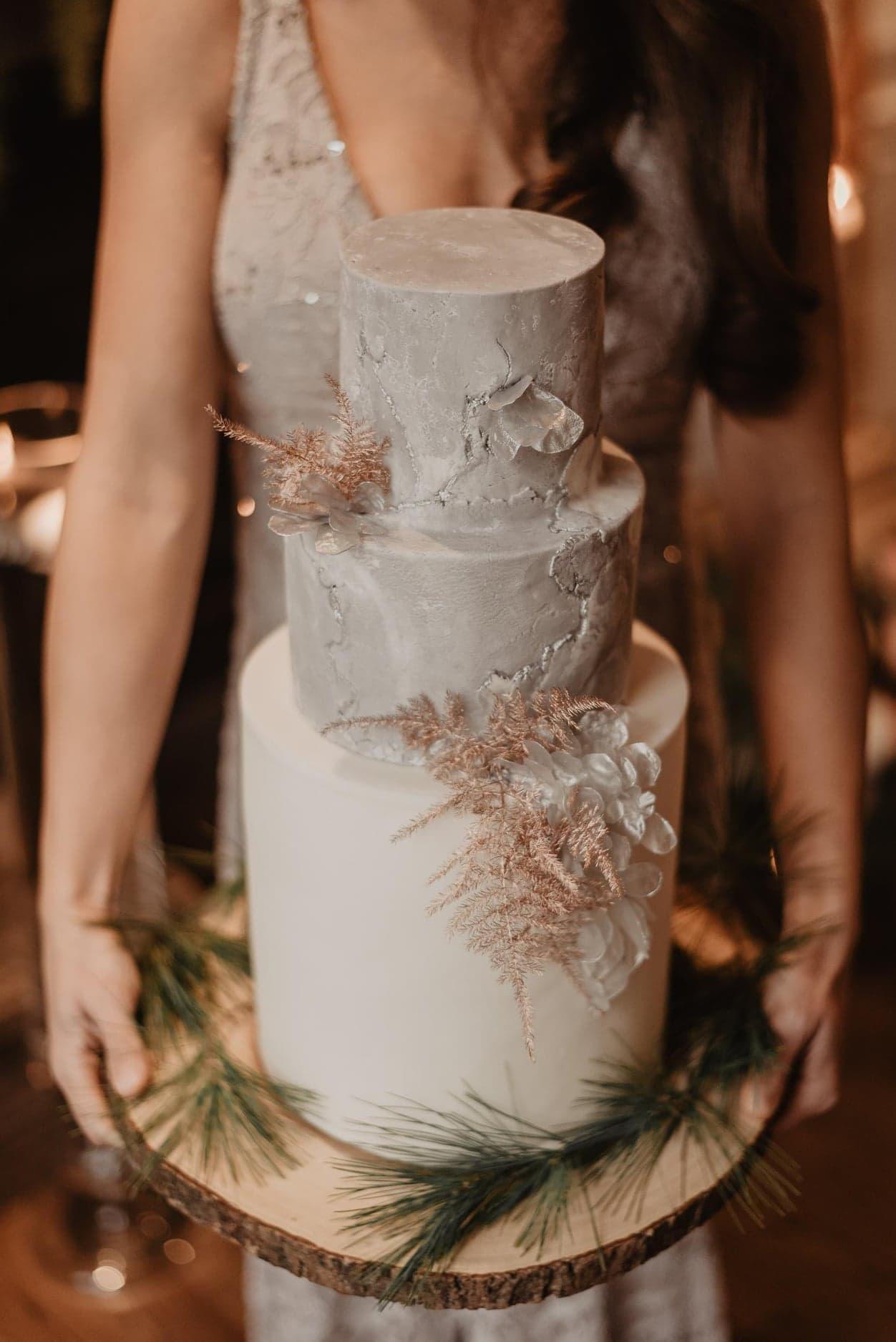 Textures and drips
A chocolate drip wedding cake is the perfect addition to your winter celebration. This one involves several different textures in neutral-toned icing and is topped with simple wintery floral toppers to take it to the next level.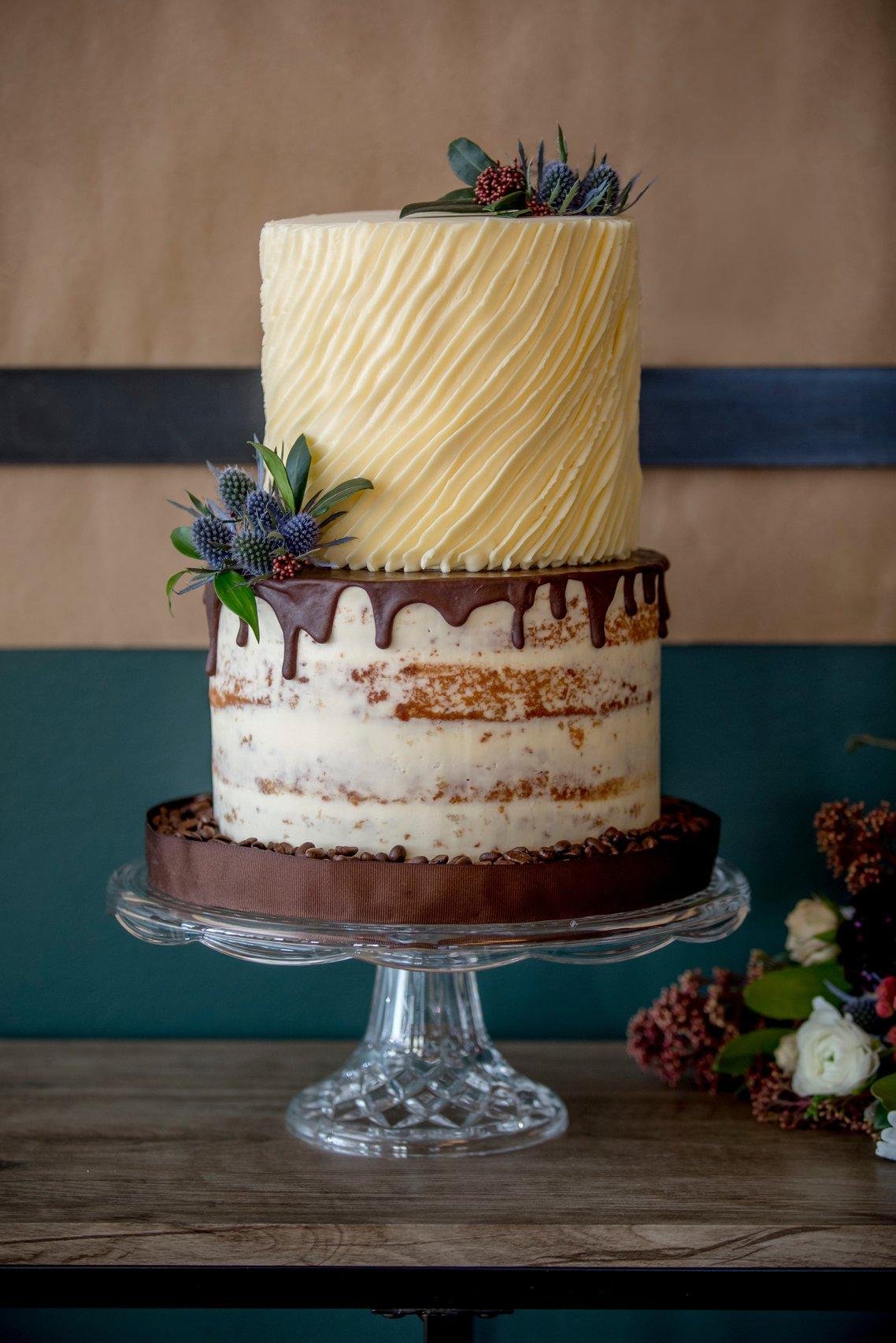 Find wedding cake bakers and specialized bakeries on WeddingWire »