16 Naked Wedding Cake Styles We're Totally Obsessed With
Not all naked wedding cakes are created equal! Here's a rundown of a few of our favourite styles to help you land 'the one'.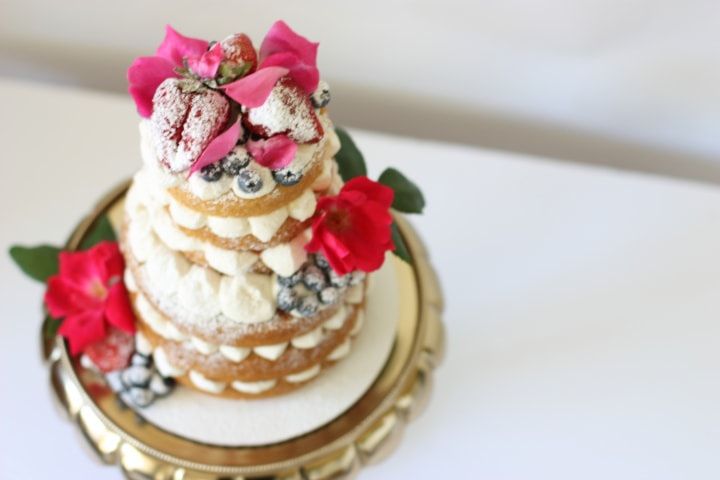 If you've ever scrolled through the wedding section of Pinterest or searched for wedding cakes on Instagram, you've probably seen your fair share of naked wedding cakes. This style of confection has been a fan favourite for years, and the hype isn't dying down anytime soon. If you're head-over-heels for the design and want to get to know your options, this is the article for you.
Here are a few naked wedding cake styles that we're totally obsessed with.
Traditional
Of course, you can't talk about naked wedding cakes without touching on the traditional version. This style has icing between its layers, but none coating the outside, thus making it 'naked'. Bakers often top such confections with fruit and flowers, but if you're a total minimalist you may want to ask yours to skip the add-ons.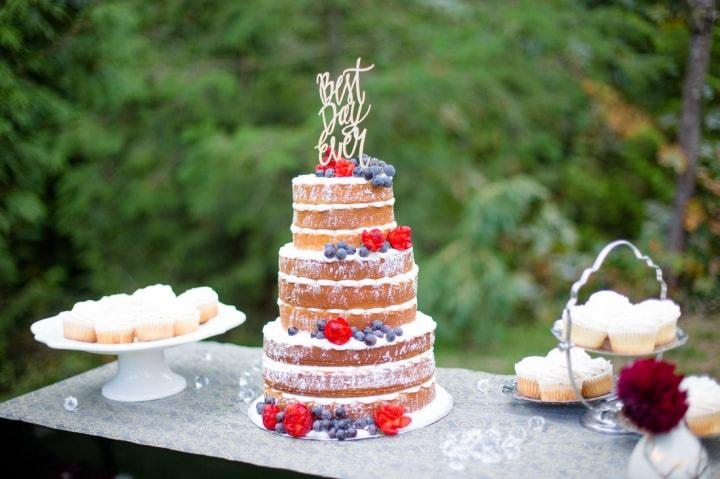 Not-quite-nude
The not-quite-nude naked wedding cake (AKA the semi-naked cake) is also a fan favourite. Instead of being completely bare, this style is coated in an ultra-thin layer of icing, still giving you a clear view of what's going on underneath. We love how this one is piled high with wintery blooms and berries to give it a super romantic feel (the "love" topper doesn't hurt, either).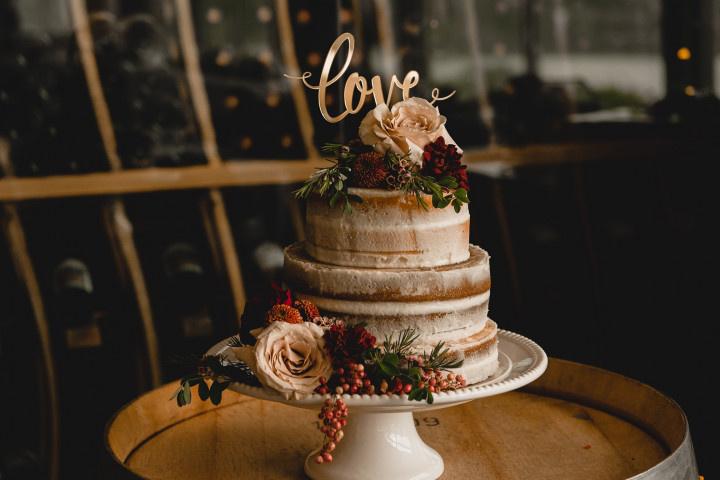 Drip
Drip wedding cakes are super trendy ATM, so if you're looking to for a way to modernize your naked wedding cake, this may be the way to go. Simply ask your baker to work in a coloured or neutral-toned drip to make your confection ultra 'grammable. Pro tip: if you want to make it a bit more subtle, only add a drip to your top tier and leave the rest untouched.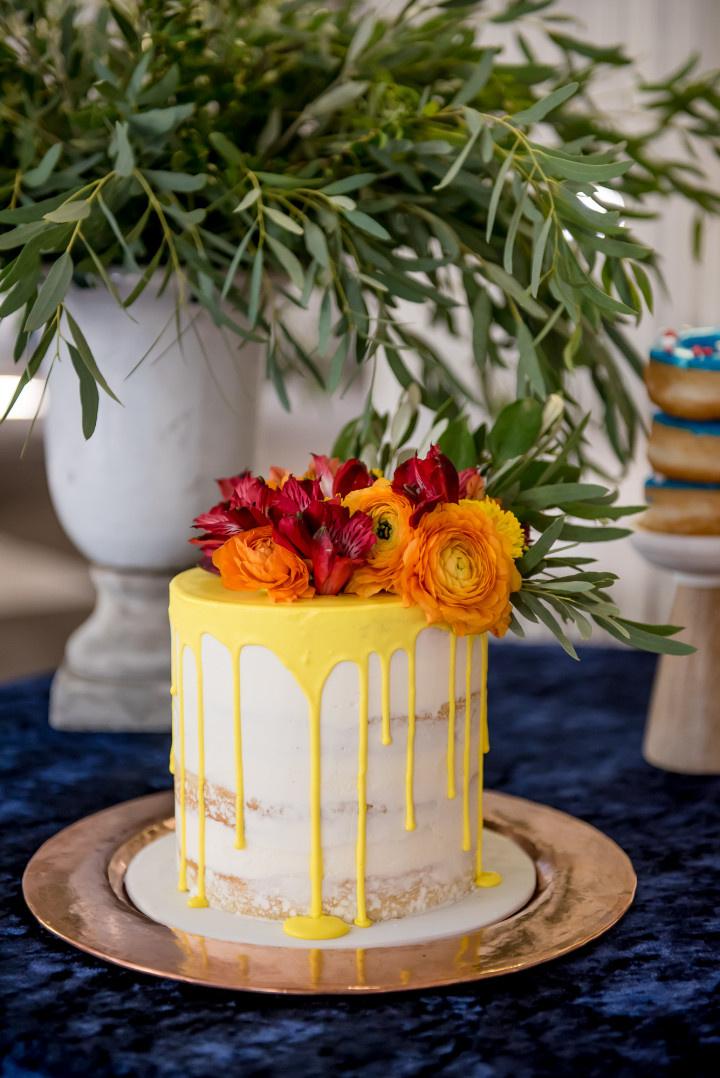 Different colours
Using different shades for different tiers will really take your naked wedding cake to the next level. You could opt for classic chocolate and vanilla, try a bevy of different wedding cake flavours (maybe even throw some red velvet in there?).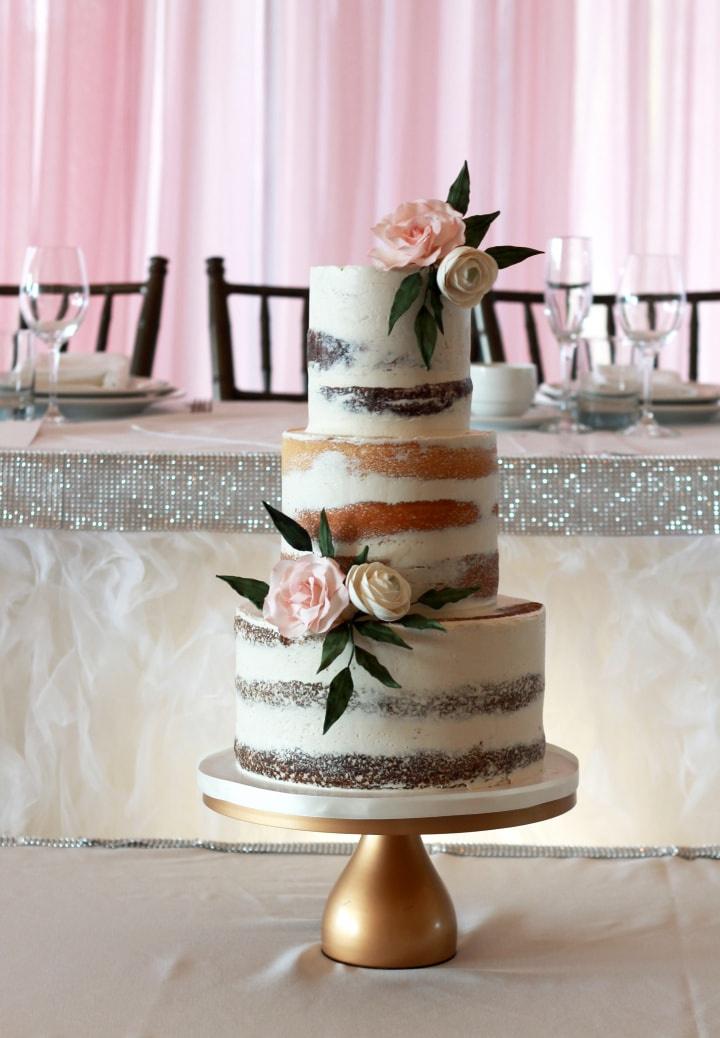 Combo
Who says you can't get the best of both worlds? If you're going for a multi-tiered wedding cake, you can play around with styles and ask your baker to ice each level differently. For example, your base layer could be a naked cake, your second layer could be metallic and your top layer could be frosted with classic buttercream. Alternatively, you could do two smaller cakes (or sheet cakes) side-by-side on your dessert table, iced differently.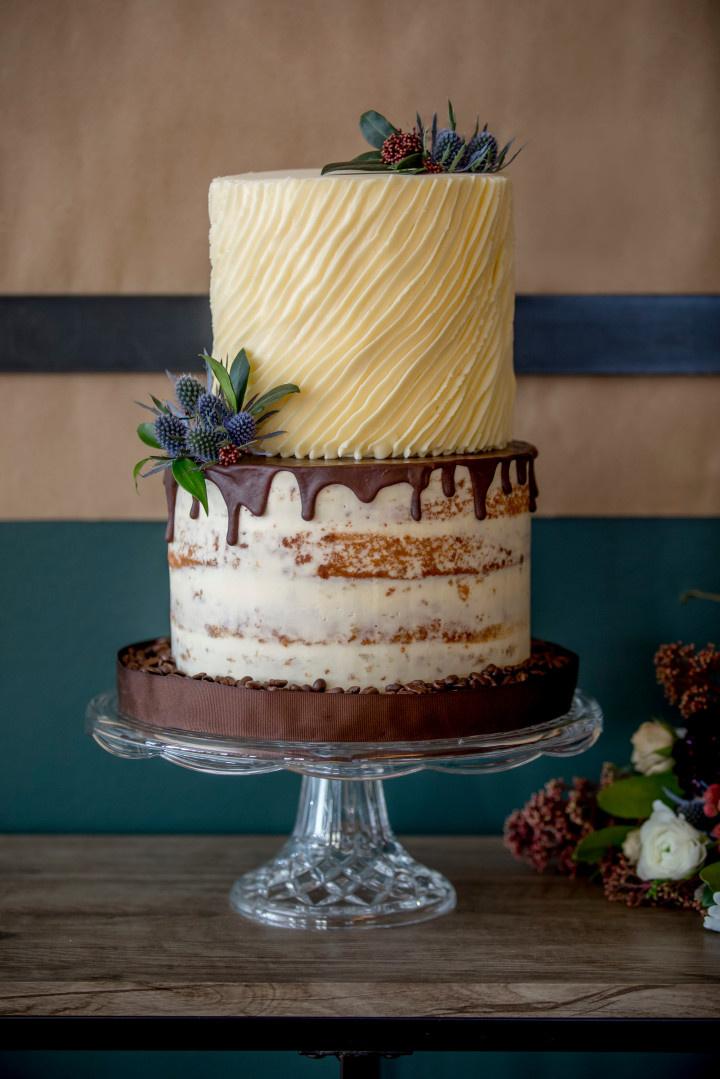 Tall tiers
Love the classic semi-naked look, but want to give it a bit of a twist? Simply extend the height of your tiers. While this little design change may not seem like a huge deal, it will update the design and make the whole dessert look more modern.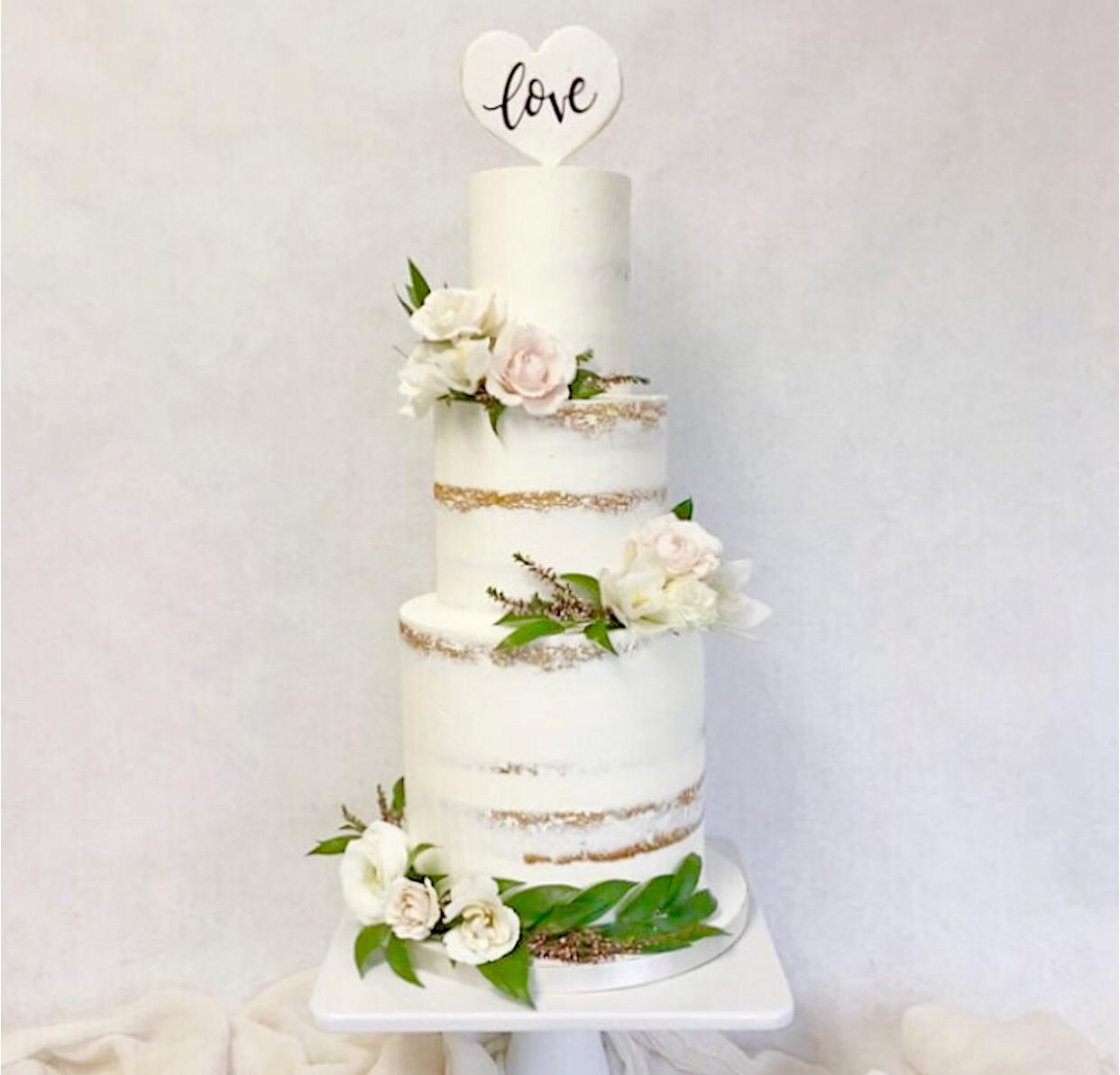 Wide tiers
You can also switch things up by ditching the height and squashing down your tiers to make them wider. This is a great option if you're hosting a lot of guests, but don't want to create a sky-high cake with, like, seven different levels. It also gives you more surface area to play with on top and can hold more decorations on each tier.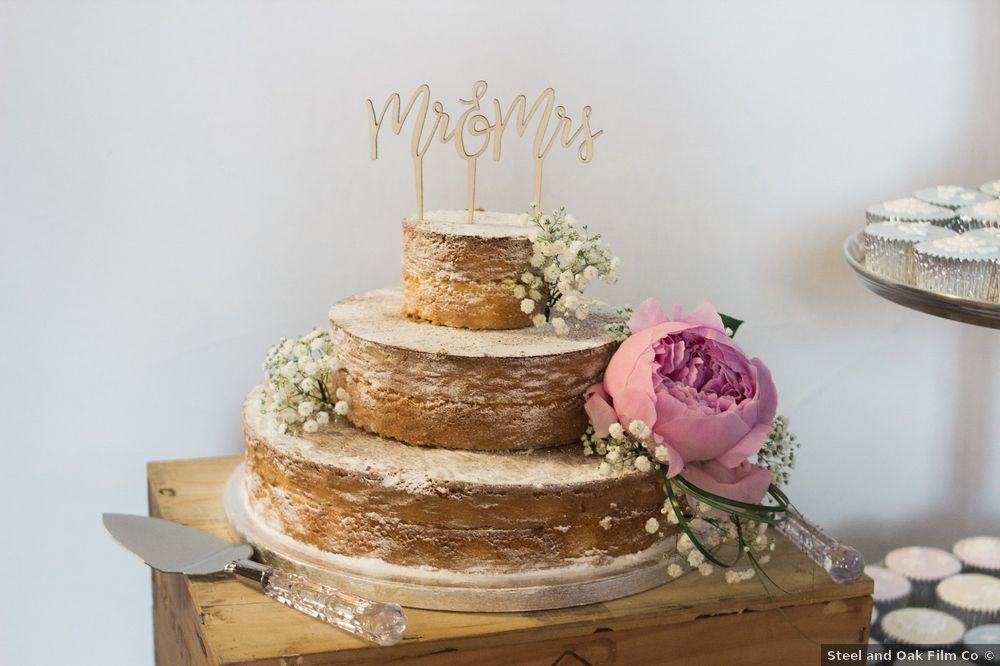 Fruit inlay
Want to leave your cake pretty bare, but give it a little extra oomph? Ask your baker to do a fruit inlay (AKA inset slices of fruit right into the cake). This works best with citrus varieties and will give your tiers some extra beauty without the addition of tons of bells and whistles, though you can totally add those, too.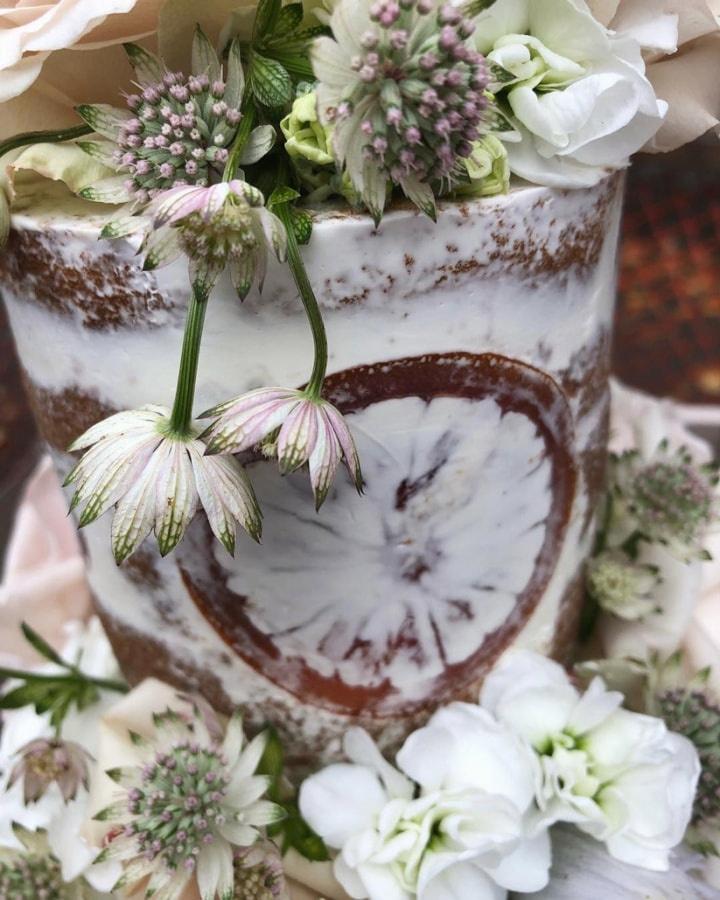 Seasonal berries
Berries and naked cakes are pretty much best friends. No matter what season your wedding is in, you'll be able to find a fruit that fits the bill. Oh, and if you want to take it to the next level, you can always do a jam or compote drip with that same flavour to tie everything together.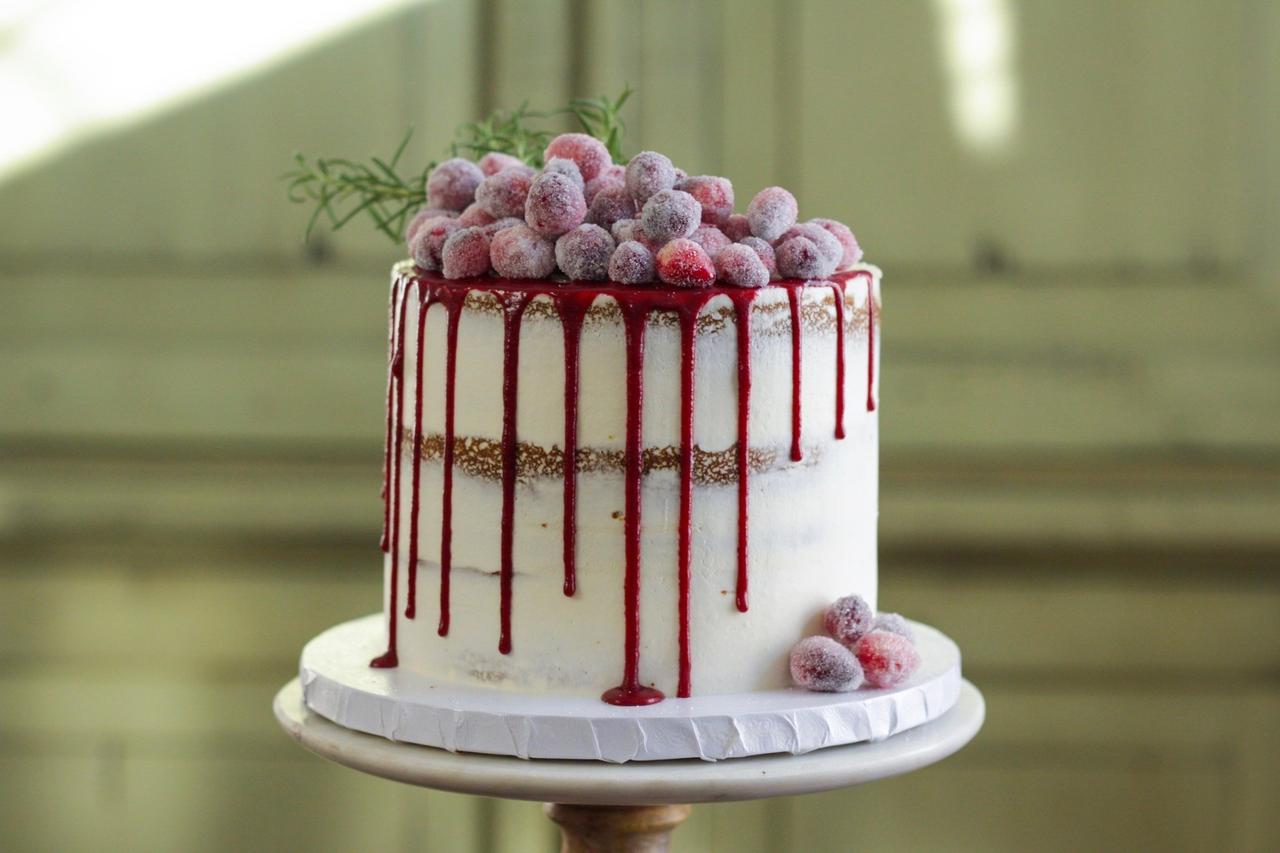 Gold leaf accent
If you love the naked cake look, but want to make your design a bit more glam, ask your baker to do a classic naked or sem-naked design and then add flecks of gold leaf abstractly to your tiers. This will make it shine in the light and give the style an elevated, luxurious vibe.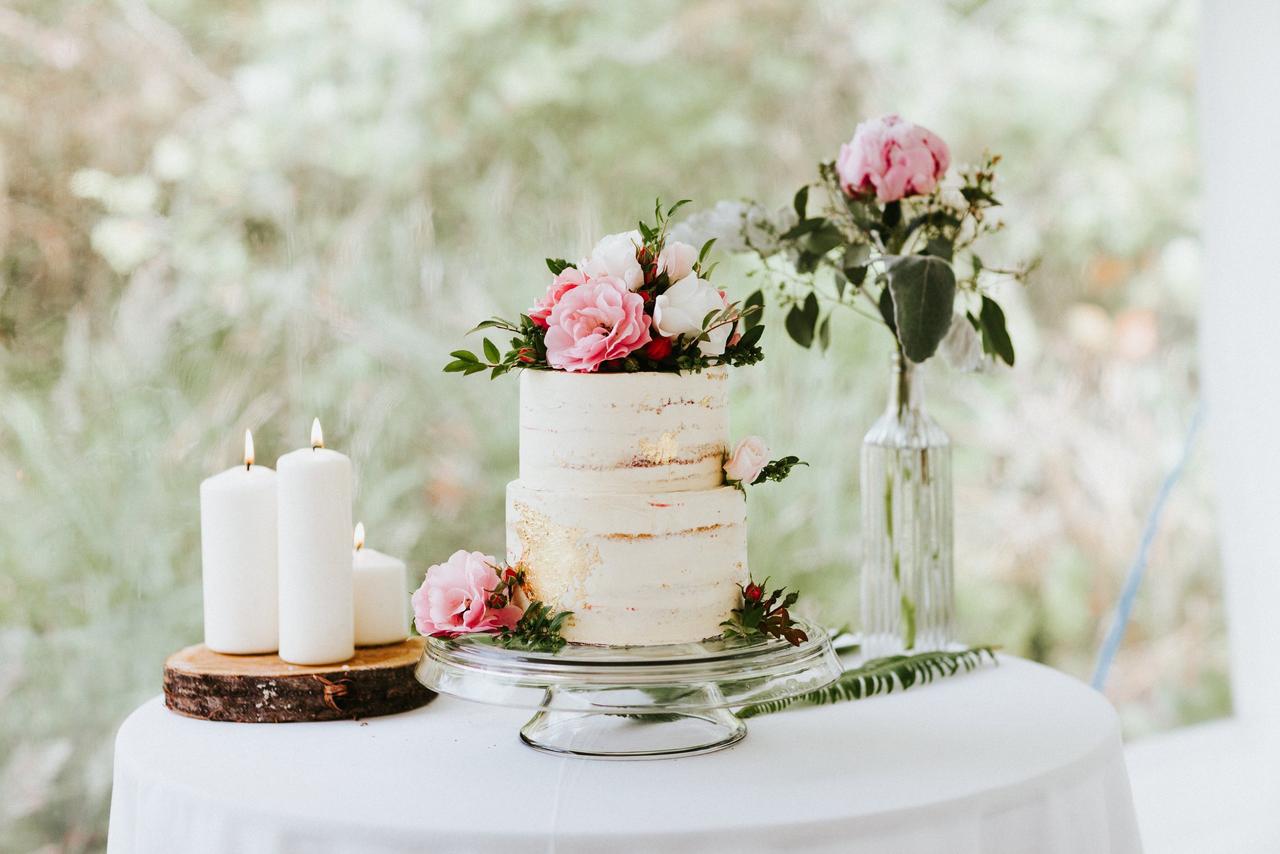 Single tier
Looking for a sweet and simple wedding cake design? Ditch the excess tiers and go with a one-tier, multi-layer design. Not only does this look beautifully streamlined, but it's perfect for small weddings, mini weddings, and micro weddings because it won't leave you with a ton of leftover slices.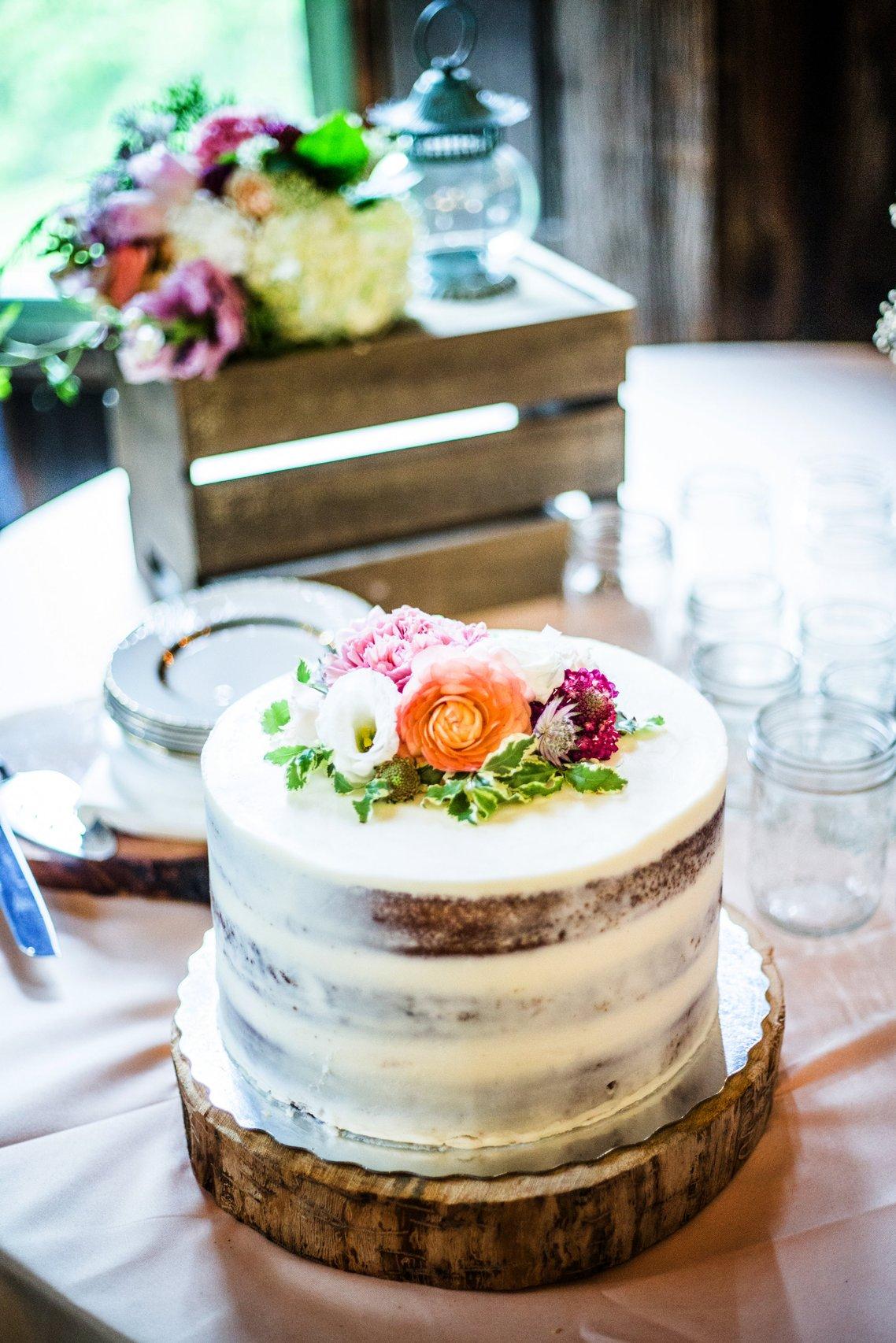 Macaron
If you can't decide between a macaron tower and a traditional wedding cake, you can get the best of both worlds with this design. Start with a naked or semi-naked base and then top it with your favourite Parisian confections. Not only does it give your dessert another taste option, but it adds a punch of colour. Of course, you can get that monochromatic look if you opt for white macarons, instead.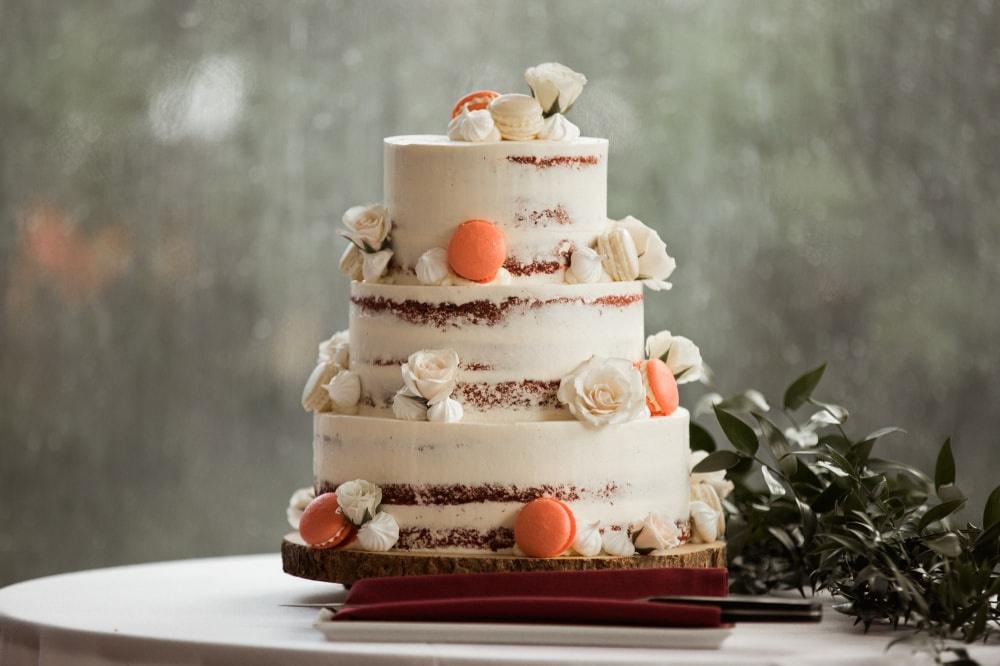 Fresh flower topper
Think naked wedding cakes are a little bare bones for your taste? They don't have to be! Follow this bakers lead and create an itty bitty garden atop your cake to give it some flower power. Don't forget to choose blooms that complement the other floral arrangements in your venue, like your wedding centerpieces, bouquet, and boutonnieres.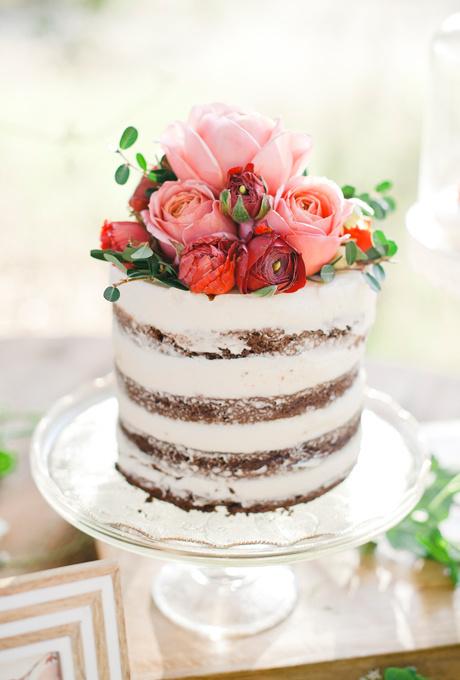 Sugar flowers
If you'd prefer a more edible option than real blooms, ask your baker to top your naked wedding cake with sugary sweet renderings of flowers. They can be made from fondant, chocolate, spun sugar, or can be piped onto your cake with buttercream. Some even look so real that your guests won't even know that they can eat them!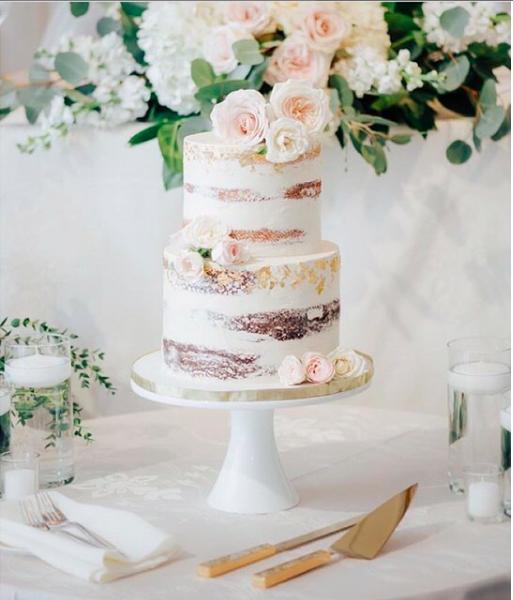 Square tiers
For those who love more angular designs, a square naked cake is the way to go. This is a simple twist on the classic design that packs a big punch visually. It looks super cool without any toppers, but if you love bells and whistles, go ahead and add those, as well.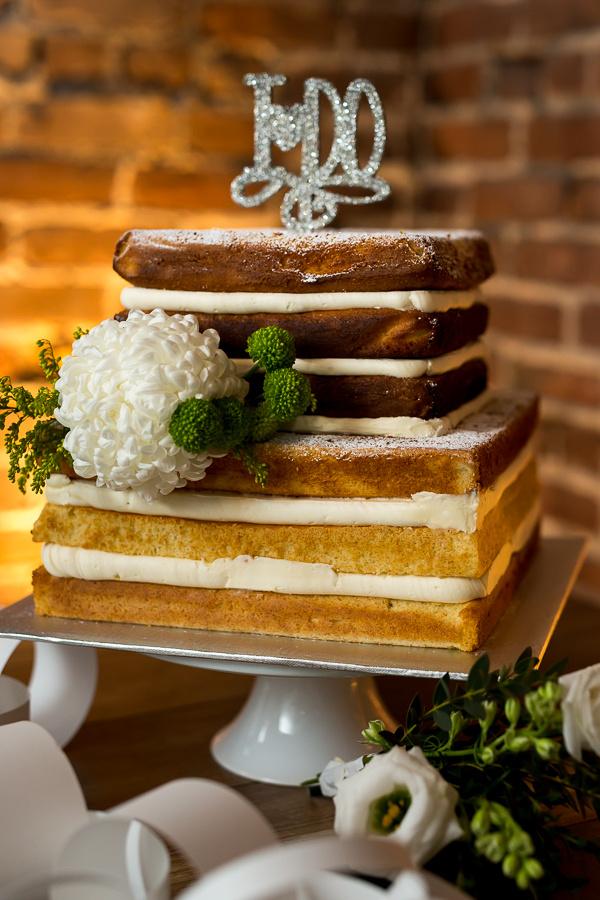 Bold and bright
Naked cakes usually stay in the beige colour family, but if you want to shake your hues up, we're totally here for it. You can ask your wedding cake baker to use food dye to create a rainbow or ombre effect for something totally whimsical or stick to a more natural palette. P.S. this works with semi-naked styles, too - just ask you baker to work some food colouring into whatever icing they're using. We love how Scratch Bakeshop did this bright yellow semi-naked between a traditional white semi-naked tier and a terra cotta iced tier.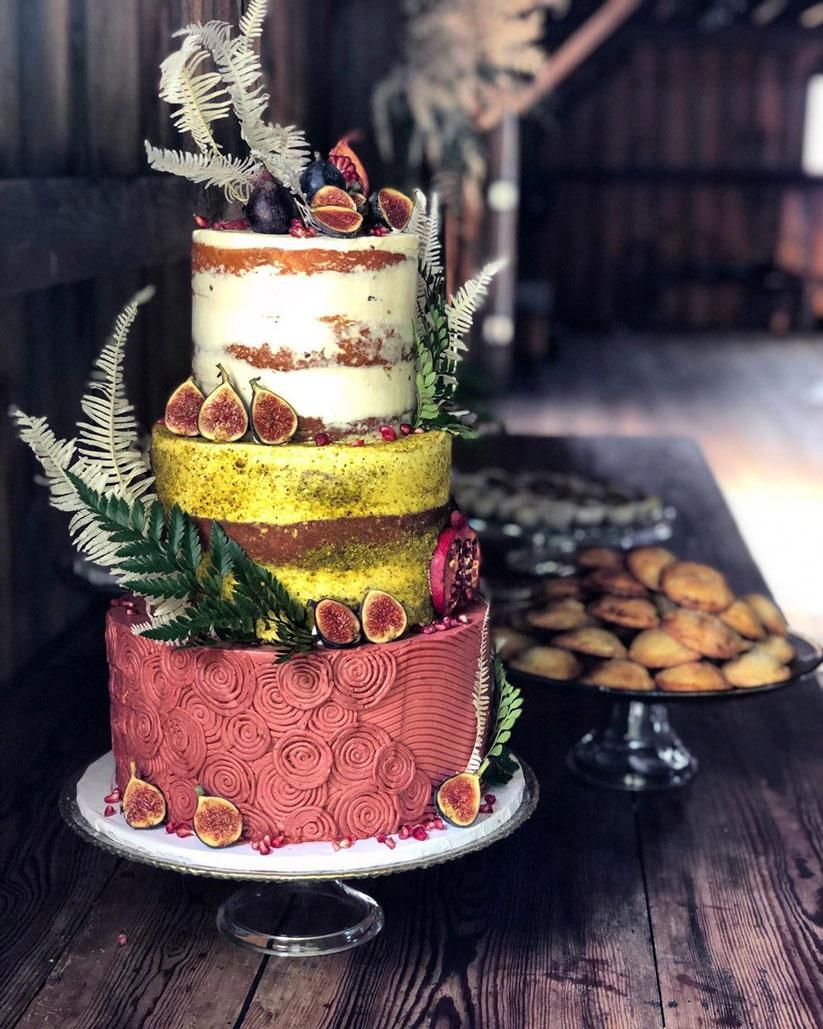 Find wedding cake designers and specialized bakeries on WeddingWire »