Wedding Centerpieces 101
Need a master class on wedding centerpieces? We've narrowed down everything you need to know about arrangements to help you out.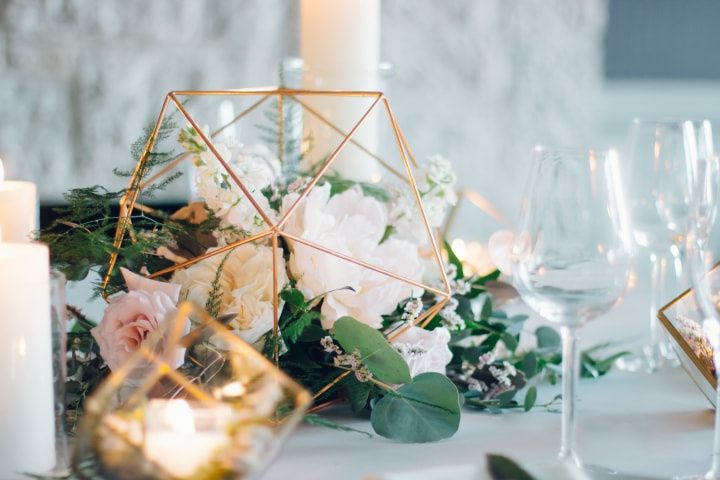 Wedding centerpieces are essential decorations that help jazz up any reception hall. While the process is a fun one, choosing your arrangements is much more involved than just listing off your favourite wedding flowers. From colour schemes and wedding style to candle holders and vessel decorations, there are a lot of things to remember before you start ordering.
Here are the ins and outs of ordering your wedding centerpieces.
Number
The total number of wedding centerpieces you order should match the number of tables in your reception venue. Don't forget to order flowers for buffet tables, the head table and the welcome table (they may look a little bare without them).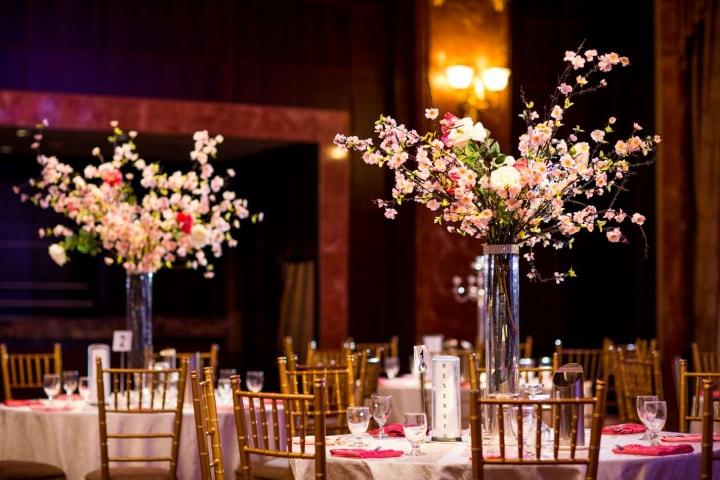 Budget
As with all elements of your wedding, you'll need to set a budget and stay inside it (typically, 8% of the overall budget goes toward flowers). Wedding centerpieces can get pretty costly, especially if you're adding rare blooms. Going for larger arrangements? You may want to stick to lower-priced flowers. Opting for pint-sized arrangements? You may be able to splurge on a few costlier plants. Make sure your florist is aware of your budget right out of the gate so that they don't accidentally sell you on pricier flowers. Tip: you can always repurpose the flora and fauna from your ceremony to save a bit of extra cash.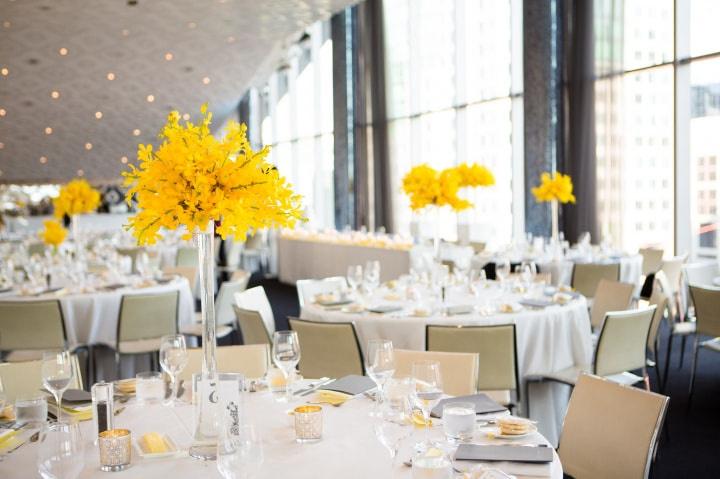 Colour
Think about everything from place cards to table linens to the venue itself when selecting the colours for your wedding centerpieces. Bring samples and photos of these to your florist to see if he or she has any suggestions. Typically couples go for bright and bold colours in the summer and jewel tones in the winter. Feel free to break the rules and get creative, it's your wedding, after all.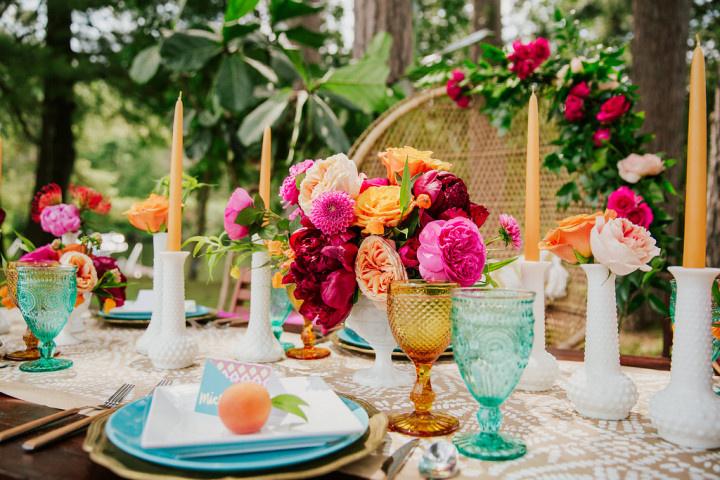 Season
In Canada, we're lucky enough to experience winter, spring, summer and fall. But just as seasons change, so do the flowers. Ask your florist what will be available around the time of your wedding and work with that. If you're getting hitched around the holidays you may have to kiss your dreams of a sunflower filled reception hall goodbye, but you may have some more festive options like evergreen branches and poinsettia at your disposal. A few types – like lilies, roses and hydrangeas – are available year-round, making them good for any season.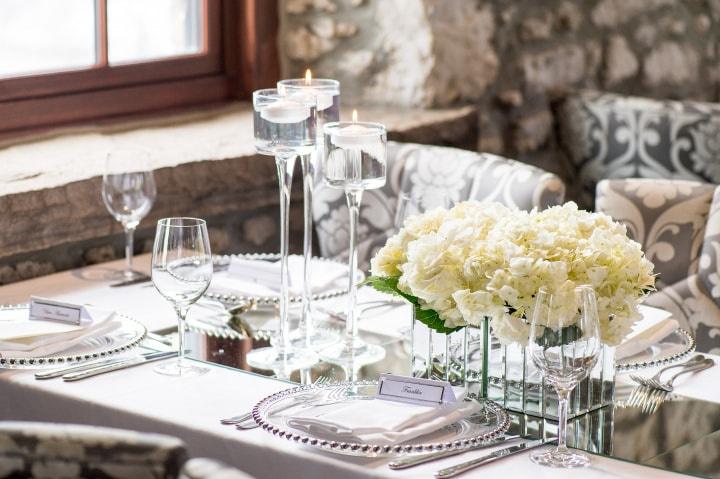 Style
Consider the overall vibe of your reception before ordering your table centerpieces. While you may love how swanky orchids look, they may not be the best choice for rustic wedding centerpieces if you're having a low-key barn party. On the flip side, you may have a thing for wildflowers, but they may not fit the bill for an upscale hotel soiree. You'll want to think about the colour scheme, venue and overall feel of your reception before you start crafting bouquets to avoid having things look out of place.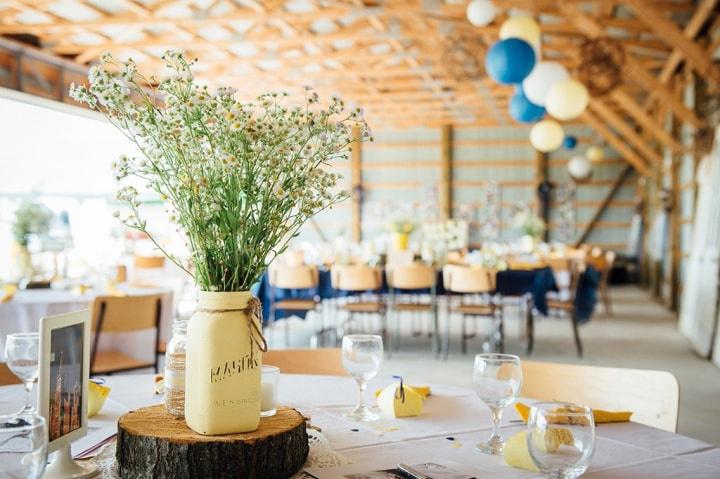 Height
Before you select a vessel, you'll want to figure out the height of your arrangements. Do you want something sky-high and dramatic or short and sweet? Tall wedding centerpieces have a regal, luxurious feel, perfect for big, black-tie receptions, however, make sure they are tall enough as to not block your guests' view. Shorter arrangements benefit smaller tables but may need a few extra flowers and accents to make them eye-catching. If you can't decide on a style, you can always do a mixture of short and tall.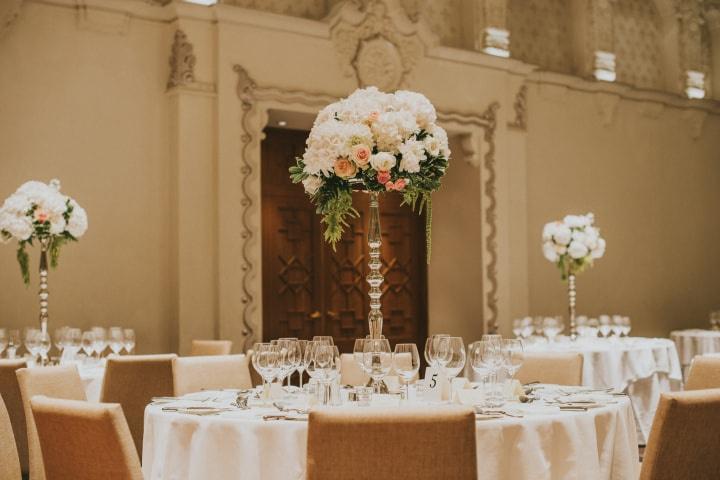 Vessels
How you display your flowers makes all the difference. Wedding centerpiece vessels come in an array of shapes and sizes, ranging from vintage-inspired flutes to more modern vases. Selecting a style that suits your wedding theme is key. Here's a brief rundown of the most popular styles available:
Compote: goblet-shaped with a pedestal
Low pan vase: wide and shallow
Trumpet vase: tall and resembles a champagne flute
Bell jar: glass case that covers the arrangement
Rose bowl: shaped like a fishbowl
Votive: small and cup-shaped
Column vase: straight and cylindrical
Hurricane vase: wide and deep
Ginger jar: porcelain urn, usually blue and white
Pail: small bucket
Trough: rectangular, small/medium height
Pot: small ceramic container
Trophy vase: shaped like a trophy with two handles
Cube vase: square-shaped
Decorations
Give your wedding centerpieces that extra oomph by adding a few decorative touches. While you'll want the flora and fauna to be the star of the show, throwing in accents like candles. pearls, gems and feathers will give your arrangements a special touch. If you're looking to add some height, go with a few tall branches or feathers. If you want to keep your centerpieces a little shorter maybe drape a few strings of pearls around your vases or stud them with jewels. Options are endless!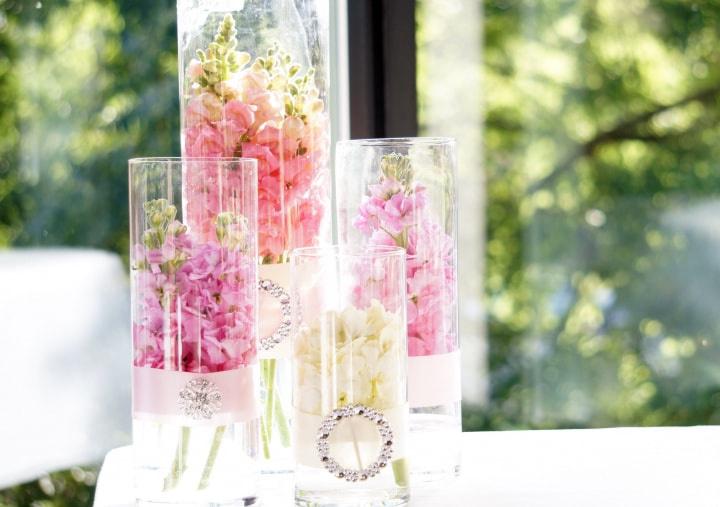 Find your wedding flowers on WeddingWire »