21 Creative Ways to Use Pampas Grass in Your Wedding Decor
From aisle markers to wedding cake decorations, feathery pampas grass plumes add style and volume to your wedding decorations. Here are all the creative ways to use it.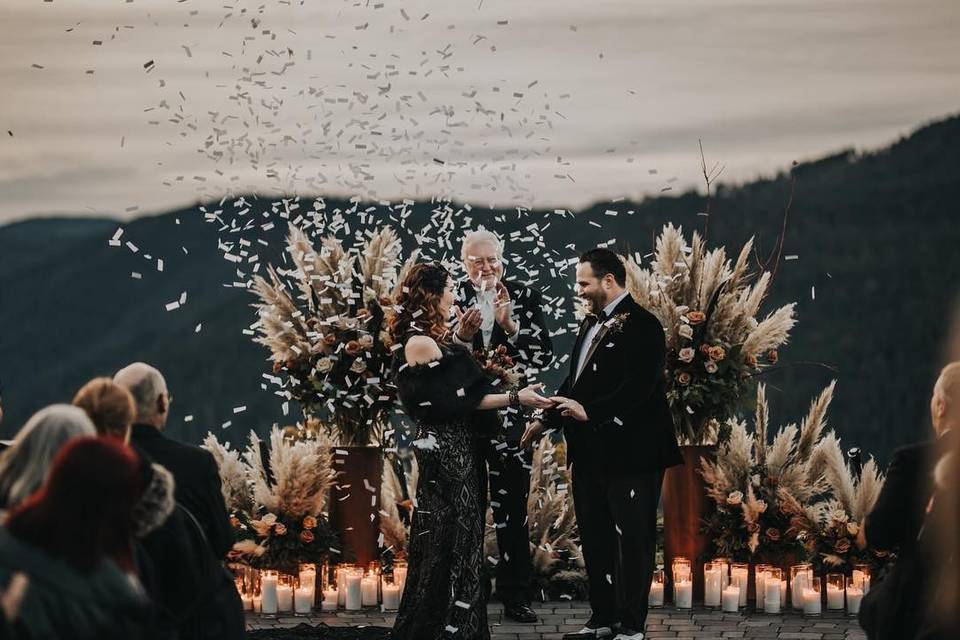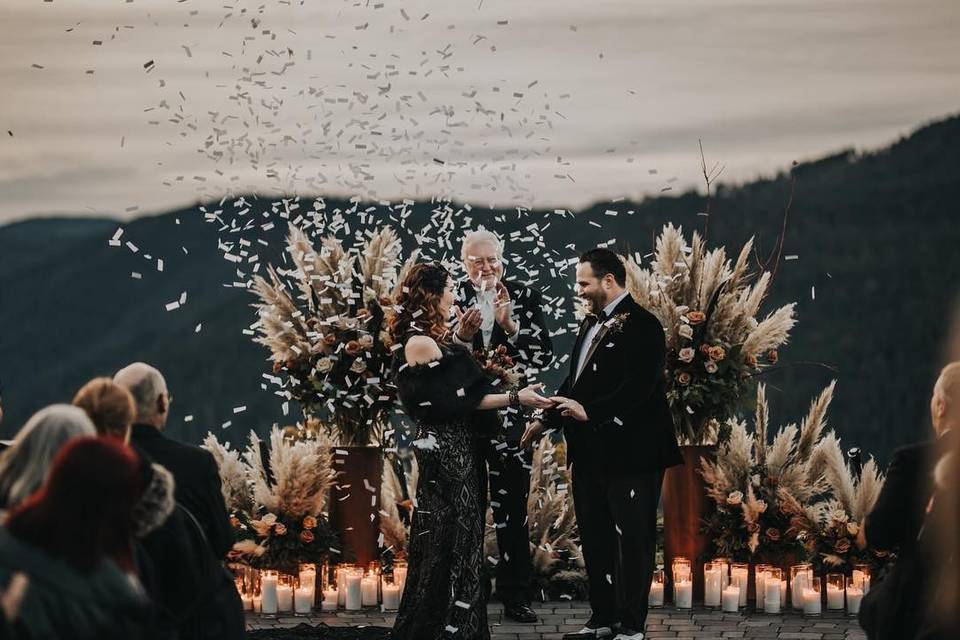 Are you looking for pampas grass wedding decor ideas? We're here for it. The popular wedding trend isn't going away anytime soon. In fact, florists and event designers are finding even more creative ways to incorporate it into wedding decorations. What started as a boho wedding style has evolved into a look that can fit beautifully into any environment and theme. Pampas grass is particularly effective for spacious venues and outdoor weddings as the large plumes provide volume to arrangements at a relatively low cost. From wedding altars and aisle markers to hanging pampas grass arrangements and wedding cake decorations, they certainly pack a punch.
What is pampas grass?
Pampas grass (a.k.a. Cortaderia Selloana) is a tall and strong reed with a large, fluffy plume and is native to southern South America. It's actually considered somewhat of an invasive species in North America and you'll find it growing naturally across Canada. While you can forage it from the great outdoors, the plumes are prone to shedding. Your florist will likely use treated varieties available on the market (they're sold online by sites like Etsy and specialty shops)—although untreated plumes can be treated by giving them a good shake, fluffing them with a blow dryer (if that's the effect you're going for) and spraying them with hair spray.
Here are our favourite ways to use pampas grass in your wedding decor.
Wedding arch arrangements
Use a combination of pampas grass, flowers and greenery to adorn a rustic wooden wedding arch that fits naturally into an outdoor setting.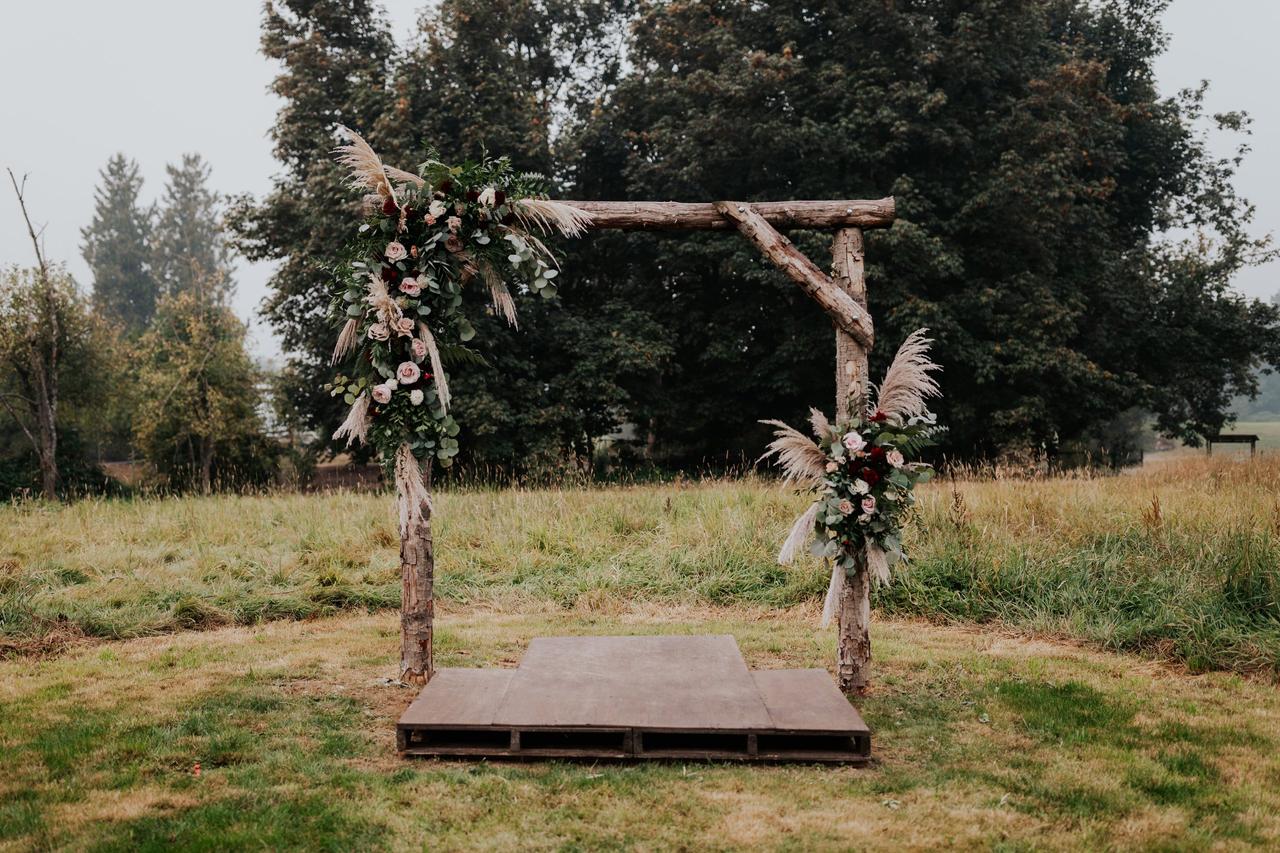 Wreath accent
Whether you go far a huge wreath backdrop or a smaller wreath decoration, you can use pampas grass arrangements as a contrasting decorative accent.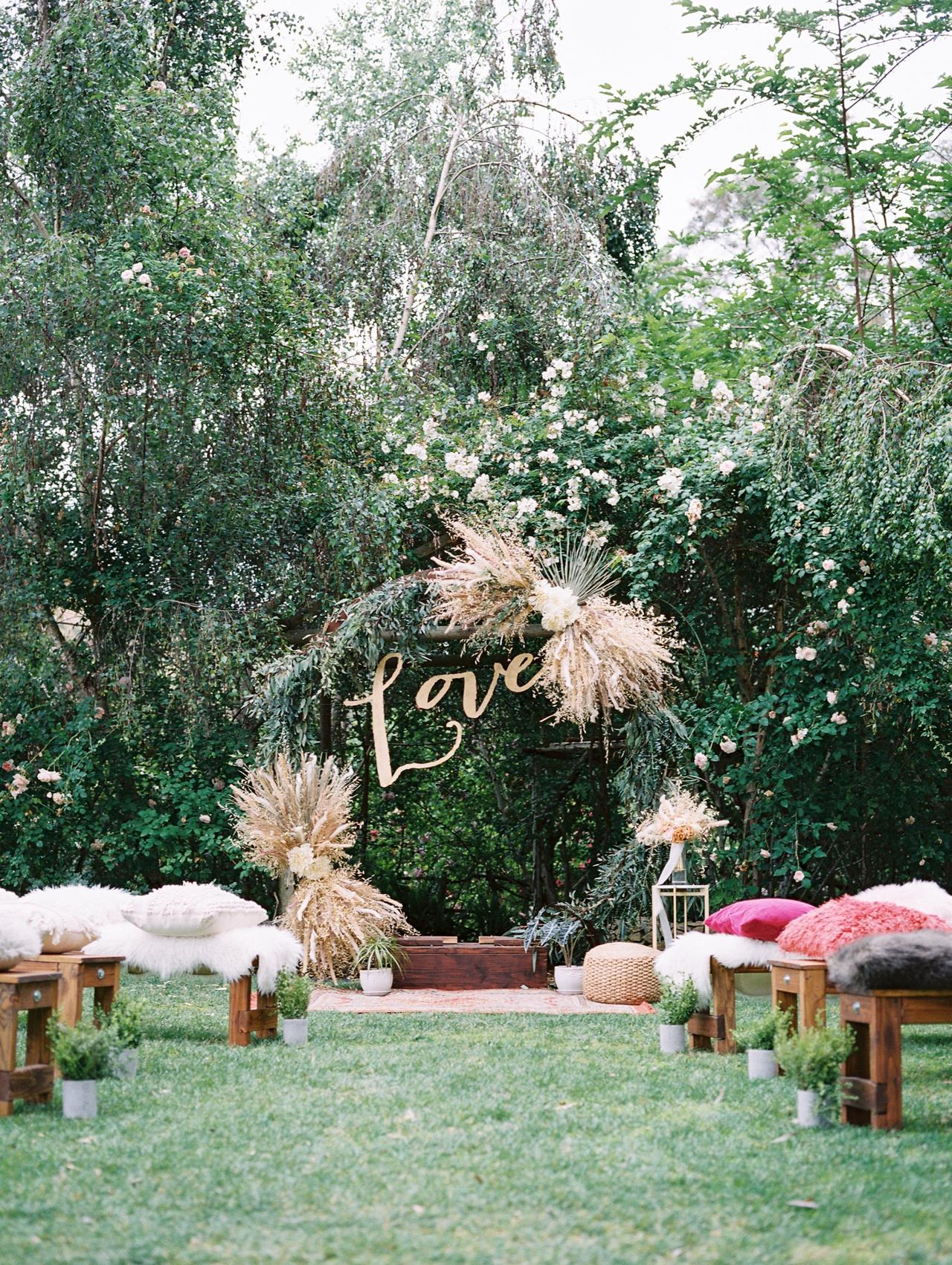 Pampas grass wedding arch
We love natural-hued decorations made primarily of pampas grass like this gorgeous wedding arch.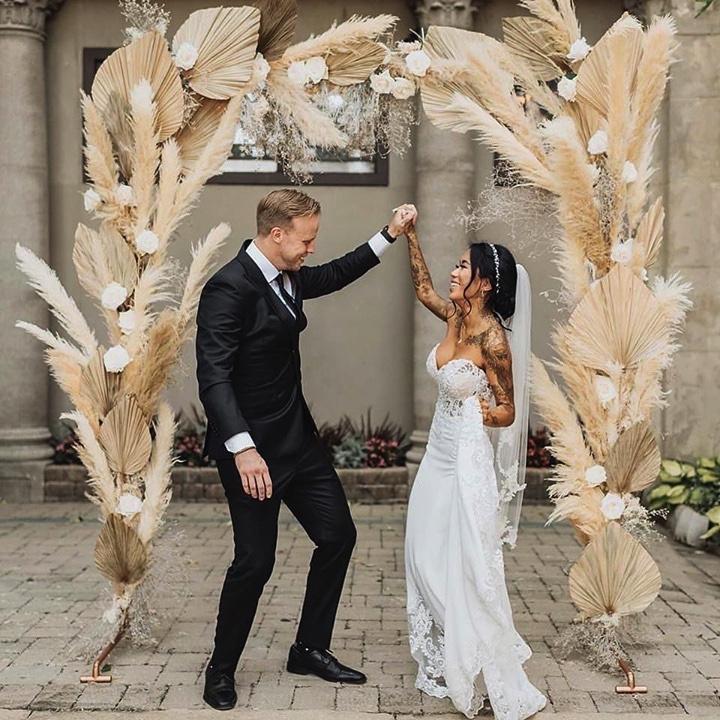 Feathery effect
For a more glamorous wedding theme, pampas grass is a trendy alternative to feathers for your decorations,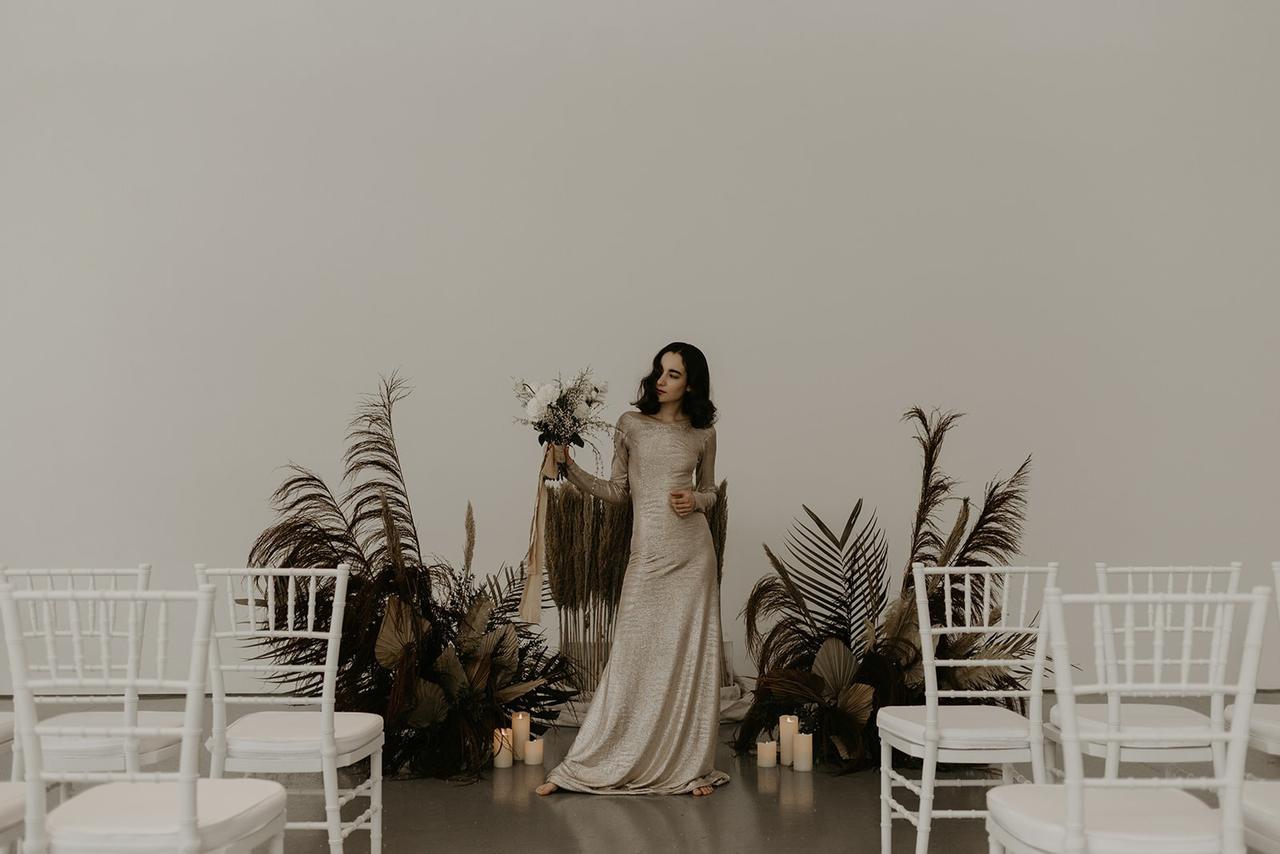 Asymmetrical altar
If industrial chic is more of the vibe you're going for, the versatile grass can be used to decorate a metal grate with an asymmetrical design complete with a fringe-like canopy.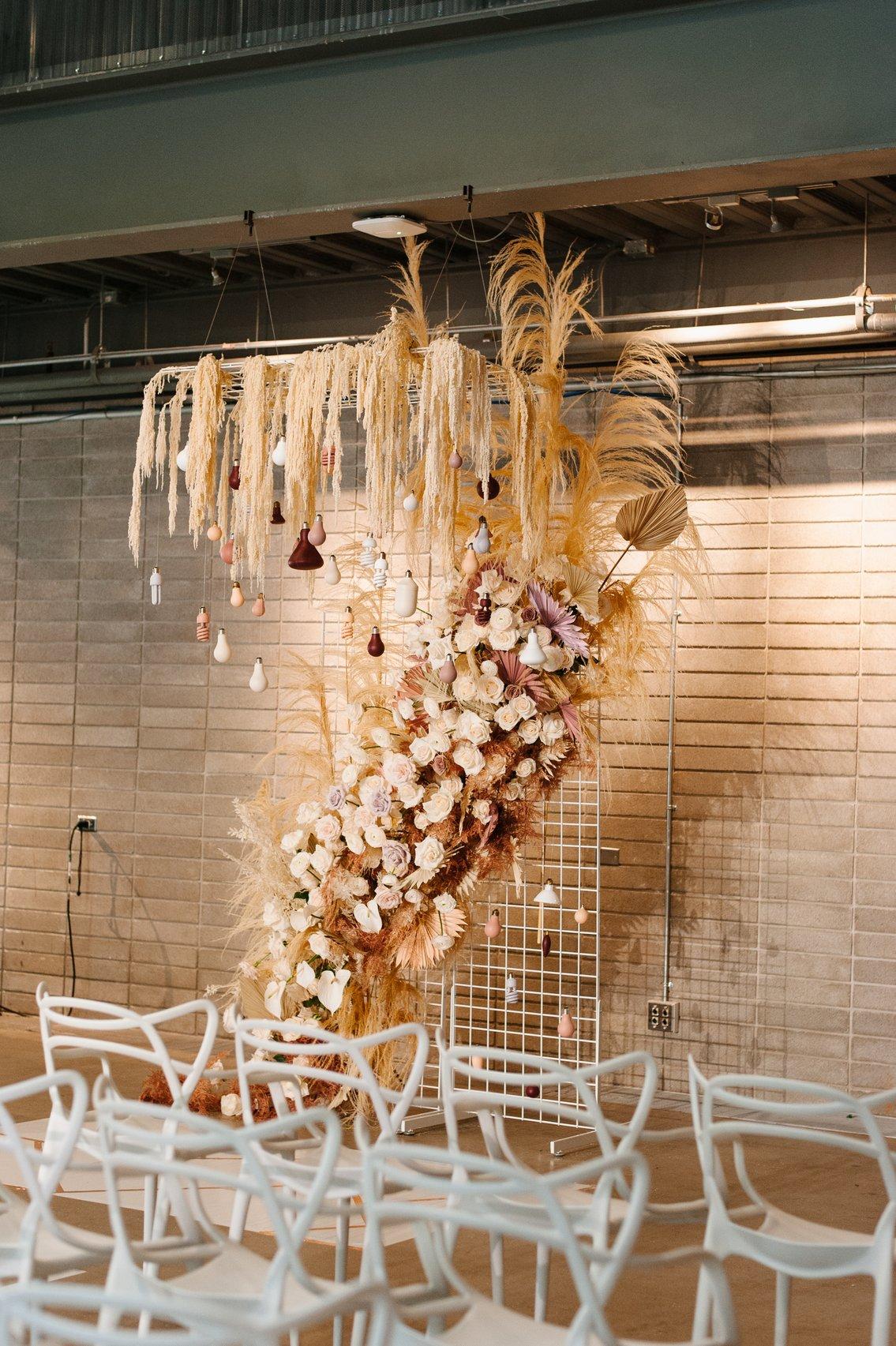 Boho-themed setting
Create an ultra-romantic setting for a boho-themed engagement photo shoot or elopement, by using pampas grass, along with florals, lanterns, candles and an antique rug to set the scene.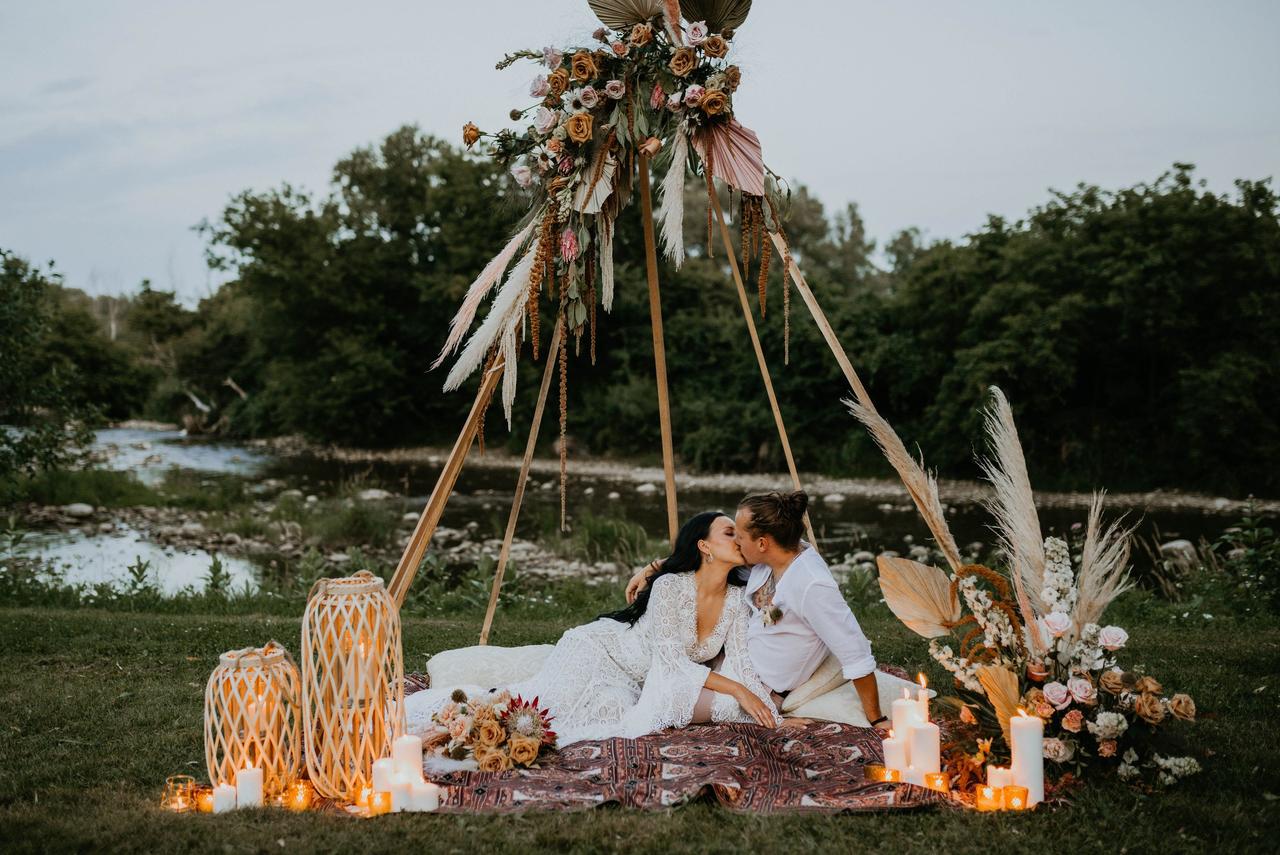 Two tones of stems
Coordinate the look of your altar arrangements, bridal bouquet and aisle markers with a combination of natural-toned and dyed pampas grass to match your colour scheme—the hues available are gorgeous, like this burgundy pampas grass.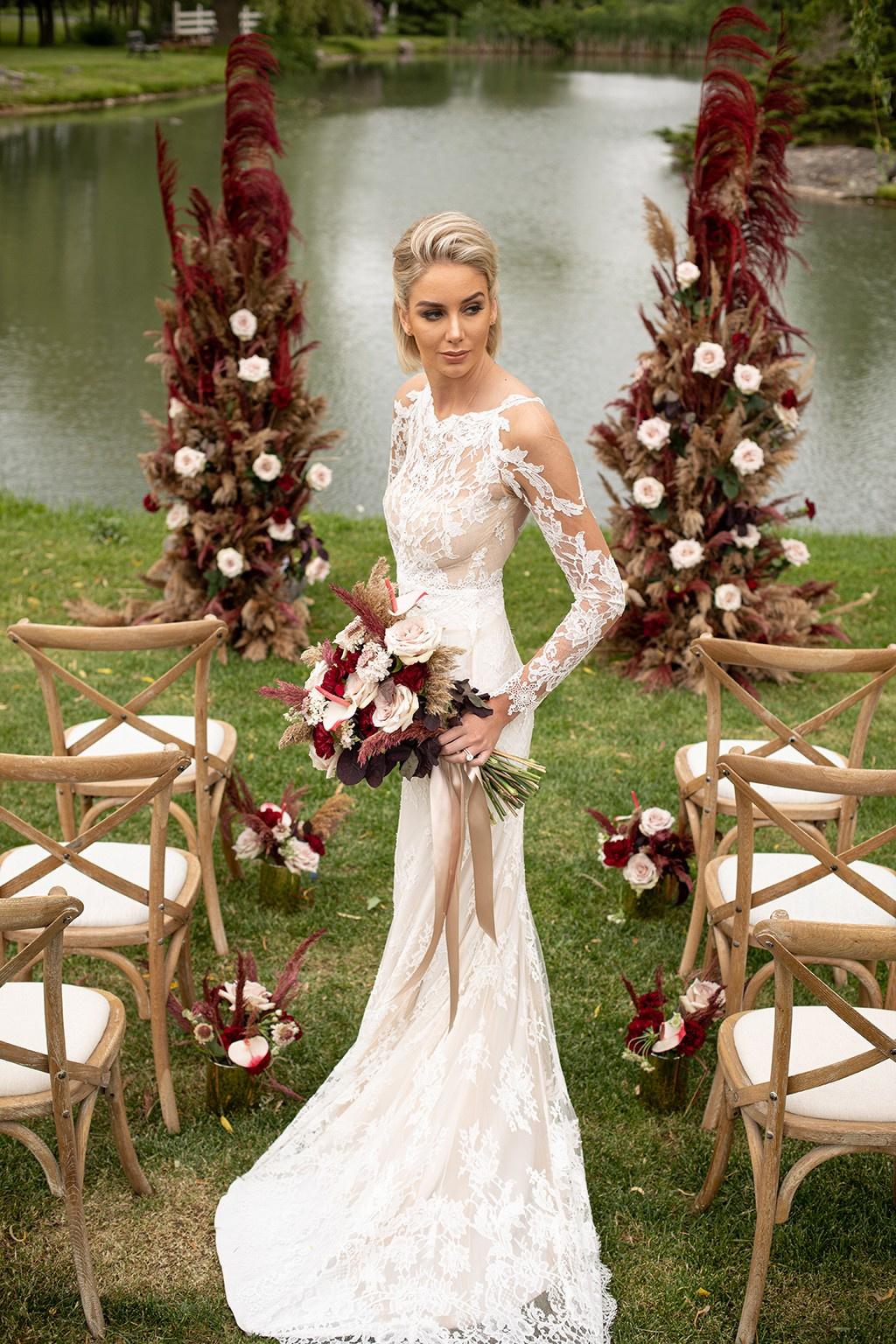 Boho bridal bouquet
How dreamy is this bridal bouquet featuring a few fluffy plumes of pampas grass for a boho wedding look?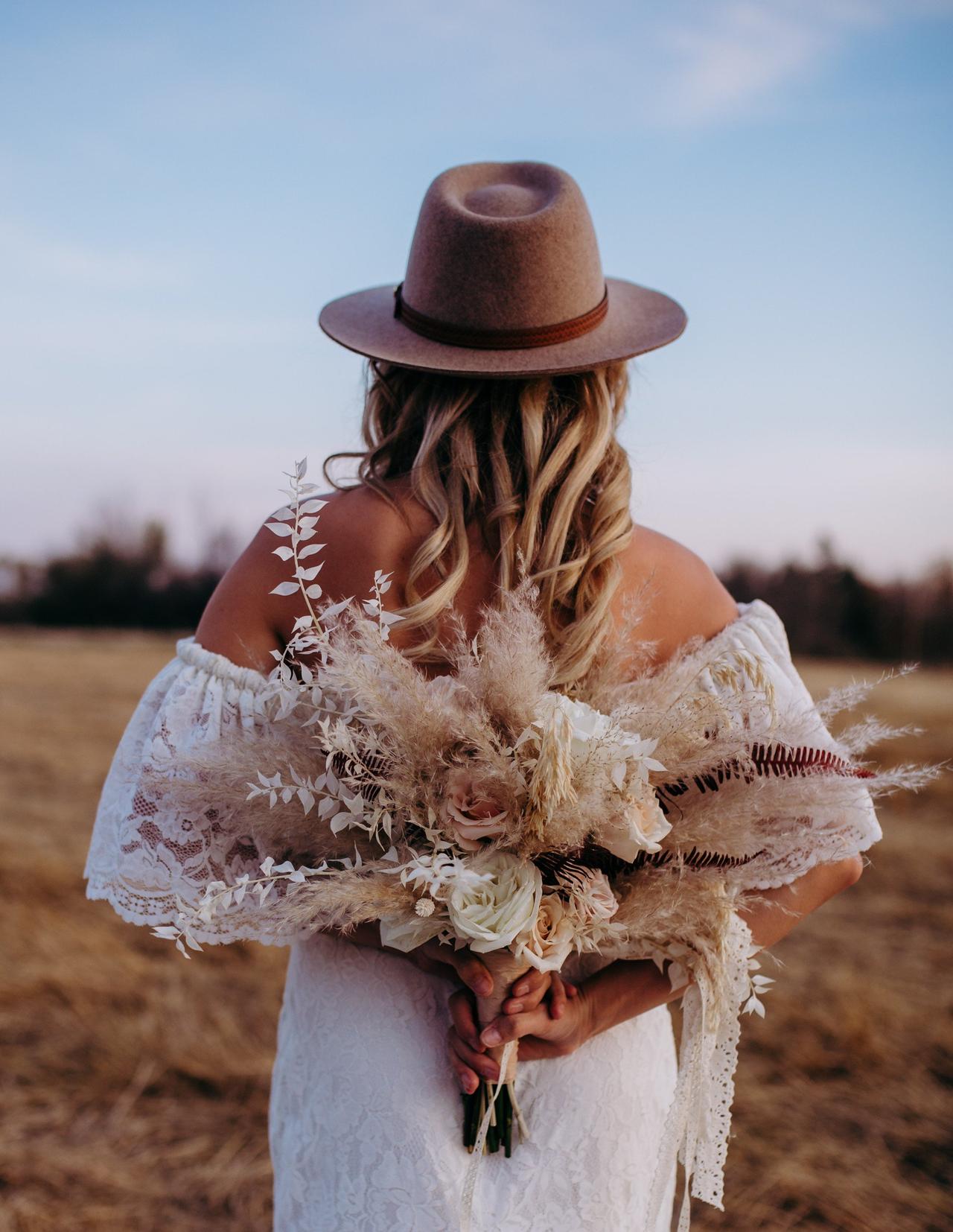 Rustic chic flowers
For a rustic-chic affair, you can add a few stems to florals and greenery for an elegant wedding bouquet. We especially love this look for a fall wedding.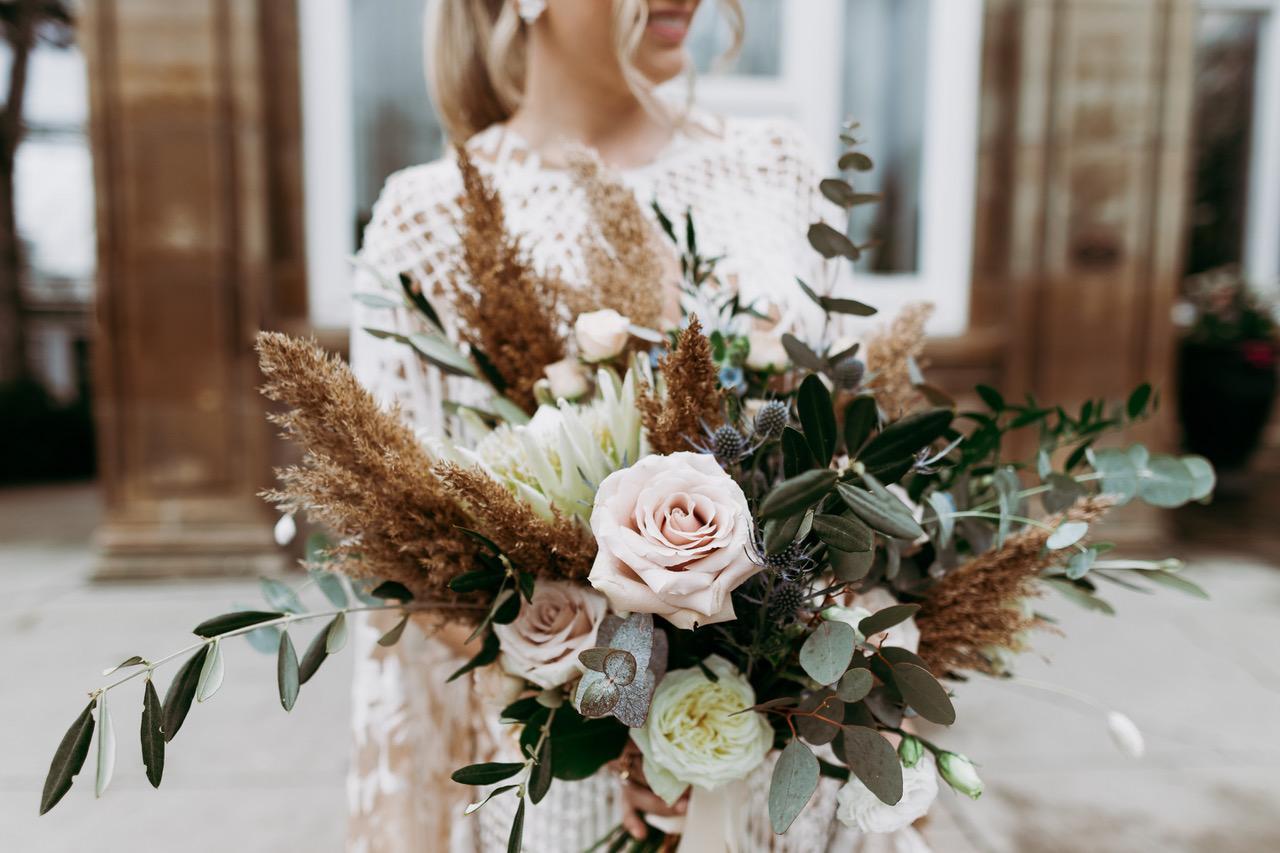 Oversized arrangements
Tall vases filled with big bunches of pampas grass stems can create dramatic focal points throughout your event space. Here they act as a soft backdrop to a modern metallic frame seating chart and a decorative accent to a lounge area.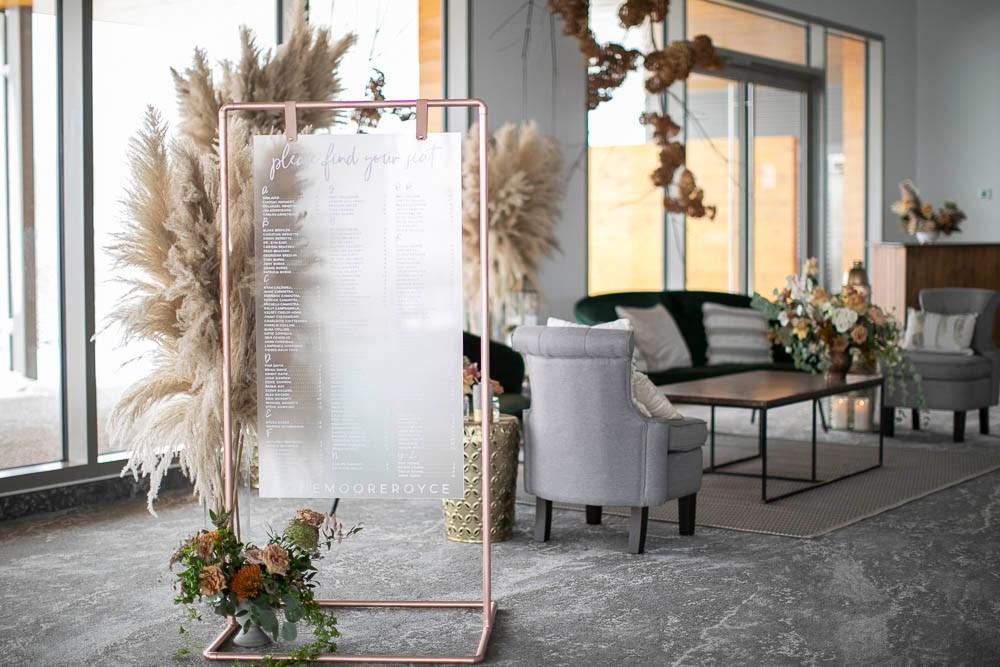 Floral Installations
Hanging florals have been a popular trend for a while now. Pampas grass arrangements are a truly spectacular addition for creating a large yet airy display.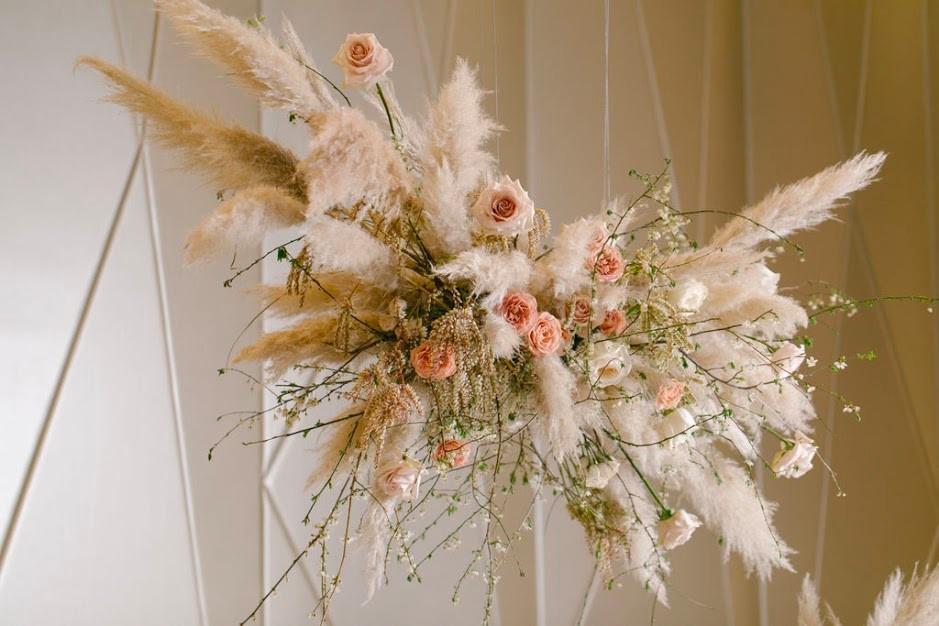 Wall hanging
If your wedding venue is a blank canvas, hang a few whimsical wall hangings for an artistic touch.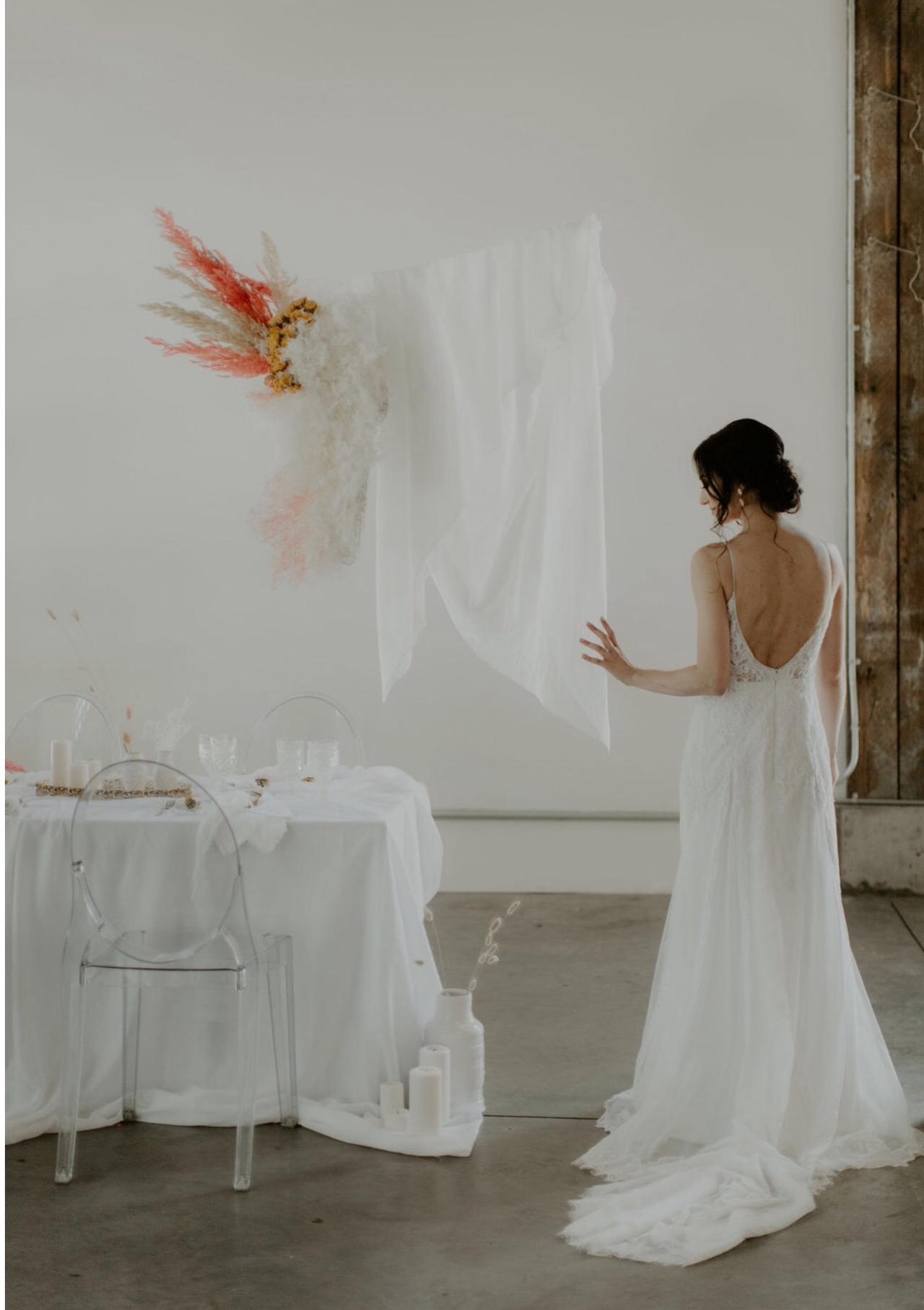 Pampas grass centerpieces
The feathery nature of the plumes lend themselves to tall vases or elevated bouquets for your table centerpieces.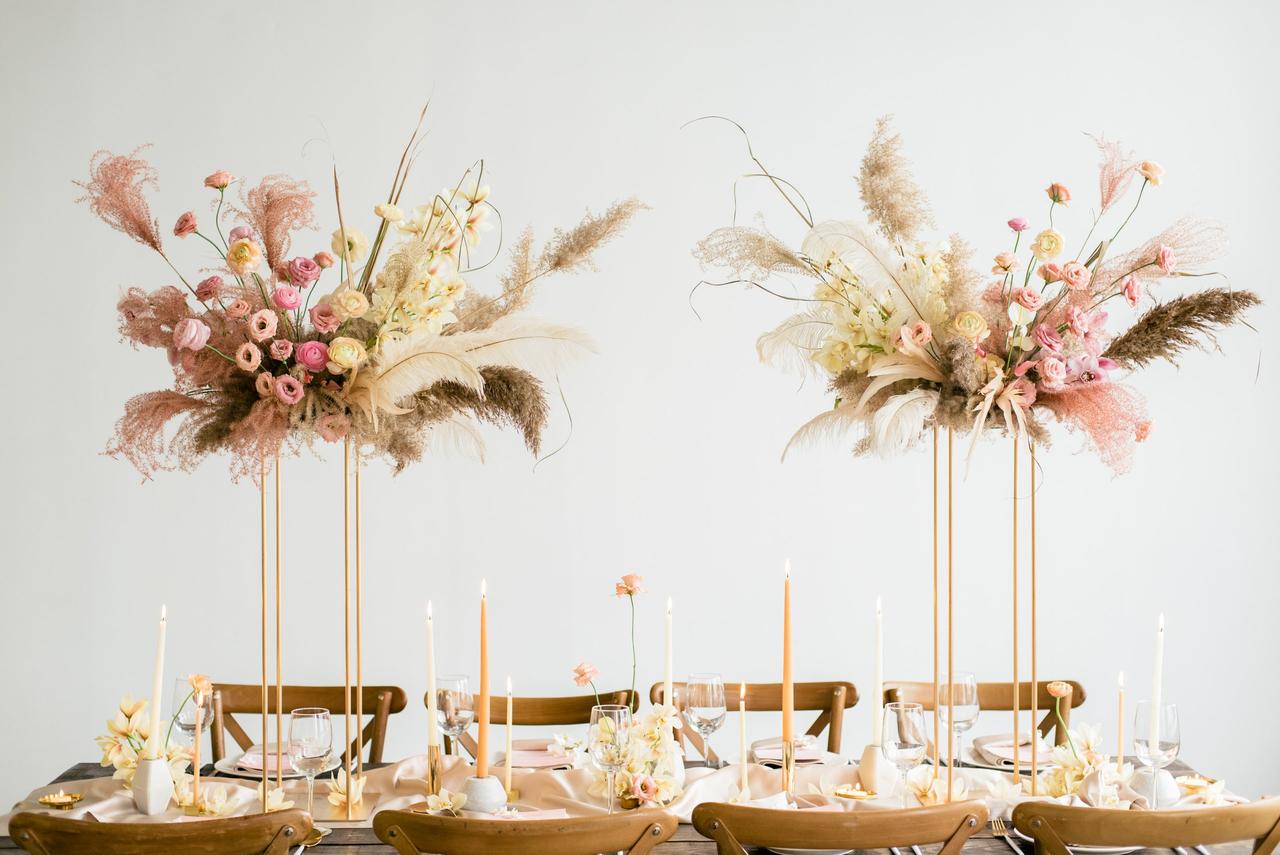 Textured display
Take inspiration from this dessert display featuring a variety of fresh and dried florals in a neutral palette paired with a textured wedding cake, macrame backdrop and black accessories.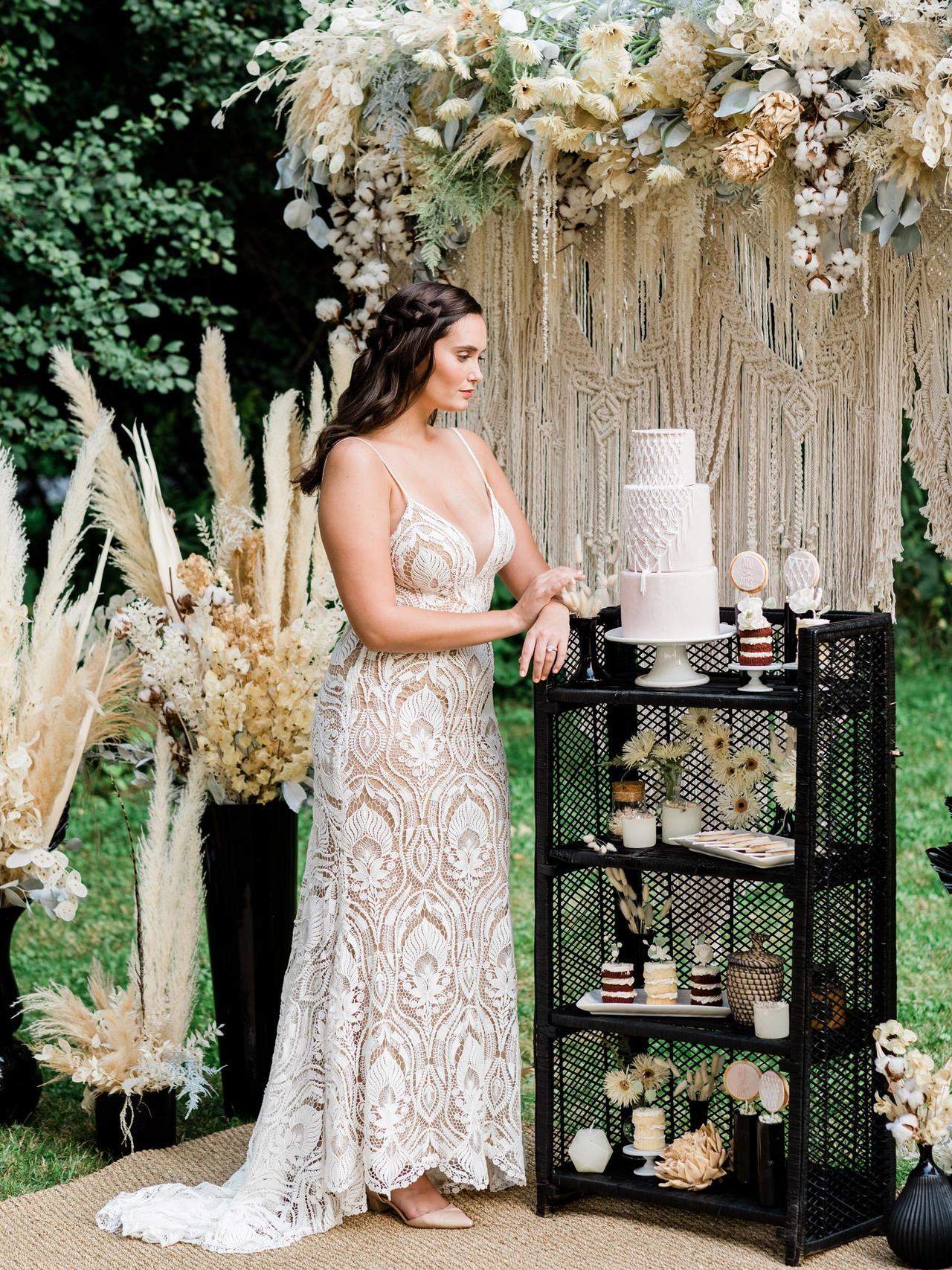 Wedding cake decoration
A little goes a long way when stems of pampas grass are used to decorate a wedding cake. Sugar flowers and a few plumes make the perfect pairing.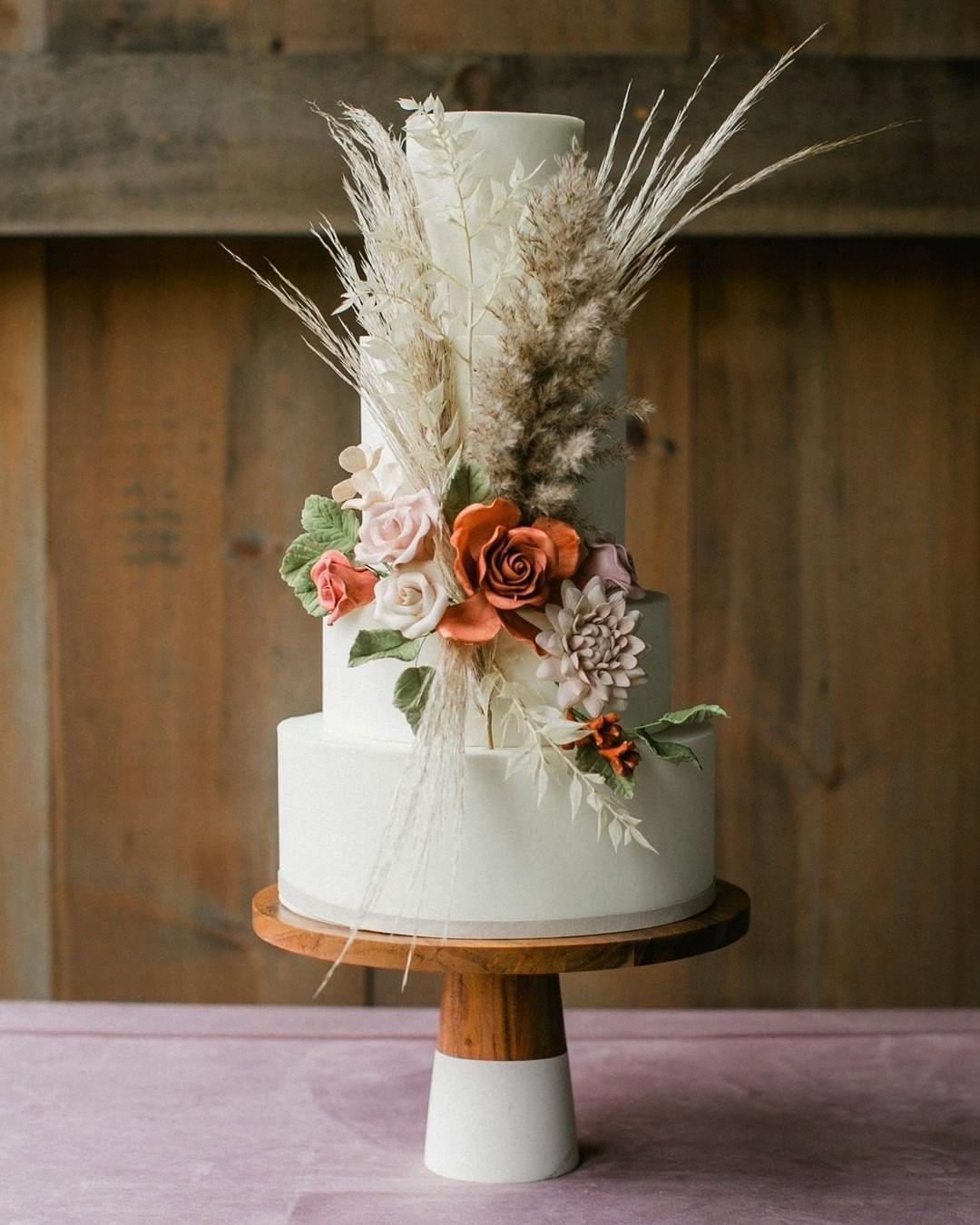 Wedding invitations
Even your wedding invitations can feature the plumes with a botanical illustration. We love the soft colour palette used for this wedding stationery suite.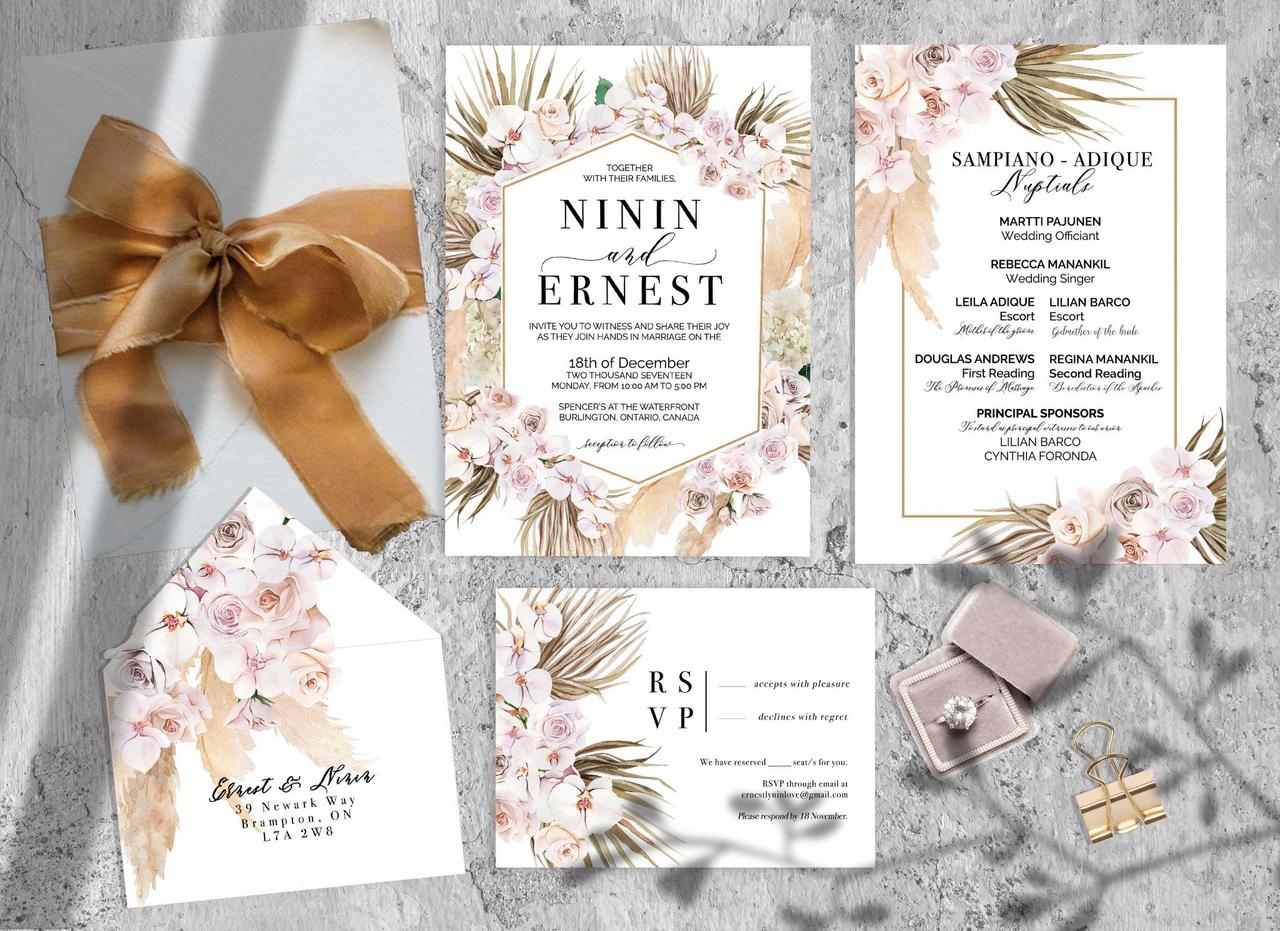 Dramatic backdrop
The contrast of geometric patterns with fluffy pampas grass plumes works well for a stylish wedding backdrop.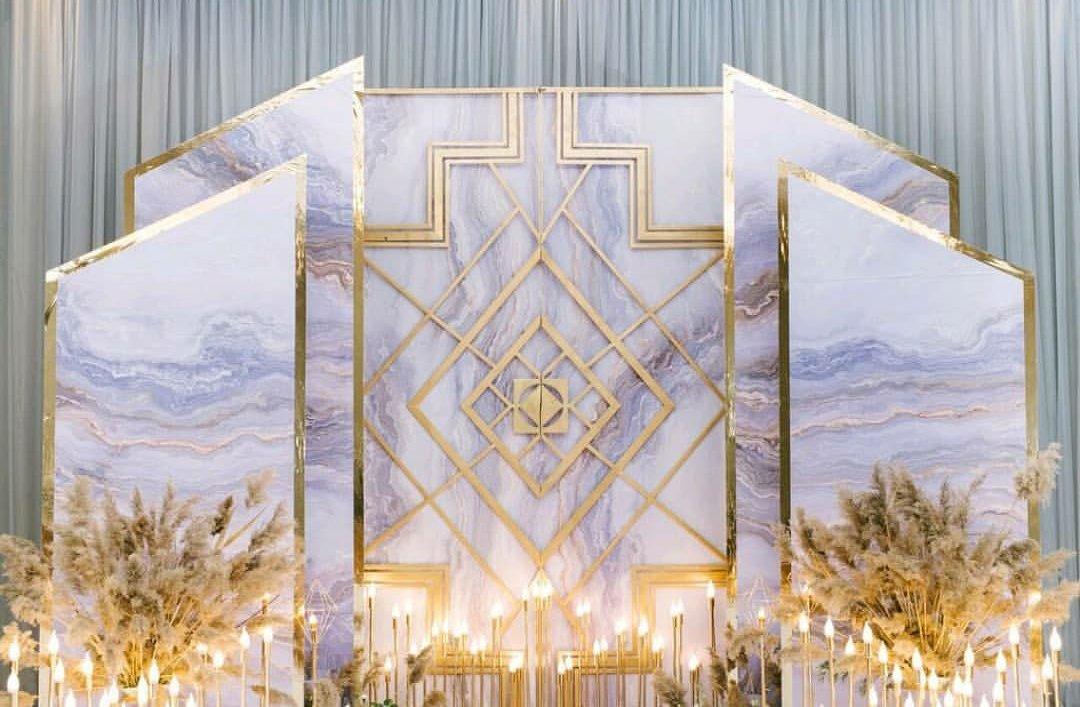 Photoshoot prop
Looking for a more natural photoshoot prop than an oversized balloon? A gigantic bouquet of fluffy pampas grass will do the trick.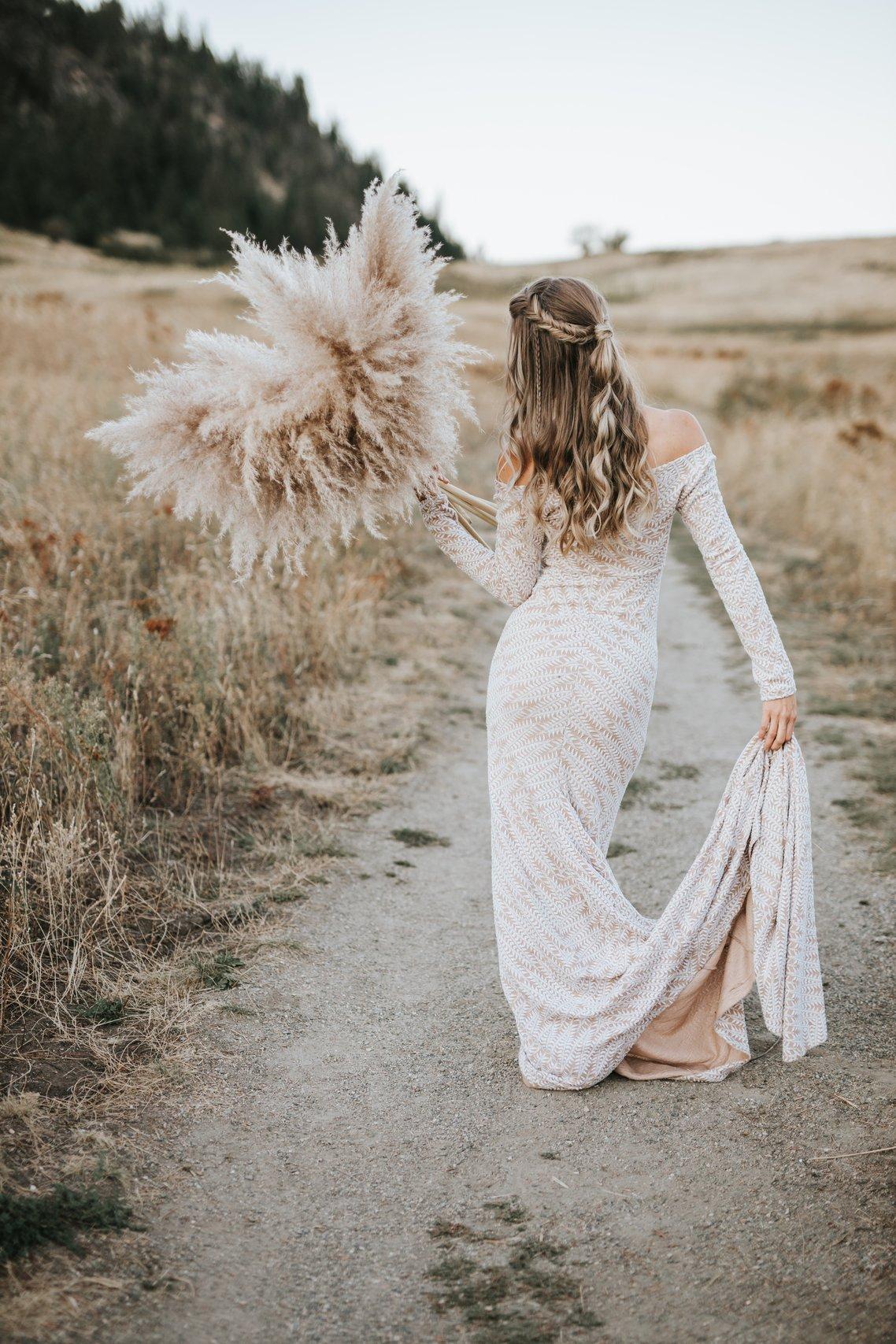 Enhance your mobile bar
If you've hired an adorable mobile bar to roll into your wedding, add some pampas grass arrangements to make it even more eye-catching.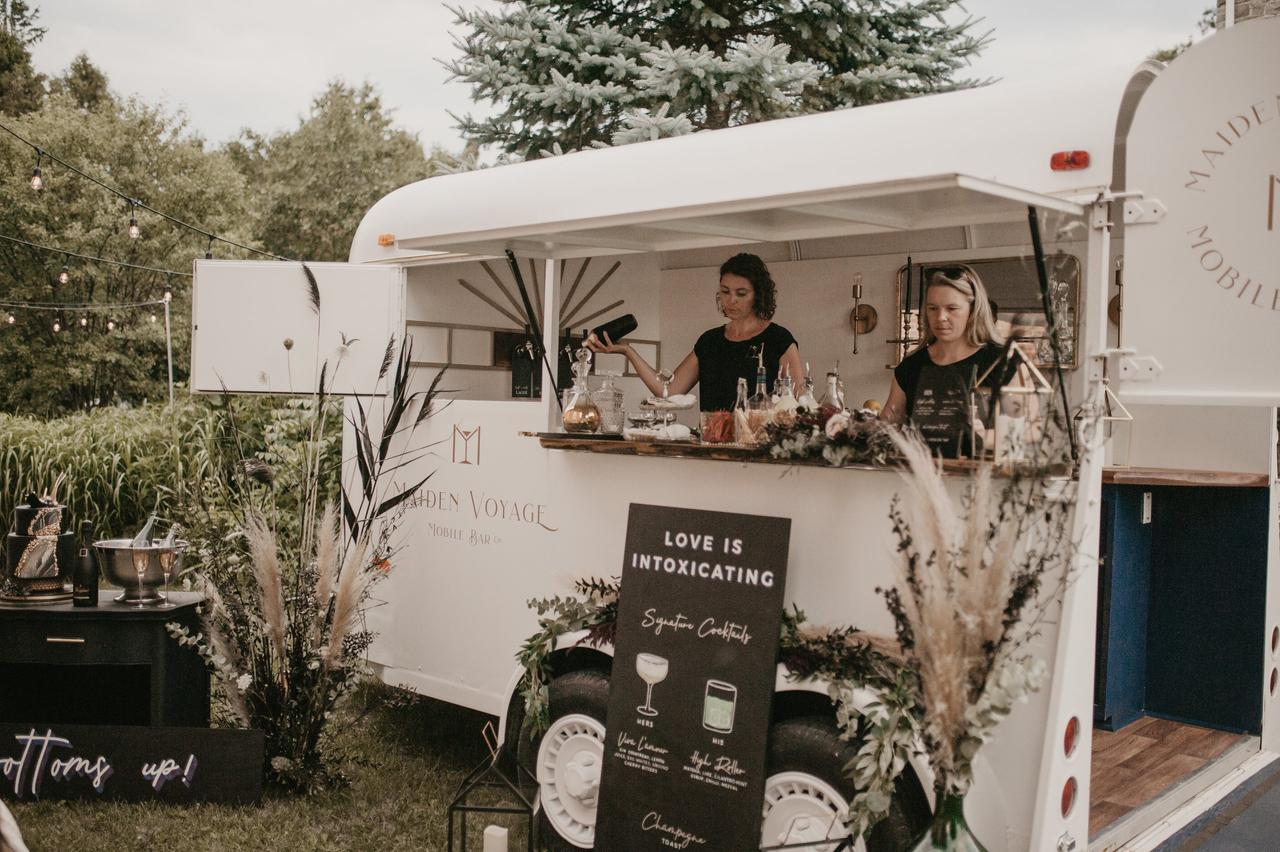 Simple pampas grass centerpieces
Add height and drama to your reception tables with a few sprigs of pampas grass in tall vases placed alongside green garlands running down the centre of the table.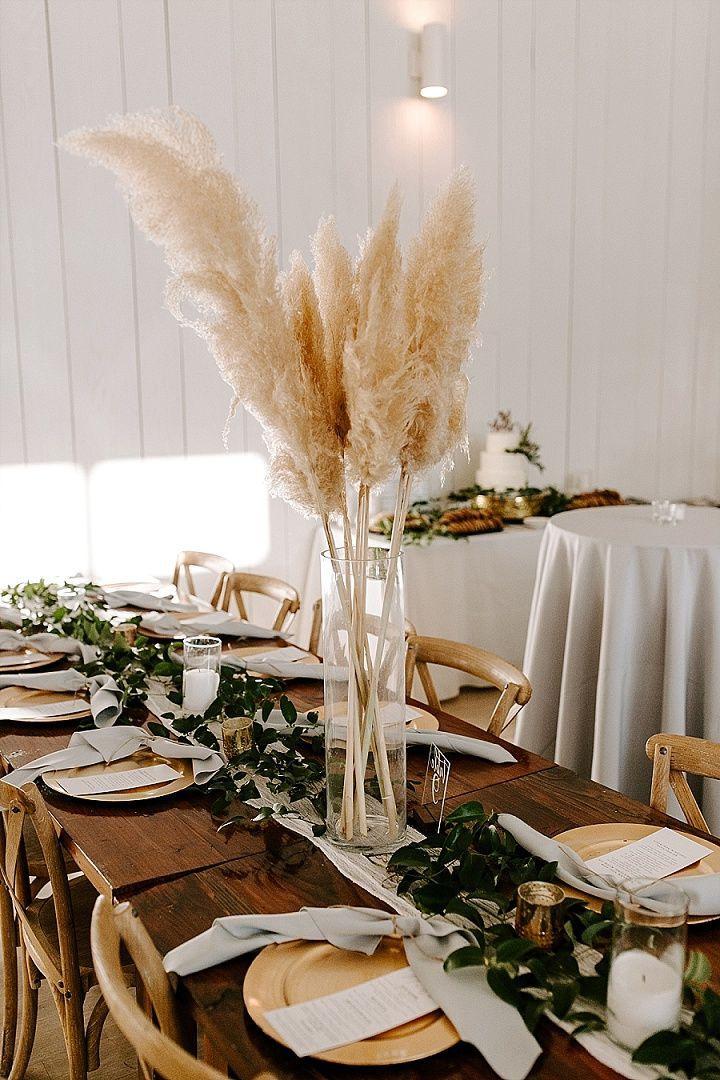 Make an A-frame backdrop
Large and luxurious pampas grass arrangements adorning a simple A-frame structure creates a stunning altar for your wedding vows. Repurpose it for a sweetheart table backdrop or your photobooth set.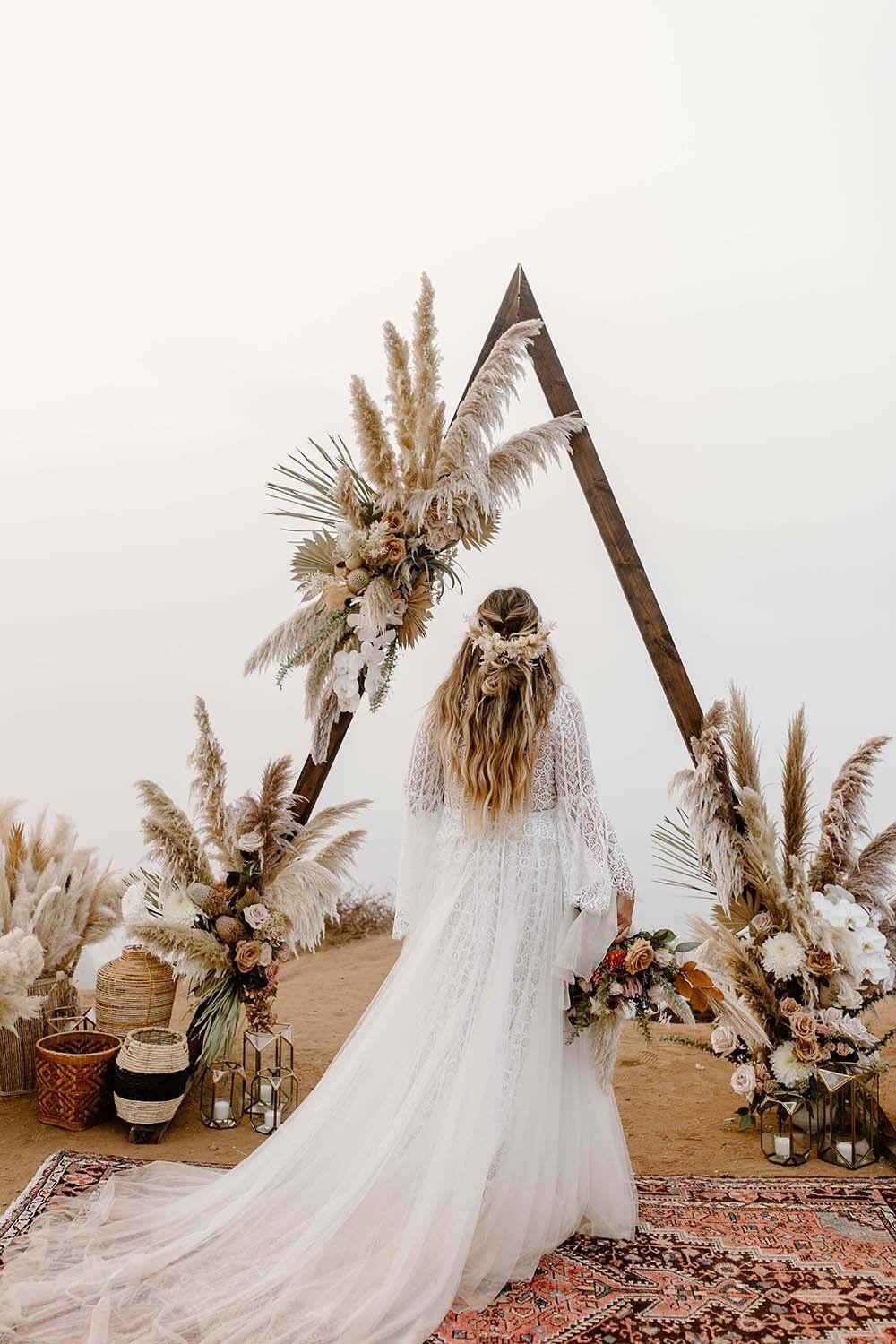 Find wedding florists and wedding decorations on WeddingWire »