10 Wedding Altar Ideas for Every Style of Celebration
Can't decide what style of wedding altar to go with for your big day? We've got ideas for the most popular types of wedding themes right here.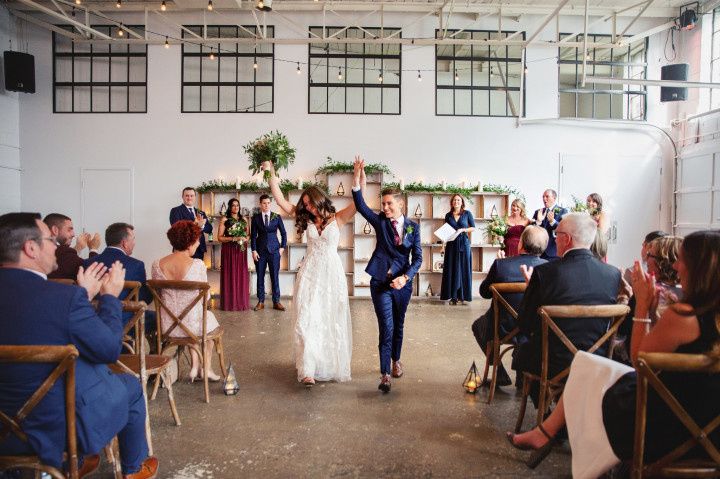 The most important piece of wedding ceremony decor is the wedding altar, so naturally, you want yours to be drop-dead gorgeous. While you could go with a simple arch or arbor setup, opting for something that suits your unique wedding theme will definitely take it to the next level. If you don't know where to begin, we've rounded indoor and outdoor wedding altar ideas for the most popular themes in the wonderful world of weddings ATM. Bonus: these can do double-duty as reception decor or wedding photobooth backdrops, too.
Here are wedding altar ideas for every type of celebration.
Minimalist
For a modern wedding altar look, a geometric design is the way to go. We suggest keeping things sleek, simple and minimalistic - you really don't need tons of trimmings to make this style look awesome.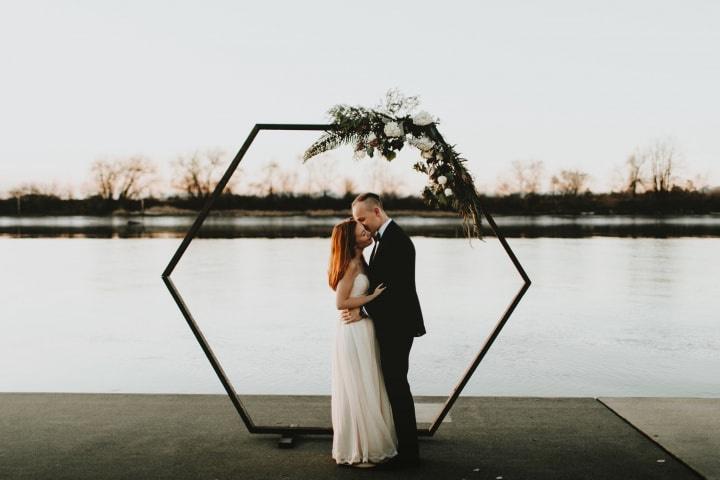 Elegant
Looking for more traditional, elegant wedding altar ideas? Use linens to create a glamorous backdrop for your altar. Simple white looks classic, but you can make your space more dramatic with patterned or metallic curtains.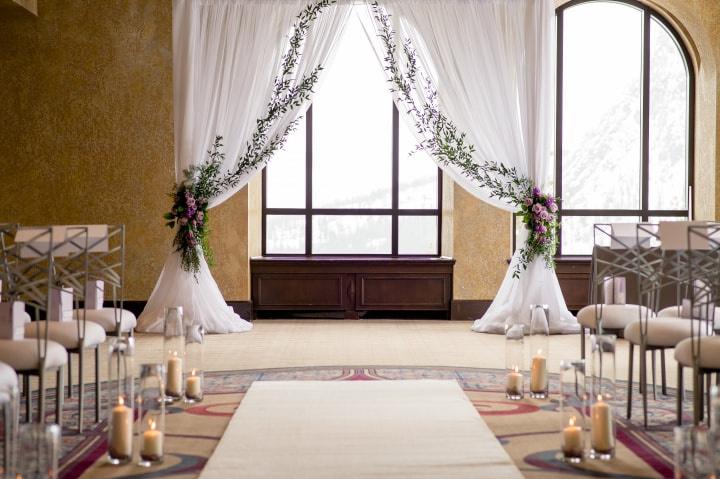 Vintage
Everything old is new again! Create a dreamy vintage altar by using wooden doors in place of a traditional wedding ceremony arch. You can easily amp yours up with a few coats of paint and by accessorizing with floral arrangements, garlands and linens.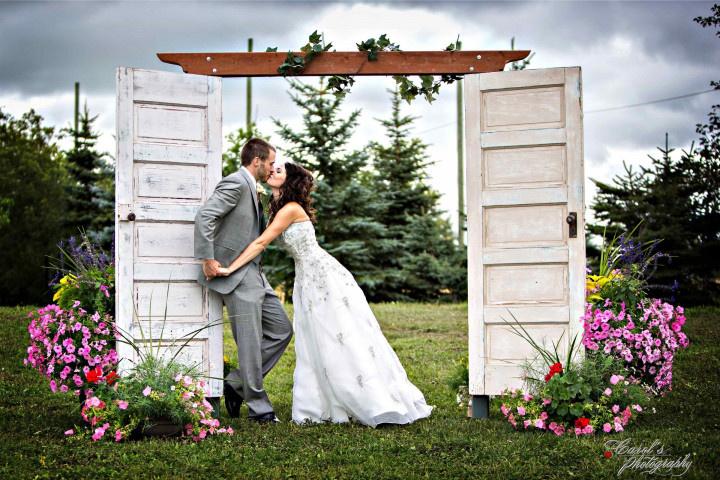 Rustic
Give your wedding altar the rustic-chic treatment by opting for wood-heavy decor. We love the idea of repurposing a shelving unit, like this couple, but ladders also look great. Pro tip: if you do go this route, you'll want to stock up on wedding decorations for your ceremony like candles, lanterns, garlands and photos to make it even more magical.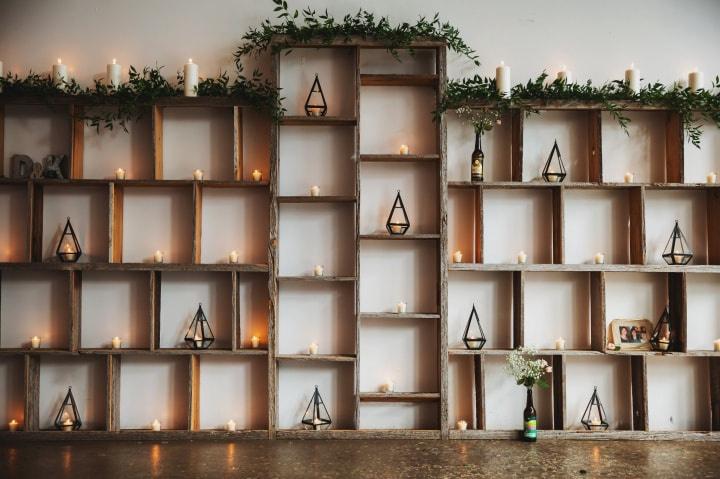 Whimsical
Forget about neutral tones and traditional trimmings - this wedding altar idea takes a playful twist by decorating it with dozens of multicoloured balloons. Intermingling flowers, linens, and other bits and bobs will really take it to that next level.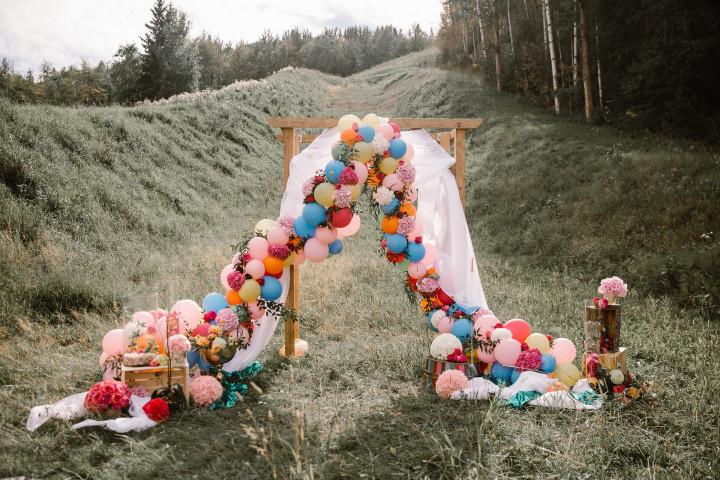 Boho
If you really want to embrace those hippie-chic bohemian wedding vibes, incorporate some macrame into your wedding altar design. This looks awesome when paired with flowers, so we highly suggest adding in a few floral wedding altar arrangements. P.S. you can totally repurpose the macrame hanging in your own home after the wedding, so it's totally worth splurging on.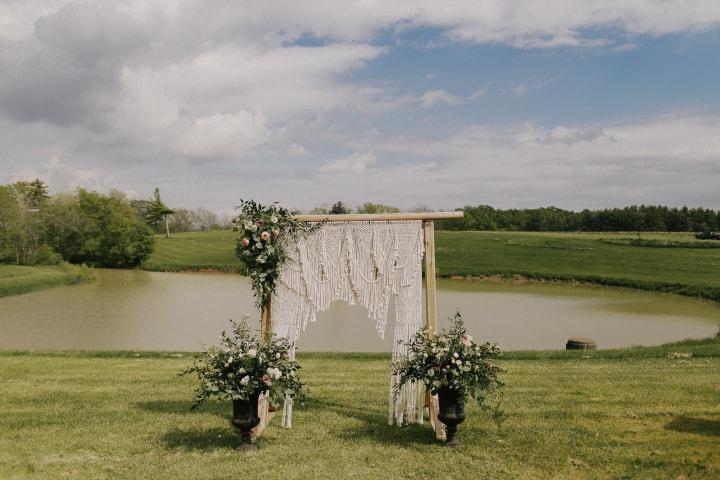 Garden
This one's kind of a no-brainer, but if you're hosting a conservatory or garden wedding, you'll probably want to stick with the theme and make a floral wedding altar with beautiful blooms. Keep in mind that this can get pretty pricey, especially if exotic flowers are your cup of tea, so you might want to consider going with faux versions made of paper, plastic or fabric (the end result will be just as photo-worthy).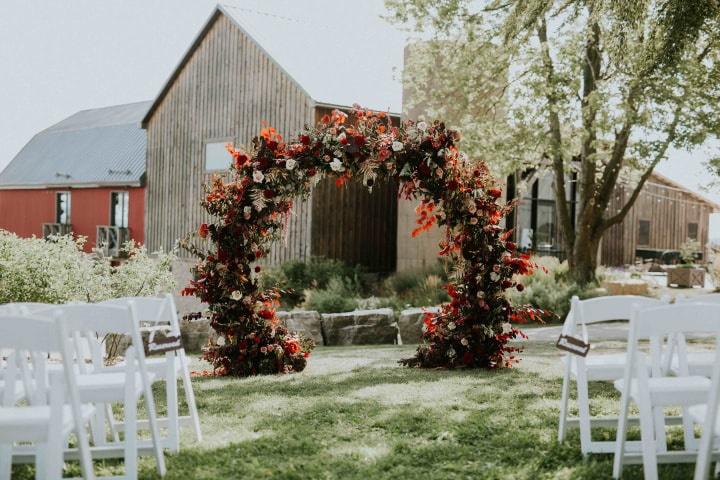 Industrial-chic
Hosting your wedding in a trendy gallery, warehouse or loft space? Work that stunning industrial chic wedding style into your altar! Decorations like hanging Edison bulbs and DIY art projects will create a focal point for your ceremony backdrop. If your venue has an exposed brick wall or graffiti (like this one), even better.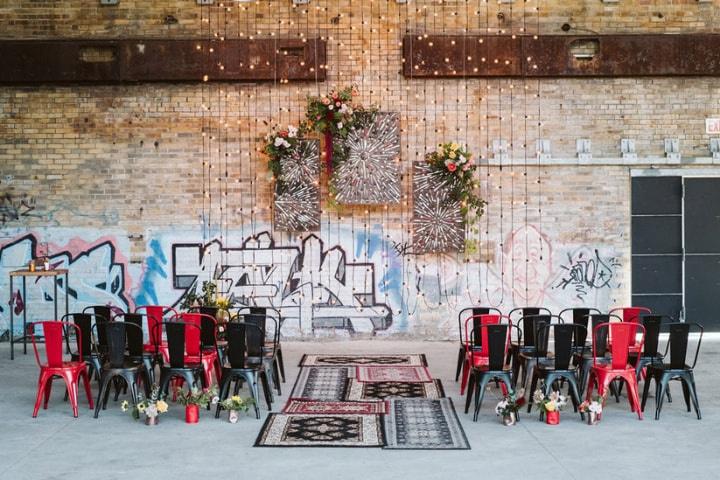 Beach
If you're having your wedding ceremony on a beach, you'll already be blessed with a beautiful backdrop for your 'I dos'. We suggest going with something on the simpler side, so you can really let the waves and water shine. An outdoor wedding altar made with driftwood fits the theme perfectly and is pretty inexpensive to craft (it's actually free if you collect the pieces yourself!).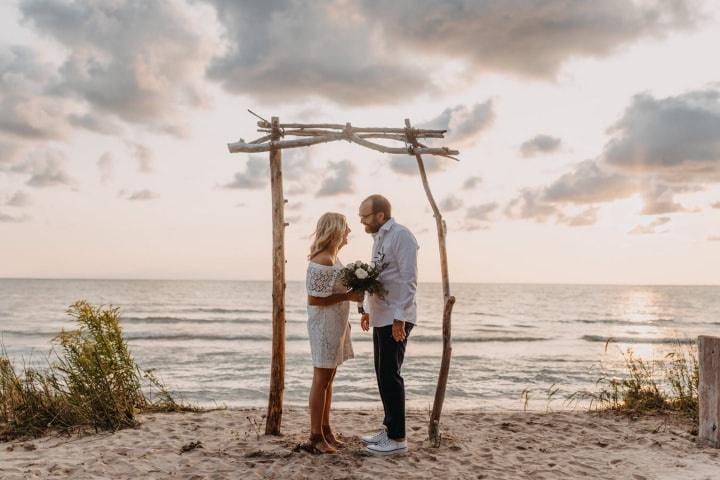 Tropical
We love this exotic outdoor or indoor wedding altar idea for a tropical wedding theme in the sunny south or the Great White North. Instead of fairy lights or linens, simply adorn your altar with tropical greenery. If you don't want to deck out the entire frame, you can add a few altar arrangements filled with monstera, palms, snake plants and more.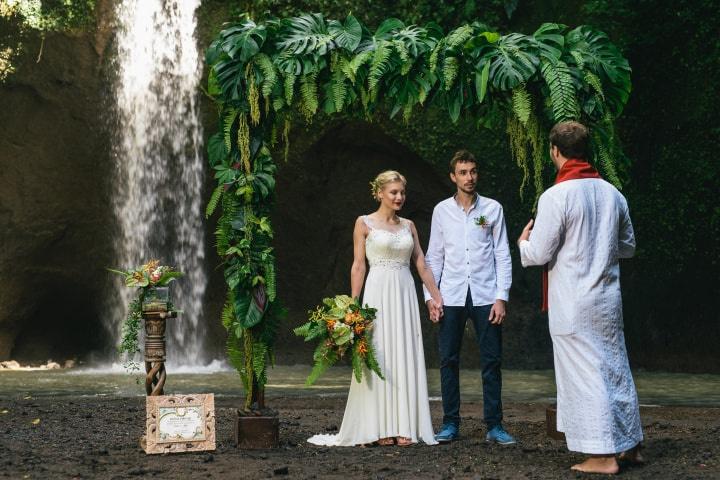 Find wedding decorations, florists and event rentals on WeddingWire »