17 Awesome Industrial Chic Wedding Ideas
Planning on making your wedding an industrial affair? From modern stationery to edison bulbs, here's everything you need.
Having your big day in a trendy loft space or warehouse? We've got a few awesome industrial chic wedding ideas for you. These are bound to take your brick, beam and concrete venue to the next level, so consider working a few of them into your design, dessert and decor plans.
Here are 17 awesome industrial chic wedding ideas.
Modern stationery
Instead of flowery script and colourful graphics, opt for sleek, streamlined wedding invitations. Minimalist and modern is the way to go!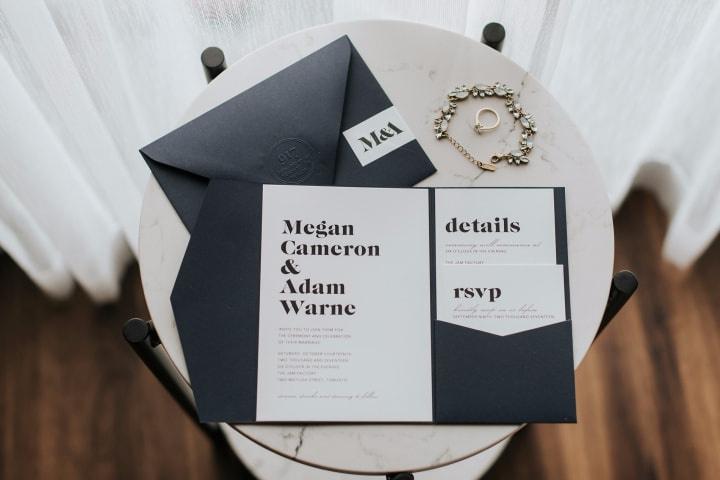 Pops of gold and copper
Industrial venues can be a little cold, so warm things up with pops of gold and copper where you can. Flashy chairs, centrepiece vessels and flatware all look stunning.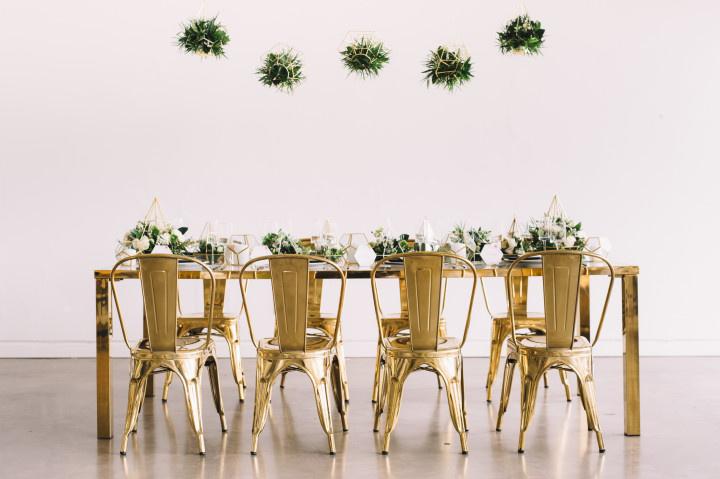 Brewery wedding venue
Can't decide on the perfect venue for your industrial chic affair? If a loft or warehouse isn't for you, try a brewery - Canada has plenty of wedding-worthy options.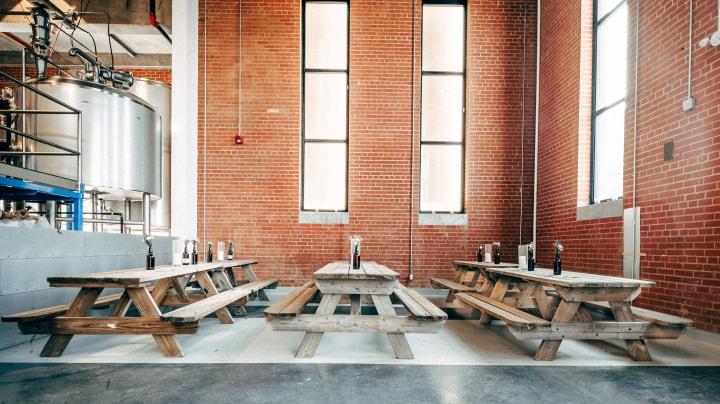 Plant wall
Forget about flower walls! If you're looking for a fun way to introduce a bit of nature into your brick and beam space, go for a backdrop filled with ferns, vines and other greenery.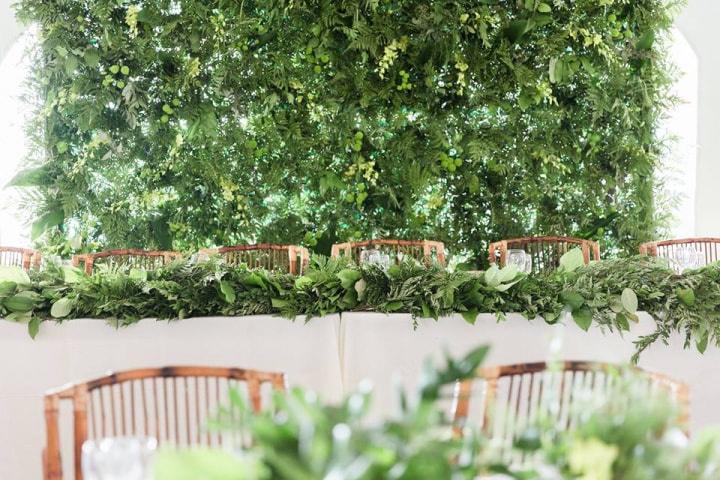 Edison bulb strands
These are the hipper siblings of fairy lights and you definitely need to incorporate them in your wedding venue decor. They'll warm up the room and look awesome in photos (here's proof).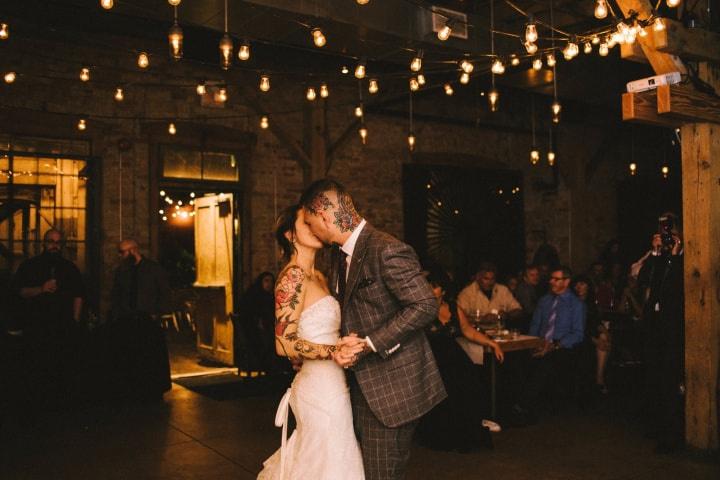 Metal signage
Play off the industrial feel of your space by using metal signage to point your guests in the right direction.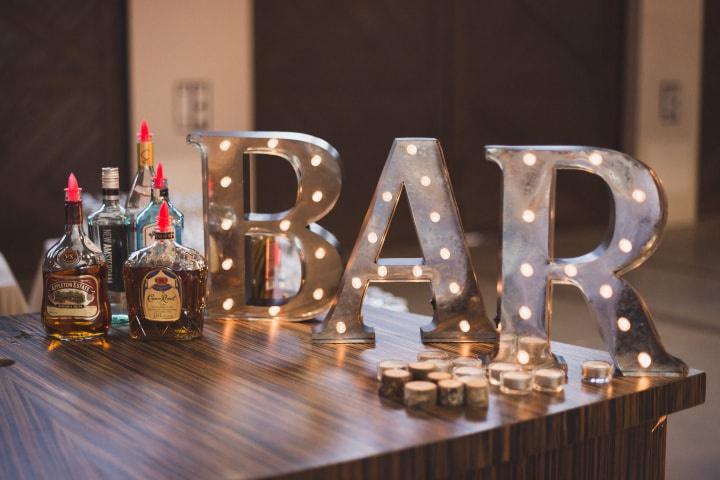 Graffiti photoshoot backdrop
Strike a pose in front of a graffiti-clad wall to grunge up your wedding photos. Pro tip: don't forget to check that there's not any expletives or lewd imagery before you start posing - you don't want any of that in your shots.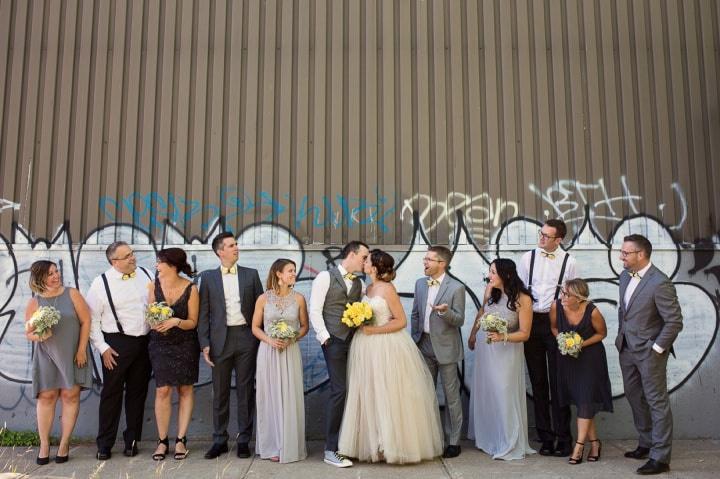 Industrial chic wedding dress
Skip the traditional white ball gown and choose a metallic wedding dress with a bit more sparkle. A metallic frock is sure to turn heads, which is exactly what you want on your big day.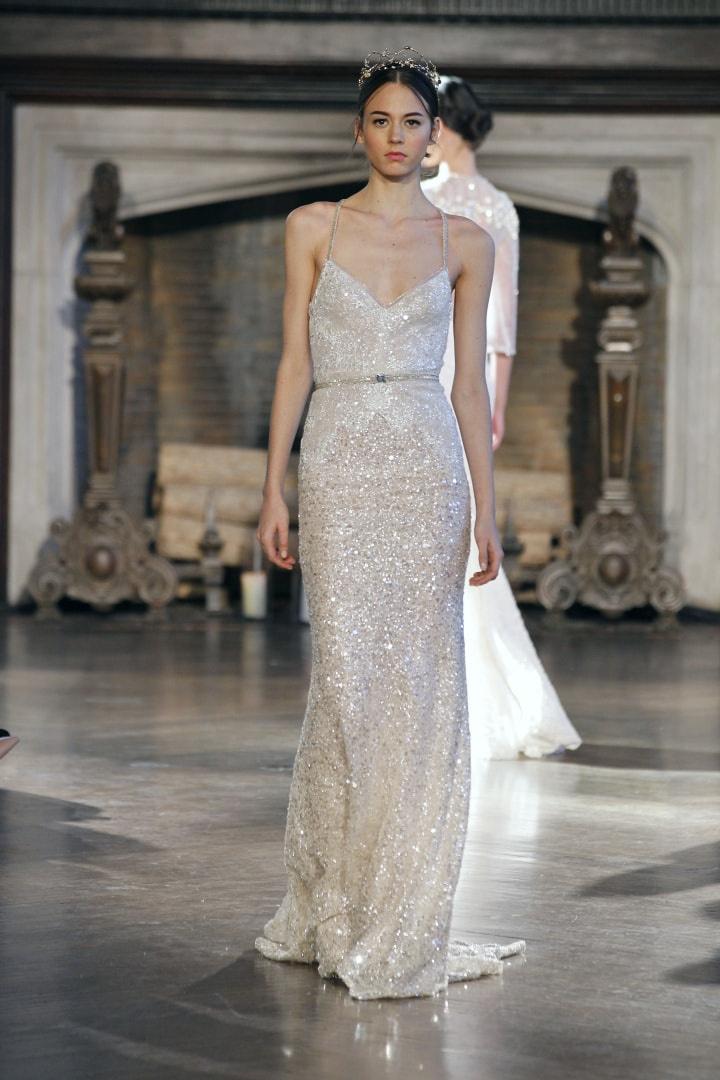 Carpet aisle
Give your industrial ceremony space some cozy, homey vibes by adding vintage carpets to your aisle and altar. You can go with similar patterns or mix and match for a more boho look.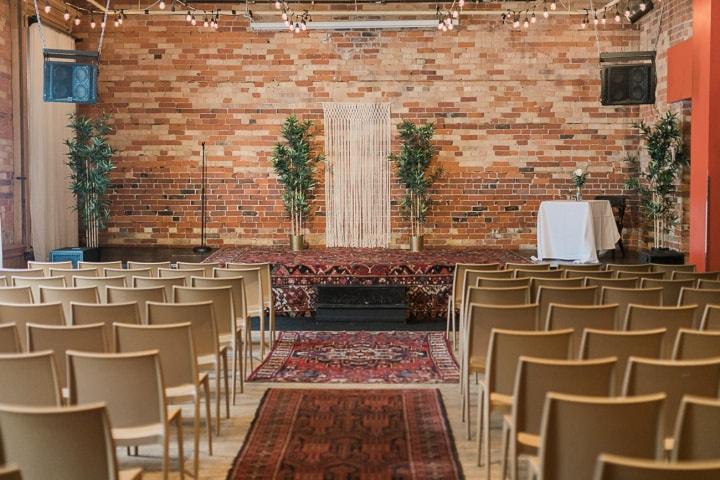 Candles galore
Warm up your venue with the soft glow of candles! Use them as aisle markers, centerpieces and around your venue. They'll instantly transform your space.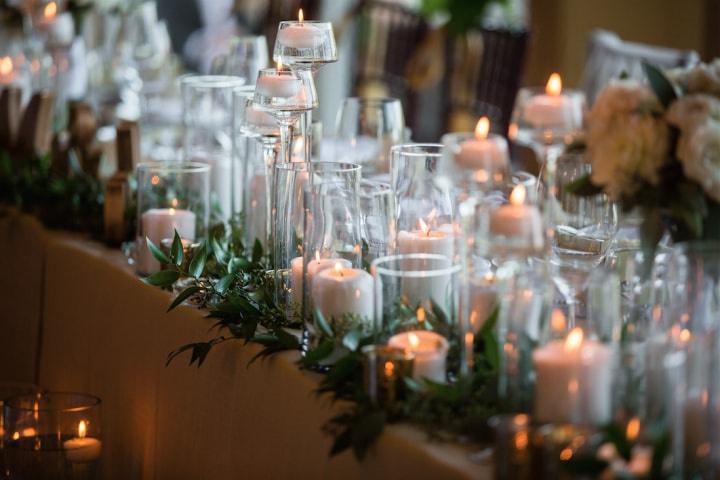 Colourful lounge
Industrial wedding venues tend to have very muted colour palettes. Make yours a touch more inviting by creating a lounge with bold accent decor and comfy couches stacked with bright pillows.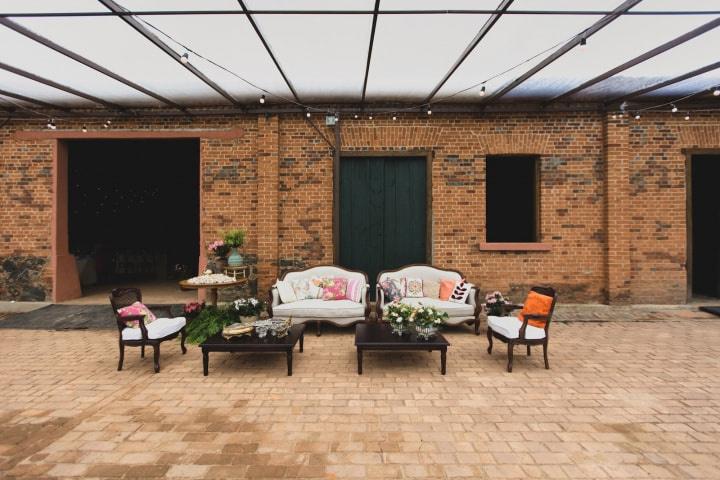 Letter Balloons
Here's a fun industrial chic wedding idea: spell out your love with big, bold balloons around your venue.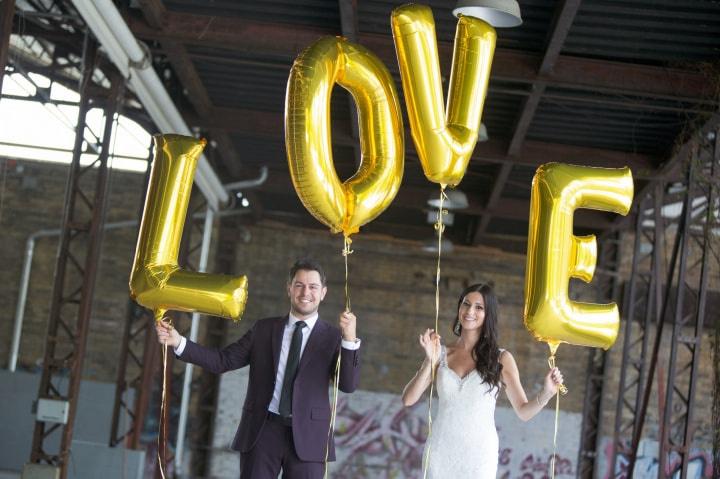 Minimalist altar
Bricks, beams and factory windows are all your need. Skip the fancy floral archway and elaborate arrangements and opt for a minimalist altar, instead.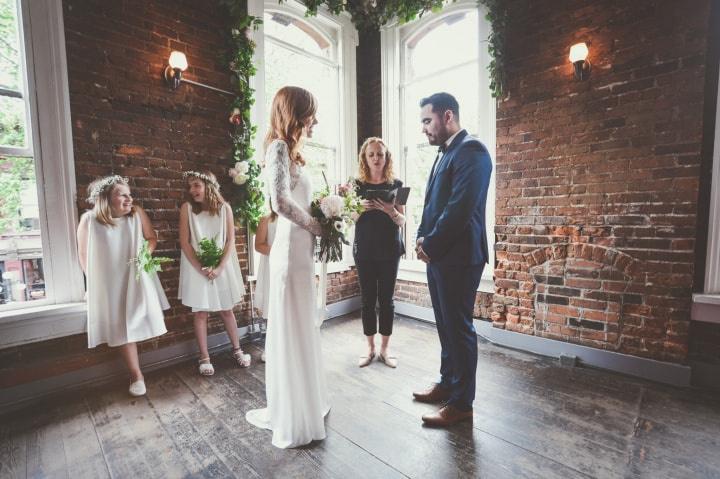 Simple wedding cake
Don't go overboard with fondant figures, wallpaper designs and rosettes on your wedding cake! A modern and simple design - like this two-tier buttercream cake with gold flecks and accent flowers - will fit your wedding theme perfectly (and probably save you a few bucks).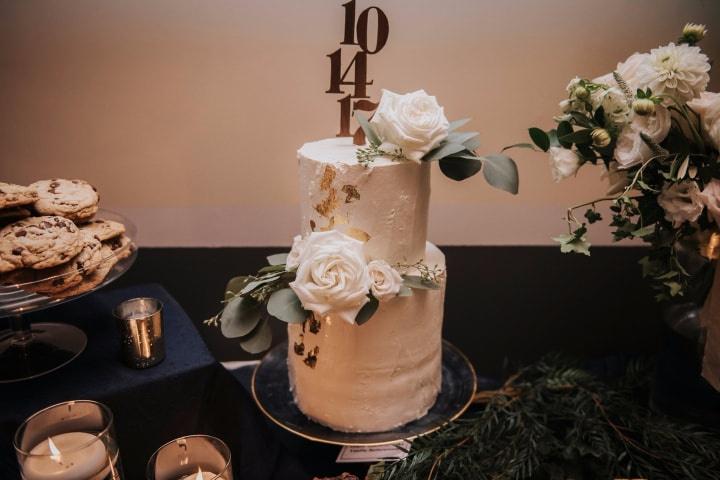 Geometric decor
One of our favourite industrial chic wedding ideas is to include modern decor accents, like these metallic geometric plant holders. They look amazing in lofts and warehouses (and are very Anthropologie).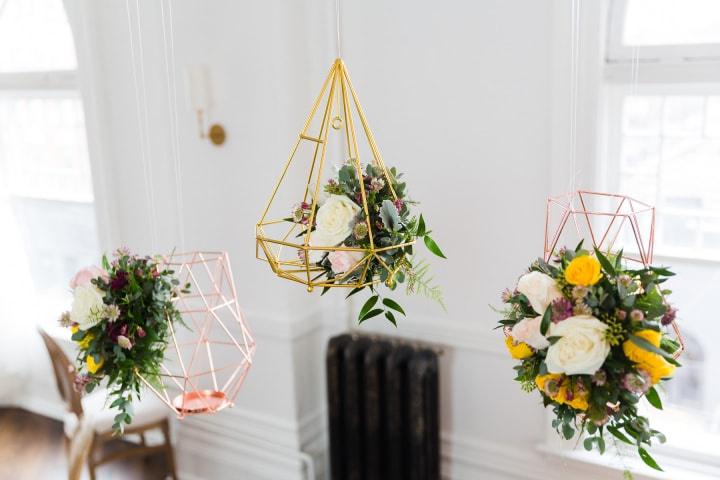 Chic table settings
Contrast your cool and edgy venue with some chic table setting decked out with pretty linens and elaborate place settings.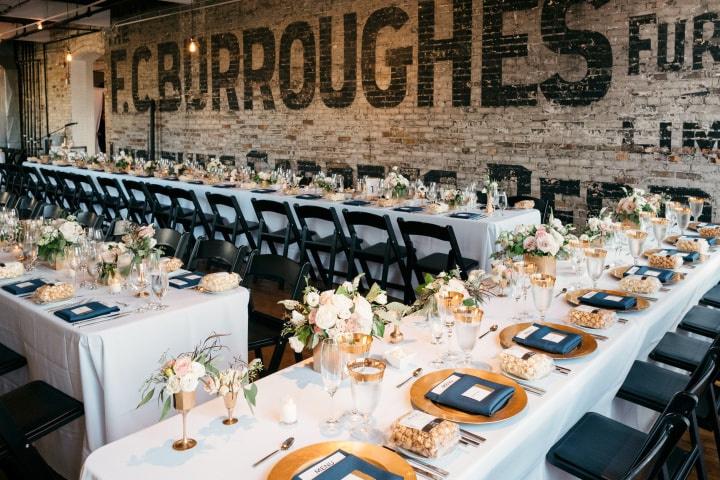 Greenery packed bouquet
Fill your bridal bouquet (and other arrangements) with a healthy dose of greenery. It's a unique option and is guaranteed to lower your florists bill (a real win-win).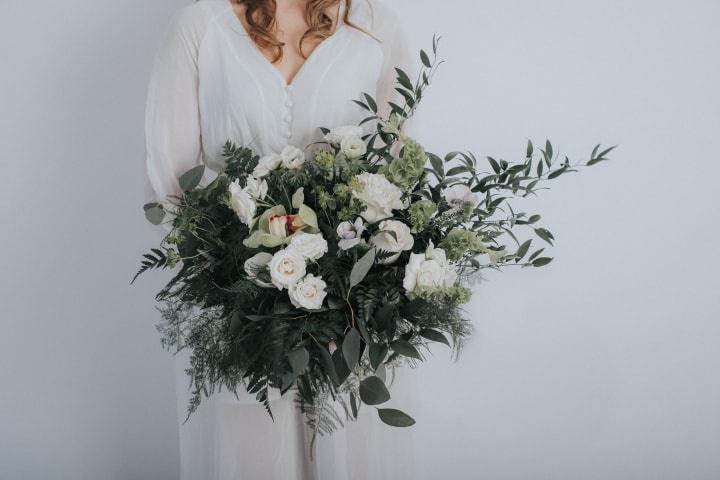 Find more industrial chic wedding ideas and inspiration in our Real Wedding galleries »