Image: Mill Street Brew Pub on the Ottawa River.
If there's one thing Canadians love it's beer. Instead of hosting your post-wedding party at any old venue, why not show some national pride by booking a brewery? These industrial spaces are perfect for those who enjoy letting loose with an IPA, lager or ale in hand - and good news, there are plenty from coast to coast!
Here are some of the best brewery wedding venues in Canada.
PEI Brewing Company (Charlottetown, Prince Edward Island)
In Parkdale you'll find the much-loved PEI Brewing Company. Like most breweries, the space has a distinct industrial feel, with exposed brick and beams and 25-foot ceilings. Add a few floral arrangements, fairy lights and some personalized decor and you'll be good to go! There is enough room for 250 seated guests (or 500 standing).
Mill Street Brew Pub (Ottawa, Ontario)
Want something with a little more charm than a factory space? Head to the Mill Street Brew Pub on the bank of the Ottawa River. The building is over 140 years old and used to house a grist mill, giving it some serious heritage points. Naturally, the space has undergone quite the makeover since its inception, now boasting newly finished floors and modern design flourishes. It can fit parties of up to 120 people. Image by Laura Kelly Photography.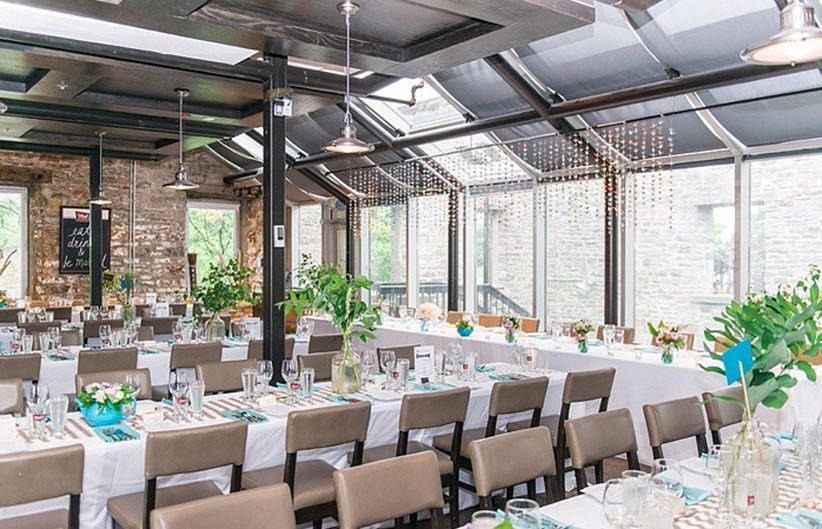 Steam Whistle Brewing (Toronto, Ontario)
Head to the southern side of the Entertainment District and you'll find Steam Whistle Brewing. Located inside a decommissioned brick roundhouse, the brewery is pretty darn picturesque. There are 30-foot ceilings, exposed brick walls and massive multi-paned windows - giving you plenty of stunning photo backdrops to choose from. It has two event spaces that can seat up to 250 guests (or 600 standing) and can host your ceremony, reception or both. Image by Oink and Coo Photography.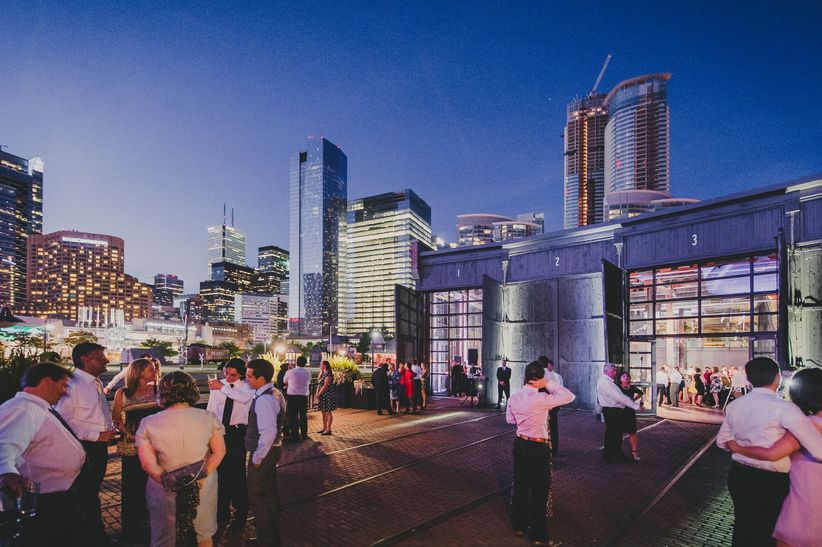 Amsterdam Brewery (Toronto, Ontario)
Are you a fan of Amsterdam beer? Well, you're in luck! Its Leaside brewery can be rented out for both ceremonies and receptions. Its event space boasts a distressed wood bar, 27-foot ceilings and an awesome view of the brewing operation, making for a pretty stellar venue. Its event room is 2000 square feet and can fit up to 200 people. Image by Avenue Photo.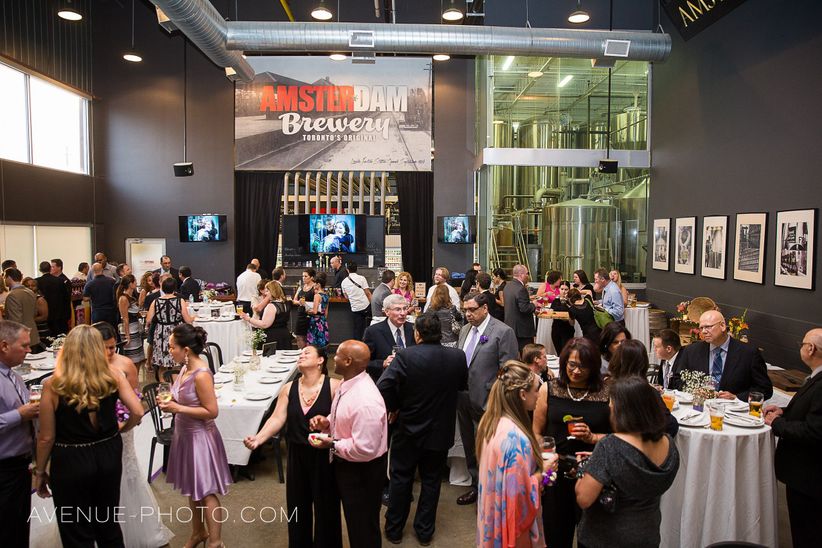 Sawdust City Brewing Co. (Gravenhurst, Ontario)
Sawdust City Brewing Co. set up shop out in cottage country, making it ideal for a summer affair. The 20,000 square foot facility is home to a brewhouse, taproom, canning line and barrel aging room and retail store. The bar inside the brewery - The Saloon - can be rented out for private events like your wedding reception. Keep in mind that the space is on the smaller side, fitting only around 60 guests.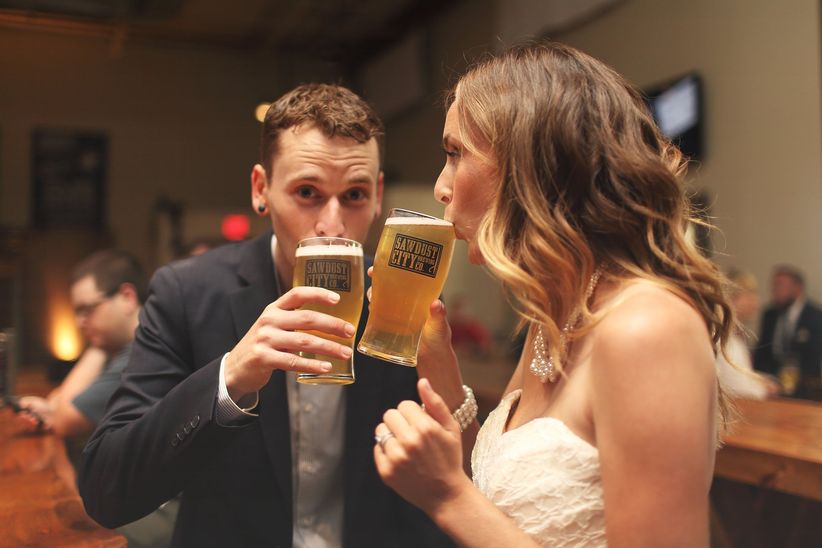 Brock Street Brewing Company (Whitby, Ontario)
Brock Street Brewing Company has a pretty impressive venue in the works (opening in the summer of 2017). It will be a whopping 25,300 square foot space with a banquet hall, restaurant, private room and a green roof overlooking downtown. It has a number of wedding packages already available, if you want to start the booking process. The space will accommodate 200 guests. Image: Architectural rendering of new venue space.
Wild Rose Brewery (Calgary, Alberta)
Wild Rose Brewery has been doing its thing since 1996 in Calgary, Alberta. The event space - named The Barracks Room - has its own private bar, A/V sound system and can be decorated to suit your big day. Smaller than many of the other breweries on this list, it can accommodate up to 80 seated guests (or 100 standing) in its event space.
Yellowhead Brewing Company (Edmonton, Alberta)
Smack in the heart of downtown Edmonton is the Yellowhead Brewing Company. Though it still has that distinct industrial vibe, it's cozier than your average brewery. Its event room features exposed brick walls, warm lighting, a raised stage (perfect for a band or DJ) and a healthy dose of wooden accents. It's large enough to fit 145 seated guests.
Granville Island Brewing (Vancouver, British Columbia)
For all you Vancouverites, there's the beloved Granville Island Brewing. Its taproom is a casual space, perfect for laid-back receptions. It boasts 40-foot ceilings, exposed wood beams and copper light fixtures. Its dining capacity is 55 while its reception capacity is 90.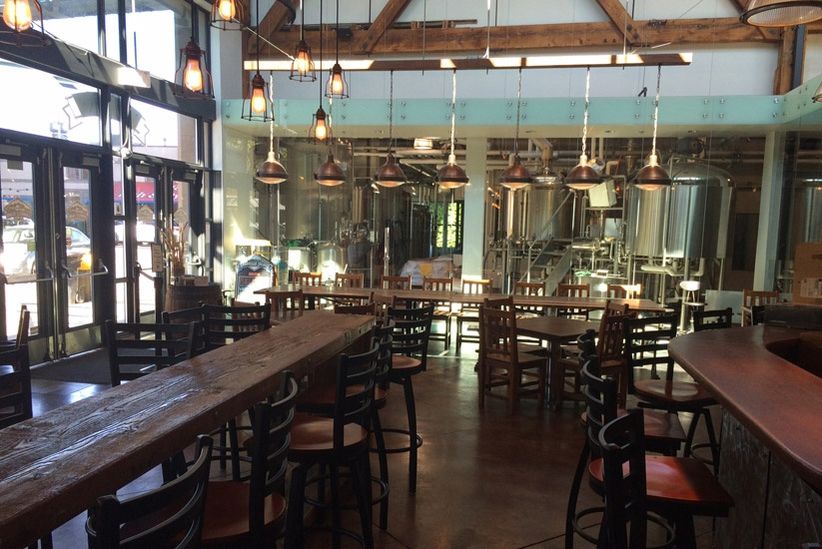 Canoe Brew Pub (Victoria, British Columbia)
Overlooking the Canoe Marina, this place is perfect for those who want the industrial charm of a brewery as well as an impressive view. It is located inside of an 1894 red brick national heritage building that was formerly used to house coal-powered electric generators, giving it some real history. Naturally, the inside has been revamped since reopening as a brewery. It now has rustic wooden and modern fixtures, making it the perfect blend of old and new. It's ideal for smaller parties of about 60 people.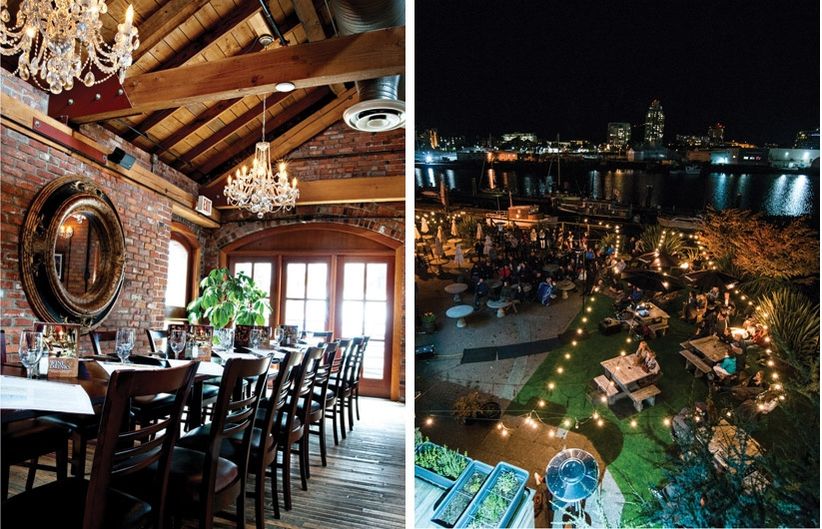 Find your wedding venue on WeddingWire »