14 Awesome Toronto Brewery Wedding Venues
On the hunt for a wedding-worthy brewery in Toronto? We've got a few options that are bound to get you excited.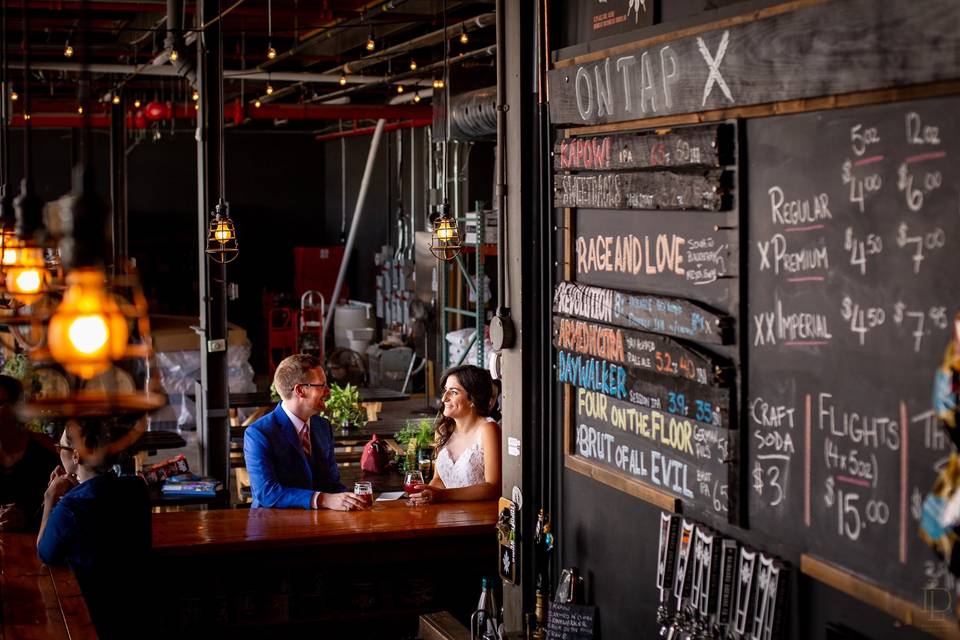 If you and your partner are huge beer fans, a Toronto brewery wedding venue is probably the perfect style for you. Luckily, the city is filled with beautiful taprooms and brewing spaces that you can make use of for your big day. Whether you live in the Beaches, midtown, the Junction Triangle or somewhere in-between, there's an option on this list for you.
Here are a few awesome Toronto brewery wedding venues.
Junction Craft Brewing
Junction Craft Brewing is a little more interesting than your standard brewery/taproom space. It operates inside of an Art Deco building from the 1930s (complete with stylish porthole windows), so it'll give your wedding a bit of vintage flavour. Because it's used for brewing and bottling, its interior is pretty bare bones, so you can deck it out with just about any style of wedding decor and make it work. The space can accommodate all types of celebrations, from intimate soirees to massive parties with over 300 guests.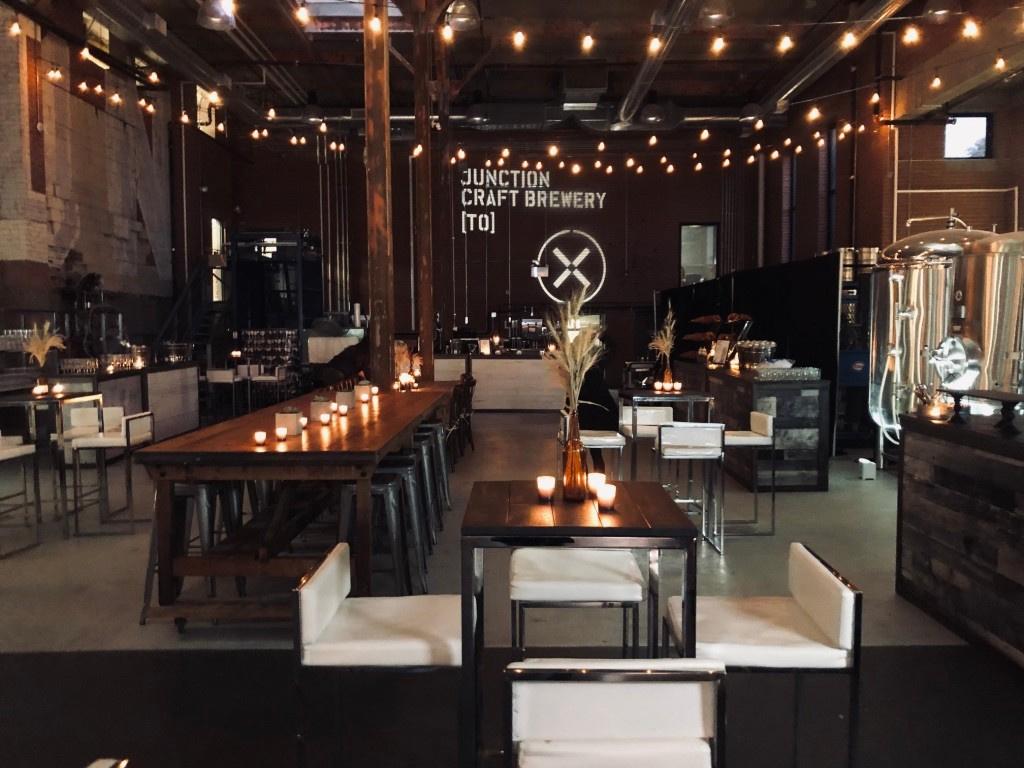 Henderson Brewing
In the market for an industrial-style paradise of a wedding venue? Look no further than this Junction Triangle gem. Henderson Brewing offers a beautifully grunge-y space for you to say your vows and party the night away. It boasts high corrugated metal ceilings, exposed ductwork, glass-paned garage doors and enough space for all of your nearest and dearest. It has both indoor and outdoor venue options available, giving you plenty of set-up options.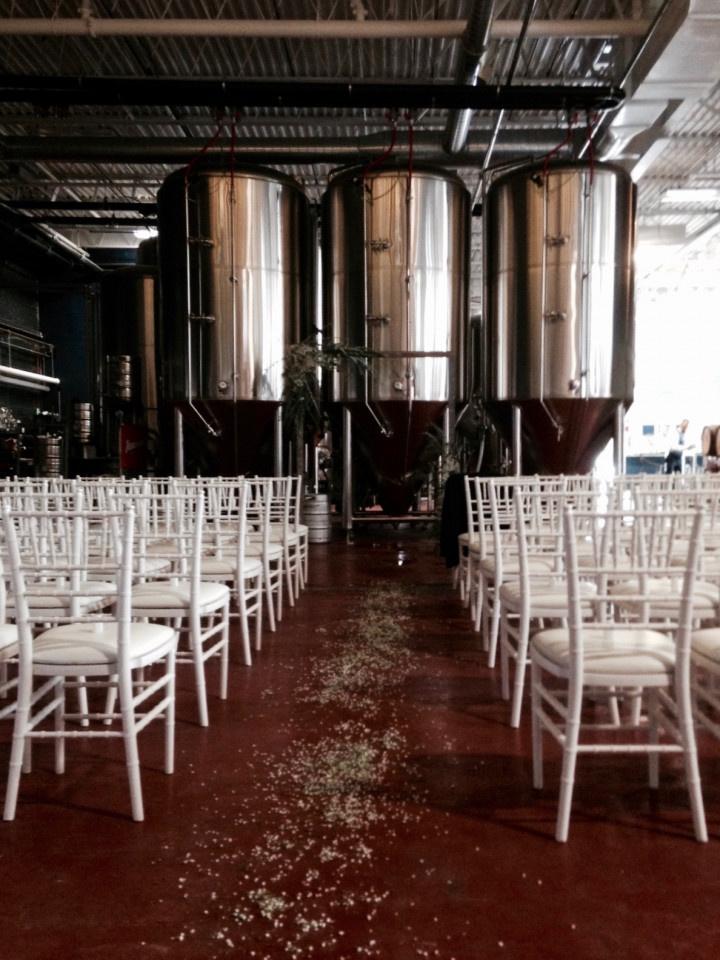 Steam Whistle Brewing
Make your way to Roundhouse Park (AKA the corner of Lower Simcoe and Bremner) and you'll find one of the most popular Toronto brewery wedding venues - Steam Whistle Brewing. This decommissioned brick roundhouse is a fabulous place for industrial-chic affairs thanks to its 30-foot ceilings, exposed brick walls and huge multi-paned windows. It has two event spaces that can fit up to 250 people for a seated dinner, so you should have no trouble fitting all of your friends and family onto your wedding guest list.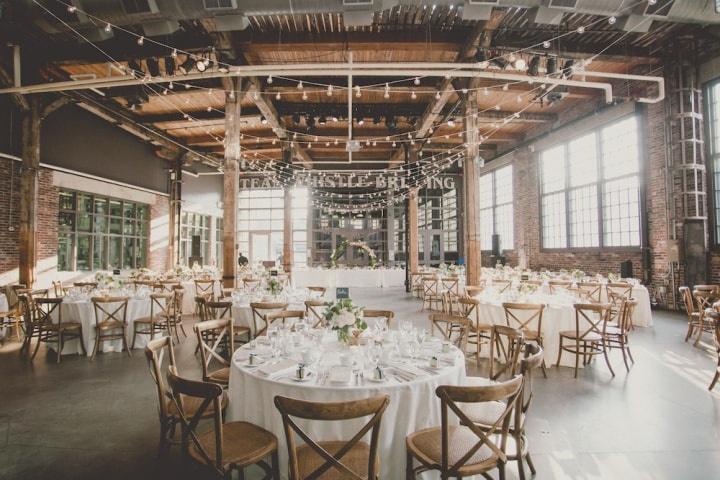 Amsterdam Brewing
Hail from Toronto? Well, there's a good chance you've had at least one or two pints of Amsterdam beer. If you and your S.O. are head-over-heels for the taste, Amsterdam Brewing's Leaside location is the perfect place to tie the knot. The space makes for a beautiful ceremony and/or reception backdrop, with a distressed wood bar, sky-high ceilings and views of the brewing operations. It has a capacity of 200 guests, making it a good option for midsize to large weddings.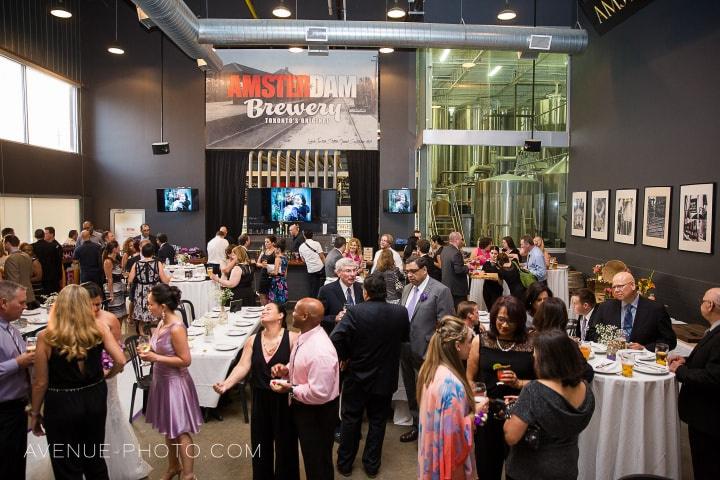 Rorschach Brewing
If you call the east end home (or just love the Beaches) think about booking this Toronto brewery wedding venue for your big day. Rorschach Brewing is equipped with a massive rooftop patio and an indoor dining space, giving you two stellar options for your celebration. The indoor space flaunts exposed beam work, shiny concrete floors and a gallery-esque vibe, so it's perfect couples who are looking for something artsy with an industrial flair. It can fit around 50 guests, so don't go too crazy with your invites.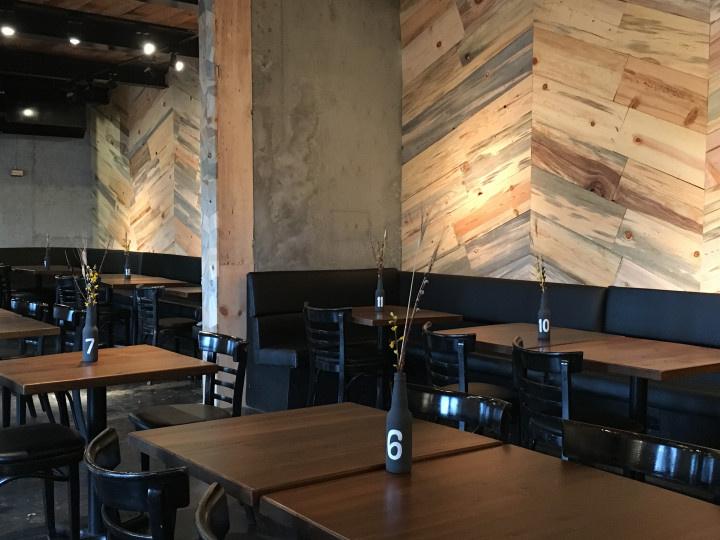 Eastbound Brewing Co.
Eastbound Brewing Co. is another solid east end option. It's located in the ever-so-trendy Riverside neighbourhood, just a hop skip and a jump away from the corner of Broadview and Queen East. Inside you'll find a restaurant-style space with shiny wooden floors, exposed ductwork, industrial decor and views of the brewing operation. It can accommodate up to 120 guests, so it's perfect for small to midsize celebrations.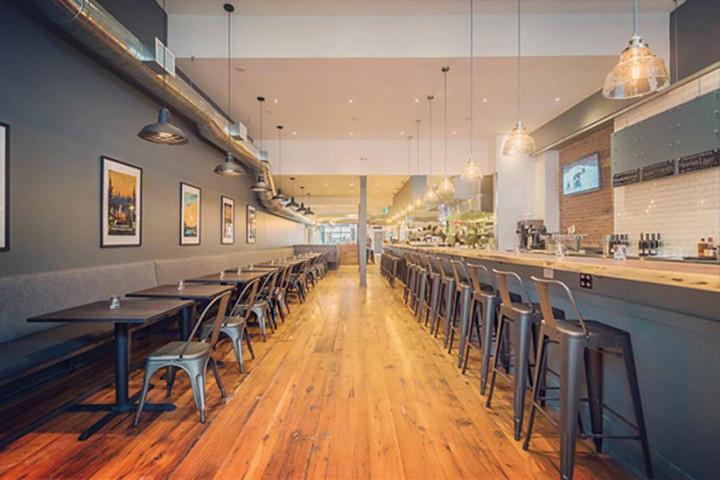 Granite Brewery & Tied House
If midtown is your wedding destination of choice, this Toronto brewery wedding venue needs to be added to your scouting list. The family-owned and operated business has been around for almost 30 years, making it a Toronto staple. Granite Brewery & Tied House has both an indoor dining area and greenery-filled courtyard that you can make use of if the weather is on your side. It can accommodate up to 120 guests, so you can probably squeeze in a few extra plus ones.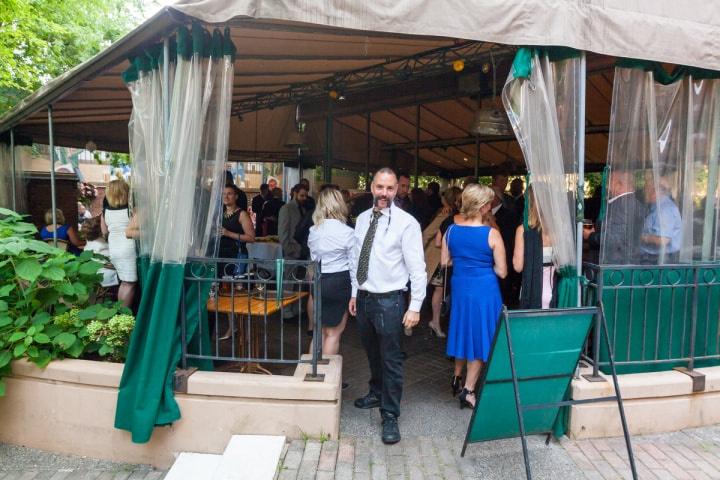 Louis Cifer Brew Works
Louis Cifer Brew Works is a gastropub located on a bustling stretch of the Danforth. It boasts wood-heavy decor, punched tin ceilings, and unique caged light fixtures, giving it a dark, dramatic, and modern look (it looks more like a sleek steakhouse than a brewpub, IMO). There are also plenty of plush leather booths and tables that you can put to use during your wedding dinner. Speaking of dinner, its menu is stacked with pub grub which pairs perfectly with its selection of IPAs, lagers, ales, and stouts. It's the ideal space for a smaller event, with enough room to fit up to 65 of your nearest and dearest (the minimum to book is 45 guests).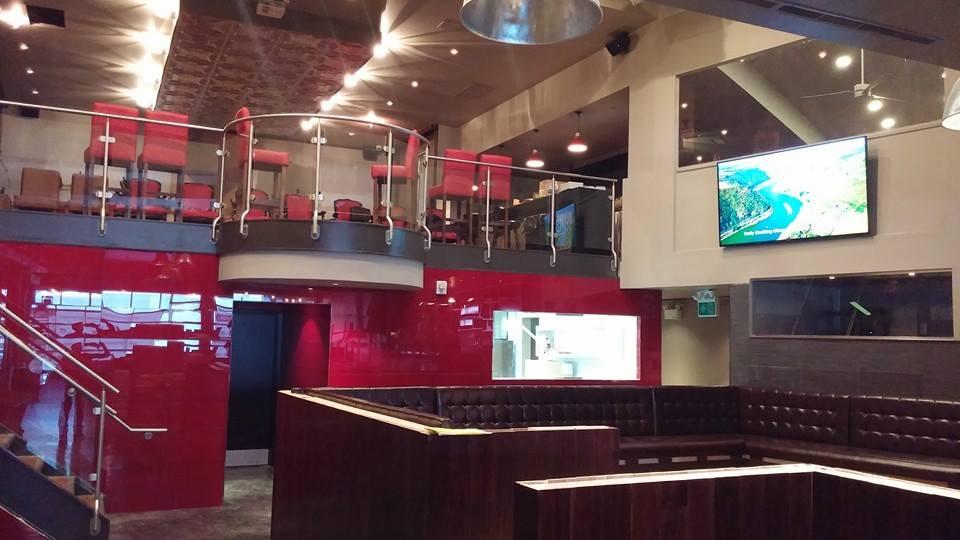 Mill Street Beer Hall
If you're on the hunt for a larger wedding venue that loves beer as much as you do, Mill Street Beer Hall will be right up you're alley. It's tucked away in the Distillery District (a fan-favourite spot for weddings) and flaunts contemporary, industrial-chic decor. As for space, you've got plenty to work with. This brewery wedding venue can be broken down into a number of smaller spaces for intimate events or used together for a large gathering. Its main space is the Beer Hall, which has communal seating, an open concept kitchen, and offers views of the brewing operations. If you'd prefer something more petite, there's the back dining room and café, as well as a spacious outdoor patio (perfect for summer). Its maximum capacity is 400 seated guests.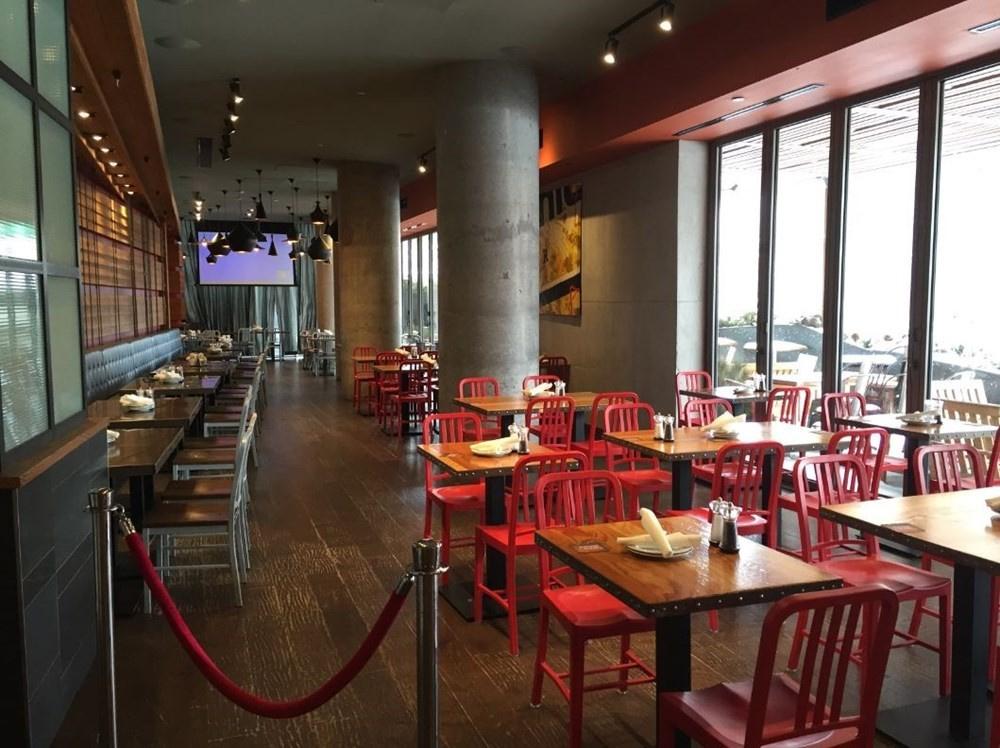 Brunswick Bierworks
If you call East York home, Brunswick Bierworks may just be the Toronto brewery wedding venue for you. It has a warm, inviting, industrial-chic vibe and is decked out with plenty of exposed brick, and reclaimed wood. As for beer, it has a rotating selection of 20 local and global beers, so everyone on your guest list should be able to find something they love. Thanks to its bare-bones style, it's easy to transform for any type of wedding theme, from romantic and whimsical to clean and minimalist. The taproom has enough space to fit up to 200 guests, so you should have no trouble squeezing in all of your nearest and dearest.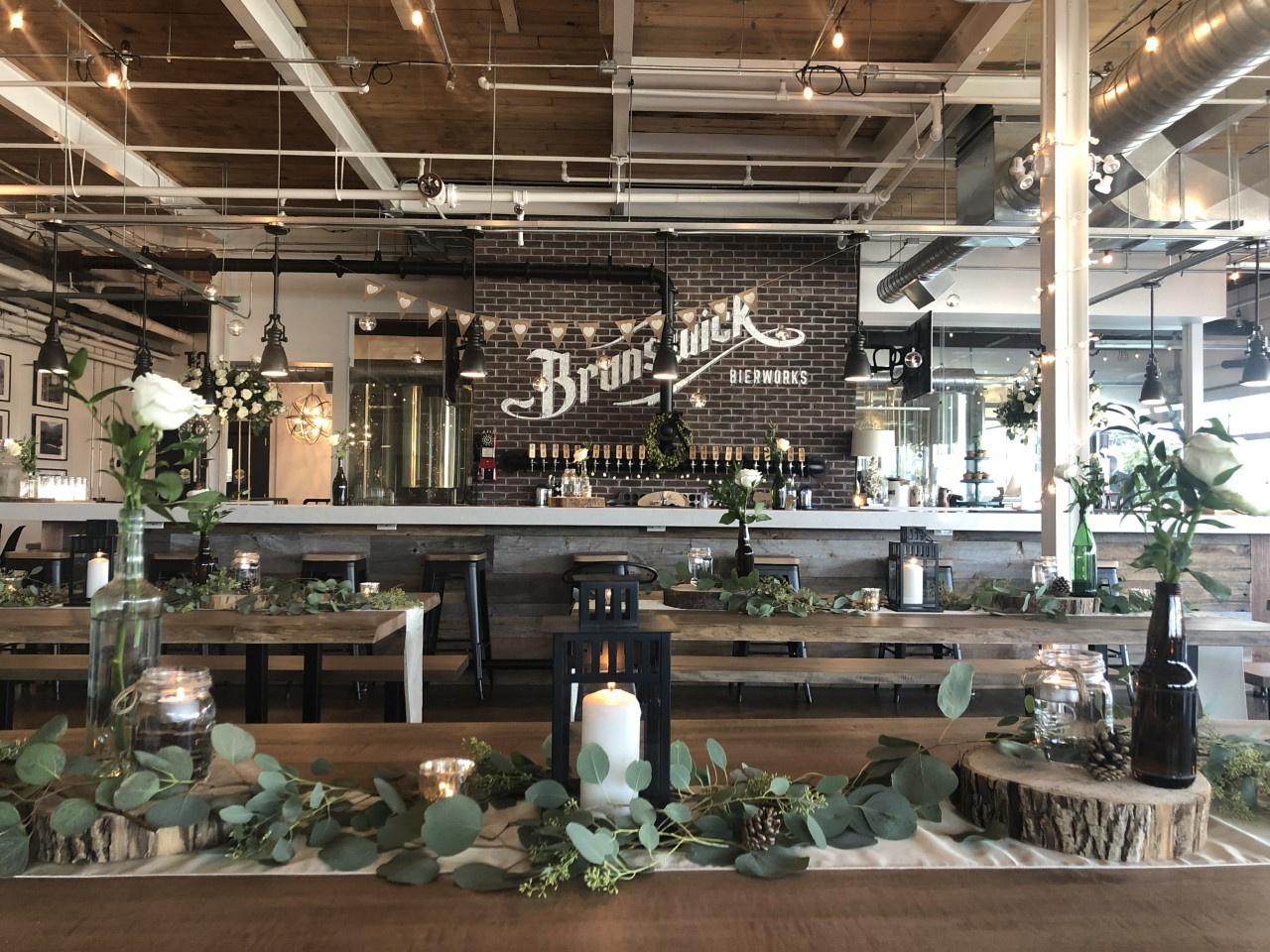 High Park Brewery
Think the west end is the best end? High Park Brewery could be the Toronto wedding venue for you. The facility is pretty much a blank canvas and you can even set your ceremony up inside the brewing area (which is awesome for photos). It has shiny concrete floors, wooden accents, and is great for minimalist events (though you can totally make it over for a more dramatic theme). If you love the spot, get in contact with its coordinator to talk capacity and start sorting out the fine details of your event.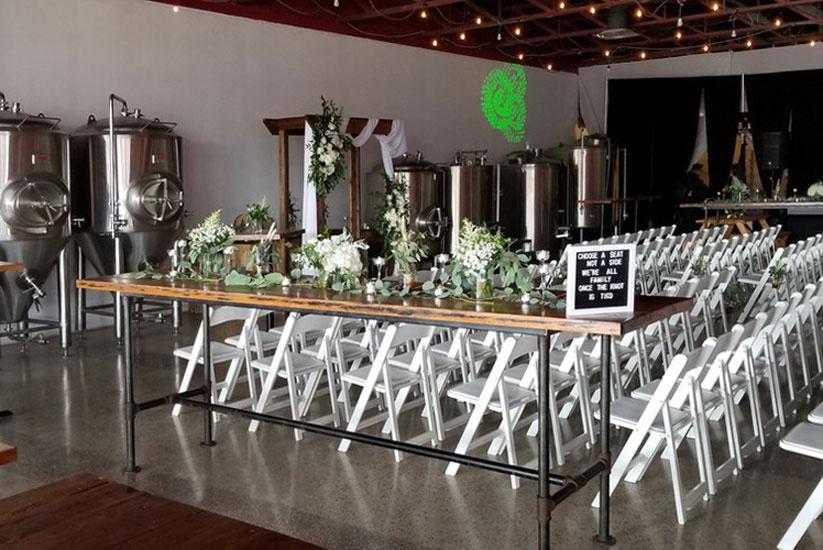 Rainhard Brewing Co.
Tucked away inside a hip, renovated 1940's factory on Symes Road you'll find Rainhard Brewing Co. This spot is pretty much the definition of cool, with distressed concrete flooring, picnic table seating, and chalkboards covering the walls. If you're obsessed with that rustic-meets-industrial look, this is a Toronto wedding venue you need to see. Of course, you'll get awesome views of the brewing operations from the space, too. It's happy to accommodate large groups, but you'll want to get in touch with the staff to see if they can fit all of your friends and family in the space.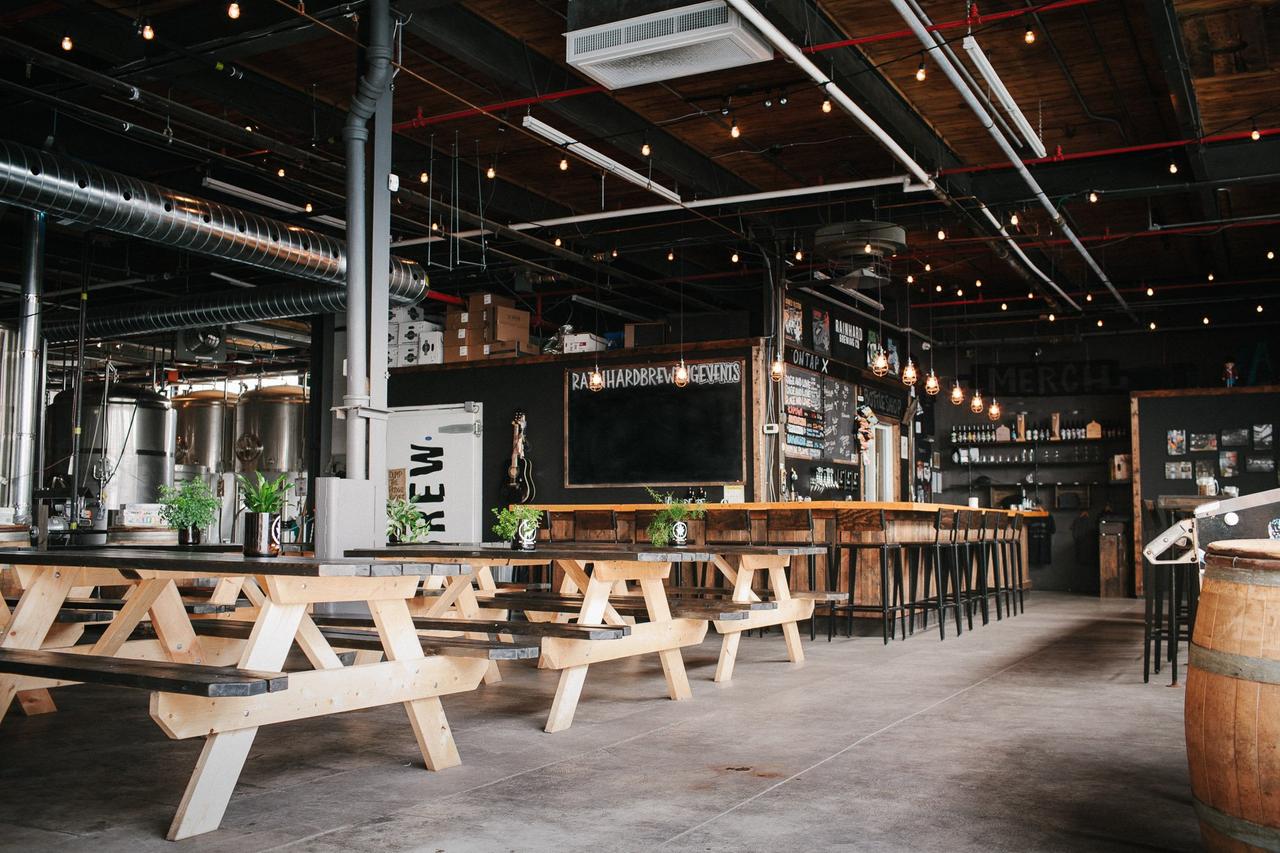 Lake Wilcox Brewing Co.
Take the trip out of the downtown core and up to Vaughan to see what Lake Wilcox Brewing Co. is working with. Its 20,000 square-foot taproom has sky-high ceilings, a live edge wooden bar, high top tables, massive windows, and a sleek, modern vibe. It looks out onto the brewing operations, so you and your guests will get schooled in the art of making great beer while you're there, too. Keep in mind that the space has a capacity of 50 guests, so you'll want to keep your guest list short and sweet.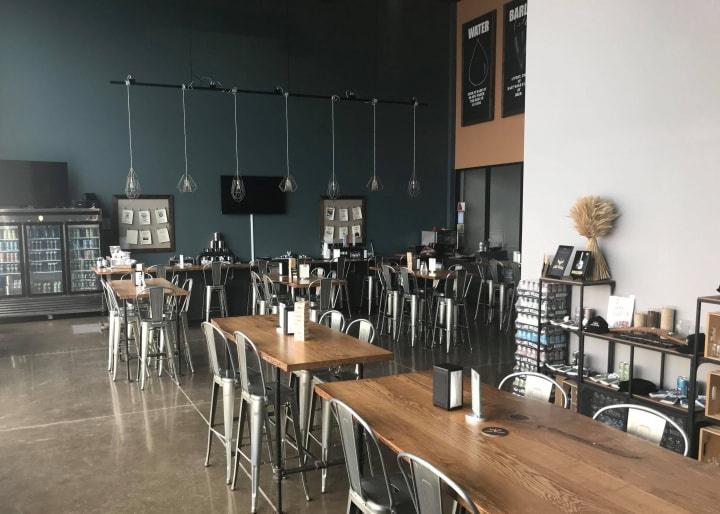 Brock St. Brewing
Willing to make a bit of a trek outside of Toronto for an awesome brewery wedding venue? Of course, you are! Hop in your car and take the 45-minute drive out to Whitby and you'll find Brock St. Brewing. The space is home to a brewery and a super chic restaurant, 12welve Bistro, that showcases the brewing operations, but has its own unique (and chic) style. It's got exposed brick, dark accents, and a killer menu stacked with delicious eats like street fish tacos, duck fat fries, and spicy soppressata flatbread (plus tons of craft beer, obvi). You'll probably want to do a full buyout for your big day and you can get in touch with its coordinator to discuss capacity.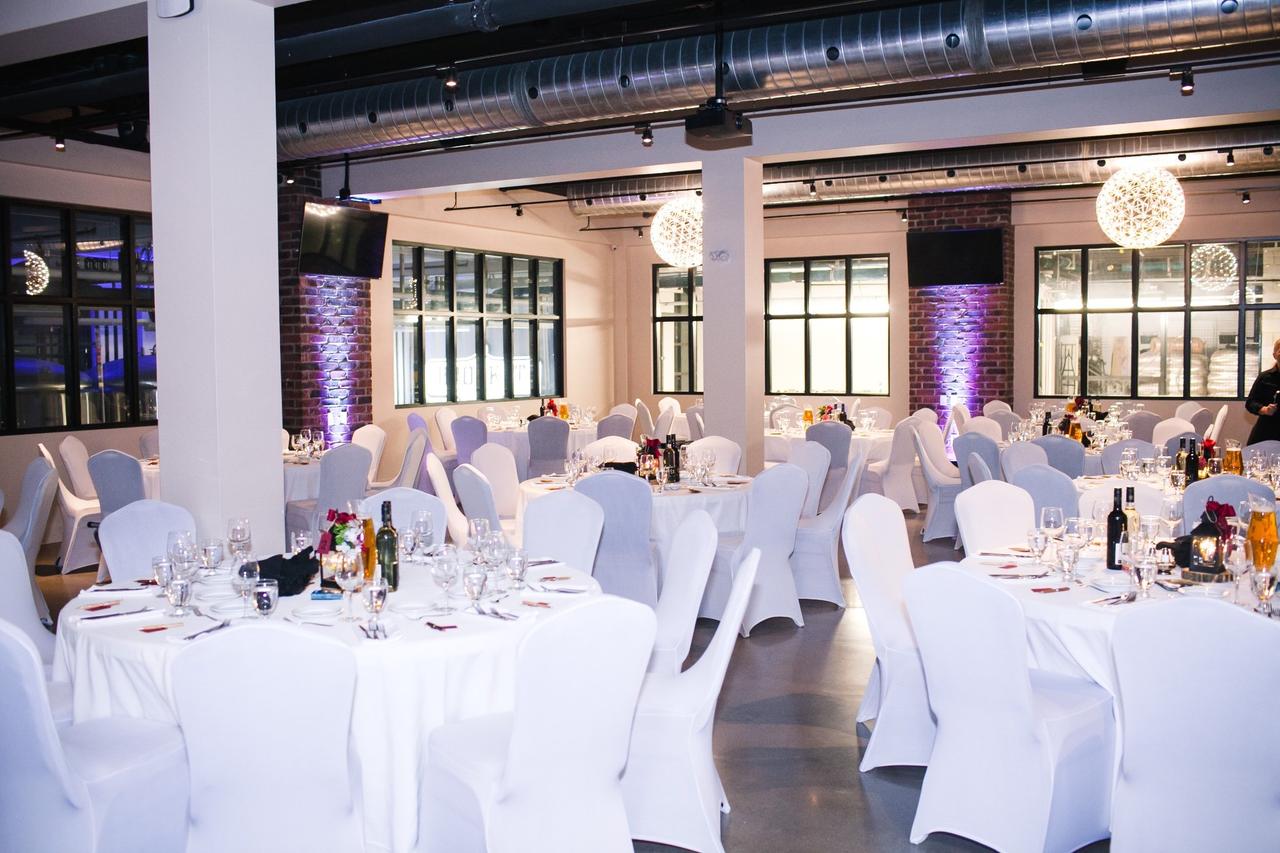 Find more Toronto wedding venues on WeddingWire »