Wedding Decor Glossary
Don't know the difference between an arbor and arch? Can't fathom what a gobo is? Don't sweat it, we've crafted a glossary of all the need-to-know wedding decor terms to help you out.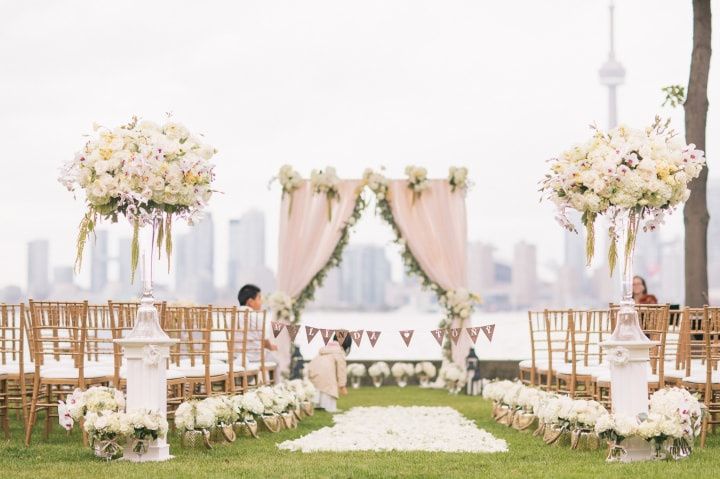 New to the world of wedding decorations? If the words gobo and chuppah sound like gibberish to you, you may want to consider brushing up on the many types of wedding decor accents and embellishments. To save you from pulling up google every time you meet with your wedding planner, we've crafted a glossary of all the need-to-know terms for wedding ceremony and reception decor.
Here is your wedding decor glossary.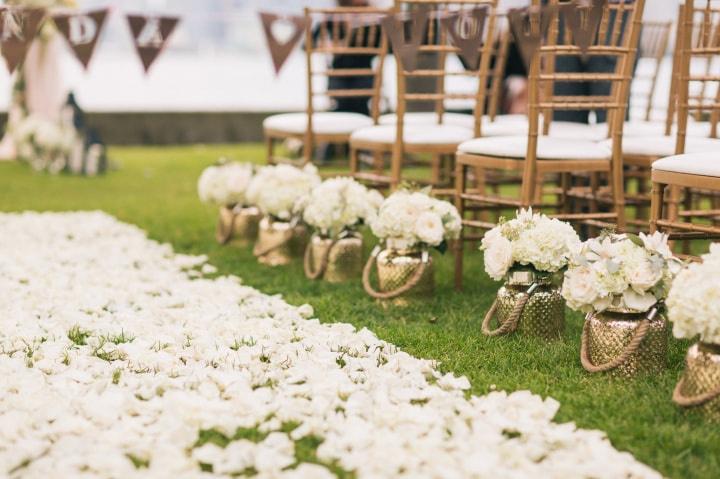 Wedding Ceremony Decorations
Aisle marker: A wedding decor item - like a candle, lantern, ribbon or small bouquet - that marks the beginning of a row of seats.
Aisle runner: A runway - usually made of fabric or rose petals - that marks where the centre wedding aisle is.
Altar arrangements: Decorative arrangements that are placed on opposite sides of the wedding altar. They are typically made from flora and fauna.
Arbor: A type of altar that is usually used in outdoor wedding decor. They are made out of tree branches and/or climbing plants.
Arch: A type of altar featuring straight sides and a rounded top. They can be made out of anything from driftwood to wine barrels.
Ceremony signage: Personalized wedding signs used to give instructions to the guests. They usually include info like where to sit and reception directions.
Chuppah: A canopy that Jewish ceremonies are performed underneath. They usually involve white drapery.
Column: A tall pillar that adds an old-world charm to a ceremony. Columns tend to be used in place of an altar and can be dressed up with flowers, candles, garlands and/or other decorations.
Garland: A wreath made of flowers, leaves or rope that can dress up pews, the altar and/or the entryway.
Pew bow: An aisle marker attached to a pew in a church. Pew bows are typically made of tulle or ribbon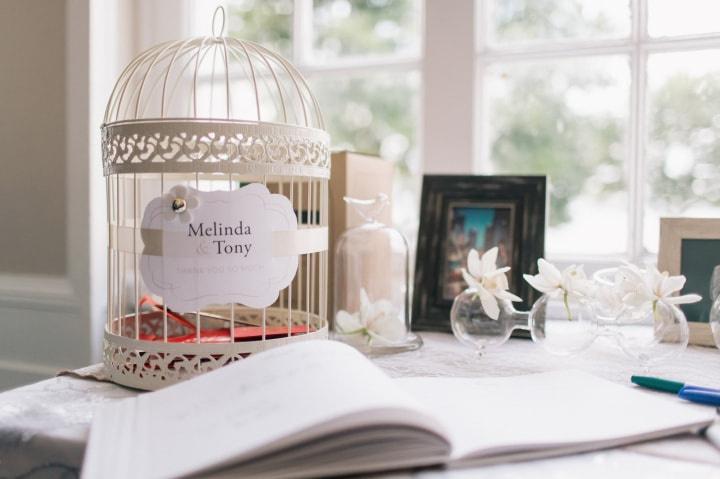 Signage and Stationery
Calligraphy: A decorative type of penmanship, calligraphy adds an air of elegance to your stationery and wedding decor.
Card box: A vessel where guests place cards for the newlyweds. Anything from a birdcage to a hat box can be used for a wedding card box.
Chalkboard signage: Erasable wedding chalkboard signs handmade with chalkboard paint or made with a real chalkboard. You can use this in the place of other types of signage.
Escort card: A card that states a guest's name and table number. They are used to lead people to the correct seats in your reception hall.
Laser cut signage: Cut-out style signs that can be used for anything from place cards to welcome signs.
Menu card: A card placed at a table setting that lists the menu options for the reception.
Monogram: A design mark that includes you and your partner's initials. It can be used to personalize everything from your menu cards to your invitations.
Motif: A design or pattern that's used to help keep your wedding decor cohesive. It can be added to place cards, wedding signage, invitations, menu cards and more.
Place card: A name card that is set either on or behind a guest's plate at the table they are to be seated at.
Social media signage: Signs that encourage guests to use a specific wedding hashtag for photos they take at the event. This will make them easier to find later on.
Seating chart: A sign to display your guests' names and their table assignment. A unique wedding seating chart idea will help make this a key element of your wedding decor.
Table number or name: Wedding table names or numbers are used to identify a table in the reception venue so guests can find their seat.
Welcome sign: A sign used to greet guests as they enter your reception venue. It is normally displayed on an easel.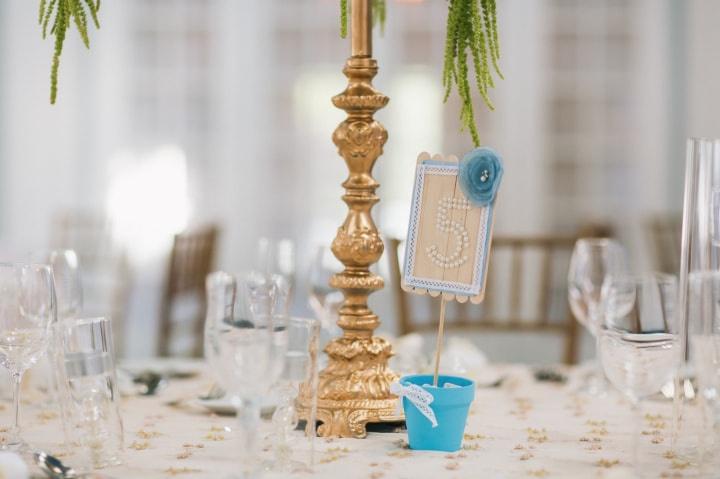 Wedding Table Decorations
Charger: A large, flat plate that is placed under your dinnerware for decoration.
China: A fine, ceramic material that dinnerware is made of. It helps to give your place settings a formal look.
Flatware: Eating utensils like forks, knives and spoons.
Flute: Glassware used for champagne.
Goblet: A drinking vessel with a foot and stem that comes in a variety of sizes.
Swagging: Draping fabric so that it ripples and creates a curve. It is used to help jazz up tables, backdrops and ceilings.
Table linen: Fabric used to decorate your tabletops.
Table runner: A decorative, narrow cloth laid down the centre of a table.
Tablescape: The layout of your table decor involving centerpieces, place settings and table numbers.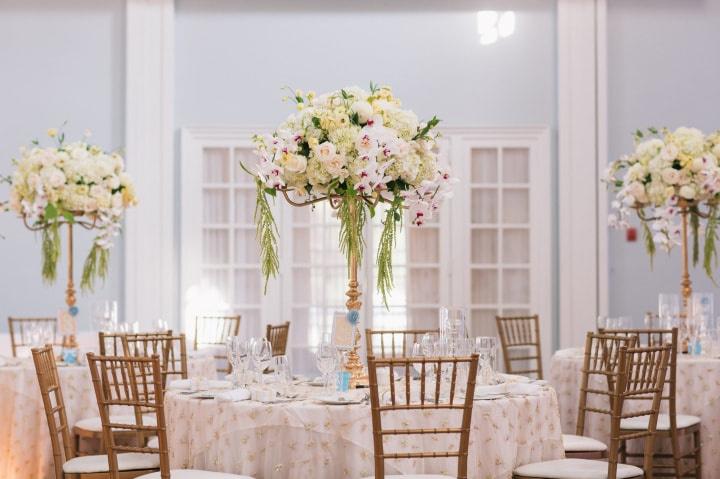 Wedding Centerpieces
Compote: A goblet-shaped vessel with a pedestal that is used to display floral arrangements.
Geode: A small rock lined with crystals or other minerals used to decorate more modern tablescapes.
Hurricane vase: A deep cylindrical vase that can be used to hold flowers, candles or other decorative items.
Mercury glass vase: A wedding centerpiece vessel that has a silvered glass exterior. Best used to amp up more modest arrangements.
Planter: A rustic vessel - typically made of wood - that holds a centerpiece.
Terrarium: A transparent globe or geometric glass container that usually holds succulents and cacti.
Topiary: Shrubs or trees crafted into ornate shapes. Small ones can be used as centerpieces while larger ones could be used around the venue.
Vessel: A wedding centerpiece container that can come in a number of different shapes and sizes.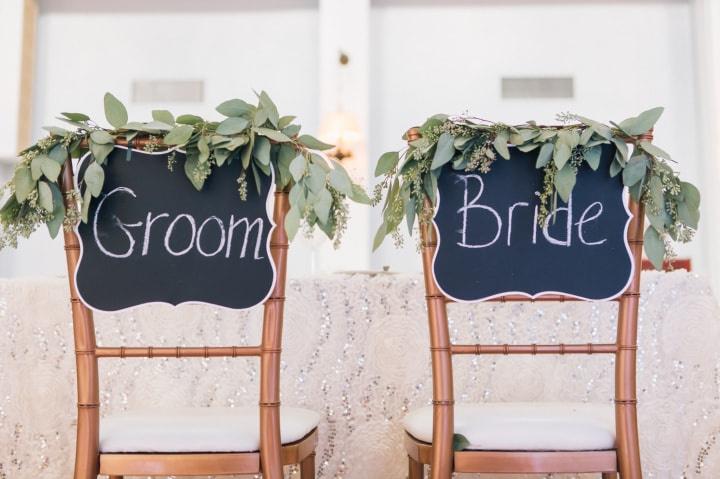 Reception Seating
Chair cover: A slipcover that goes over a chair to dress it up.
Lounge: An area filled with comfortable seating where guests can mix and mingle outside of their table group.
Newlywed chairs: Chairs that seat the newlywed couple. Usually jazzed up with their initials, a monogram or quote.
Sweetheart table: A table that seats the newlywed couple only.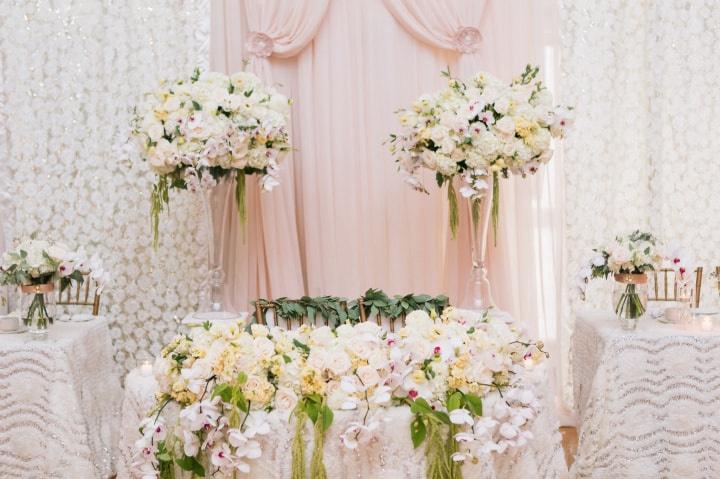 Wedding Backdrops
Bunting banner: A string of miniature flags, perfect for casual wedding decor.
Chevron: A zig zag pattern that gives off a modern vibe. It can be used on everything from backdrops to invitations.
Floral wall: A backdrop made of either real or faux flowers.
Geronimo balloon: A giant balloon, perfect for whimsical receptions. It can be dressed up with the addition of tassels and/or confetti.
Hanging florals: Strings of flowers attached to the ceiling. They can be made with real or faux flowers.
Ombre: Having a colour or tone fade from dark to light. It can be used to decorate backdrops, place cards, chair cards and many other decorations.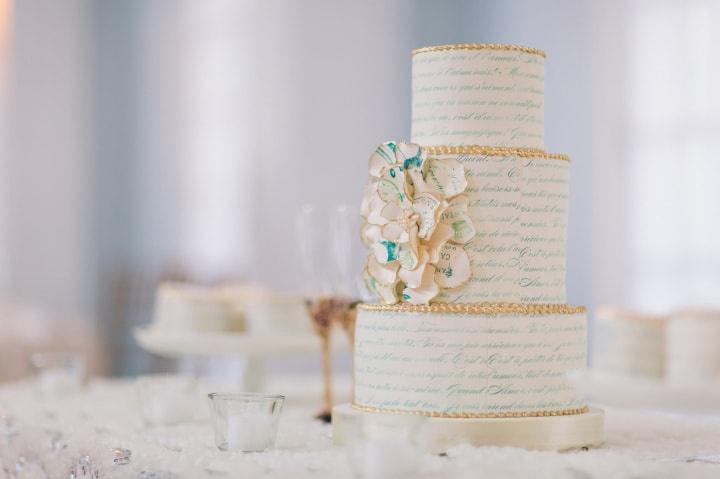 Wedding Candles and Lighting
Votive: A small candle that is typically placed inside a little cup.
Bistro or Edison lights: Round bulbed lights mounted on strings that can be draped around your wedding venue.
Candelabra: A large branch candlestick, typically used for more elegant wedding decor. They can be repurposed to hold flowers.
Chandelier: Hanging lights with several branches for light bulbs or candles. They are usually reserved for upscale soirees.
Floating candle: A small, round candles that floats in water. They are typically placed in vases.
Gobo: A screen that is placed in front of a spotlight to cast a shape. The newlywed couple's initials or names and hearts are fan favourites.
Lantern: A candle or bulb inside a transparent case. They can be used as everything from aisle markers to centrepieces.
Marquee light: A vintage-style light in the shape of a letter, number or punctuation mark. They can be used to spell out names and initials or as signage around your venue.
String lights: Tiny lights mounted on strings that can be draped around your venue. They are much smaller than bistro lights and look like twinkling stars at night.
Taper candle: A long, cylindrical candle. It can be used in a centerpiece or around your venue.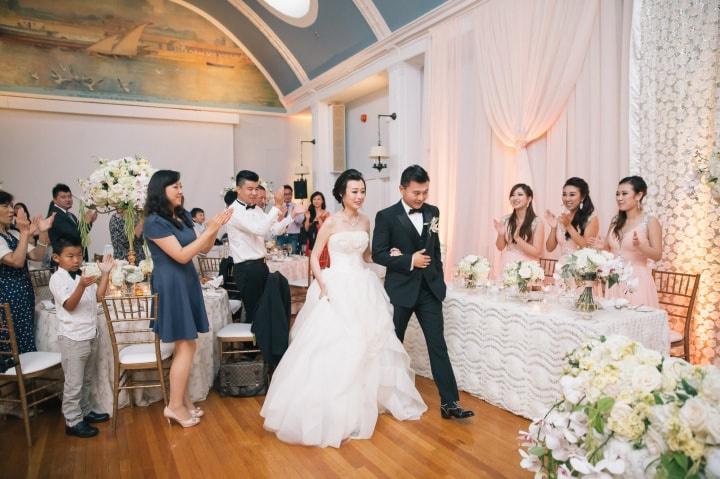 Images: Meilnda & Tony's Wedding at the Royal Canadian Yacht Club, Toronto Island; photography by F29 Studio.
Find wedding decorations, florists and event rentals on WeddingWire »