19 Brilliant Fall Wedding Decor Ideas
Create a colourful and cozy space to celebrate with these autumnal wedding decor ideas for your ceremony and reception.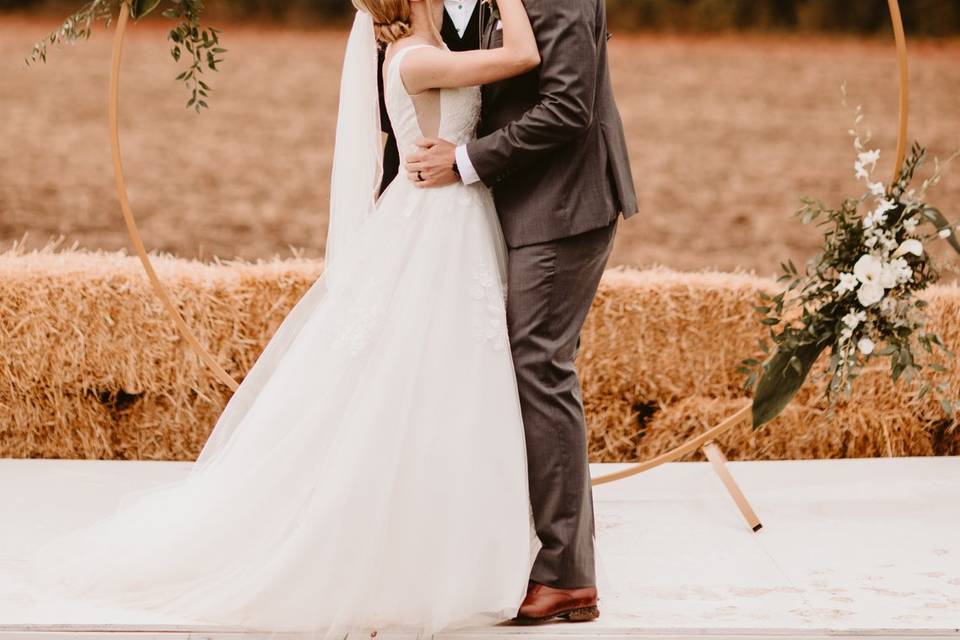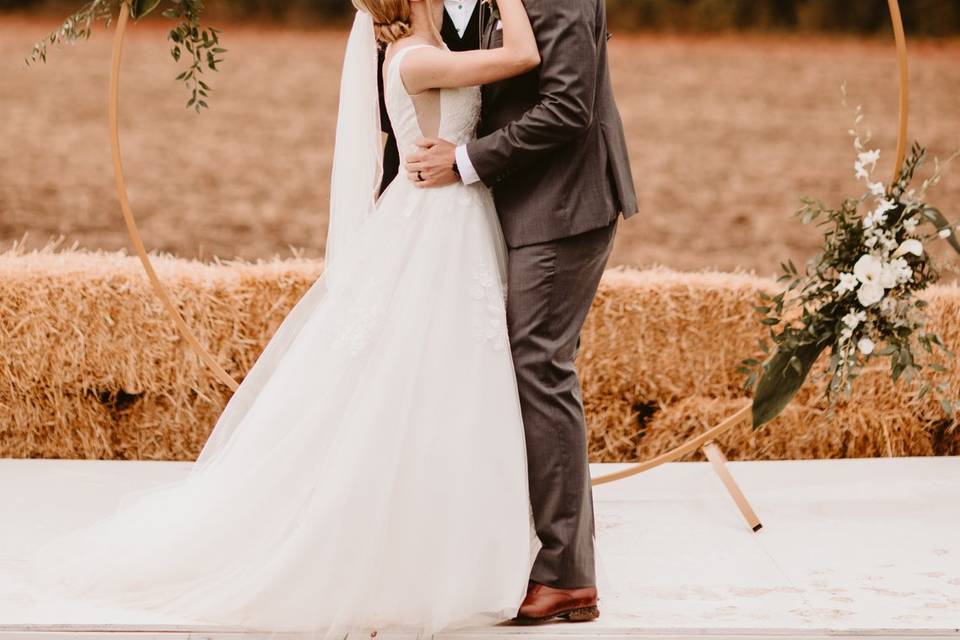 Autumn weddings are pretty idyllic in Canada as Mother Nature inspires a bounty of fall wedding decor ideas. Everything from your wedding theme to colour scheme can give a nod to the change of season. Bring the beauty of autumn indoors, with fall wedding decorations such as pumpkins, rustic centerpieces and earth tones, If you're planning an outdoor wedding, bring the inside out and accentuate the natural fall beauty with cozy decor accessories and romantic lighting.
Here are a few of our favourite fall wedding decor ideas.
White Floral Arrangements
With all the warm hues of the fall landscape, white flower arrangements adorning a simple circular altar provide a nice contrast for an outdoor fall ceremony (pictured at top) or an indoor ceremony with a rustic interior (picture below).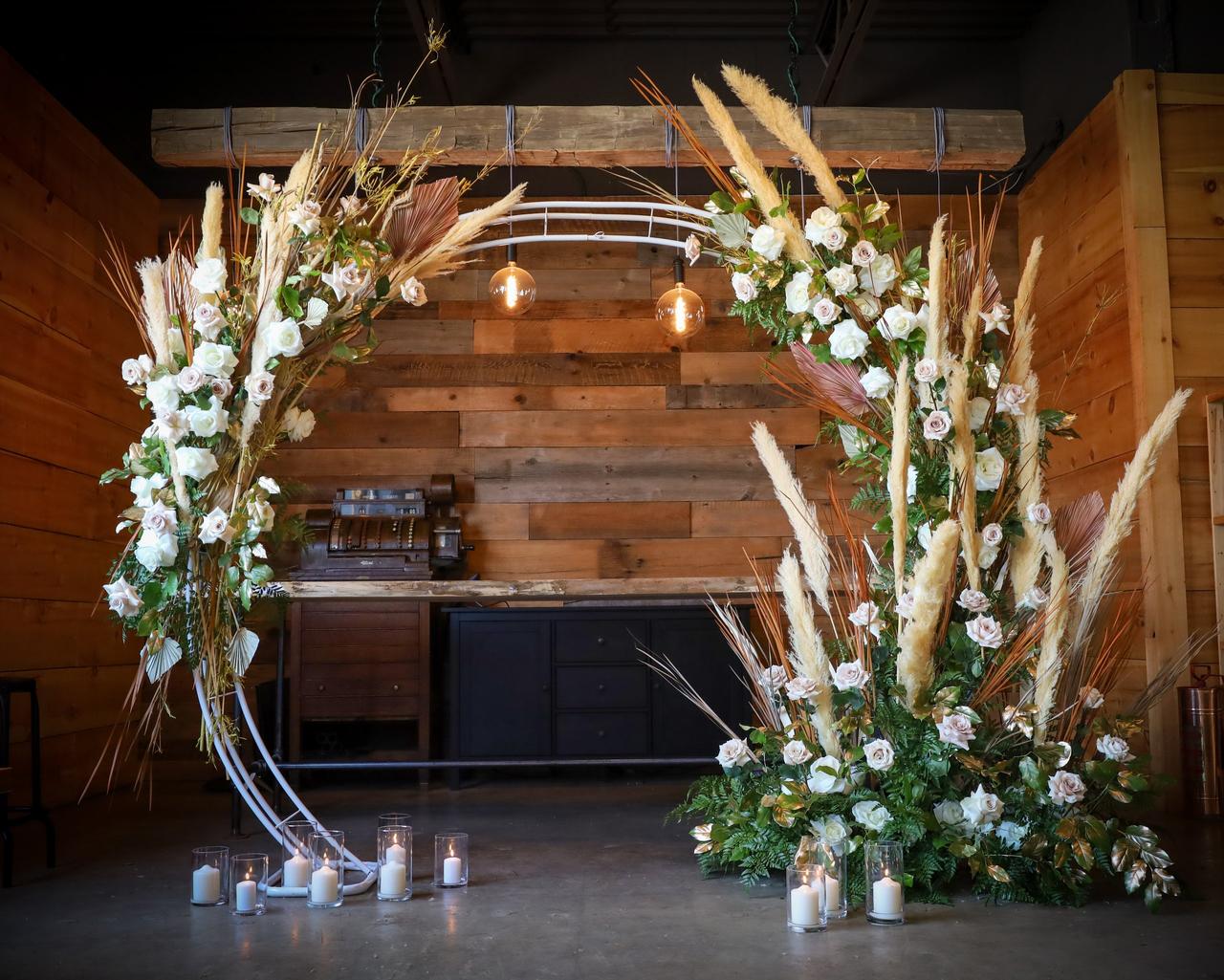 Aisle Made of Leaves
Here's a sweet idea for creating an outdoor ceremony aisle. Pile up leaves to make a border and then add some height with pails filled with tall grasses.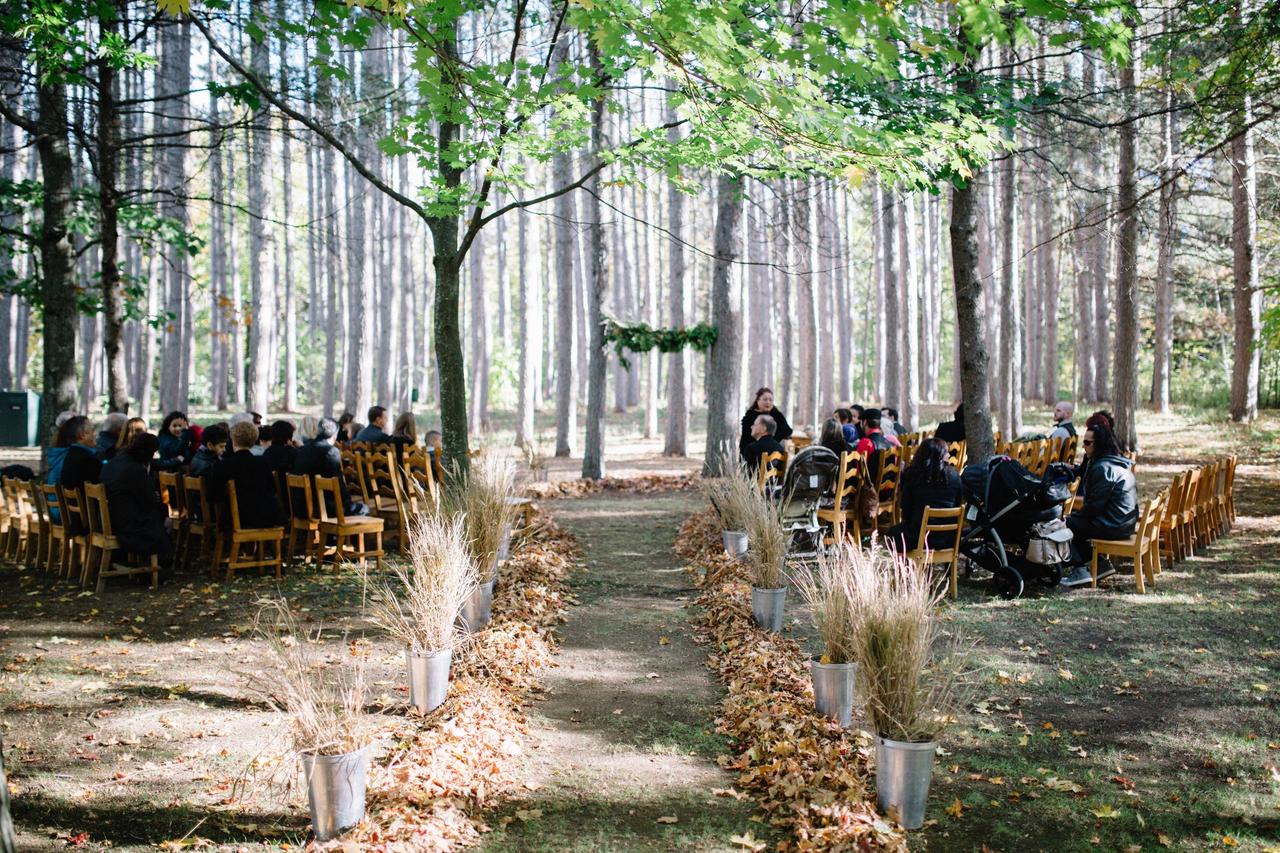 A-Frame Wedding Arch
This fall wedding decor idea is so simple yet effective, and the good news, you can totally DIY the structure for an A-frame wedding arch. Have your florist make a couple of arrangements to dress it up and you're good to go.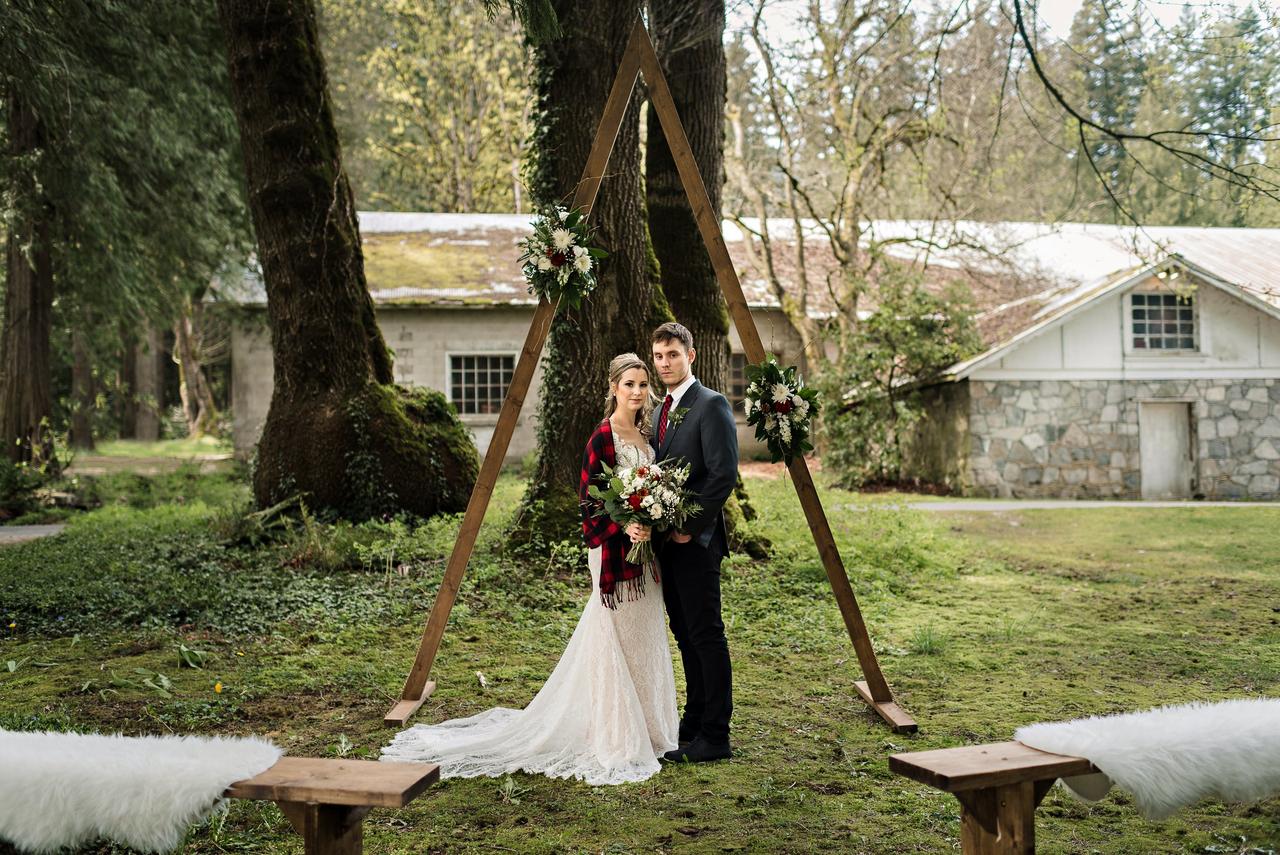 Fall Boho Floral Arrangements
How stunning are these freestanding floral arrangements placed in front of a bay window dressed in luxe drapery? An asymmetrical design is dramatic and different for a boho-themed fall wedding.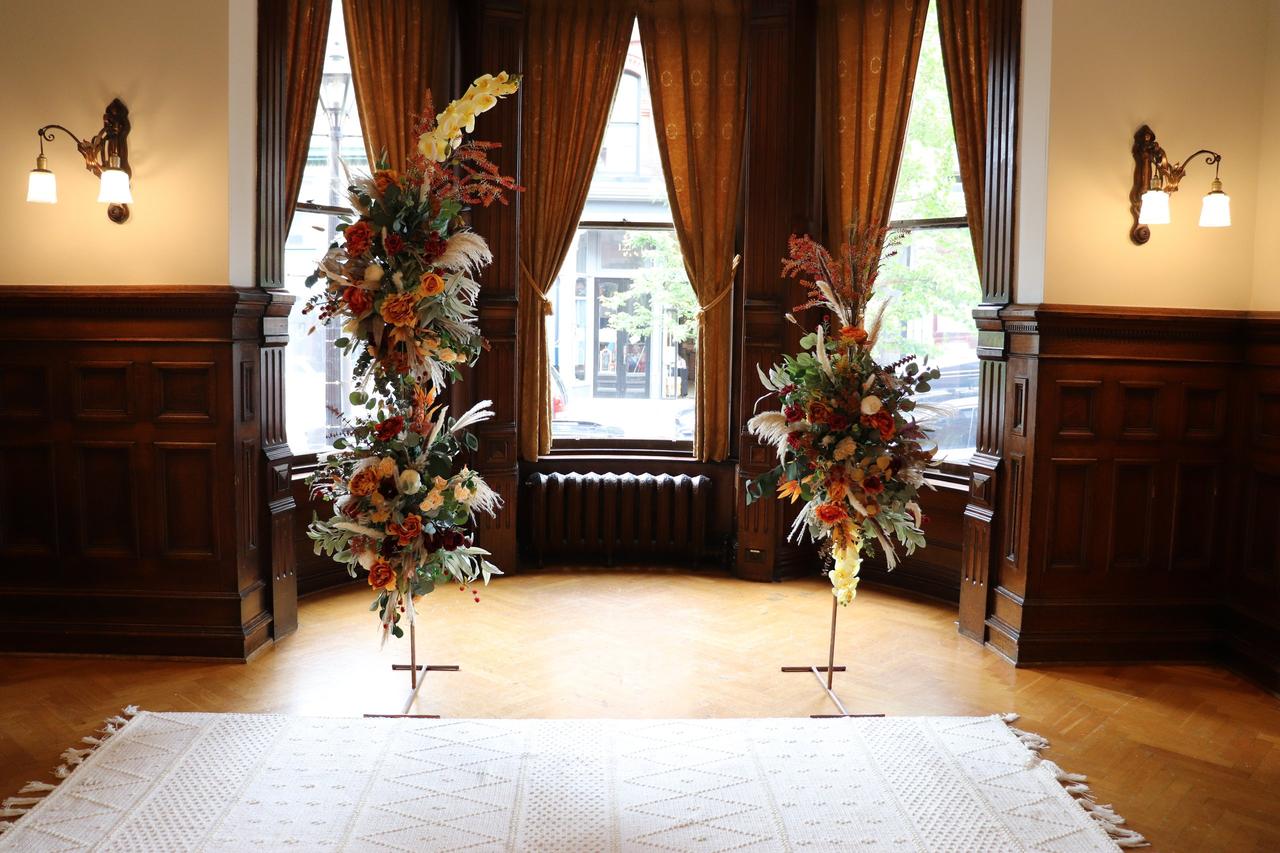 Custom Backdrop in Fall Colours
Looking for fall wedding decorations for an event venue that's a blank slate. Create your own custom backdrop for a focal point in the space.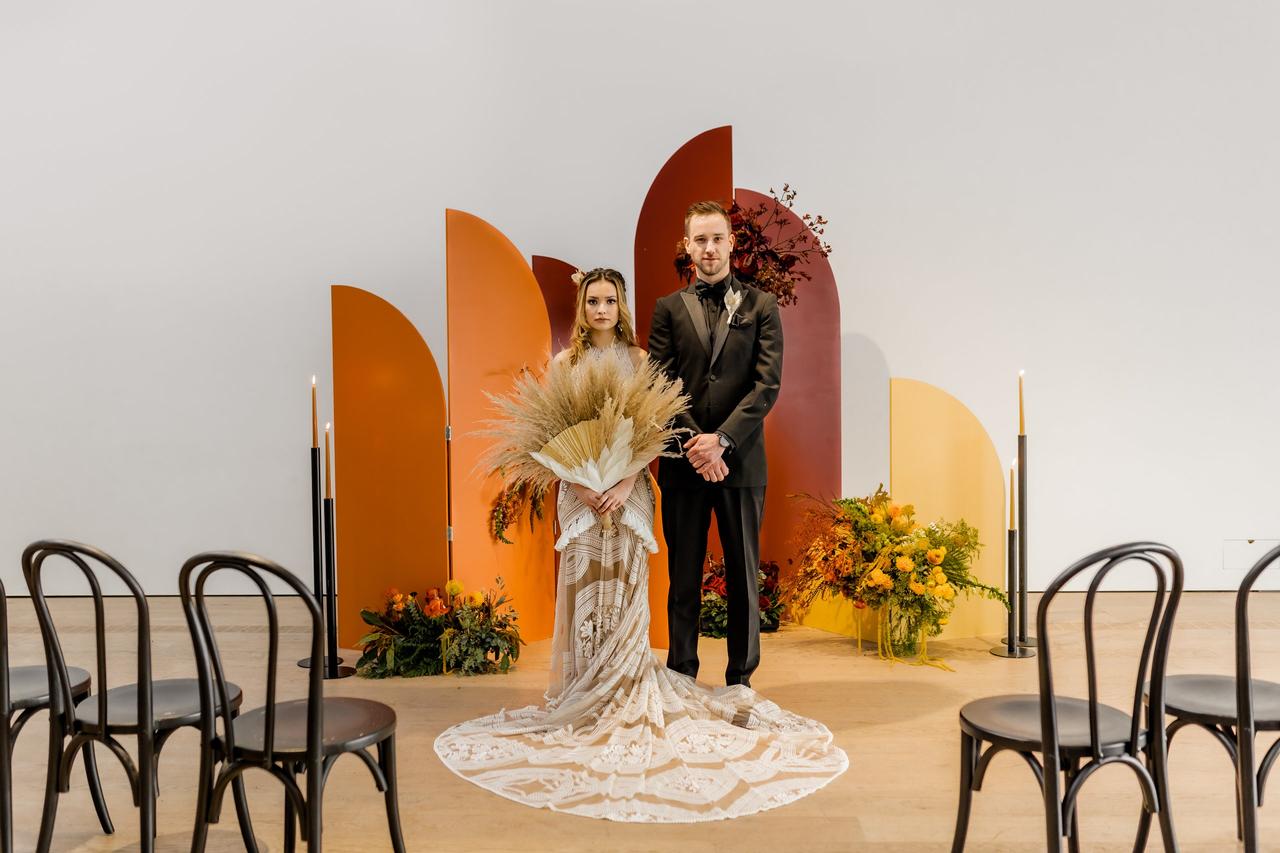 Pumpkin Wedding Centerpieces
Pumpkins are a cheap and cheerful item to add to your fall wedding centerpieces. With all the colours and sizes of pumpkins available, you can choose bright and bold or a soft and elegant look like this one.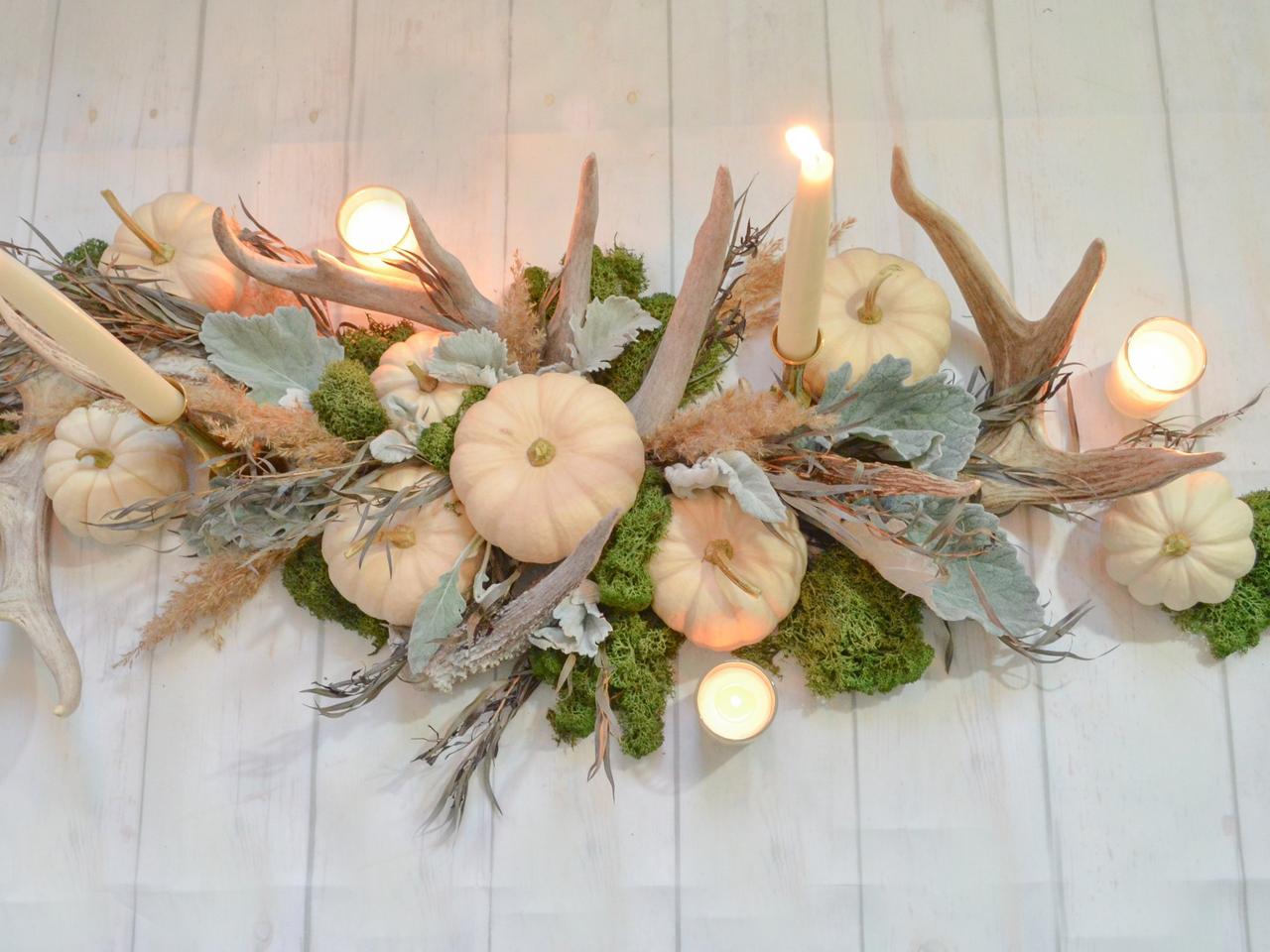 Pumpkin Place Card Holders
Here's another adorable way to feature mini pumpkins (or apples!) as wedding table decorations—use them as place cards. P.S. Here are more creative place card ideas.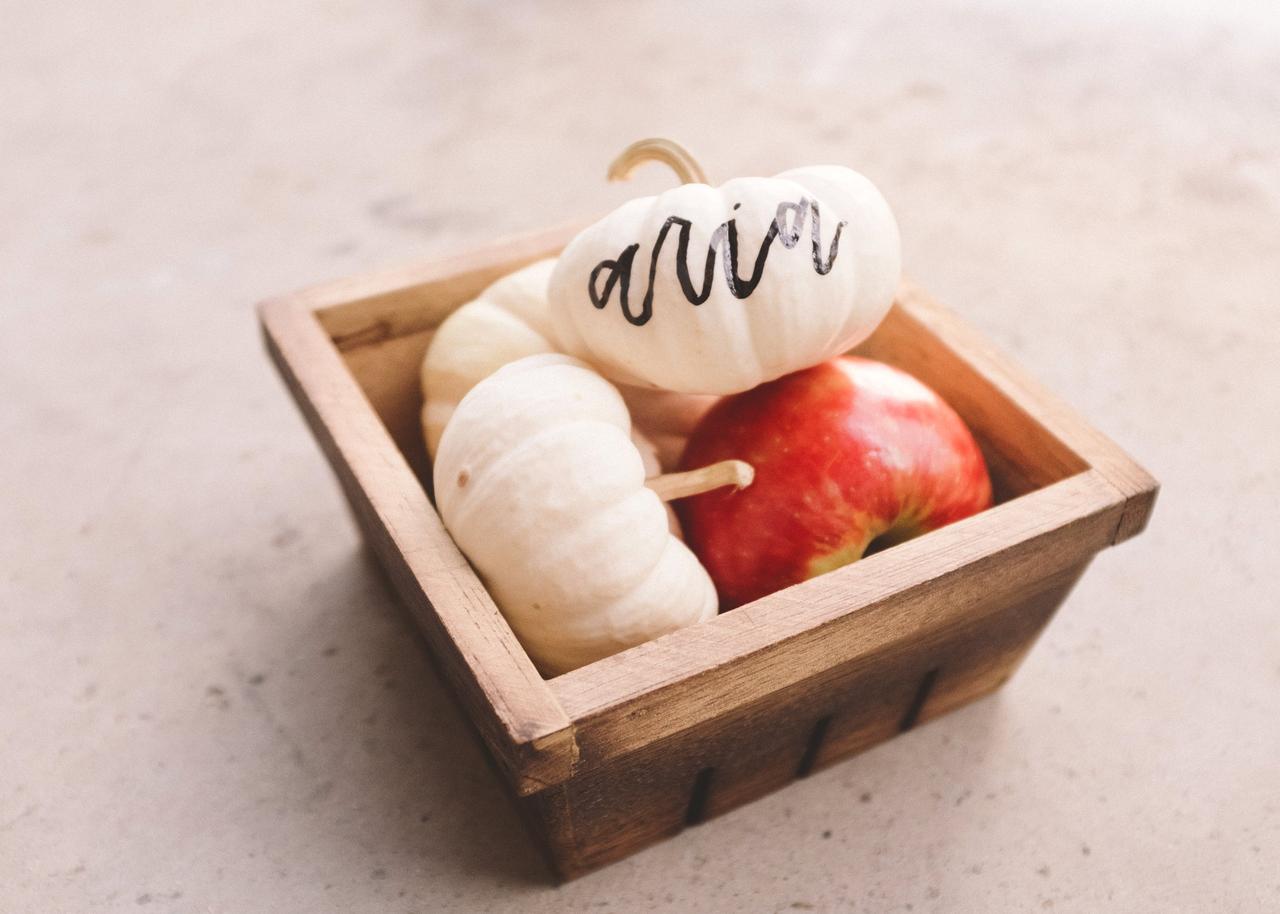 Branches of Berries
Branches or sprigs of fall berries can add another seasonal detail, texture and pop of colour to floral arrangements, wedding bouquets and centerpieces.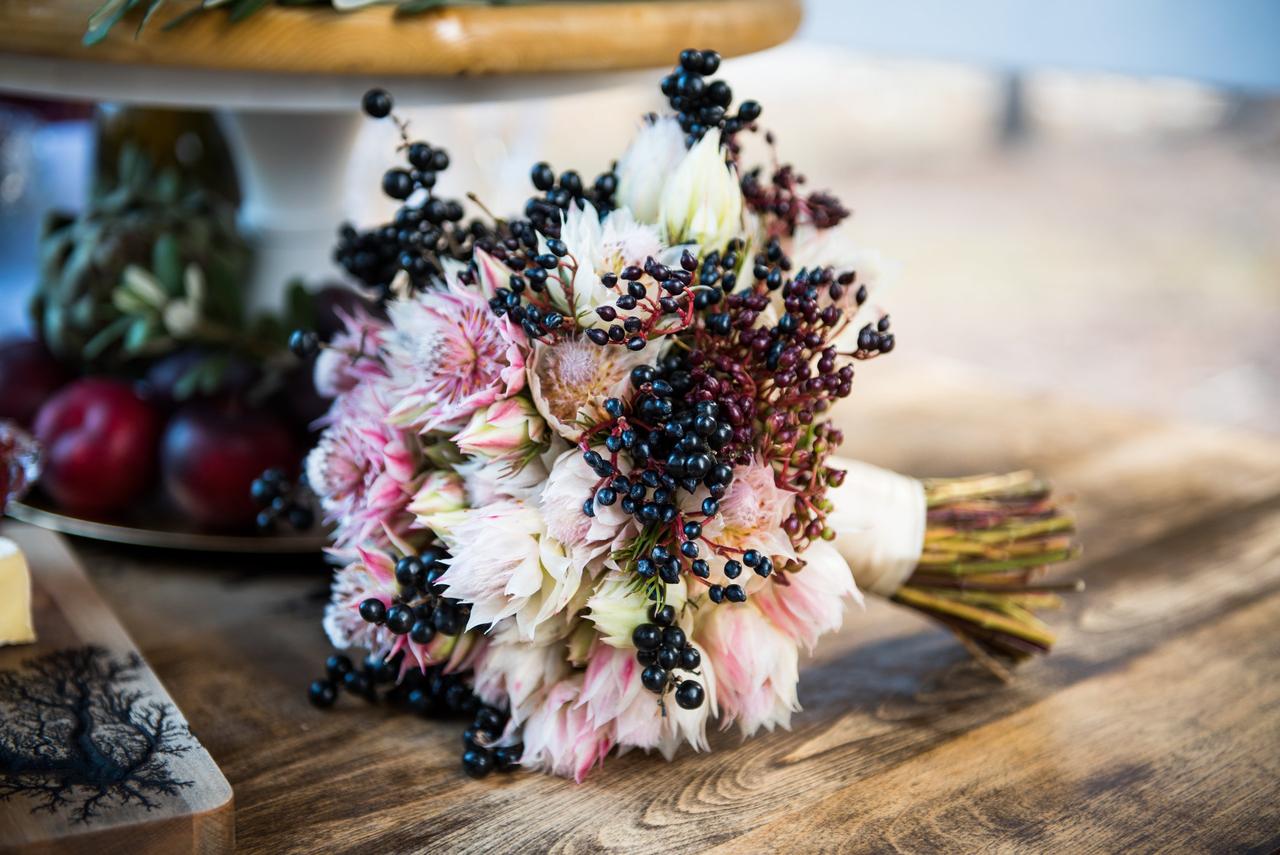 Pampas Grass Wedding Decor
Pampas grass is a boho wedding style favourite, but it really works beautifully for fall decor. What we love about it is that you get big impact at a relatively low cost. So items like a wedding arch, large arrangements at entranceways, or hanging centrepieces can become stylish focal points. Bonus: Check out these 21 Creative Ways to Use Pampas Grass in Your Wedding Decor.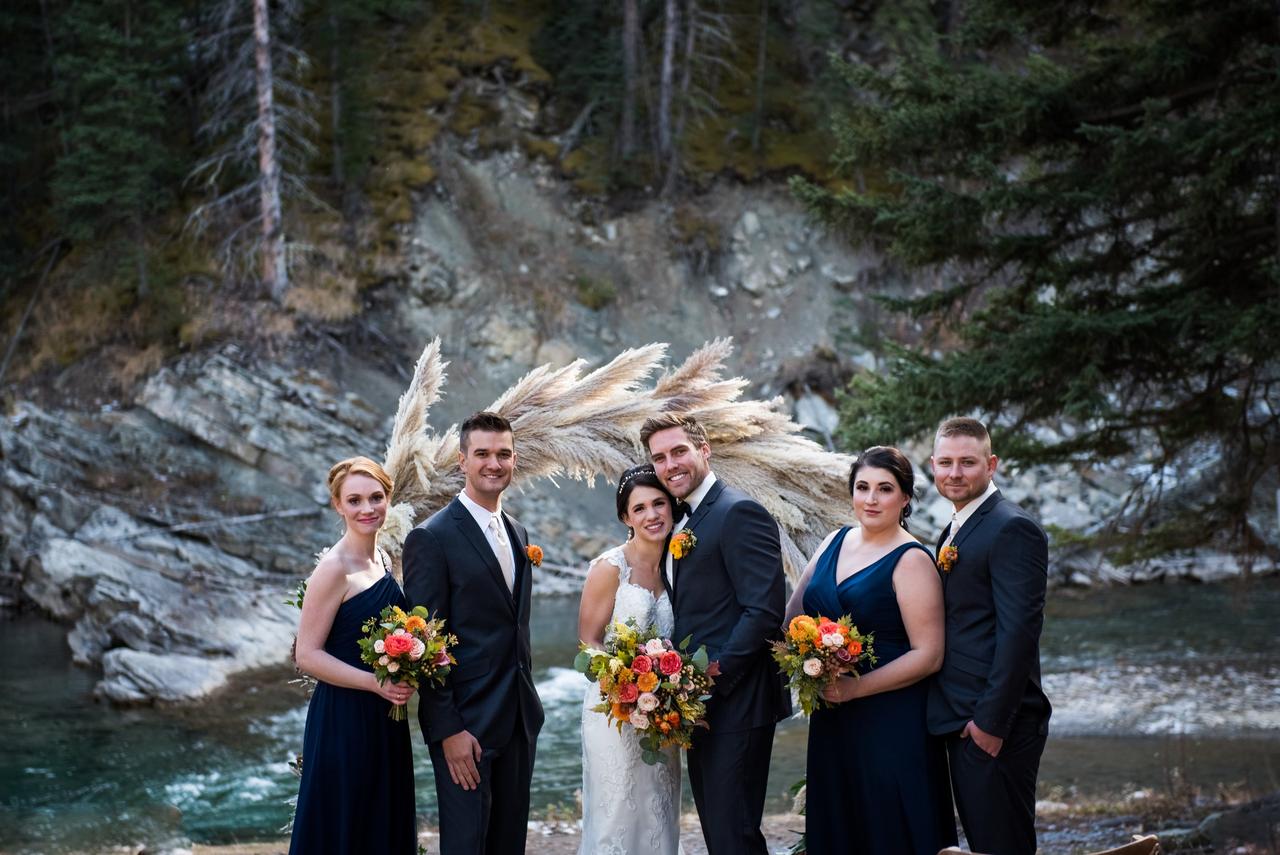 Mum Aisle Markers
Speaking of budget friendly, potted mums are available in an array of colours and they are a quick and easy way to add aisle markers that really pack a punch.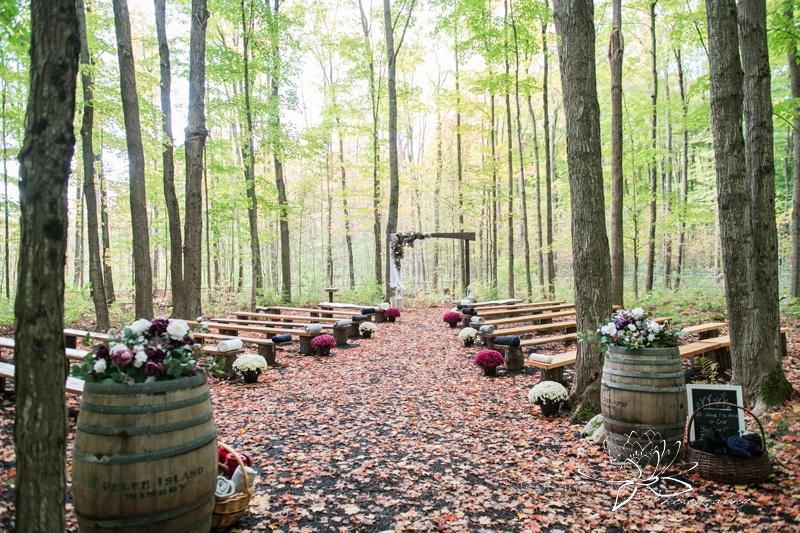 Romantic Outdoor Lighting
As the days become shorter, strings of lights hung among the fall trees add a warm glow when the sun goes down.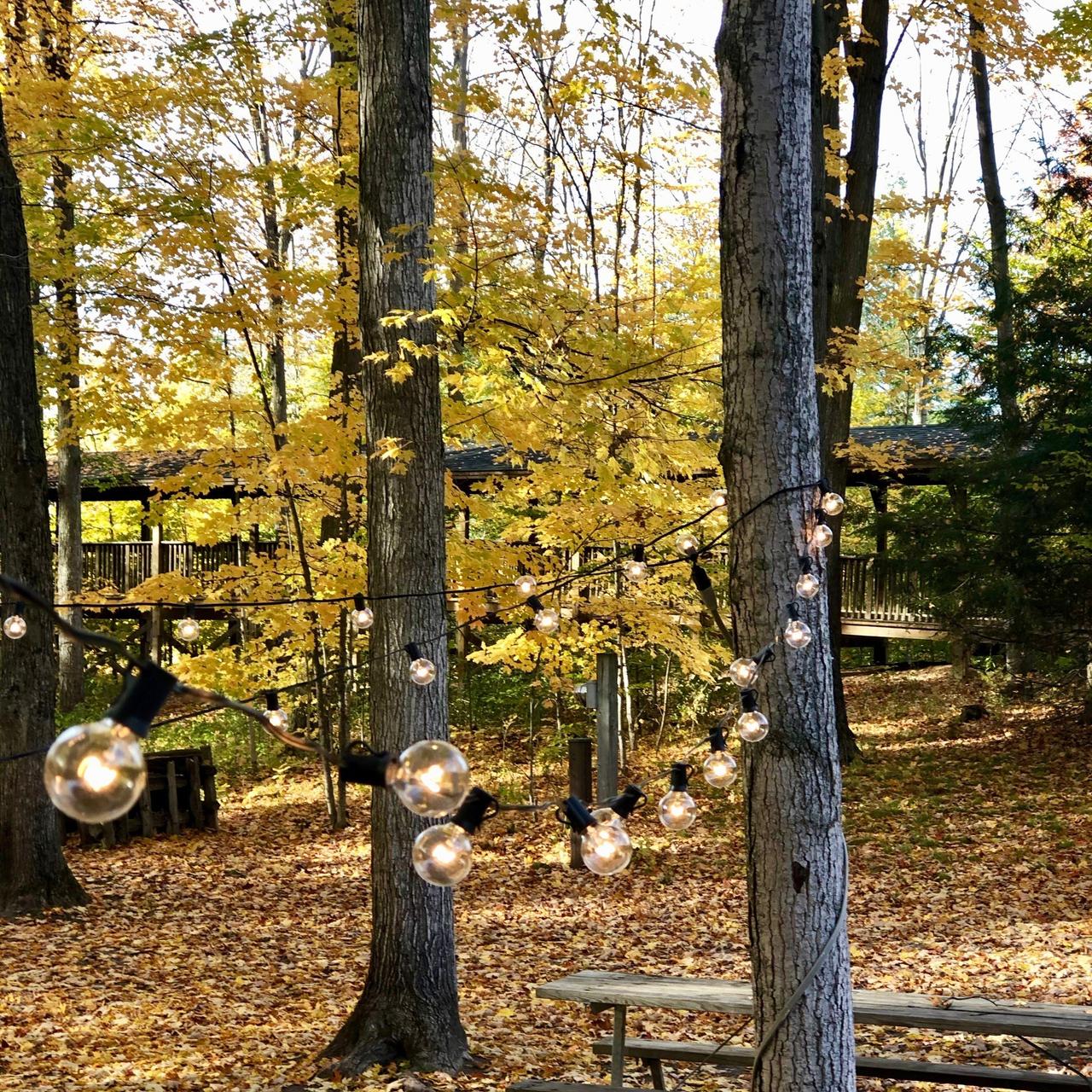 Candles Galore
Use candles and lanterns to create a cozy space for your guests. P.S. Here are 9 Creative Ways to Use Wedding Lanterns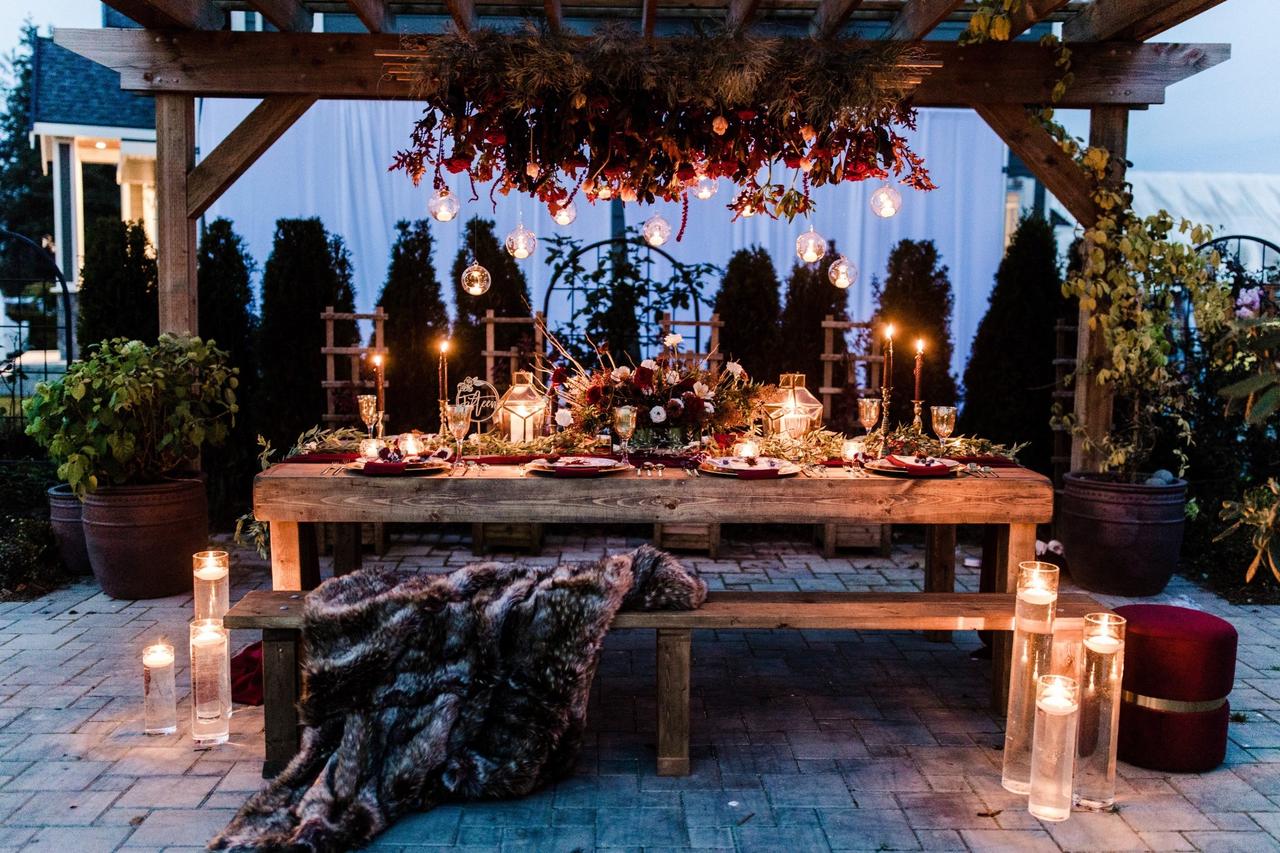 Tree Slice Decorations
We marvel at the beauty of trees as their colourful leaves brighten up the fall landscape. So, bringing a wood element into your wedding decor with tree slices is a natural choice. Use them as table number holders, chargers, dessert display risers or as eco-friendly wedding favours.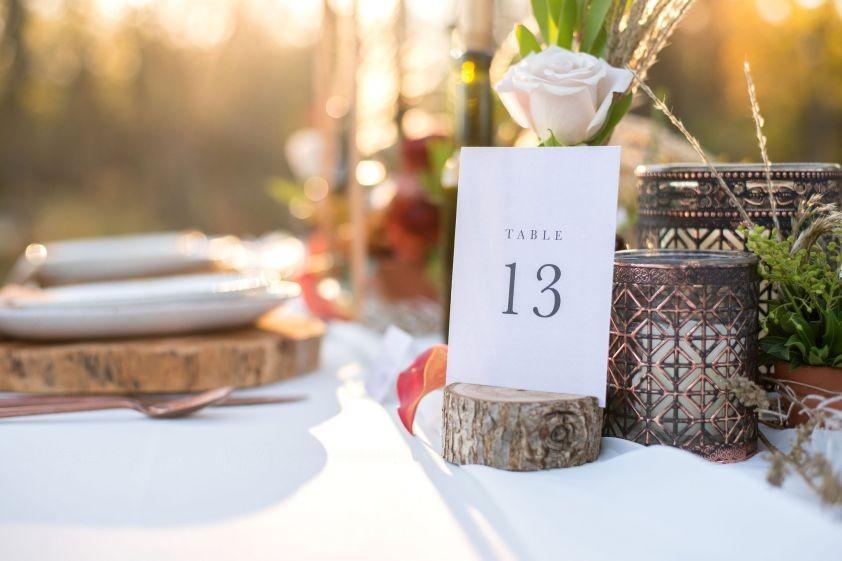 Mobile Wedding Bar
Hiring an adorable mobile bar to roll into your fall wedding reception will definitely add instant style to your decor, particularly for an outdoor event. A converted caravan or horse trailer fits naturally into a rustic setting where it provides a large focal point.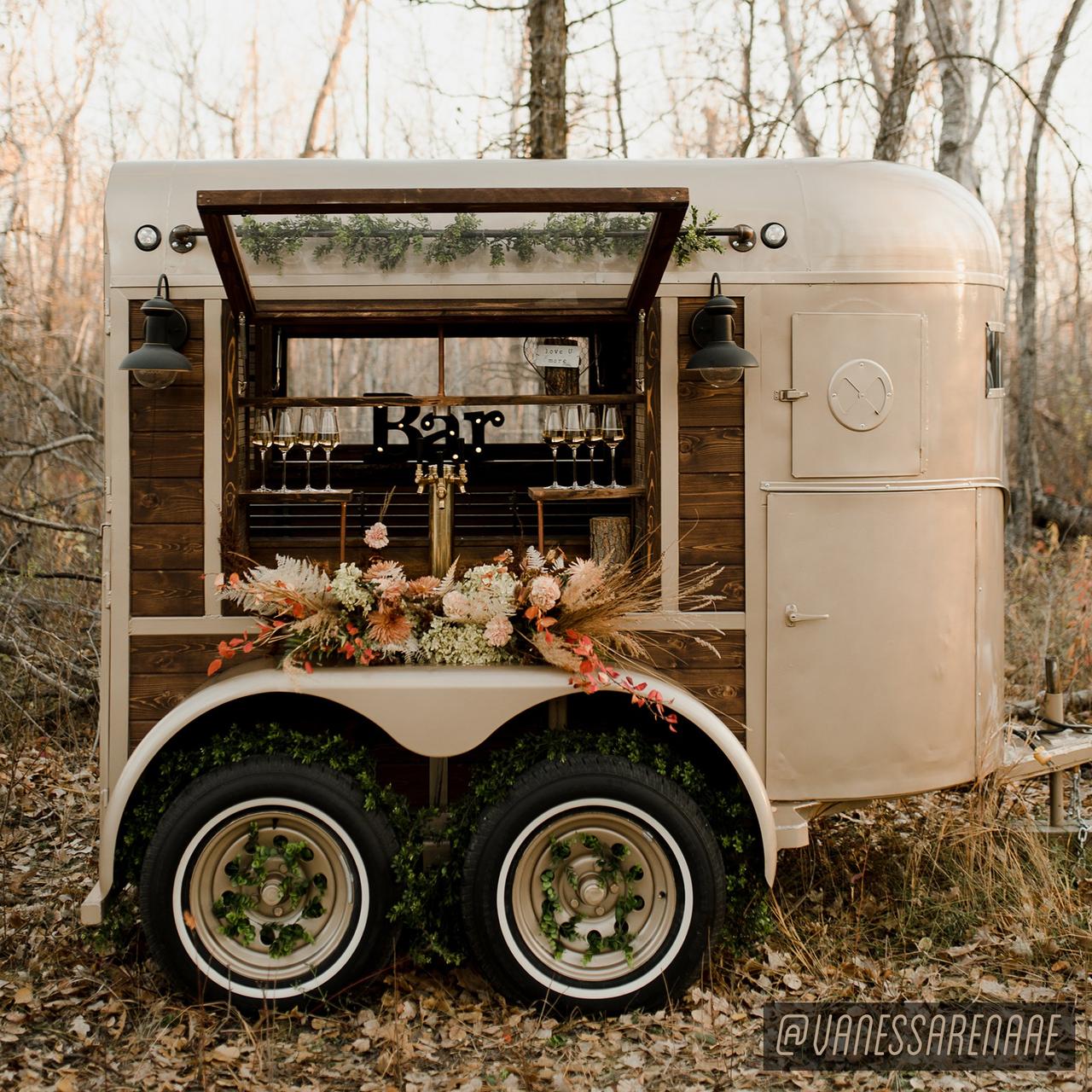 Rusty Tones
Take inspiration from the fall leaves for your table linens. While white linens or wooden tables are more typical choices, hues of orange provide a warm backdrop for crisp white dinnerware and paper items like place cards and menus for a dramatic effect.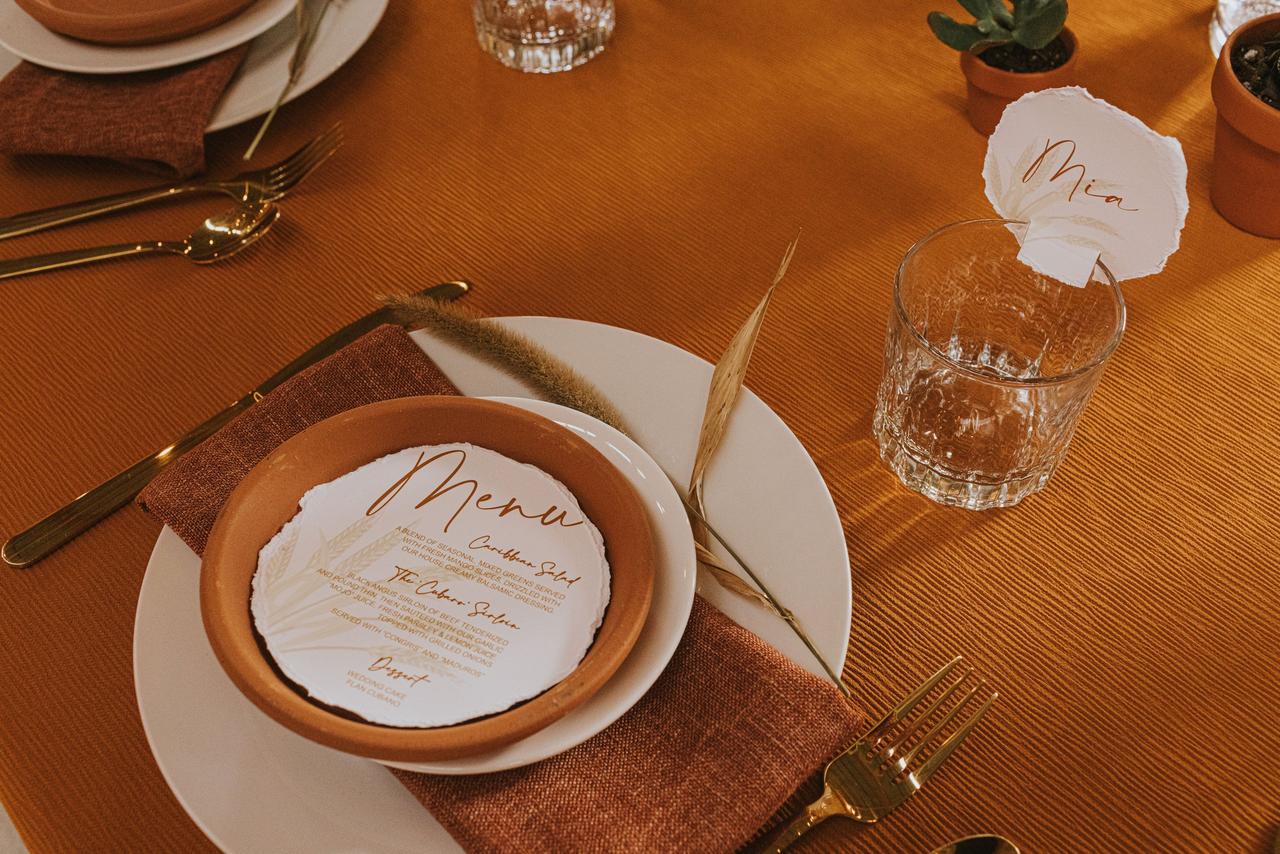 Blue and Green
Prefer blues and greens? These colours also pair beautifully with natural elements like grasses, pine cones and wood accents.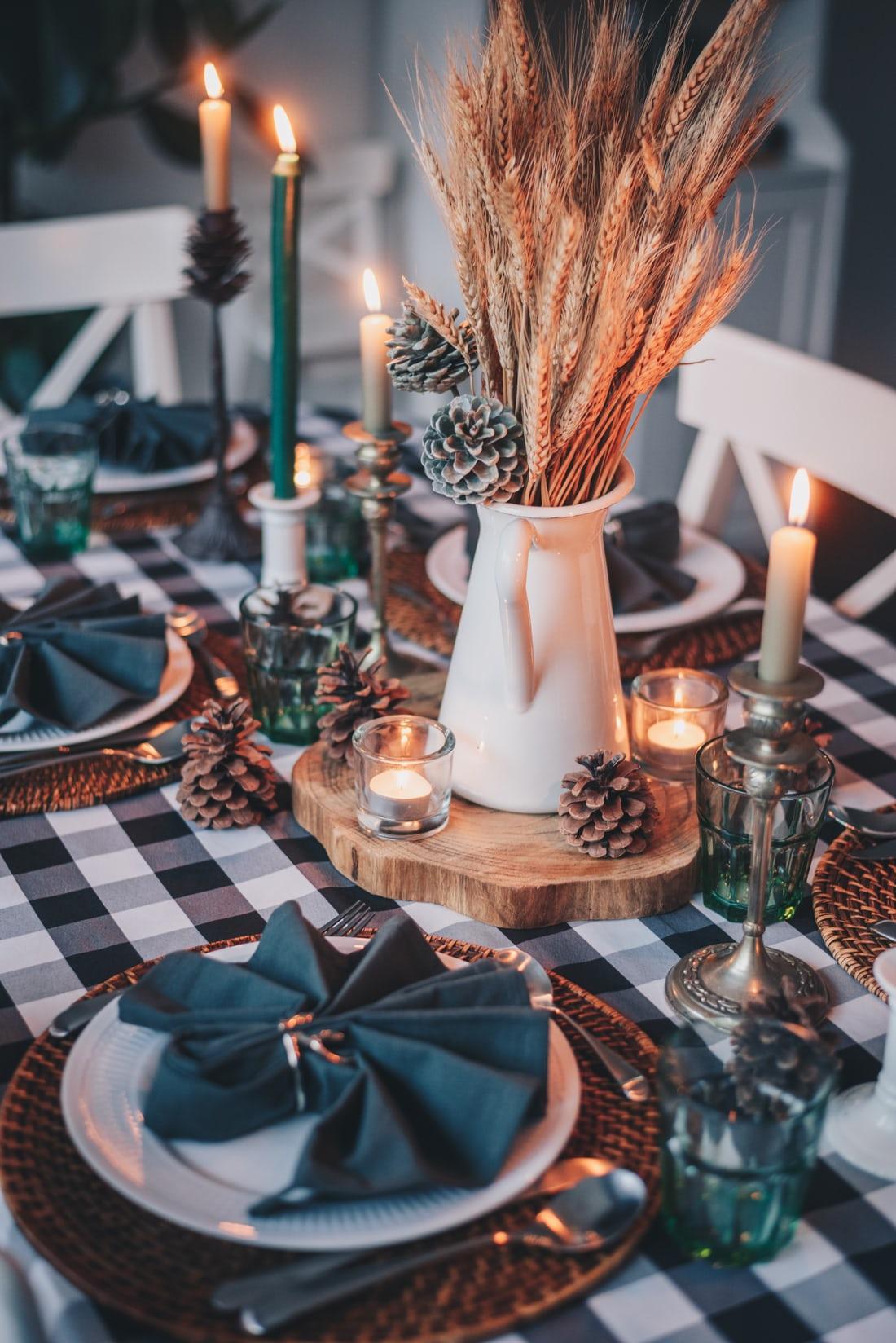 Natural Elements
Prefer less colour and more texture on your tables? Get inspired by this boho-inspired scene featuring different materials in black, white and natural tones.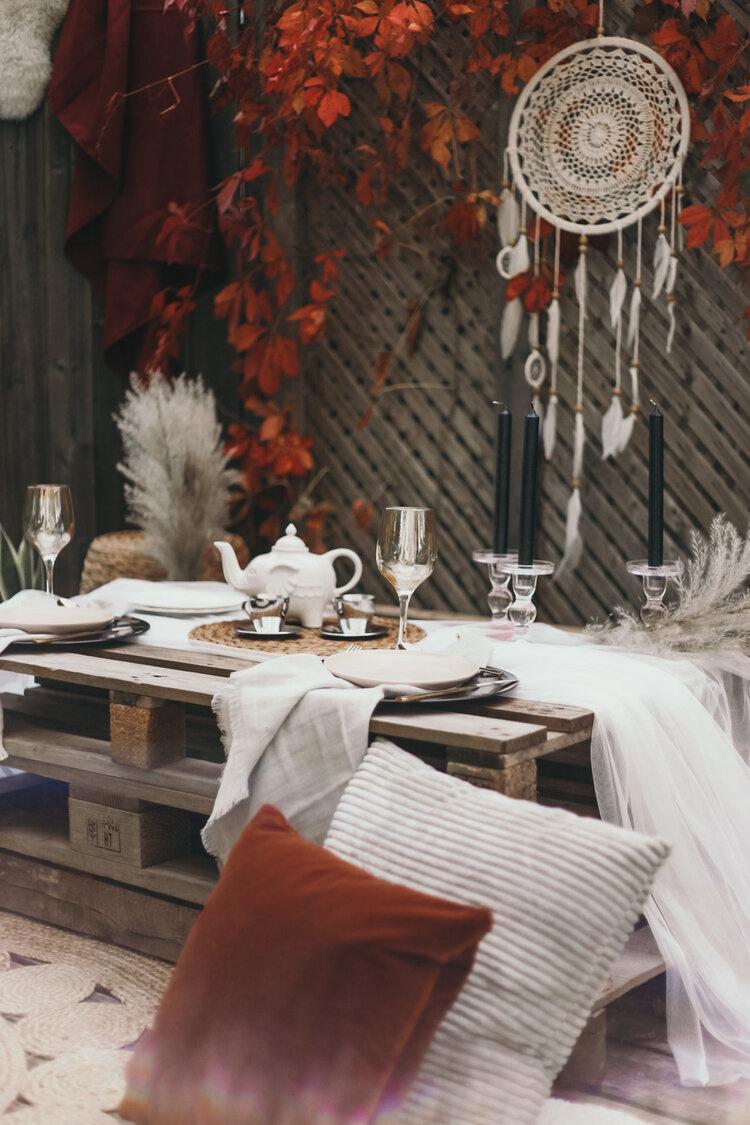 Wine Barrel Bases
Wine barrels give a nod to the fall harvest of grapes in the many regions of Canada. Their warm wood tones are ideal as bases for flower arrangements, a welcome table, buffet or bar.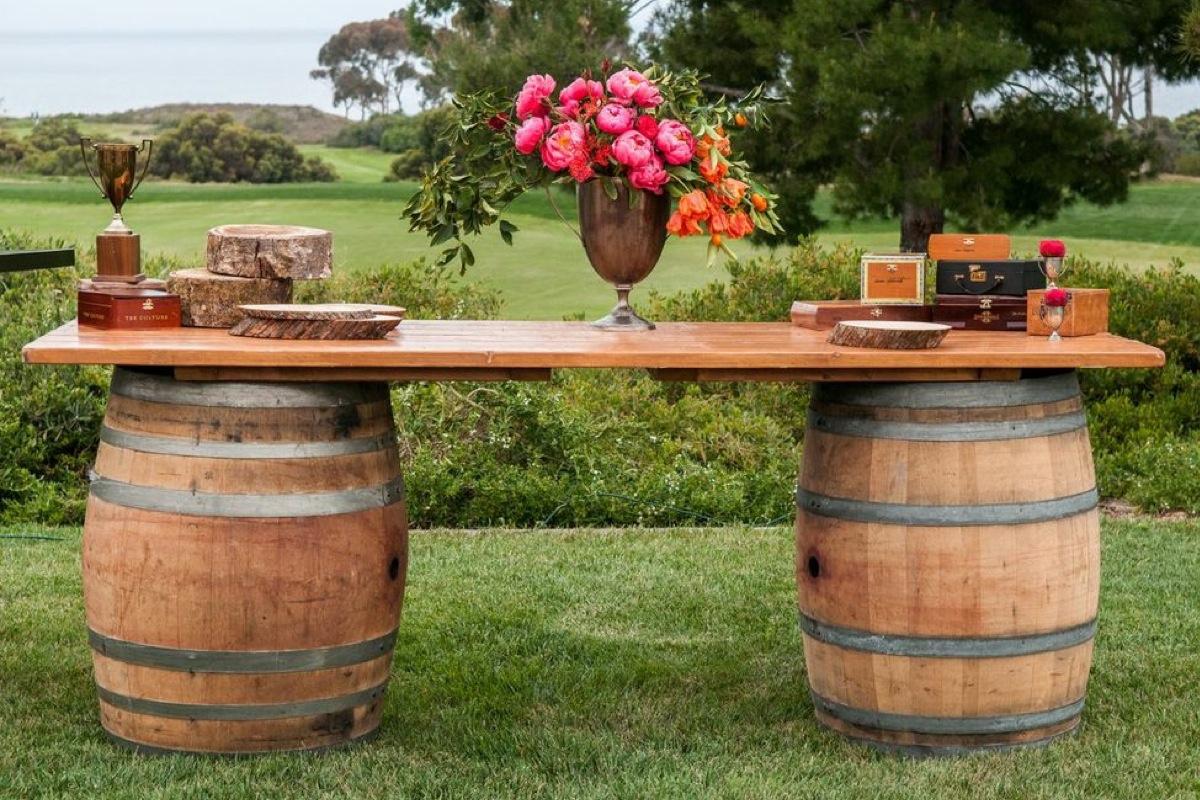 Fall Dessert Display
Elevate your rustic wedding cake and desserts with pedestal tables of various heights and materials. Arrange them in front of a DIY floral arch and fall decorations to anchor the display.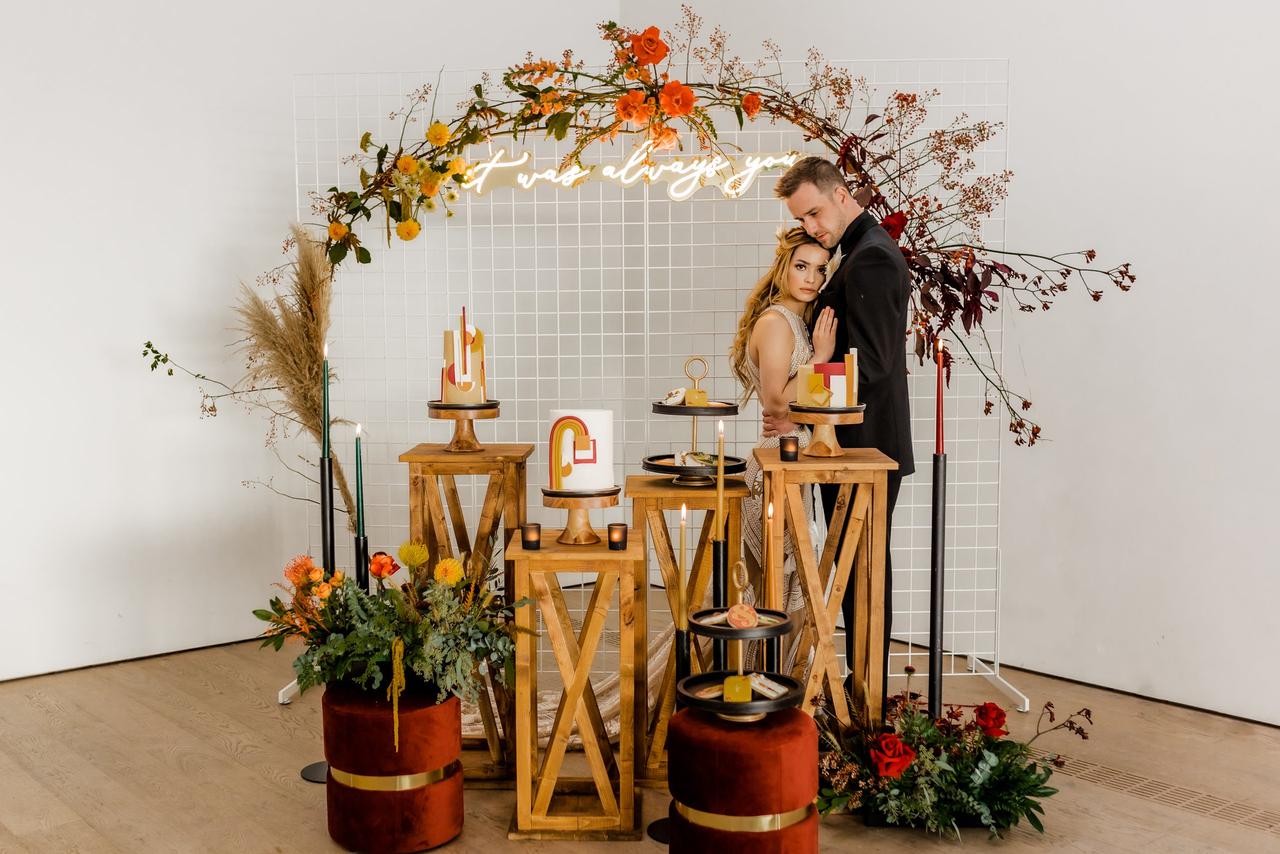 Find wedding florists and wedding decorations on WeddingWire »