10 Rustic Wedding Decor Ideas for Your Reception Tables
Need a little bit of table inspo for your big day? We've rounded up a few of our favourite rustic chic wedding table designs.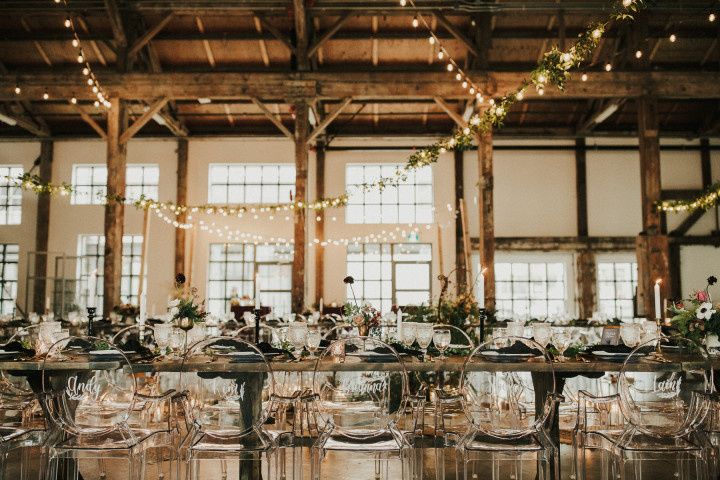 If you don't have a clue how to style your rustic chic wedding tables, no worries. From place settings to floral arrangements, we've got lots of rustic wedding decor ideas to help you craft the perfect table design. We've rounded up some amazing spreads that would look right at home at any rustic wedding. Whether you want to deck out all your tables like this or just spruce up your head table is your call.
Here are a few of our favourite rustic wedding ideas for your reception tables.
White rustic wedding decor
I'm pretty sure this is where you'd be dining if you lived inside Lauren Conrad's imagination. This table is more chic than shabby, so it's perfect for those who just want to dip their toes into rustic wedding decor. Rustic elements are used as the base (light wooden table and chairs) and it's topped with stunning white blooms, taper candles and ritzy tableware.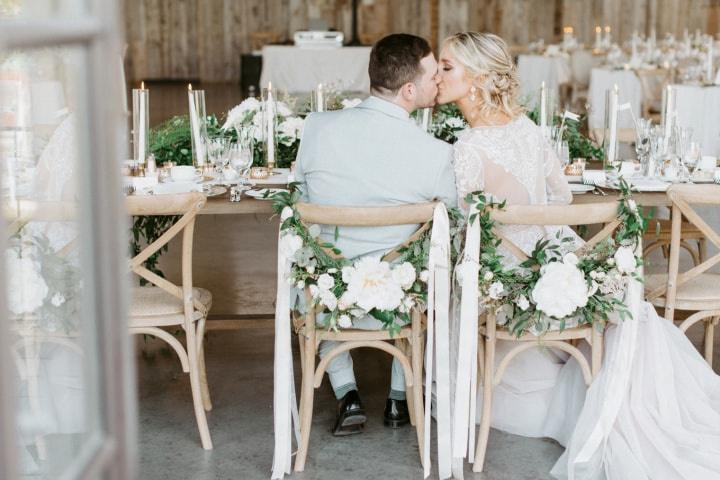 Pouf and pillow seating
Chairs are so overrated! Why not forego traditional seating and offer your guests a few colourful poufs and pillows instead? Not only will this give your guests a more unique dining experience than with your average rental seats, they'll make your venue look amazing. Top off your spread with some mismatched floral arrangements and beautiful place settings and you've got some seriously stunning tables. P.S. this is a great idea for an outdoor micro wedding.or elopement.
Sheepskin accessories
Like the idea of pillow seating but want something on the swankier side? Let this photo be your inspiration. While fluffy white sheepskin may not exactly scream "rustic", it's nice to include upscale elements to balance out your table's look (you don't want your shabby chic table to err more on the shabby side). If you don't want to go overboard, they can just be used to dress up the head table or bride and groom chairs.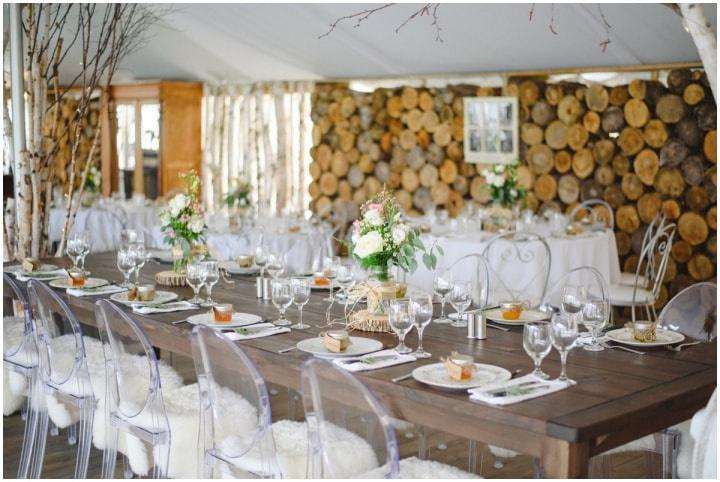 Patterned dinnerware
The dishes you choose can make all the difference. Instead of going for basic, monochrome dinnerware, mix it up with some interesting patterns. We love how this patterned plate, bronze charger, gold flatware and vintage glassware play off of each other.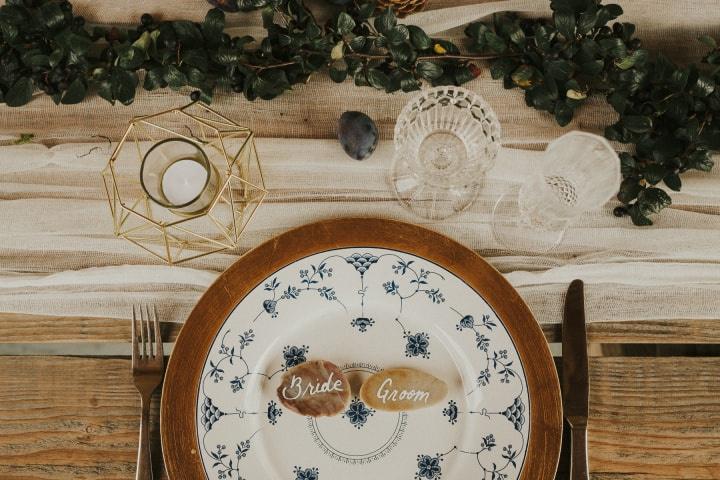 Focus on placesettings
Speaking of dishes and flatware, this combo is an absolute dream. Spruce up a plain wooden table with cream plates, glass chargers, gold flatware, vintage glassware and black napkins. Add a stunning geometric wedding menu card design, a mix of candleholders and some floral arrangements and you're looking at a pretty amazing spread.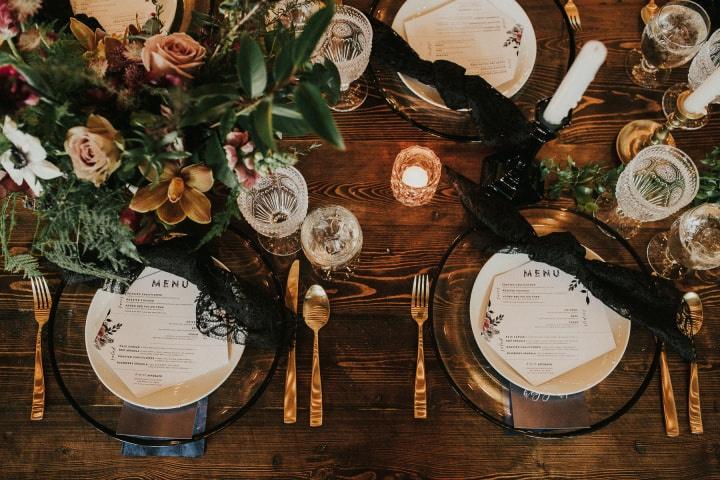 Keep it modest
You don't need massive arrangements and fancy chairs to make your rustic barn wedding decorations look like they were torn from the pages of a magazine. Simple collapsible seats, wooden tables and a few small but stunning arrangements and colourful napkins can pack quite the punch. Bonus: this combo can be pretty cost effective if you find the right vendors!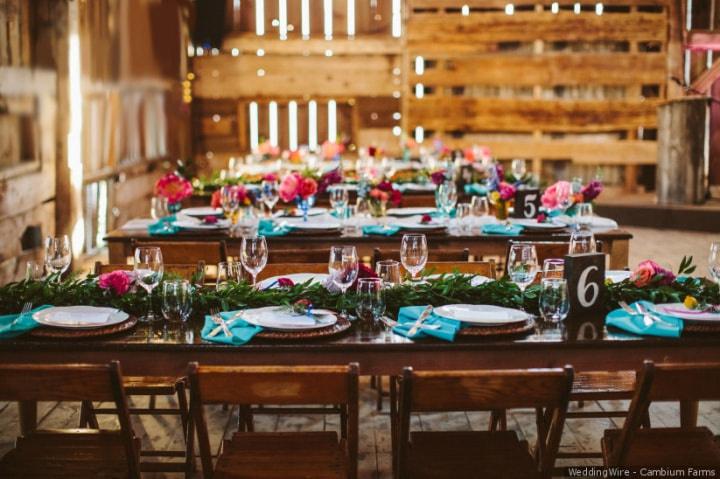 Play with height
Skipping the typical floral centerpieces doesn't mean your table has to look boring. Make it chic with some crystal glassware, stylish plates, metallic accents and some overhanging foliage. Not only will this help you make the most of your budget, it'll also save your guests from craning their necks to have a conversation.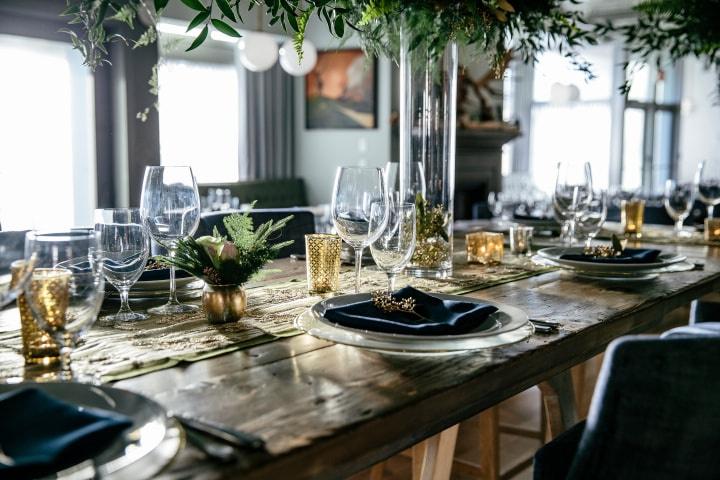 Copper accents
Now this is a seriously swoon-worthy table. Let's break down its elements: a textured tablecloth, dark glazed dinnerware, trendy copper accents and some blue-hued accessories to spruce it up. If you're looking to wow your guests with an amazing rustic wedding table design with a modern edge, this is how to do it.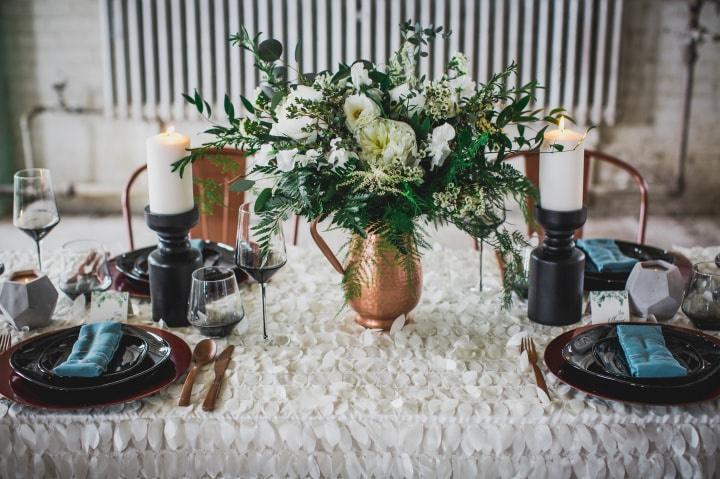 Mix and match furnishings
Forget about being matchy-matchy and add some character to your rustic country wedding table decorations. Use an array of different harvest tables and antique chairs and top them off with a few colourful centrepieces, chic tableware, an eclectic mix of glassware and an ivory runner for good measure.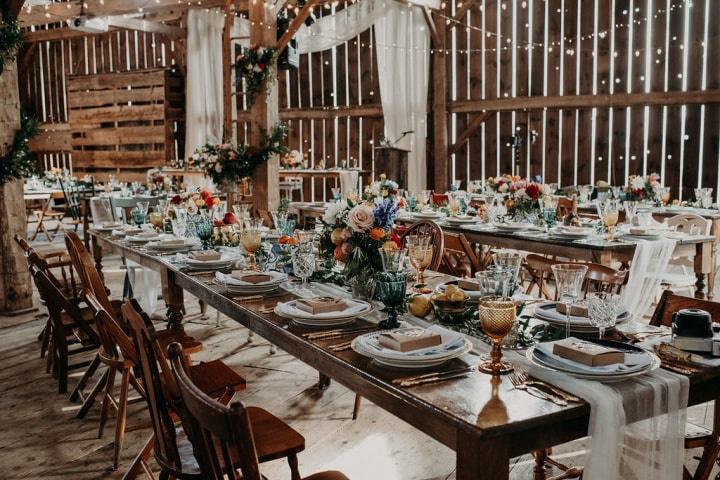 Edison bulb lighting
Sometimes all you need to make your table pop is amazing lighting. Take this reception table design for example. Yes, the table set up is simply beautiful, however, what really pushes this one above and beyond is the hanging edison bulbs above each table. This is definitely a look worth trying with fixtures or strings of lights.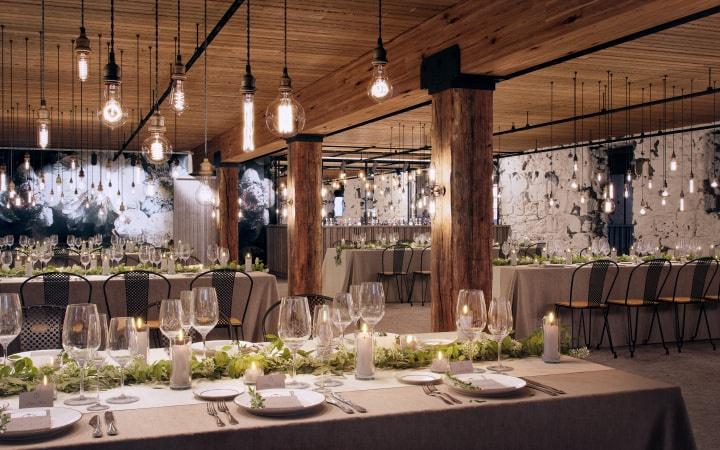 Find wedding decorations, florists and event rentals on WeddingWire »