Your wedding guests need to know where to sit, so wedding place cards (or escort cards) are a definite must. While you could easily ask your stationer to print off a batch that matches your invitations, programs and menus, why not get a little bit more creative? From clothespins to geodes, you've got plenty options that'll make your place settings pop.
Here are a few of our favourite creative place card ideas.
Leaves
Leaves come in all sorts of shapes, sizes and varieties, so you should have no trouble tracking down a type that fits your wedding theme. Going for an autumnal outdoor affair? A melange of red, orange and yellow maple leaves would look stunning. Or, do you want to infuse your wedding reception with some tropical flair? Banana leaves might be the way to go.
Rocks
Rocks may seem bland and boring, but, trust me, they have plenty of potential. You can leave them plain for a more rustic look or paint them to fit in with your wedding's colour scheme (if you're down to DIY). We suggest going for a range of shapes and sizes to keep your spread looking interesting.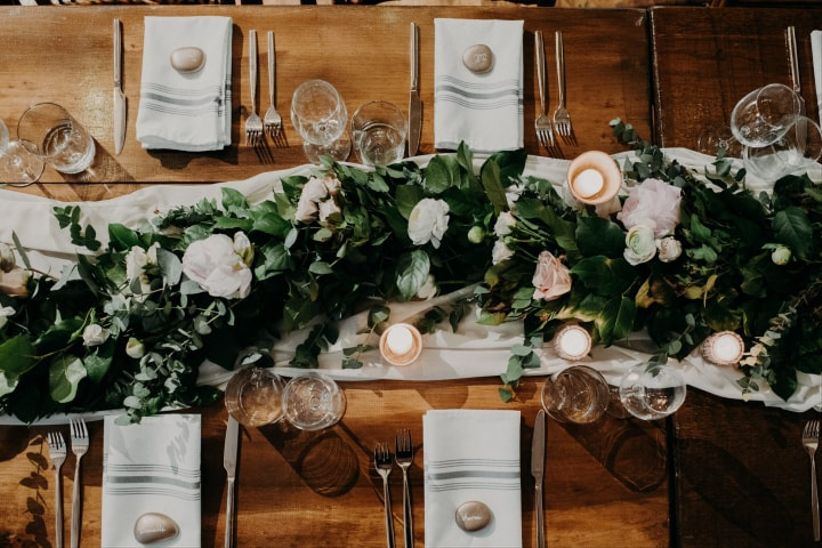 Geodes
If you like the idea of rocks, but want something a bit more colourful, think about using geodes as your wedding place cards. Crystals are super on trend at the moment, so many home decor shops are selling them as coasters. These can easily be transformed into stunning place cards with the help of a handy dandy Sharpie.
Clothespins
If you like the rustic-chic minimalist look, clothespins might just be your perfect wedding place cards. All you need to do is add your guests names and clip them to their napkins - simple, sleek and extremely budget-friendly.
Shells
Shells are the perfect table accessory for a beachy reception - and, good news, they're pretty easy (and cheap) to come by. If you feel like giving your a little extra oomph, paint the inside (or the entire shell) a shade that matches your wedding's colour scheme.
Plants
Want to combine your wedding place cards and your favours? Go with plants! Pick your favourite bloom, green or cacti and pack it into a pot (you can usually get a good deal if you order in bulk or find them at the dollar store). Label the vessels with your guests names and, Voila! You have some fancy double duty name cards that look cuter than most paper options.
Laser cut signs
This ultra modern option is a no fuss, no muss option that your guests can hold onto after your wedding wraps (they make for cute desk signs or home decorations). While they may be a bit more expensive than natural alternatives, like leaves or rocks, they're totally worth the splurge if you're going for a more modern theme.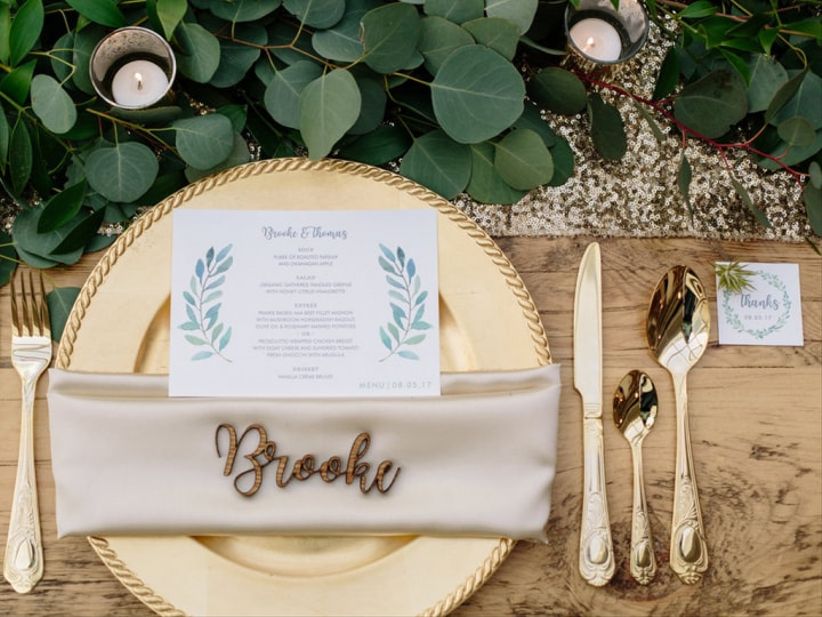 Light bulbs
This option is definitely not traditional, but damn does it look cute. Recycle old light bulbs or head to your local hardware store to pick up some more interesting varieties. Paint your guests names right onto them (like these ones) or print off stickers and place them directly onto the bulbs for a sleeker look.
Find wedding invitations and calligraphers on WeddingWire »