How to Rock the Transparent Wedding Decor Trend
Want to jump on the transparent wedding decor bandwagon? Here are our favourite ways to embrace the trend and take safety measures during Covid-19.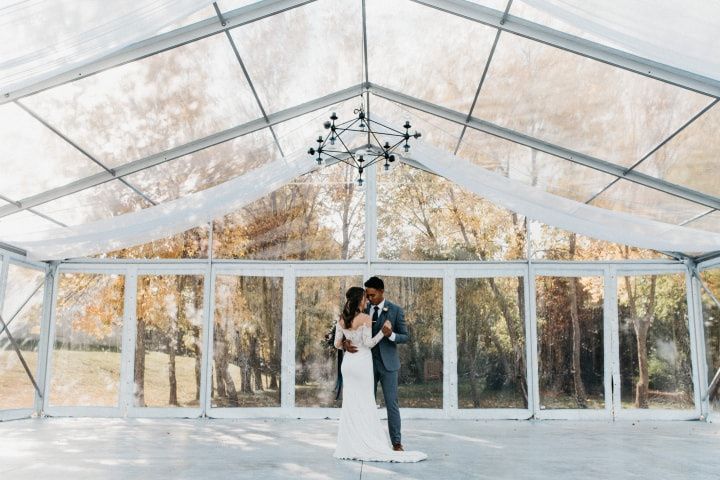 Whatever your wedding theme, the transparent wedding decor trend will add a touch of modern elegance to your event. This concept was gaining popularity before Covid-19, and now with the need for protective barriers, plexiglass elements add both form and function to a wedding celebration. Whether you want to use one or two acrylic wedding decorations, or go the whole nine yards and incorporate all of these ideas, they are sure to pack a punch and make your wedding decor more memorable and safe for your guests and vendor team.
Here's how to rock the transparent wedding decor trend.
Venue
There are plenty of ways to embrace the transparent wedding decor trend with your wedding venue. Our favourite options are greenhouse wedding venues, spots with floor-to-ceiling windows and outdoor event spaces with glass railings that offer panoramic views.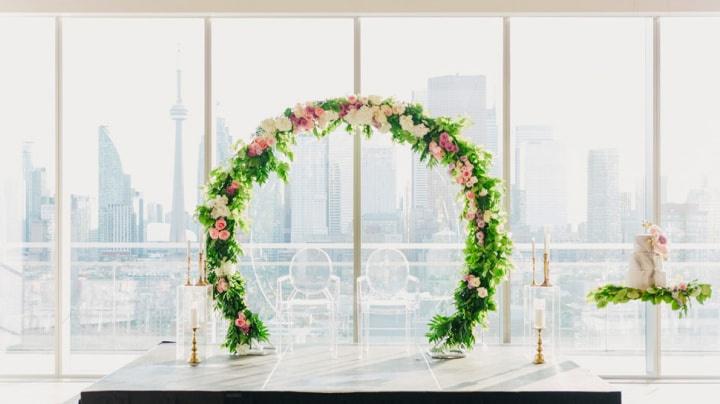 Signage
Pretty up your wedding signage by printing or writing messages on acrylic signs and screens. They look great when coupled with other decorative bits and bobs, like candles, fairy lights, greenery, flowers, feathers and macrame.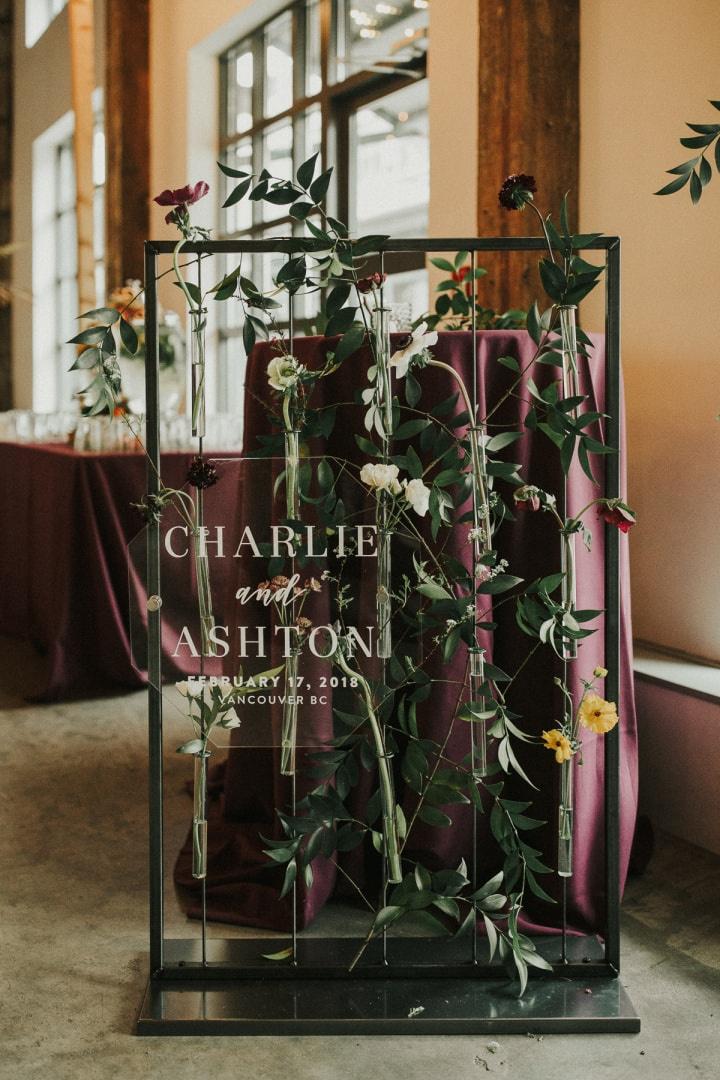 Protective Barrier
Musicians, DJs, caterers and photo booth vendors are using transparent fixtures as a protective barrier in order to provide their services safely at a Covid wedding. Pictured here, Jazz singer Tiffany Hanus of The Tiffany Hanus Jazz Trio performs behind a transparent divider that's both stylish and safe.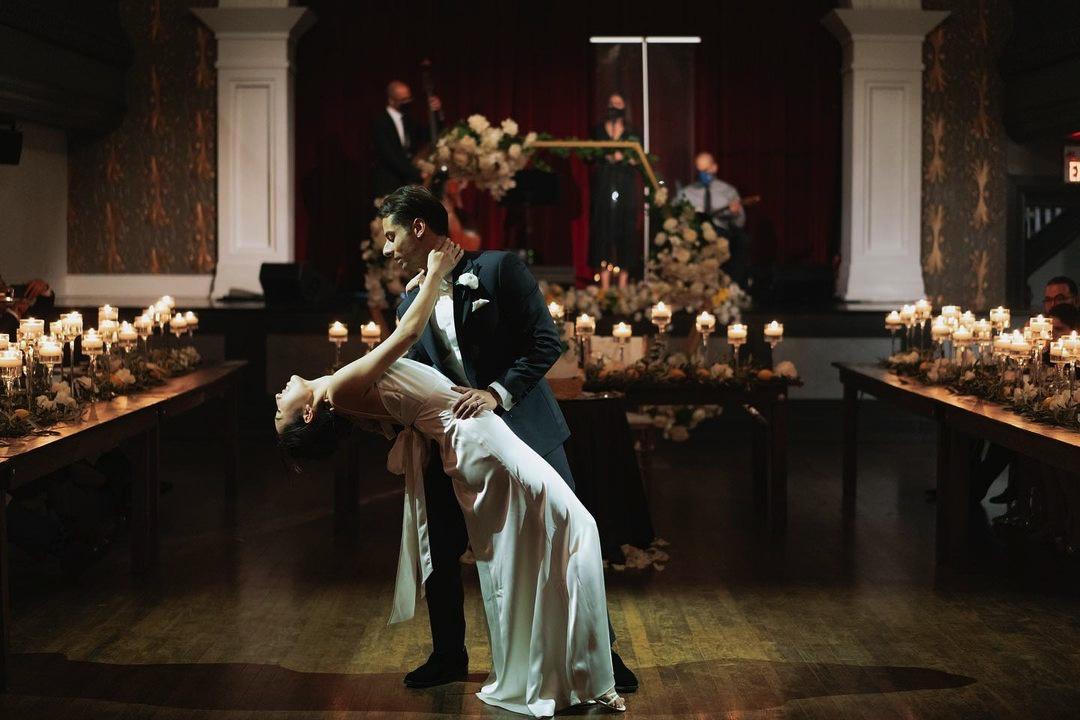 Marquee
Clear top tents are really having their moment right now with outdoor weddings being the safest option. Even the most traditional wedding venues - like old school manors and hotels - are expanding their event spaces by pitching clear tents in the great outdoors creating a greenhouse effect. P.S. Here's 9 Things You Need to Know About Tent Wedding Venues.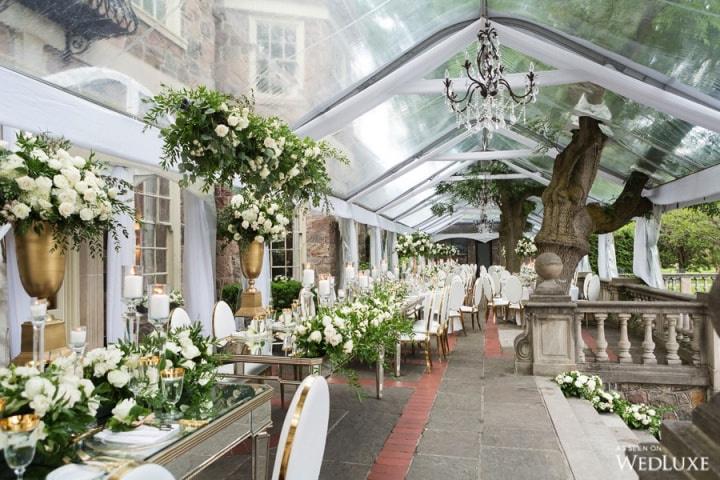 Seating
Lucite ghost chairs will give your ceremony style a contemporary edge. Keep in mind that most venues won't have this wedding chair style on hand, so you'll probably have to rent them from another company (meaning you'll need to work them into your budget).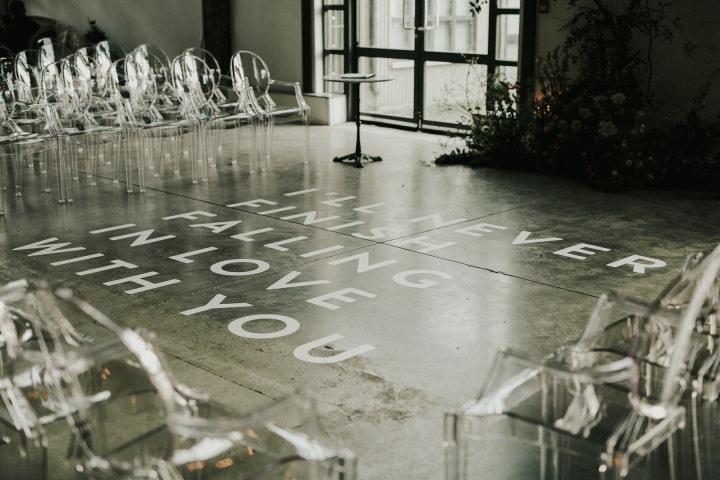 Chuppah or Arch
Use a lucite frame as the star of your wedding ceremony decor. It looks gorgeous all on its own, but you can make it even more stunning by adding some linens and a few flowers.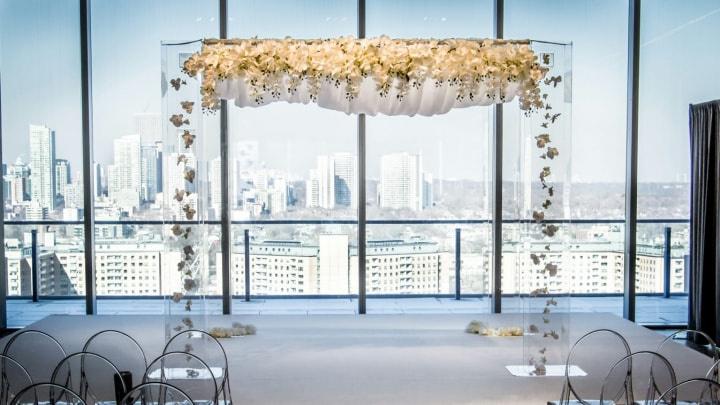 Seating Chart
Yes, mirrors and chalkboards signs work amazing as bases for wedding seating charts, but if you want to embrace the transparent wedding decor trend, we suggest having it printed on a giant piece of plexiglass or lucite. If you want to take it to the next level you can place some lights, flowers or other decorations behind it (just make sure it's still legible).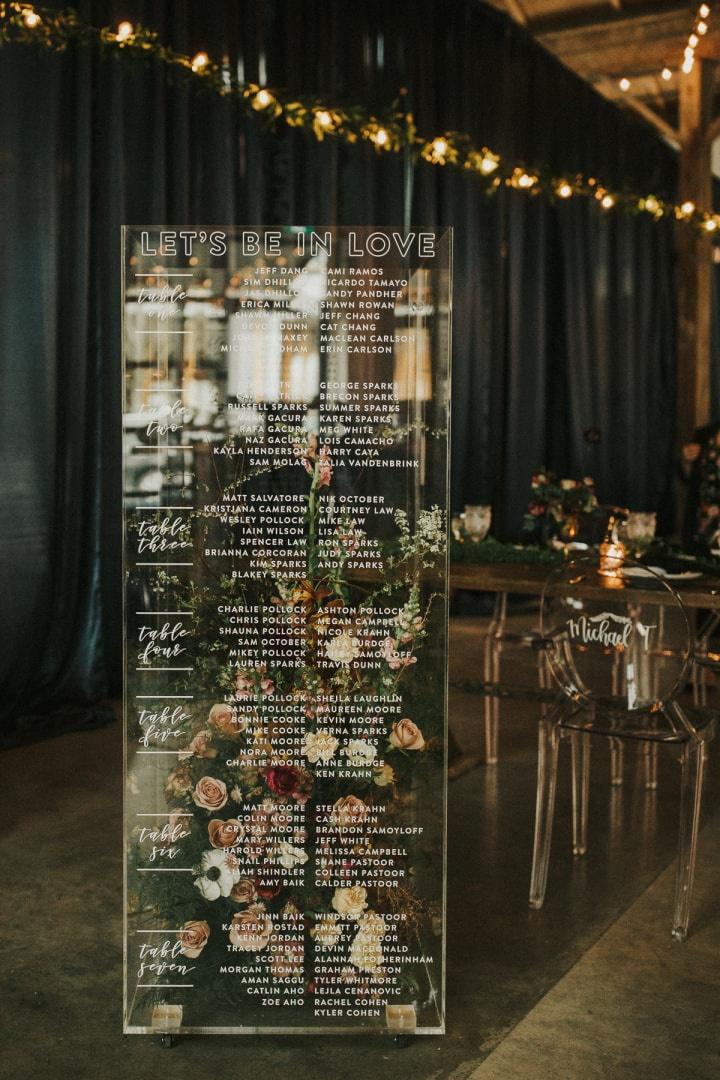 Wedding Cake Case
Safely put your wedding cake on full display with a transparent cover. It will protect it from the elements at an outdoor wedding and from any germs. Alternatively, if you're serving up individual mini cakes to your guests you can put them in transparent boxes at each place setting for a pretty decor touch and easy takeaway wedding favour like these ones by Diana Pires Events and The Cocoa Cakery.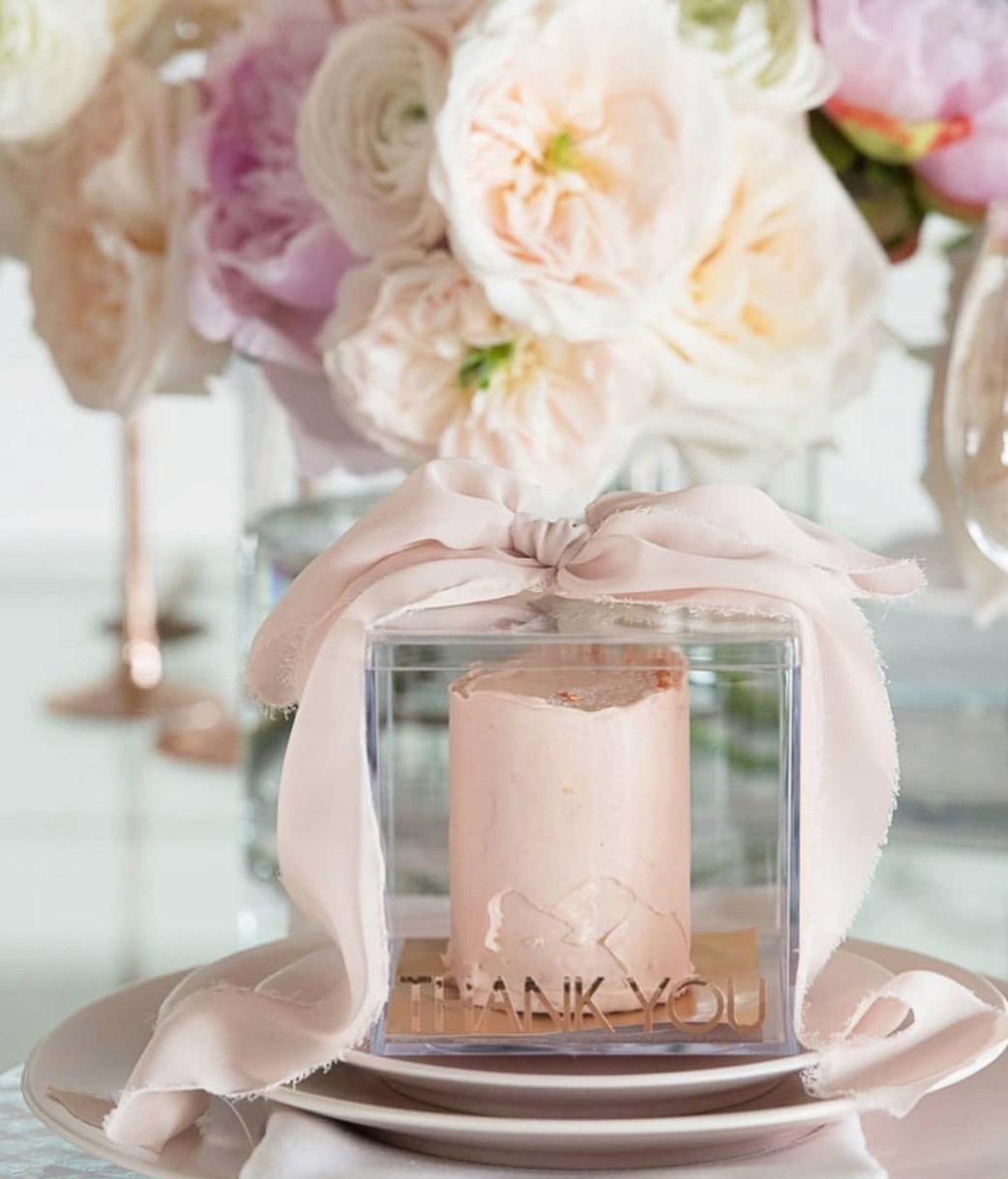 Floral Centerpieces
You could opt for a terrarium effect for your wedding centerpieces or choose something a little more unexpected like this lucite box filled with flowers.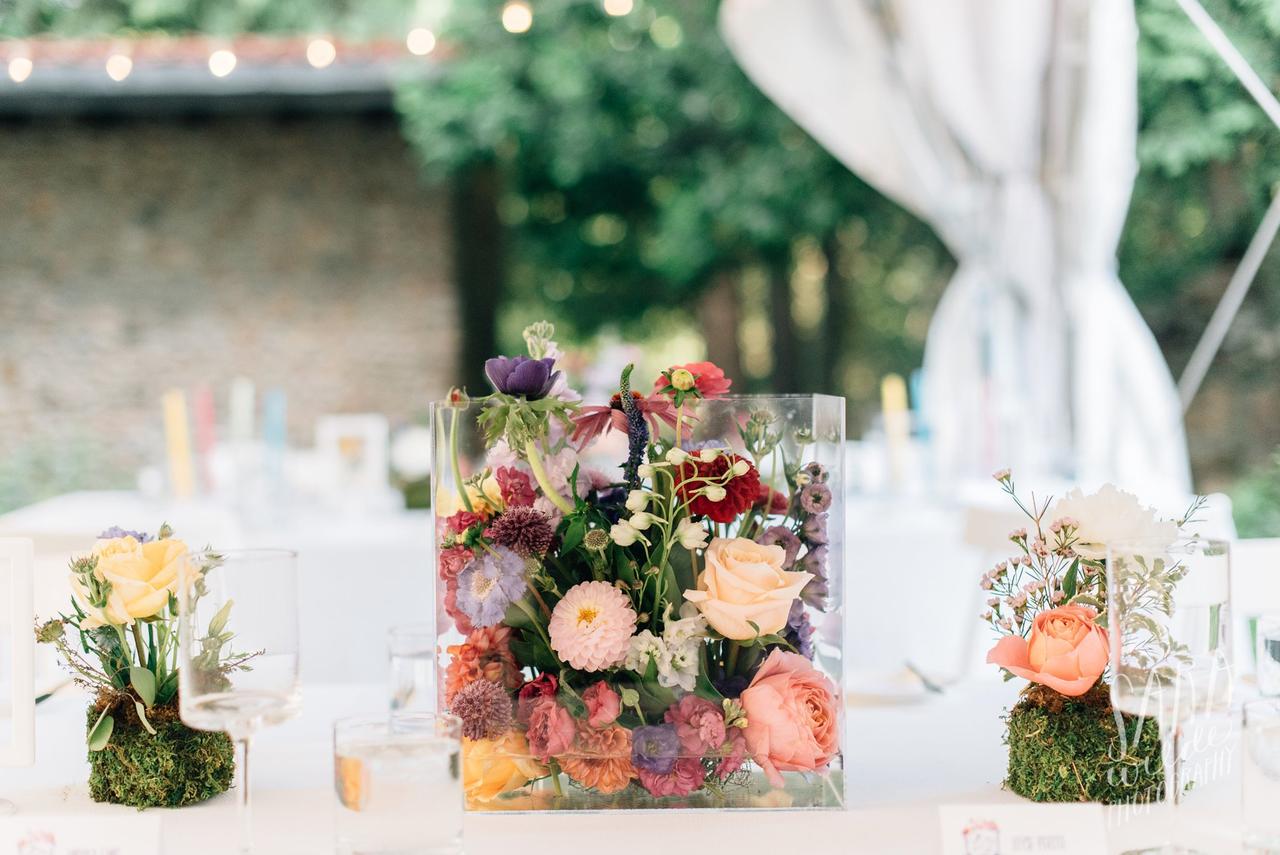 Place Cards
On the hunt for a unique and steal-worthy wedding place card idea? This is it. If you have your guests names printed, etched or painted by a calligrapher on clear lucite or glass coasters they can even double as your wedding favours (who doesn't love killing two birds with one stone?).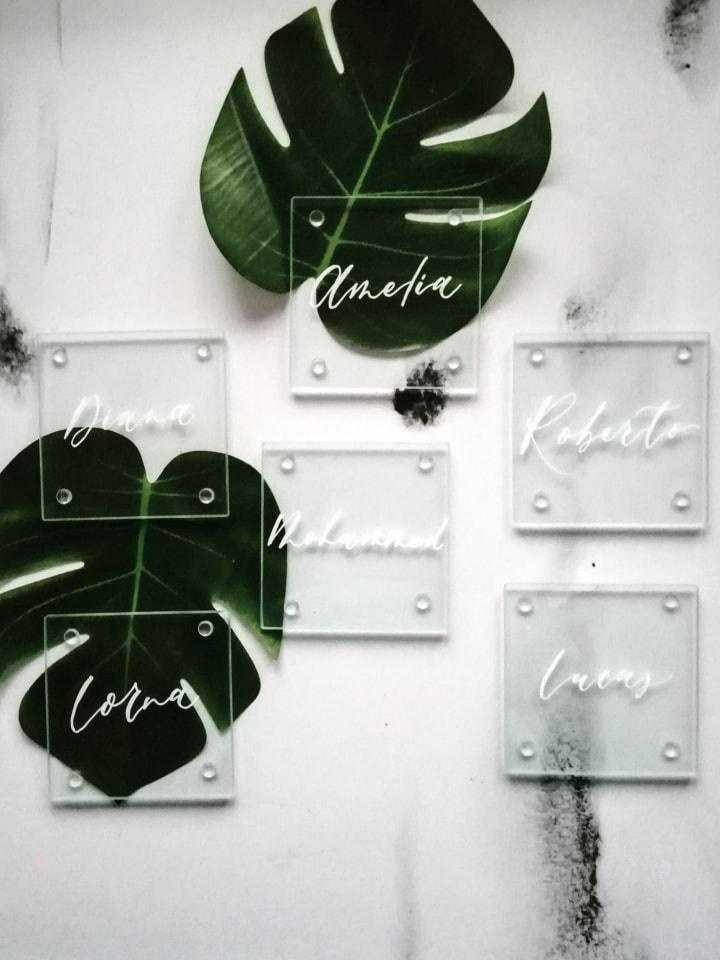 Table Names or Numbers
Here's another way to embrace the transparent wedding decor trend. Make your wedding table names or numbers part of your decor by writing (or painting) them onto small acrylic cards in stands, clear vases or votives. If you plan on filling the vessels with flowers or other decorative baubles, you'll want to make sure you use a bolder font style and colour.
Menu Cards
Skip the basic paper menus and go for clear cards, instead! If you do go this route, you'll need to make sure your font style and colour is easy to read so that everyone knows exactly what delicious appetizers and entrees you're serving. Pro tip: You can place them on a darker or lighter napkin, plate or base to make the text stand out.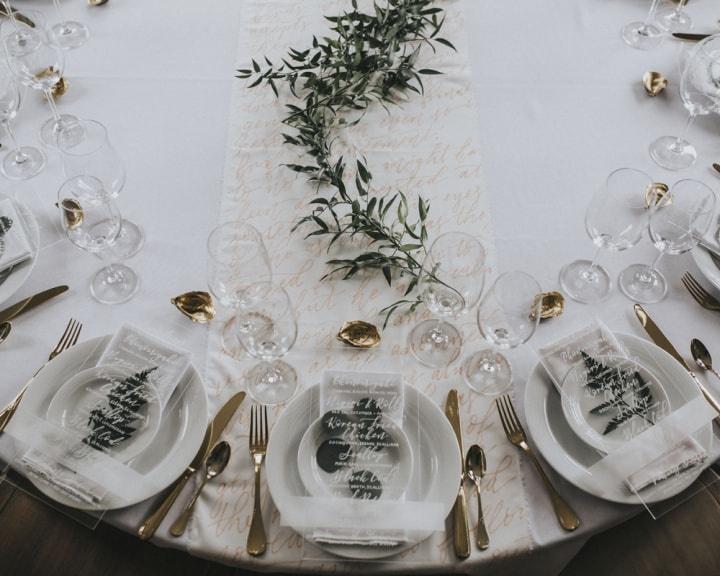 Card Box
A lantern or glass box makes a lovely addition to your gift table for wedding guests to drop in a card.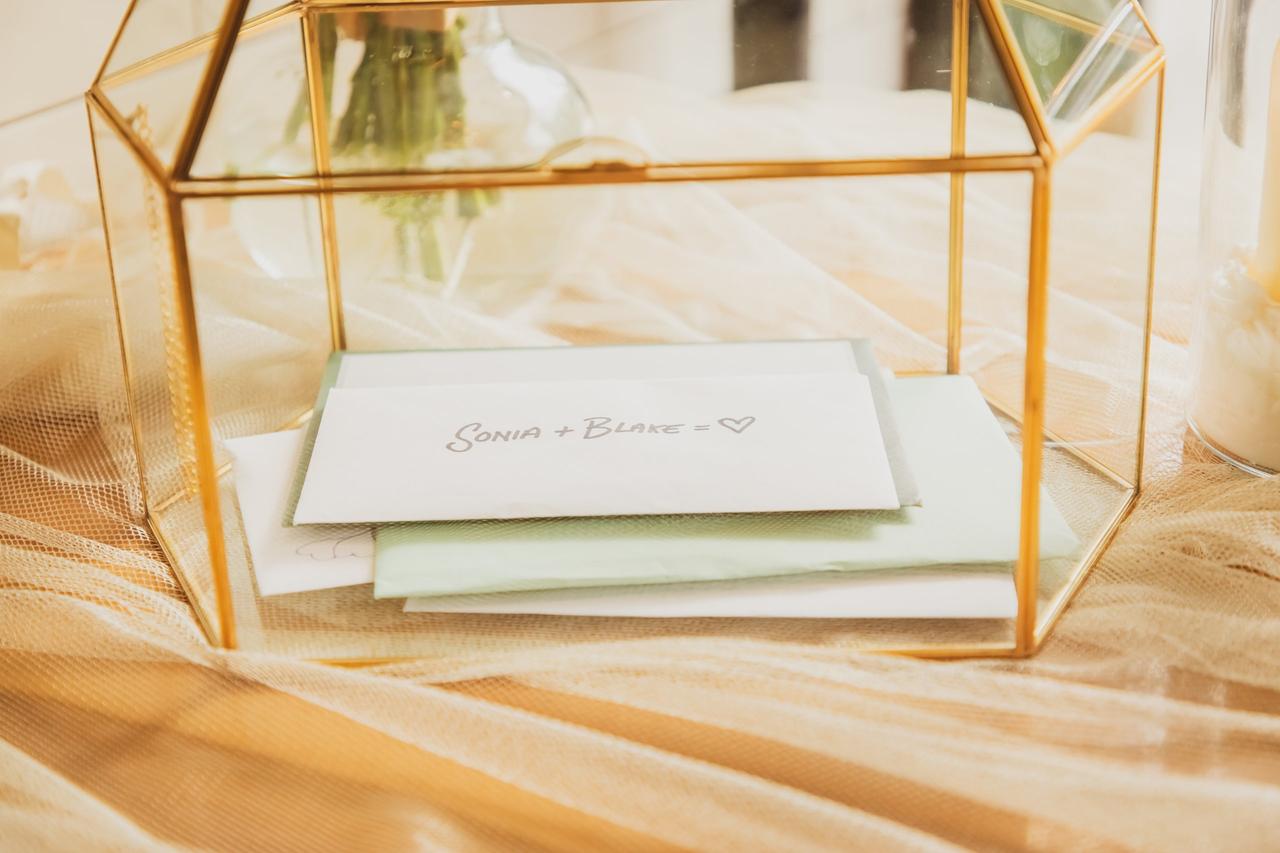 Balloons
Balloon decorations aren't just for NYE parties, birthday bashes, and baby showers - they make for amazing wedding decor, too. If you're looking to add a whimsical and modern element to your space, translucent or clear balloons are the way to go. There are even varieties filled with metallic confetti or you can fill them with colourful mini balloons if you want them to be extra eye-catching.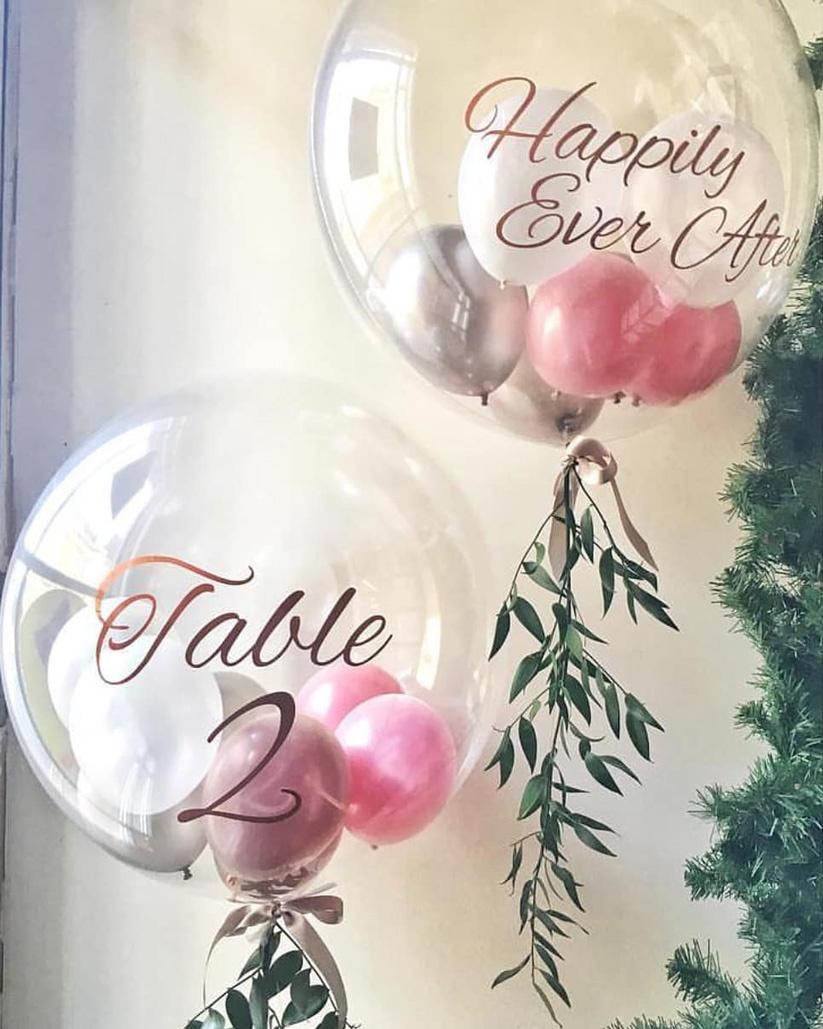 For more transparent wedding decor ideas, consult with wedding experts on WeddingWire. »