Covid Wedding Glossary
Planning to get married in the midst of the Covid-19 pandemic? Here are all the terms you need to know.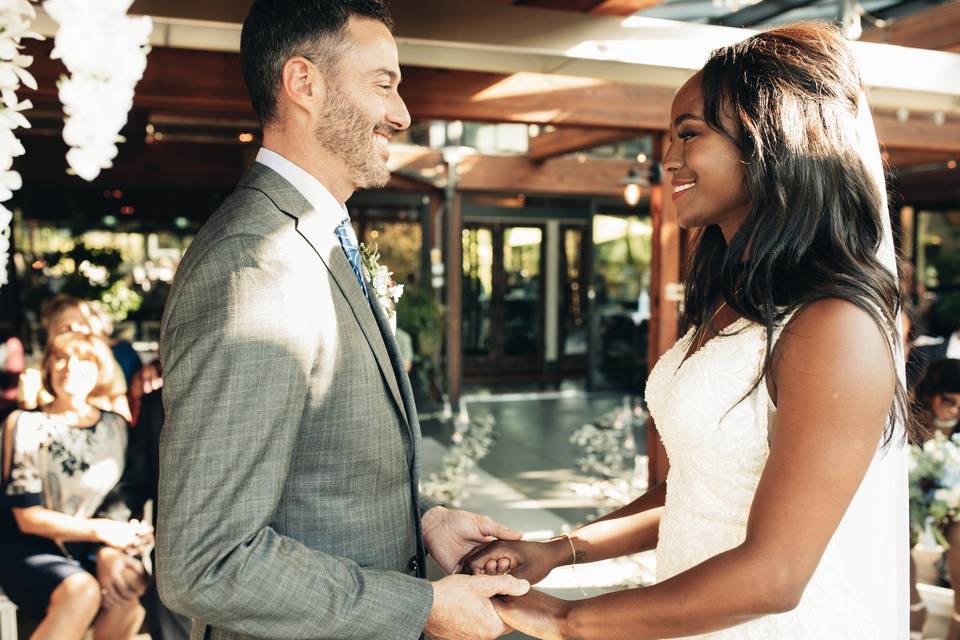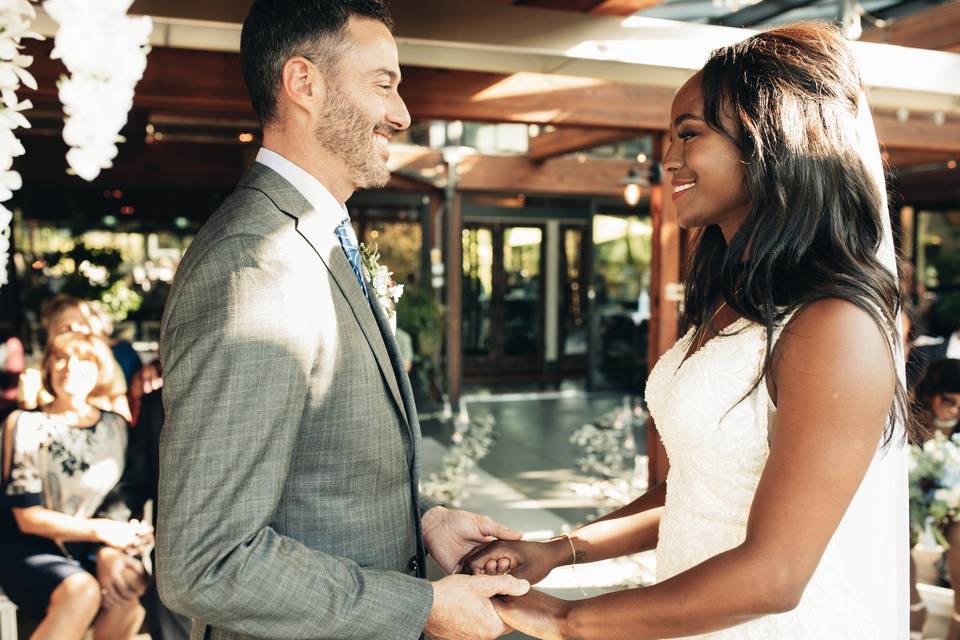 Whether you've had to postpone your wedding due to Covid-19 or you're newly engaged, getting married during a pandemic is certainly different from the "before time". Thankfully, the wedding industry consists largely of service-oriented small businesses that are determined to make the best of what has been an extremely challenging time. Many have adjusted their offering and invented new concepts to help couples plan a memorable, safe Covid wedding. This has led to some new terminology and the rise in popularity of other practices. To save you from looking up google every time you meet with your wedding planner, we've crafted a Covid wedding glossary of all the need-to-know terms.
Here is your Covid wedding glossary.
Covid wedding formats
Minimony: Short for a mini-ceremony, this phrase was invented to describe a small wedding ceremony (either legal or symbolic) held with just a handful of people in attendance, usually with the intention to postpone the wedding reception until the Covid-19 cloud has lifted and it can take place as planned.
Micro wedding: A small wedding with a guest count of up to 50 people is called a micro wedding. This concept was starting to grow in popularity even before the pandemic, but now with guest list restrictions, it's a realistic option depending on your location. Bonus: here are 12 Expert Tips on Planning a Micro Wedding.
Elopement: This term has evolved over time. It used to imply that a couple snuck away to get secretly married without any friends or family in attendance. Recently, the definition has loosened a bit to sometimes eliminate the secrecy aspect and is used to describe a private wedding with the couple, officiant, witnesses and possibly a handful of guests—it might even be live-streamed, for that matter. For couples planning an elopement, we've got these helpful tips for you: Where to Elope in Canada, How to Involve Your Nearest and Dearest in Your Elopement and How to Tell Your Friends and Family You've Eloped.
Pop-up chapel: This is a new concept that's been developed by some wedding planners to help couples plan a minimony, micro wedding or elopement, with the costs split among multiple couples. The planner will book a venue (and decorate it!) and hire an officiant, musicians, photographer, etc. for the day with time slots allocated to each couple, giving them more of a wedding experience than getting hitched at city hall. For more details, check out The Pop-Up Chapel Co. for 2021 dates in Toronto, Ottawa, Hamilton, Winnipeg and Vancouver and Pop Up Wedding in Victoria.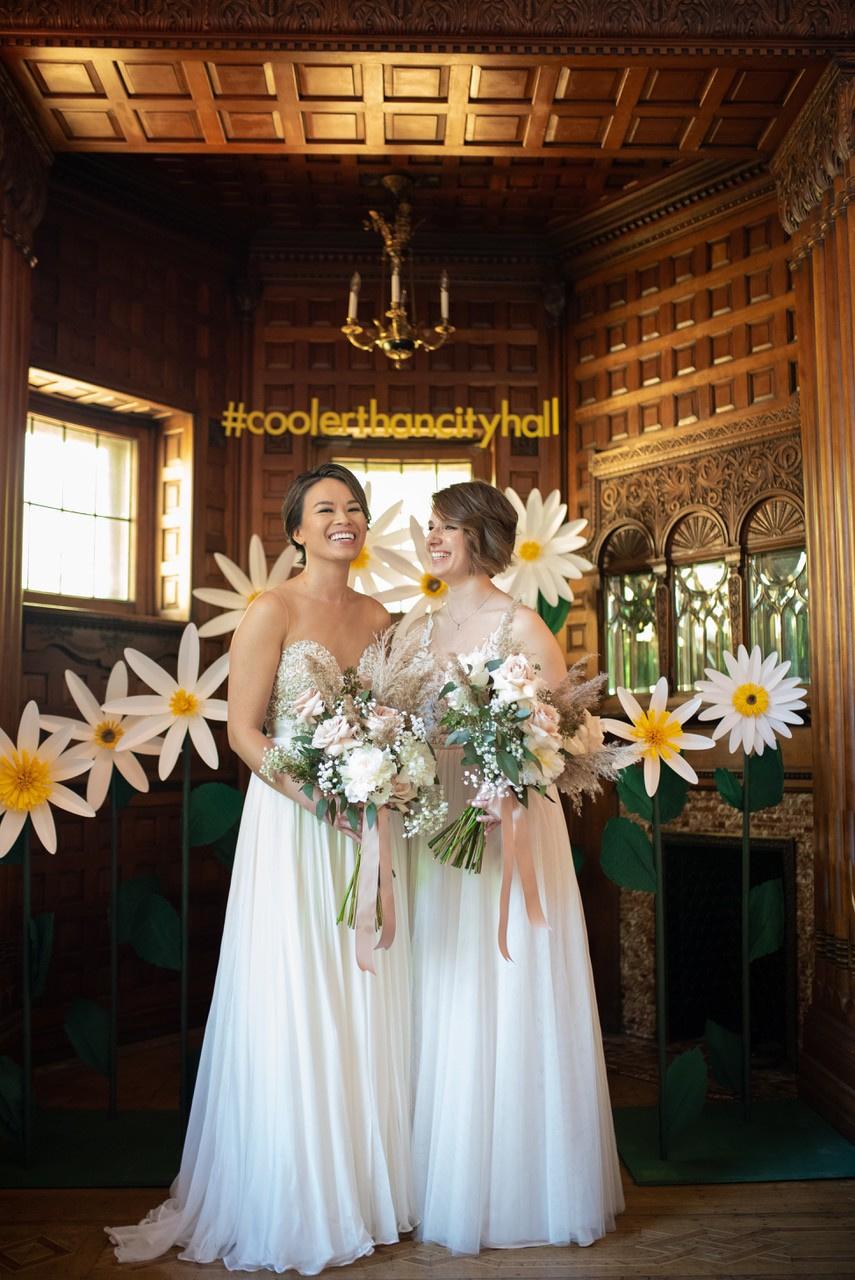 Weekday wedding: With the pent up demand for weekend wedding dates, couples are planning weddings from Monday to Friday. We have a rundown of the benefits of hosting a weekday wedding.
Shift wedding: For a larger guest list, this wedding reception concept is based on hosting smaller groups of guests in shifts so that you can still celebrate with all your loved ones while adhering to social distancing guidelines including your venue's capacity restriction and proper sanitization between groups.
Multi-wedding: Another option for a larger guest list is to host multiple events over different days. You can either divide your guest list across wedding day adjacent events (i.e. rehearsal dinner, post-wedding brunch) or schedule several events (i.e. micro wedding, backyard BBQ and garden party). Couples choosing the latter can say their "I dos" in front of loved ones at all of their events with legal and symbolic ceremonies.
Symbolic ceremony (or vow renewal): Speaking of symbolic ceremonies, once you get legally married, you may still want to say your "I dos" again in front of friends and family. A symbolic ceremony or vow renewal can be as formal or informal as you like and follow the typical ceremony structure (or just include the exchange of vows) but without the legal paperwork.
Anniversary reception: This term has been coined for couples that host a reception to celebrate with family and friends on their anniversary after being legally married with a minimony or elopement due to Covid.
Hybrid wedding: Even when and where gatherings are permitted, friends and family living abroad, not yet vaccinated or at higher-risk may not be able to attend the wedding, but they can join virtually. A hybrid wedding is one that includes an in-person event and a virtual live stream.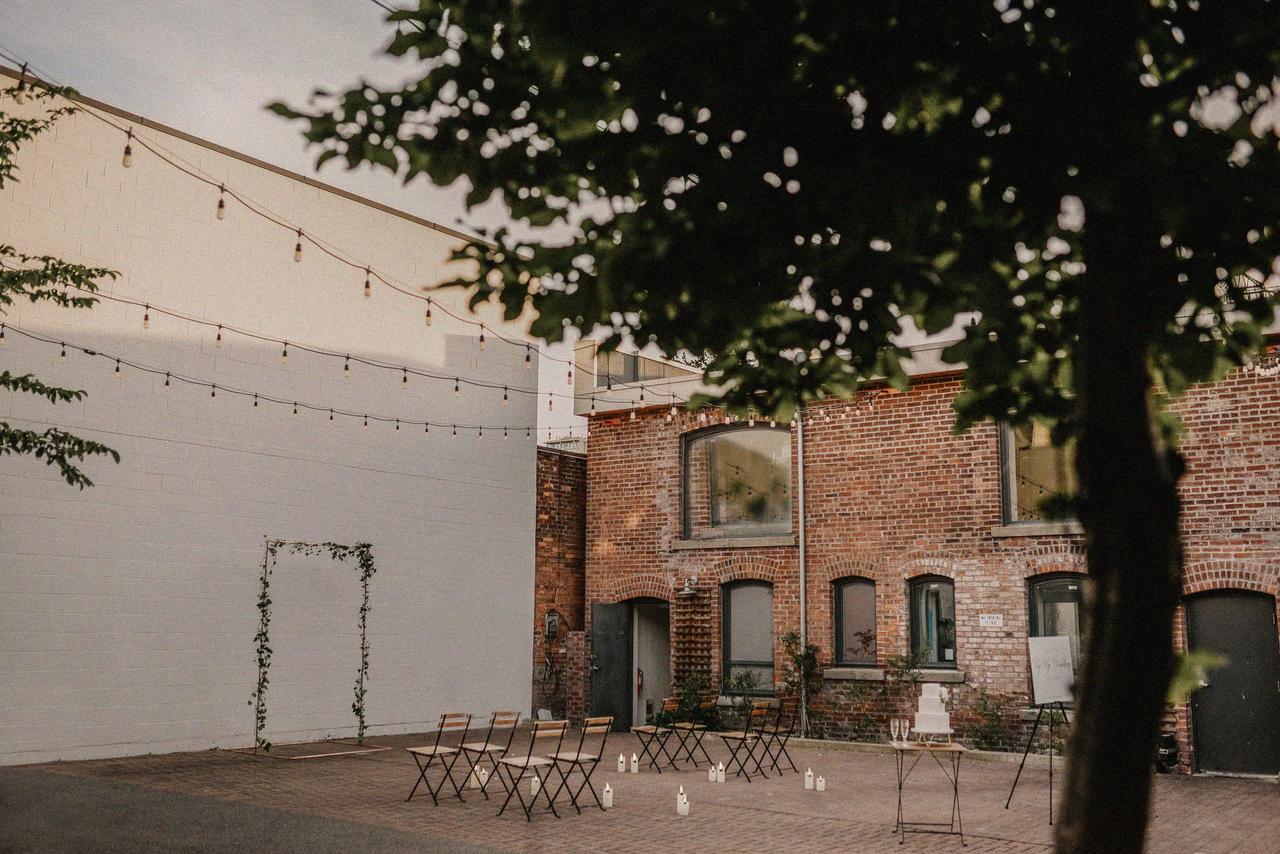 Virtual wedding
Virtual event: Virtual events are those hosted online using a video call platform. This can include everything from pre-wedding events like an engagement party and bach parties to a wedding ceremony and reception.
Wedding live stream: With many couples having minimonies and hybrid weddings, the wedding live stream captures the celebration on video and lets you broadcast your wedding online to friends and family in real-time.
Video call /live stream platform: This is an online app or website used to live stream your wedding. By now you've probably used one or more of the popular platforms including Zoom, Google Meet, YouTube Live, FaceTime, Facebook Live or Instagram Live. Zoom weddings are the most popular because of the video call functionality and guest experience the Zoom app offers. Include the link and access details on your invitation and wedding website.
Live stream producer/videographer: Typically, the role of a wedding videographer is to capture footage and edit it together to create a wedding video keepsake. To live stream a wedding, you should have a dedicated videographer/producer to film the action for your virtual guests to view in real-time. They will be responsible for the technical aspects of streaming it through the platform and managing the virtual guest experience. P.S. ask them to record the session so you have a keepsake too!
Live stream wedding itinerary: If you are live streaming your wedding, then you will need to come up with an itinerary for the virtual guest experience. Schedule moments when the couple speaks with the virtual wedding guests, to run a wedding slideshow and for some interactive activities to keep them engaged.
Virtual wedding guest kit: Enhance the online wedding experience by sending each virtual guest a care package of supplies to enjoy while they watch. Champagne, cake, wedding favours, party gear and props will allow them to participate in the celebration from their home.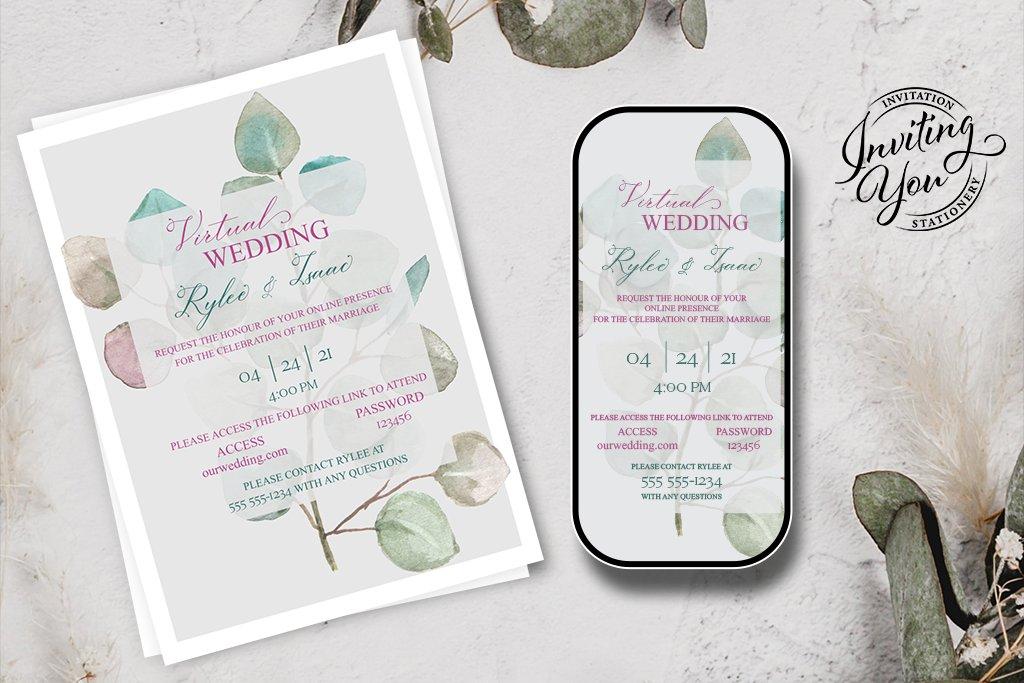 Covid wedding details
Convertible wedding dress: This is a big 2021 wedding dress trend as brides look for a more versatile style that they can wear more than once. A convertible dress could have a skirt overlay, topper, two-pieces, a detachable train and more!
Mini wedding cake: Petite one-tier and two-tier wedding cakes and individual mini wedding cakes for each guest have become the go-to confection for Covid weddings.
Acrylic wedding cake display case: Put your wedding cake on full display (while embracing the transparent wedding decor trend) with an acrylic box barrier covering your confection that's both stylish and safe.
Back-up wedding date: Based on what happened last spring with the postponement of weddings, now some venues and vendors will allow couples to include a back-up wedding date in their contract (with conditions attached).
Wedding postponement announcement: In the event your wedding needs to be postponed, you'll need to let your guests know with a wedding postponement announcement (a.k.a. change-the-date).
Wedding tent: I'm sure you've heard of a wedding tent before, but we've included it on this list as it's become a staple of Covid weddings. What you may want to brush up on are these 7 wedding tent styles.
Mobile bar: With so many Covid weddings being held outdoors, couples are hiring mobile bars to serve drinks. A mobile bar is usually a decked-out trailer or pop-up booth where the bartender can handle all the stocking, sanitizing and serving for you. Pro tip: check out Wandering Spirits Travelling Barkeep in the Niagara area, Maiden Voyage Mobile Bar Co. in Eastern Ontario and True Spirits Mobile Bar in Calgary.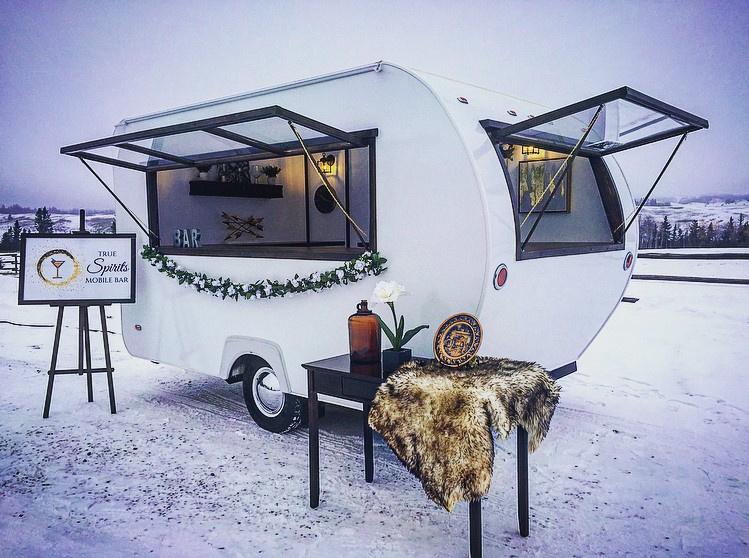 Bubble seating plan: Family-style dining and tables for eight are a no-go these days. Instead, seating plans are organized around your guests' households and social bubbles, so you'll need a mixture of table sizes in your seating plan.
Sweetheart table: If you're not familiar, this is a head table for two to seat just the bride and groom. P.S. Here's how to decorate your sweetheart table to make it extra special.
Plated-meal: To avoid lineups at a buffet or food station and ensure social distancing, an individually plated multi-course meal for each seated guest is the safest catering style for a Covid wedding.
Guest experience: Because the typical wedding format has been disrupted, there's a new emphasis on the guest experience to ensure weddings are safe and fun for everyone attending physically or virtually. In addition to a live stream producer, couples are hiring an emcee to keep the festivities on track and entertainment for their seated guests to enjoy in place of the usual dance party.
Wedding hashtag: Creating a unique hashtag for your wedding's social media posts is not a new idea, but with the multiple events, smaller guest lists and outdoor venues, collecting and browsing posts using a hashtag will help create a shared experience for all your friends and family.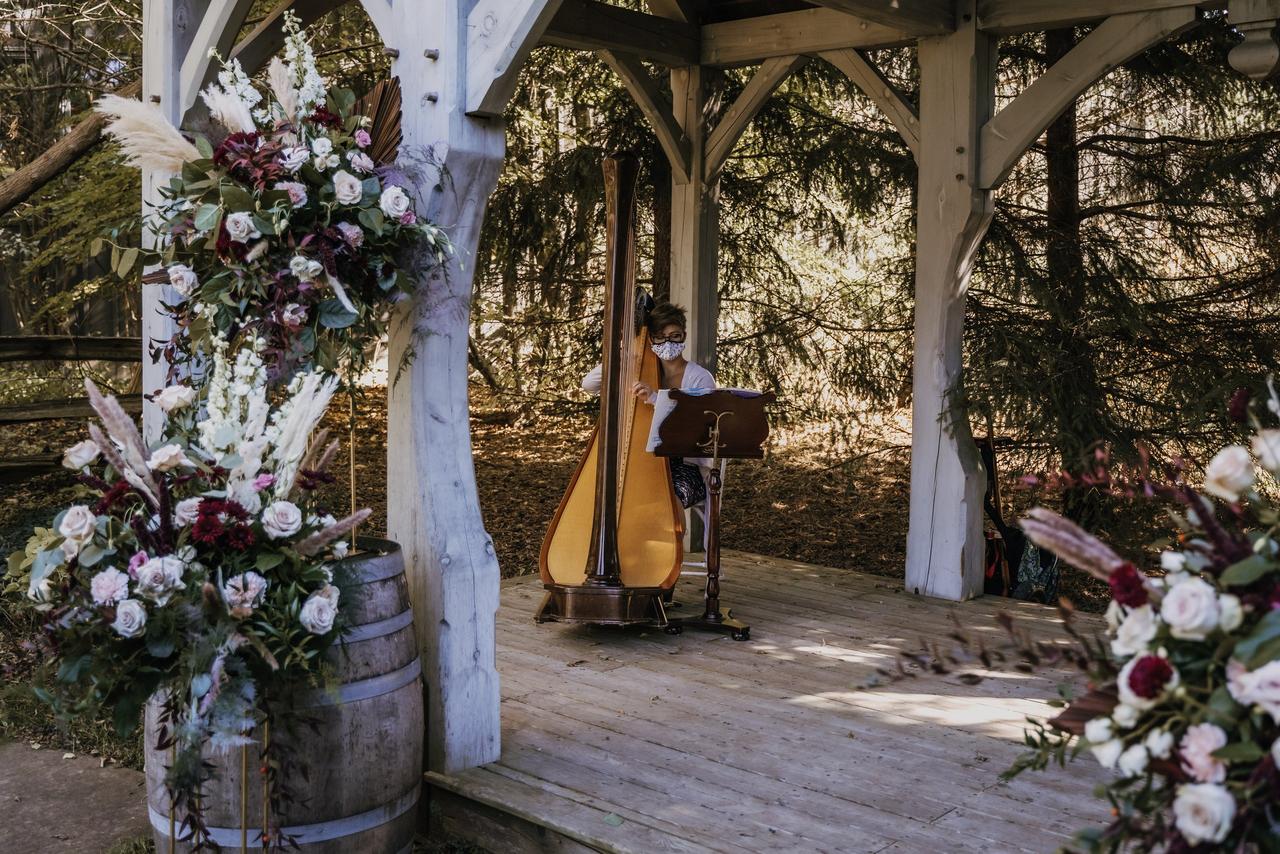 Social distancing measures
Covid wedding protocol: Thankfully, the Covid vaccine rollout is underway, but until the virus is completely under control, social distancing precautions will need to be in place for your wedding and communicated with your guests. Work with your wedding planner, venue and vendors to develop the guidelines for your wedding. From mandatory masks to a screening questionnaire, you'll need to be thorough and thoughtful.
Social distancing venue capacity: When looking at a wedding tent or venue's normal capacity, you're going to need to divide that by 3 or 4 to allow for social distancing. Clarify this guest count with the venue coordinator.
Outdoor event spaces: For 2021, many venues have created new outdoor event spaces. Be sure to inquire about all the outside options available to you.
Satellite spaces in floor plan: Covid wedding floor plans encourage social distancing with multiple bars, dance floors, lounge seating and so on so guests can congregate in their bubbles and keep contact with other guests to a minimum.
Sanitizing stations: This is pretty self-explanatory but should be on your list of things to implement at your entrances and throughout your venues.
Guest greeting etiquette: Your guests will want to congratulate you. Come up with a safe plan for greeting your guests and let them know with signage, in your ceremony program and on your wedding website how you intend to greet them. Will you have a social-distanced receiving line? Will you visit each table at the reception?
Wedding guest PPE: To ensure your guests follow your Covid wedding protocol, you can put together a welcome bag with a card detailing your itinerary/social distancing measures, hand sanitizer and a face mask.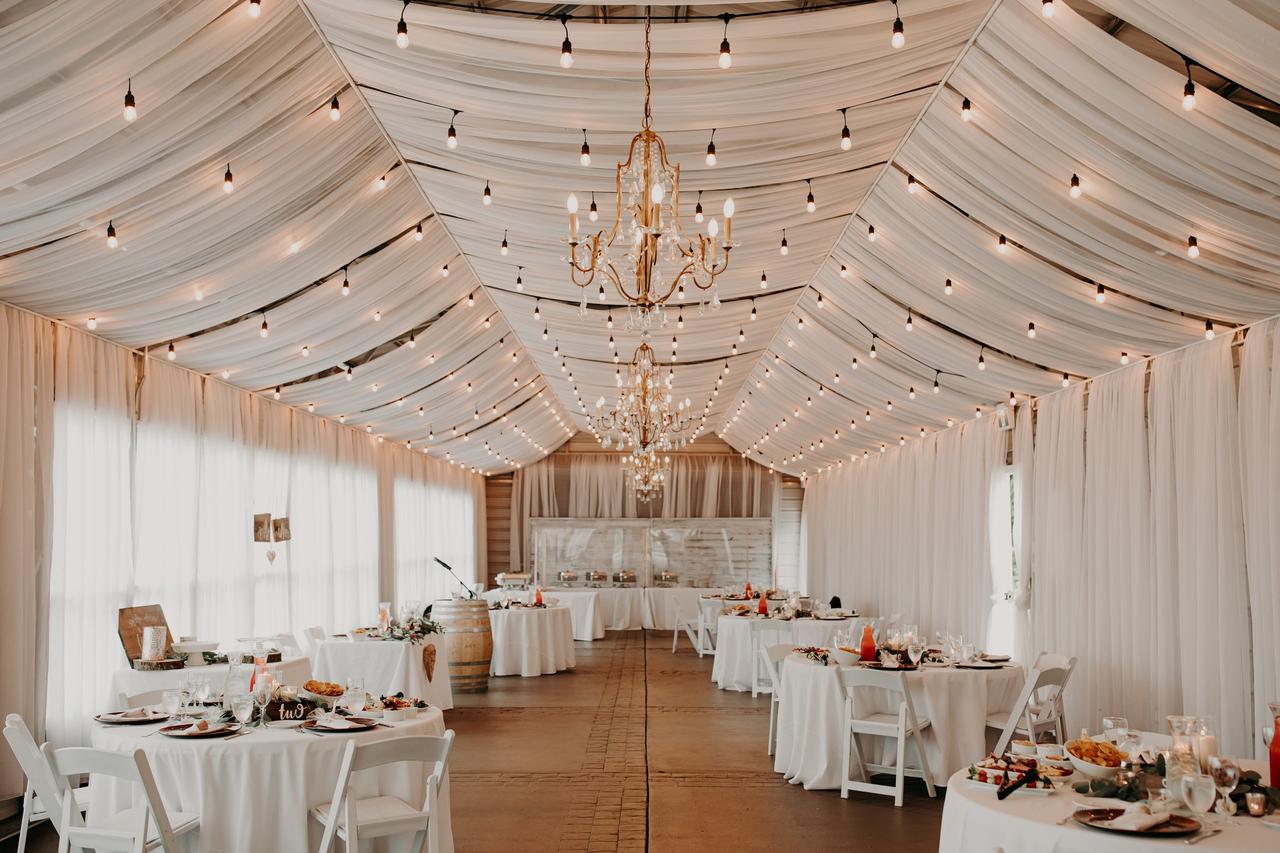 We hope that this Covid wedding glossary helps you plan a safe and memorable celebration. Need more guidance? We've opened up a dedicated hotline to answer any and all wedding planning questions that you may have – (833) 998-2865 or help@weddingwire.com
Get organized with WeddingWire's FREE wedding planning tools »