How to Find the Perfect Wedding Videographer
Your wedding will be one of the most magical days of your life and you'll no doubt want to remember it all. Here's how to find the right wedding videographer to capture it all on tape.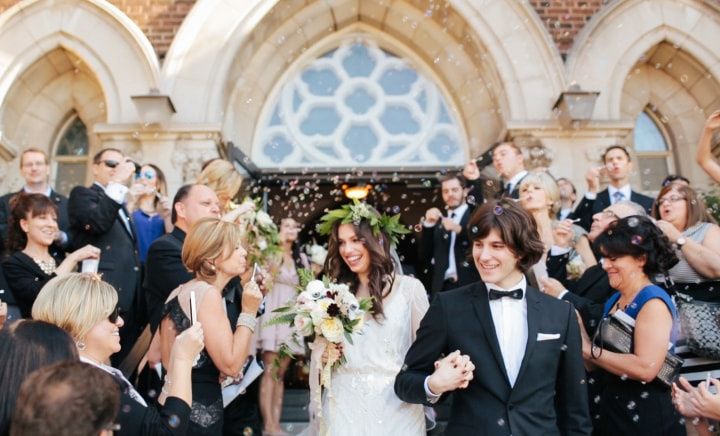 Your wedding video will probably be the most treasured DVD in your collection, ranking higher than your beloved Friends and Grey's Anatomy box sets combined. It's a document of your happiest day, so it should live up to the memories. From your walk down the aisle to scooting off in your getaway car, we have some tips on how to find a wedding videographer capable of capturing it all (and making it look good).
Here are a few tips on how to find a wedding videographer.
Do your research
Kick off your hunt for a wedding videographer with some good old fashioned research. When it comes to wedding videos, they're not hard to come by. Watch videos in our wedding videography directory and also reach out to recently married family members and friends. Happy couples and videographers normally flood their social media pages with their wedding videos, so check YouTube, Instagram and Pinterest (they're usually not shy about hashtagging, making them easy to find). Your pals will no doubt have a few extra copies of their recorded nuptials that they'd be willing to pass along. While these steps may not lead you to a specific videographer, they'll get you acquainted with different filming and editing techniques. You'll want to take notes on what you like and what you don't like so that you can let your videographer know later down the line.
Consult the pros
Getting info from friends and family is a good start, but they're not tapped into the wedding business like your other wedding vendors. Ask the ones you've already lined up for suggestions - there's a good chance they've collaborated with a stellar wedding videographer in the past and could point you in the right direction. Your wedding photographer or wedding planner is also bound to know one or two, especially if they've been working in the industry for several years. If you let them know what you're looking for in a videographer, they'll probably be able to help out. Tip: you'll want to mention any special considerations so that you're not looking in the wrong places. For example, you may want someone familiar with filming your type of wedding ceremony or someone who is LGBTQ friendly.
Video by Outside In Studio
Read wedding videographer reviews
While you may consider yourself an instinctive person, now's not the time to trust your gut. Reading wedding videographer reviews is an essential part of the process as it will give you the lowdown on your desired candidates' professionalism and camera abilities.
Hash out some details before diving in too deep
Feel free to start browsing as soon as your S.O. slides a ring onto your finger, but don't get too invested in the process just yet. Before you start booking consultations with videographers you should sort out a few key wedding details. It's important to know the where and when of your big day so that you can book with your desired wedding videographer. You may also want to wait until you've pinned down a wedding photographer. Some studios will offer both videography and photography and will offer you a dynamic duo that's already familiar with one another.
Cut it down to the best
This is the reality show-esque moment where you get to drop the competitors that just aren't stacking up. If your list exceeds five potential winners, you've got too many. You'll be busy in the months leading up to your wedding and won't have time to meet and greet all those wedding videographers, no matter how great they may seem. Nix anyone whose work doesn't wow you and anyone who isn't willing to travel to your wedding destination. It's time for you to figuratively tell them to pack their bags and leave the island (AKA cross them off your short list).
Reach out
Once you've narrowed it down to the crème de la crème, it's time to get in touch. If you've found them using WeddingWire's vendor tool, you can reach out to them by clicking the "request pricing" button. To relieve the stress of penning a letter to a stranger, we've made you a handy little template with all the key questions.
Hello [wedding videographer's name],
My name is [your name] and I found your work on [where you found their work]. I love the wedding videos that you've created and am interested in learning more about your services. I am getting married on [your wedding date] at [your wedding venue] and wanted to check your availability. If possible, could you send along information on your packages and pricing as well as a copy of your standard contract.
Thank you,
[your name and contact info]
They should reply within two business days (or a week at the absolute most). If they take any longer, you may want to strike them off your list. Timeliness is key when it comes to vendors!
Schedule a meetup
Meeting your potential candidates will help you get to know them on a more personal level. If you can't envision yourself working with them, you probably don't want them shooting your wedding day. This is the time to go with your gut. These face-to-face meetings also give you a chance to ask all of your burning questions, like "what camera do you use", "how long does it normally take for you to finish editing a wedding video" and "how many weddings have you shot in the past" and review your wedding videography checklist.
Sign that contract
Once you've narrowed it down to "the one" you can start talking contracts. Make sure to give their paperwork a few thorough read-throughs to make sure you don't miss any hidden clauses. You should see all their services plus any additional fees that may be tacked on for travel or other expenses. Once everything looks good to go, sign on the dotted line.