How to Stage An Amazing First Look Wedding Photoshoot
First look wedding photos are an awesome addition to any wedding album. Here's how to capture the moment on film.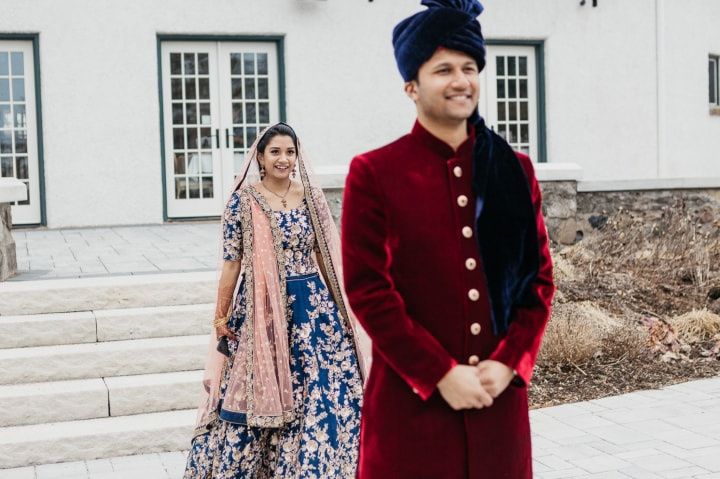 Years ago couples wouldn't dare lay eyes on each other before they met at the altar, but it's 2019, people. You don't have to wait until you walk into your wedding venue to have your first look. If you're looking for artsier shots to add to your wedding album, we suggest having a first look wedding photoshoot. From scouting out the perfect location to putting your stress aside, here's what you want to do to plan for that grand reveal.
Here's how to stage an amazing first look wedding photoshoot.
Find the perfect location
First thing's first: scouting out the location for your first look wedding photos. This is where your wedding photographer's fountain of wisdom will come in handy. Show them images of spots around your venue, or - if it's easy for them to get to - bring them to the location to see it first hand. They'll be able to help you determine which spot has the best lighting and backdrop to get the best images possible.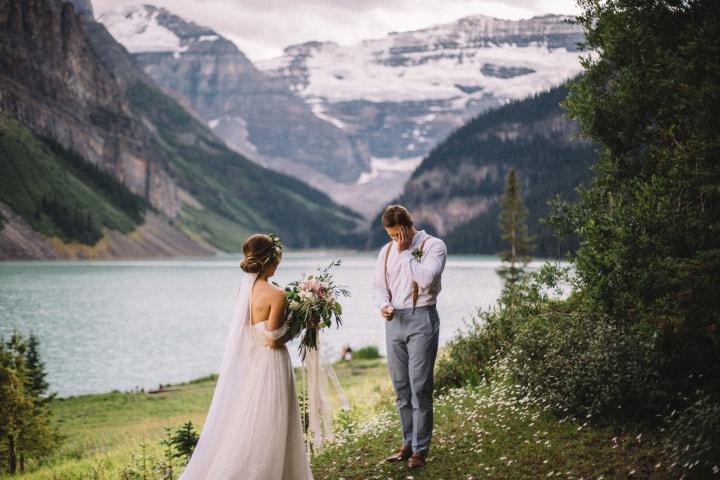 Use your videographer, too
If you went to the trouble of hiring a wedding videographer, have them capture your first look, too. Not only will this clip look amazing in your wedding video, but you'll be able to revisit that special moment again and again for years to come (awwww). Make sure your photographer and videographer have a quick meeting to figure out how to capture the whole thing without messing up each other's shots.
Timing is everything
You're probably plotting out every minute of your wedding day, and you don't want to forget to pencil in your first look wedding photoshoot. Give yourselves enough time to get all your desired shots while the lighting is just right. You may want to meet with your photographer to discuss the timeline, they'll know what's best.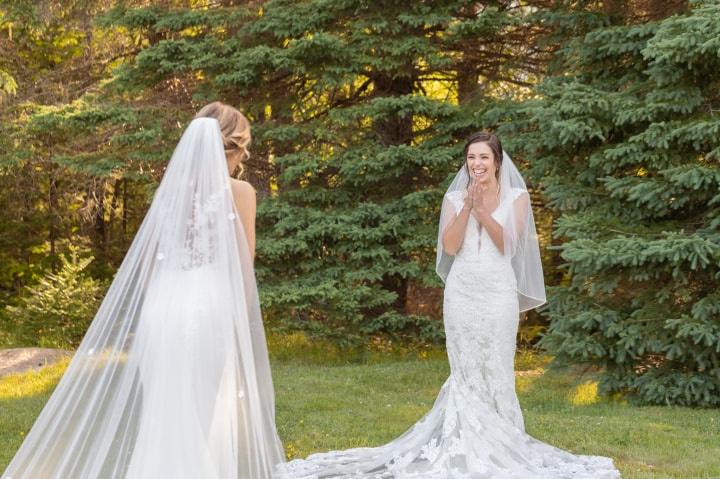 Hide your phone
Go on a bit of a digital detox on your big day. Weddings are social media central and there's a good chance that bridesmaids, groomsmen and other party guests will be snapping pics before they even make it into your ceremony venue. You don't want to ruin the big surprise if your partner accidentally makes it into a shot - so turn off Facebook, Instagram and Twitter until you see them in person.
Be prepared for touch-ups
You don't want a huge entourage for your photoshoot, but don't hesitate to bring your stylists along to help with touch-ups. Seriously, a few blotting sheets, a bit of powder and quick spritz of texturizing spray can make you look even better (and who doesn't want to look like a perfect ten in their wedding pics).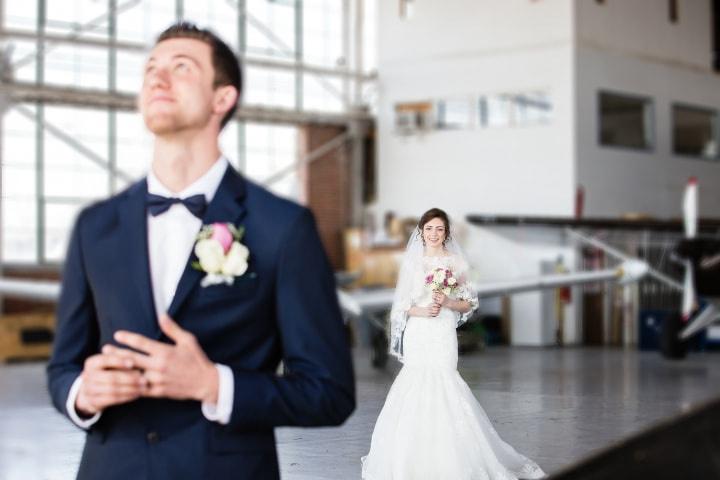 Keep your audience small
No matter how badly your family wants to be in on your first look wedding photoshoot, it's best to keep your audience small. Limit it to your photographer, videographer and touch-up team so that you don't feel self conscious in front of the camera. Hearing whispering, clapping or even a hushed "aww" from the crowd can throw you off. Tip: be sure to let your vendors know where you're taking the pics so that you don't risk any photobombs.
Get all the angles
If they're a professional, your photographer already knows to capture first look wedding photos from every angle possible. After all, you don't just want to get the grooms reaction, you'll also want their partner's smiling response to the reaction. If they have an assistant, make sure they're positioned in a different place to capture all the magic on film.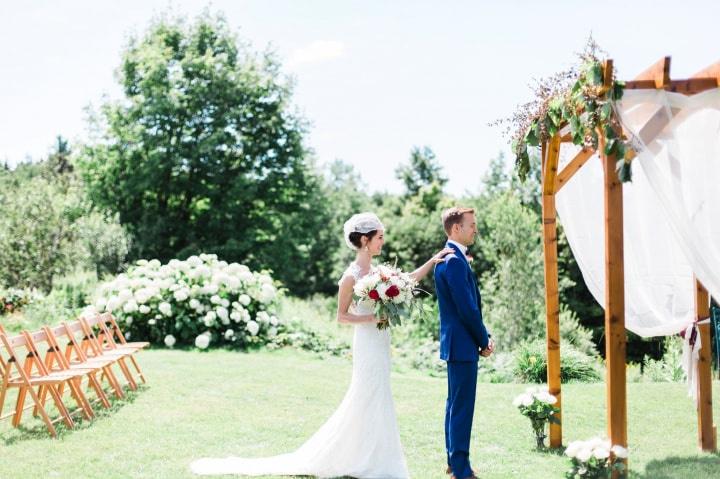 Ignore the cameras
This is a tough one, especially for all the camera shy guys and gals. You want your first look wedding photos to look natural (AKA not too pose-y), so zero in on your S.O. and forget about all the flashing lights.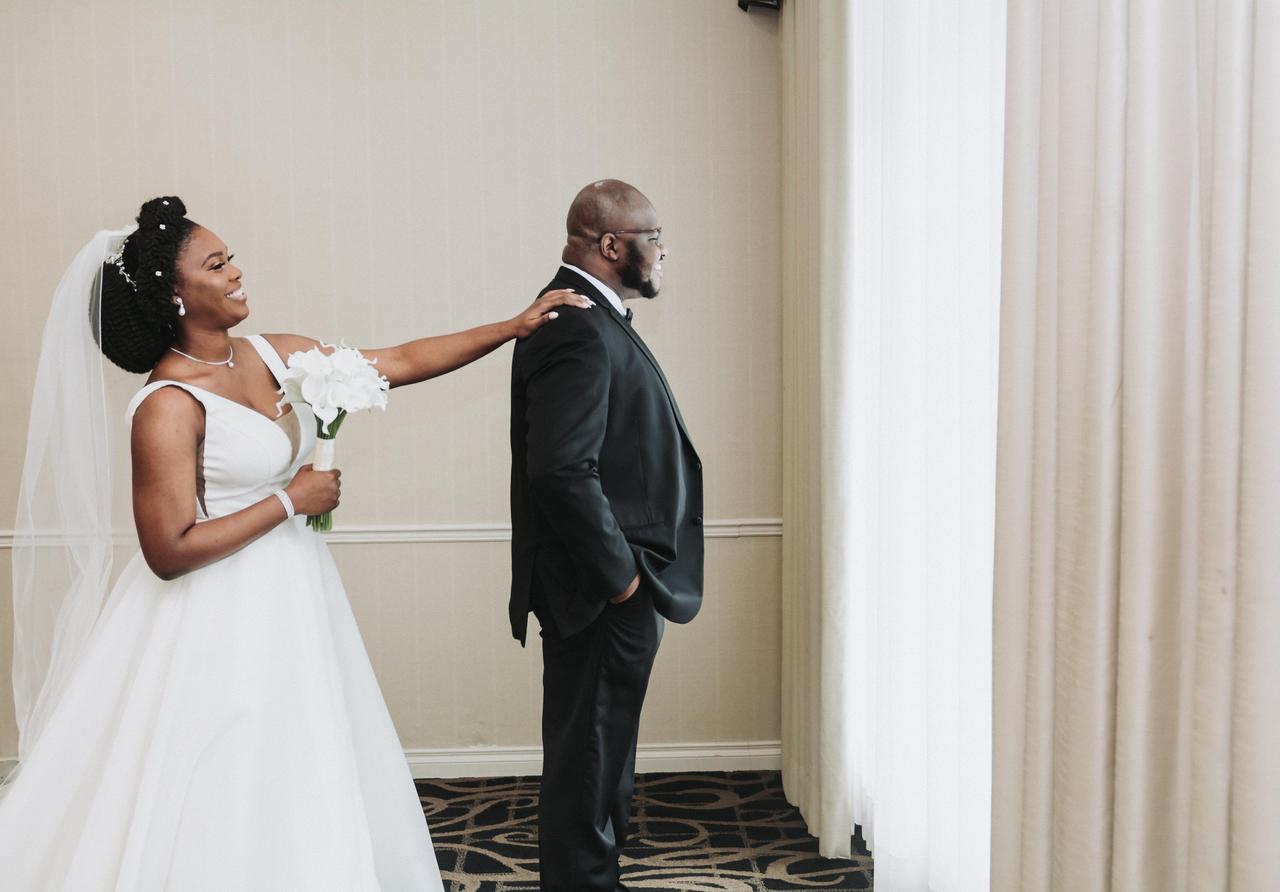 Don't stress
It's your wedding day, so you probably have a million things on your mind. Do those clouds look ominous? Will my caterer have dinner prepared on time? Did I forget my cellphone in the limo? Try to press pause on stressing out and enjoy the moment. After all, you don't want all your photos to feature you sporting an awkward, anxious grin.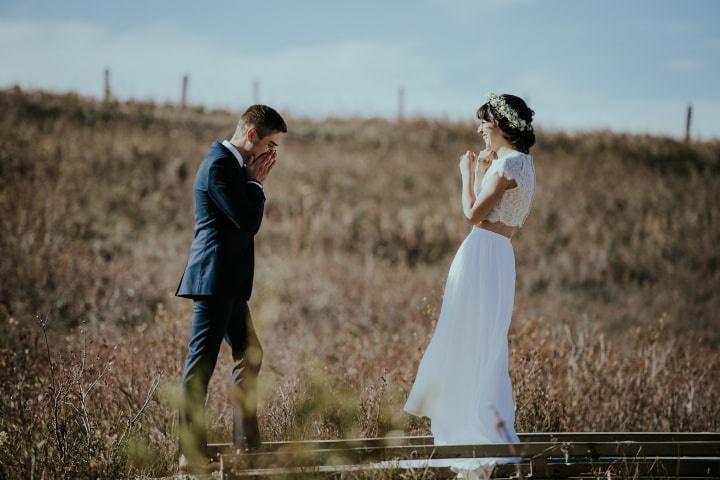 Fake it 'til you make it to the ceremony
Have you weighed the pros and cons of doing a first look and decided you don't want to ruin the surprise at the altar? Totally understandable, many couples like to save the first look for the ceremony. However, if you want to sneak in a few artsy shots outside of your venue before walking down the aisle, there are a few crafty ways to do it without sneaking a peek. Standing back to back or on opposite sides of a door are tried and true options, but your photographer will probably have a few good ideas, as well. This way you can still get some sweet shots for your album before the grand reveal.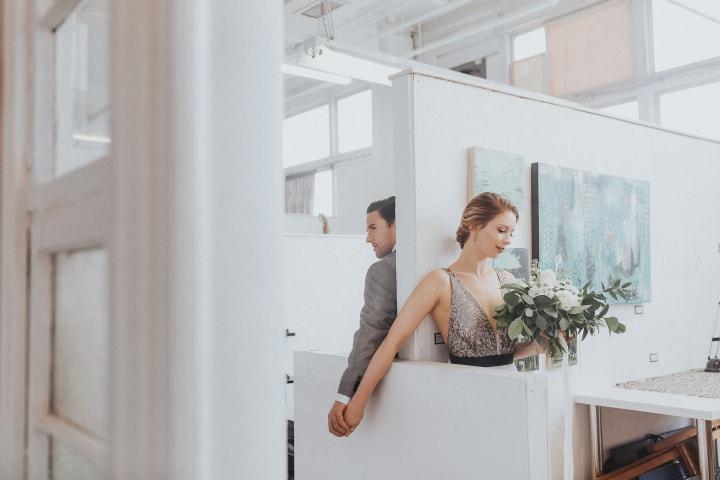 The first look prank
In case you didn't know, this wedding day prank on the groom is a thing. Just check out #fakefirstlook and you'll find some hilarious images on Instagram. Have the best man or the groom's brother dress up in a bridal ensemble and stand in for the bride. If you have an audience, be sure they keep their laughter at bay until the big reveal when your photographer and videographer are sure to capture some great photos and footage.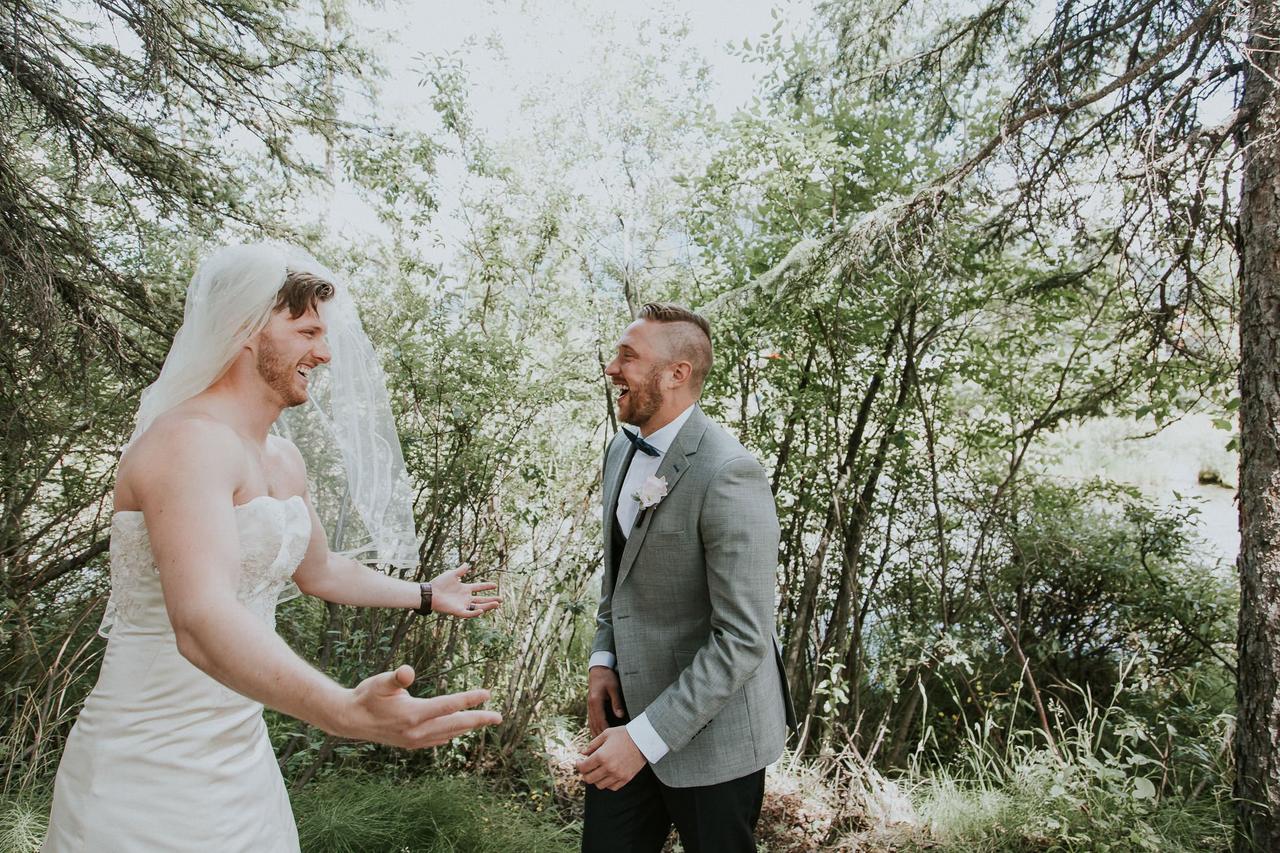 Find your wedding photographer and videographer on WeddingWire »