15 Photos Every Wedding Album Needs
Your wedding day will go by in a blur, so make sure you have a beautiful wedding album to remember it by.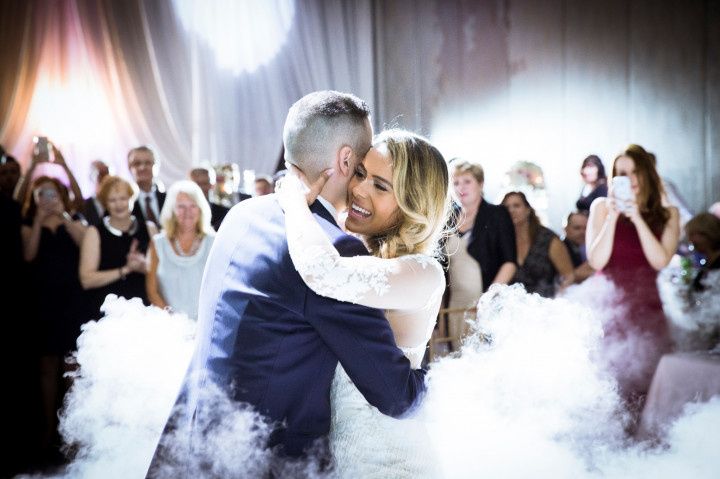 The art of wedding photography has rapidly evolved over the past decade or two. Wedding albums consisting of page after page of staid shots of people lined up and saying "cheese" are the old normal. Nowadays, your wedding photo album will contain some posed portraits, but your wedding photographer will also want to capture the emotion and ambiance of the day with shots that are candid or less posed, as well as pix of the wonderful details you worked so hard to pull together. So be sure you have all these must-have shots on your wedding photography checklist.
Here are 15 must-have wedding album photos to include on the list for your photographer.
1. The bride's dress
Of course, you need a picture of your dress! There will be lots of you wearing it, but you might like a special solo, full-length portrait that shows everything you love about it. Another option is to take a "still life" image of the dress on a hanger, especially if there is a perfect setting for it.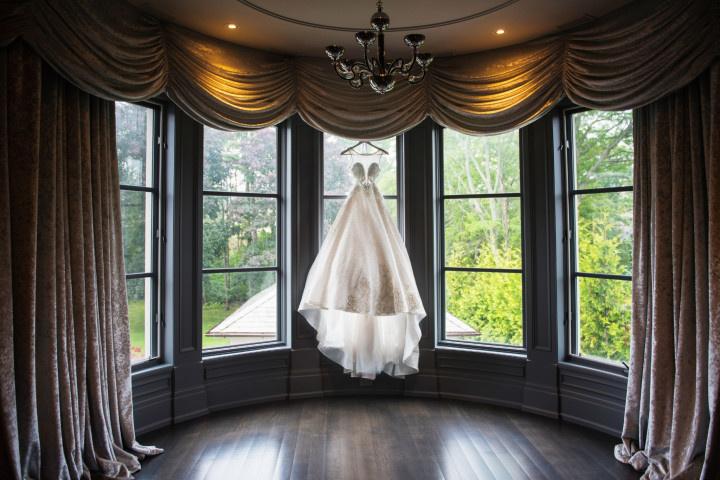 2. Shoes.
You probably spent hours finding the perfect pair of wedding shoes, and they won't get as much attention as the dress! Get a shot of them on or off your feet. A photo of both pairs (hers and his) can be charming, too.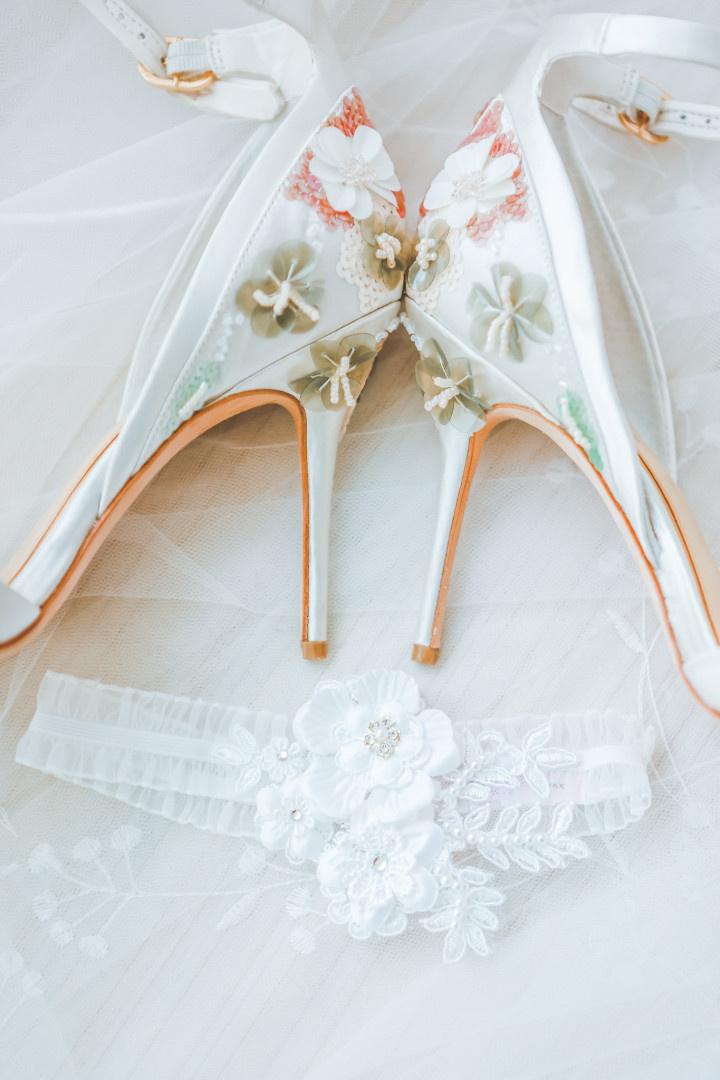 3. Details, details, details.
You might like your photographer to zoom in on certain elements you want to remember. For example: wedding stationery (invitation, menu, etc.), bouquet, boutonniere, jewellery or other accessories, ceremony decor items, ring pillow, signage, etc. Make a list of must-have shots and be sure to have a set of stationery items on hand.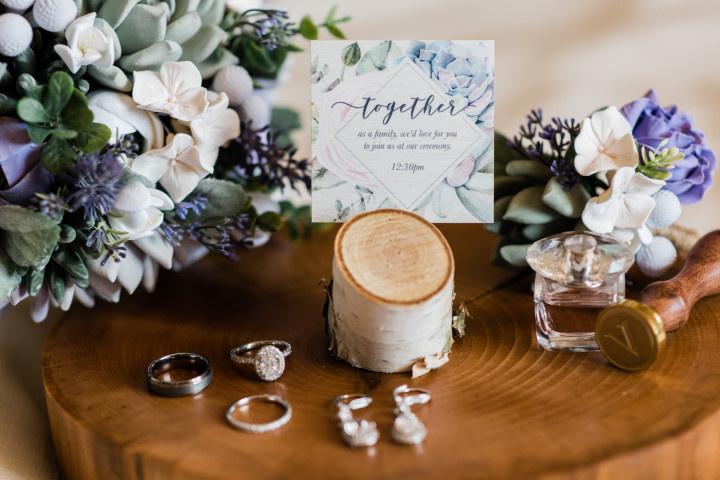 4. First look
You might want to skip this one if you are determined to stick to the tradition of not seeing each other before the ceremony. But if the photographer has a chance to capture your reactions upon first seeing each other in your wedding finery with a first look wedding photoshoot, it'll be a precious keepsake of such a memorable and emotional moment. Pro tip: if need help deciding on this one, read our article about the pros and cons of doing a first look.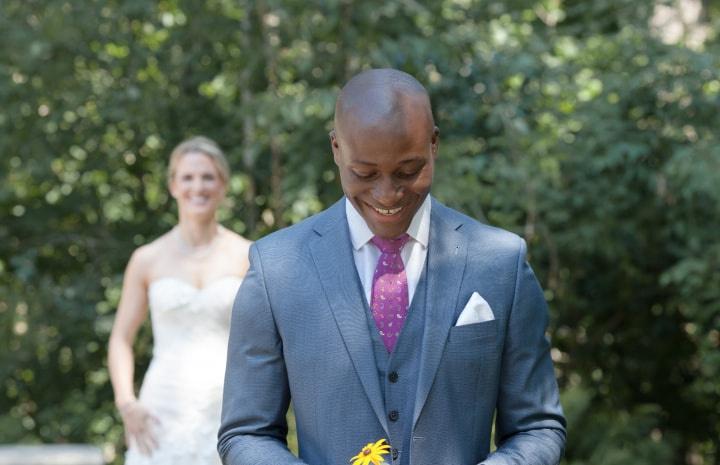 5. Family
Give your photographer a list of all the relatives you want to have represented in your wedding album. It'll be great to have pictures of them all dressed up for your special day.
6. Portrait of the newlyweds
A portrait of the newlyweds (or soon-to-be-weds, if you decide to do it in advance of the ceremony.) This wedding-day classic is the "money shot," the one that will end up framed and hanging on your wall. Also, if you have pets that are important enough to you that they are at your wedding, don't forget to get a few shots with them, too!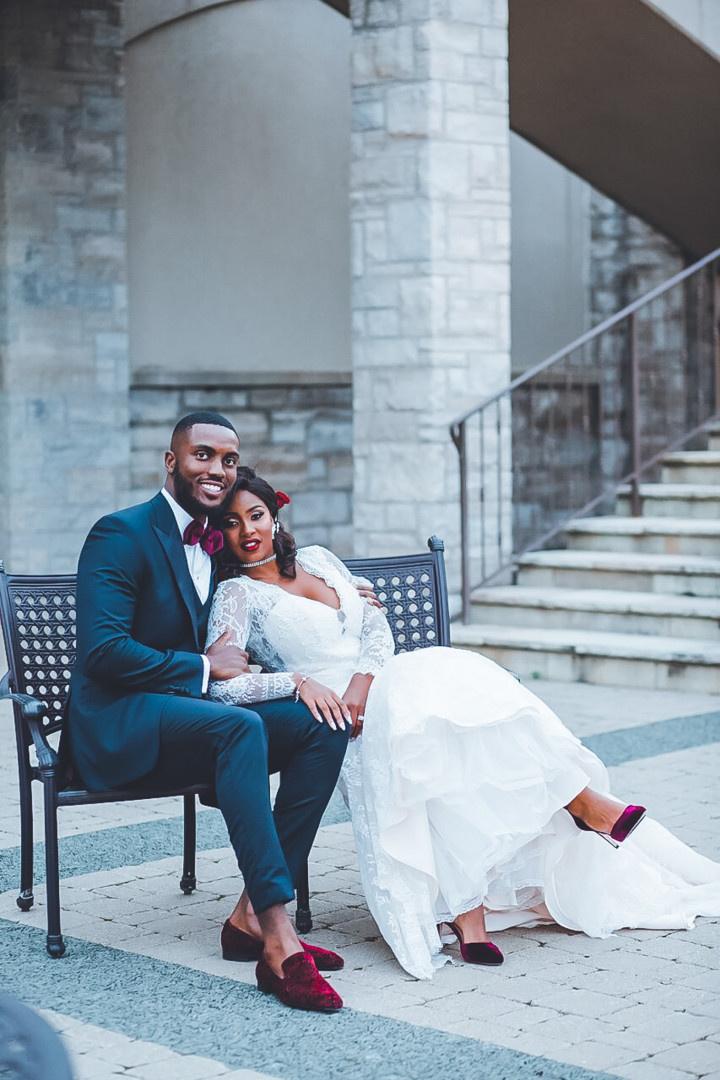 7. The walk down the aisle
The processional is a significant moment, of course, no matter who walks you down the aisle. And you'll want to capture your walk back up the aisle as newlyweds, too.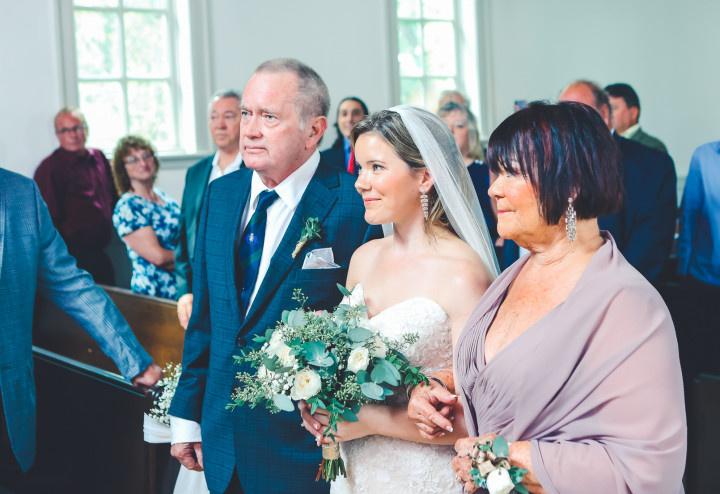 8. The exchange of rings
Another not-to-be-missed moment at your wedding ceremony is the exchange of wedding rings.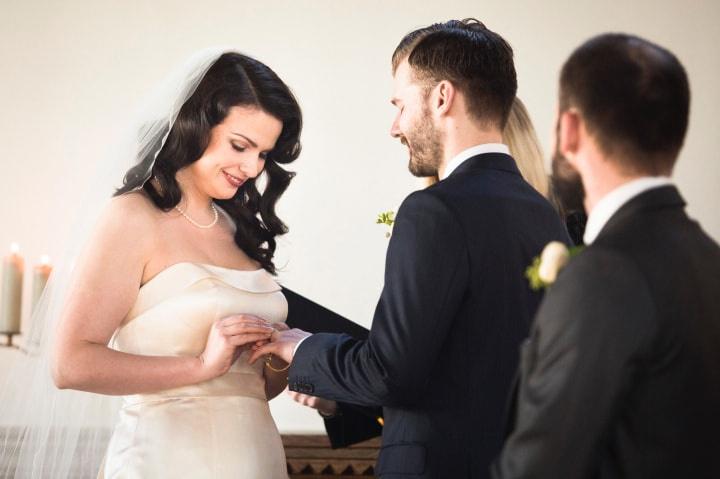 9. Your first kiss as a married couple
(Aaw!)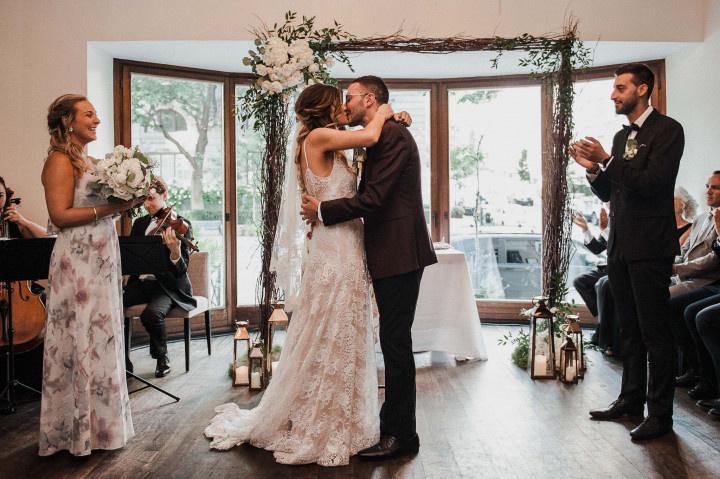 10. Reception venue
Get a full-room shot of the reception setting once it's all ready – and still empty of people. You might also want close-ups of the wedding decor: table centrepieces, place settings, and so on.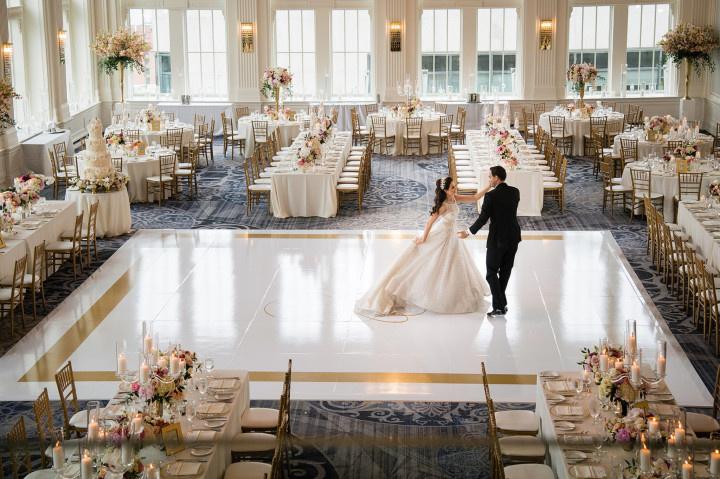 11. The entire wedding party
Whether formal or candid or some of each, get pictures of yourselves with all of your wedding party. After all, they're your nearest and dearest. And you probably agonized over what they should wear for the wedding, so you should have a keepsake of that, too!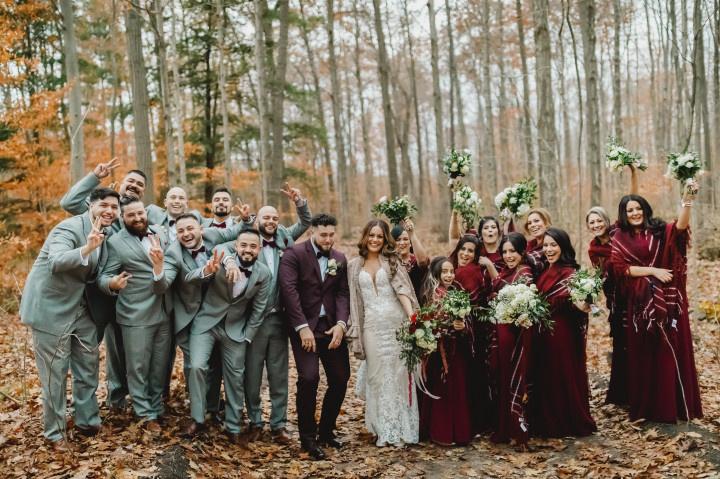 12. First dance
If dancing is part of your wedding day, be sure to capture this classic moment.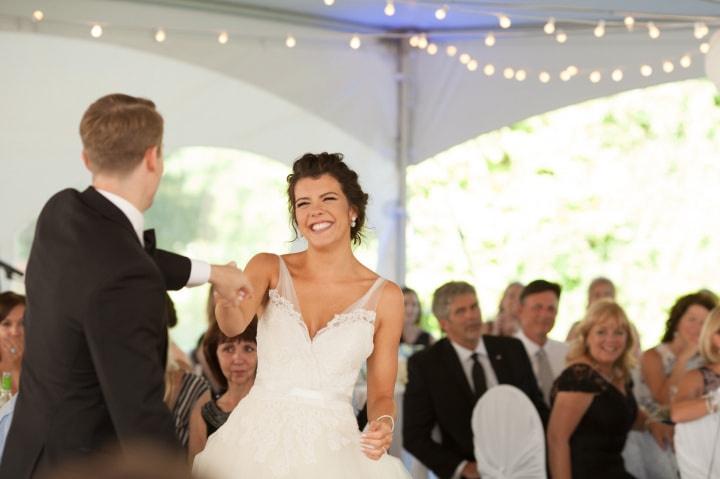 13. Candid shots
Informal pictures of you and your guests enjoying the day will likely end up being among your favourites. Not all candids need to be unplanned, though; you might like to schedule time with your photographer especially for relaxed, natural shots of just the two of you. Some couples do this on a different day altogether for more time and less stress.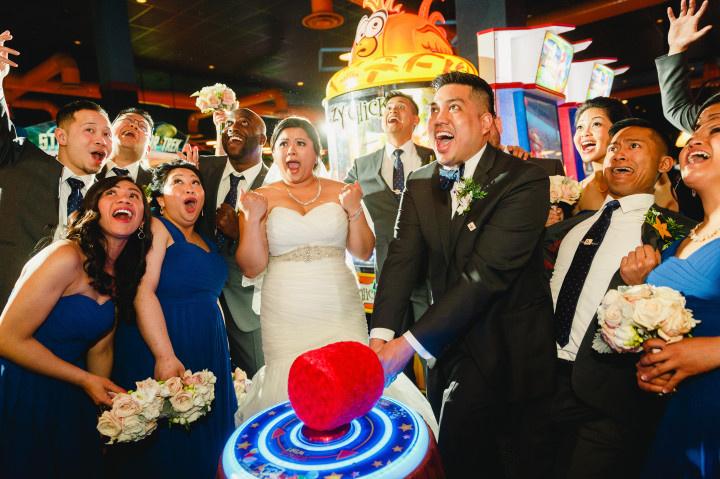 14. Wedding cake
You probably spent hours choosing your wedding cake design and you'll definitely want to capture it in all its glory. The wedding cake cutting is also not to be missed.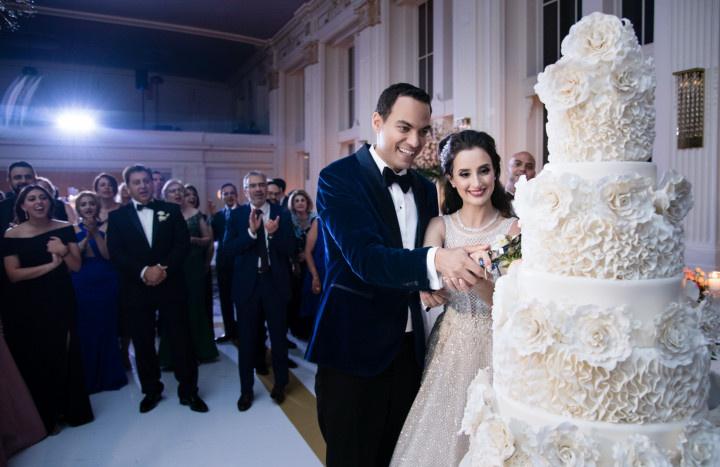 15. Couple's departure
Those who have planned a dramatic exit will certainly want a photo to remember it by.