31 Essential Wedding Photo Poses for Couples to Try
Naturally, you want your wedding album to be filled with killer photos. Here are the essential wedding poses you need to try to make that dream into a reality.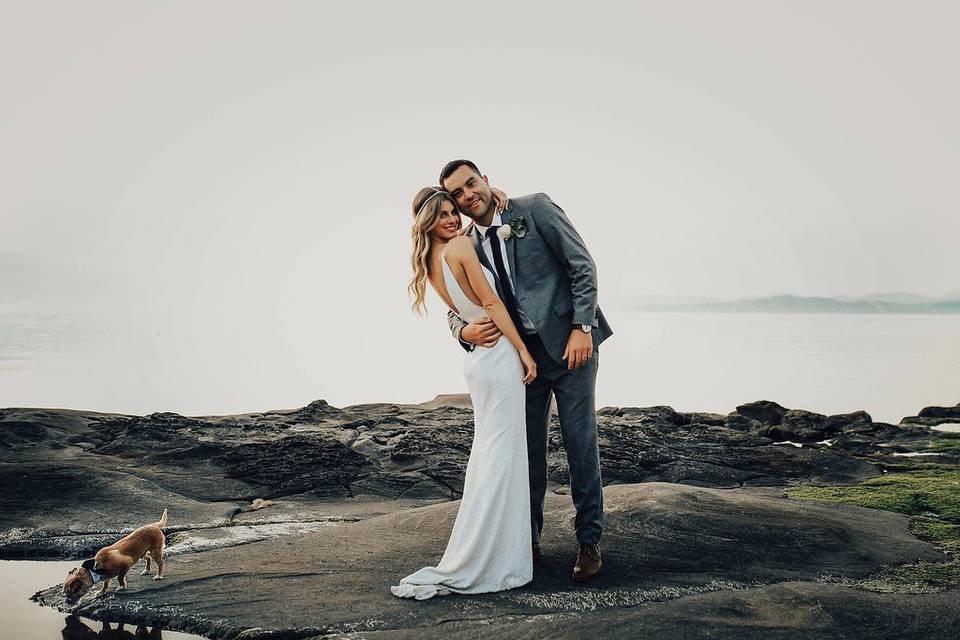 If you've never done a full-blown editorial shoot or even tried your hand at modelling, posing for your wedding photos can feel pretty awkward. Now, we're not saying you need to go through some America's Next Top Model-style boot camp or hire a professional to help you get your looks just right, but you probably want to familiarize yourselves with some key wedding photo poses before your big day arrives. To help you out, we've picked out some great wedding photography poses from the albums of real Canadian couples. They're simple, they're stunning and anyone can do these couple poses.
Here are the essential wedding poses to try.
The handhold
This tried and true wedding pose is sweet and simple, but definitely won't disappoint. Create a little space between you and your partner (I know, this is tough, especially on your wedding day) and grasp each other's hands. You'll want to ask your wedding photographer to stand a bit farther away, so they get your entire ensembles from head-to-toe in the shot. P.S. don't forget to choose a killer backdrop to really take it to the next level.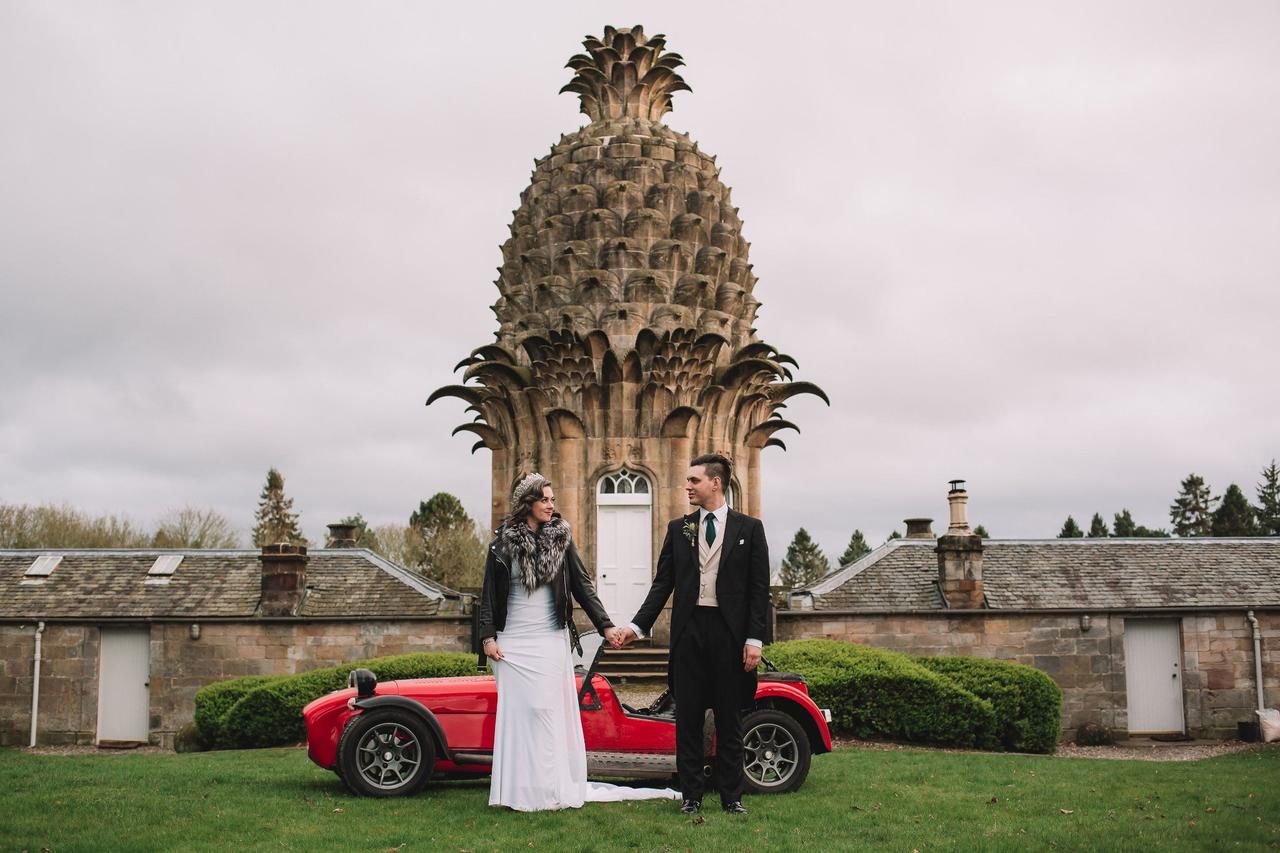 The stroll
Take your partner's hand and go on a little walking tour of your venue while your photographer works their magic. Soundtrack suggestion: "Where You Lead" by Carole King.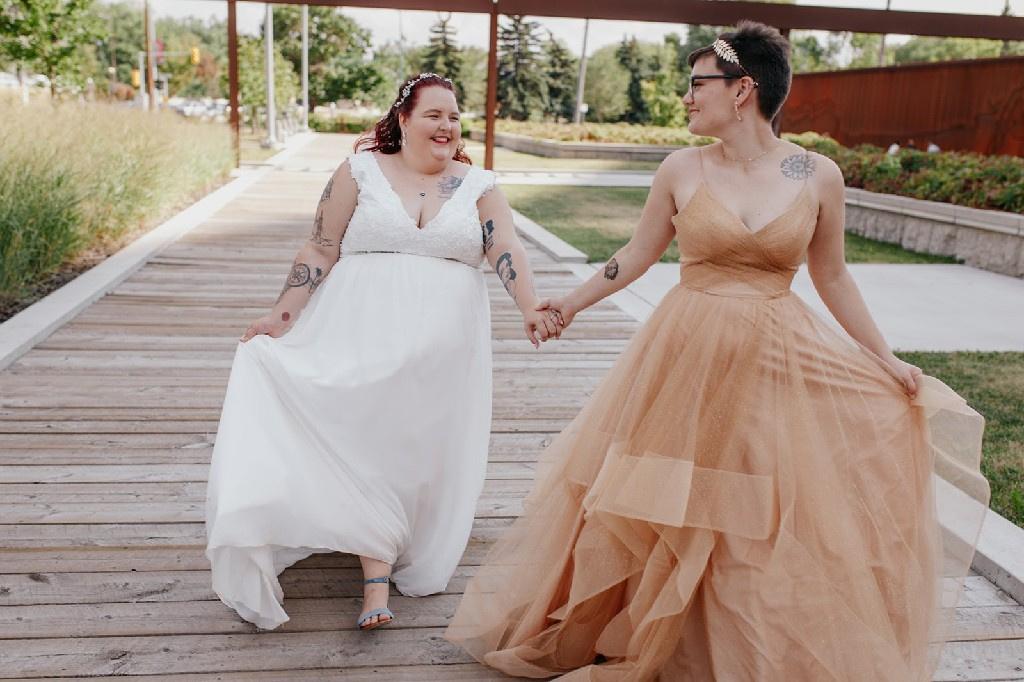 The walk away
Are the backs of your ensembles just as pretty as the fronts? Ask your photographer to capture that magic by following you as you walk away. You can hold hands, strut side-by-side or even dance it out for something a little different.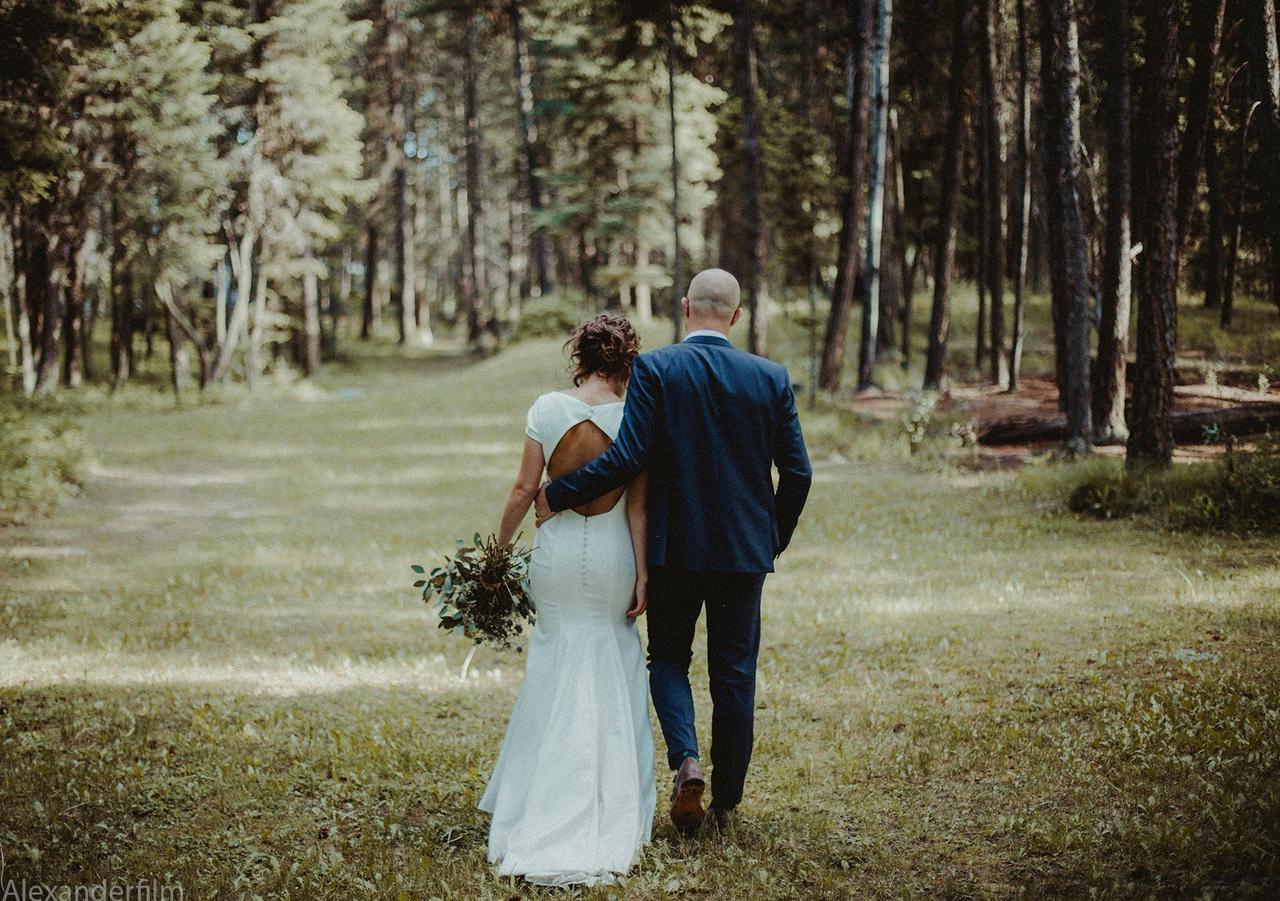 The piggyback
Add a touch of playfulness to your wedding photo album by jumping on your partner's back for a piggyback picture. This fun wedding photography pose will remind you that your big day wasn't a 100% solemn and serious affair.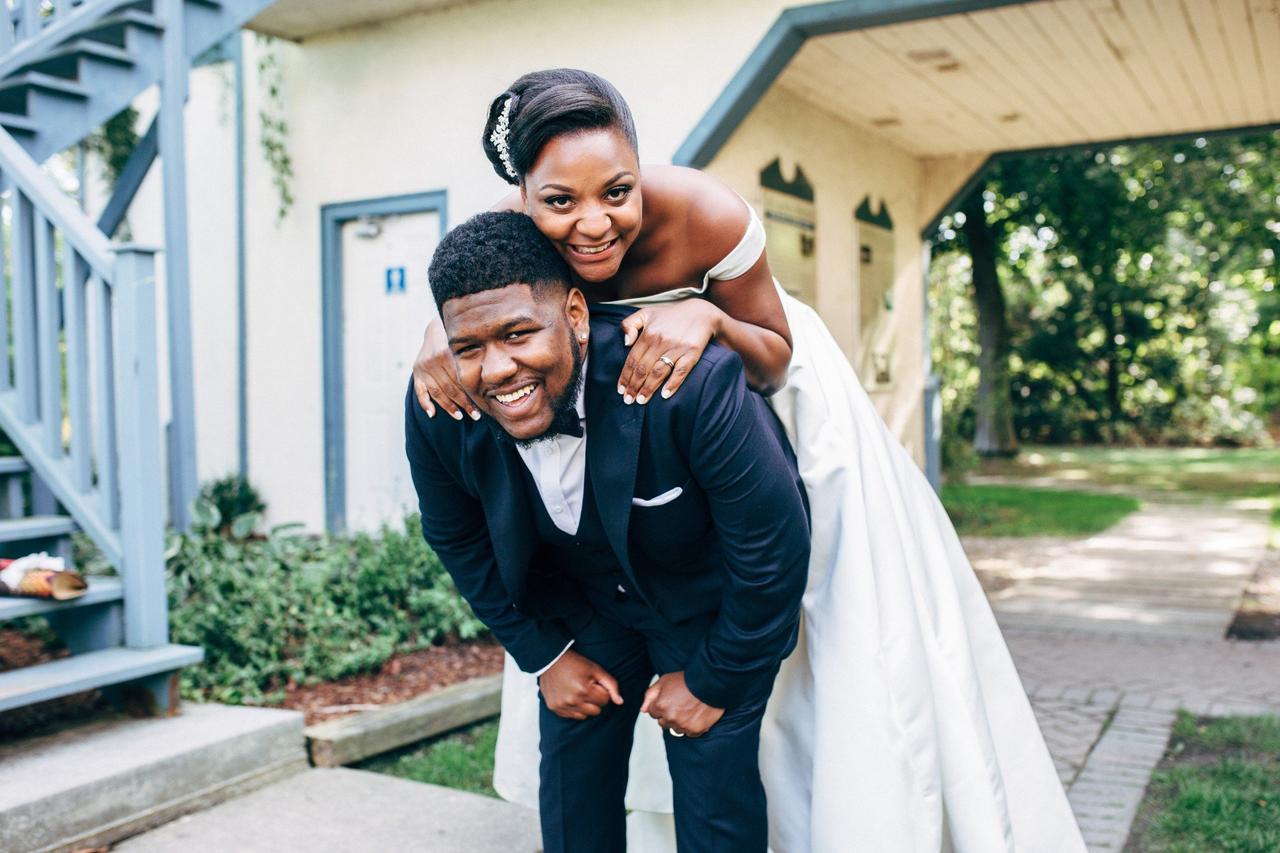 The ring shot
Yes, you'll want plenty of pics of your smiling faces, but let's be honest ­– you also want a money shot of your gorgeous new ring. Pose in a way that showcases your new bauble, like placing your left hand on the back of your partner's head or on their shoulder. Alternatively, if you want to get both of your rings, you can lightly layer your hands-on top of one another. You'll want some faraway shots and some close-ups for your album.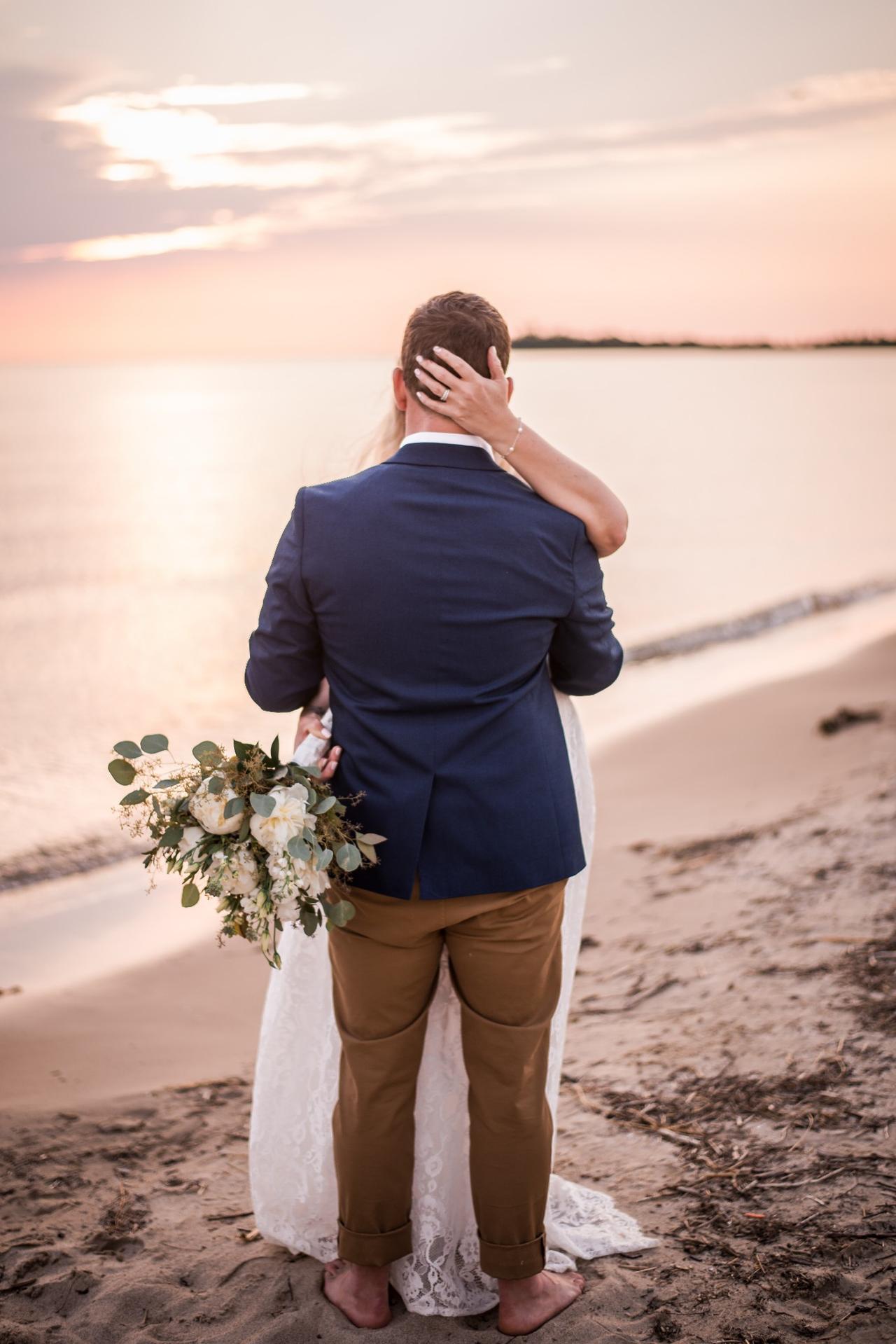 The lift
As we learned from Dirty Dancing everybody loves a lift. Get a full-body shot of your partner hoisting you up into the air. Don't worry – while it'd be impressive, it doesn't need to be a full overhead lift for it to look totally magical on film.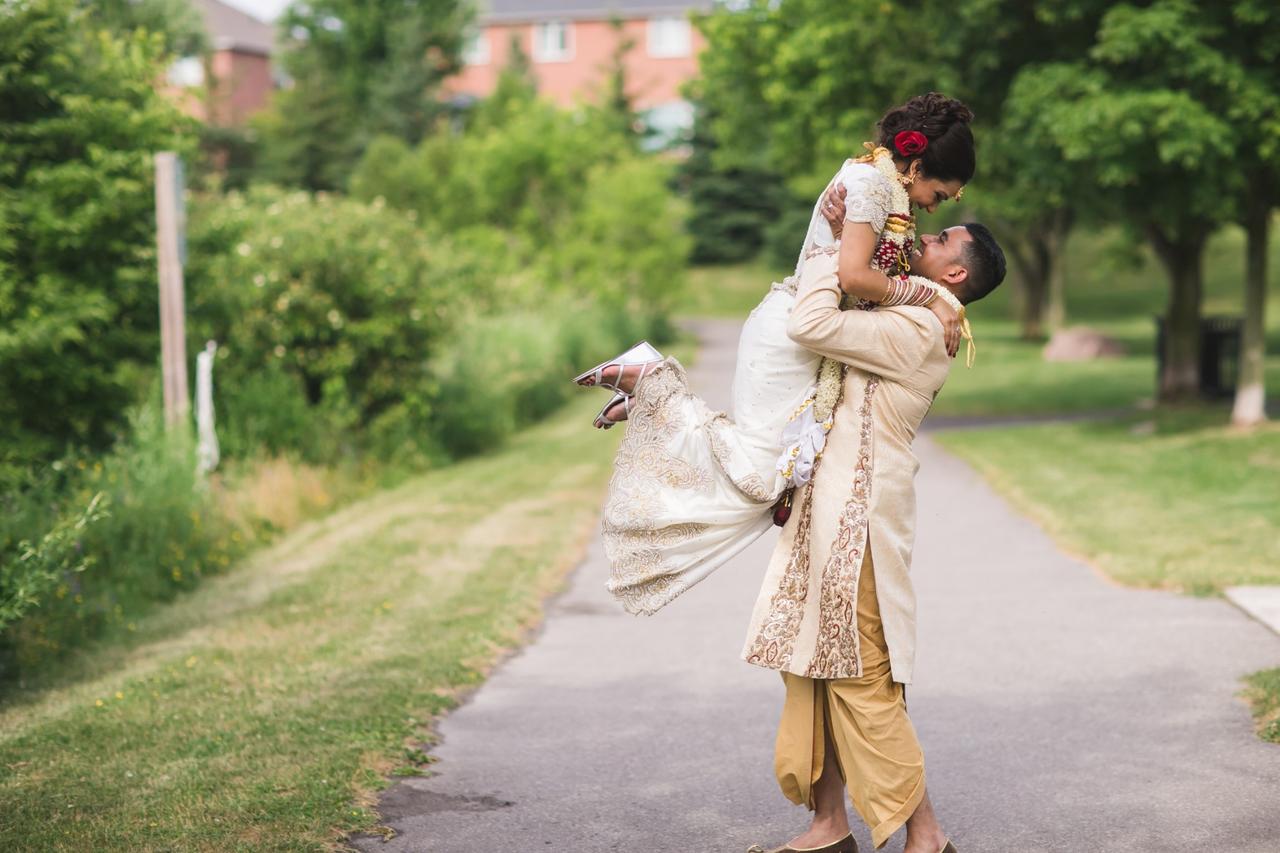 The dip
This is another dance move-inspired pose that always looks great. Ask your partner to dip you like they would on the dancefloor for a romantic full-body shot.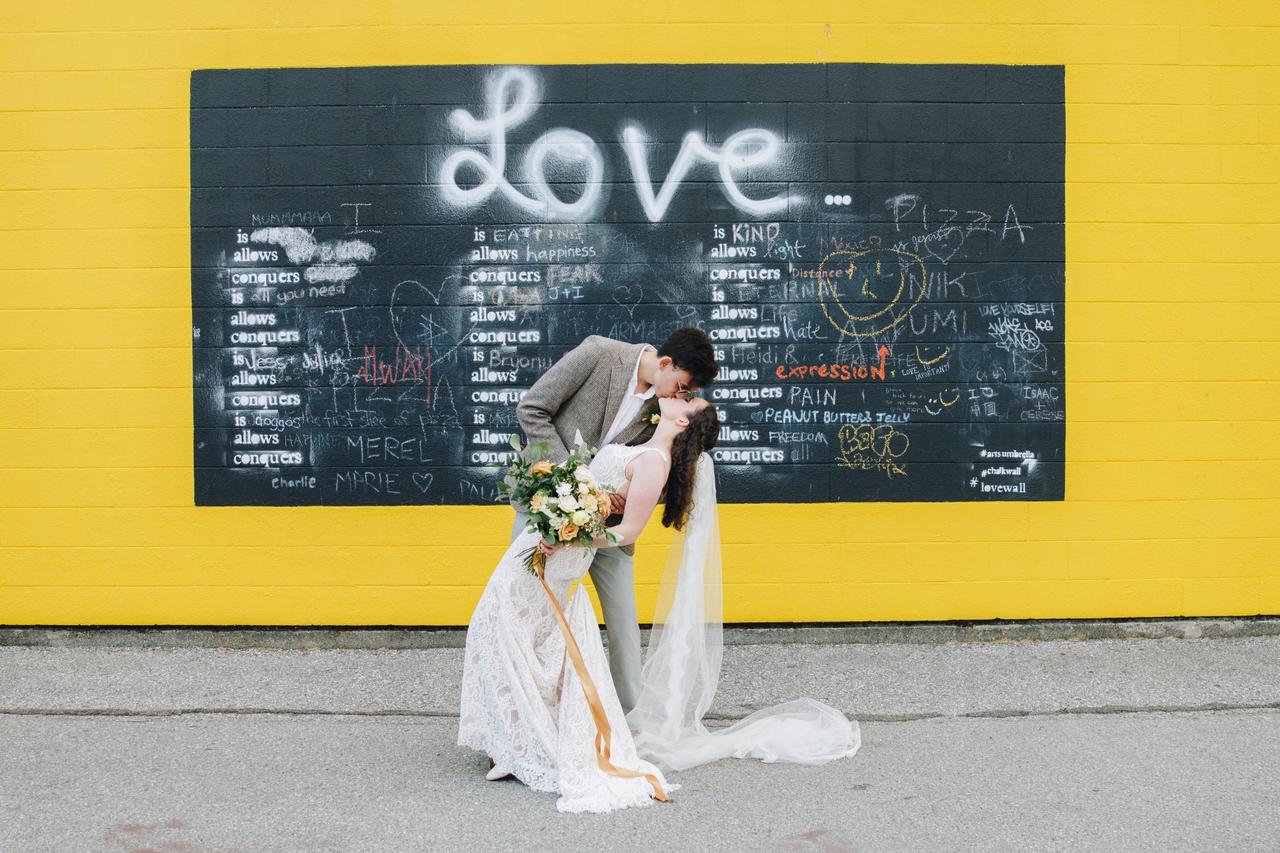 The overhead
This is an adorable pose. Find a spot to lie down and have your photographer take an overhead shot of your faces interlocked.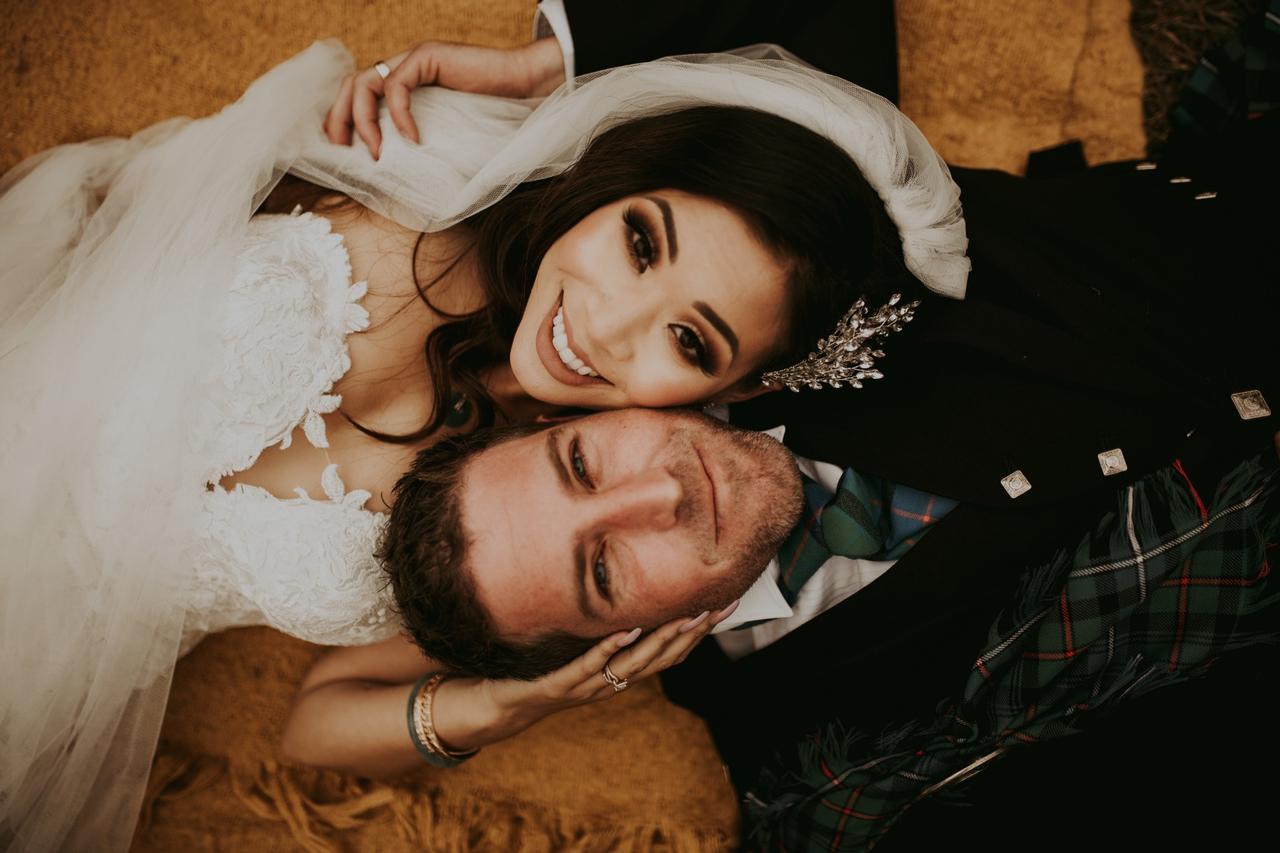 The classic kiss
Obviously, your wedding album is gonna require a smooching shot. Ask your photographer for a variety of options, including close-ups and full-body options. Let's face it, you're going to be making out a lot on your wedding day, anyway, so getting these pics won't be too tough.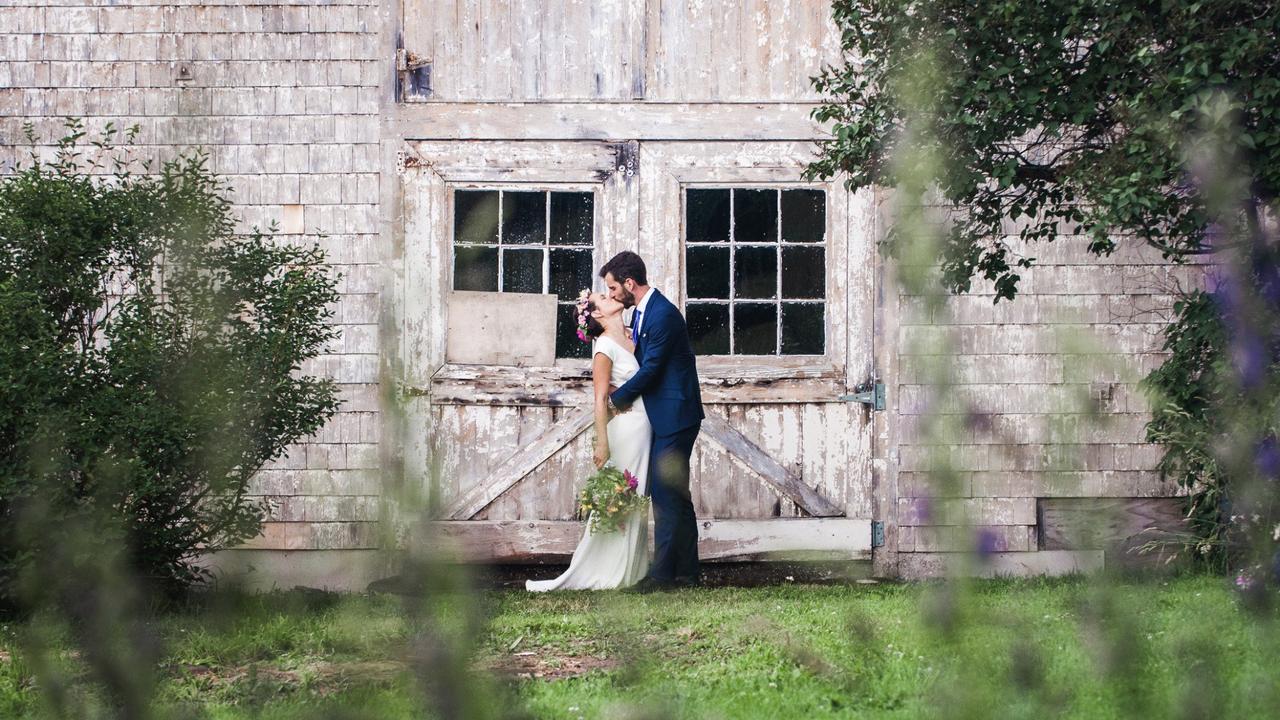 The cheek kiss
This one's a little sweeter and more demure than a kiss shot, but still a necessity for any wedding album.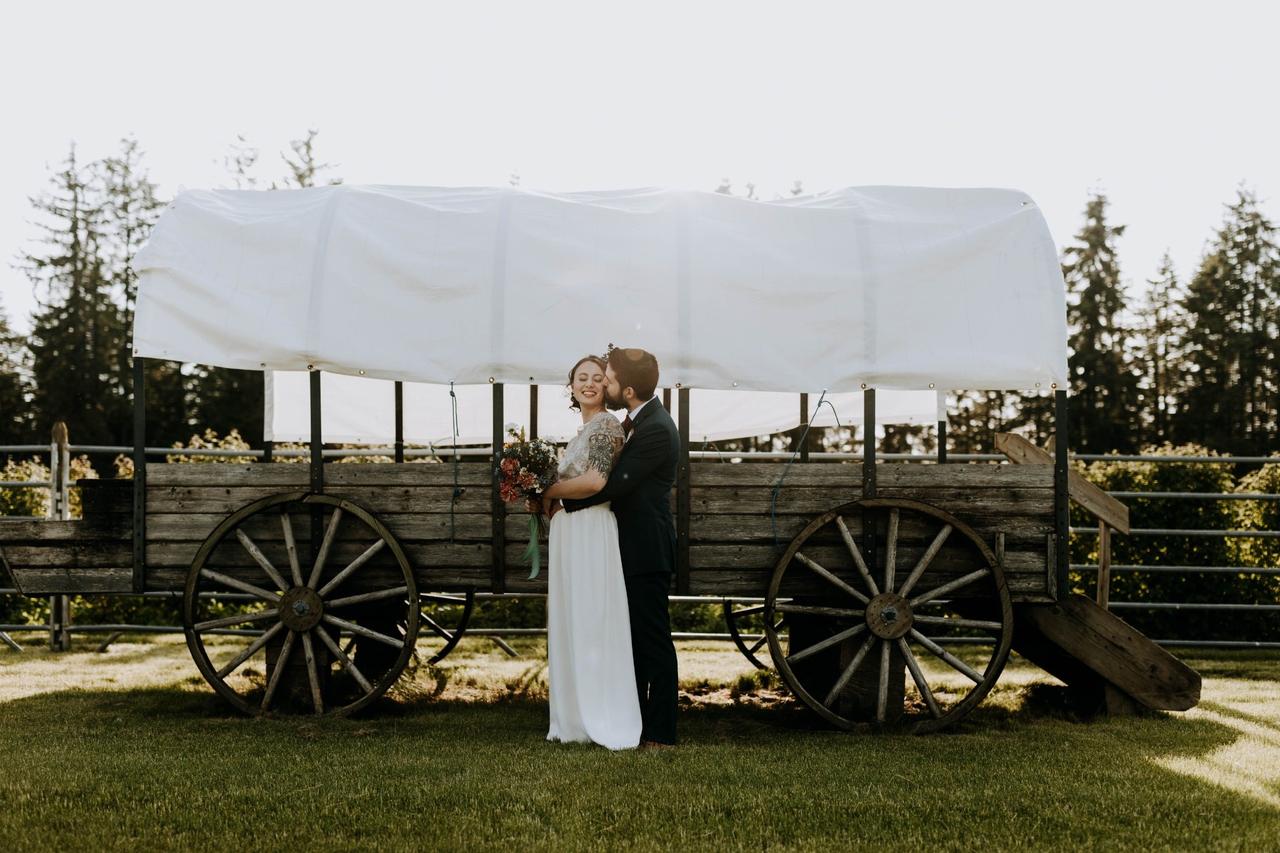 The sitting pretty
Got a cute bench at your venue? Is there a cool storefront you and your partner can cozy up in front of? Is there a booth the two of you can grab? Take a seat and let your photographer do the rest.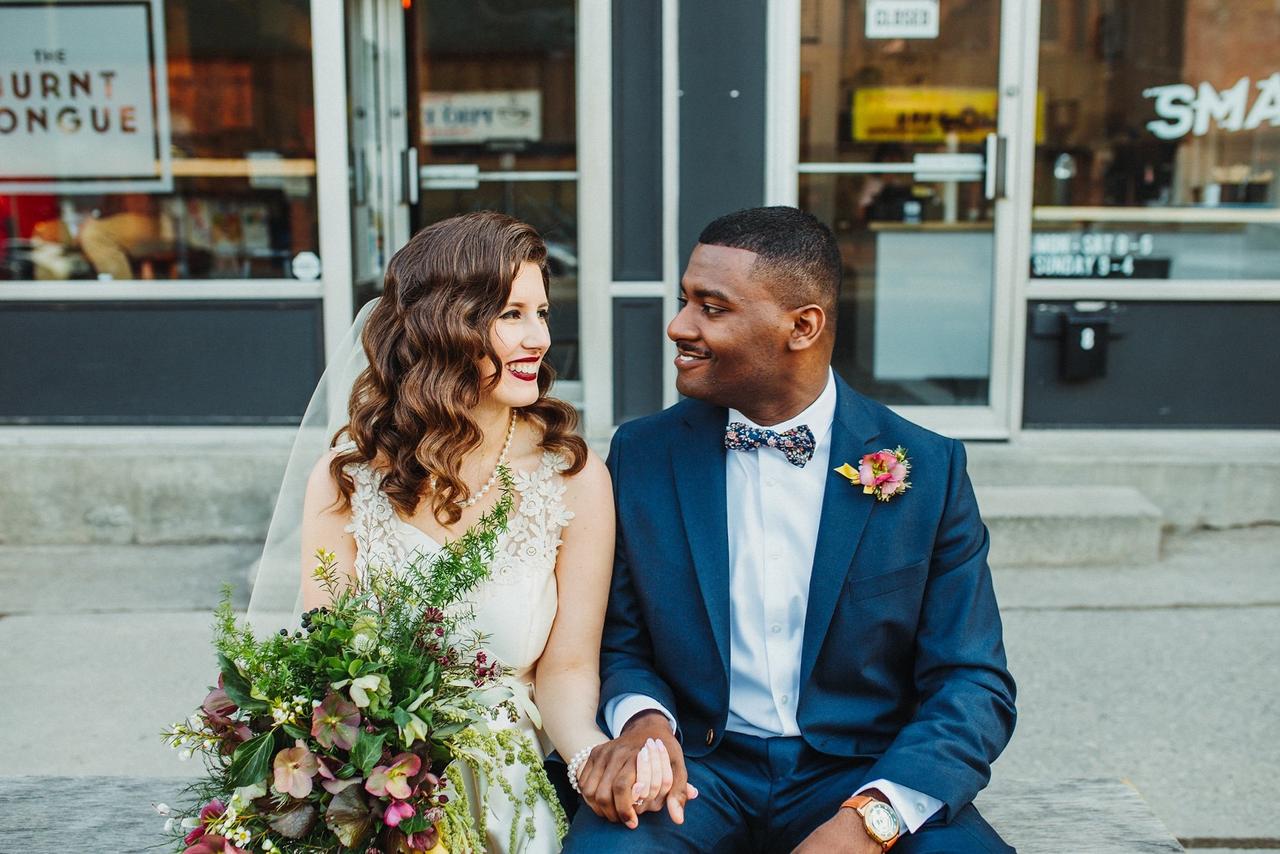 The veil wrap
If you're rocking a veil on your wedding day, you'll want to try this great wedding photography pose. Grab your partner and drape the veil over both of your heads. You can smile through the mesh or get another killer kiss picture with a bit of extra oomph.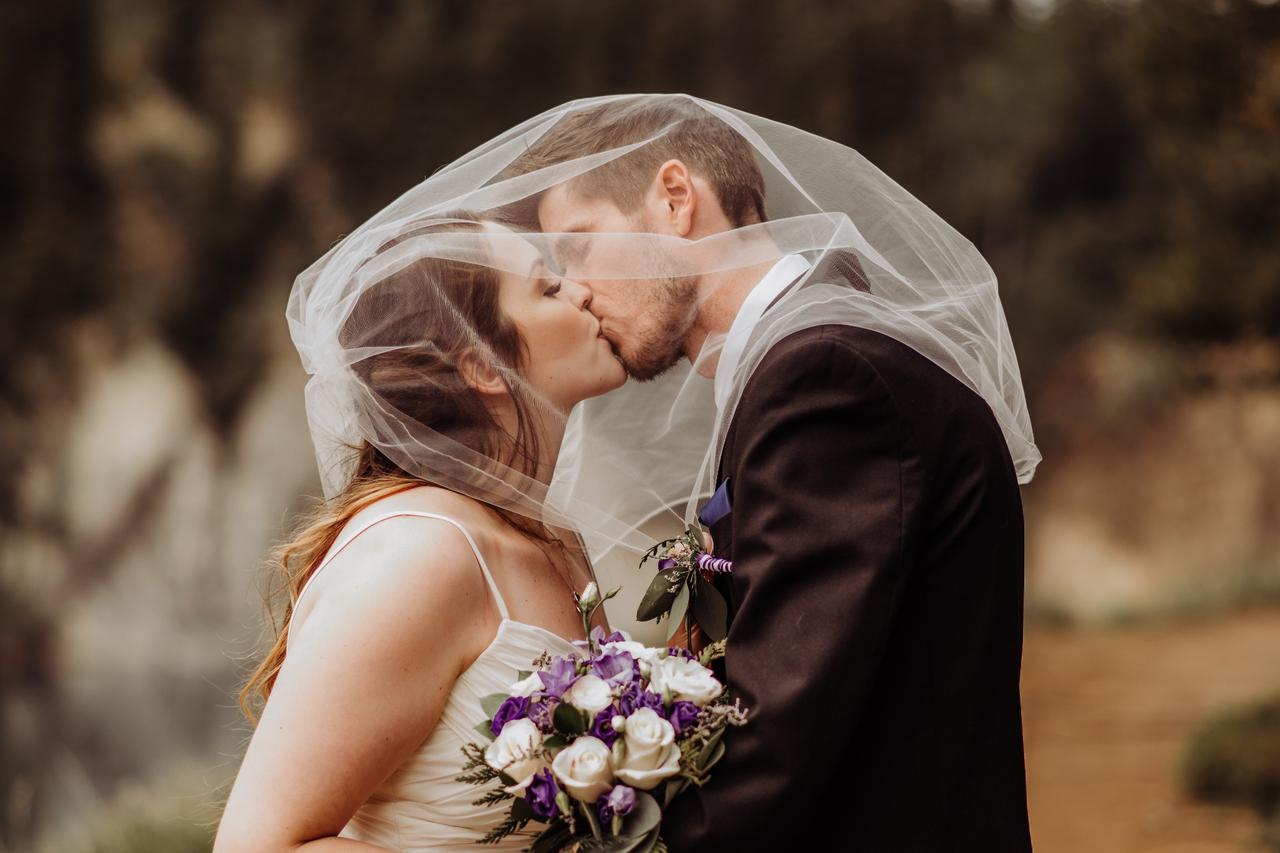 The loving look
This one is far from tricky. Just stare lovingly into your partner's eyes so that your photographer can capture just how much you love each other. P.S. there will probably be a lot of candids of this, too.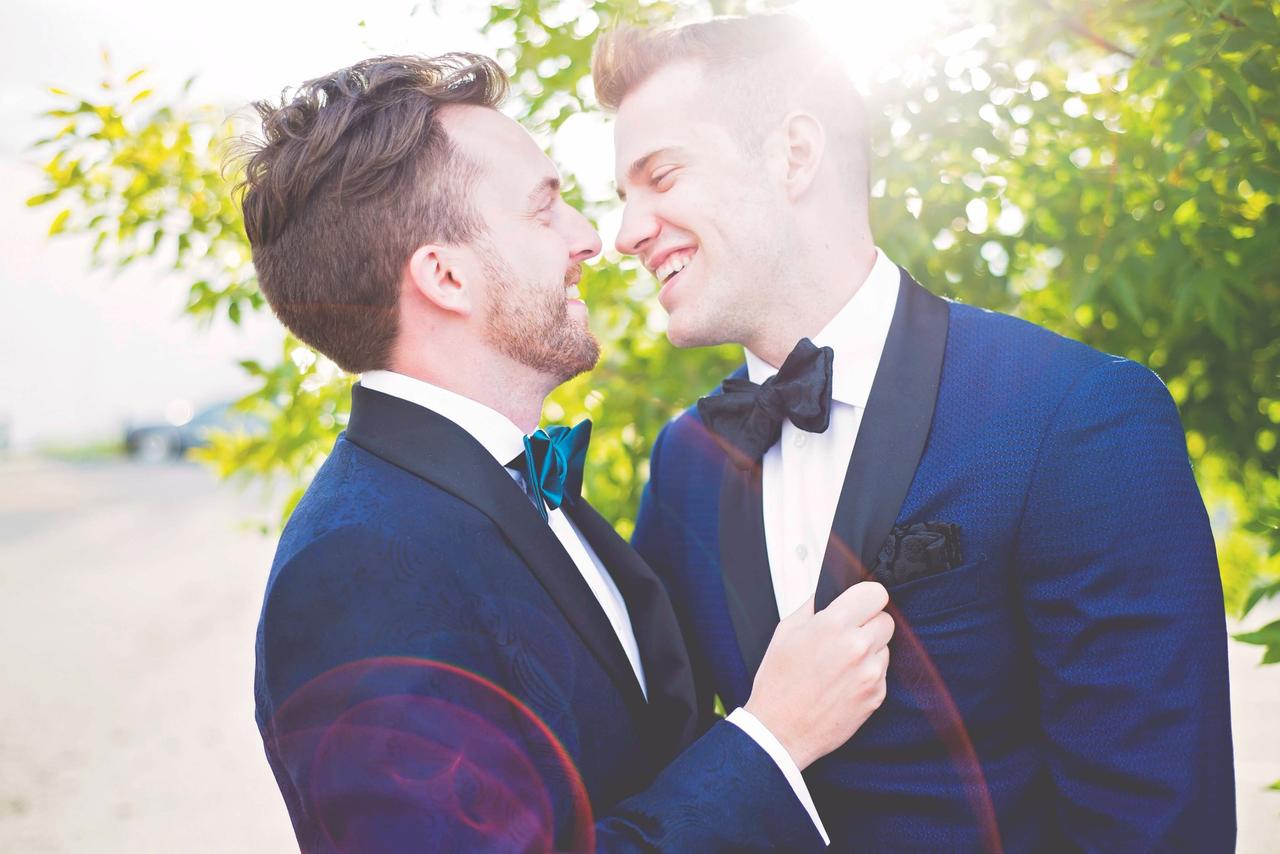 The face touch
Similar to the loving look, but a little bit different. Adding a light hand on your partner's face will make the shot even more romantic, so it's worth trying out, too.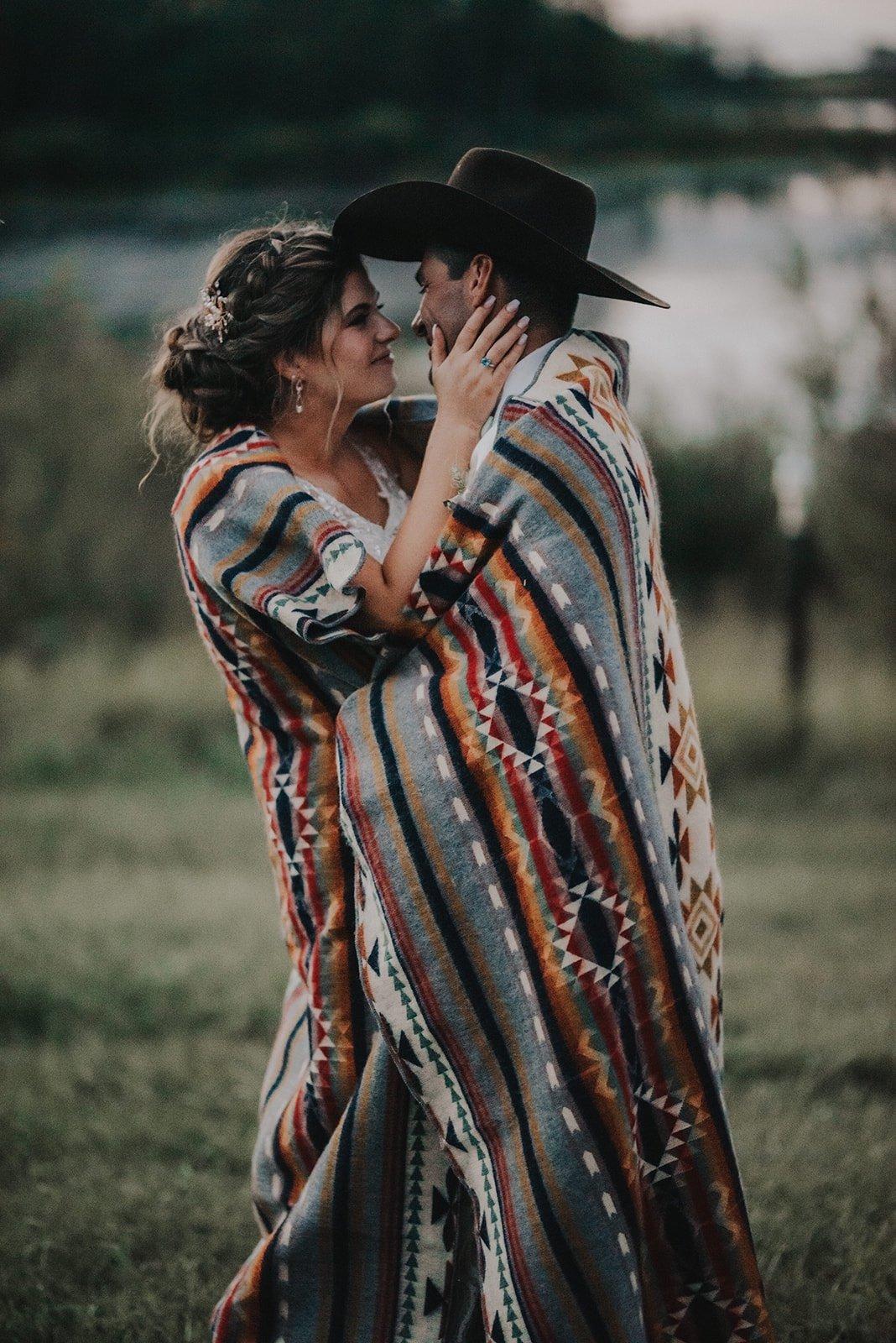 The lie-down
Want to get artsy with your wedding photos? Lie down on the ground inside or outside of your venue and get your photographer to take pictures of you from above. This may require some extra equipment, like a drone, but the end result is totally worth it.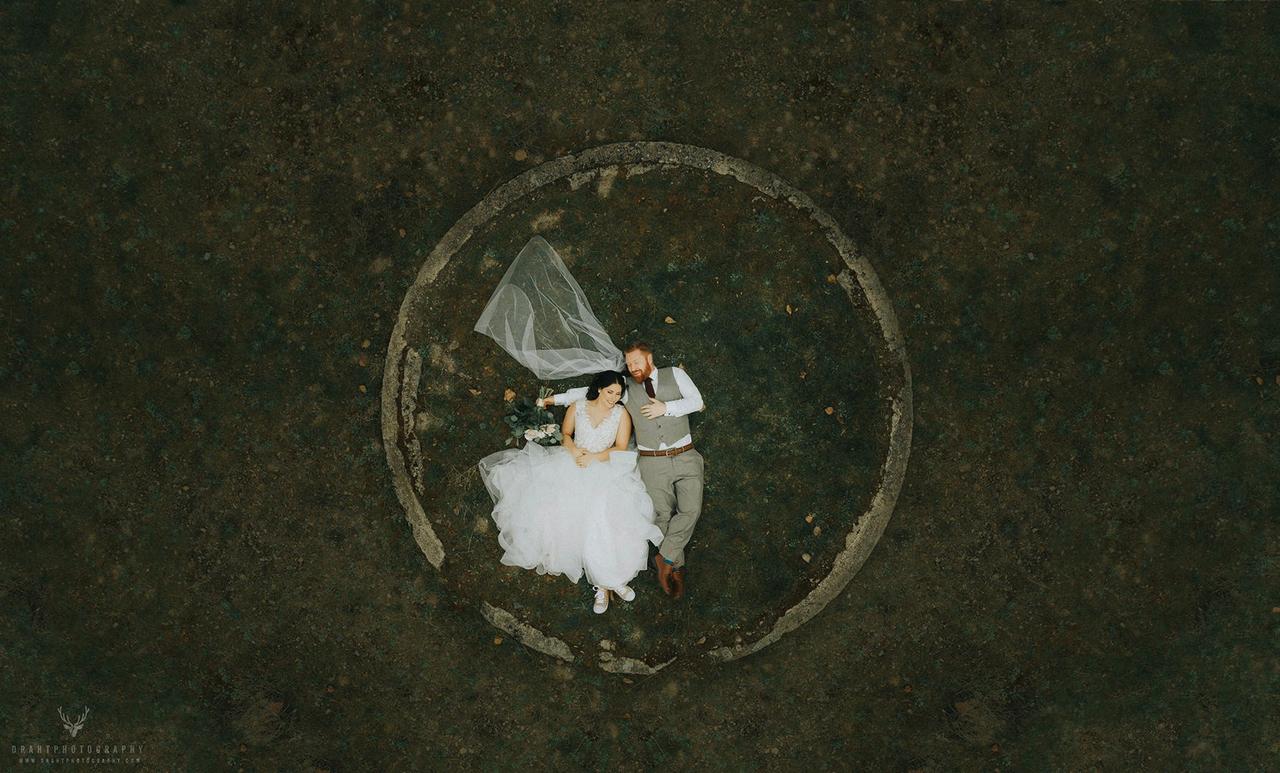 The cute cuddle
Cozy up with your partner's arm around you for an intimate shot that can be taken almost anywhere.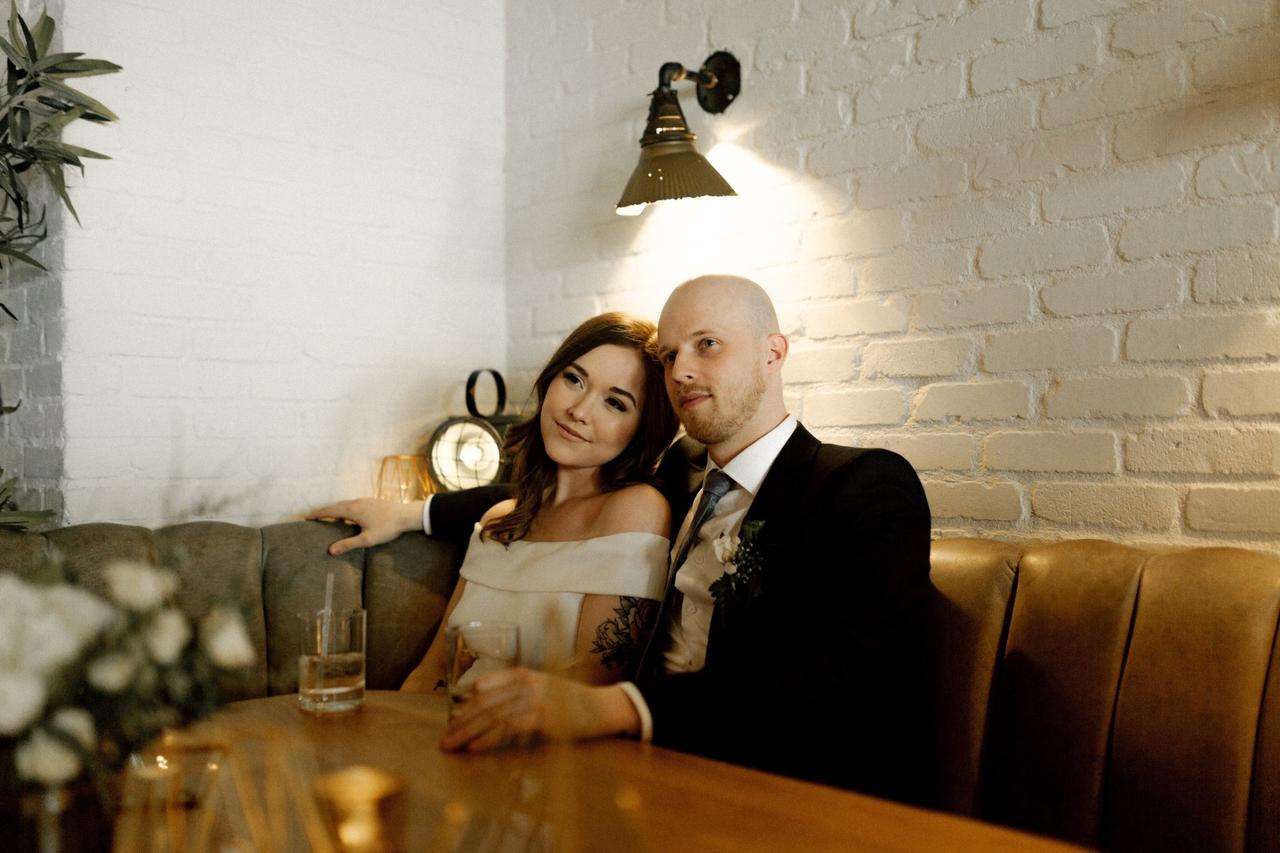 The faux first dance
Have a first dance before your first dance, preferably at the peak of golden hour. That way you'll get a cool dancing shot without any accidental photobombers in the background.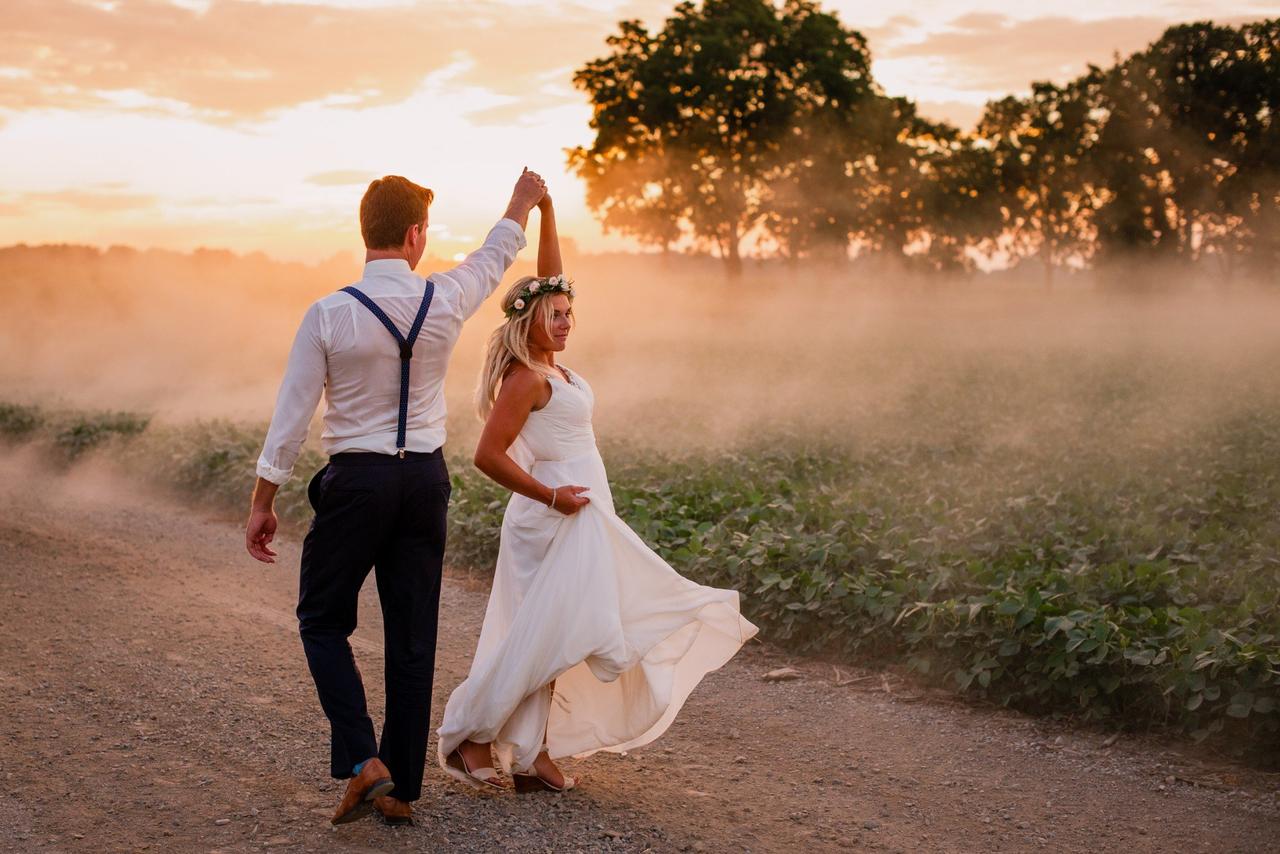 The sweet embrace
Ask your partner to hold you by the waist and pop a kiss on their cheek or mouth for a cute close-up shot.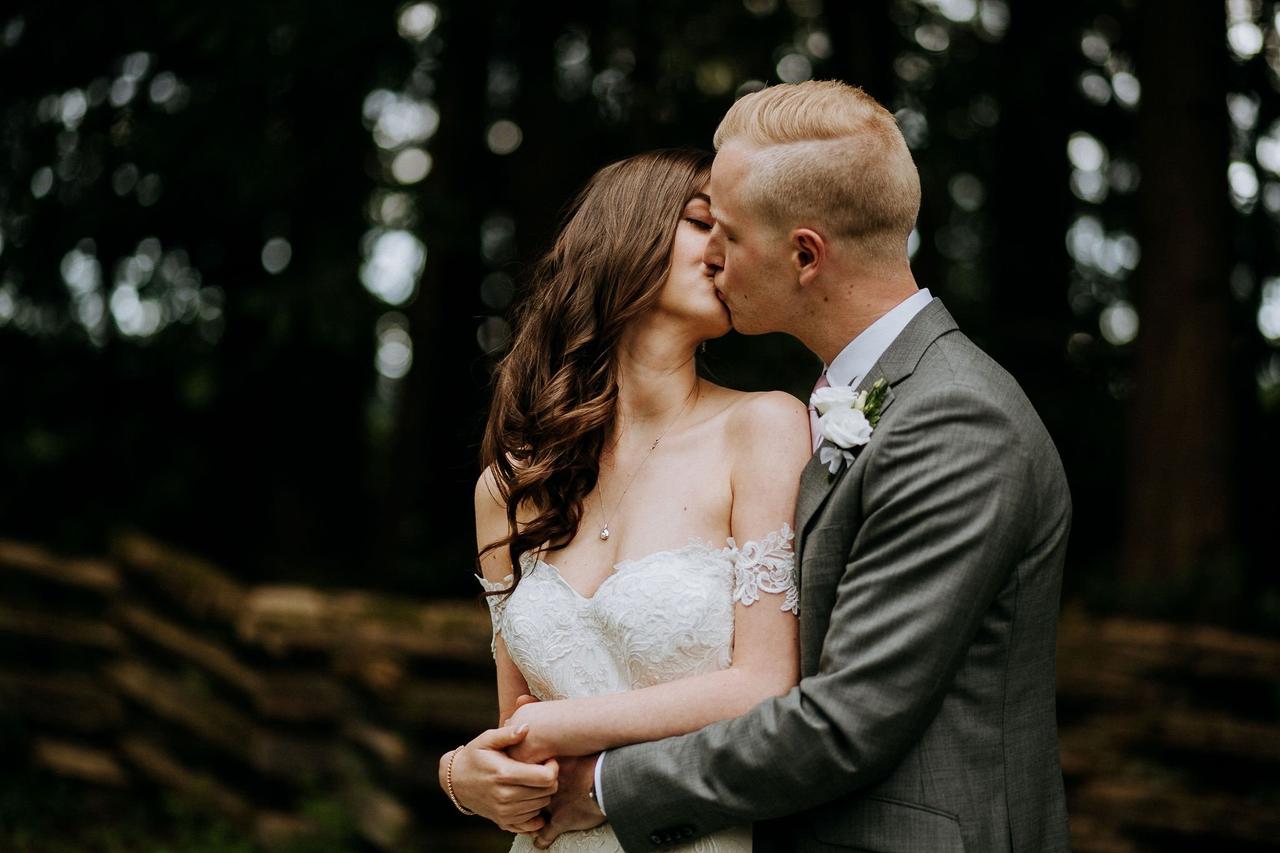 The cute and casual
Relax, pop a couple of jokes during your wedding portrait shoot, and see if any candid magic can be captured. Sometimes the more casual, less pose-y shots are the best of the bunch.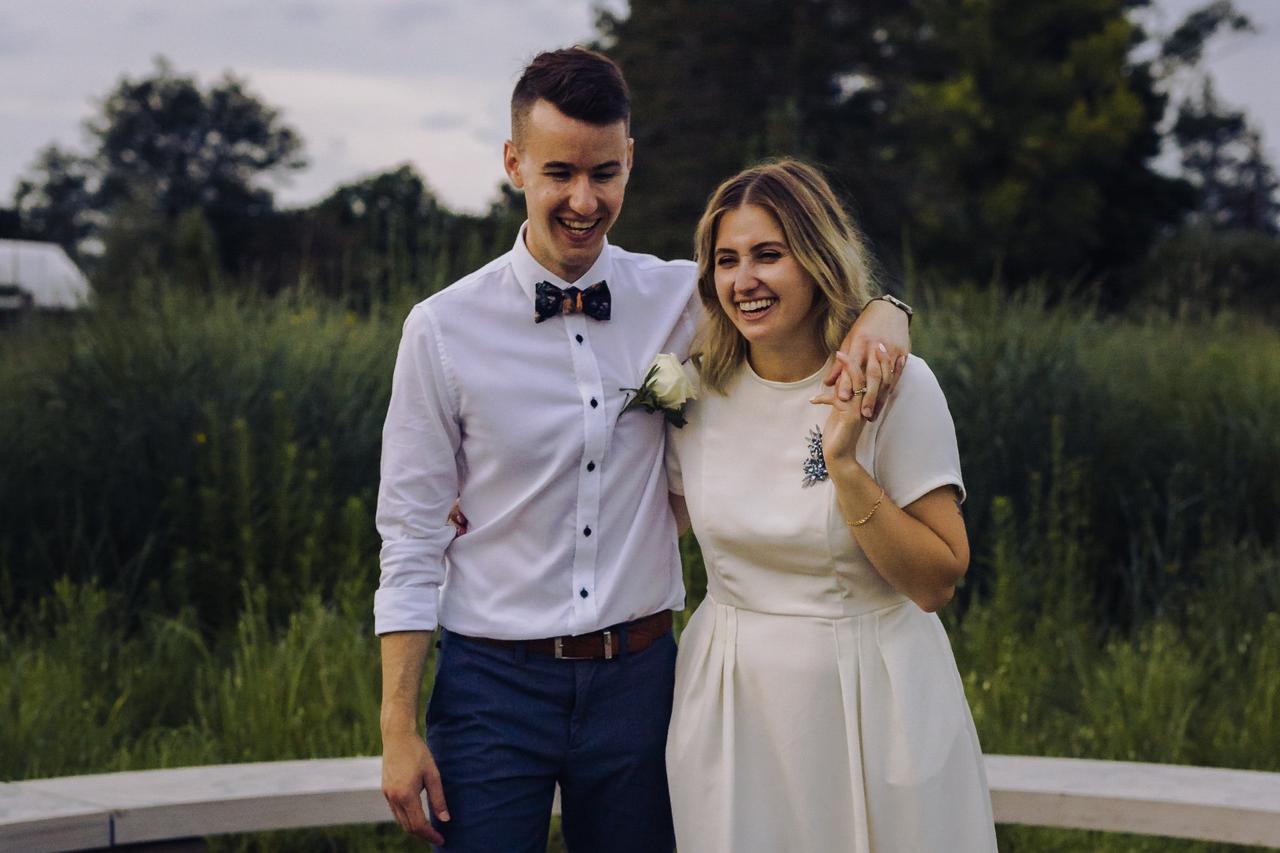 The hug
Who doesn't love a hug? Grab your partner and give 'em a big 'ol bear hug. These can feel more intimate than the kiss pics, so you've got to get a few.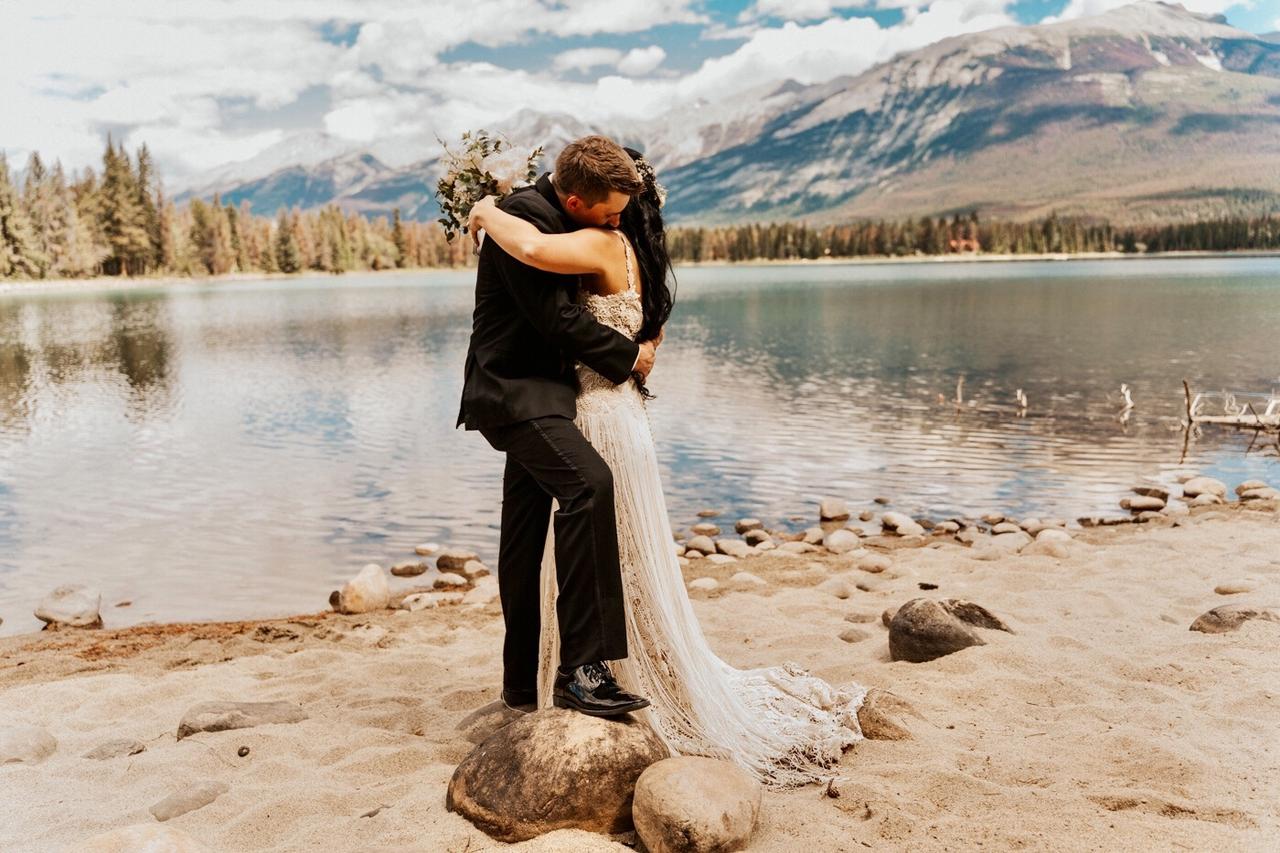 The heel pop
A heel pop is a great way to sweeten up your wedding pictures and show off your drop-dead gorgeous wedding shoes in one fell swoop.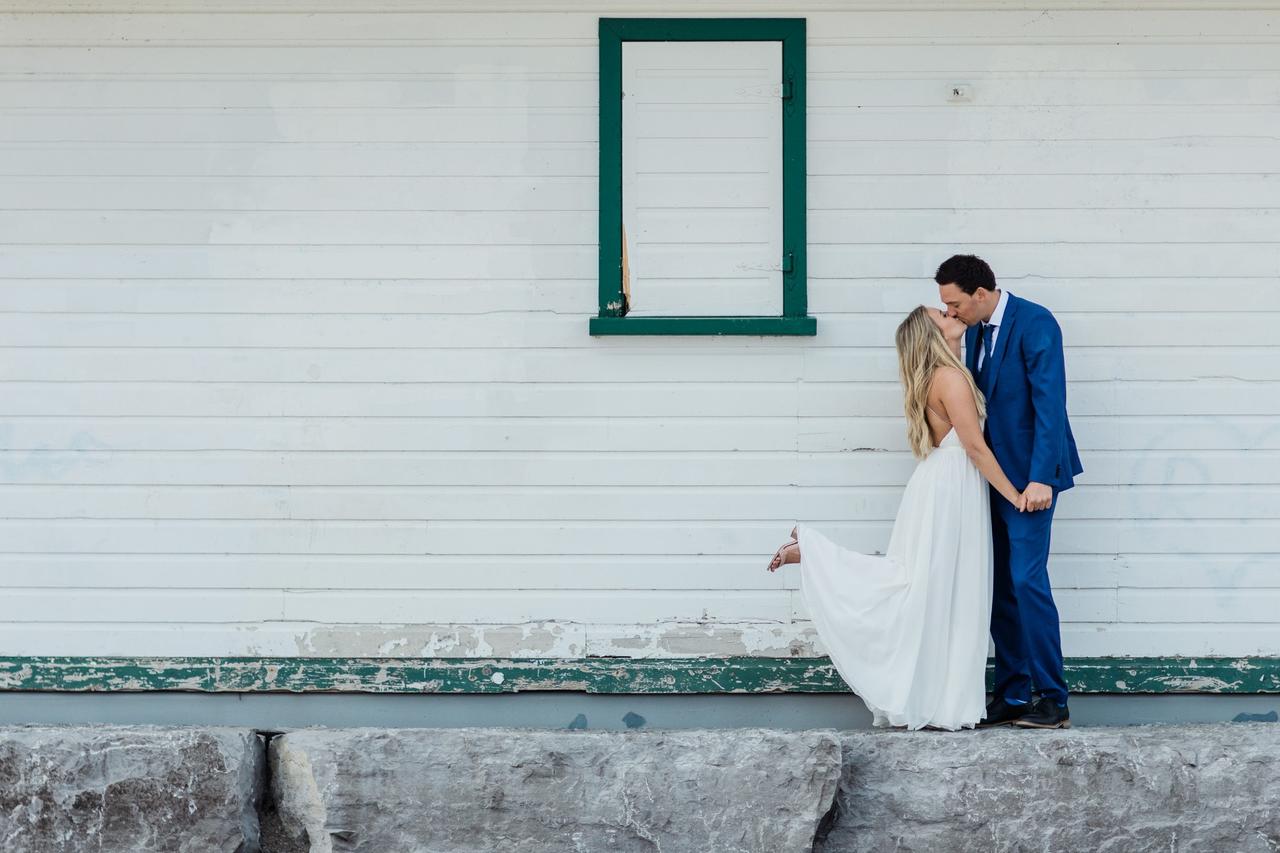 The faraway love
If you're working with a cool space, this photo is a must. Stand a few feet away from your partner and give them a cute wink or little laugh. This will show off your playful sides and the beauty of your venue all at once.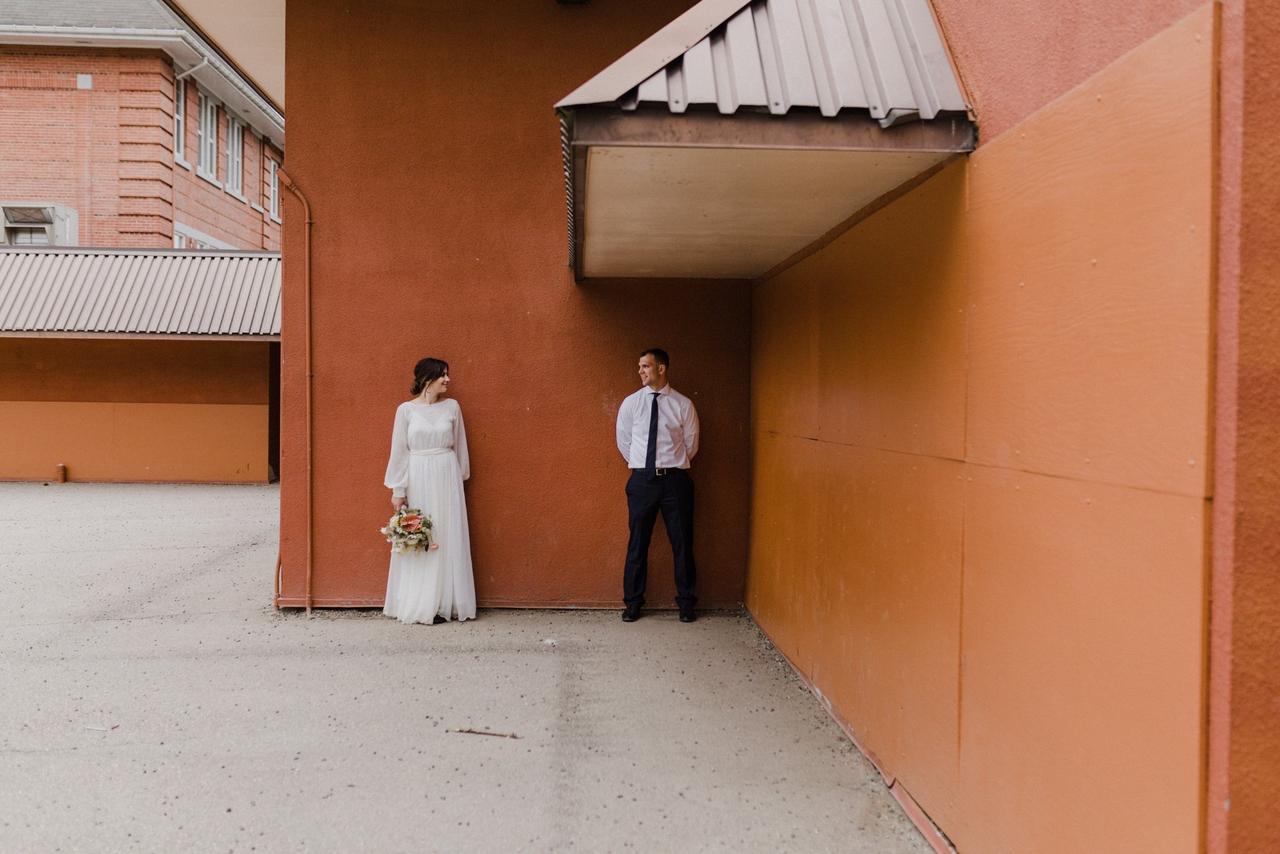 The classic smile
Just cheese it up for the camera and give your photographer a pair of million-dollar smiles!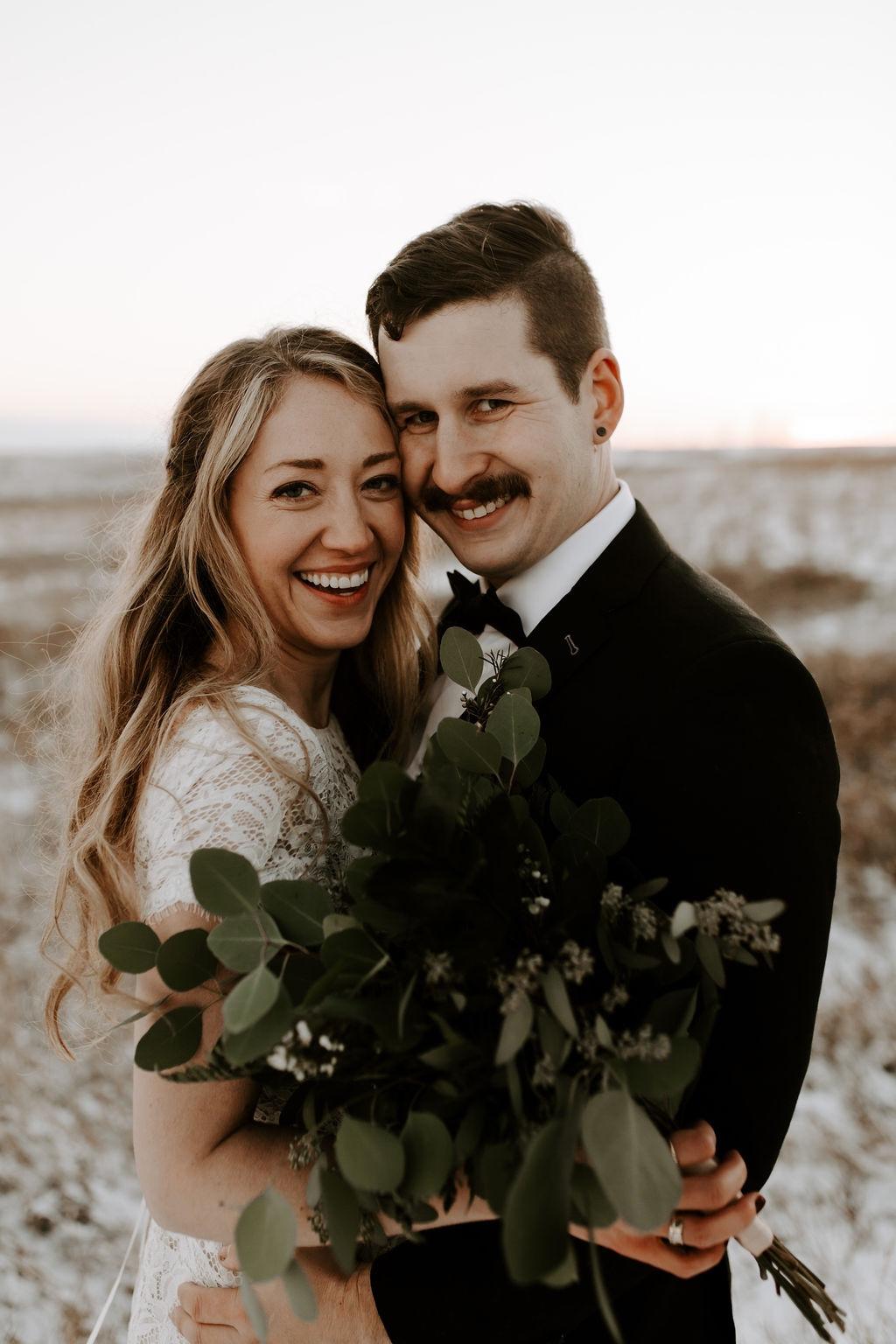 The almost kiss
Not quite a kiss, but still pretty darn cute.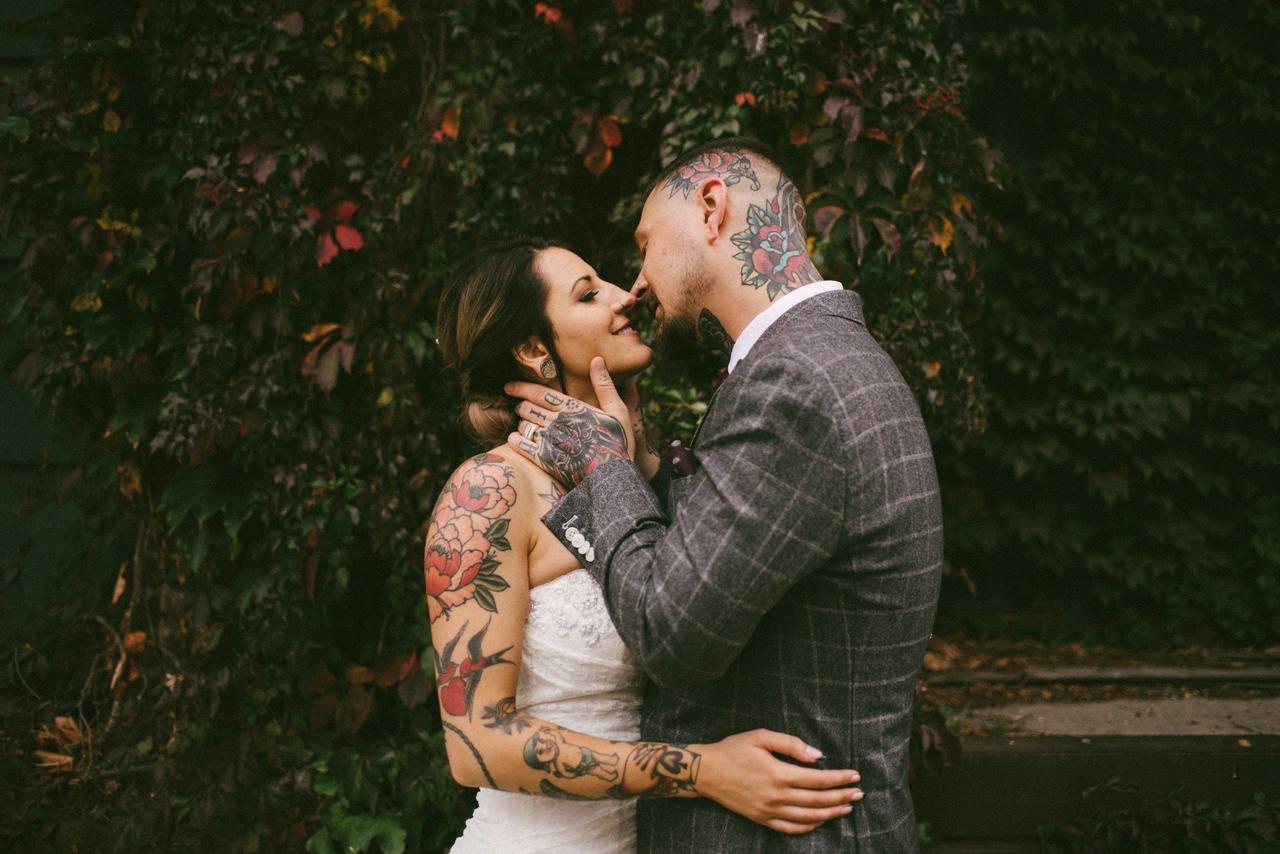 The look away
The last thing you want to do on your wedding day is take your eyes on your partner. But trust me, if you do it for one or two shots, you won't regret it.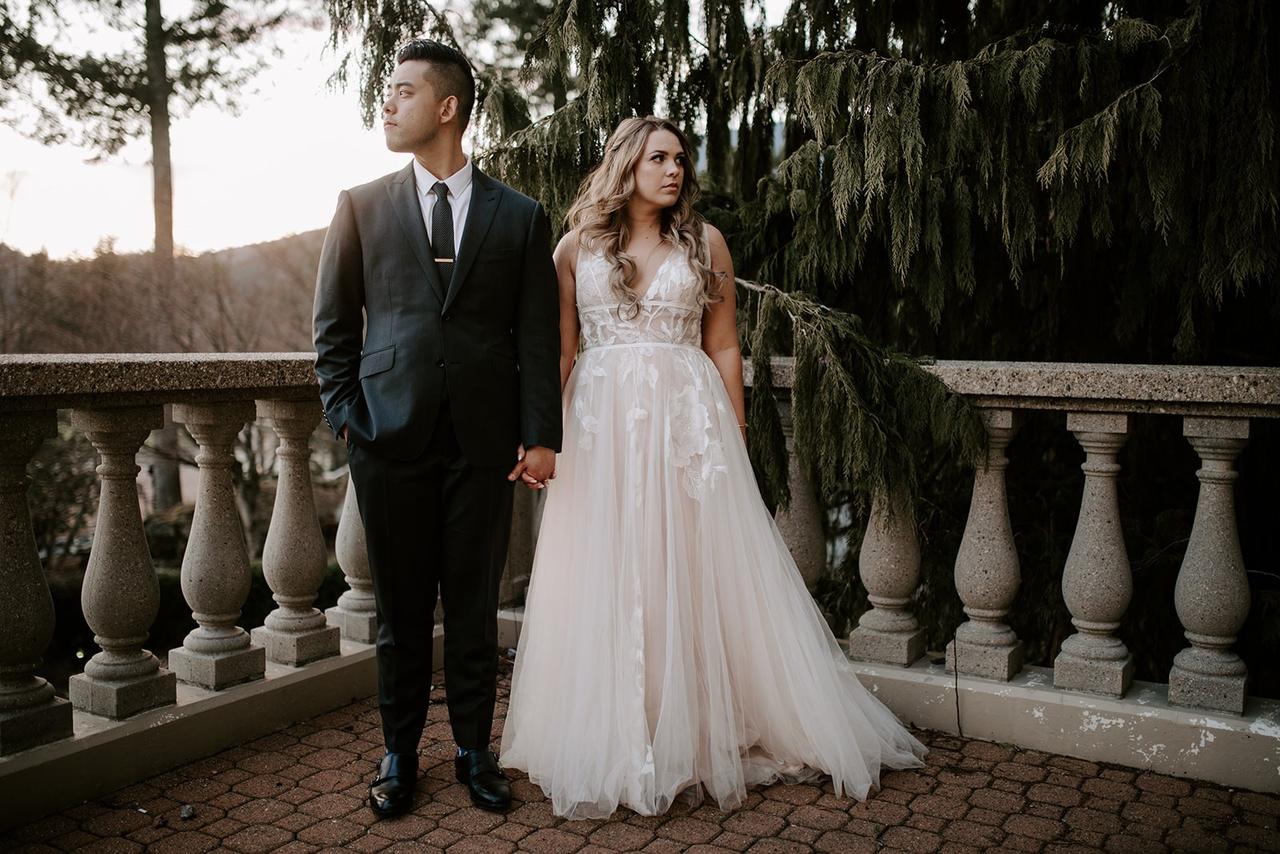 The back-to-back
OK, this is the last option where you won't be looking at your partner, I promise. Stand back-to-back for a pose that looks a bit more editorial than a classic kiss or hug shot.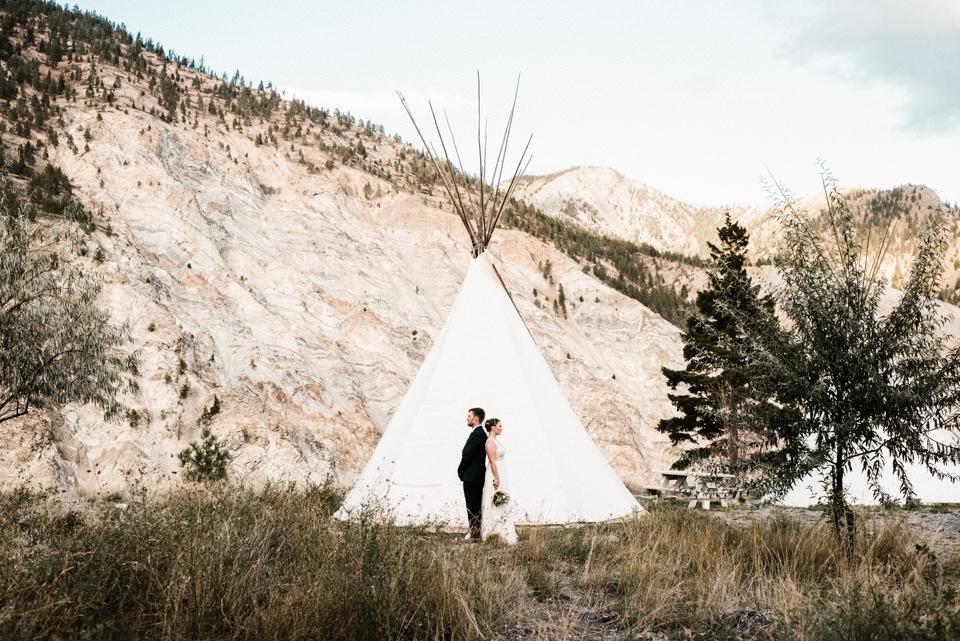 The nose-to-nose
An Eskimo kiss may just be the sweetest type of kiss there is, especially in a picture.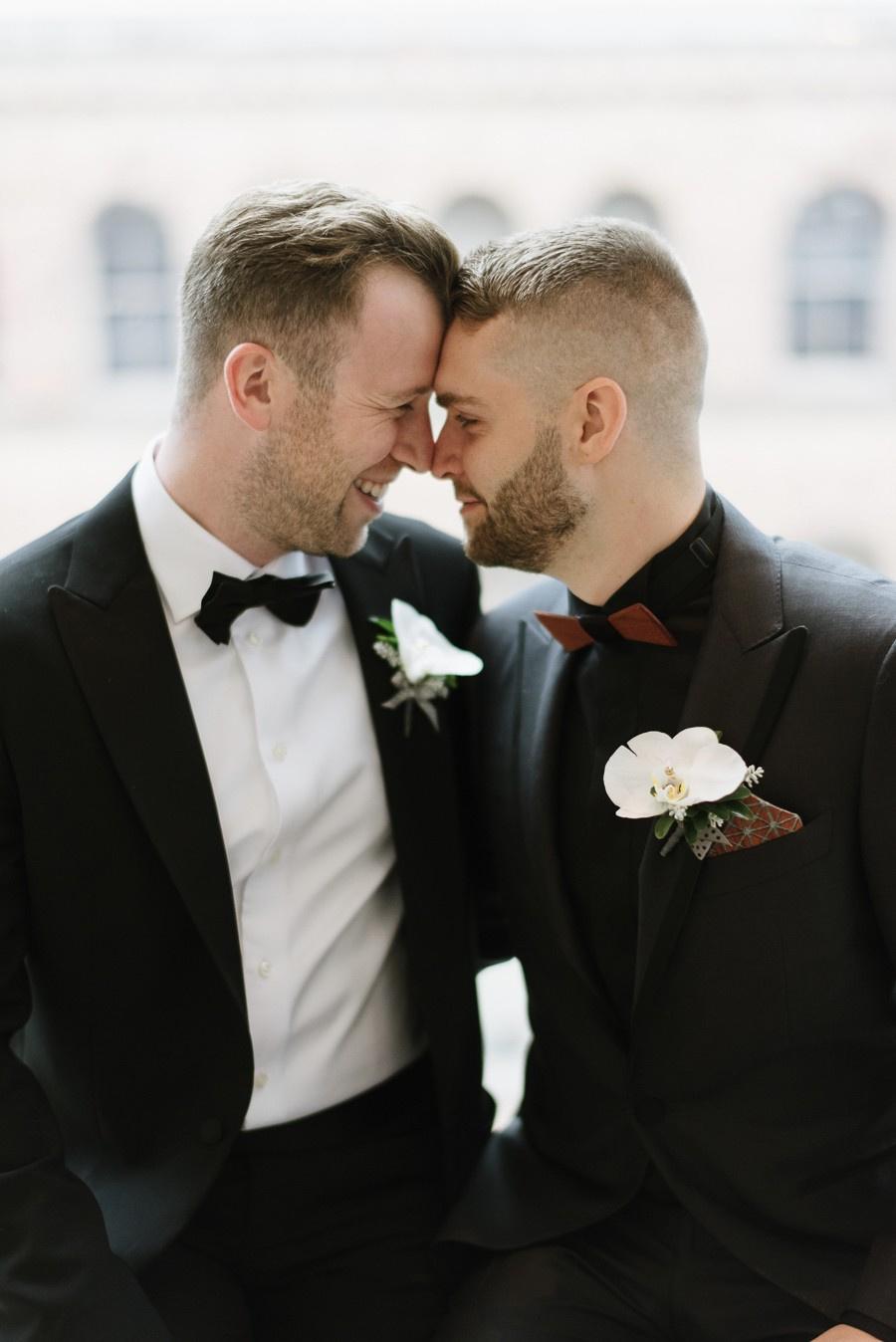 The hand kiss
Act like a true gent and kiss your partner on the hand. This wedding pose looks like a frame from a Disney movie and is definitely worth sampling.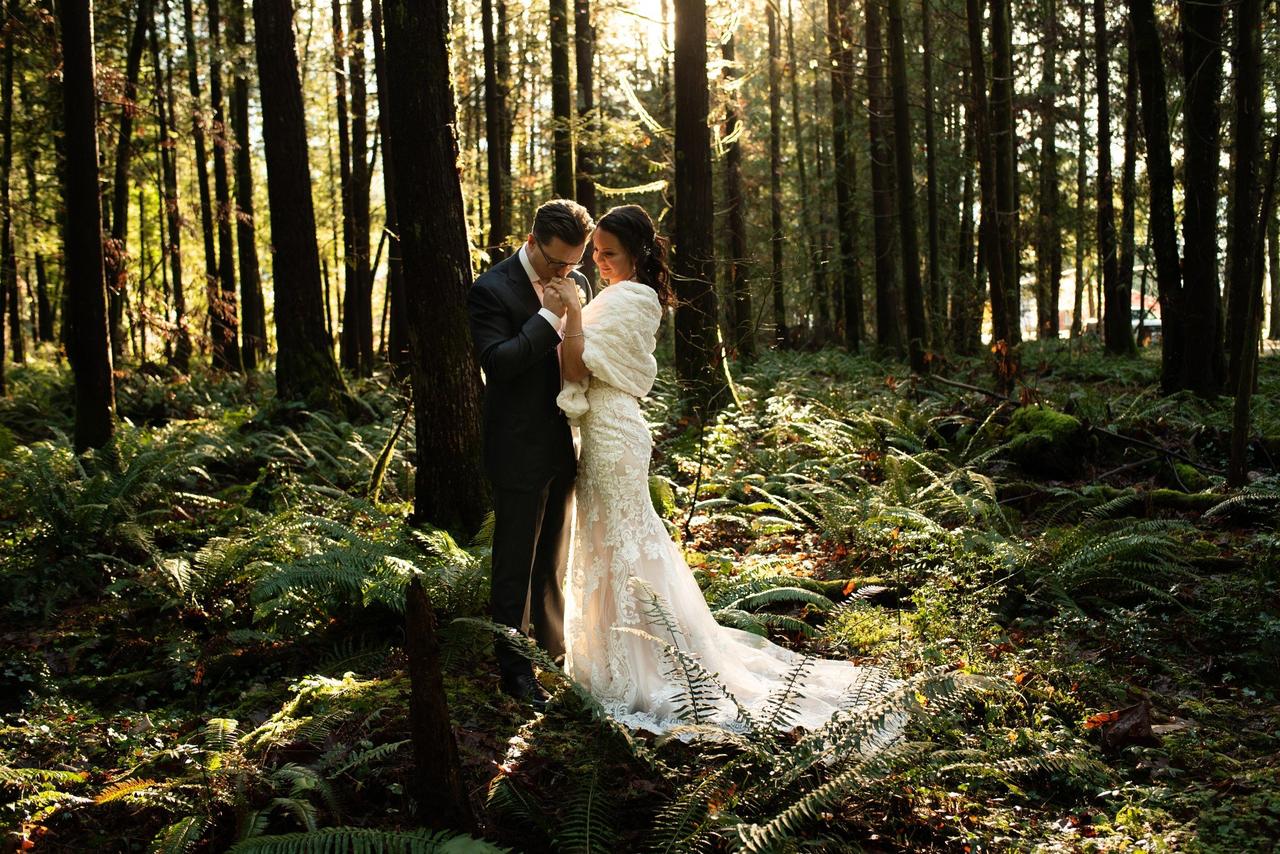 The forehead-to-forehead
Share an intimate moment and stand with your foreheads touching and your eyes closed. This looks great close-up and faraway.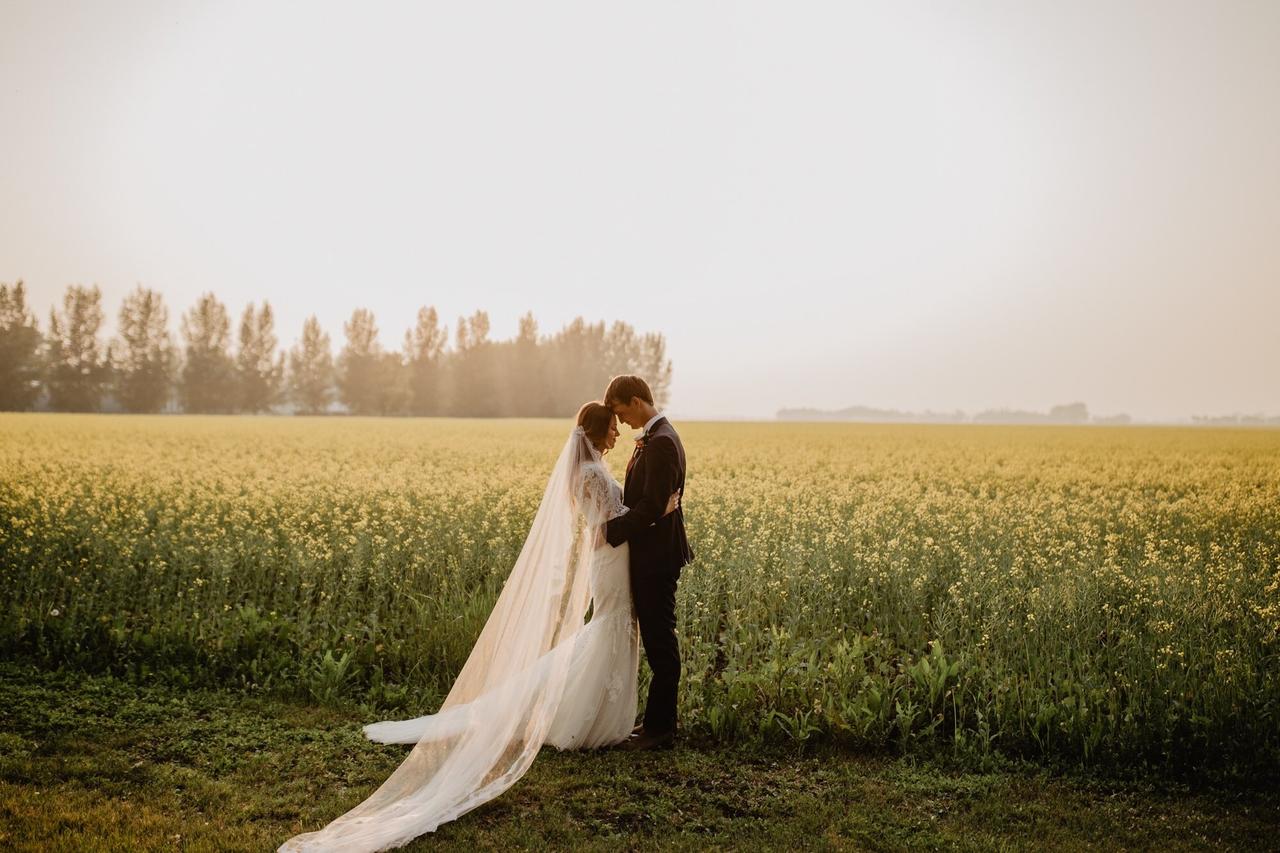 The opposite views
Stand facing opposite directions to give the partner face-to-face with the photographer the spotlight without letting them steal the entire show.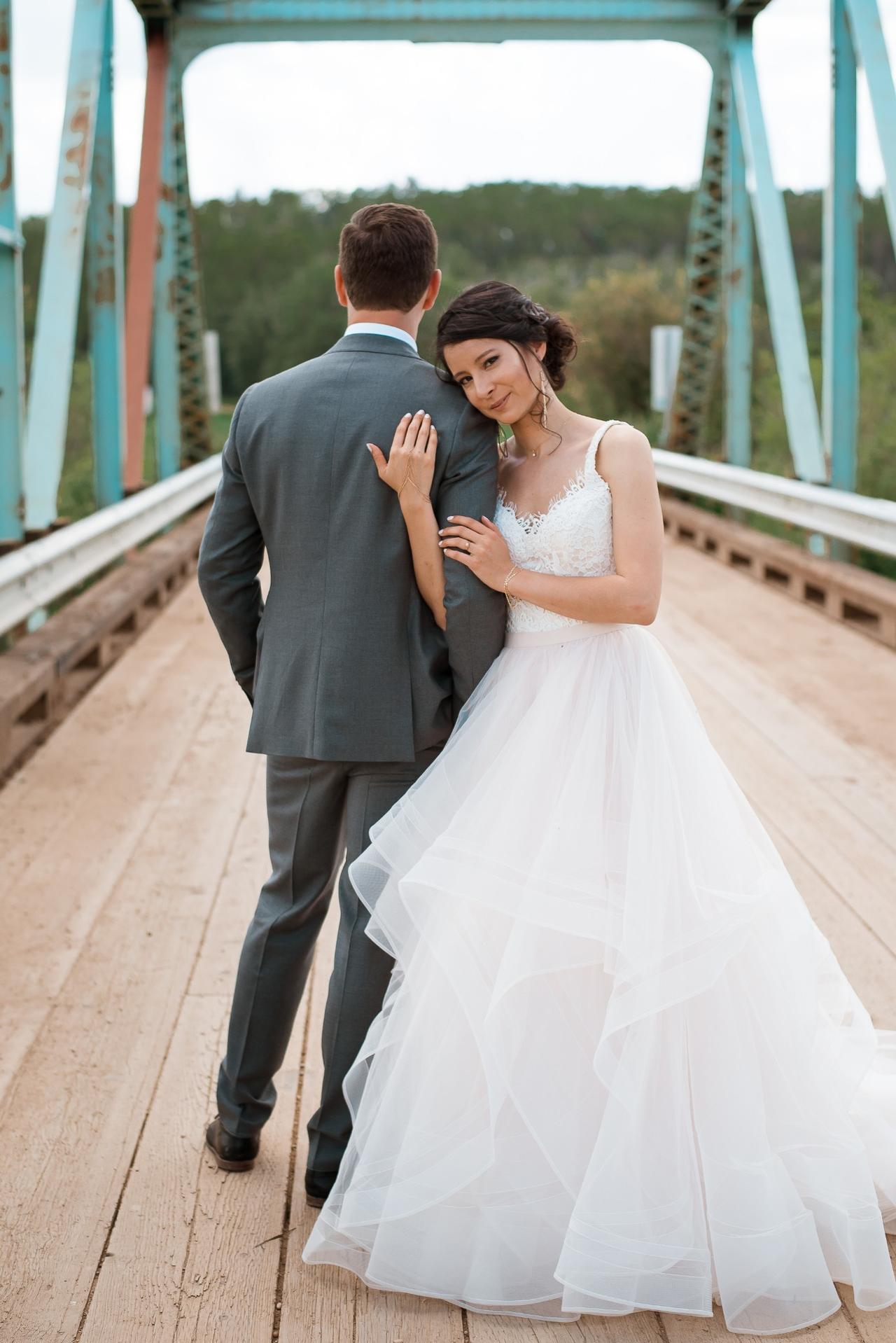 The kiss from behind
A top-notch couple pose for a wedding portrait that's especially great if your partner is on the taller side.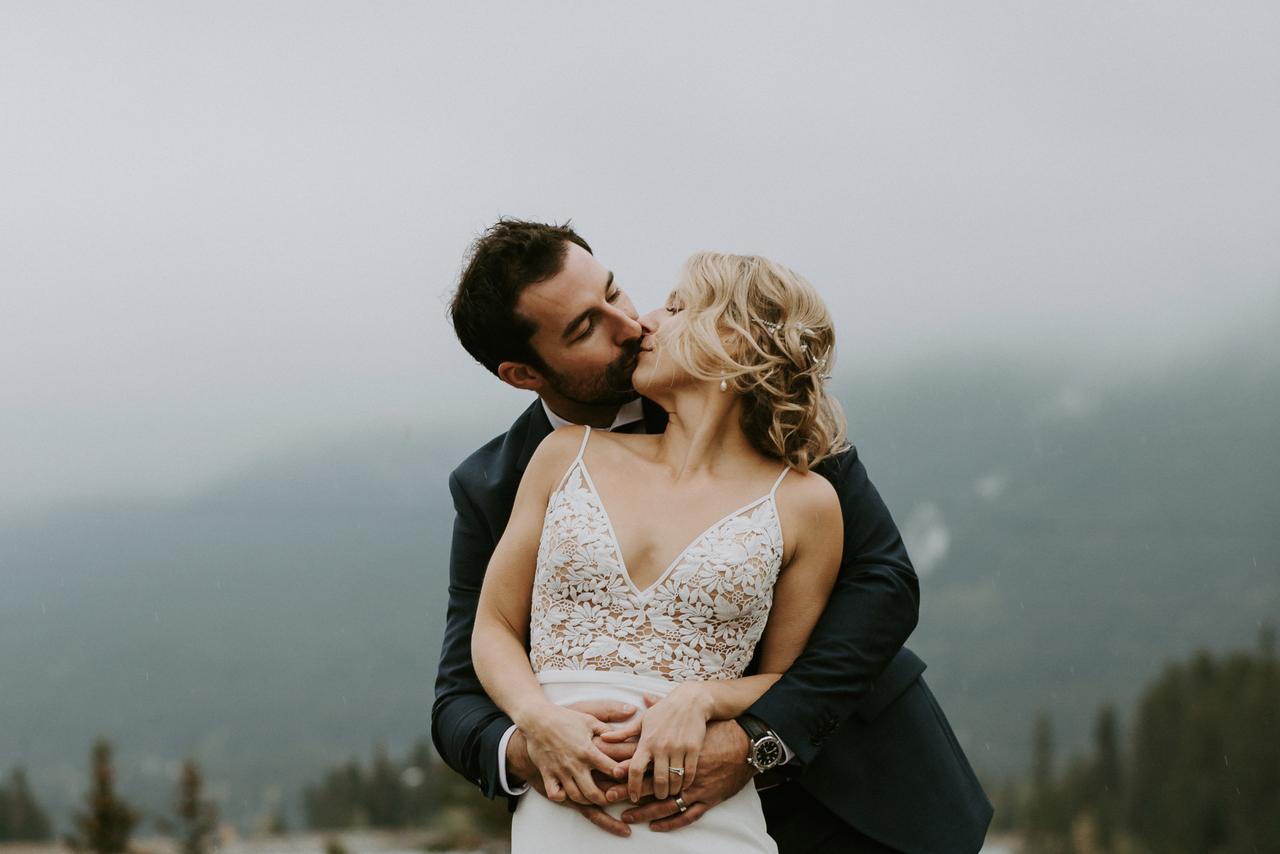 Find your wedding photographer on WeddingWire »