27 Essential Engagement Photo Poses for Couples to Try
Ready to shoot your engagement photos? Here are the poses you absolutely need to try during your session.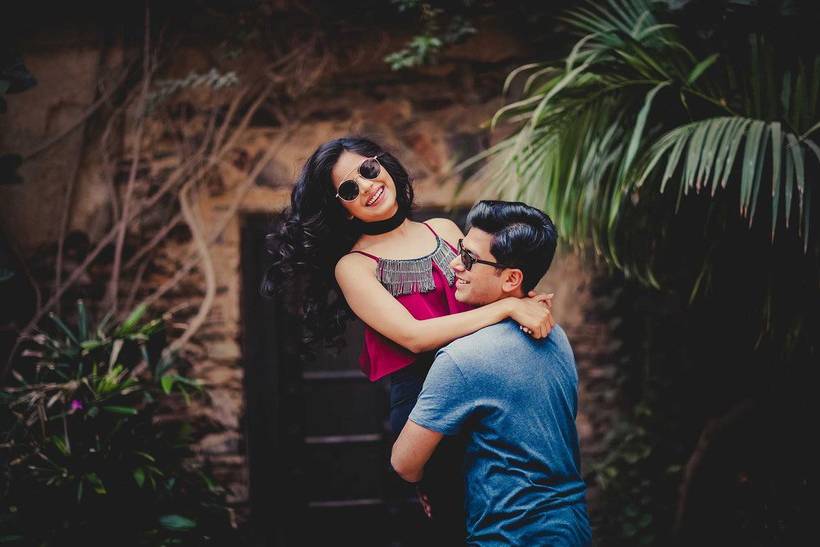 Ready to take some pics to celebrate your engagement? Of course, you are! While you're probably a natural when it comes to taking photos with your fiancé(e) there's a good chance this is your first professional shoot together. We've rounded up our favourite engagement photo poses to help you nail each and every shot. P.S. this is a great opportunity to do a trial run with your wedding photographer, so take advantage of the opportunity!
Here are the essential engagement photo poses for couples to try.
The classic kiss
Of course, we have to kick things off with the most iconic engagement shoot photo pose of all: the classic kiss. This looks great up close and from afar, so ask your photographer to get a few different options.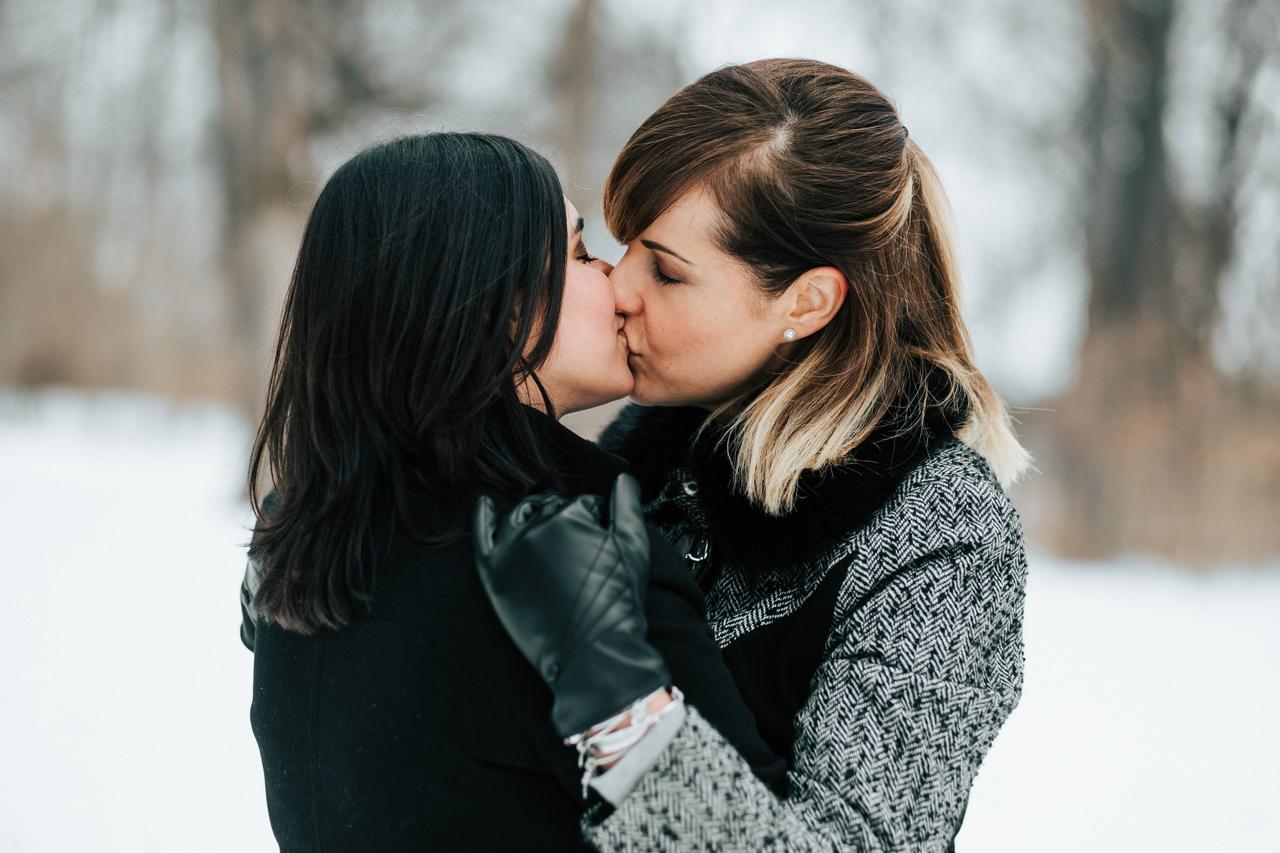 The stroll
Take a lil' stroll and get your photographer to follow along with their camera, snapping as they go. You don't have to strut like models to get some absolutely magical pics.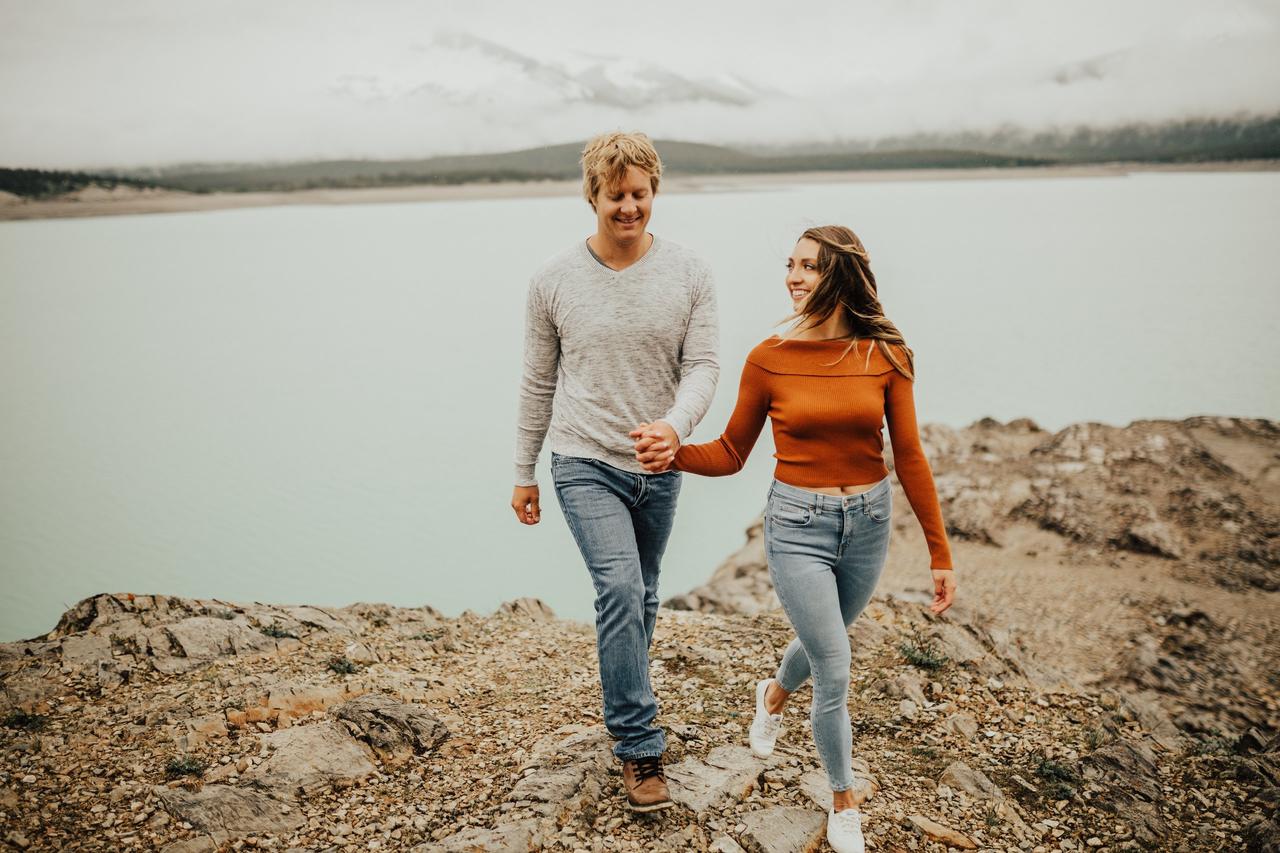 The dip
Do a little dip to show off your Dancing with the Stars-style moves. Don't worry you don't have to be seasoned pros for this engagement pose to look amazing.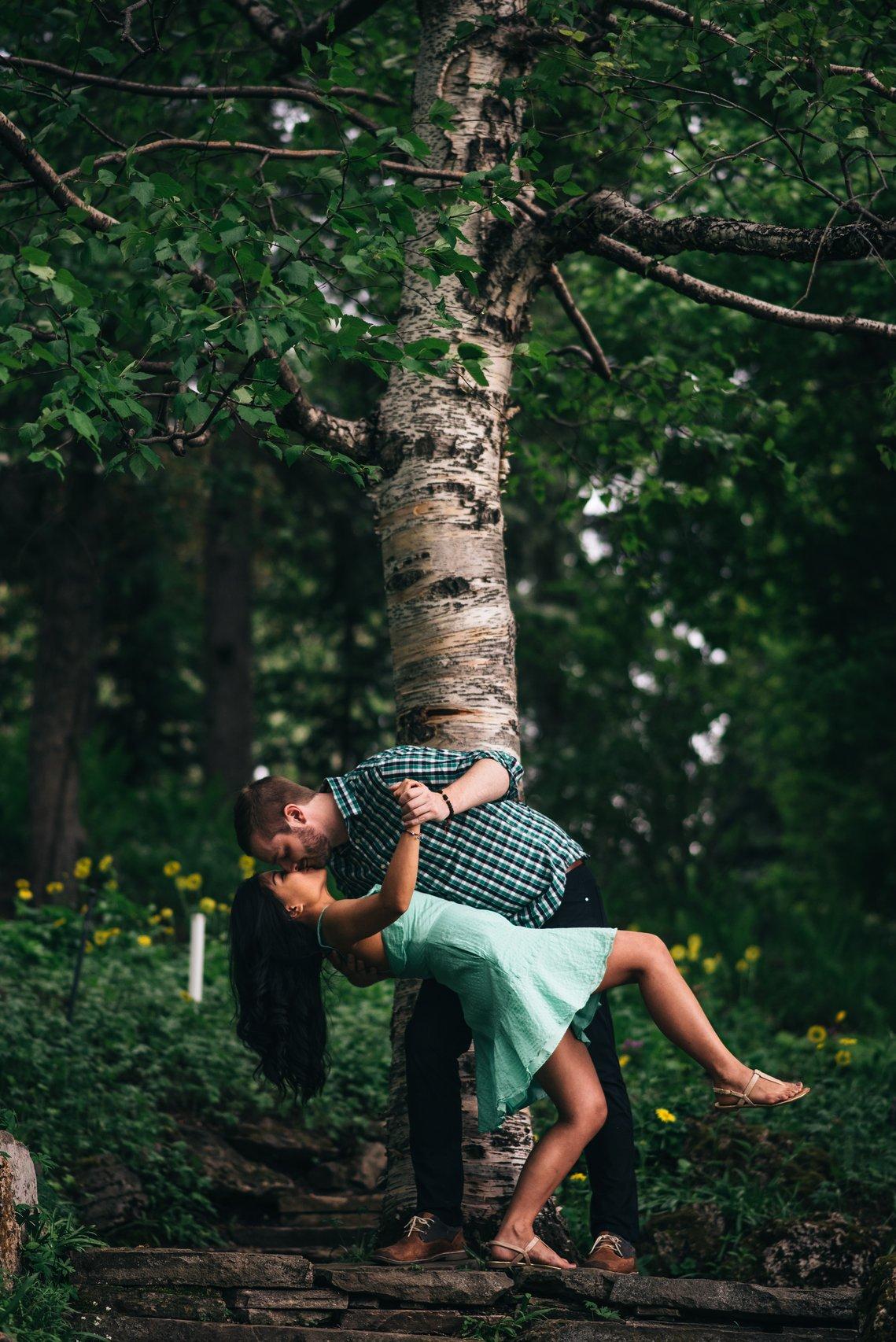 The forehead-to-forehead
Stand with your foreheads touching and close your eyes. If you really savour the moment it'll come across in your photos so enjoy this moment of stillness.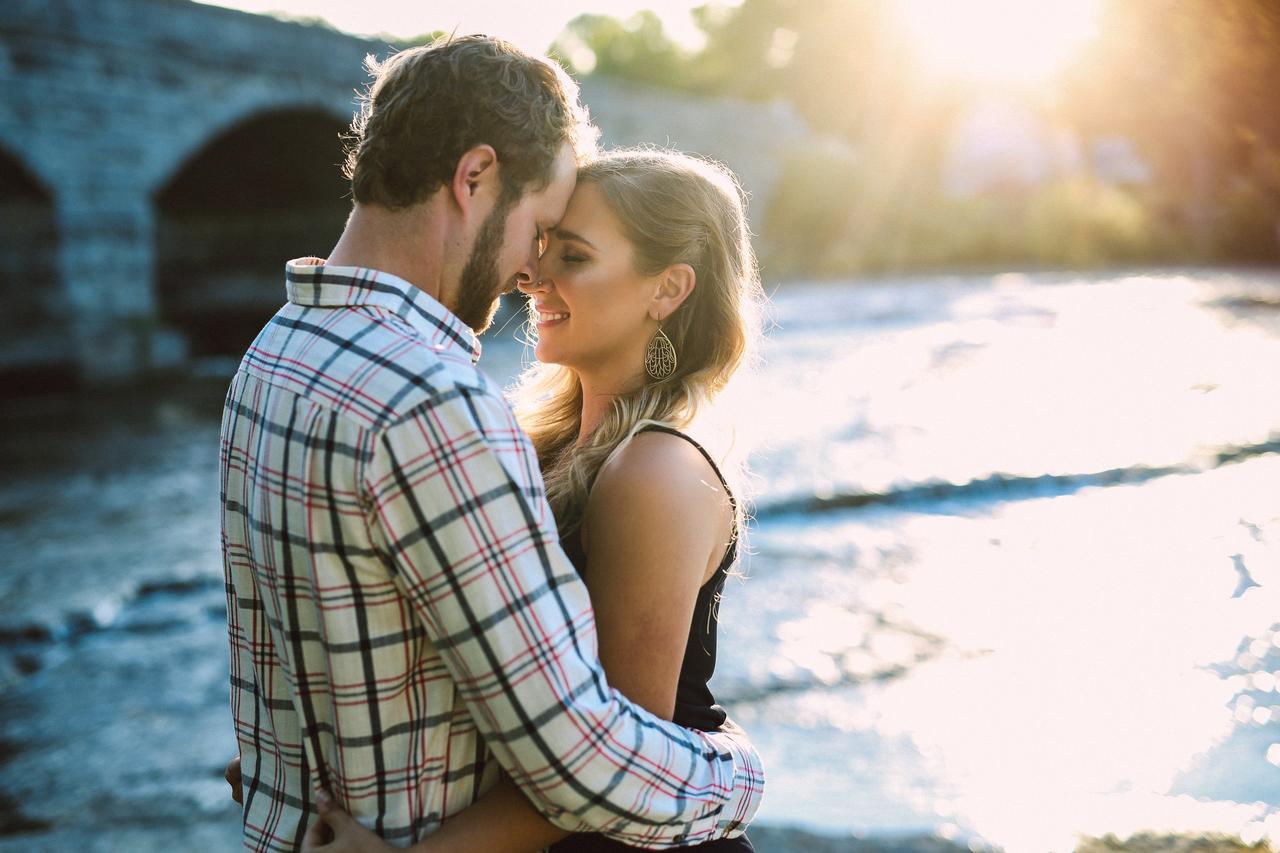 The pickup
This engagement photo pose is just straight-up cute and deserves a spot in your album. Ask your partner to raise you up in the air and look into their eyes for an adorable, playful shot.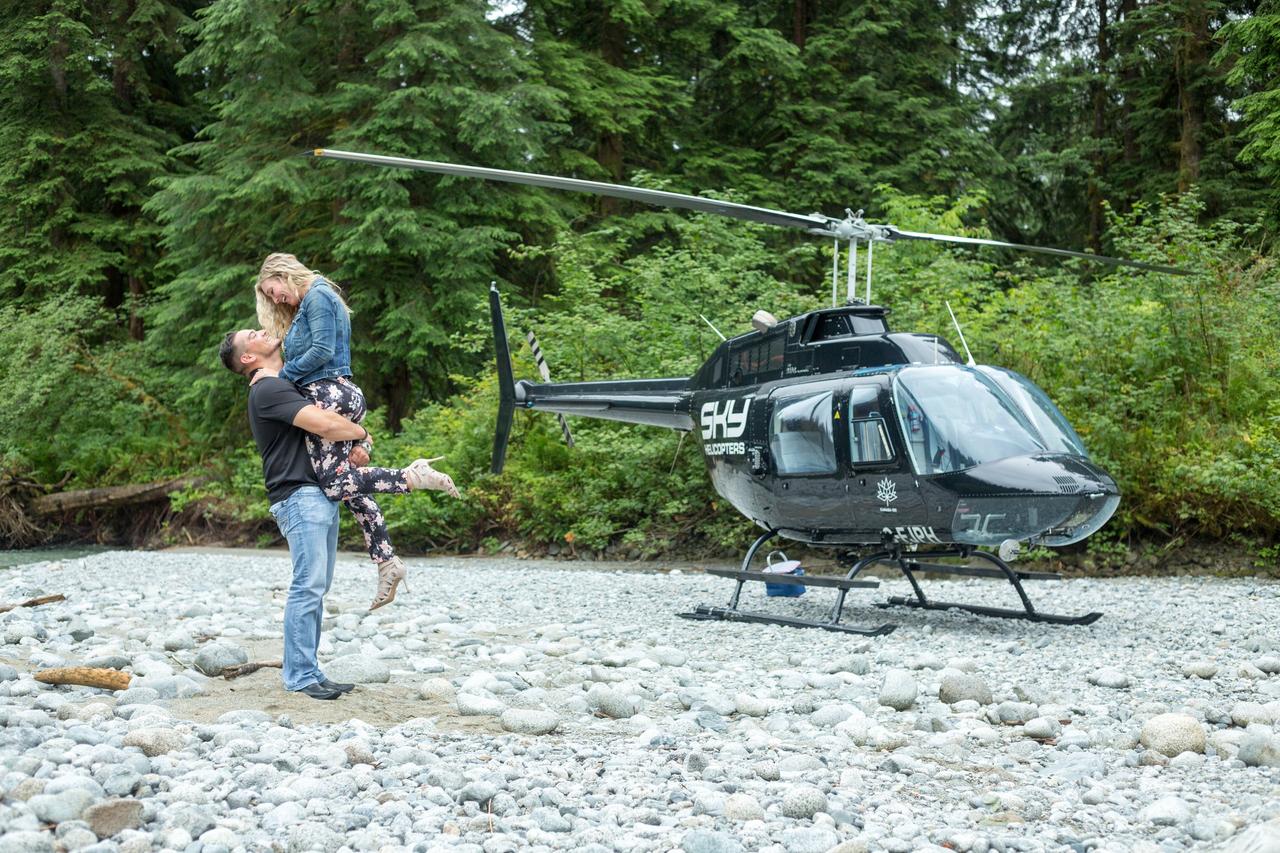 The dog walk
Got a four-legged friend? Bring them along to be a part of your engagement shoot, after all, they're an important member of your family.
The almost kiss
Stand nose-to-nose and look into each other's eyes while your photography snaps away. This is a cute engagement photo pose that's a little less PDA-ish than an actual makeout sesh.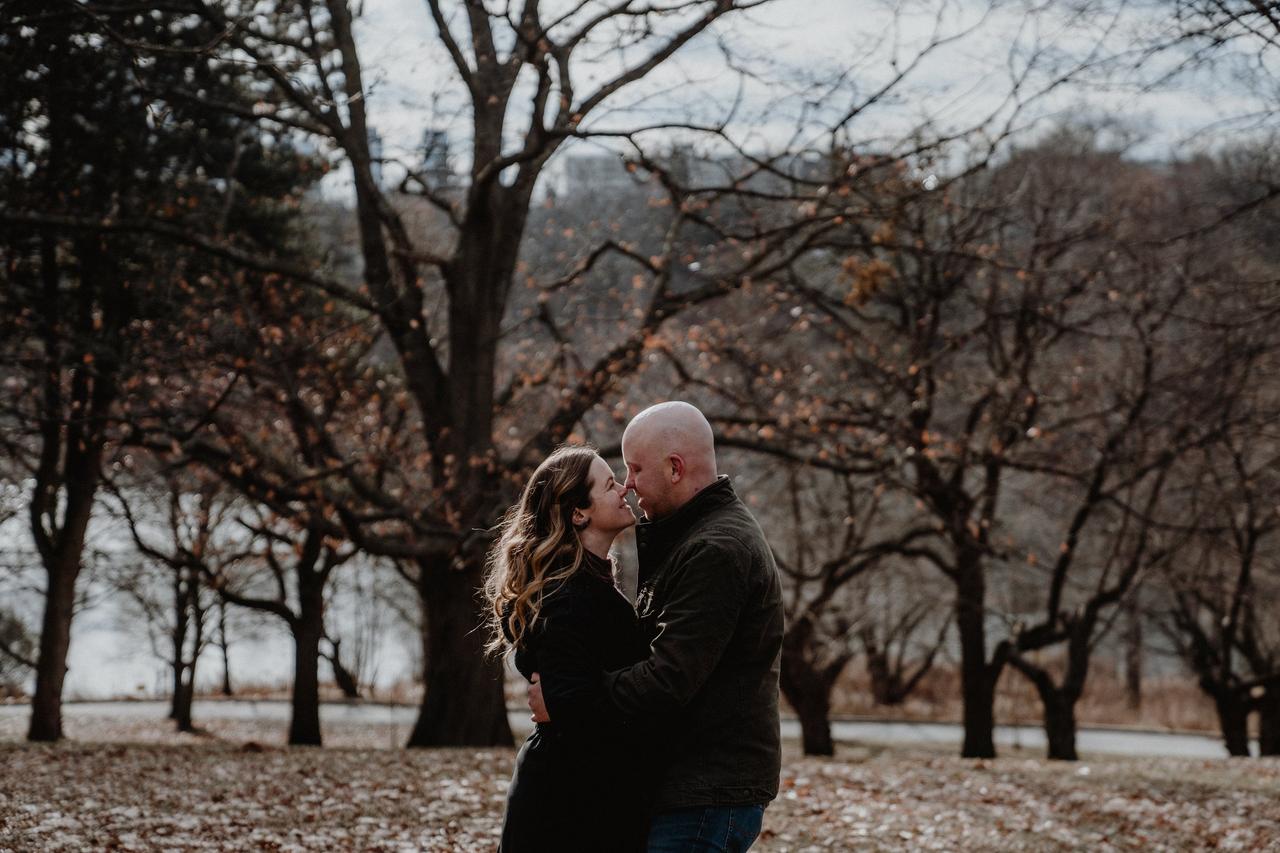 The sweet embrace
Ain't nothin' like a hug! Everything from cute embraces to full-on bear hugs are totally acceptable poses for engagement shoots.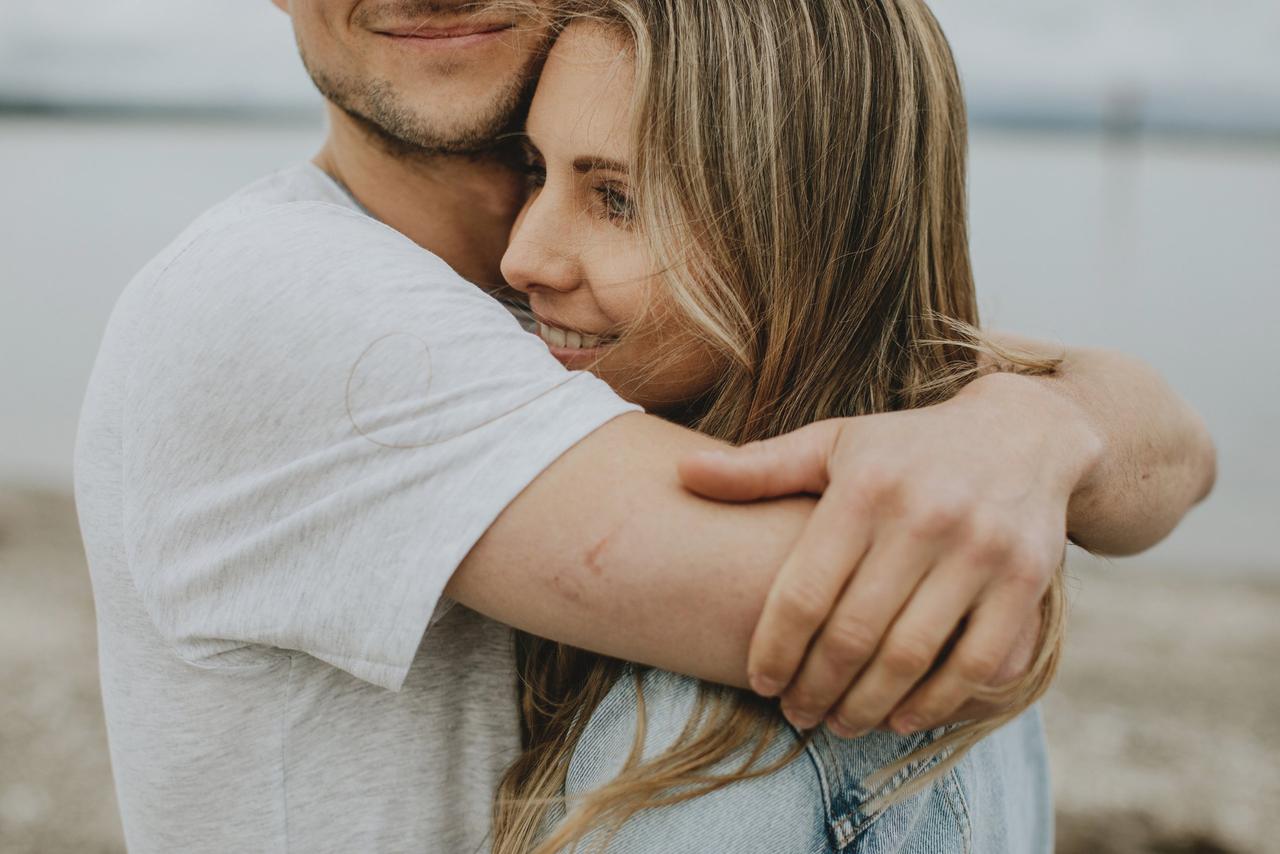 The coffee date
Choose your favourite coffee shop for your engagement photo location and ask your photographer to play paparazzi as you enjoy your americanos.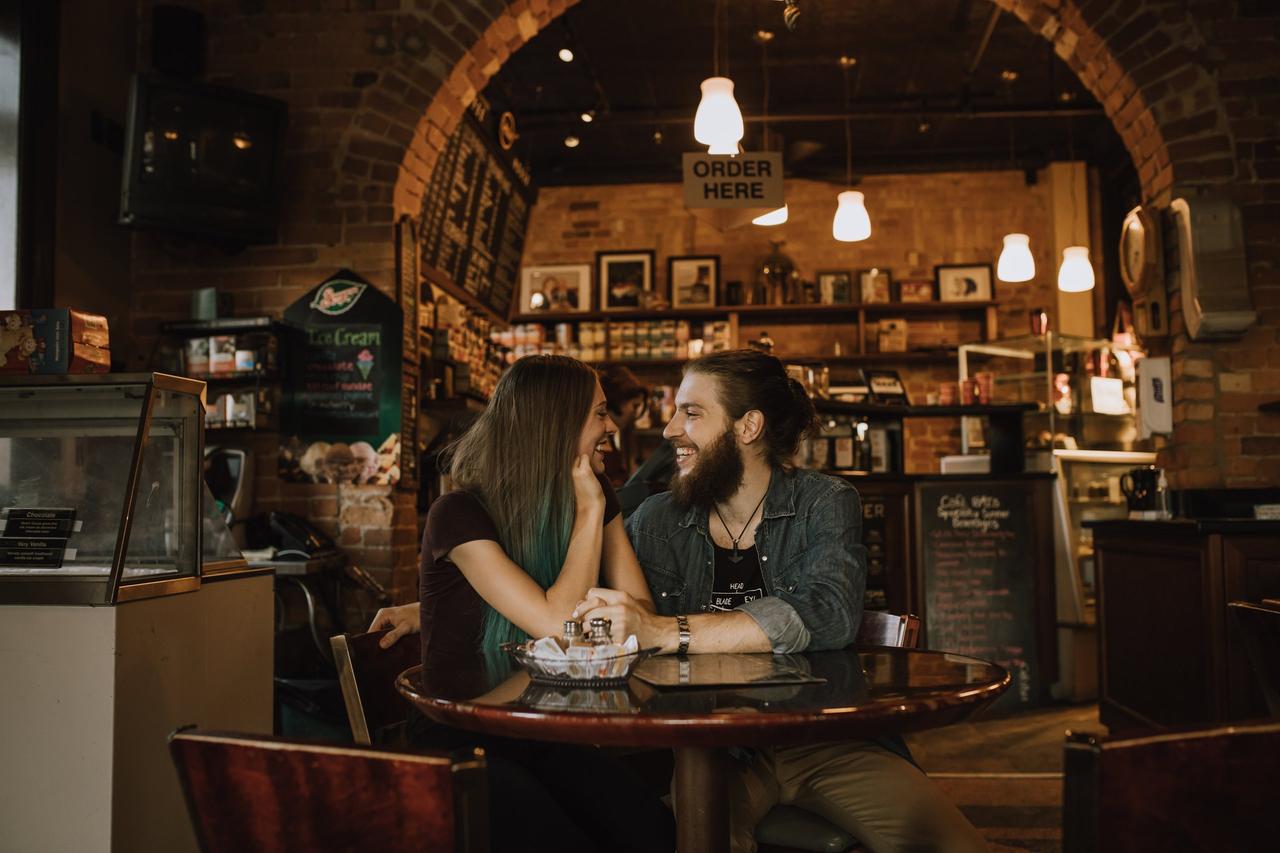 The piggyback
Not a super serious couple? This playful pose will be right up your alley!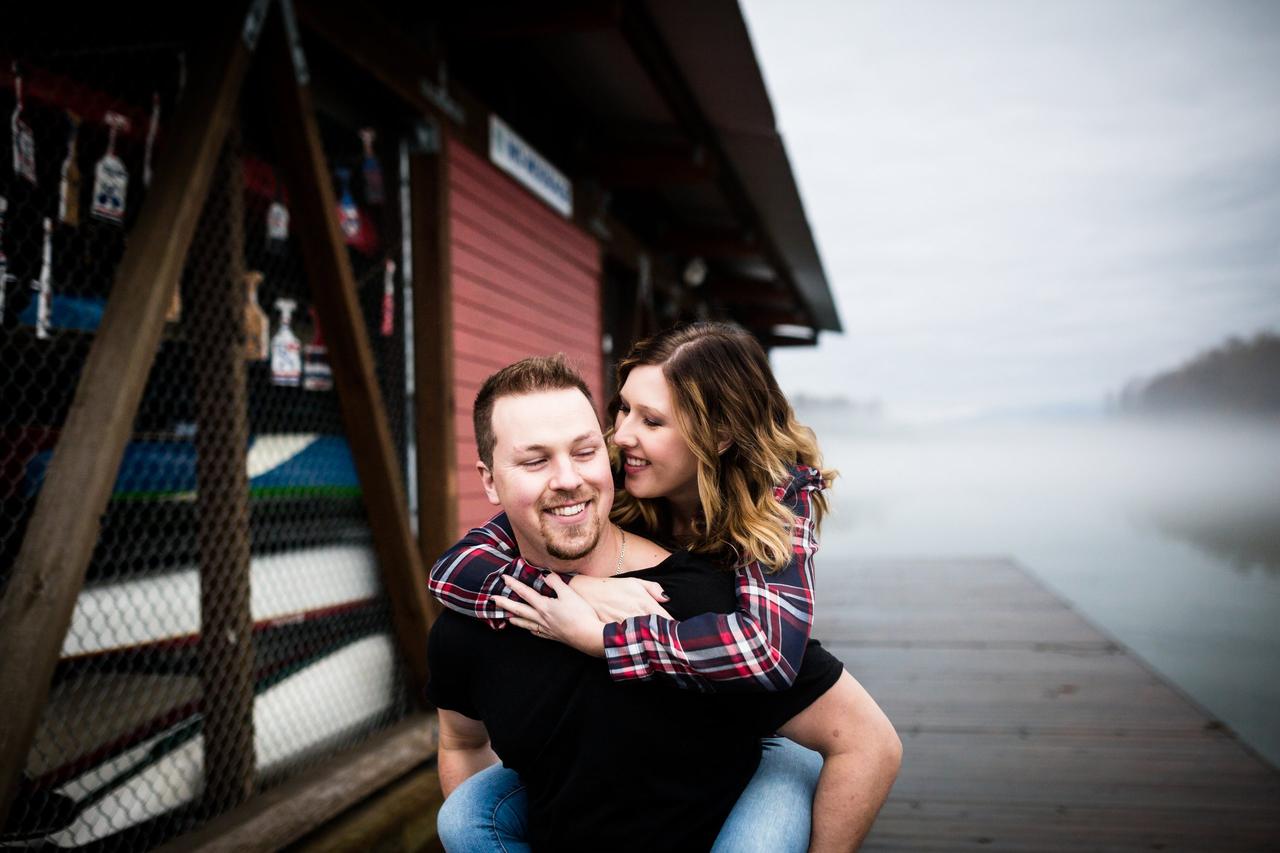 The heel pop
A heel pop is an engagement pose that never goes out of style AND will draw attention to whichever pair of cute shoes you're rocking.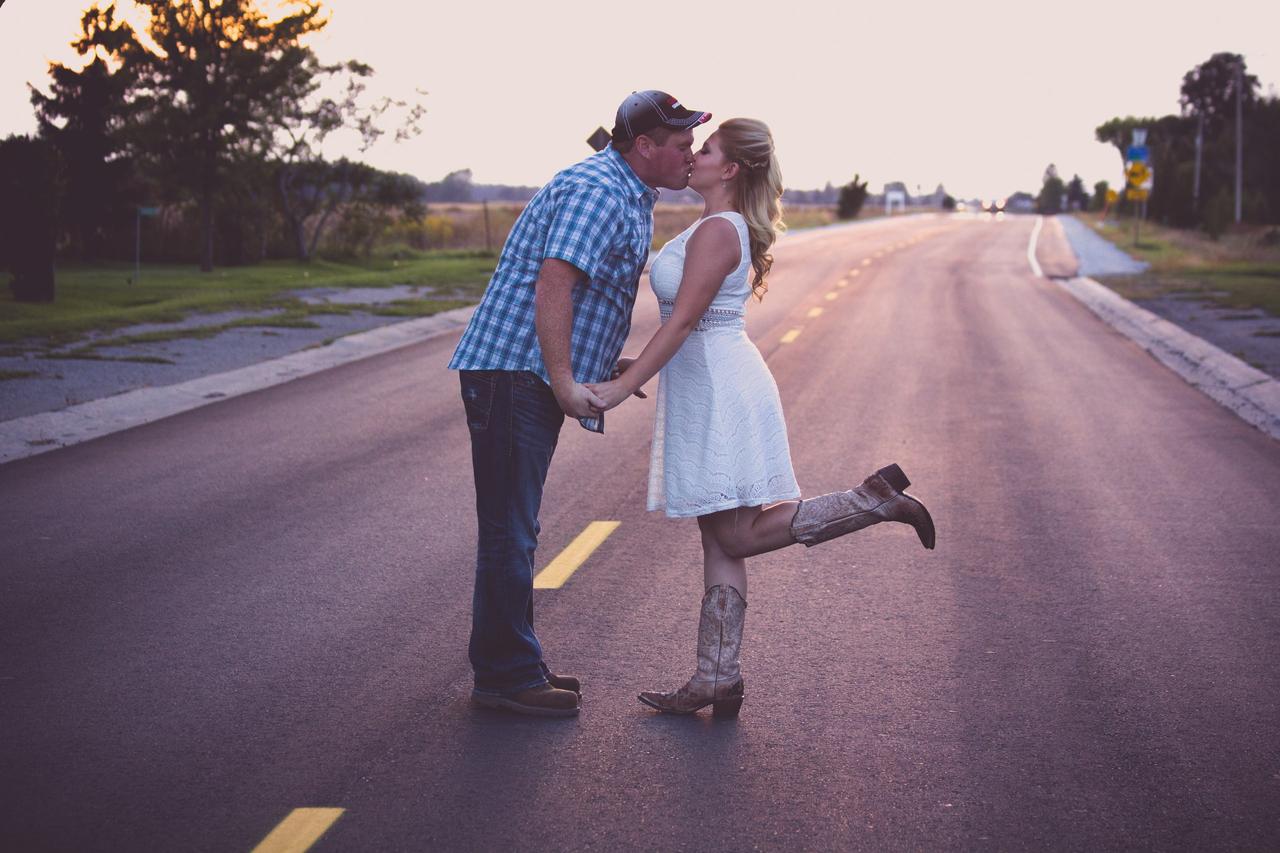 The hand hearts
Sure hand hearts are a little cheesy, but what better time to amp up the cheese-factor than at your engagement shoot?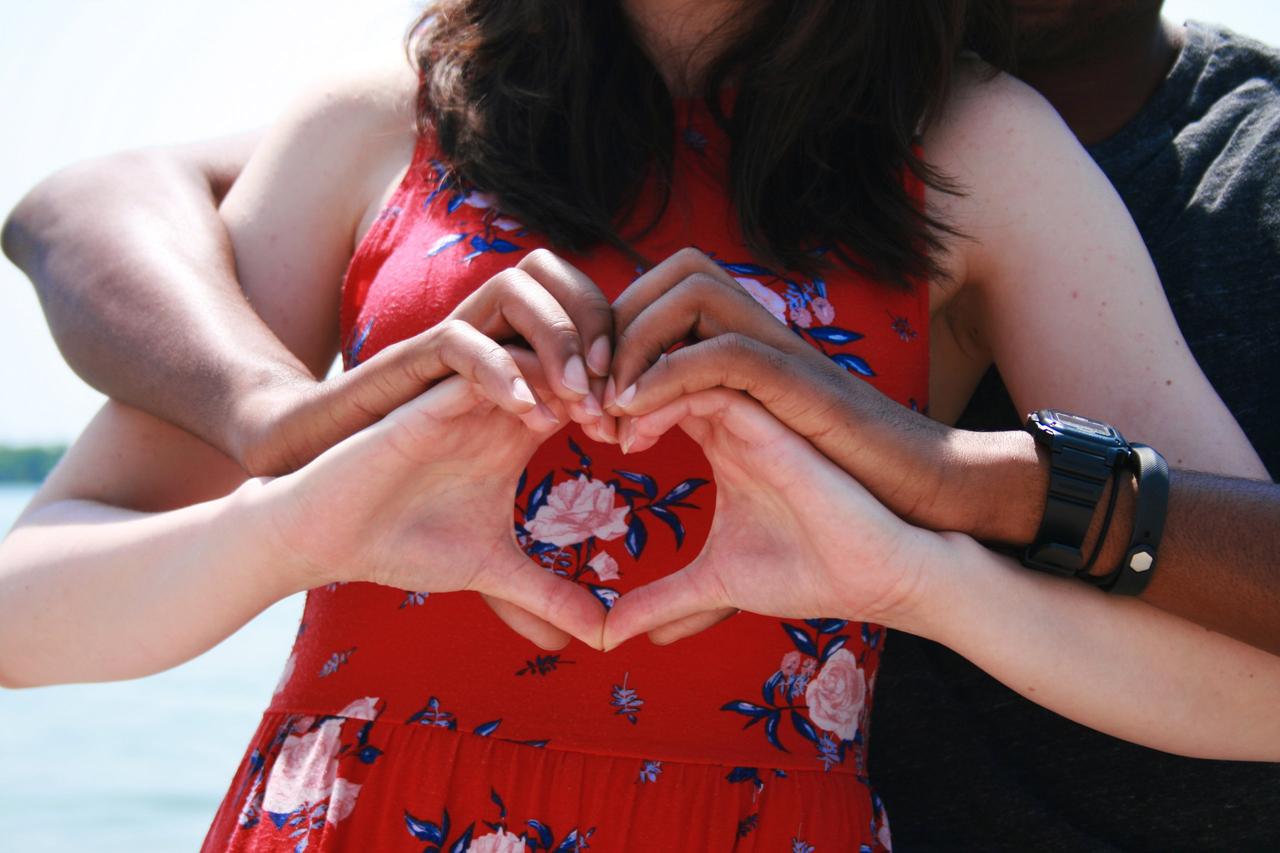 The dance
Consider this the first dance before your real first dance! It's a great time to give your favourite moves a trial run and get some sweet candid shots for your engagement album.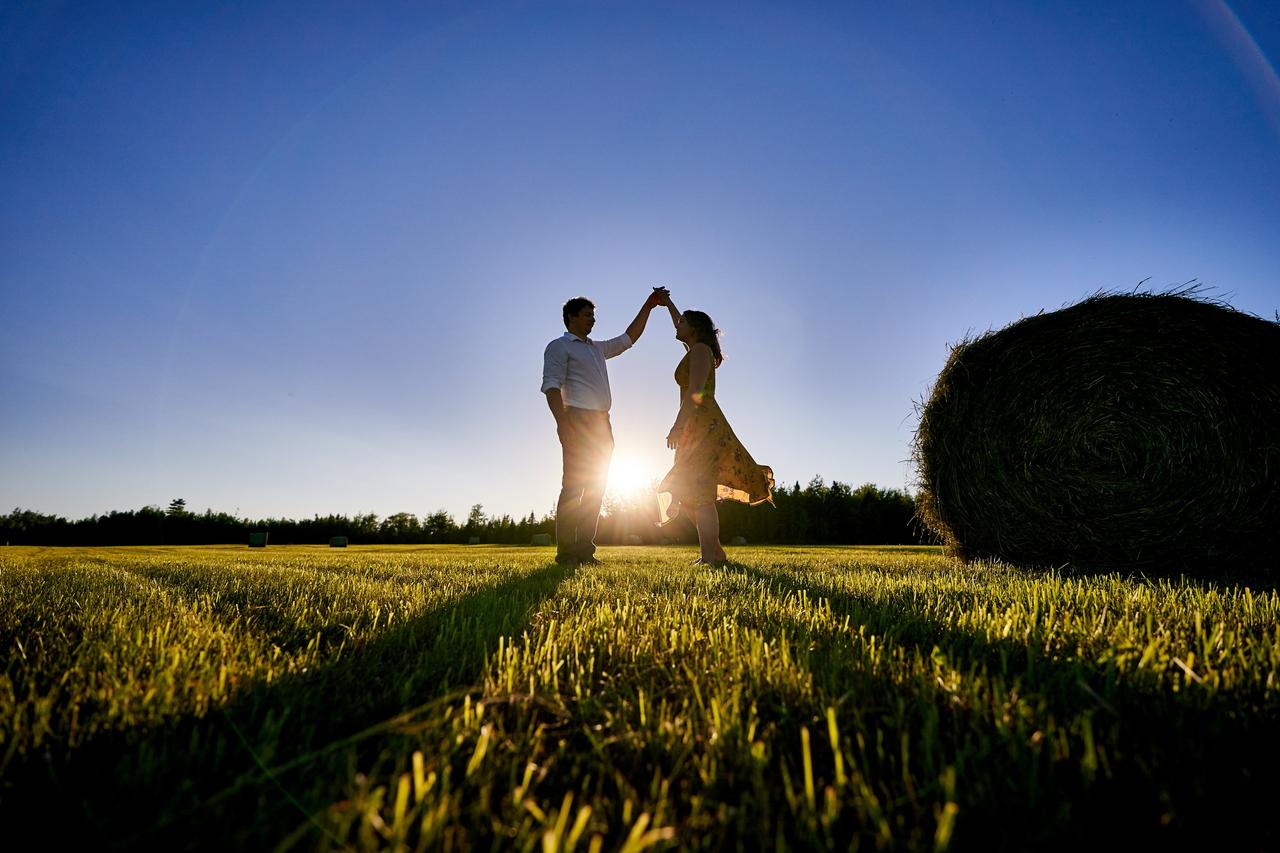 The palm message
Write a little message on your palm and then show it to the camera while you share a kiss with your fiancé(e).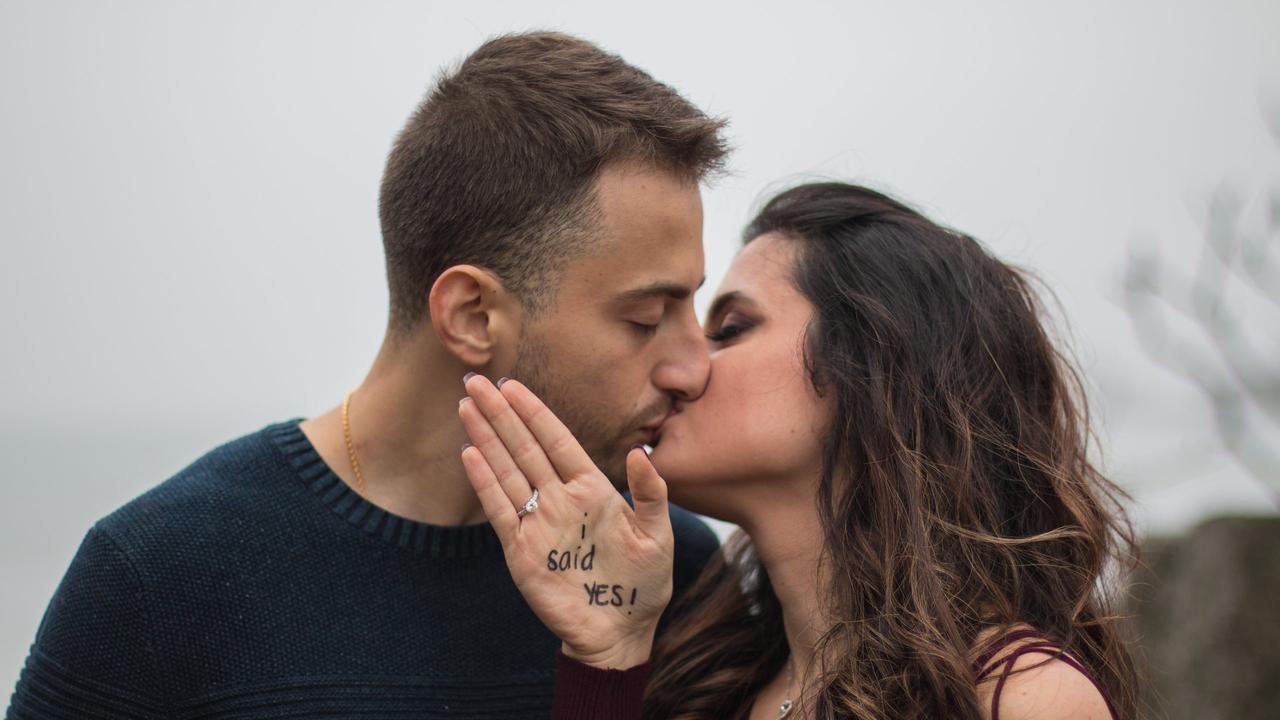 The hug from behind
This adorable engagement shoot pose allows you to intimately embrace AND get both of your faces in the frame — a real win-win.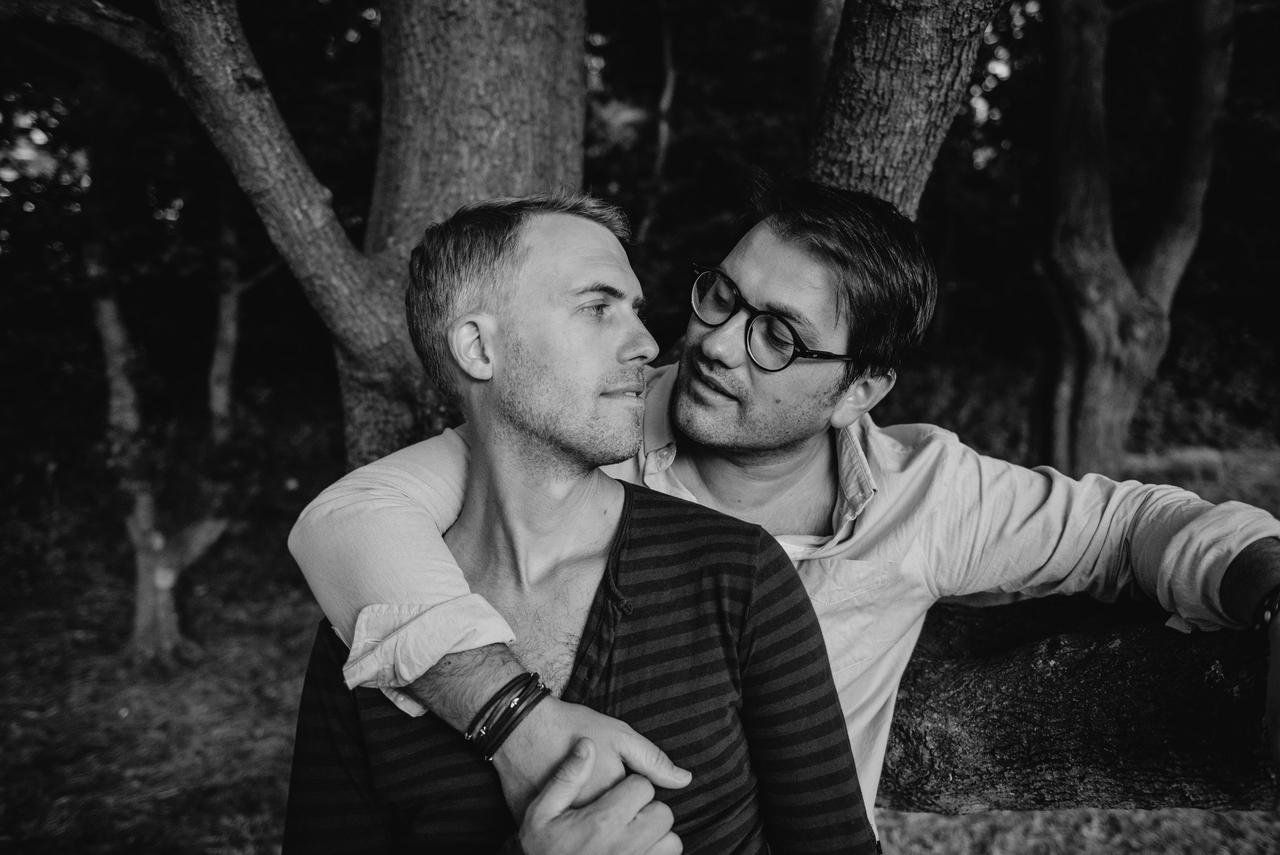 The skate
If skating is your idea of the perfect date, bring your photographer along and have them shoot photos of you while you glide across the ice. P.S. if you're sports lovers, we've also got these 5 Epic Sports Themed Engagement Photo Ideas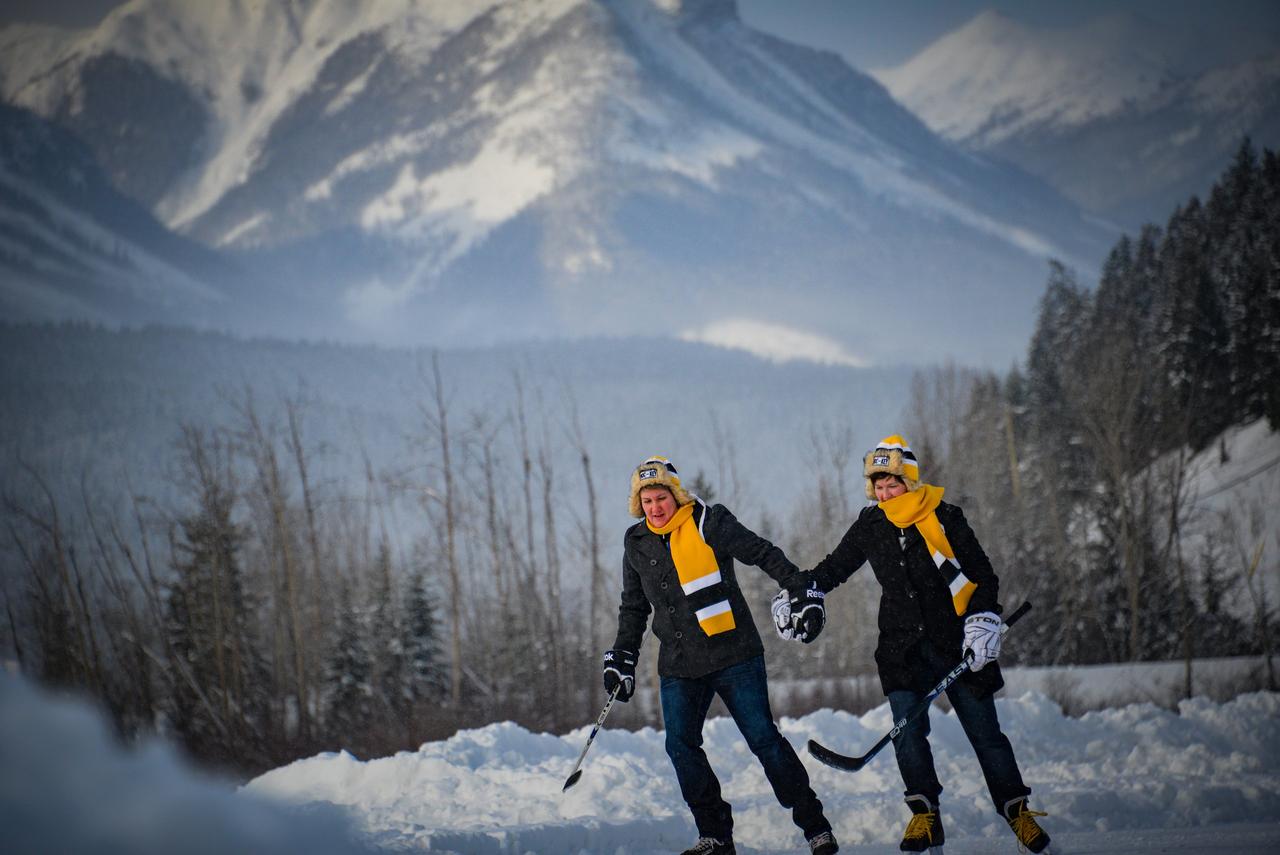 The proposal
Your photographer may not have been at your proposal, but you can do it all over again for the cameras at your engagement shoot. Don't be surprised if you get emotional all over again!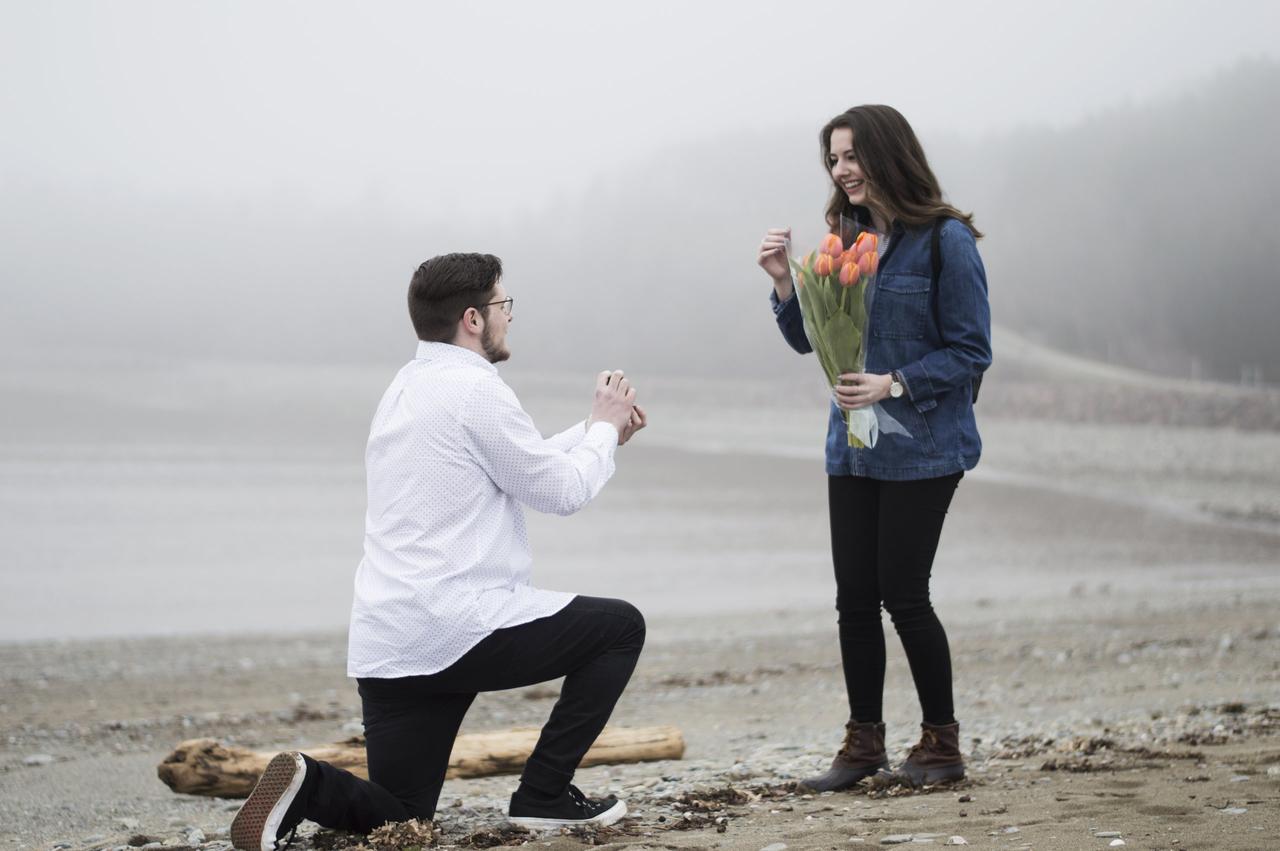 The library
This one's for you, bookworms. Head to your local library and get your photographer to take photos of you leafing through books in the stacks. Word to the wise: you'll want to choose a time when your library is not super busy so that you don't get any accidental photobombers.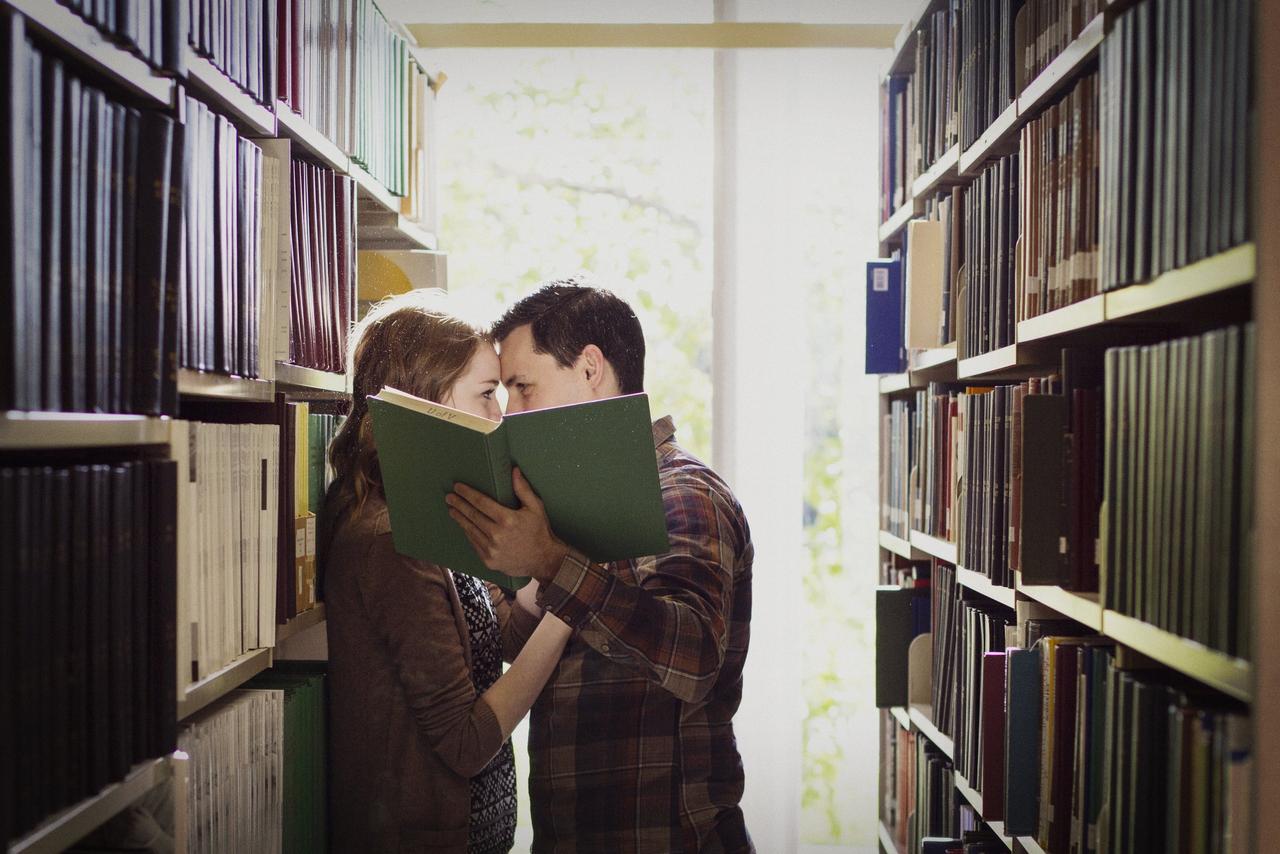 The boat
If you live by an ocean, river, or lake, take advantage of the water by getting a few shots in a boat. These always come out looking gorgeous!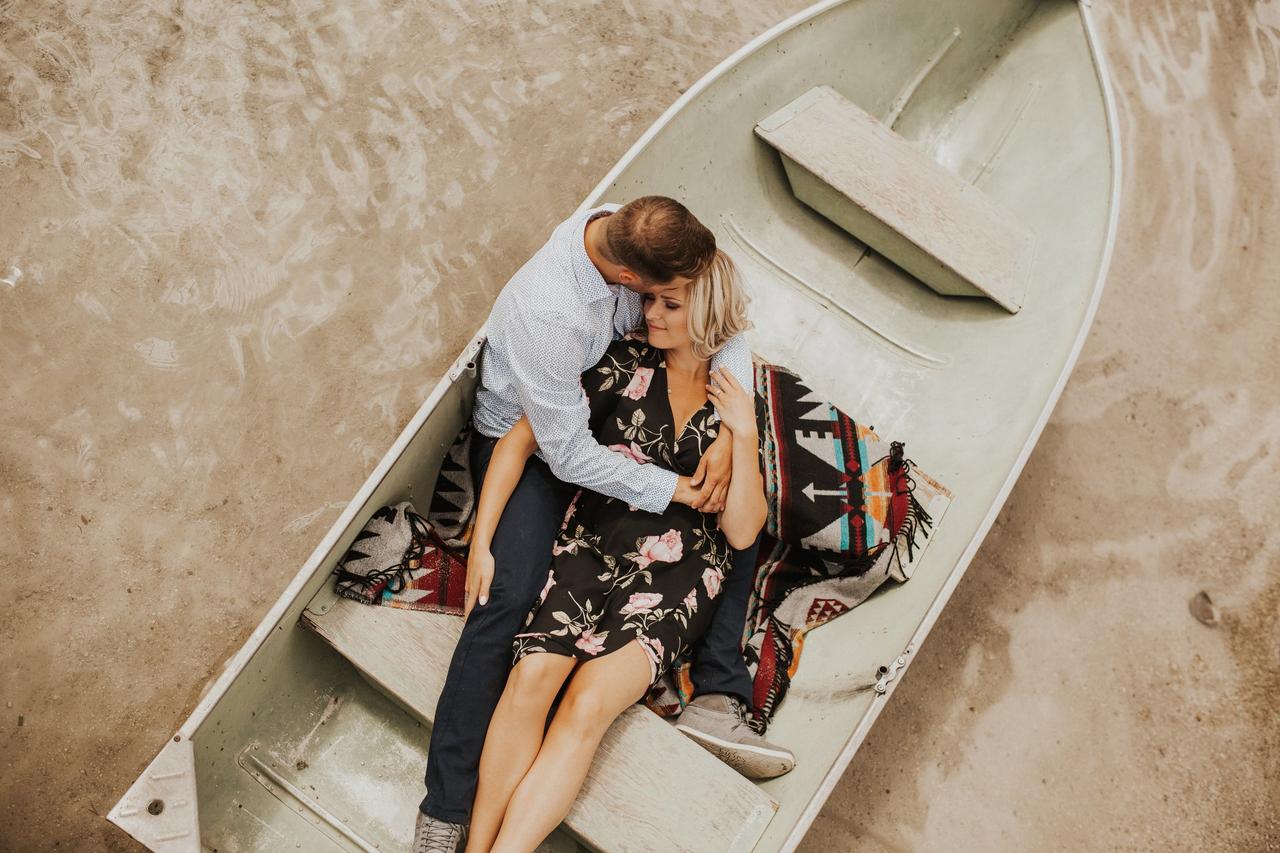 The wizards
Give your engagement photos a magical twist by posing with a pair of wands (or particularly photogenic sticks). Don't worry, muggles can do this, too.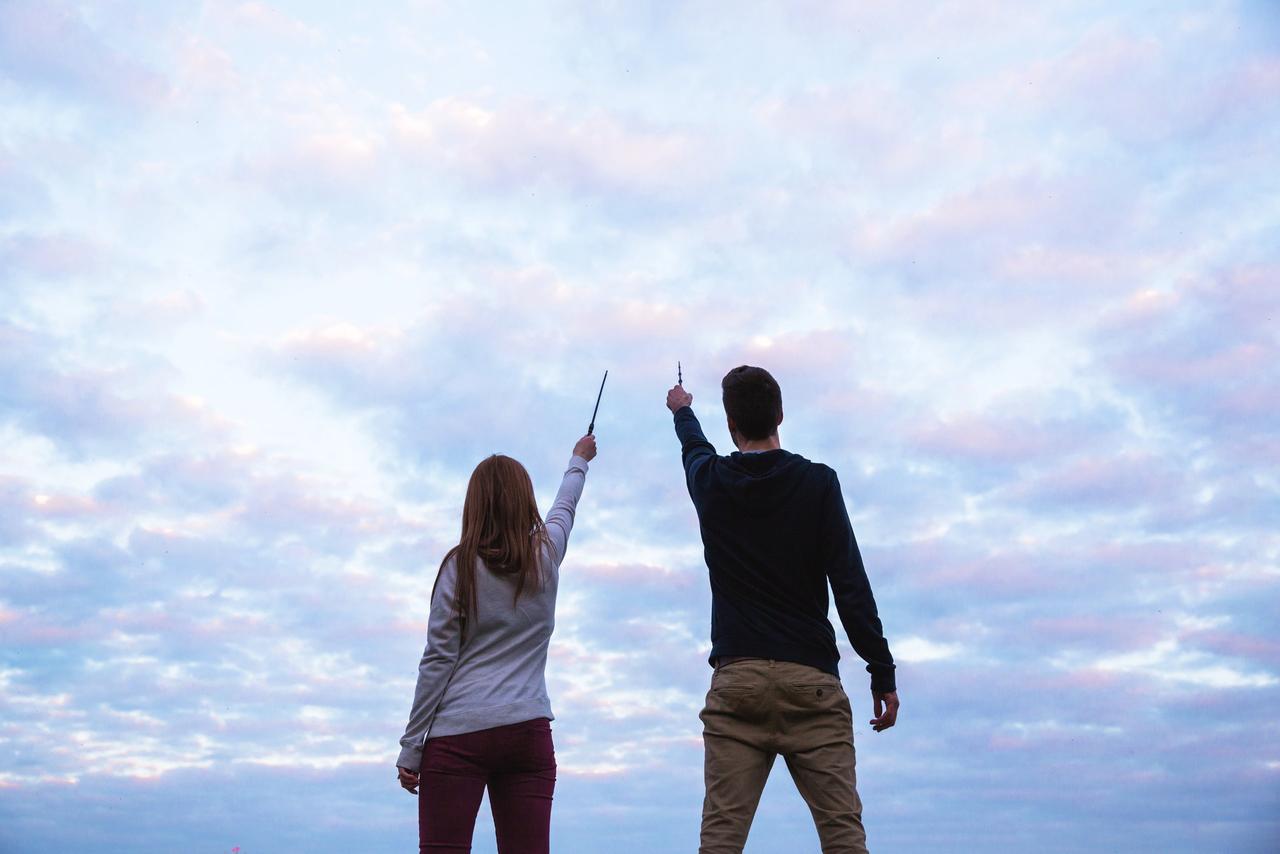 The record date
Are the two of you total music junkies? Take a trip to your local record shop and snap some photos with the vinyl.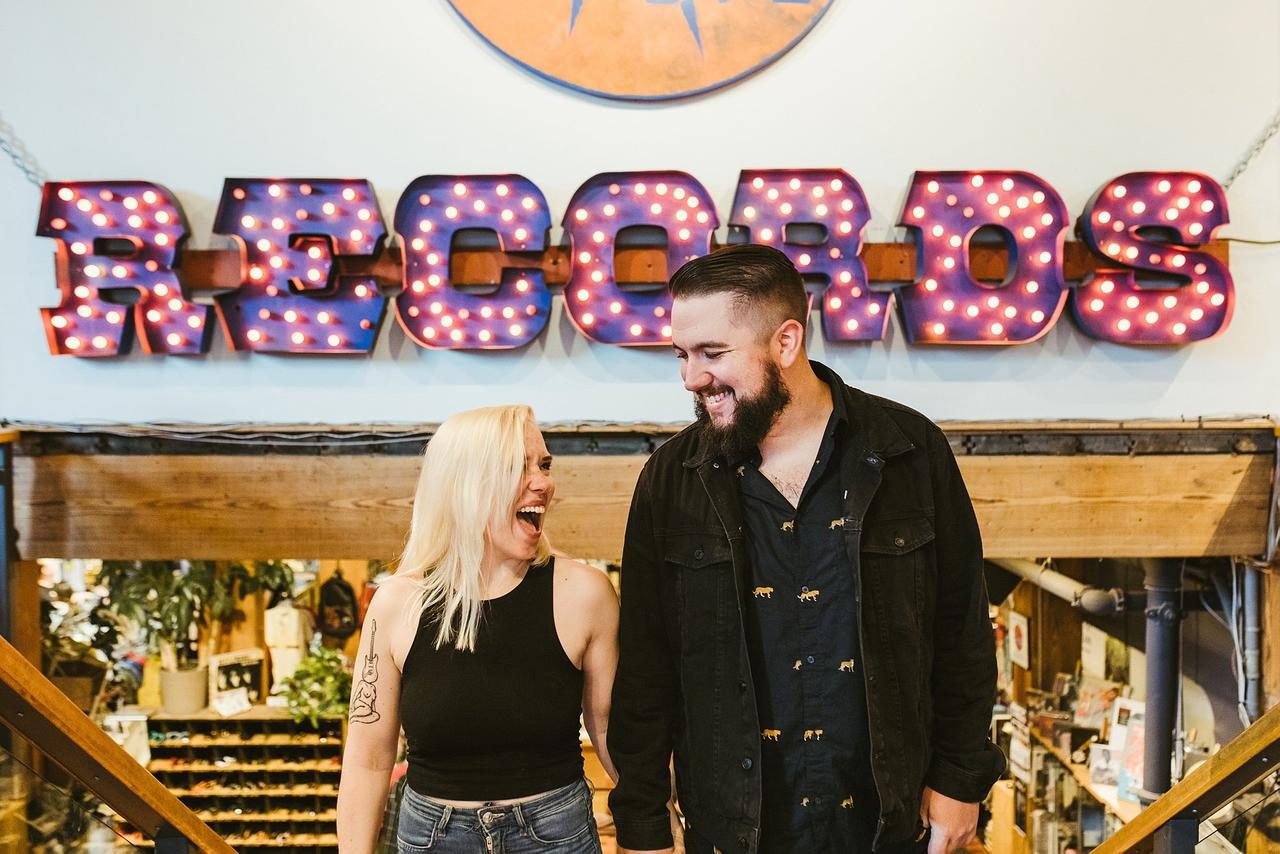 The relaxed at home
Stage your engagement photo shoot at home for intimate and relaxed photos captured in your natural habitat.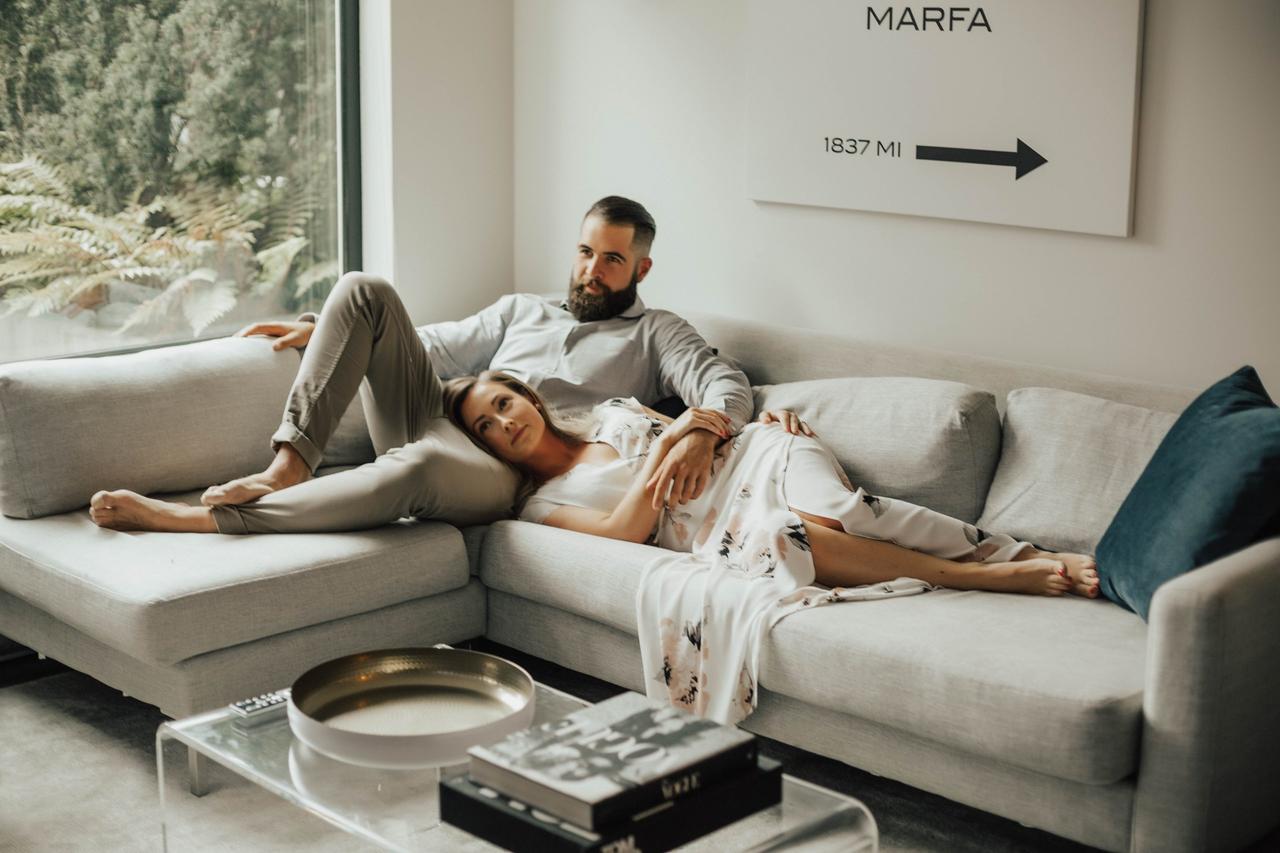 The close but far
You don't need to be touching, hugging, and smooching in all your engagement photos. Take some time apart to get a sweet shot like this.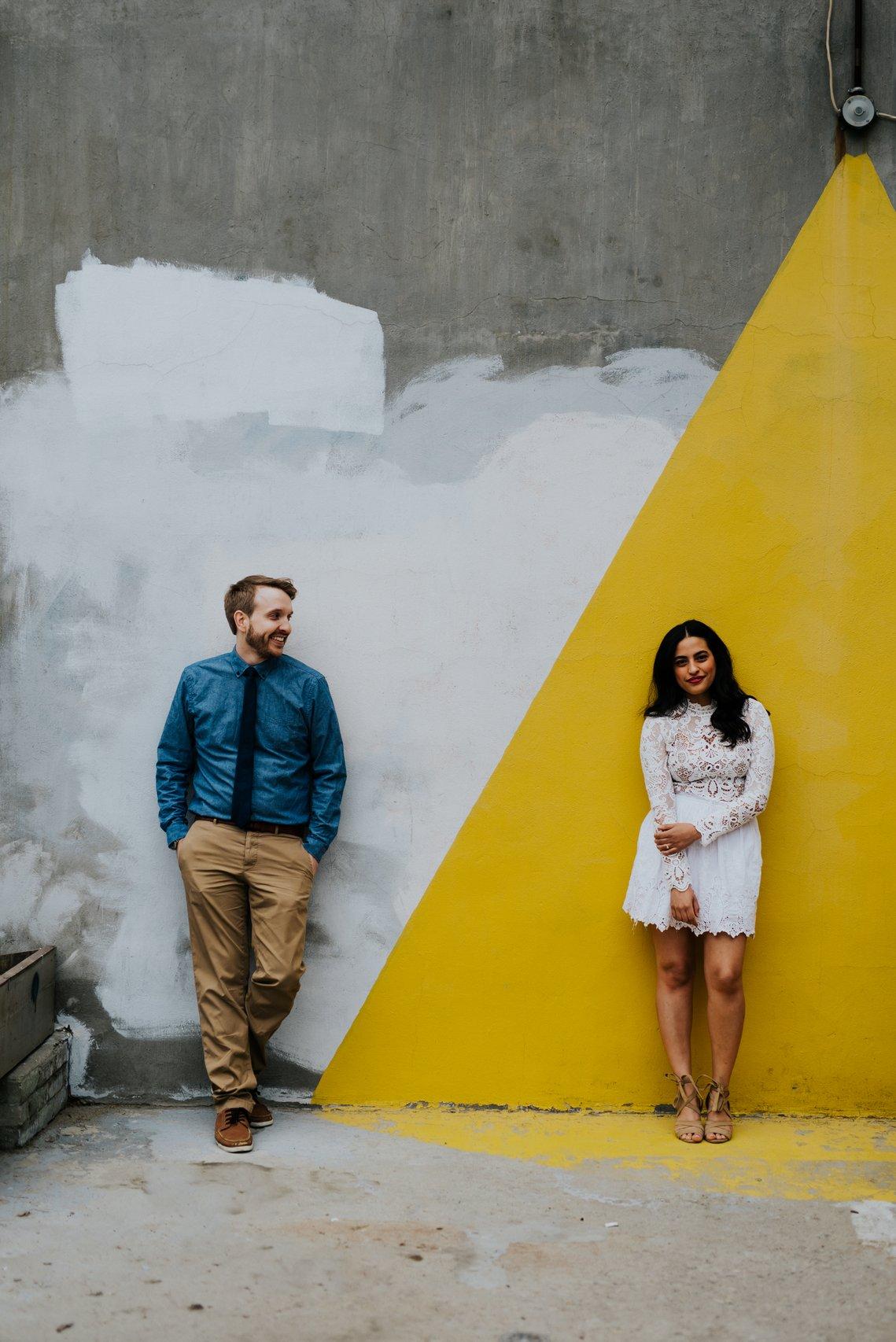 The stair sit
Got a gorgeous staircase in your neighbourhood? Take a seat and let your photographer work their magic as you pose it out.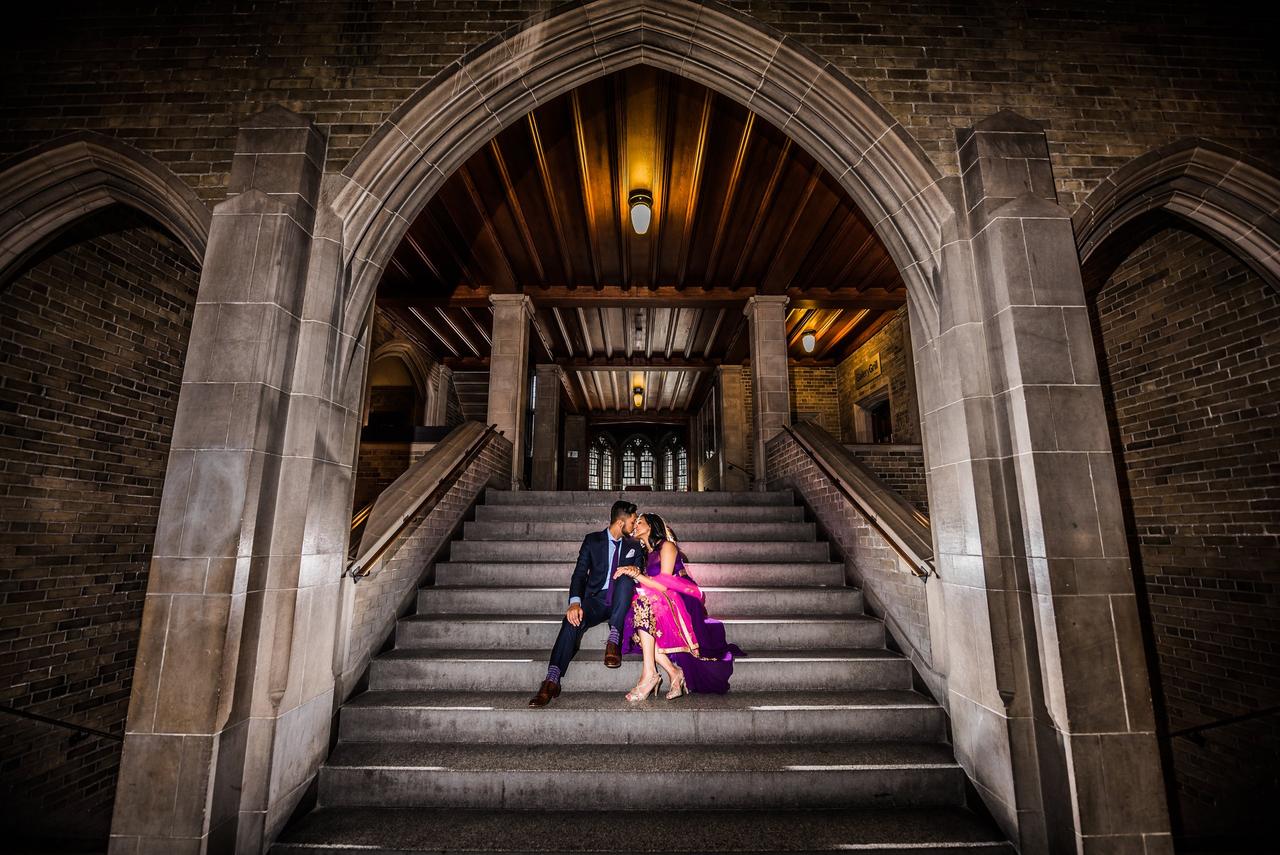 The lie down
If you want to shake things up a little, ask your photographer to get an aerial shot of the two of you lying down. It looks very movie poster-esque!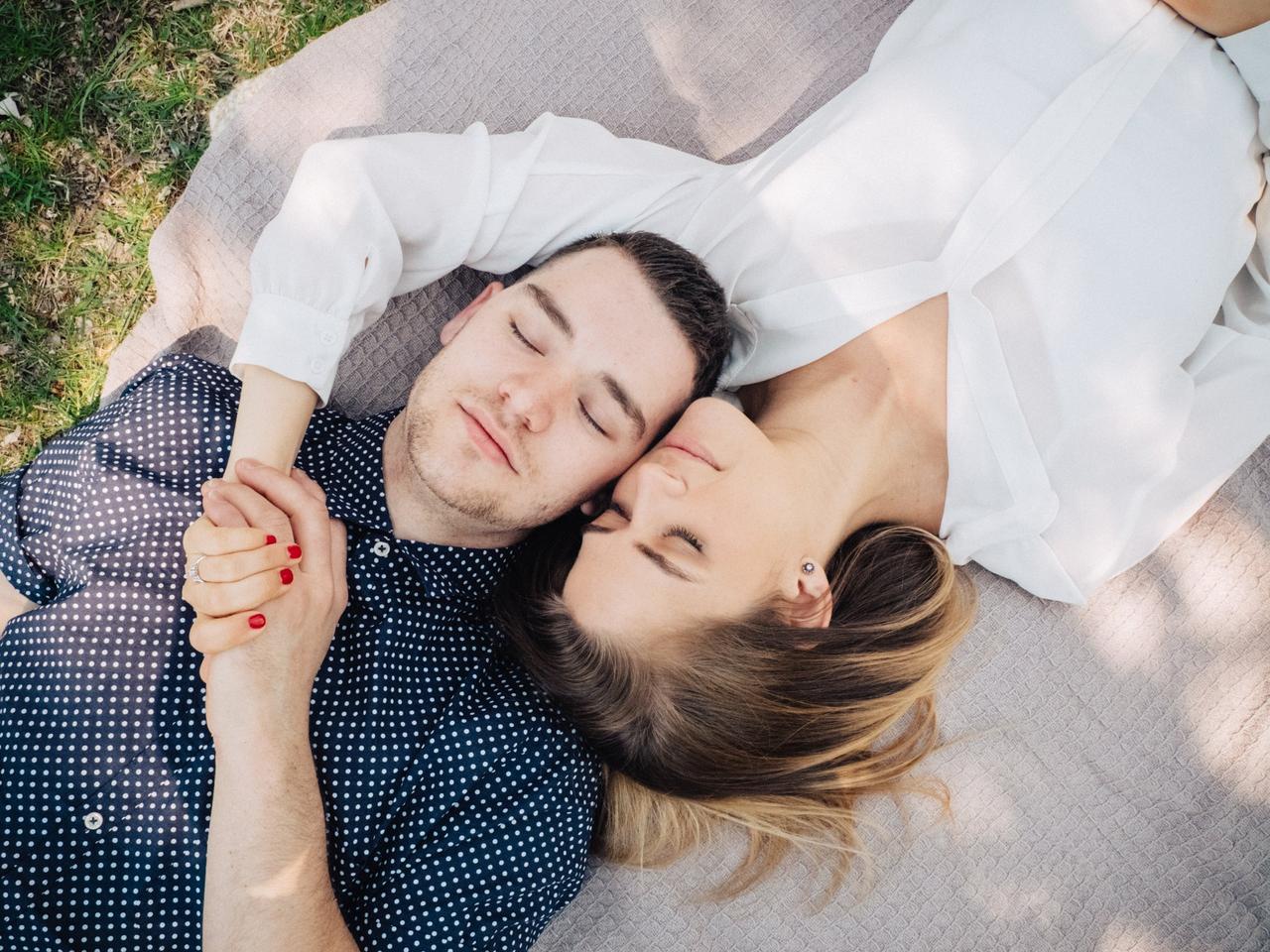 The save the date
Want to kill a few words with one stone? While doing your engagement shoot include a few shots with a prop that says your wedding date. You can send your favourite of the bunch out as your save the date before your wedding invitations so your guests can know when the main event will go down.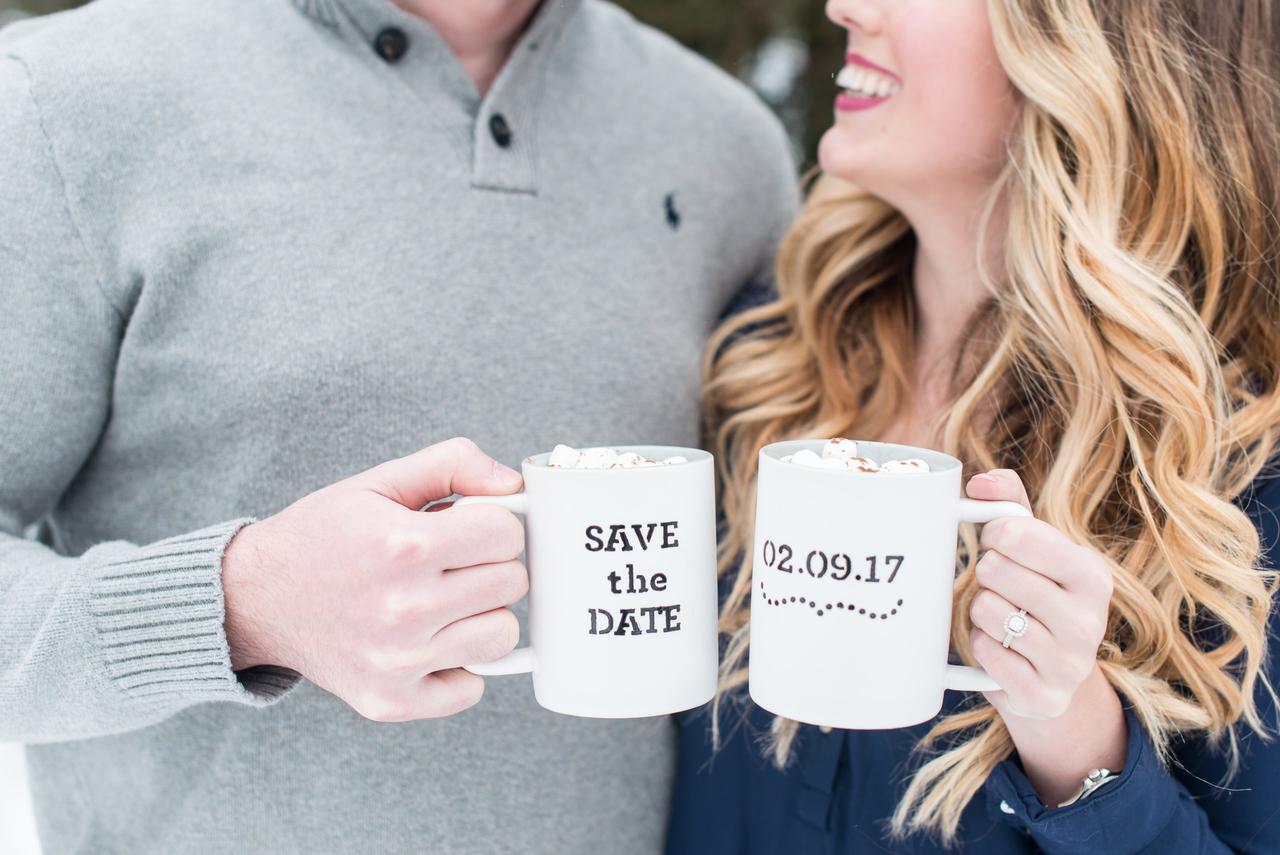 The engagement ring pic
Obviously, you want to get a picture of your sparkler! Ask your photographer to get a close up of the two of you holding hands to get that money shot.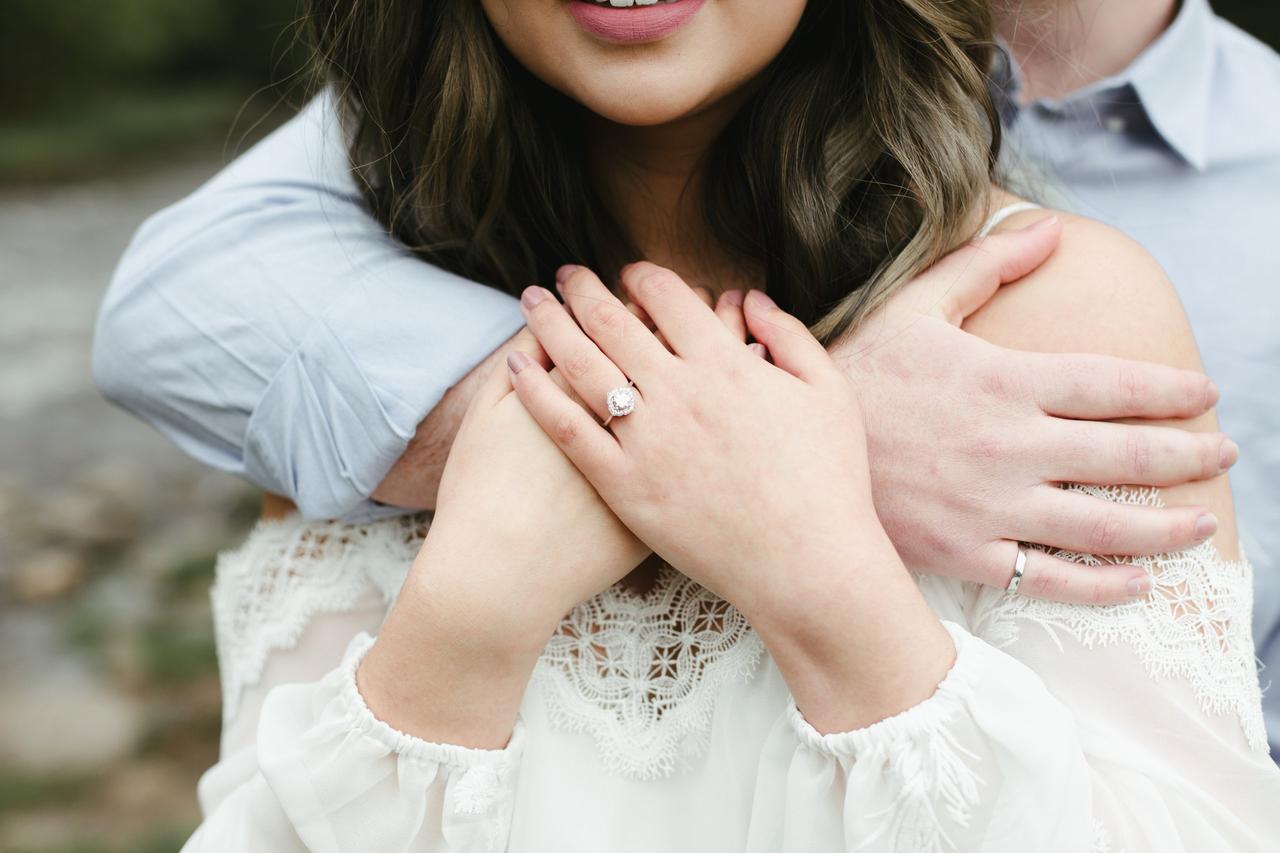 Find your wedding photographer and videographer on WeddingWire »