41 Stunning Winter Engagement Photo Ideas
Find ideas and tips for stepping in front of the camera including winter engagement photo outfits, couple poses, photoshoot locations and more!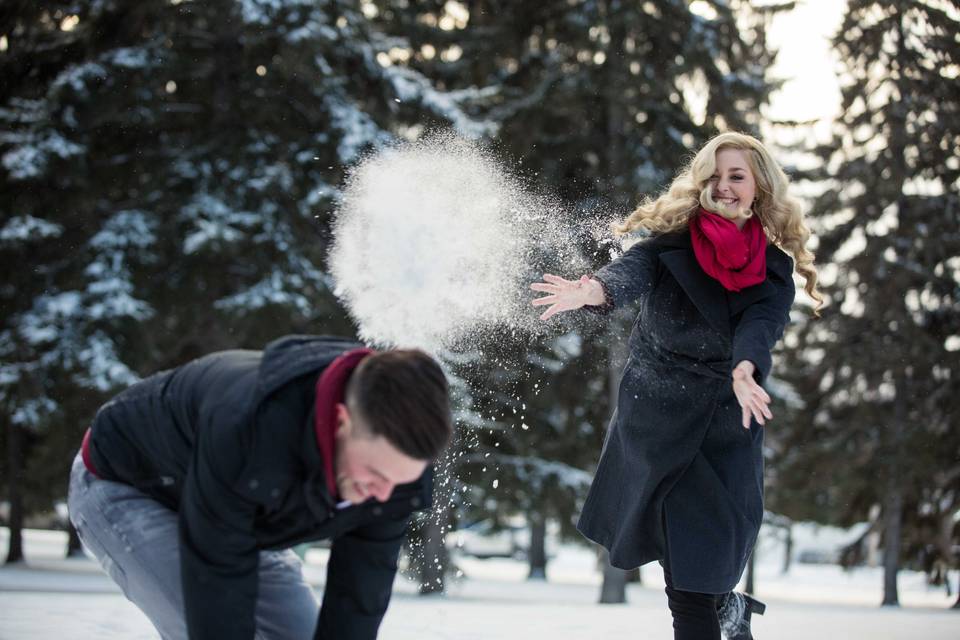 You're engaged. Congrats! Between the holidays and Valentine's Day, the wintertime is a popular one for marriage proposals. Embrace the season and kick off your wedding planning journey with some professional winter engagement photos. By capturing your photos early, you'll have great images to use on social media, your wedding website, save-the-dates and more! To help you get started, we've rounded up some stunning photos of real Canadian couples to give you ideas for your engagement photo outfits, cute engagement photo poses and winter locations. Get inspired by all these fun options for you to try with your photographer.
Here are our favourite winter engagement photo ideas.
1. Warm Embrace
If you're heading outdoors for your winter engagement photos, you're going to dress for the conditions. Grab a photo of the two of you in a warm embrace. P.S. This pose is great for showing off that engagement ring, too.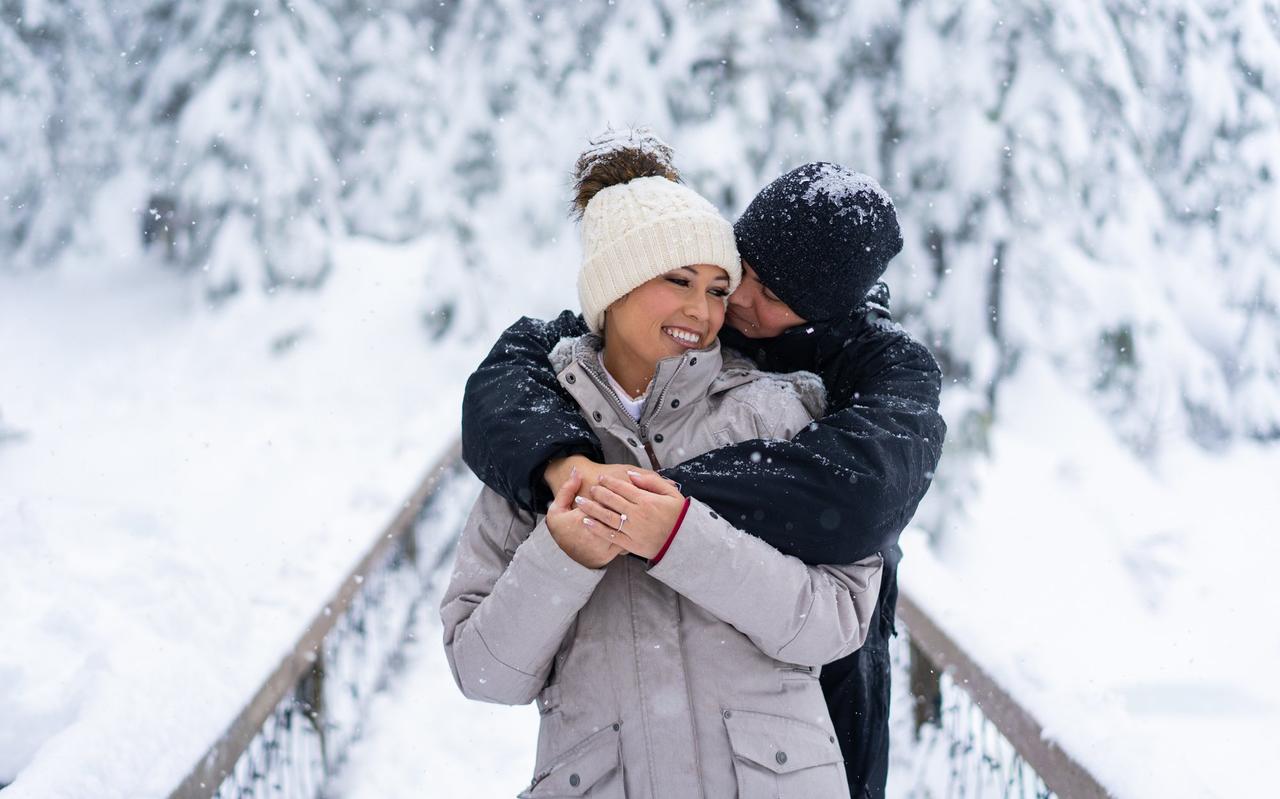 2. Winter Engagement Ring Photo
Your loved ones are going to want a really good look at your new bling. Give this pose a try for a sweet winter engagement photo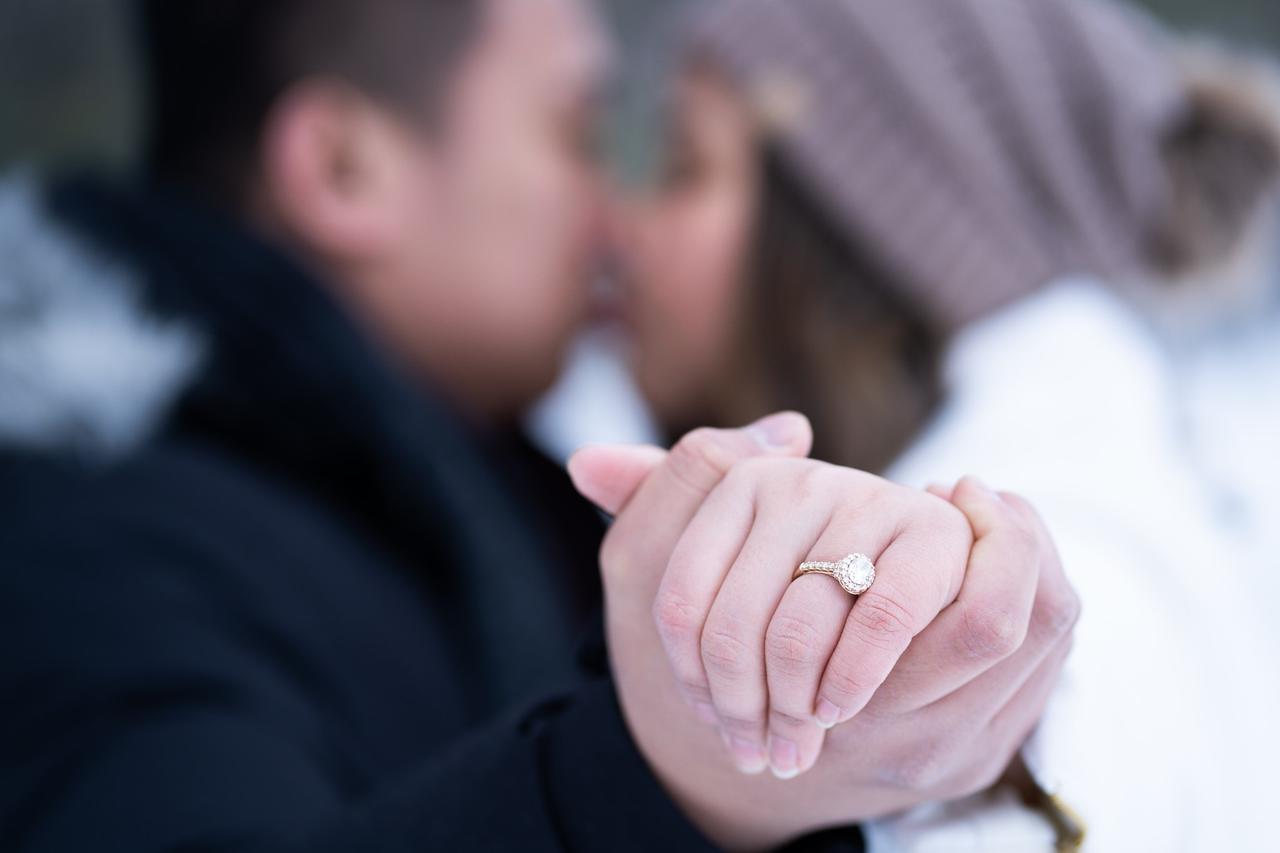 3. Overhead Shot
Get yourselves nestled in some greenery or in the snow for an adorable overhead shot. We love this cheek-to-cheek pose but you could also go for a playful pose of the two of you making snow angels.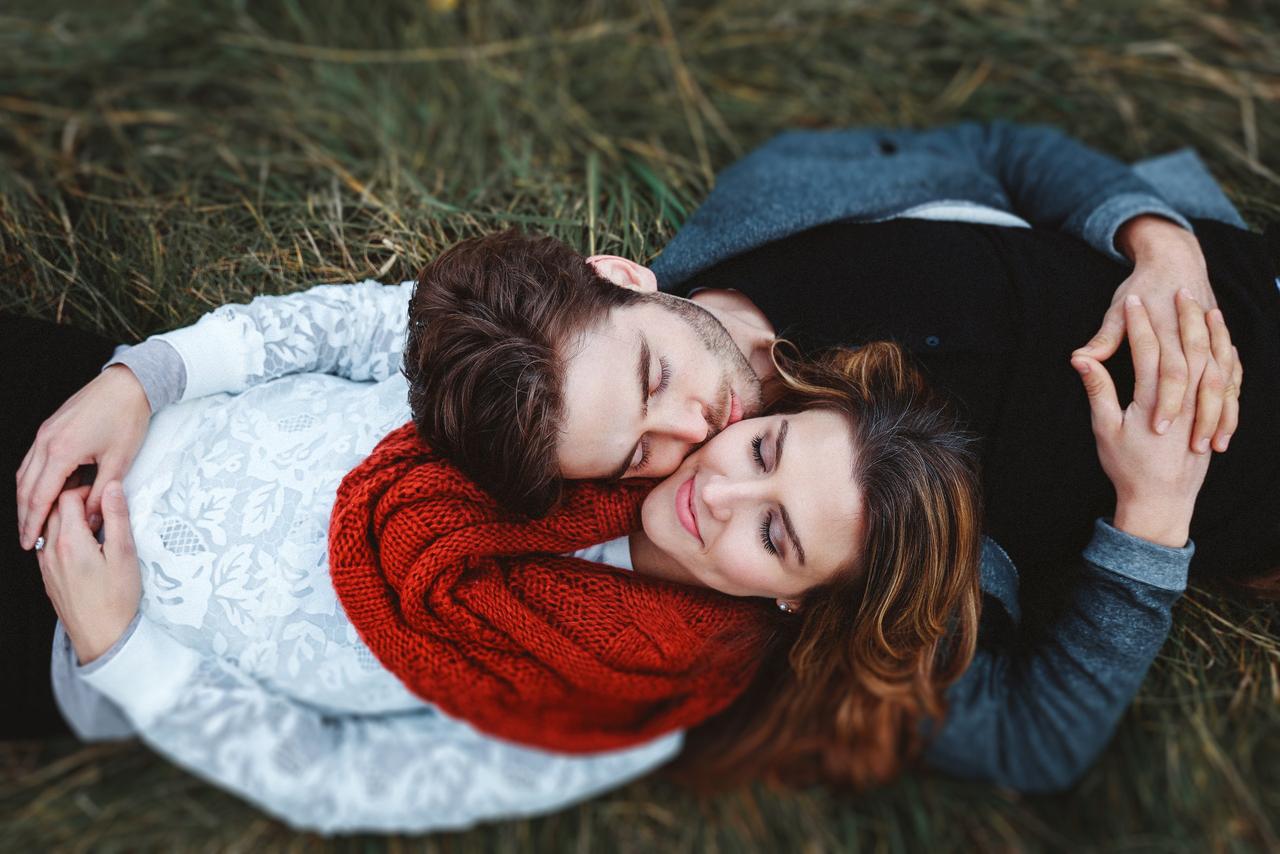 4. Down on One Knee
When planning to pop the question, ask a photographer to meet you at "the spot" to capture the big moment on film. Bonus: To help you out, we've gathered up the most romantic places to propose in Canada and these 63 memorable marriage proposal ideas for every kind of couple.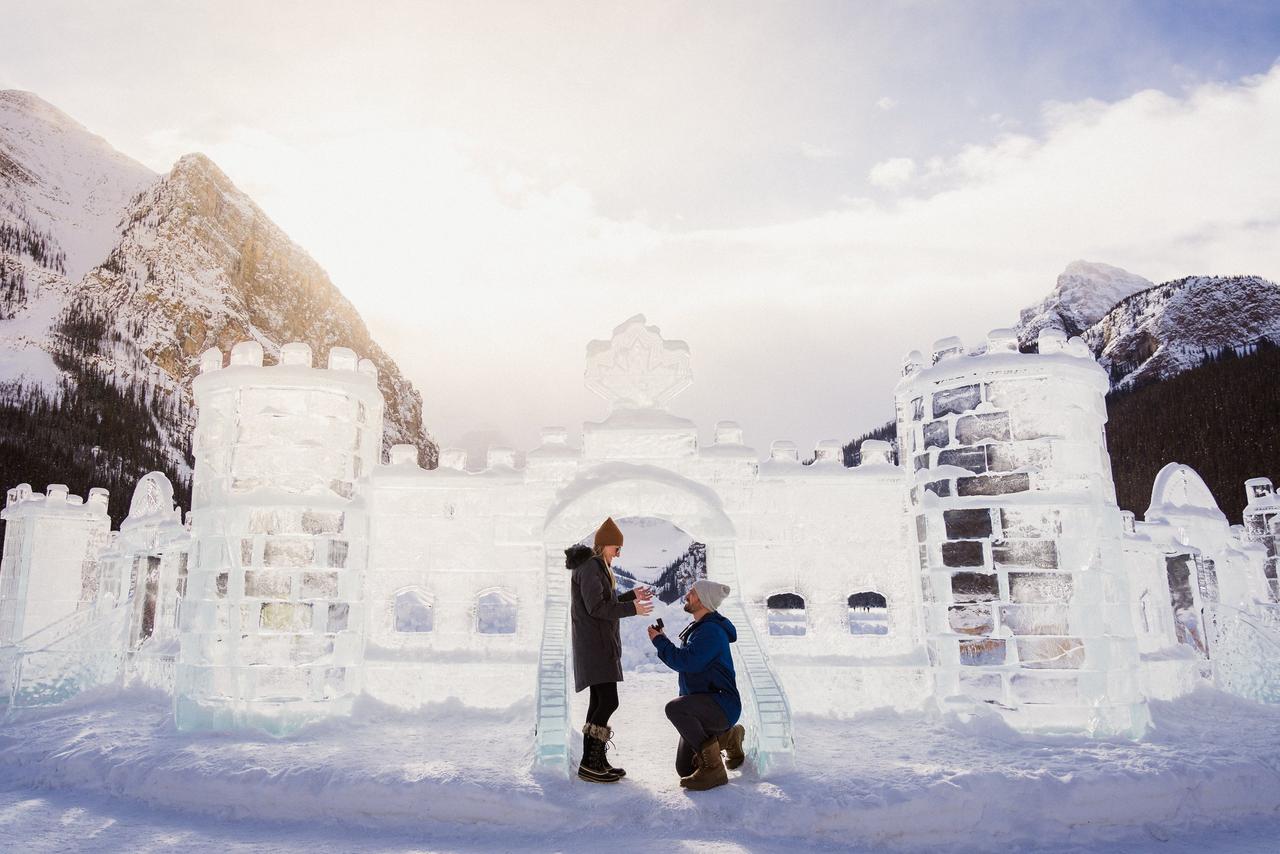 5. Holding Hands
Here is a great pose for showing off that engagement ring and your cozy winter coats.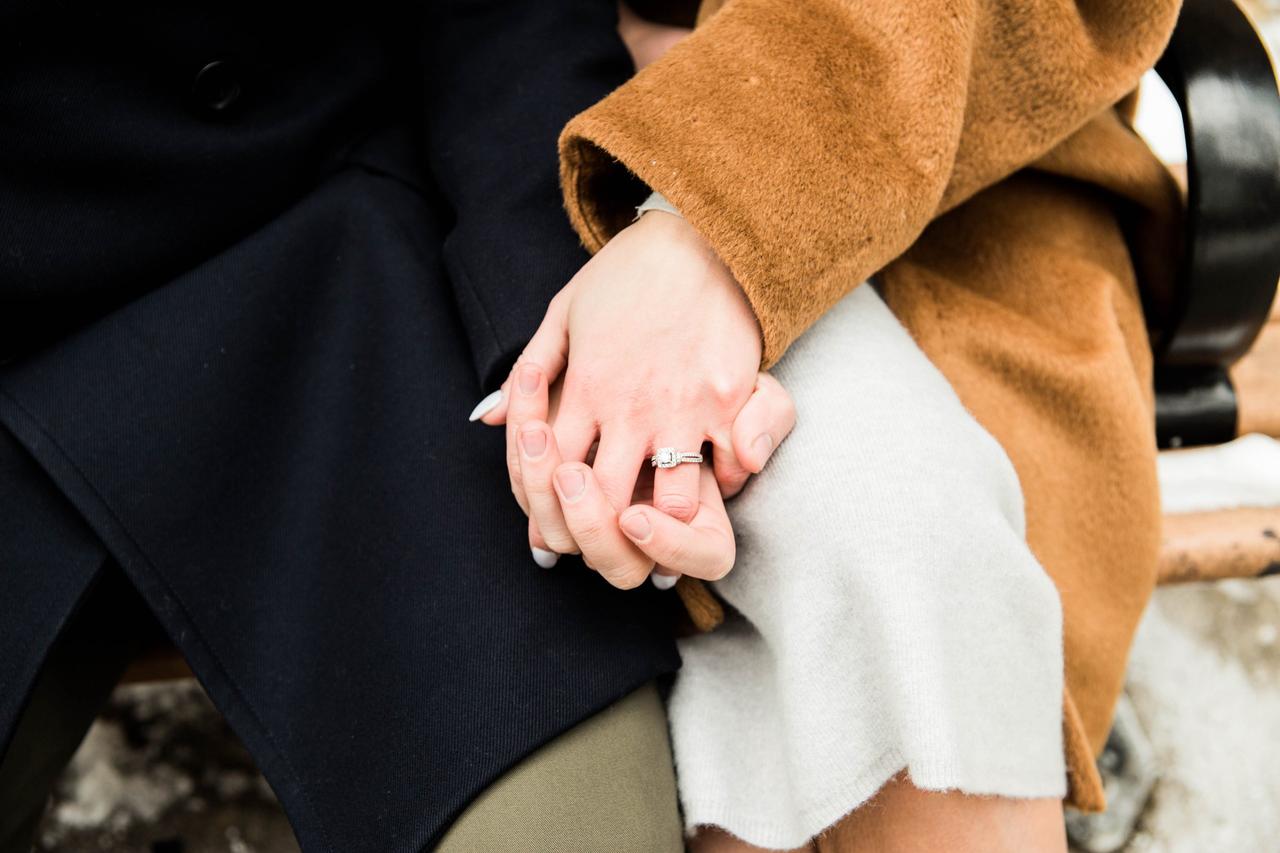 6. Hiking Trail
Taking a hike in the winter forest can be pretty darn magical in Canada—especially after a snowfall. A meandering hiking trail covered in snow is a sweet and simple backdrop for a winter engagement photo.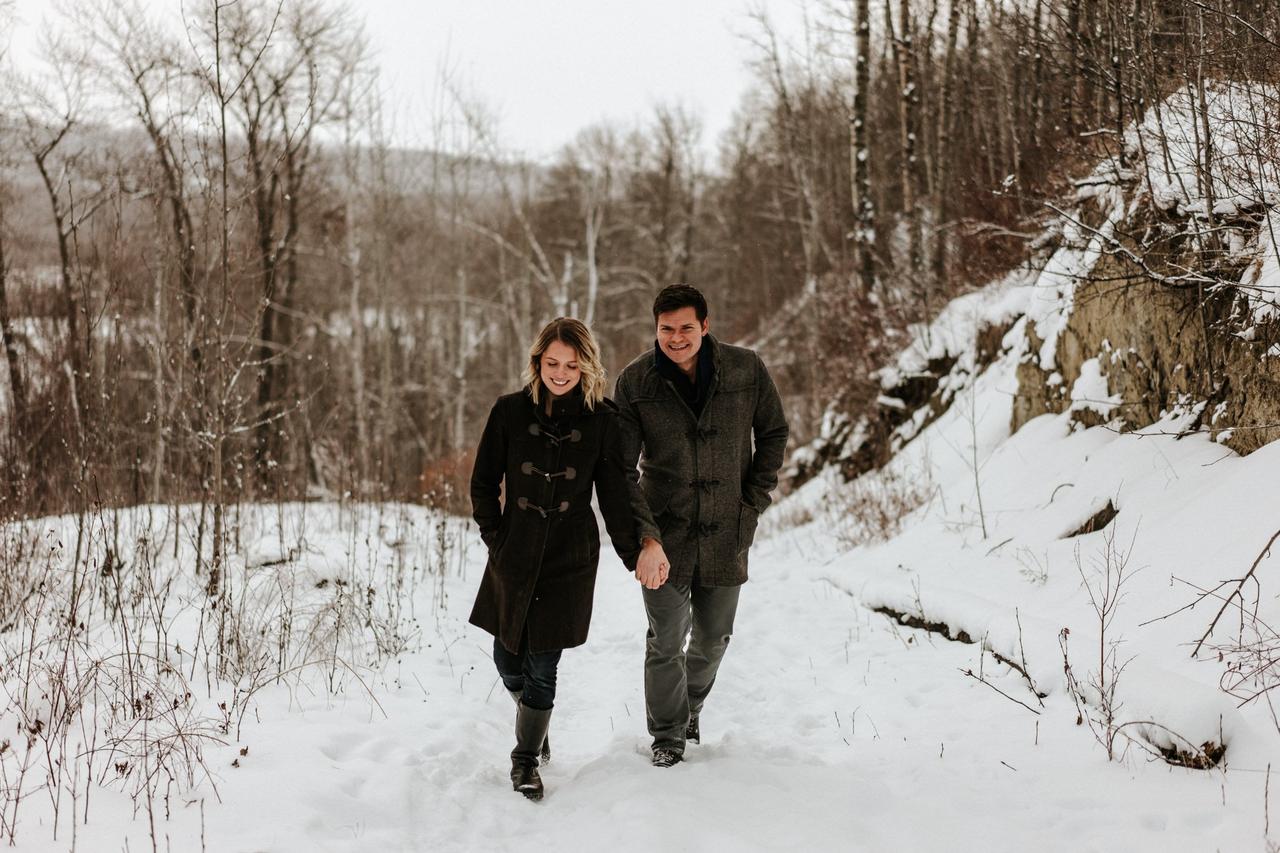 7. Snow fight
Engaging in an activity is an amazing way to capture some fun candid shots. This couple's snow fight is a great example. Adorbs!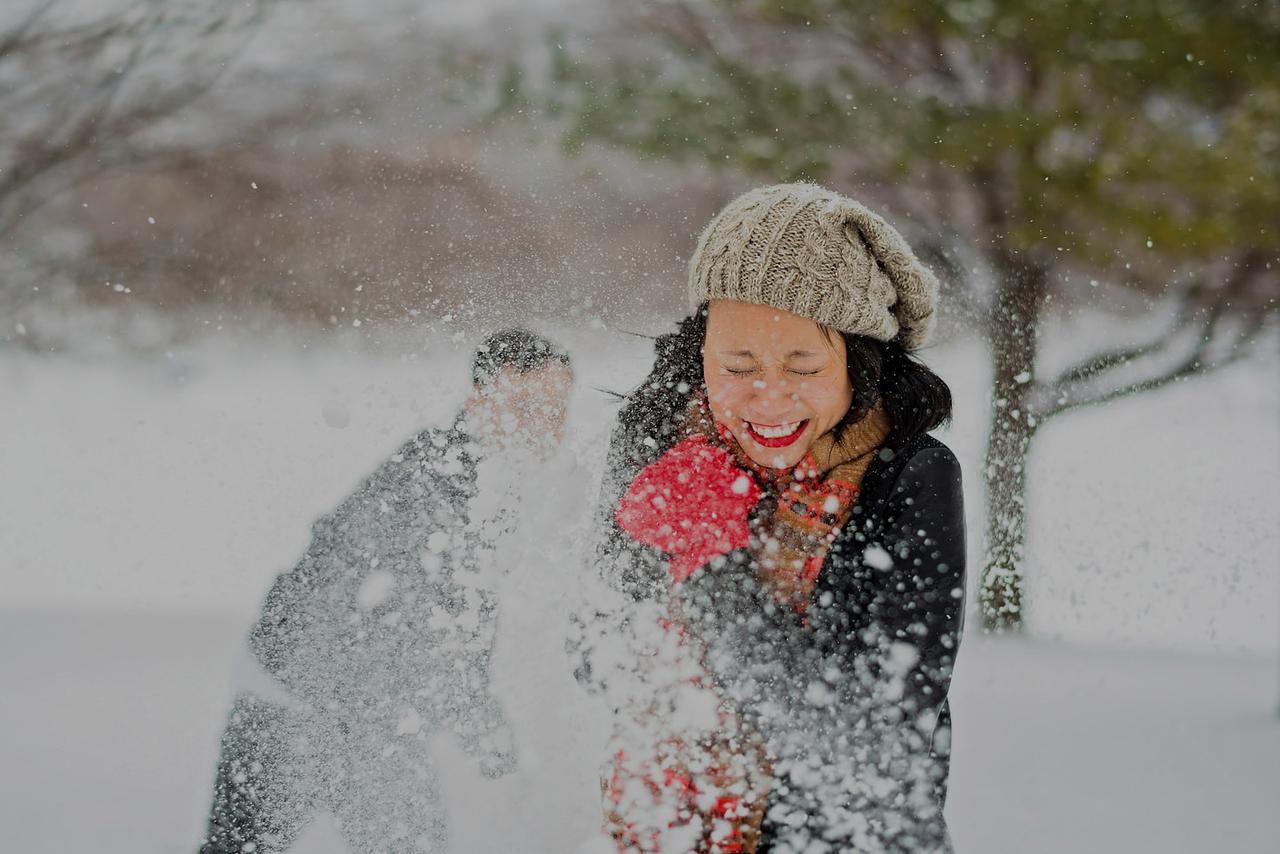 8. Dancing in the Snow
Busting out your best dance moves in the middle of a snowy field is pretty unexpected, and that's what makes this winter wedding photo idea so darn cute.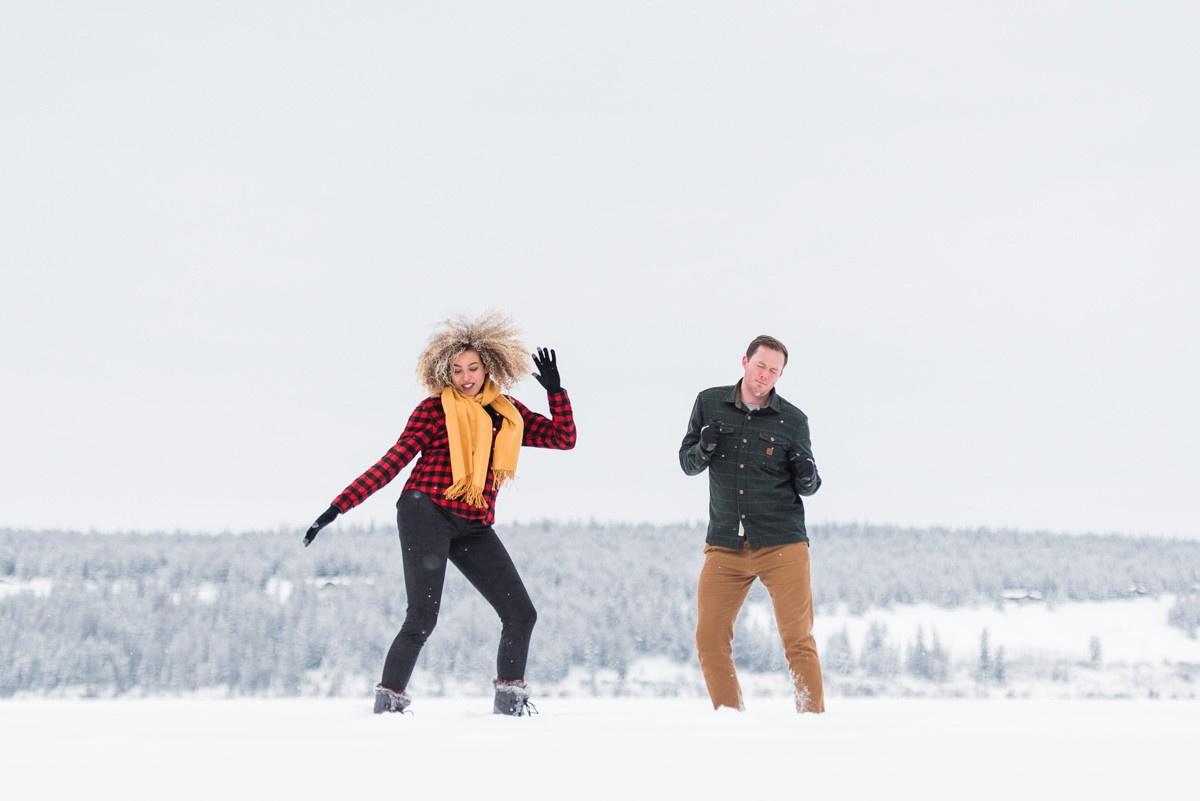 9. Go skating
Another great activity for your photo session is skating. With rinks in so many locations including city centers, arenas, parks and frozen ponds, you really can lace them up almost anywhere in Canada.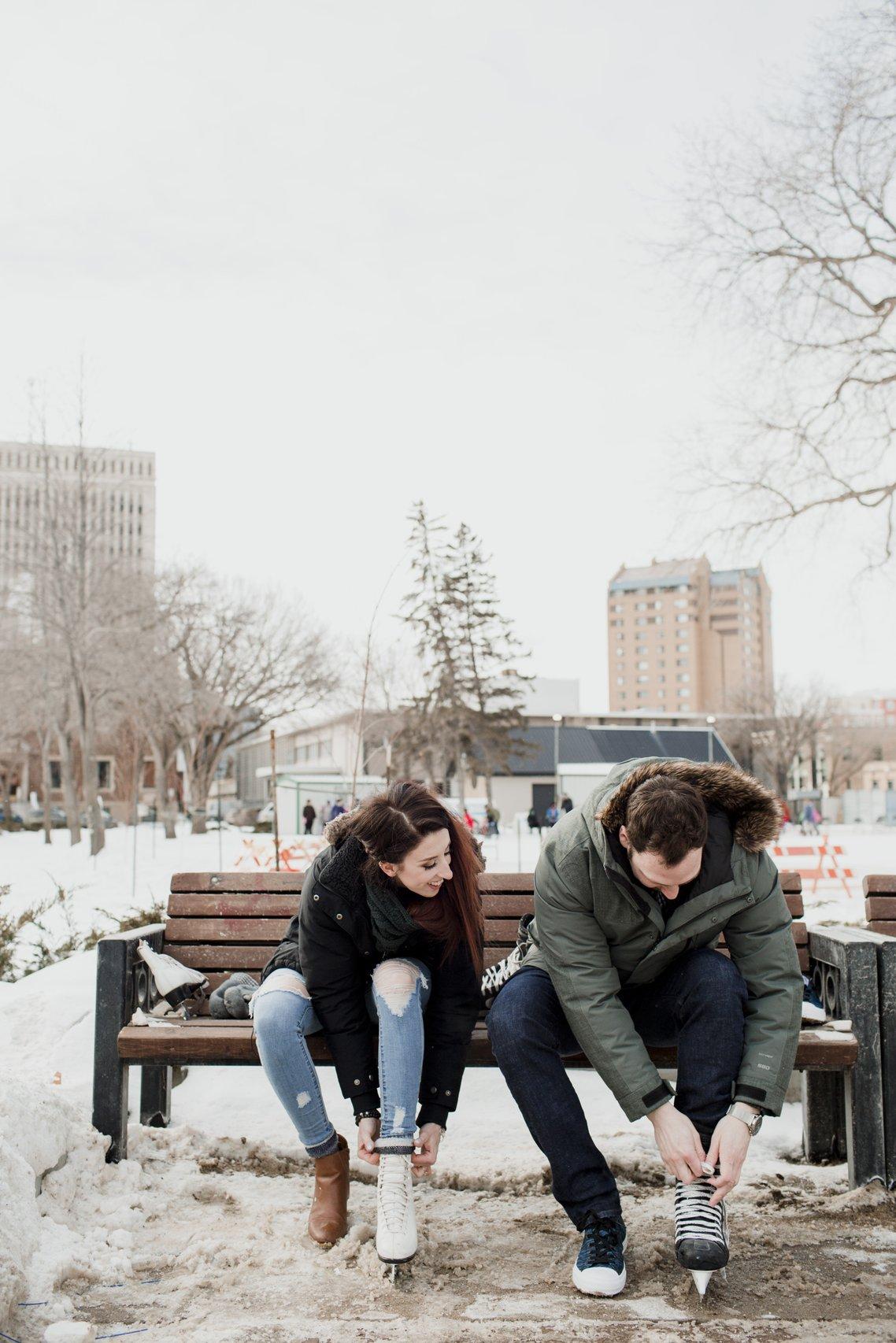 10. City Views
If you're city dwellers and you want to show off the skyline, head to a lookout point for your photo session. Whether the buildings are set off against a deep blue sky or barely there during a snowfall, this backdrop will pay homage to your hometown.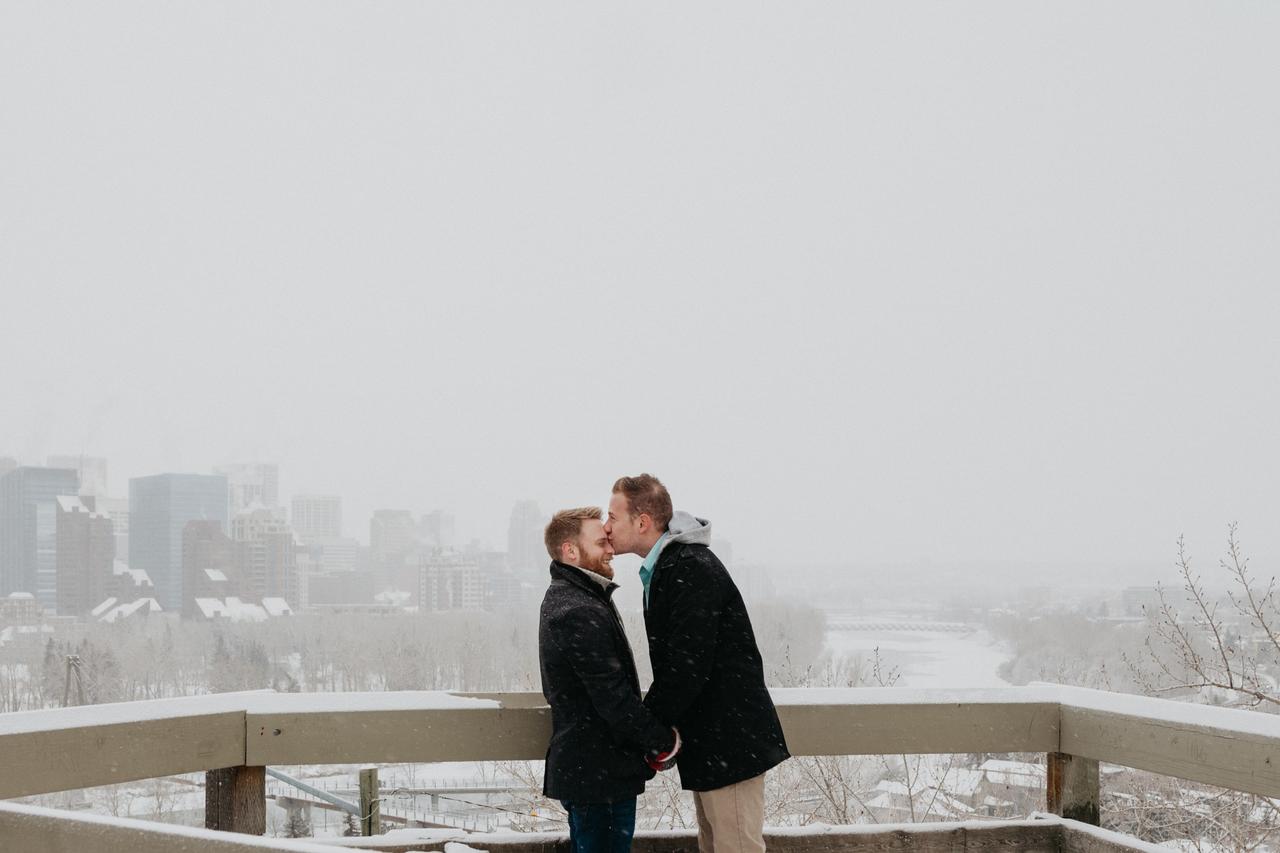 11. Warm Wool
When choosing your engagement photo outfits, layer on some warm sweaters, hats and scarves in complementary colours and grab a photo of the two of you in a warm and woolly embrace.
12. Peel off the layers
You could also plan to take off some of those layers like this couple who braved the elements for a few shots without their jackets on.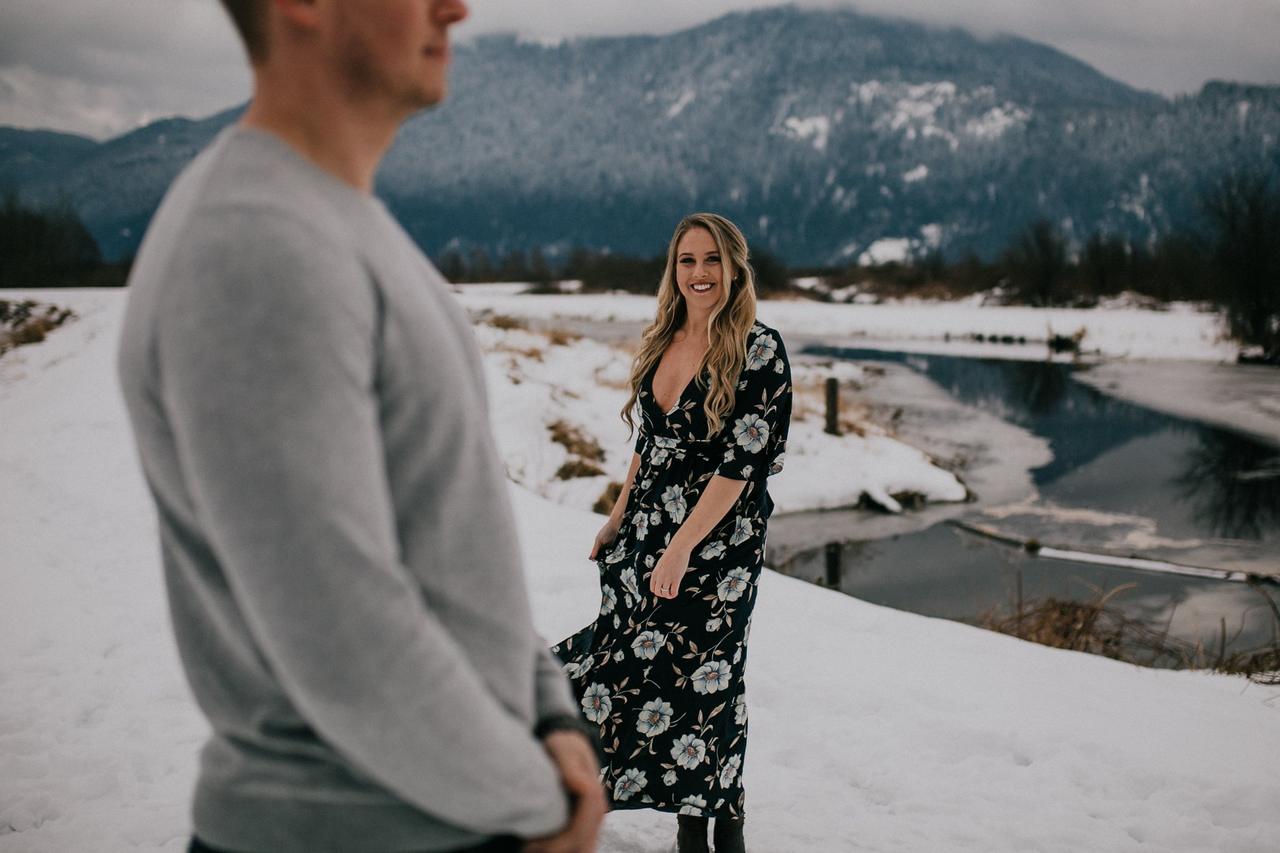 13. Get Dressed Up
We love the soft neutral palette of this image that puts a focus on the bride in her red dress. Also, take inspiration from this couple's winter engagement photo outfits that are on the dressier side.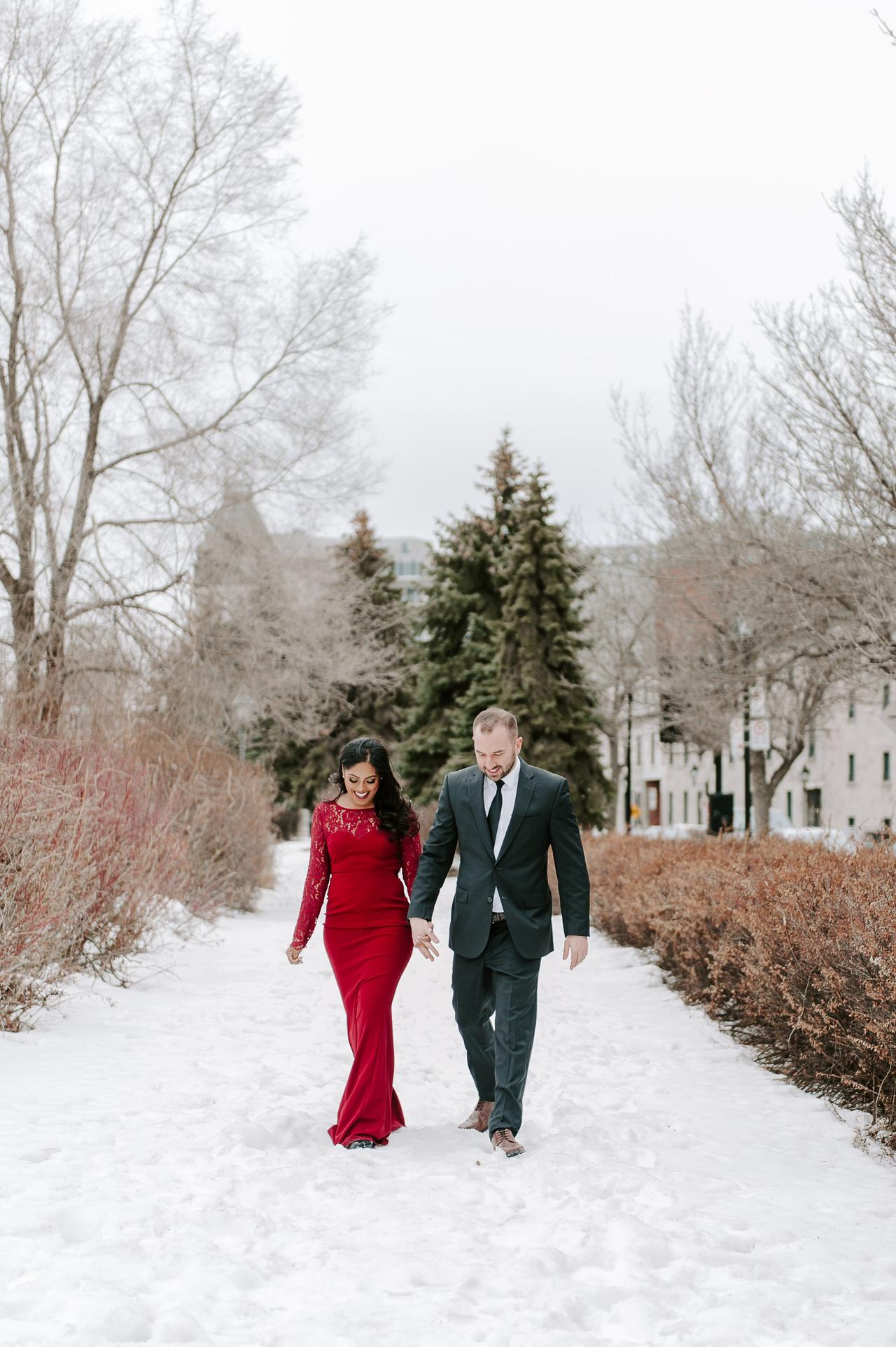 14. Deep in the Forest
Take a step into the forest for a beautiful photo among snow-draped trees. This winter engagement photo with plenty of white space is ideal to use on your wedding stationery as it provides lots of different cropping options.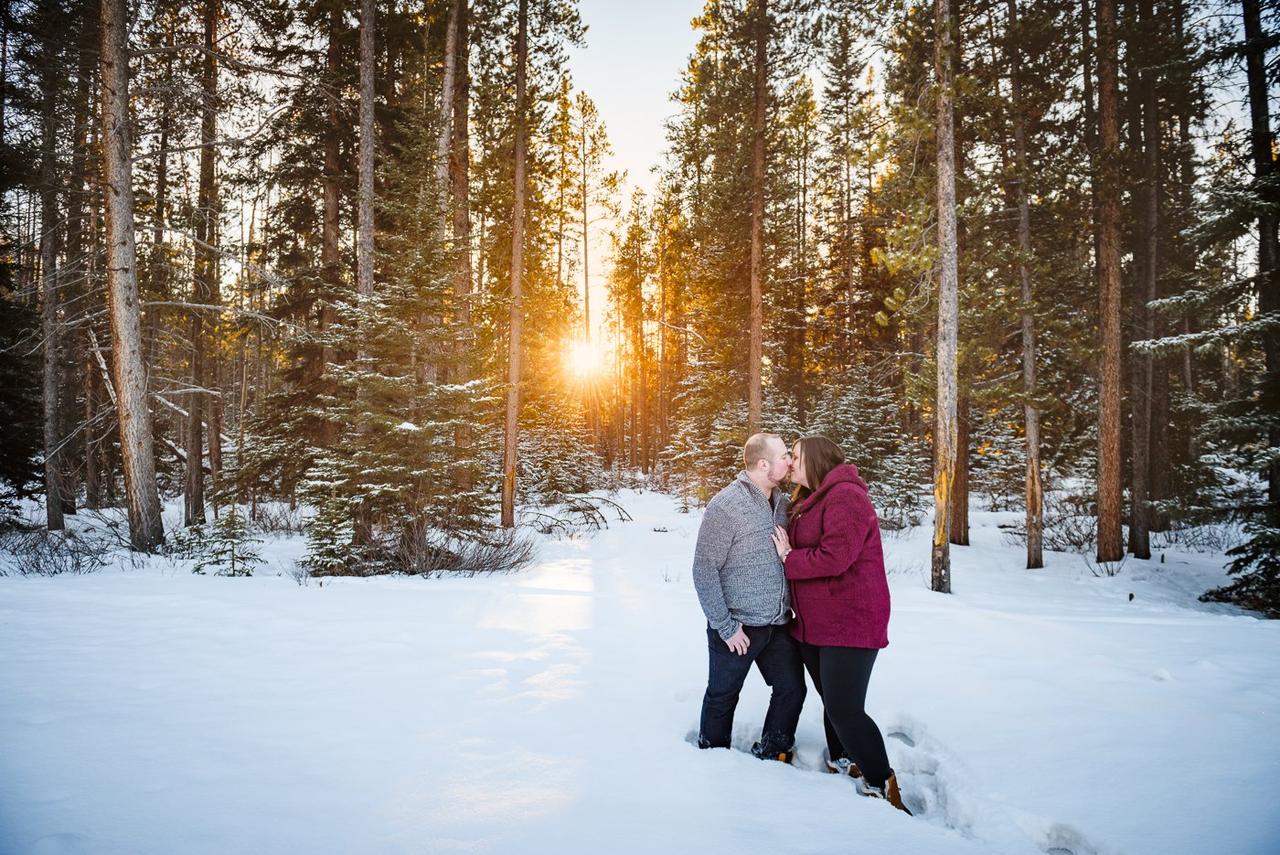 15. Rustic Farm
Head to a farm for your winter engagement photos and take a shot in front of a weathered wood barn or shed for a rustic backdrop that'll look straight out of a holiday card. This is ideal if you're planning a barn wedding, too. Use this image as your wedding website cover photo.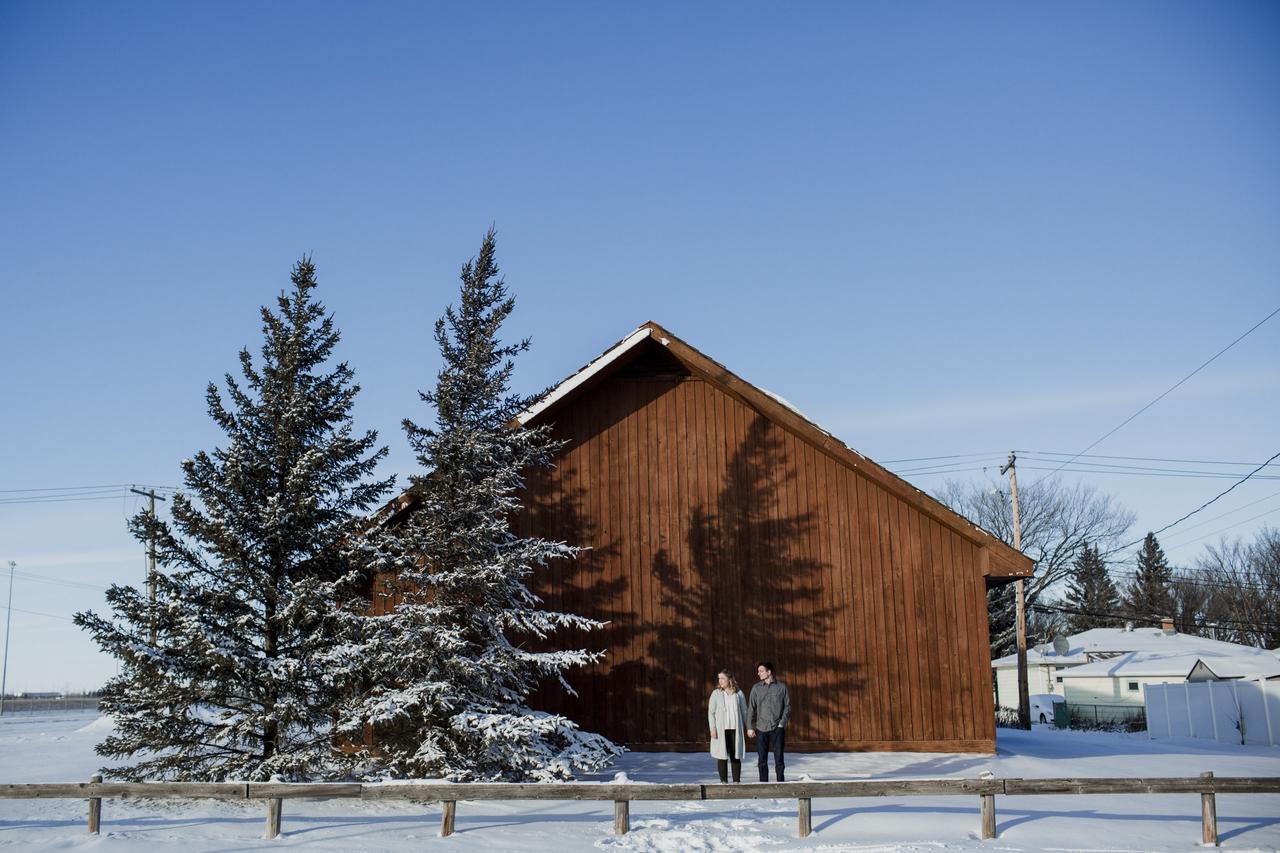 16. Christmas Lights
Planning a Christmas wedding? Take to the streets and capture your pics in front of some Christmas lights in your hometown. Get Hallmark Christmas movie vibes with the town's Christmas tree or a gazebo as your photo location.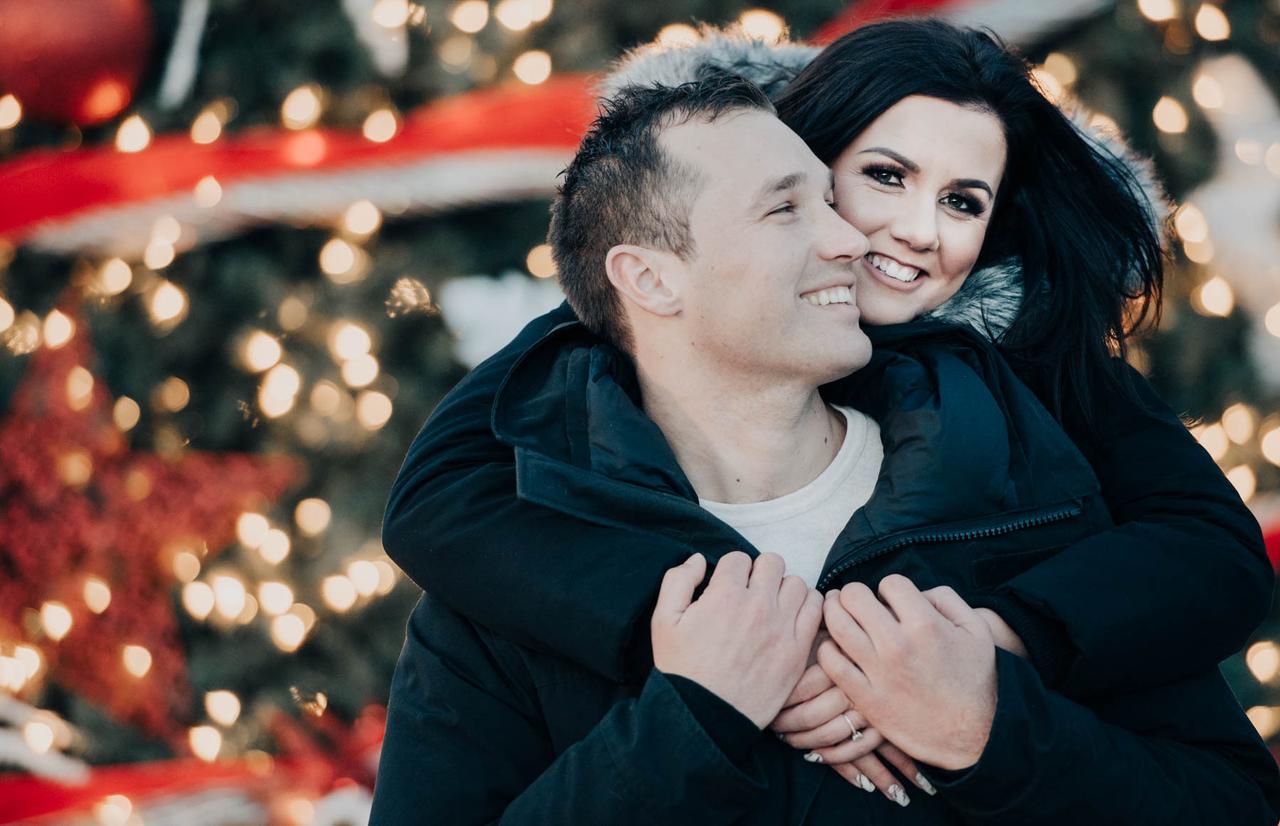 17. Holiday Wreath
We're swooning over this stunning photo with a couple holding a lush green wreath to frame their faces. While this would work with most engagement photo outfits, we love that this couple dressed up for their session.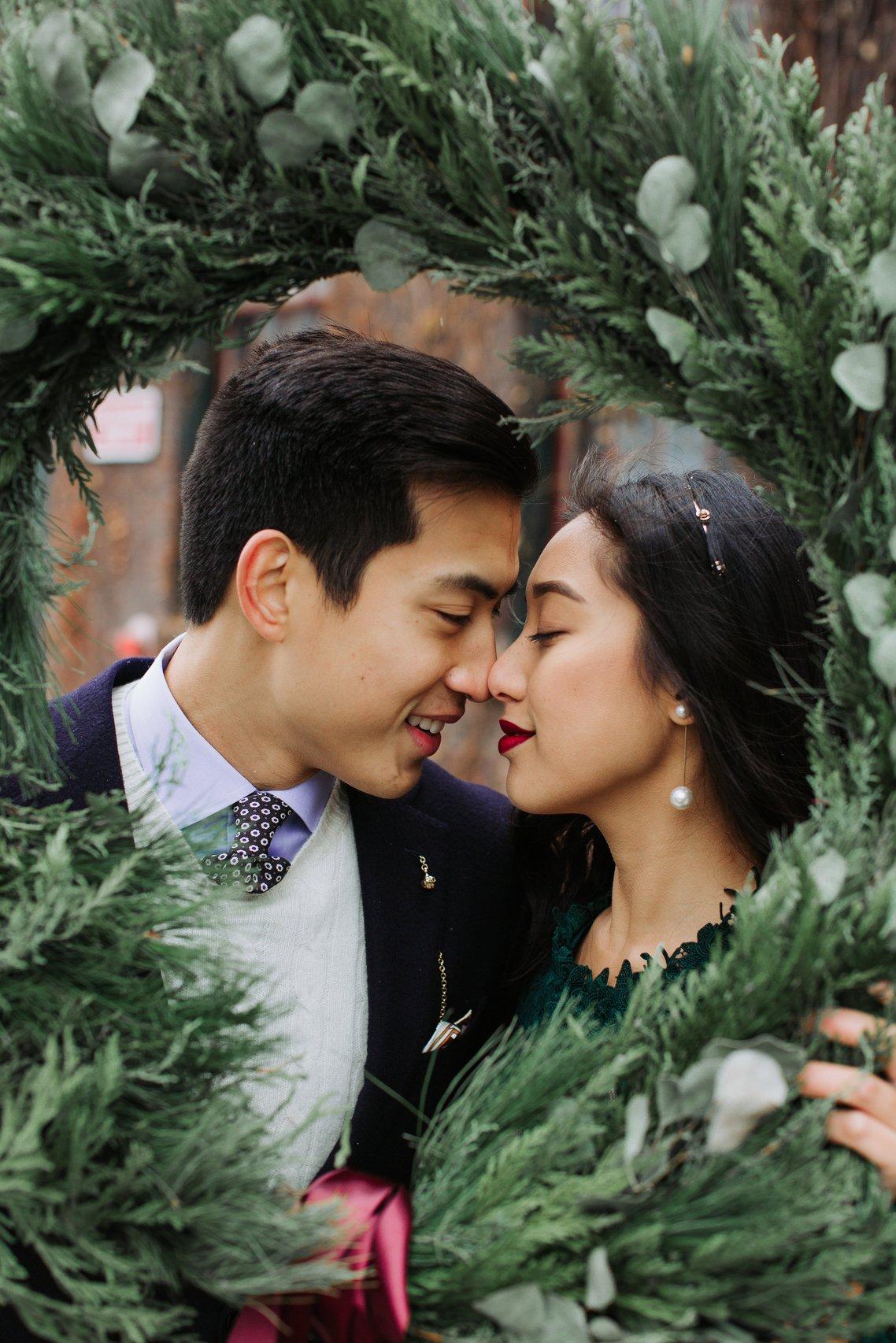 18. Christmas Tree Farm
Another great location for charming winter engagement photos with a holiday twist is to choose a Christmas tree farm as your location. Stroll through the rows of trees for some cute candids.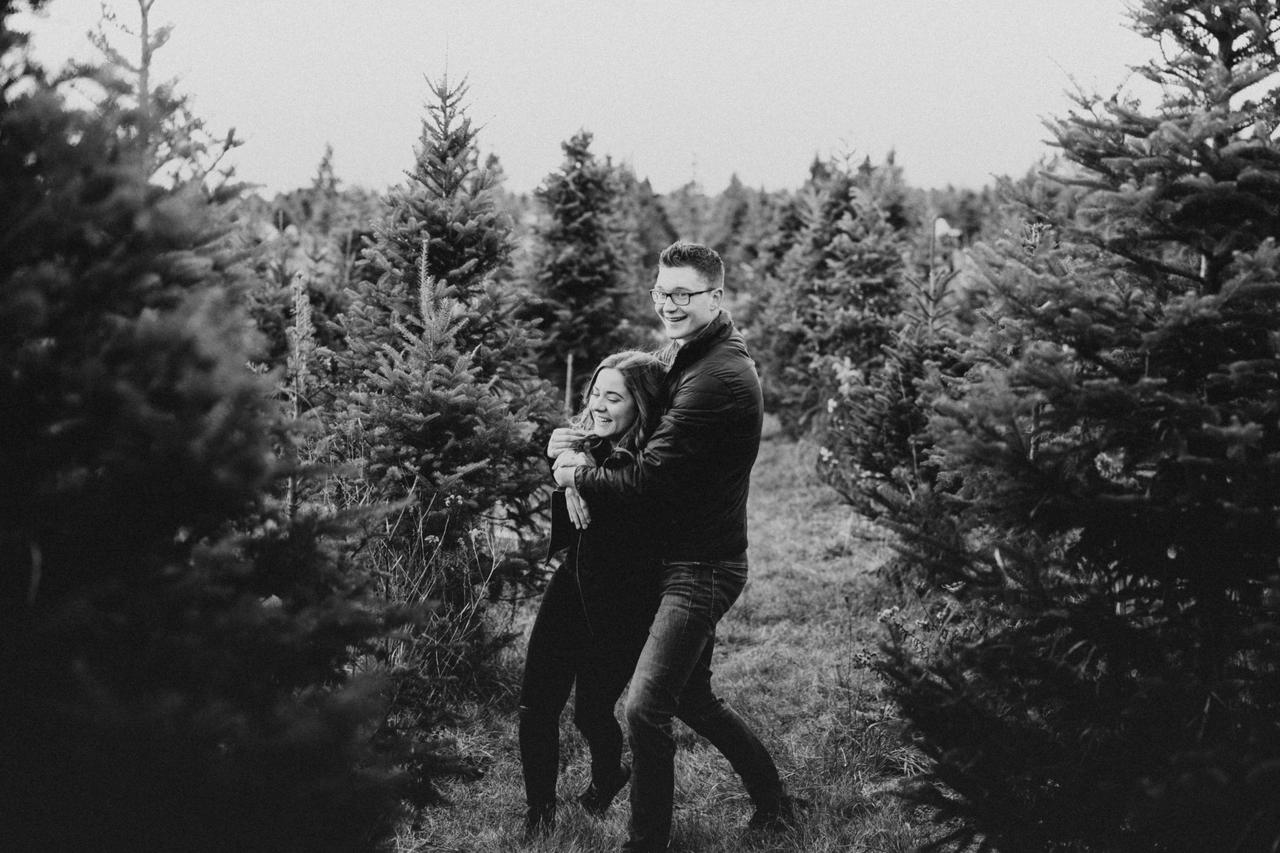 19. Nestled in the Bows
Continue the Christmas tree theme with a close-up of your sparkly engagement ring nestled among the bows.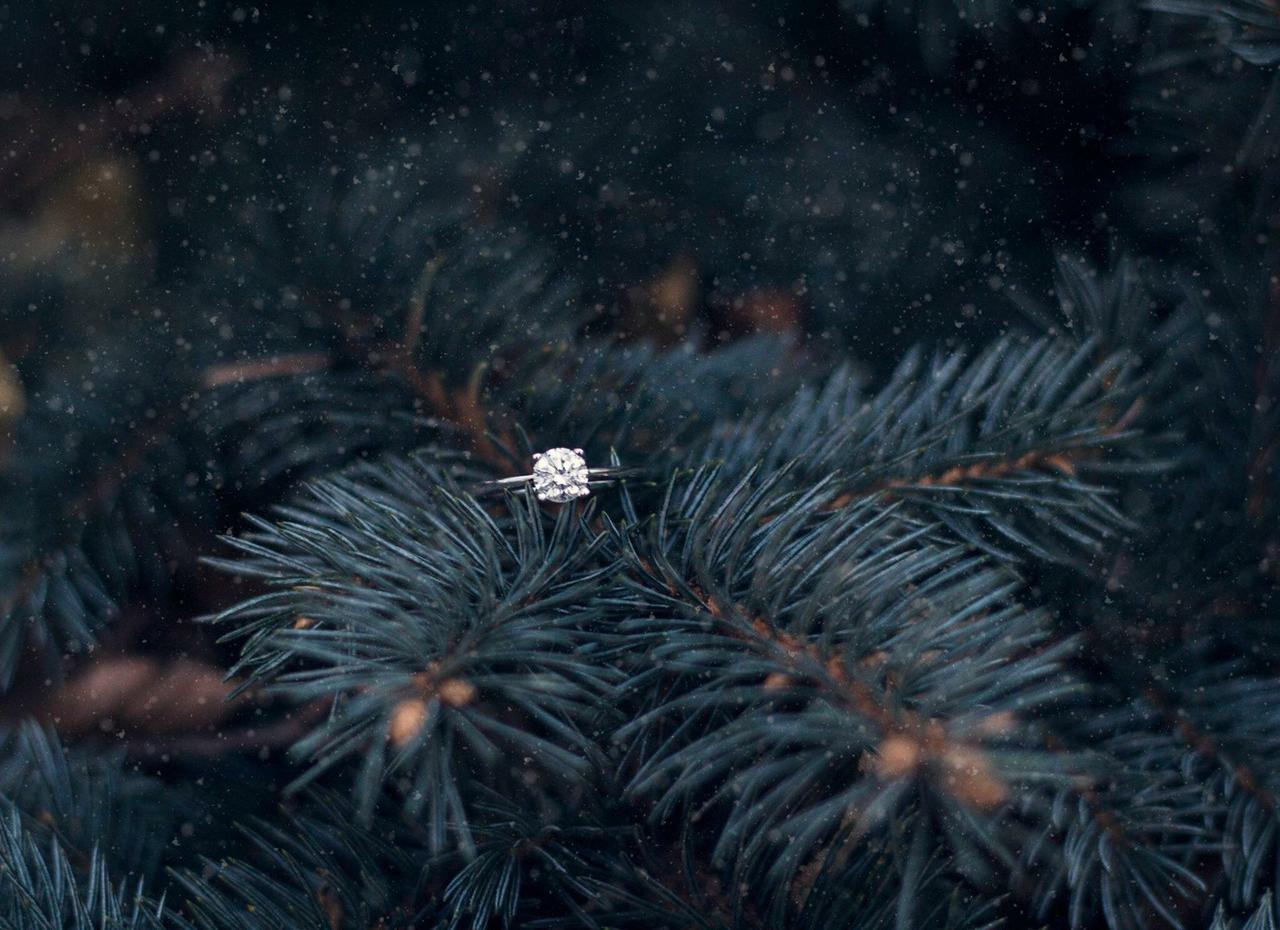 20. Golden Hour
Schedule your photoshoot for late in the day to take advantage of the golden hour. If you are blessed with a sunset lighting up the winter landscape, your photographer should be able to capture a magical scene.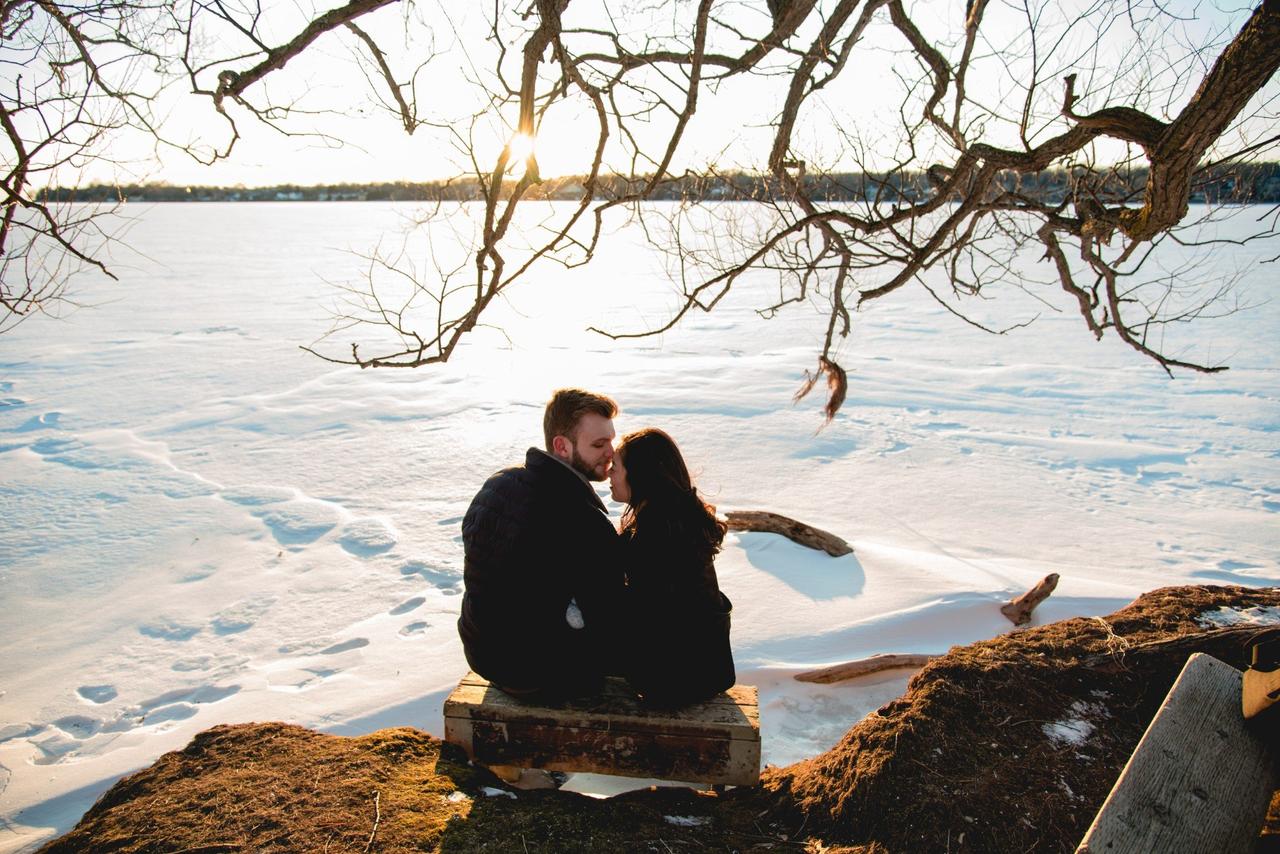 21. Bring a blanket
Cozy up in a blanket for a pop of colour (or plaid!). You can also use it to sit on or to add an extra layer of warmth between shots during your session.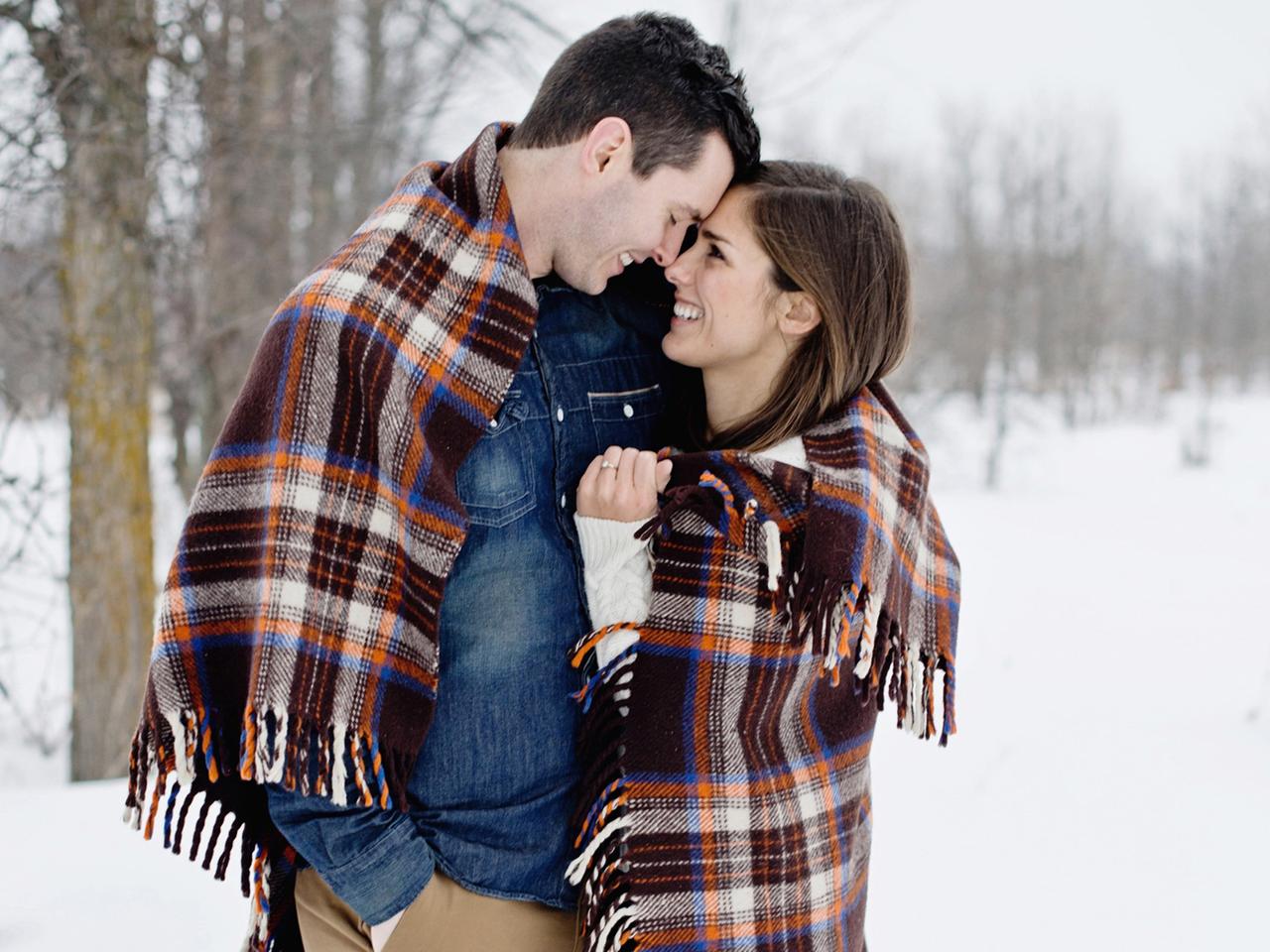 22. Field of Dreams
Take your photos among tall grasses dusted in snow for a soft and romantic photo. This couple wore red gloves for just a little dash of colour.
23. Engagement Ring Close Up
Golden grasses also provide a lovely backdrop for a winter engagement ring photo.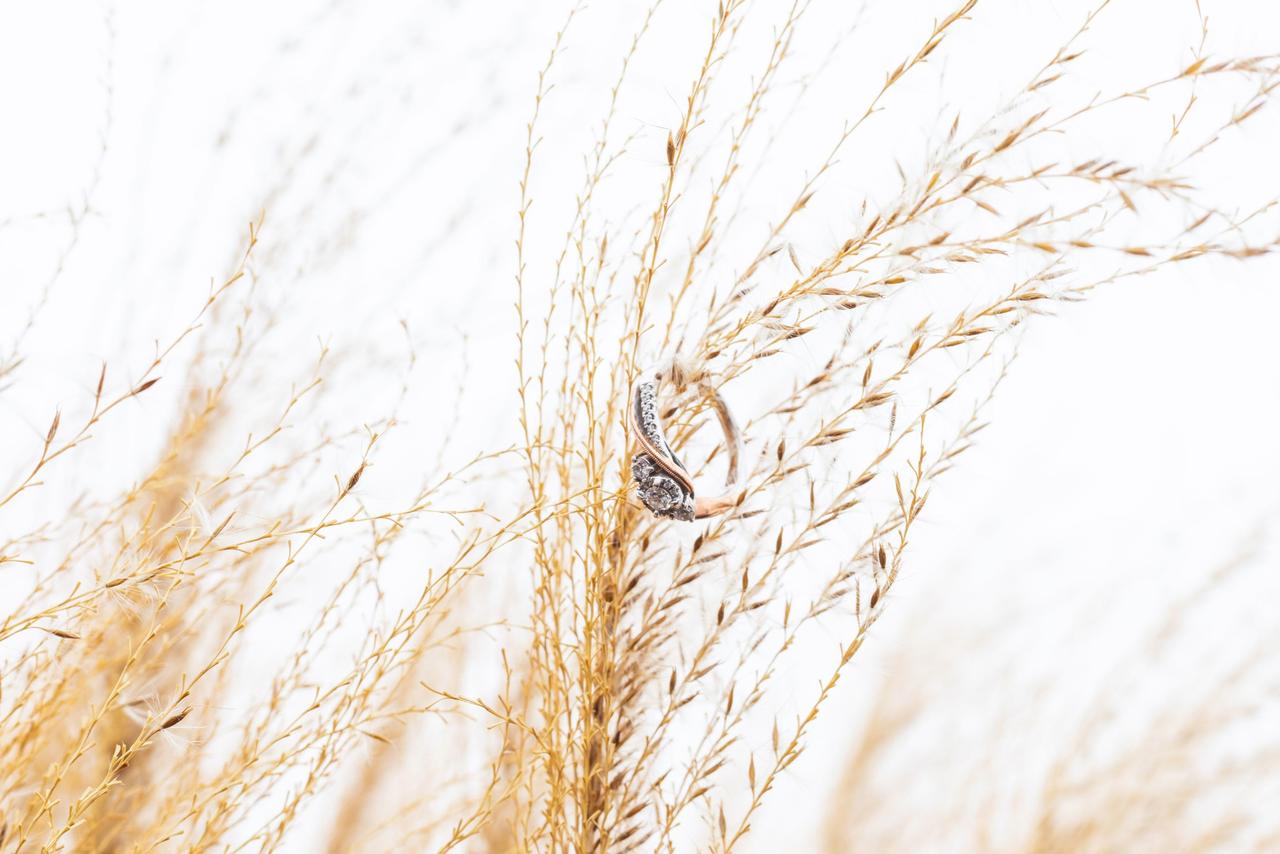 24. Boho Vibes
Hosting a boho-themed wedding? Set the tone with your winter engagement photos by taking a cue from this couple's outfits and this beautiful bouquet filled with dried flowers and pampas grass.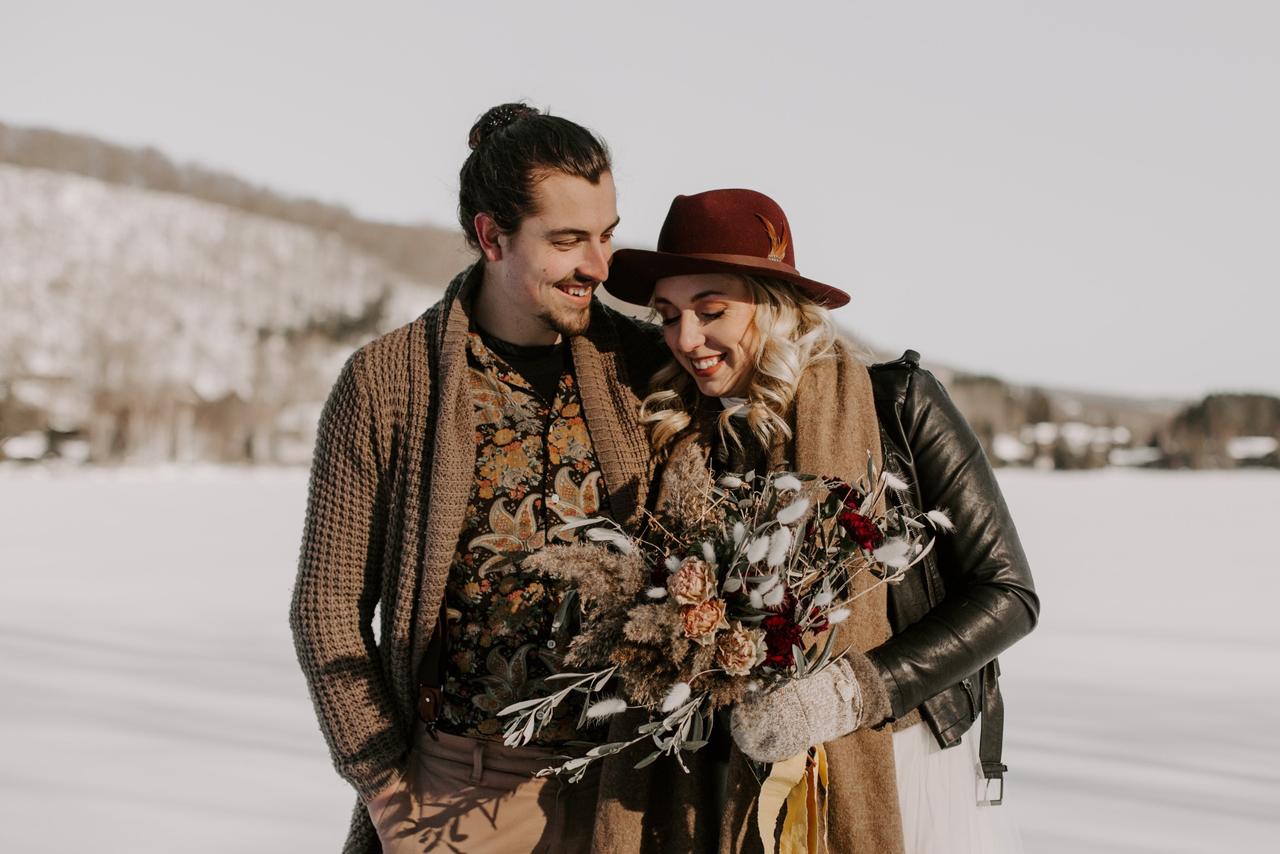 25. Snowstorm
If the forecast calls for snow on your photoshoot day, embrace it! You'll be able to capture some amazing shots outside, even at night. You may want to start your session indoors before you get a little too soggy.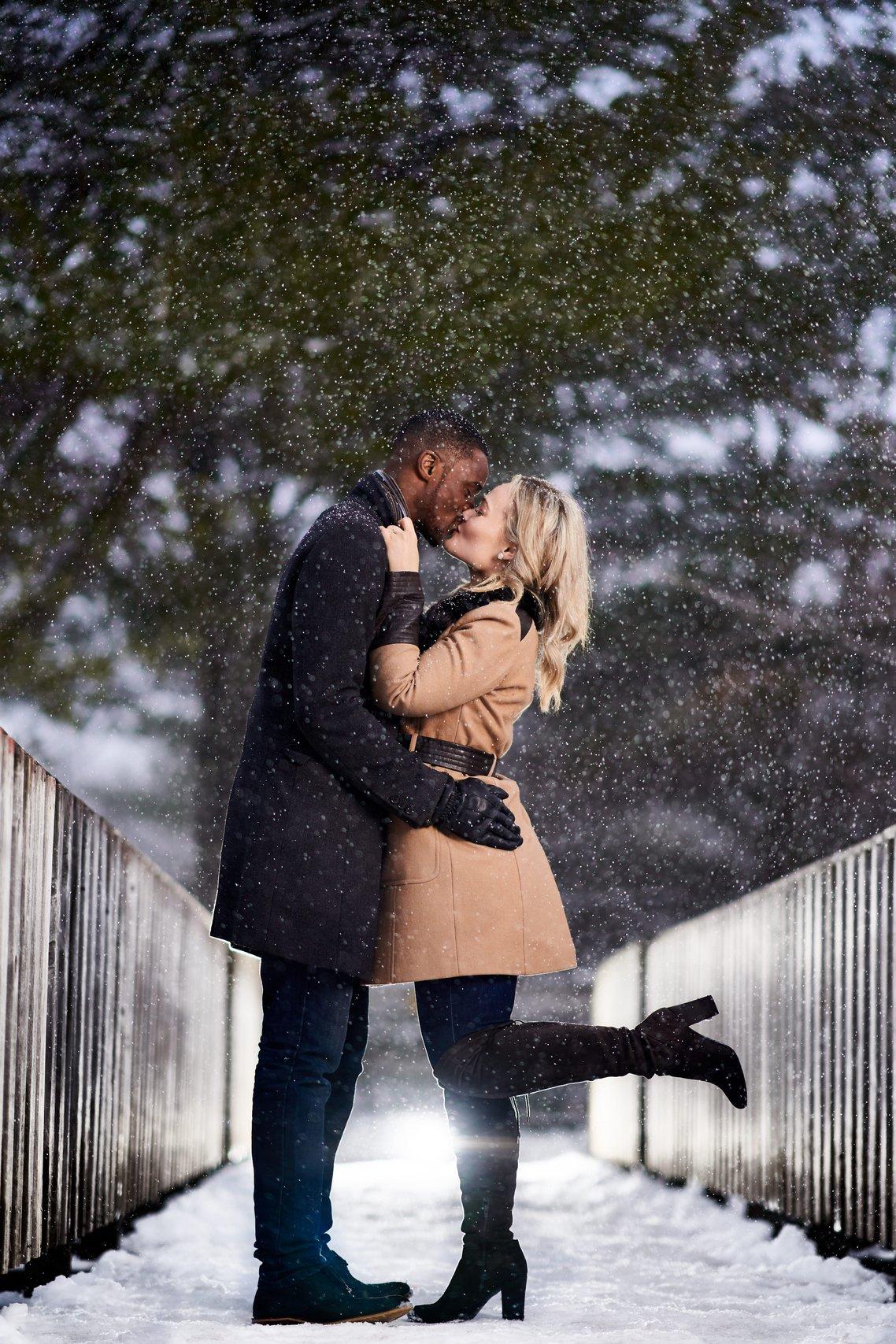 26. By the Fire
Get out a fire pit or build a campfire to stay warm during an outdoor winner shoot while adding some visual interest to your shots.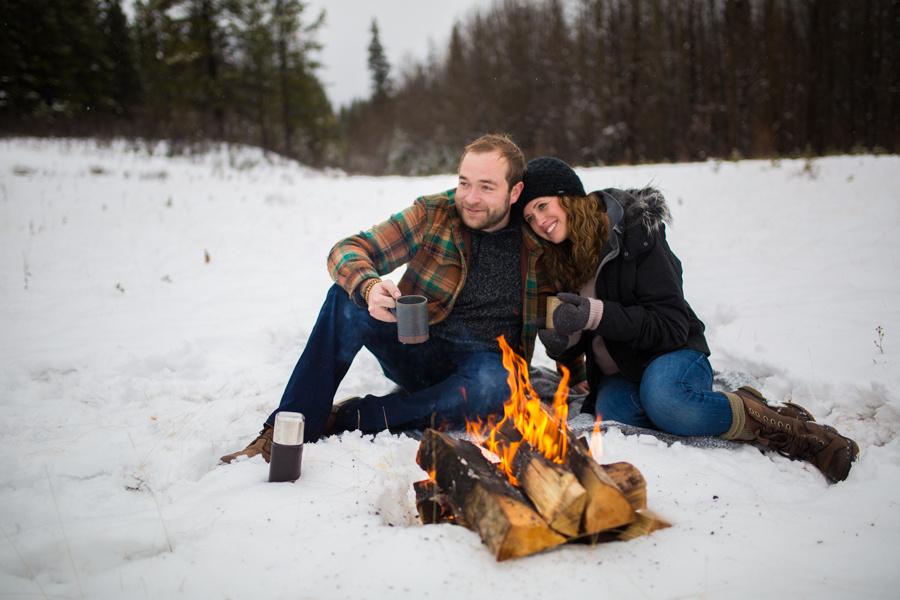 27. Piggyback Ride
Planning a winter wedding? Here's an adorable engagement photo pose for a save-the-date and wedding website cover photo. Bonus: Here are 29 Awesome Winter Wedding Ideas.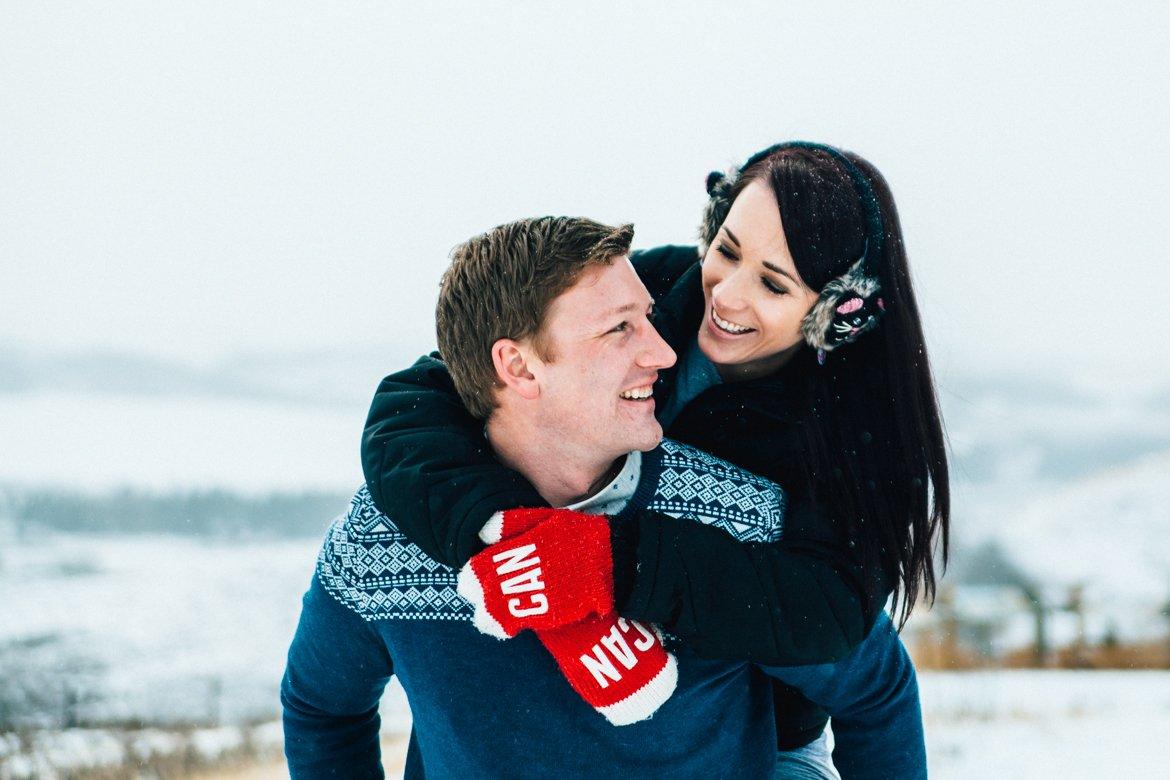 28. Dashing Through the Snow
We love this playful winter engagement photo idea of the couple running through the snow. What makes this shot so pretty is the colour palette with the bride's choice of a dusty pink sweater and skirt to match the romantic pink hues in the sky.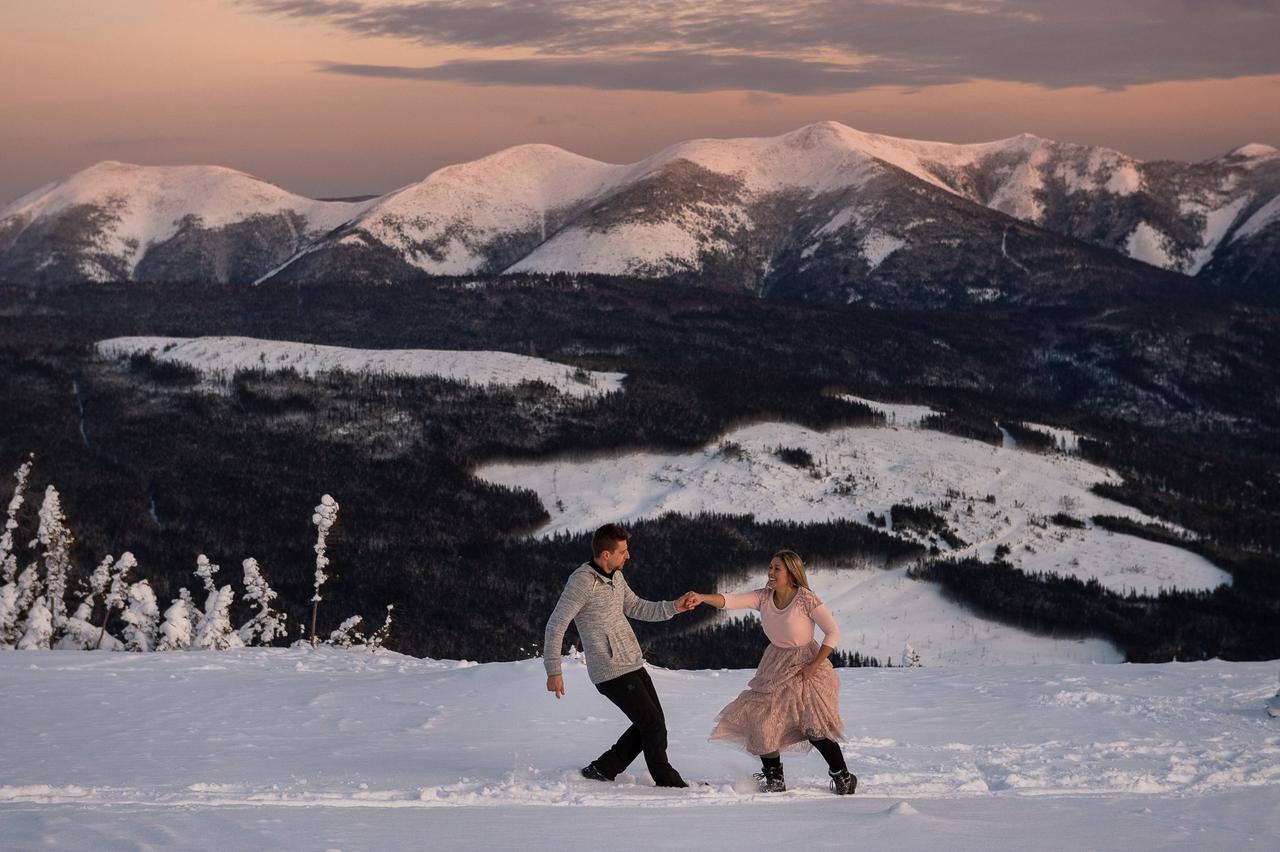 29. Balloons and Flowers
If you're planning to propose on February 14 or host a Valentine's Day wedding, this sweet and simple winter engagement photo idea features pink balloons and a bouquet of pink roses.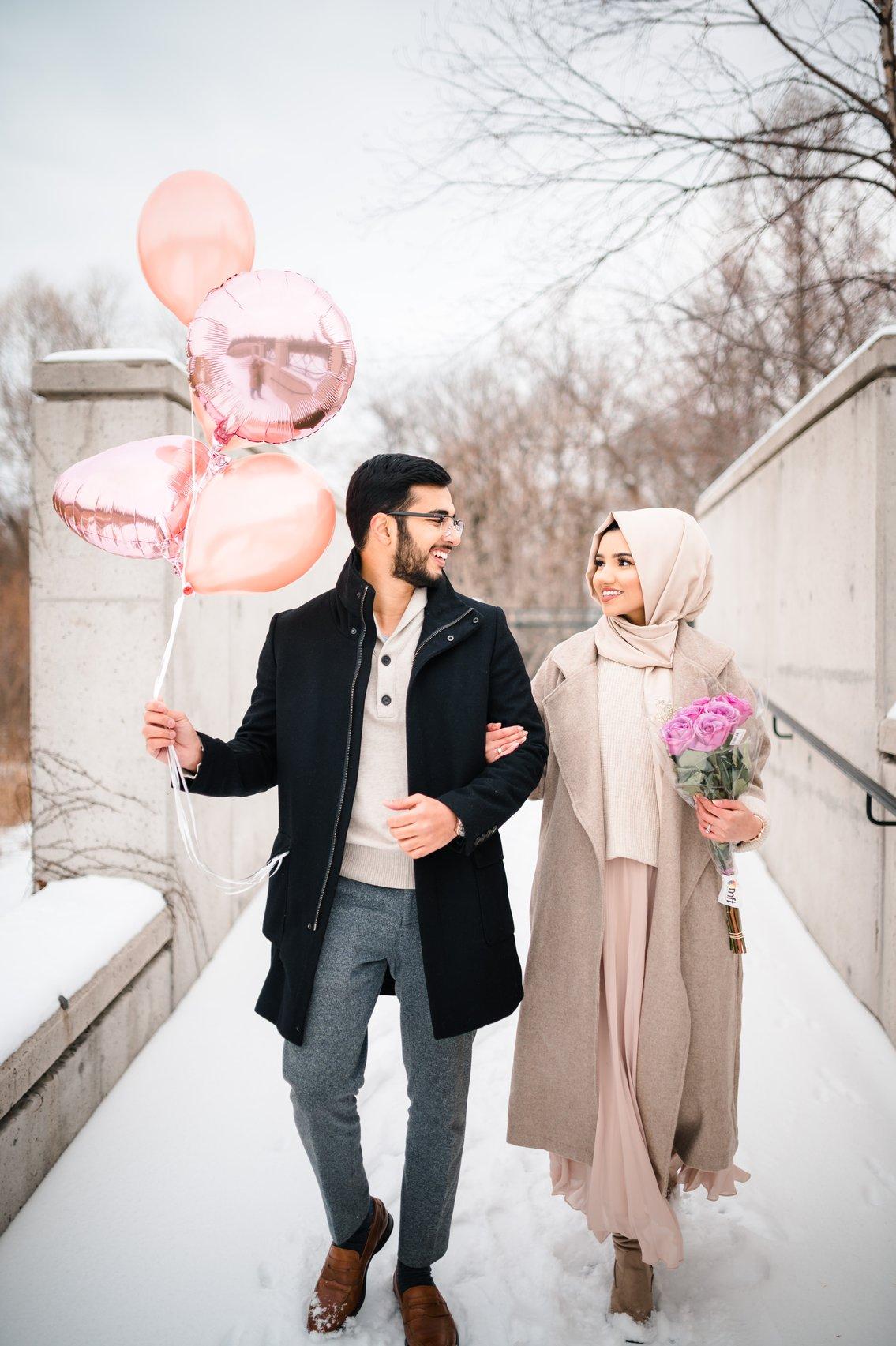 30. Action shot
Obviously, you'll want some engagement photos that show your faces in full engagement bliss, but an artistic shot like this one may be a favourite photo to hang on your wall.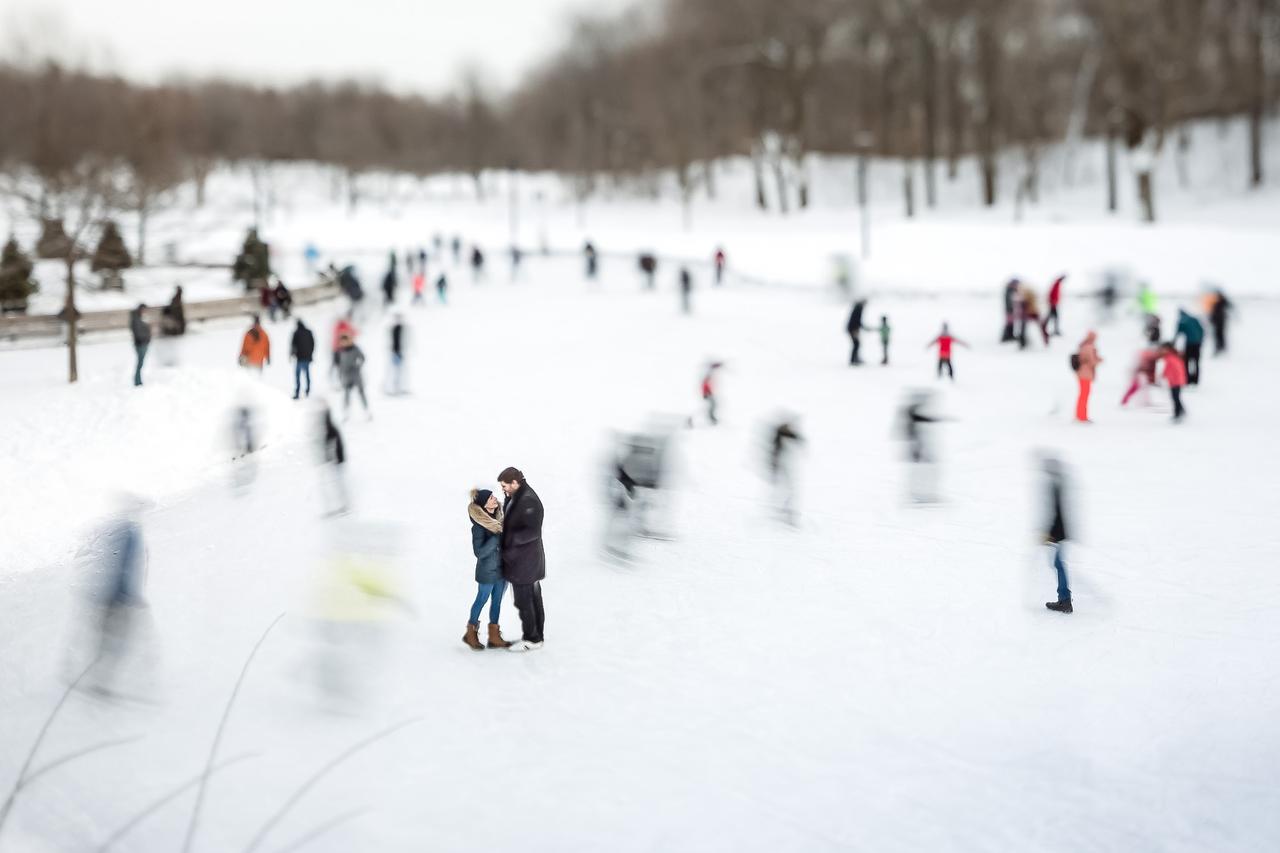 31. Depth of Field
We love the unusual perspective of this winter engagement photo captured with grasses in the foreground and industrial buildings in the background for an interesting soft-focus effect.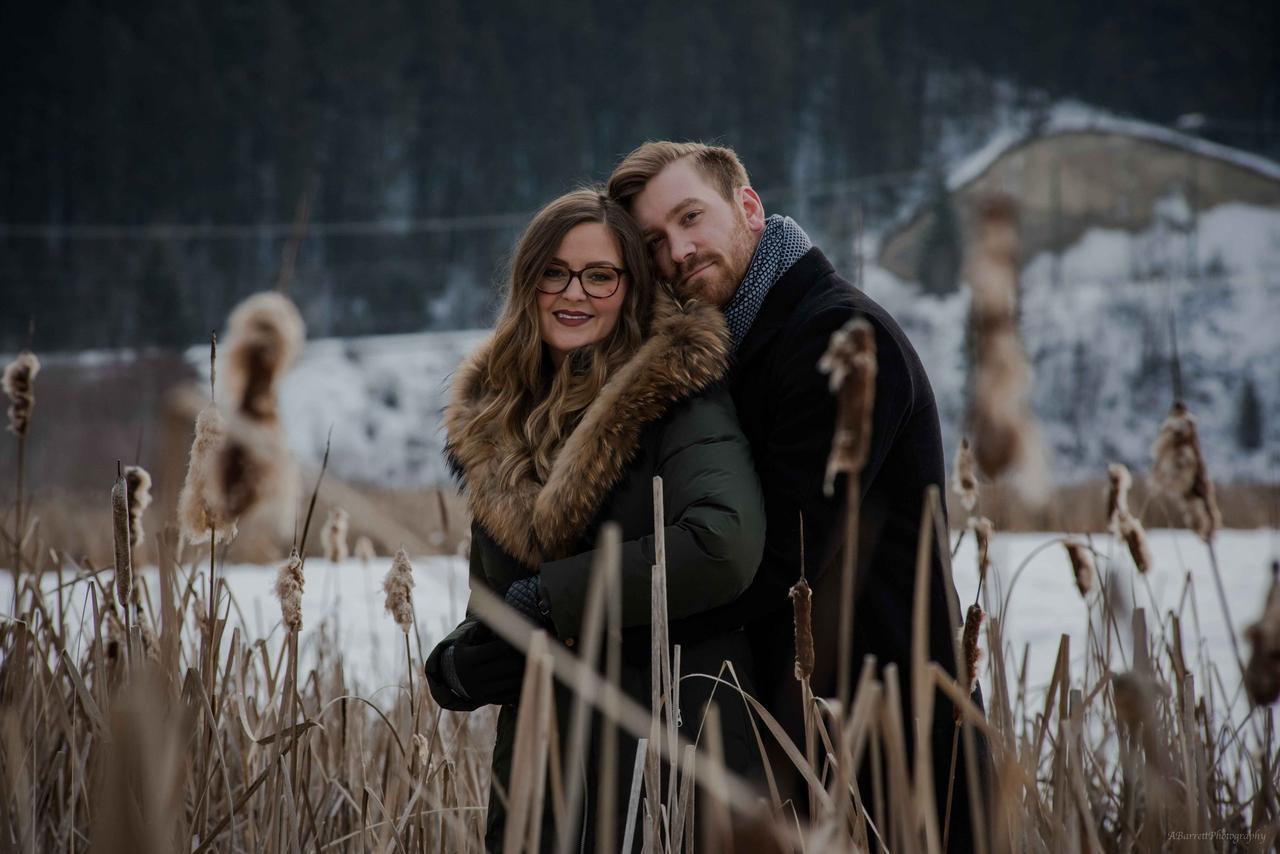 32. Snow Covered
Or, have your photographer take a similar approach with a photo set in a snowy scene.
33. Far, Far Away
An image taken from a distance also has display potential. Whether you're in a beautiful park or out in a farmer's field, make yourselves a small part of the beautiful landscape. Pro tip: You could also stage an aerial view with a drone camera.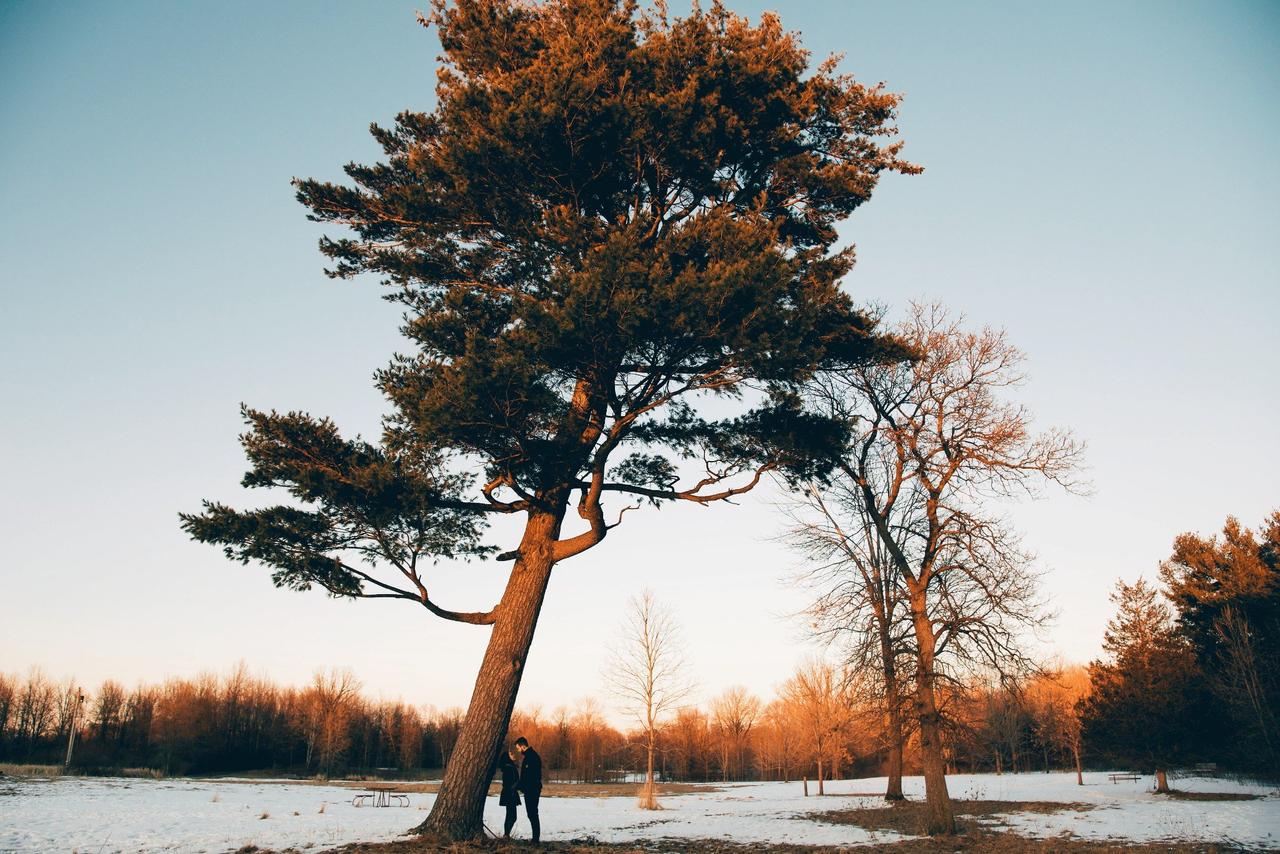 34. Maple Sugar Bush
Who doesn't love the taste of Canadian maple syrup? Visit a local maple sugar bush for some sweet shots among the tapped trees, steaming cauldrons and rustic buildings.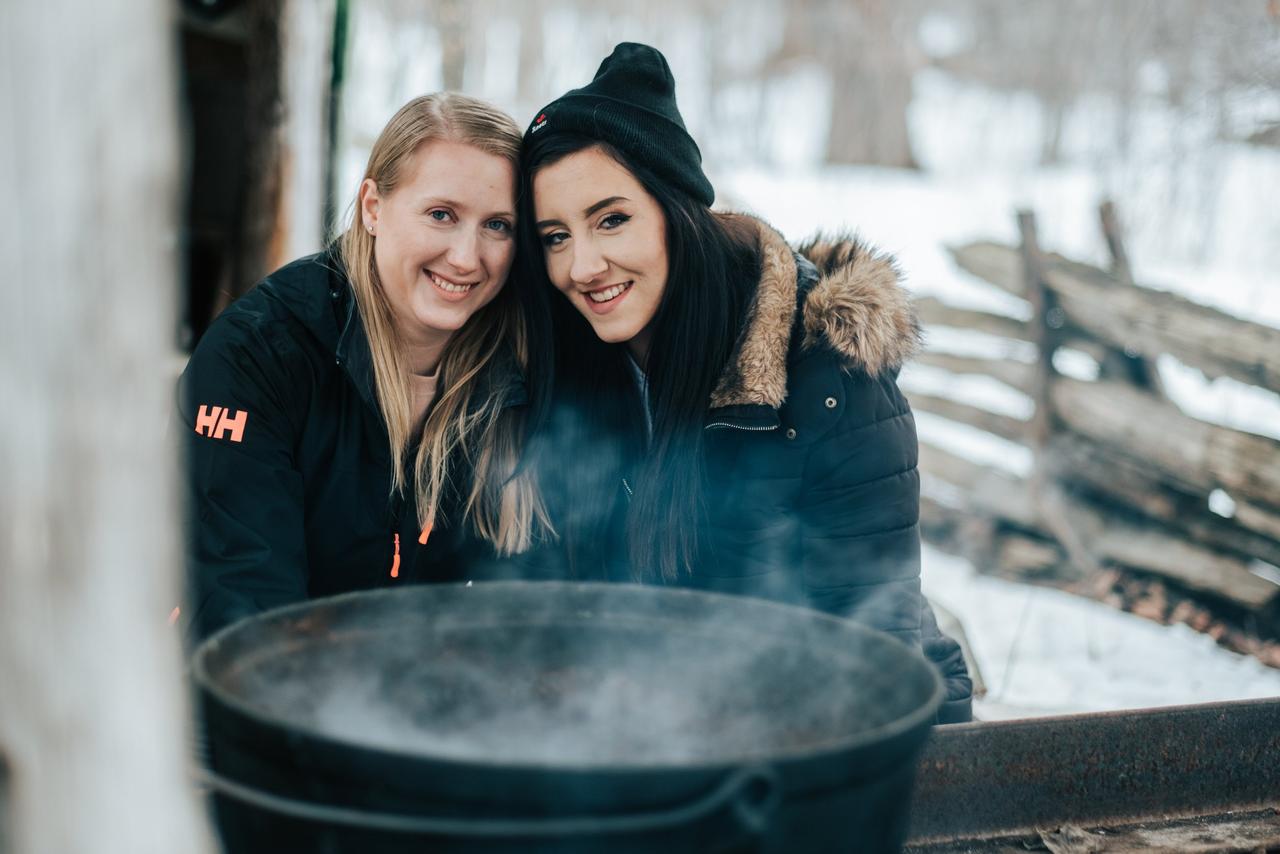 35. White Out
Put the focus on your winter engagement photo outfits with a plain white background.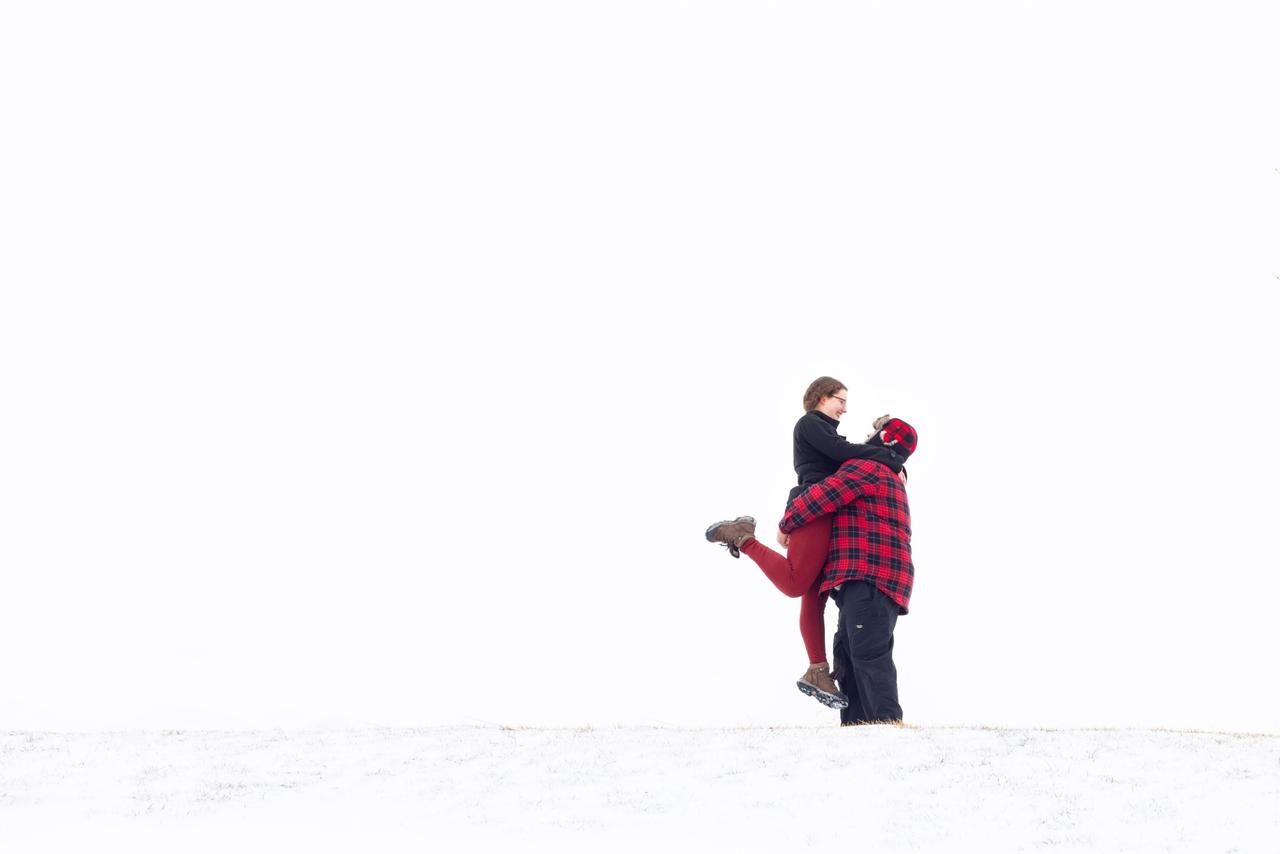 36. Intimate Moment
Here's an interesting photo composition for capturing a winter engagement ring photo. So simple, yet engaging.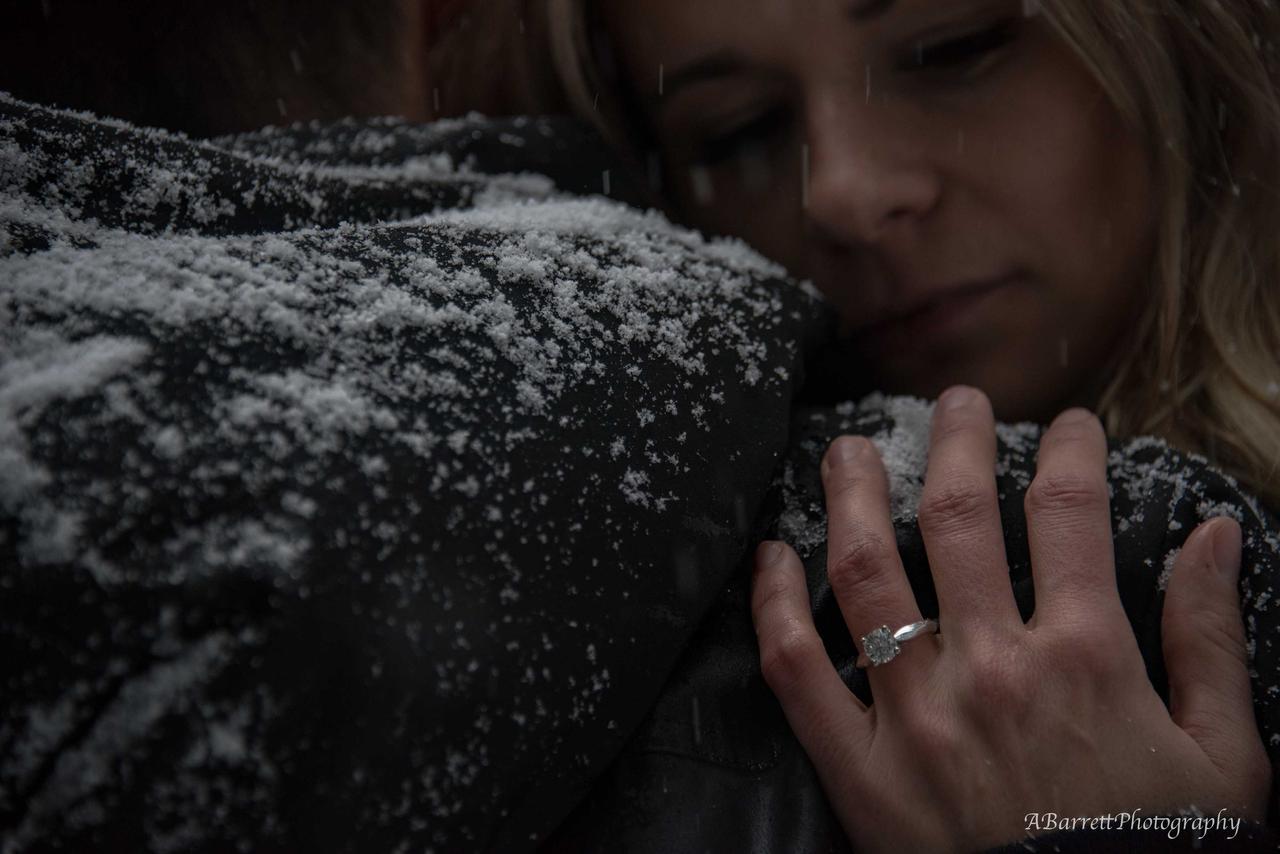 37. At Home
If you'd prefer not to brave the elements, ask your photographer for an in-home photo session. Bonus: Here are 6 Reasons to Have Your Engagement Photo Shoot at Home.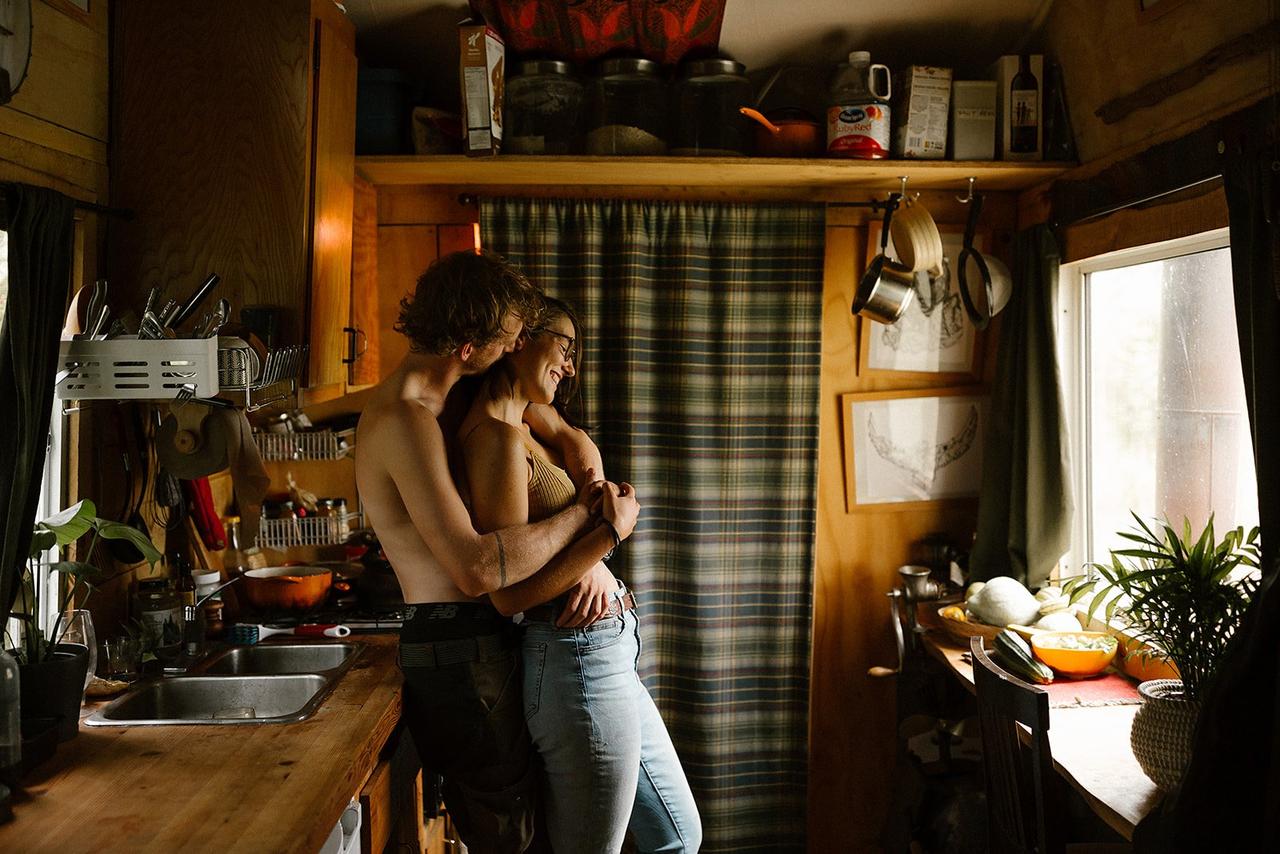 38. Fur Babies
For the pet lovers out there, bring your dog(s) along to your outdoor photo session or cozy up with your pets if you're planning an at-home session.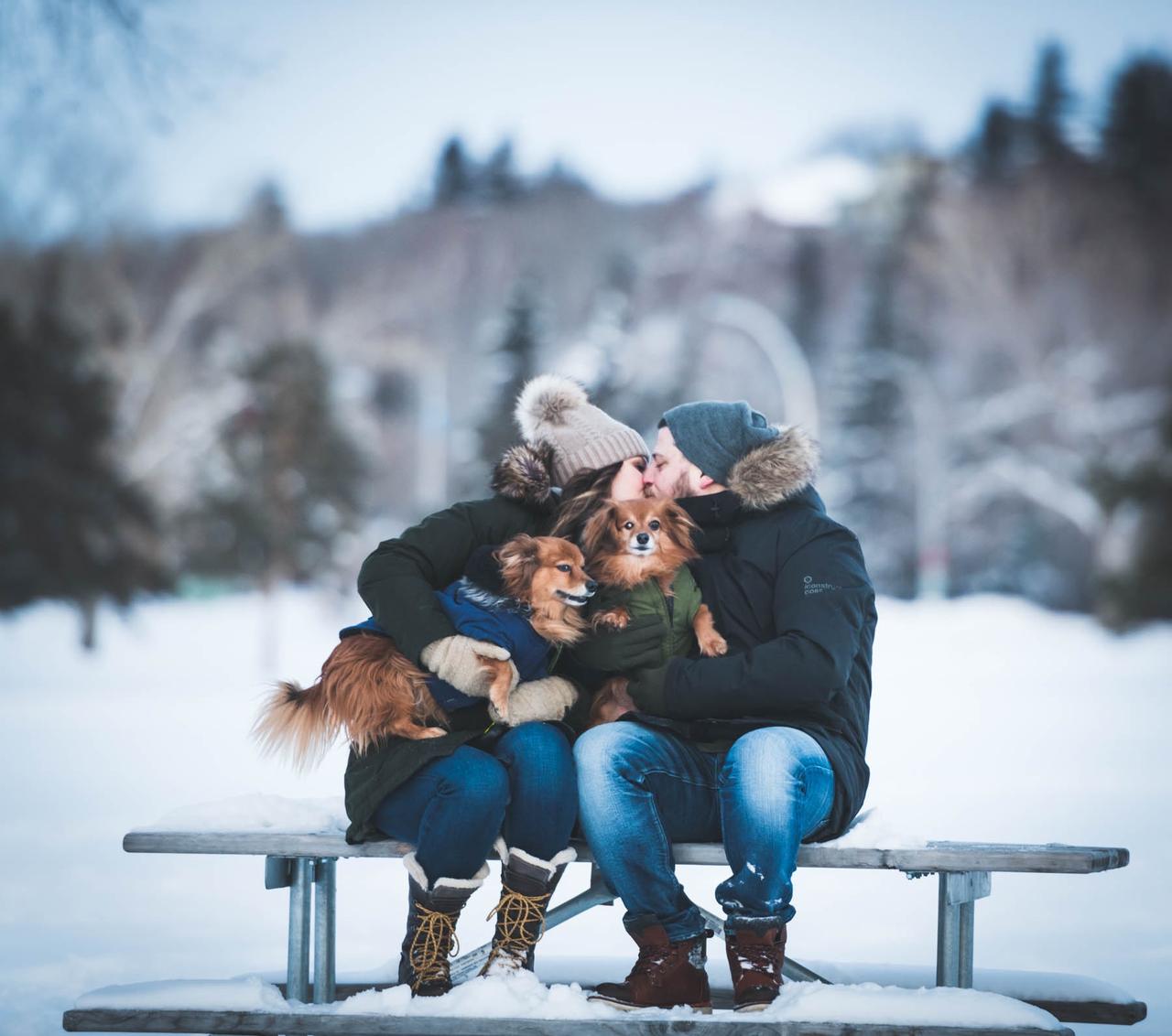 39. Go Local
If your favourite coffee shop or brewery has played a significant role in your relationship, put it on full display as the backdrop for your engagement shoot. Be sure to take some shots inside, too.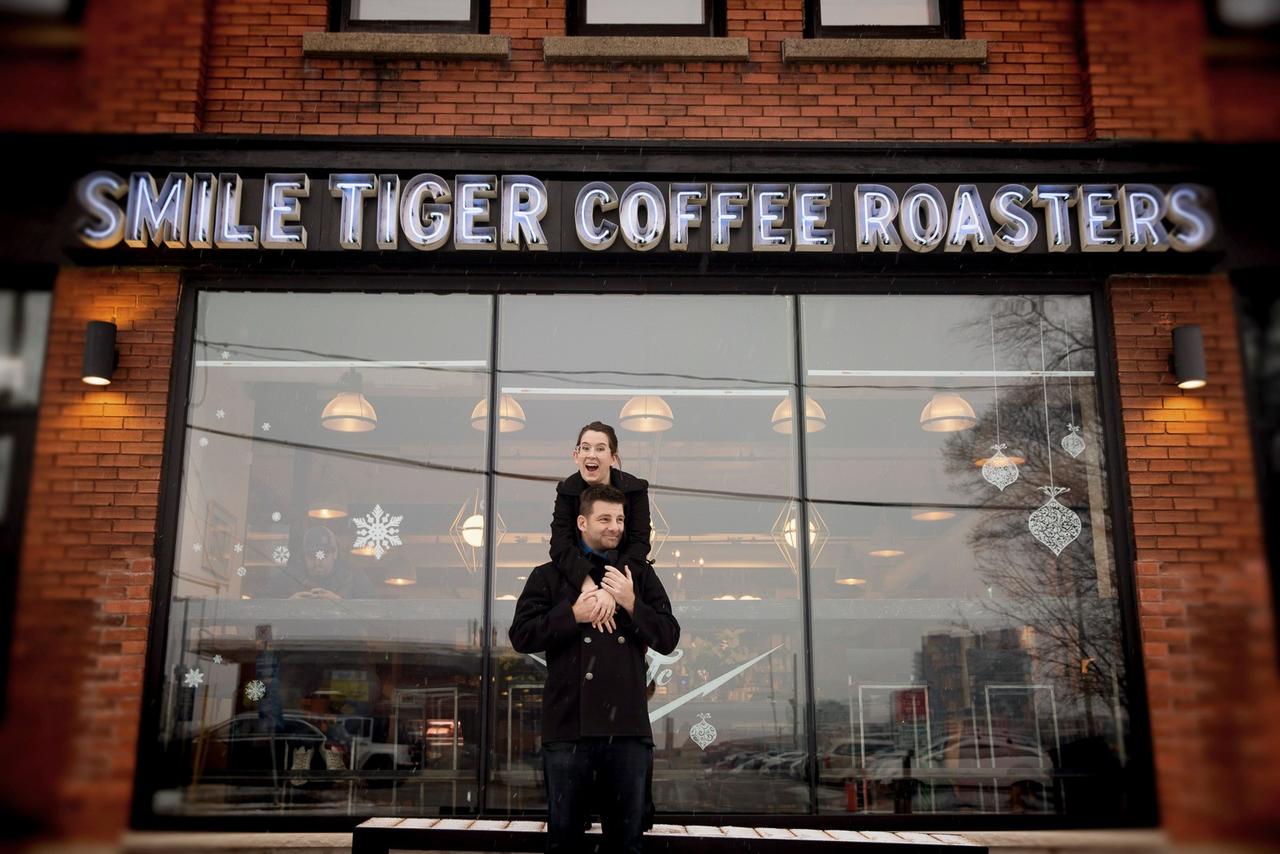 40. Weekend Getaway
Plan a weekend getaway at a wintery destination like a mountain lodge or rural resort for lots of photo opportunities. This is a great plan for a proposal, too.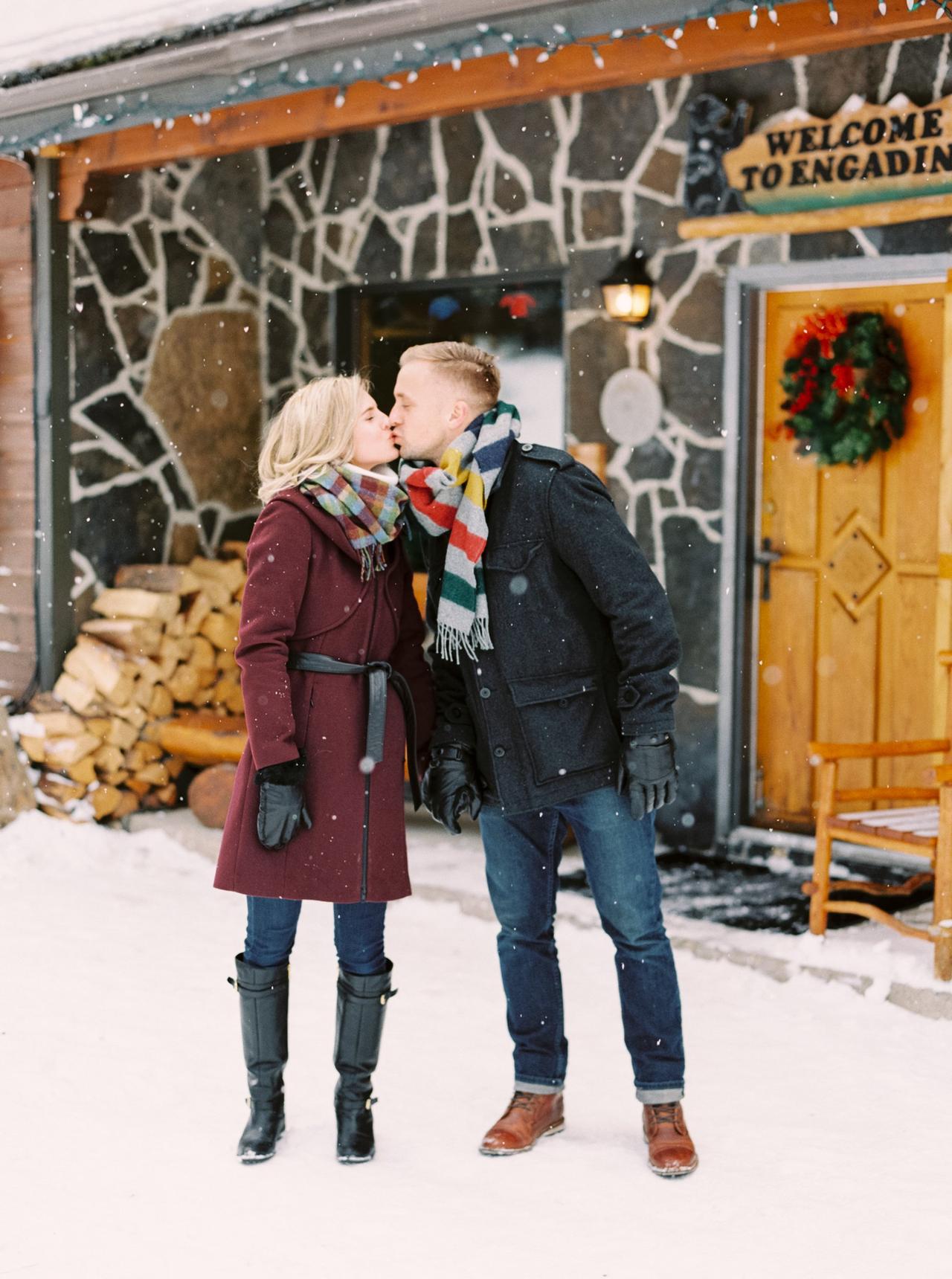 41. Good Night
With shorter days, your session could very well extend into the dark. Take advantage with a dramatic night shot.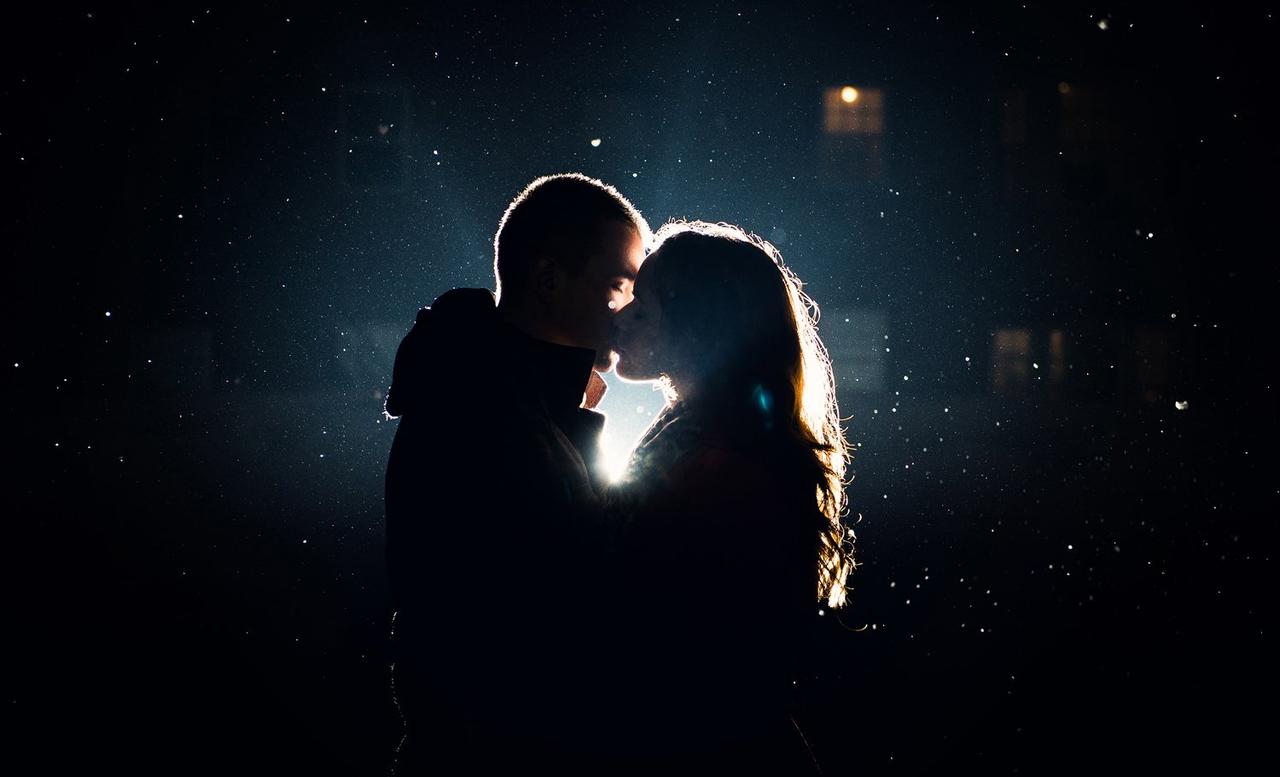 Find your wedding photographer and videographer on WeddingWire »