6 Reasons to Have Your Engagement Photo Shoot at Home
They say 'home is where the heart is' for a reason! Here's why you should do your engagement photo shoot at your place.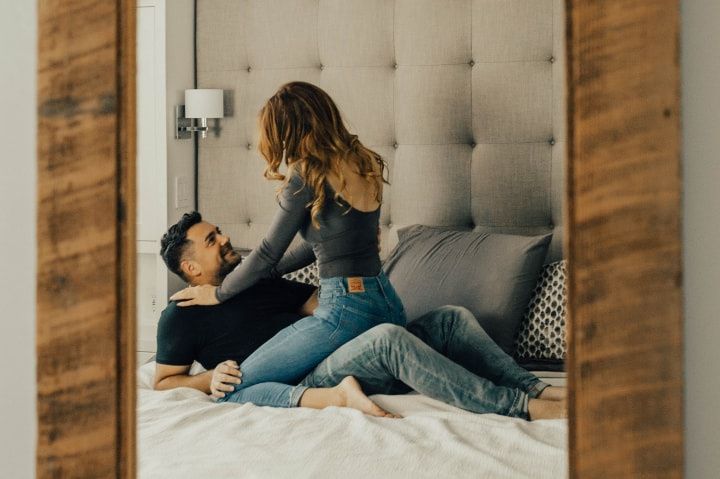 If you and your fiancé(e) are total homebodies, what better place to do your engagement photos than in the comfort of your own house or apartment? An at-home engagement photo session will up your modelling game, bring down your bill and give you plenty of backdrops and props to work with (so really, there's no reason not to). If you need a few more reasons, read on.
Here are all the reasons to have your engagement photo shoot at home.
You can actually relax
Not all of us can strut like Naomi and smize like Tyra, but that doesn't mean you should throw in the towel. If you're a little camera shy, choosing an engagement shoot location like your home will do wonders for your modelling. Why? Acting natural in a place that you're unfamiliar with can be tough. You're bound to be more relaxed in your own space and that'll show in your expressions and poses.
You can switch up your backdrop
Unless you're living in an shoebox-sized bachelor apartment, you've probably got a few different rooms (AKA backdrops) you can use in your shoot. We suggest making use of them all - get some goofy cooking photos in the kitchen, some sultry ones in your bedroom and some more relaxed shots in your living room (variety is the spice of life, right?). Keep in mind that you'll probably want to give your apartment a deep clean (or hire a cleaning service) before an engagement photo shoot at home - you don't want any dust or grime to appear in your engagement photos.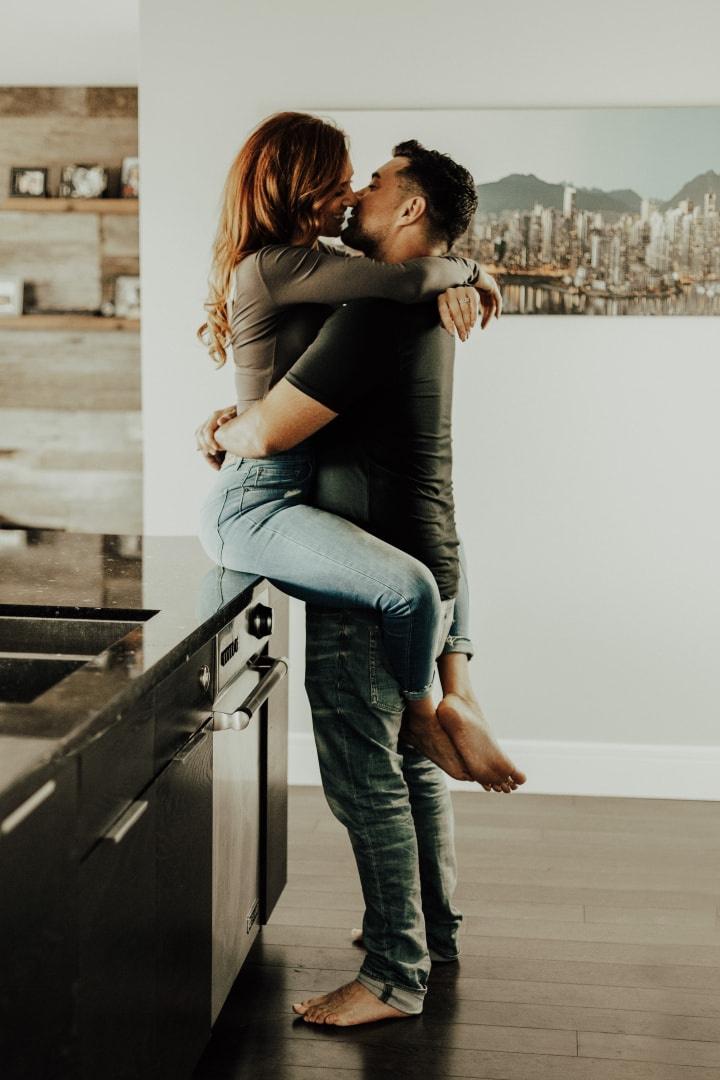 You can shine the spotlight on your hobbies
Your engagement photos should really show off who the two of you are and what you love. Instead of manufacturing a set, invite your photographer into your home. Choose a few of your favourite things - your comic book collection, your trivia trophies, your stellar library of cult movies...whatever you're into - and incorporate them into your shoot. You could even set up photos and souvenirs that the two of you have collected to show off your love story.
You can get your pets in on the action
No matter how chill your four-legged friend is off-camera, pets aren't exactly the easiest models to work with. Most of them are actually pretty diva-like - they're stubborn, they're easily irritated and they don't like being taken out of their own environment. So, making them feel at ease enough to pose in a foreign location like a set or an unfamiliar park is a challenge. If you really want them to be a part of your engagement photos, taking them at home is a great idea. They'll be more relaxed and cooperative when their moment in the spotlight arrives, meaning you'll leave with less scratches and more money shots.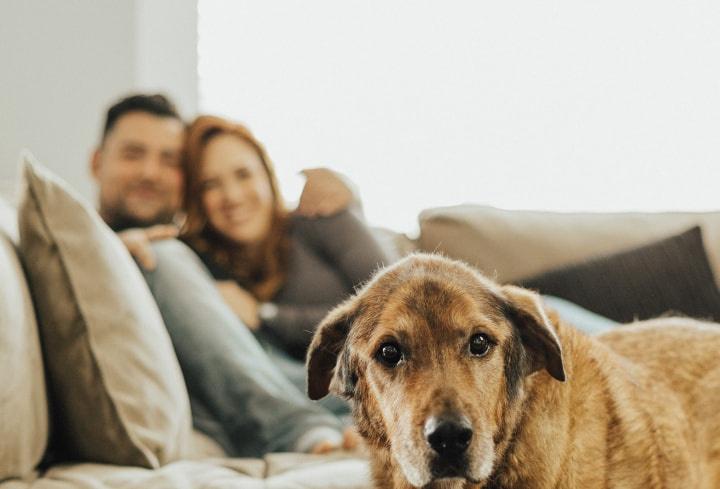 You can do as many outfit changes as you want
All of you fashionistas are going to love this one. Instead of having one or two outfits to choose from, you'll have your entire closet at your fingertips. That means you can do multiple wardrobe changes if you aren't feeling comfortable and confident (or if you just want to switch things up). As an added bonus, you'll also have all of your beauty supplies, skincare and hair tools by your side, so you can do frequent touch-ups without the help of a huge team.
You can save money
By having an engagement photo shoot at home, you'll be able to skip the dreaded venue rental fees. This will leave you more money to invest in important things, like your wedding dress or a stunning cake, later down the line.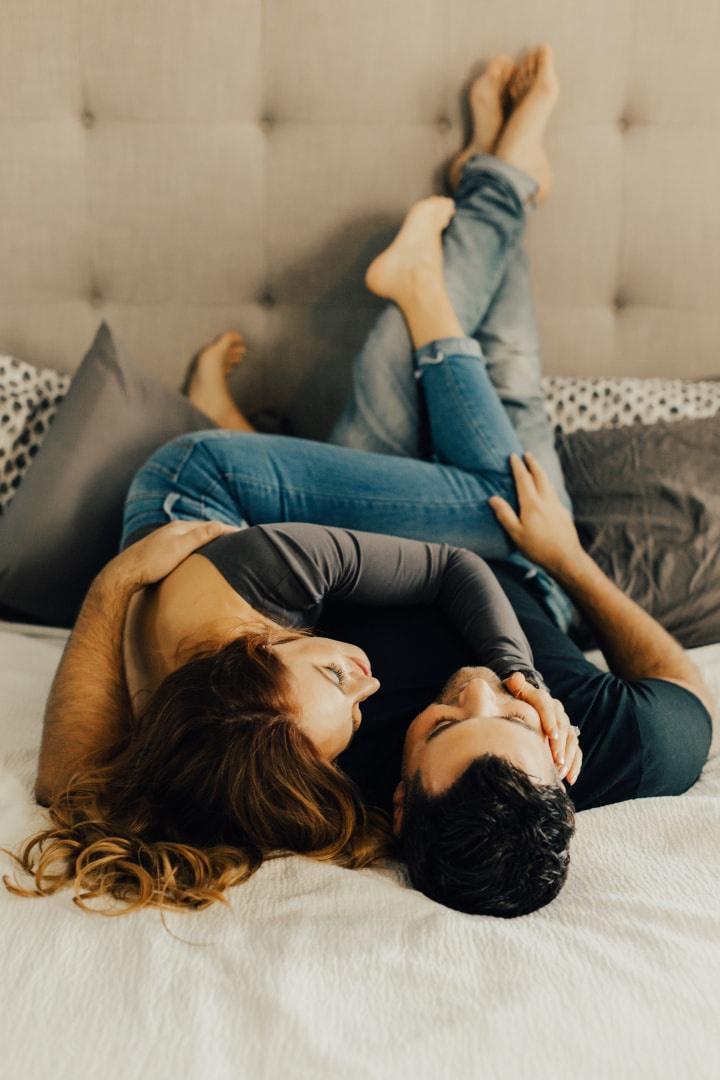 Find a wedding photographer for your at-home engagement photos on WeddingWire »