29 Awesome Winter Wedding Ideas
Looking for winter wedding ideas to take your event to the next level? From outfit ideas to favour suggestions, we've got your back.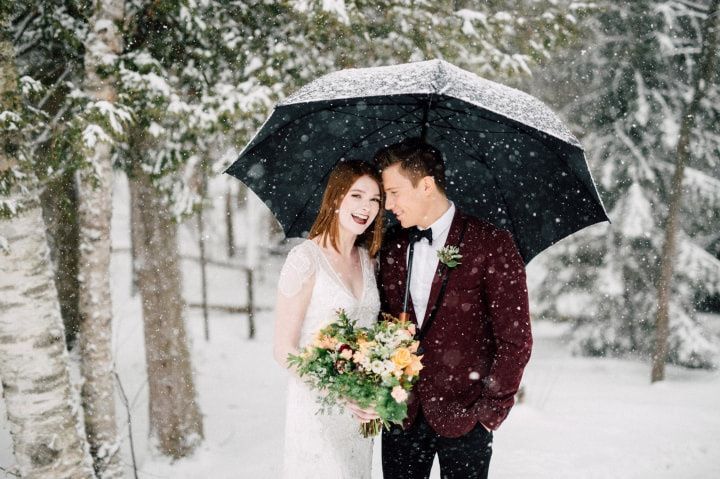 The temperature may have started to drop in Canada, but these new winter wedding trends are heating up. 'Tis the season for icy wedding portraits, snowy save the date cards, hot chocolate wedding favours and wintery wedding decor. If you're on the hunt for the perfect way to give a nod to the frostiest season on your big day, we've got the best winter wedding ideas for your celebration.
Here are 29 of our favourite winter wedding ideas.
Wintery Wedding Invitations
Make your wedding stationery a touch more wintery by going with an icy colour combo like white and silver or blue and grey. If you want to go the extra mile, you can even throw on a snowflake graphic or two. Bonus: we've rounded up these winter wedding invitation ideas to inspire you.
Snowy Save the Dates
Who needs plain old stationery when you could stage a photoshoot in the snow for your save the dates? Follow this couple's lead and include your fur family for added cuteness.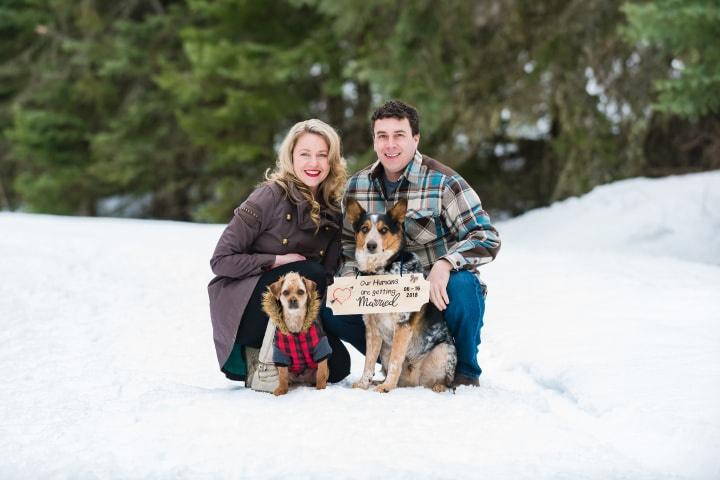 Fireplace Altar
Forget about flower-clad arches and elaborate candle displays, say your wedding vows in front of a cozy, crackling fireplace, instead. Don't forget to dress up the mantle with some lush greenery or one of these other fireplace wedding decor ideas!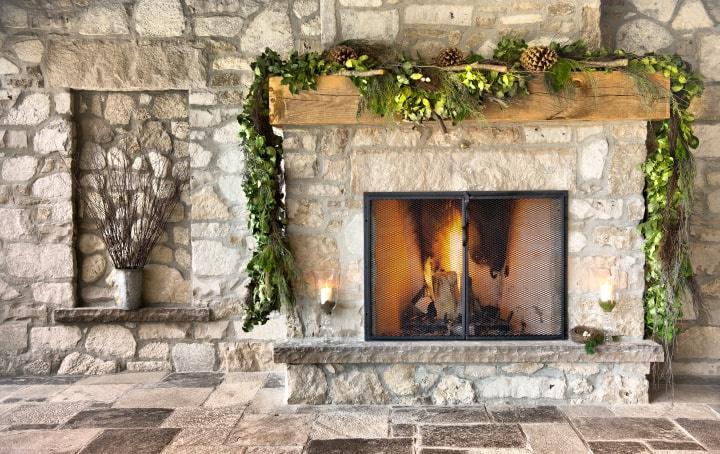 Fur Stoles
Keep you and your wedding party warm with some cozy winter wedding accessories like these faux fur stoles. These will definitely come in handy for outdoor photoshoots and when you're running in and out of your venue.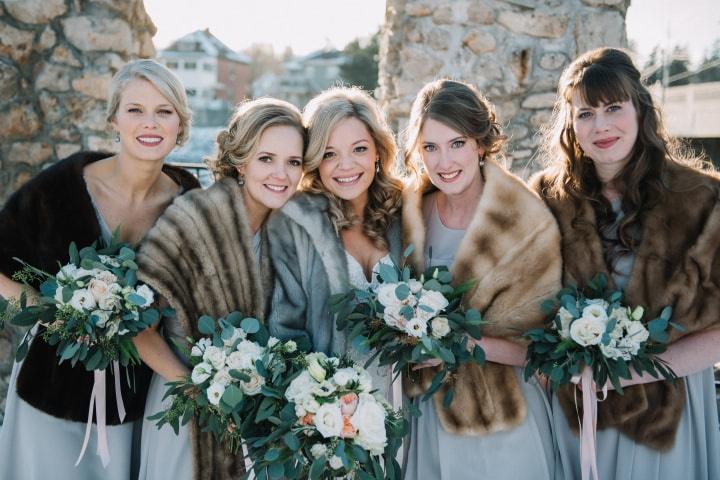 Snow Boots
Strutting through the snow in sky high heels ain't easy. We suggest trading in your Louboutins for some snow boots - at least while you're braving the outdoors.
Winter Wedding Flowers
When it comes to your winter wedding bouquet, you have plenty of options. After all, whatever colours you choose, they will really pop against the snowy white backdrop. All-white or red and green are classic choices, however, we really love the large blooms in dusty pinks and earth tones paired with lots of greenery. Talk to your florist about winter availability and let them help you put together a dreamy bouquet.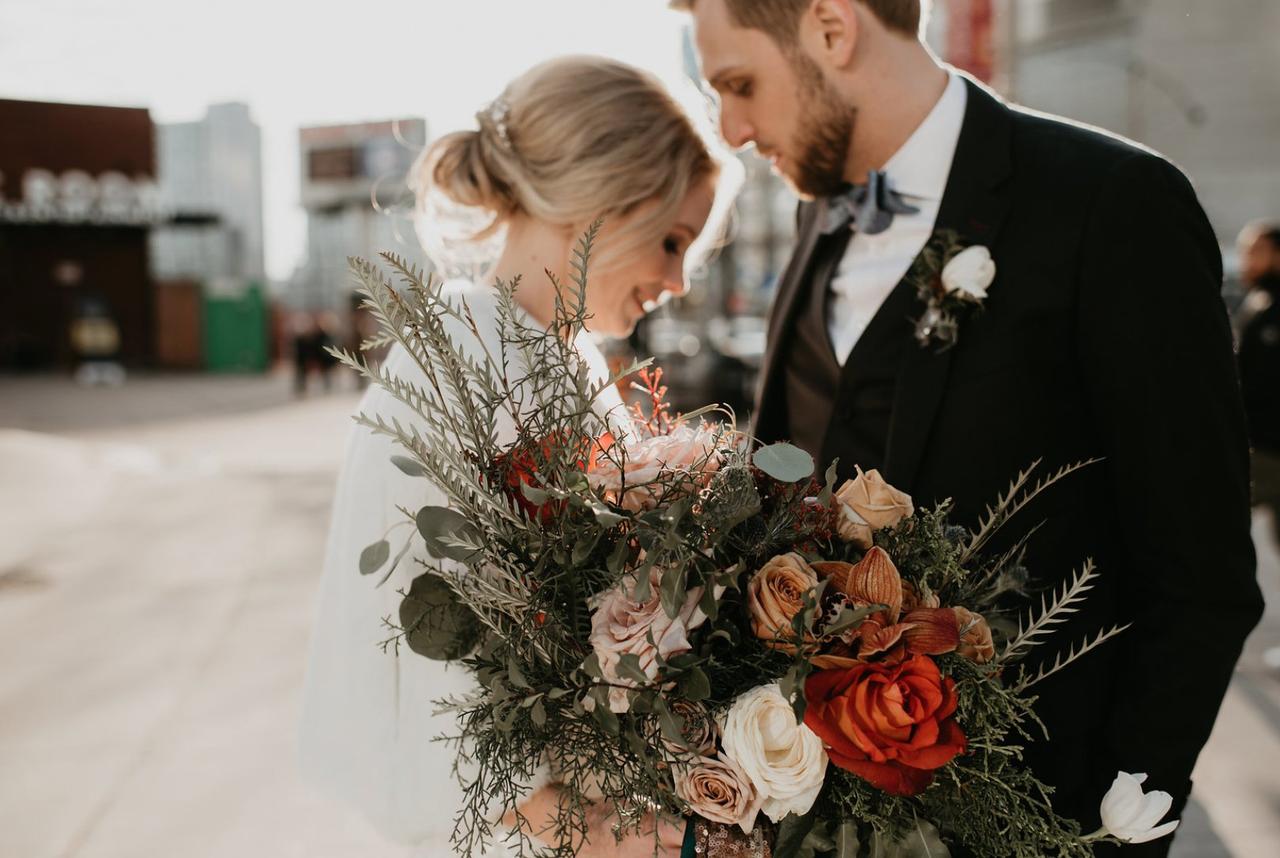 Outdoor Ceremony
You may be tempted to host your ceremony indoors when the temperature drops to below zero, but saying your "I dos" in a winter wonderland is a downright dreamy winter wedding idea. Pro tip: you'll want to choose your winter wedding dress wisely and have space heaters or blankets available for your guests, you don't want anyone getting frostbite!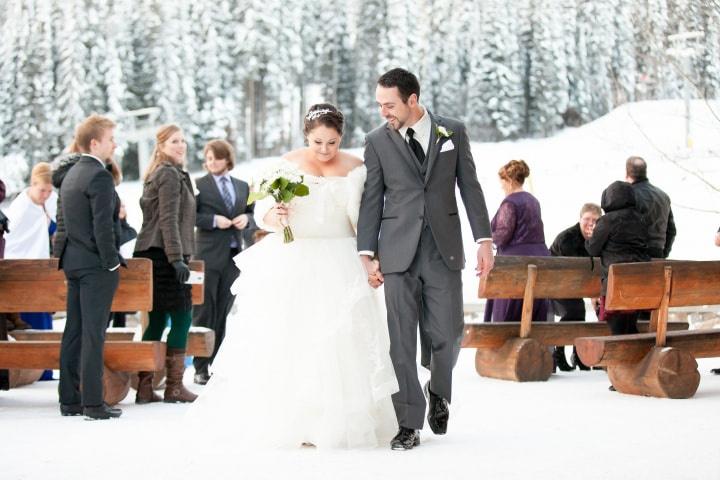 Mobile Bar
Serve up some warm bevvies after your outdoor ceremony from a mobile bar. A converted trailer, like this one, will provide an adorable gathering point for guests. Depending on your wedding venue, it could also be positioned inside your event space—some banquet halls or warehouse spaces provide access to vehicles,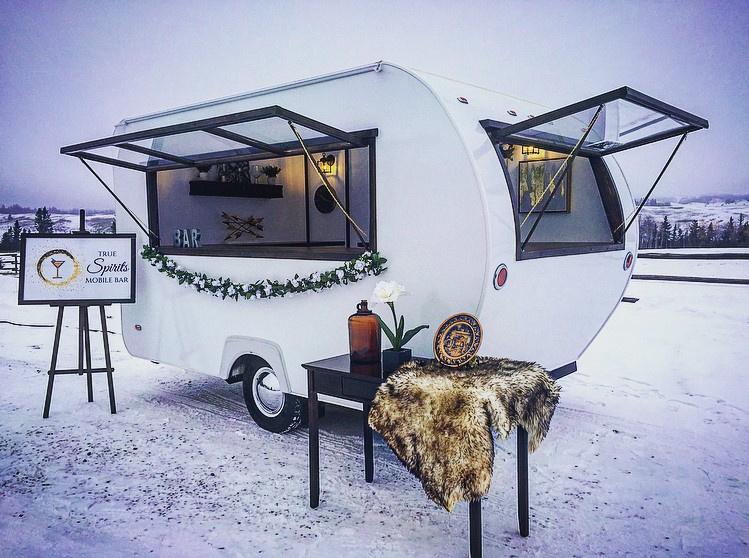 Horses (With or Without a Carriage)
You probably won't be able to rent reindeer for your winter wedding, but horses are an equally beautiful addition to your big day. If you and your soon-to-be spouse are equestrians you can even ride off into the sunset on them.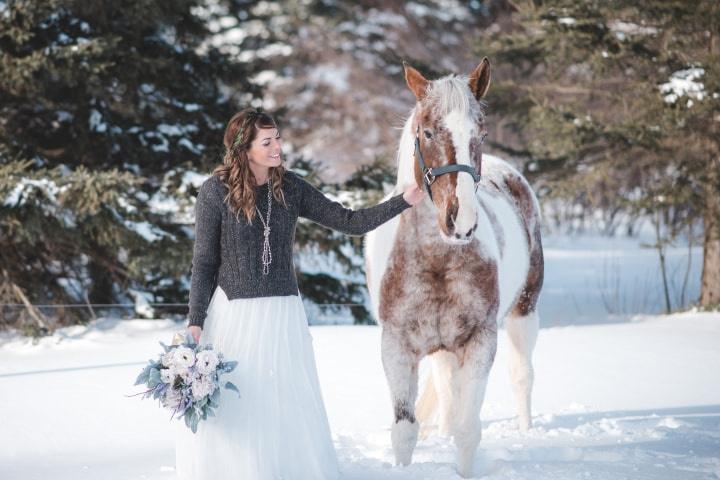 Sleigh Ride
Want to make a magnificent entrance or transport your guests to and from your outdoor ceremony? Take a ride in a horse-drawn sleigh.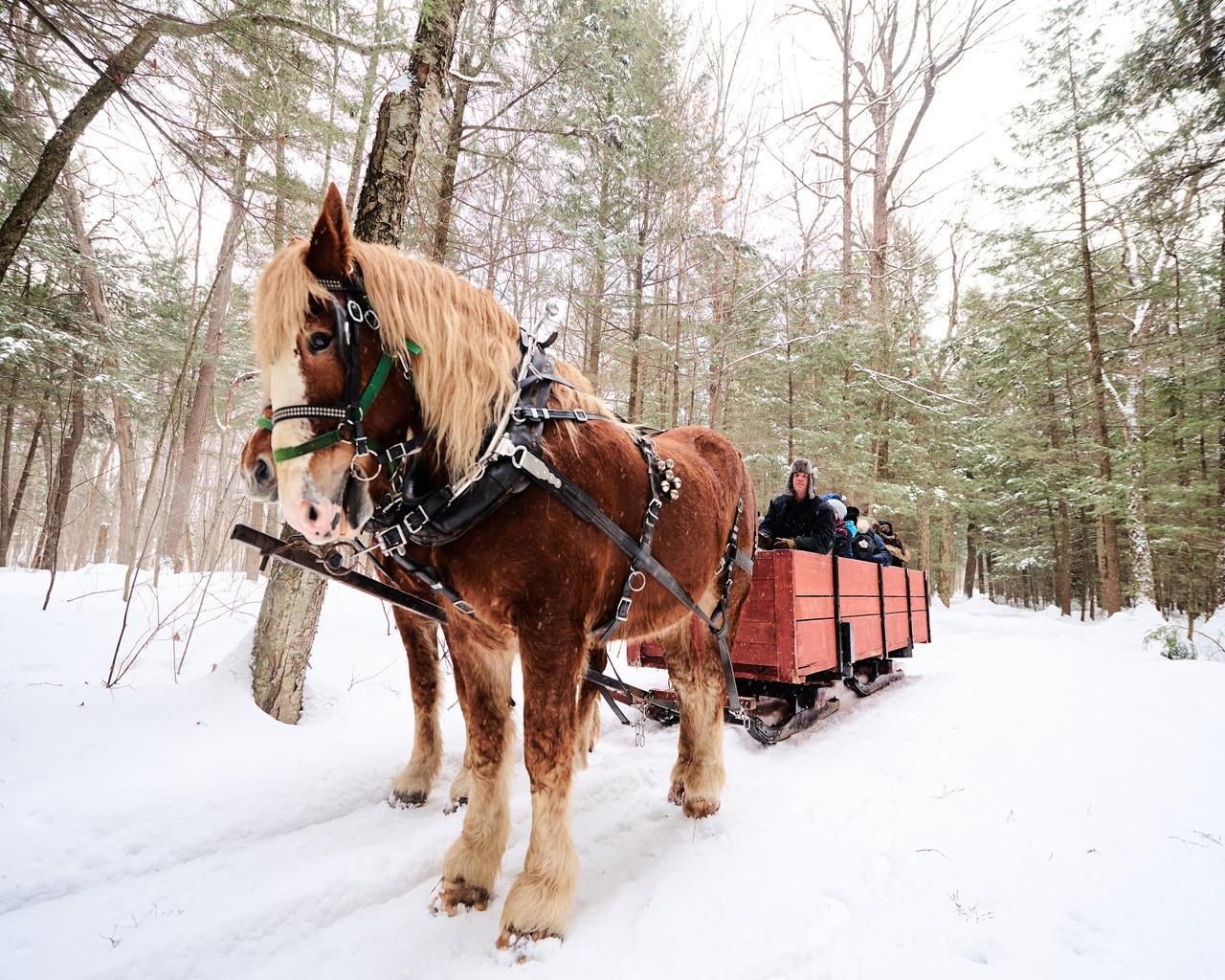 Festive Escort Cards
Here's an easy DIY winter wedding idea. Give your escort cards some winter flavour by accompanying them with their own little trees (AKA itty bitty pieces of fir or pine).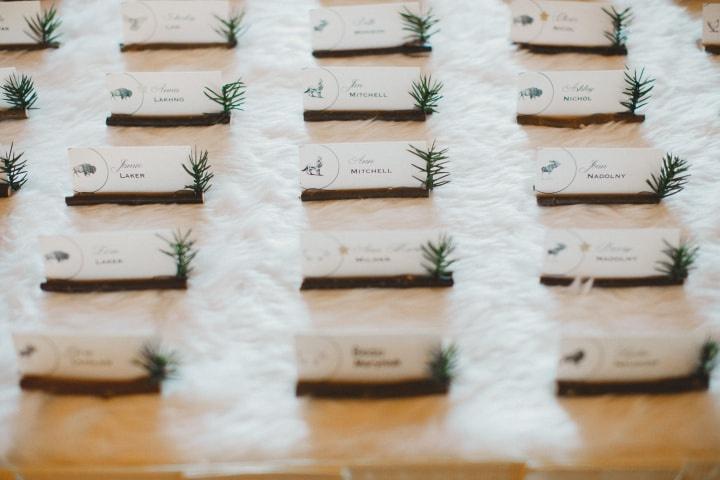 Pinecone Place Card Holders
Wedding place card holders can be made out of everything from paperclips to seashells. The most wintery option of all? Pinecones.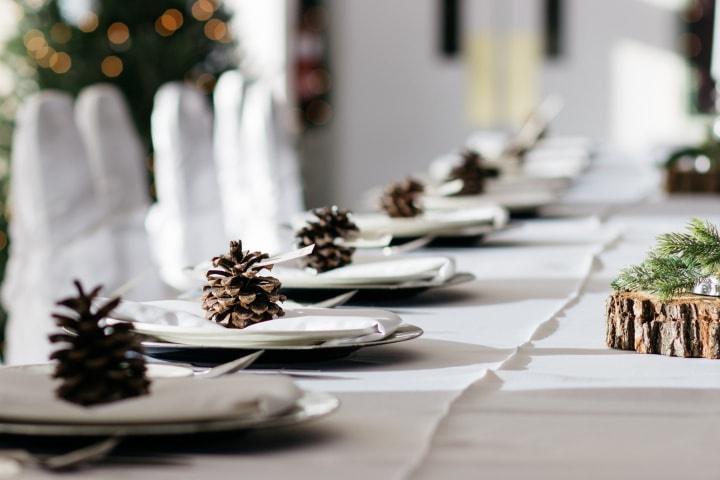 Icy Wedding Portraits
Want to make your wedding portraits even more stunning? Skip posing indoors and head out into the snow!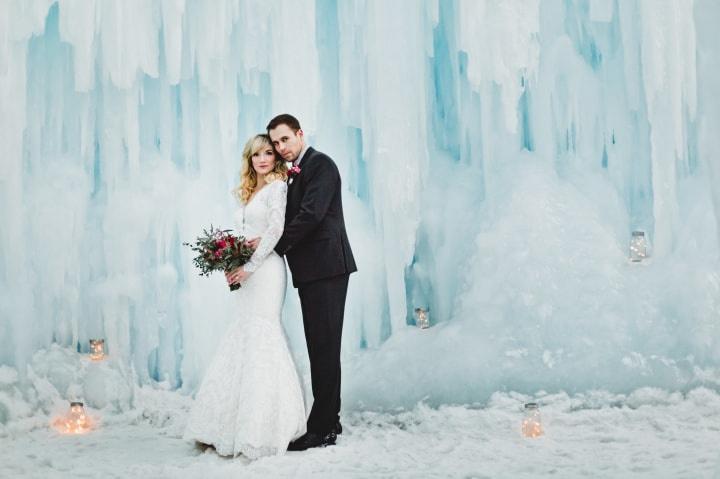 Pinecone Boutonnieres
Pint-sized floral arrangements may be the norm, but they're not the only option out there for wedding boutonnieres. Make yours suit the season by using pinecones and tiny pieces of fir.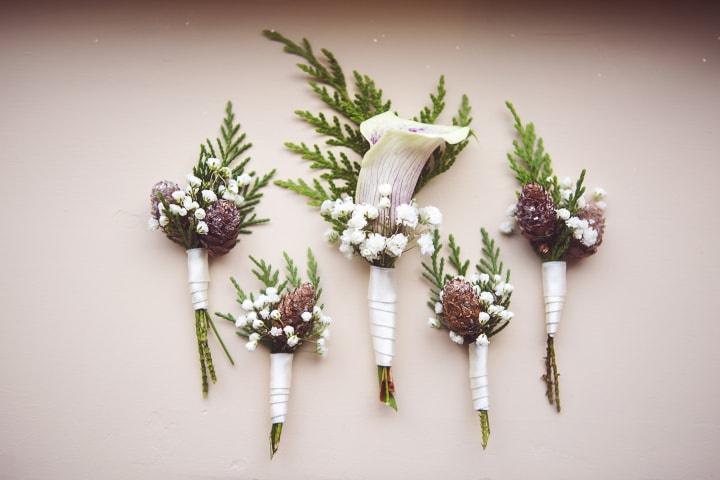 Wooden Vows
Don't write your vows in your old notebook or on the back of a napkin – turn them into a keepsake by having them etched into wood.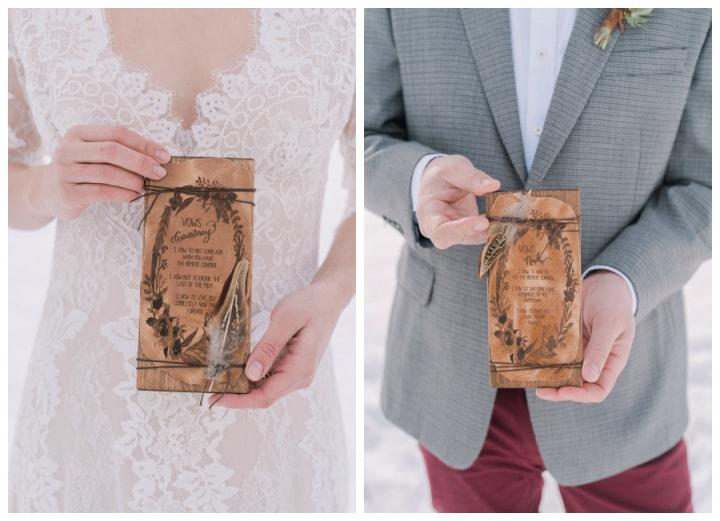 Chairlift Getaway
If you're hosting your ceremony atop a mountain you won't be able to hop in a limo right away. Turn a chairlift into your getaway car and decorate it to perfection like this adorable alpine duo.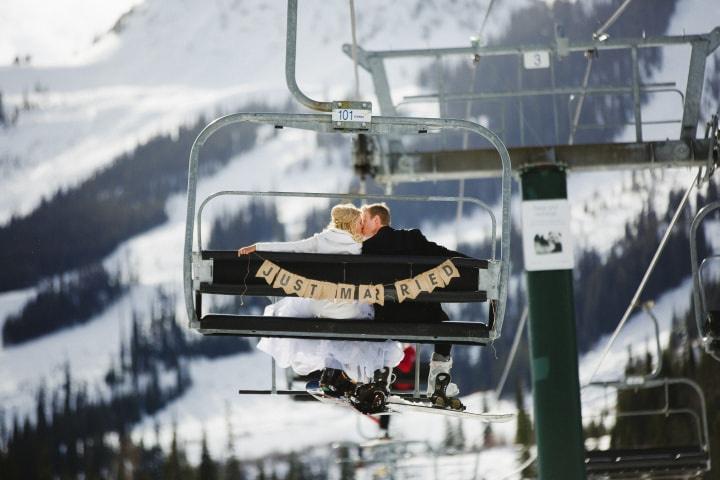 Red and Green Floral Arrangements
While you can definitely still rock pastel bouquets, red and greenery arrangements will give your wedding some extra wintery flair.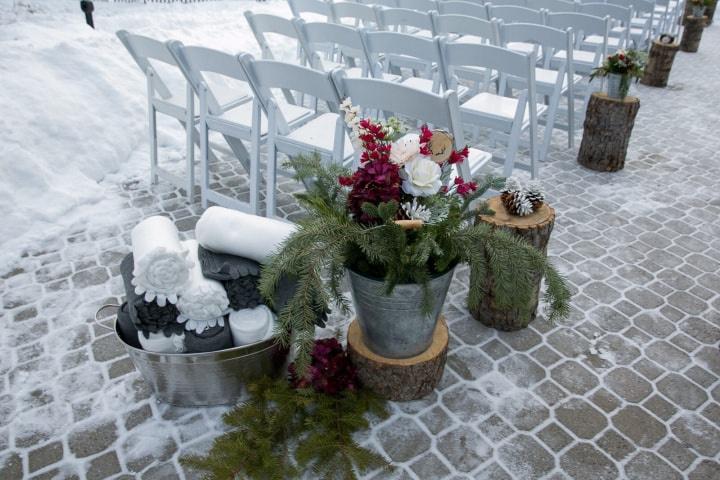 Snowflake Everything
Bring the outside in by decking your winter wedding venue with some sparkling snowflakes. These can be used as wedding centerpieces, place holders, dessert table decor and everything in between.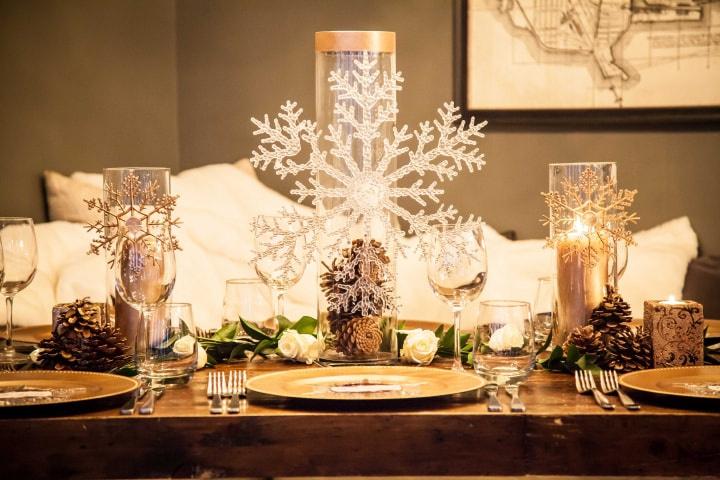 Branch Decor
By now, most of the leaves have fallen from the trees, but that doesn't mean they're any less beautiful. Steal their style by adding some bare branches to your wedding decor.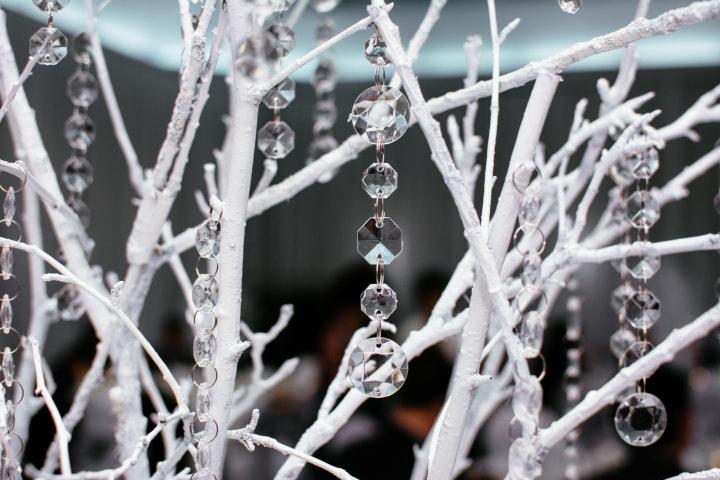 Post-Wedding Snowboarding
Want to make your big day one for the books? Hit the slopes and do a little skiing or snowboarding (bonus points if you wear your wedding attire).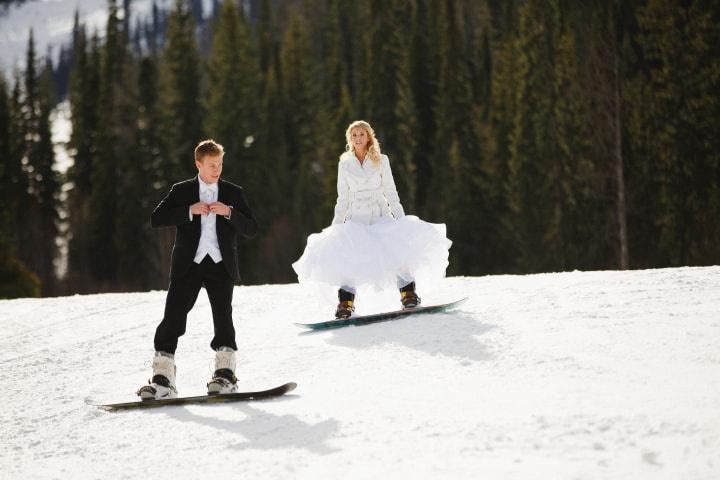 Winter Wedding Cake
We love the look of a semi-naked wedding cake for a winter wedding—it almost looks like it's been dusted with snow. Take that idea one step further with a caramel or chocolate drip coating to top it off to make it look decadent and deicious. Bonus: we've gathered up even more winter wedding cake ideas.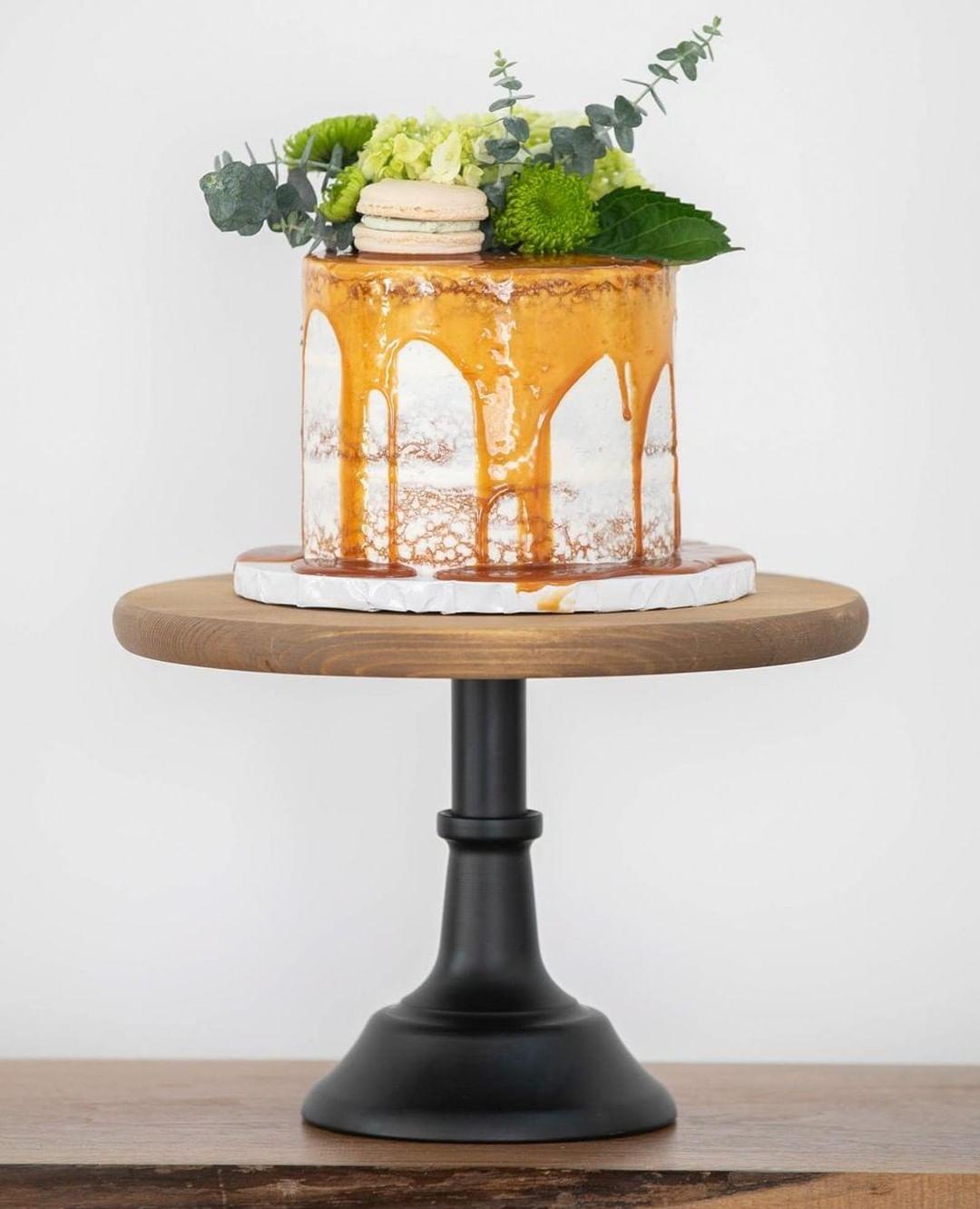 Wintery Candy Bar
In addition to a winter wedding cake, make your dessert table extra festive by adding tiny trees and sticking to an icy colour scheme.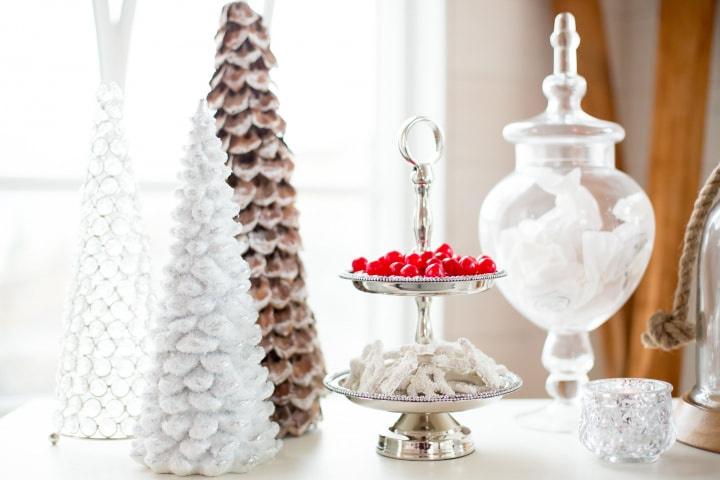 Cozy Blankets
Cocktail dresses, wedding gowns, suits and tuxedos aren't exactly winter attire. Stock your venue with some cozy blankets so that everyone can stay toasty warm on your wedding day.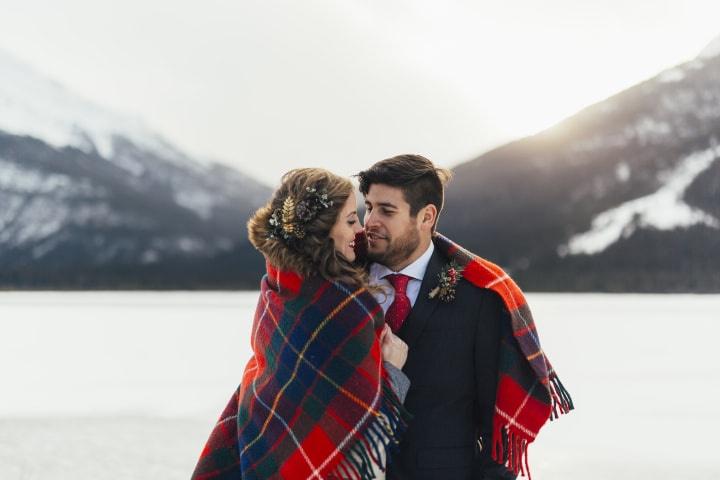 Chocolate Goodies
Winter is the time to indulge! Give your guests some decadent chocolate favours when they leave your reception - they'll probably be long gone before they arrive at their homes or hotels.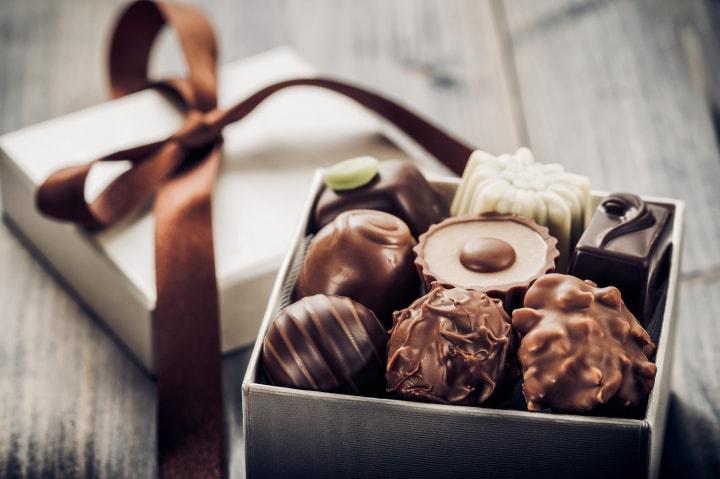 Sparkly Placesettings
If you're going for an elegant style, sequins tablecloths will create a warm glittery glow.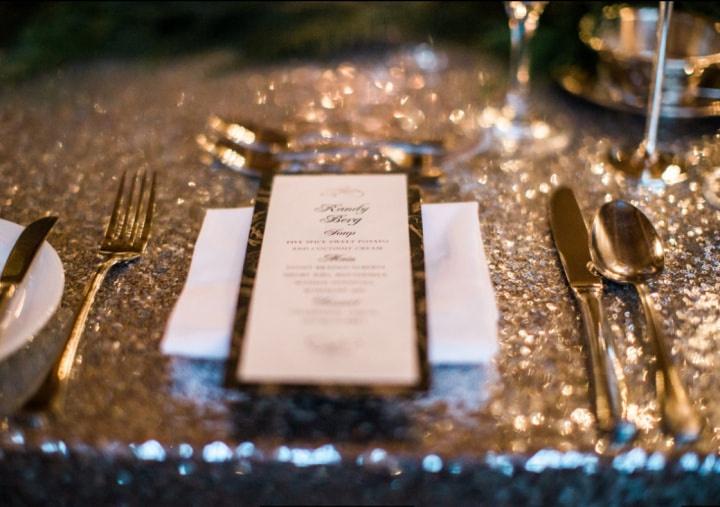 Glowing Lanterns
Harsh fluorescents are far from romantic, so try illuminating your venue with some glowing lanterns, instead. Pro tip: these make for great centrepieces if you're looking to save on blooms.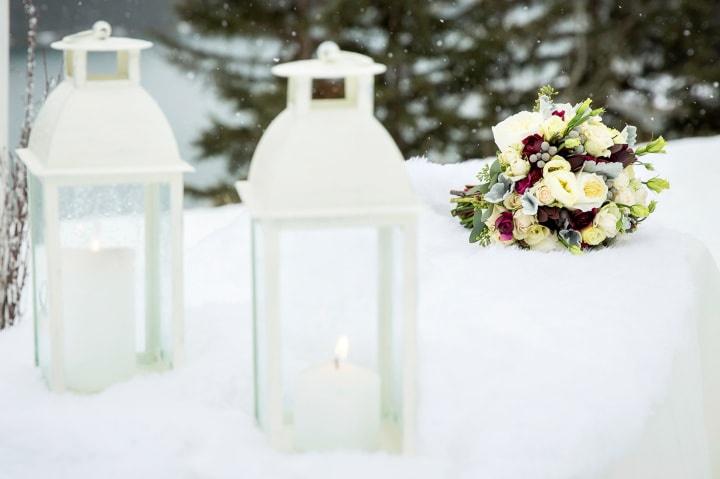 Hot Chocolate Favours
Gift your guests with some DIY hot chocolate kits at the end of your reception. It's an easy winter wedding ideas and the perfect cozy, wintery treat that all ages can enjoy.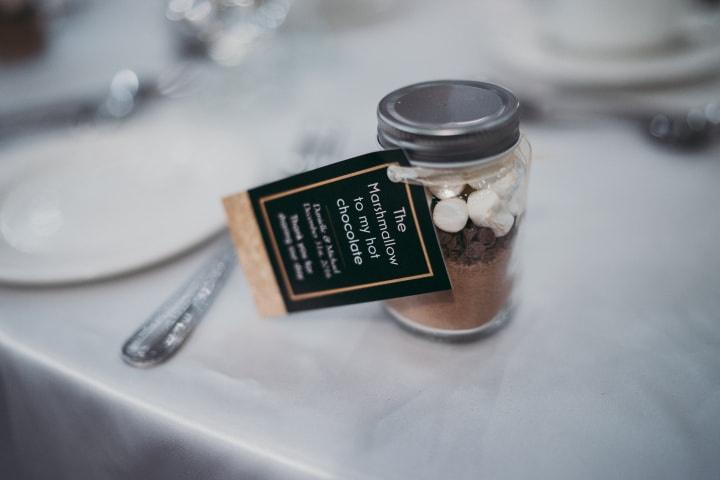 Winter Honeymoon
Not everyone wants to spend their honeymoon with the sand between their toes! Embrace the chilly Canadian weather and plan a snowy post-wedding vacay.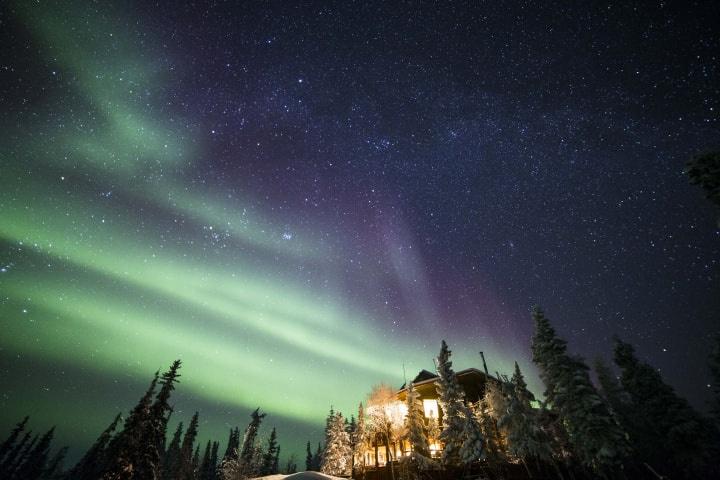 Snowmobile Rides
Who needs a town car when you could be riding away from your big day on a snowmobile? Answer: nobody.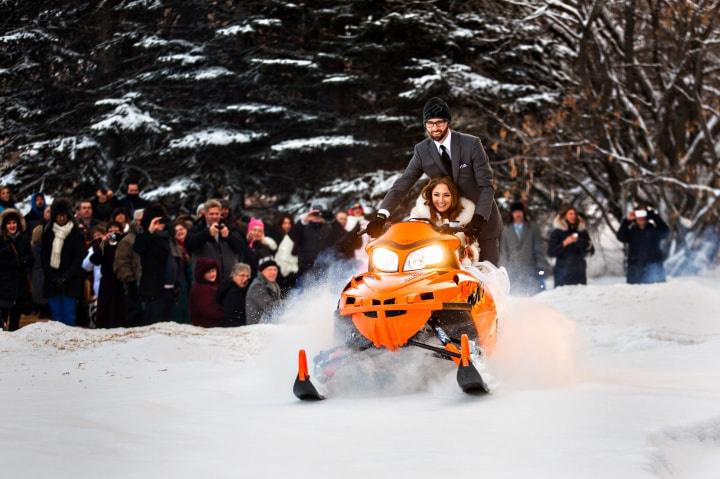 Find more winter wedding ideas in our Real Wedding galleries »